Florals and dresses are the backbones of my capsule wardrobe. No matter what, I know if it's a floral print or a dress, there's a good chance I'll love it. Bonus points if it's both! I got this Gal Meets Glam dress is a random Stitch Fix shipment and I really loved the print for Spring 2019. I normally don't reach for green but I think this dress changed my mind! When Robin and I were taking a walk around Golden Gate Park the day before this dress arrived, I saw this grove of blossoming trees and KNEW I just had to come back to photograph them!

Note: This is the standard size, which dragged on my 5'5″ frame, so I ended up returning it to Stitch Fix. I do know this dress comes in a petite size which would have probably fit me better.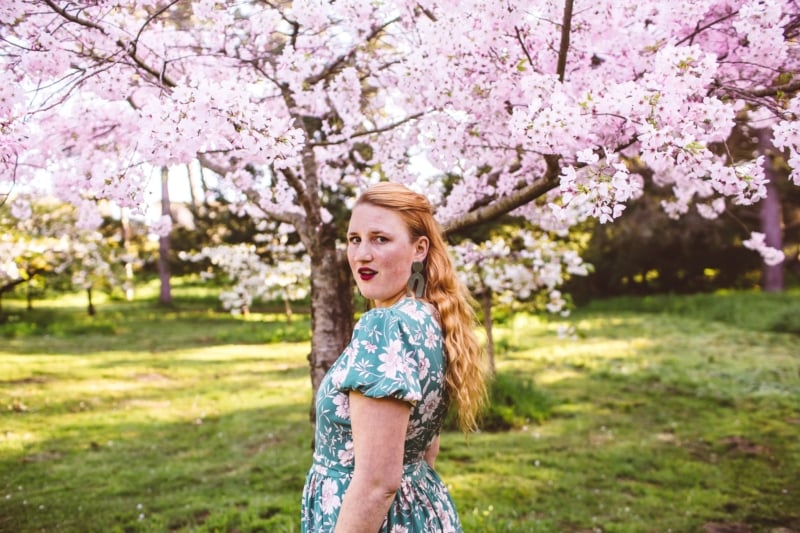 Of all the Gal Meets Glam dresses I've tried, this one is one of my favorites as it just fits so well out of the box.  I tried a bunch of the dresses when the collection first arrived and found some of them didn't fit me well – like the straps fell off my shoulders, etc – or were in need of further heavy tailoring. This dress, which I adore and wear all the time, had a button fall off the first time I wore it, so I had Nordstrom swap it out for me. The second dress held up fine!
But, on this green dressed called Shannon, buttons are sewn on really well, so I was really pleased. The only thing I didn't like was how about 4 inches dragged on the floor, but I think that could have been solved by wearing this Gal Meets Glam dress in the petite size instead to fit my shorter frame. (The Stitch Fix box sent a regular.) I'm wearing a size 12, which usually fits me best in her line.
Anyways, I love wearing dresses year-round, but there's something about Spring that just makes me want to wear ALL the florals and ALL the pretty maxi dresses. Below are some other favorite floral pieces that I'm swooning over this season!