The Cal Poly Architecture Graveyard is a strange hodgepodge garden of experimental designs and it's wickedly cool.
During your next trip to San Luis Obispo County, set aside a couple of hours to hike to this special gem. But, if you haven't been here before it's kinda confusing to find. In this post, I'm sharing exactly how to find the Cal Poly Architecture Graveyard, where to park, what to bring and a few tips to make the best out of your visit.
>> Got a question about the Silverado Trail that you need answered quickly? DM me on Instagram @thewhimsysoul and I'll be happy to help!
Location: San Luis Obispo (Central Coast of California)
Fee: None
Length of Hike: about 3 miles round trip
Dog Friendly: Yes
I want to make clear at the top of the post that SO many of the other blogs and resources (like Alltrails) don't give accurate or clear directions to find the Graveyard. During my visit, we drove around a lot, got a little lost and *finally* figured it out. I'm here to share the correct (and easy) way to get into the Graveyard. Learn from my fails!
But First…
What Is The Cal Poly Architecture Graveyard?
The graveyard is located next to the California Polytechnic State University. It's Cal Poly Campus playground for architect students to build experimental structures and play with environmental design through an annual competition. It reminded me a LOT of Desert X and the Noah Purifoy Museum.
Every year, the Cal Poly Canyon Design Village competition asks participating students to pick a plot of empty land in the Graveyard and build a structure according to a theme and rules. And the group leaves the structures are left there to enjoy for years to come.
There's some really cool things here, like the Shell House, underground house, blade structure house, large arches and other structures that *almost* feel like someone visited a children's playground and then made a version for grownups. There's even the Modular House that a caretaker used to live in! I wasn't able to see all the things during my visit, it's that large.
Editors Notes: This site has been the victim of vandals who have chosen to spray paint all over almost every single structure. It's really sad that humans chose to destroy art like this. If you are visiting, please don't vandalize the property.
Exactly How To Find The Cal Poly Architecture Graveyard (A Playground of Design in SLO)
Now onto directions! The Cal Poly Design Village hike isn't hard (unless it's insanely hot out) but it is a bit hard to find unless you know the area well. When we put the Cal Poly Architecture Graveyard address into Google Maps it directed us to a random part of campus next to stables and was a total dead end. So, skip the Google Maps and instead follow these steps.
1. Park at the Village Drive Structure
Head to the Poly Canyon Village on campus. You'll want to park at the Village Drive Parking Structure. It's a large parking lot, can't miss it. Parking is $7 for the day and you pay at machines before leaving the ticket in your window.
2. Take The Garden Trail
Standing on Village Drive at the front of the parking lot, look for a little sidewalk to the right of the parking structure. It'll be a long path with gardens and some trees. It leads to Poly Canyon Road. Look for the yellow gate and walk past it.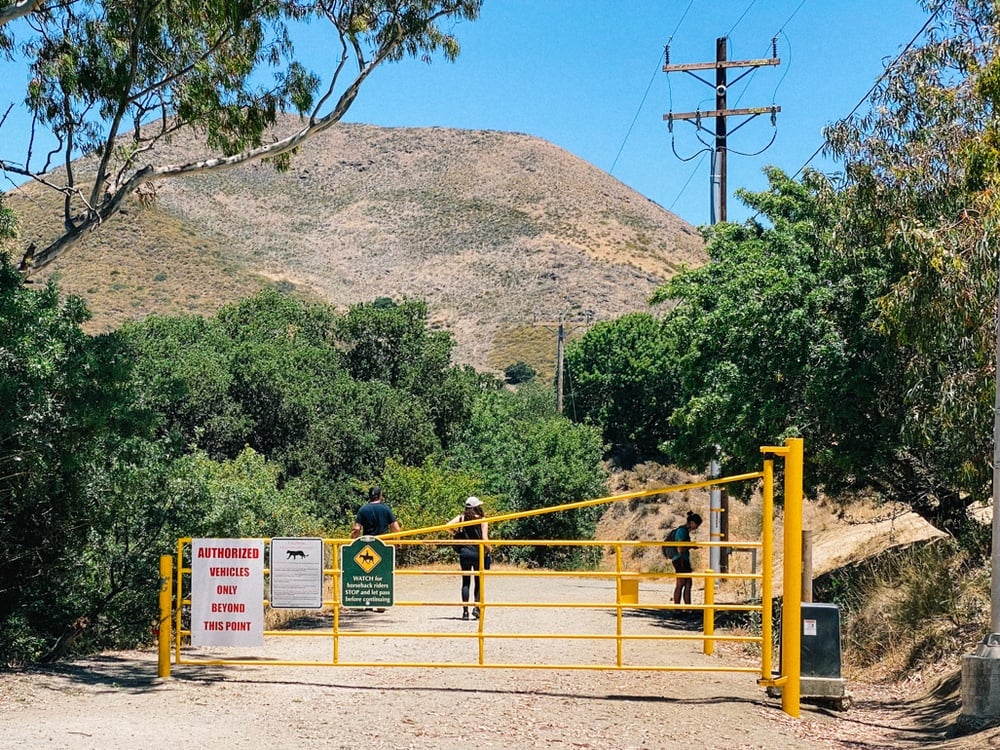 3. Follow Poly Canyon Road To The Arch
The road is gravel and mostly flat, with maybe a *slight* incline. It's easy for all ages, though there isn't much shade. If it's a hot summer day, bring extra water and try to start earlier in the day to avoid heat.
In fact, the best seasons to visit is anytime but summer, as it gets really brutal out there with summer heat and the limited amount of shade. There are no bathrooms or water pumps either, so be prepared with enough supplies before you go.
4. Look For The Arches
About a mile in you'll see a large arch with a wooden map. This is the entrance to the Cal Poly SLo Architecture Graveyard museum! From here, follow the path up and into the graveyard. You'll probably first stop by the Observation Deck that overlooks many of the structures. From here, wander at will!
As I mentioned before, this is a 9-acre large property and we totally did not get to stop by every structure (we had a tight schedule during our trip). But I want to come back again to give it another go.
5. Look For Horses!
A super cool surprise we had during our visit was finding two horses hanging out next to the graveyard! Did I scream out "horsey!"? OF COURSE! I'm not sure who owns them or if they're there all the time, but you may luck out and spot them, too.
Alternative Hike Into The Architecture Graveyard Cal Poly Site
We actually did a combo hike into the Architecture Cal Poly Graveyard that was totally fun. There's a legit hiking trail that parallels the gravel road for most of the way. Here's how you find it:
1. Instead of taking the garden trail, walk on Canyon Circle road.
2. Go past the dorms and keep an eye out on your right for a little trail sign in the grass
3. Follow Brizzolara Creek Trail until it meets up with Poly Canyon Road.
This is a mostly shaded trail along the creek. It's really nice to hike in this way and then walk back out on the road when you're a little more tired.
Note: Be aware of rattlesnakes!
How To Find The Serenity Swing At Cal Poly Architecture Graveyard
As a rope swing lover, I was so sad to learn that there's a rope swing at the Graveyard… only after I left. Of course! The Serenity Swing is past all the architecture pieces and up a steep hill.
Again, I didn't get but from what a follower on Instagram told me, it's about a 4-mile round trip hike. The trail is really steep at the end but the view from the top is stunning. Apparently, you can see Bishop's Peak, Morro Bay and more of San Luis Obispo county from up there. I'll be back to find this swing in the future!
What To Pack And Wear To The Graveyard Hike
If you are just visiting the graveyard, you can get away with hiking sandals or sneakers. But if you are planning on also going to the swing, I recommend you wear sturdy hiking boots to support your ankles.
As I chatted about above, this area gets really hot in the summer and there's limited shade with no water pumps. Plan ahead by bringing tons of water! You'll also want to wear sunscreen, no matter the season you are hiking. Here's my packing list for you:
I did not have cell service at the graveyard so please also download maps offline. If you are hiking alone, it's also a smart idea to tell someone where you are going in case you have an accident as you won't be able to call for help.
Alrighty, that's how you find the graveyard!! I had so much fun exploring this place and I can't wait to return. If you have tips to add, please leave a comment below so everyone can see. Got questions? Comment or DM me on Instagram @thewhimsysoul and I'll be happy to help!