Whether you want to say goodbye to pesky blemishes, reduce the appearance of large pores or brighten your dark spots, there's a drugstore product to help you save your skin without wrecking your budget.
Pricy skincare might appear to be a worthy investment, but many of the ingredients used for the higher-end products on the market can be found in more affordable options.
You don't have to sacrifice quality when purchasing skincare at a lower price point. In fact, you might be pleasantly surprised at how well these drugstore skincare dupes work—they may even exceed your expectations!
12 Best Drugstore Skincare Dupes (That Actually Work) When You're On a Budget
There are constantly new skin care products trending on social media. It seems whenever you log into TikTok, (or Facebook, Pinterest, Twitter and Instagram) there's a fresh-faced, self-proclaimed skin care expert giving you the rundown on the latest luxury skincare "must-have."
Newsflash, people: higher-end doesn't mean better quality, and if it sounds too good to be true it probably is.
While social media is one way to find some of the best skincare products, it can be misleading. You don't need to go out of your way for overpriced skincare products when you can find some of the best skincare dupes at the drugstore.
It's possible to get the selfie-ready skin you're after without a beauty edit and for much less than you might think. There are tons of amazing dupes for high end skincare these days. Here are 12 drugstore dupes for luxury skincare products with a smaller price tag than that of a night out or a few iced lattes.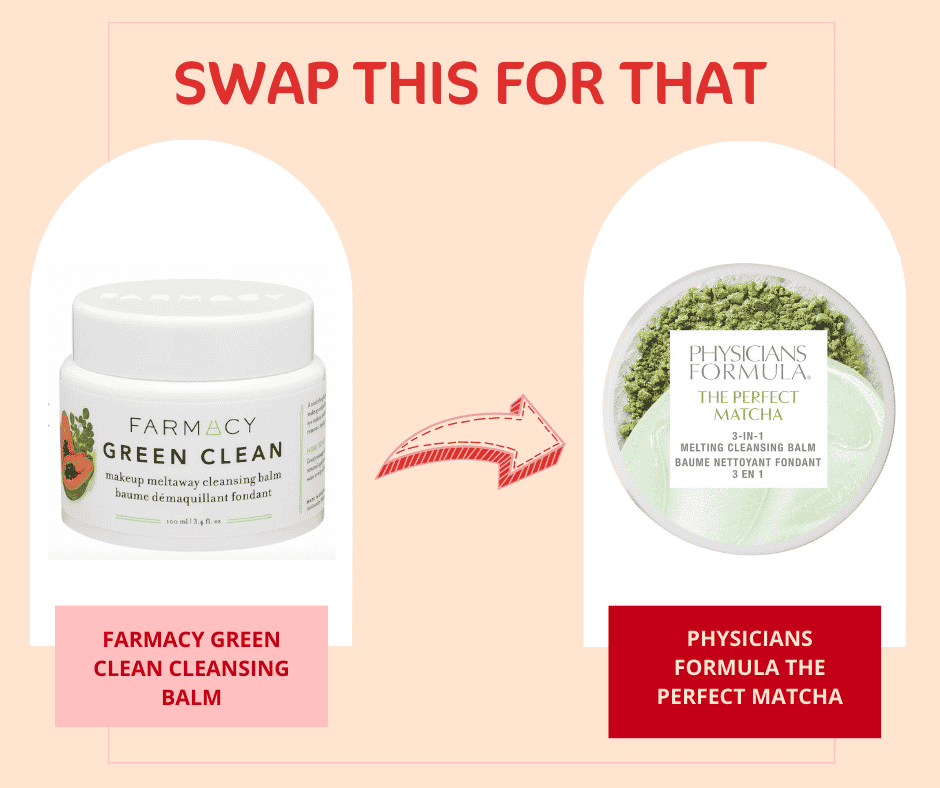 1. Physicians Formula The Perfect Matcha 3-In-1 Melting Cleansing Balm
Cleansing balms work quickly and without any agitation. The formulation isn't as abrasive as makeup wipes since it typically foregoes astringents that can cause redness and irritation. The Farmacy Green Clean Cleansing Balm is a beauty junkie favorite.
It provides gentle exfoliation without harshly stripping the skin. While it's perfect size for when you're on the go and has a tantalizing tropical scent, there's a drugstore dupe that's a true competitor.
The Physicians Formula Perfect Matcha is a cruelty-free cleansing balm that deeply cleanses and leaves skin feeling super soft and well hydrated. It's dermatologist approved and uses antioxidant-packed ingredients like green tea and lotus extract to nourish and moisturize the skin.
It's hypoallergenic and non-comedogenic (so you don't have to worry about clogged pores), plus it's safe for sensitive eyes and those who wear contacts.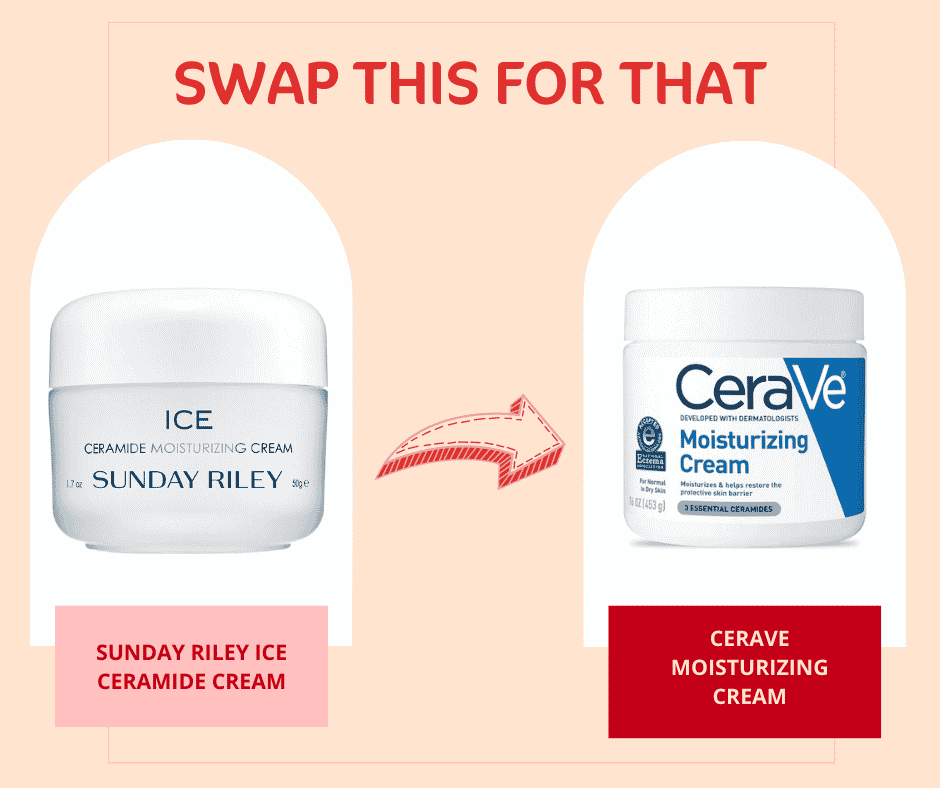 2. CeraVe Moisturizing Cream
Itchy, cracked, dry skin will LOVE the essential ceramides in the CeraVe Moisturizing Cream. Its one of TikTok's favorite luxury skincare dupes. Its formula also has hyaluronic acid to help hydrate your skin and restore its moisture barrier. It's a gentle, fragrance-free, non-greasy drugstore dupe for Sunday Riley ICE Ceramide Moisturizing Cream which retails at $65.
The Ceramide Moisturizing Cream provides the skin with long-lasting hydration formulated with plant extracts. This lightweight, fragrance-free, paraben-free, vegetarian formula helps to strengthen the skin barrier and protect it from environmental stressors.
CeraVe's dewy skin cream formula is perfectly suited for both dry and sensitive skin types. It's hypoallergenic, non-comedogenic, and a great option for eczema-prone skin.

3. Neutrogena Hydro Boost Hydrating Gel Eye Cream
Similar to the Peter Thomas Roth Instant FIRMx Under-Eye Tightening Gel, the Neutrogena Hydro Boost Hydrating Gel Eye Cream quickly absorbs to replenish dry, dehydrated skin.
Its paraben-free, non-comedogenic and ophthalmologist-tested formula has purified hyaluronic acid to help lock in moisture, and keep the delicate eye area feeling smooth all day long. The Hydro Boost Eye Cream is unscented, lightweight, and can be worn on its own or under makeup. If you want an additional cooling effect when applying, store it in the fridge.
While both eye creams are silicone-based, Peter Thomas Roth's gives fast-acting but temporary results while providing long-term benefits. Silicates, seaweed, and a peptide complex work to reveal a smoother appearance to fine lines and wrinkles.
Neutrogena's gel eye cream uses dimethicone to smooth the under-eye area for an ideal base before applying concealer. This Amazon best seller's star ingredient is hyaluronic acid, an excellent hydrator that helps to plump, brighten and strengthen the skin.

4. Good Molecules Glycolic Exfoliating Toner
What makes the SK-II Facial Treatment Essence unique is the yeast-derived ingredient galactomyces ferment. It's also called "Pitera" and it's considered a skincare miracle that seemingly does it all, from minimizing pores to controlling oil production.
It's a treatment loved by celebs like Cate Blanchett and Simone Biles, and retails for a whopping $185 for a 5.4 oz bottle. Sadly it does contain parabens and according to many reviews on Sephora.com it doesn't have the most pleasant fragrance.
Instead of spending $200 for brighter, smoother, more hydrated skin…Good Molecules Glycolic Exfoliating Toner does it all for under $15. It uses glycolic and hyaluronic acid in addition to galactomyces ferment to prevent dull, discolored, dry skin.
It also has aloe to help soothe the skin, but make sure to wear SPF and avoid products with retinol or any chemical or physical exfoliants while using this product. Try using it a few times per week before working your way to using it daily.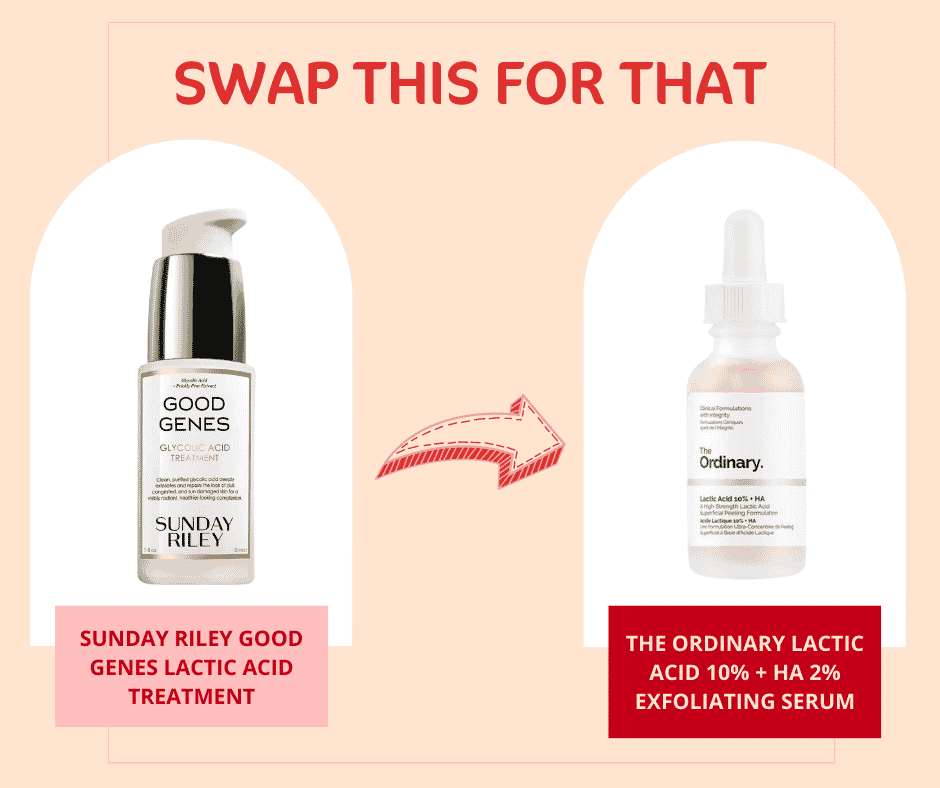 5. The Ordinary Lactic Acid 10% + HA 2% Exfoliating Serum
A little lactic acid goes a long way. The Ordinary Lactic Acid 10% + HA 2% is everything you want in a product for brighter, tighter skin. Unlike Sunday Riley Good Genes, it's made without silicones and uses Tasmanian pepperberry to reduce skin inflammation.
Sunday Riley claims their treatment is clinically proven to plump and brighten the skin and reduce the appearance of fine lines in 3 minutes – thanks to the potency of their purified lactic acid and the incorporation of licorice for a more radiant glow.
While both formulas are vegan, when it comes to savings The Ordinary is the obvious choice. It retails for just $8 while Good Genes Lactic Acid Treatment retails for $85.
The Ordinary products are a great start for anyone looking for skincare on a budget. Check out Whimsy Writer Jafei's
The Ordinary Skincare Guide
for more!

6. Ordinary Glycolic Acid 7% Exfoliating Toning Solution
While the Mario Badescu Glycolic Acid Toner might seem like an ideal product to get a luminous glow, The Ordinary Glycolic Acid Toning Solution works just as well for $8 less.
The Ordinary's vegan formula works to improve skin texture, unclog pores and combat premature aging. It's a safe option for sensitive skin since it offers a mild exfoliation, and it's fragrance-free.
Mario Badescu claims its grapefruit extract and aloe-based formula reduces the appearance of pores, fine lines, and wrinkles. The brand promises a more even complexion and skin that's more youthful and balanced as it sloughs off dead skin without being abrasive.
The Ordinary achieves this with ingredients like ginseng and Tasmanian pepperberry and without parabens or phthalates. Remember to use an SPF during the day when using AHAs like glycolic acid. While we're here, if you're eyeing the Mario Badescu drying lotion, try Bye Bye Blemish instead.

7. Olay Mist Ultimate Hydration Essence
Is Tatcha Luminous Dewy Skin Mist the one OTT product in your skincare routine that you just can't do without? If you're skeptical about finding a replacement that works just as well as your $50 skin mist, look no further than the drugstore.
Olay's Mist Ultimate Hydration Essence retails for less than $15 and has an antioxidant-rich formula of botanicals that leave you feeling refreshed with a dewy all-over glow.
Both brands' formulas are paraben-free, include botanicals and humectants, and are great for dry skin. Tatcha claim's its formula of red algae, hyaluronic acid, double-fermented green tea, and Atika rice promotes the creation of new skin cells and effectively combats environmental stressors.
The fast-absorbing sprays can be used under or over your makeup, and help you feel refreshed while out and about.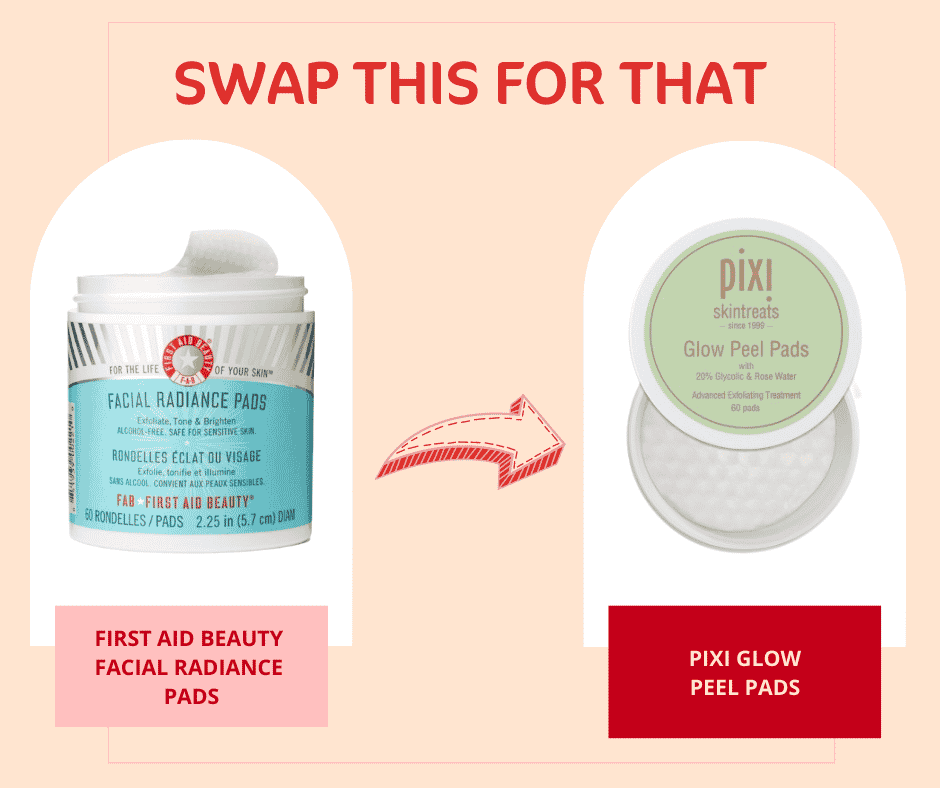 8. Pixi Glow Peel Pads
The First Aid Beauty Facial Radiance Pads are vegan, cruelty-free, suitable for all skin types, and made with clean ingredients.
For $36 you can get a 60 count that will brighten and exfoliate your skin with glycolic acid and lactic acid. First Aid Beauty claims 91% of participants saw results after four weeks and 95% said the pads were gentle on the skin after using them for two weeks.
If you'd rather spend $22 to shop for a 60 count of exfoliating pads, try Pixi Glow Peel Pads. They are cruelty-free, paraben-free, and have 20% glycolic acid to exfoliate and brighten skin. These exfoliating pads can be incorporated into your nighttime routine to remove dead skin cells without irritation.
They also have aloe, arginine, and rose water to soothe, protect and hydrate the skin. Many have left a glowing five-star review for these pads on pixibeauty.com for these little gems.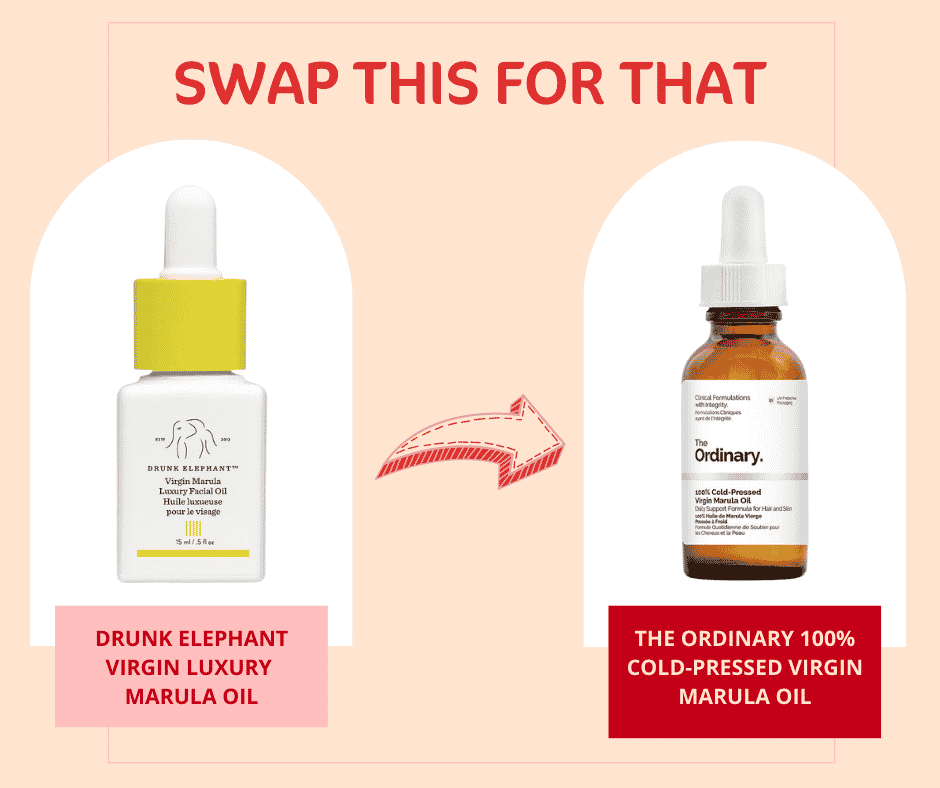 9. The Ordinary 100% Cold-Pressed Virgin Marula Oil
Oils for hydration? While it may sound counterintuitive, using antioxidant-rich plant oils on the skin is an ideal option for those with dry to very dry skin and hair. The Ordinary Cold-Pressed Virgin Marula Oil can also be used to seal your ends.
Yes, you read that right. Oils for your skin and har! For more hair care, check out this 30-day review of the ever trendy, Olaplex Hair Treatment, or for even more dupes read this round up of 11 best Ola plex dupes.
The Ordinary offers a cruelty-free product that costs less than $10 at your favorite beauty retailer and an excellent Drunk Elephant dupe for the Drunk Elephant Virgin Luxury Marula Oil that's rich in omegas and antioxidants like vitamin E.

10. The Inkey List Retinol Anti-Aging Serum
While the lightweight, anti-aging Versed On The Rise Firming Serum has unfortunately been discontinued, The Inkey List Retinol Anti-Aging Serum is a worthy contender for your skincare routine. Smoother, brighter skin is within your reach with this intensive retinol treatment.
It has added squalane that's super hydrating and won't clog your pores. This serum makes dullness, dark spots, and crepey skin a thing of the past.

11. Versed Just Breathe Clarifying Serum
Sadly the Dermalogica Overnight Clearing Gel has been discontinued, but you can get a similar product that's just as effective at the drugstore.
Versed Just Breathe Clarifying Serum is perfect for acne-prone skin as it prevents clogged pores and inflammation to reveal clear skin with zero redness. Ingredients like niacinamide, salicylic acid, zinc, and willow bark extract help to heal current breakouts and prevent future ones.

12. The Inkey List 15% Vitamin C + EGF Brightening Serum
Drunk Elephant C-Firma Vitamin C Day Serum is a cult favorite since this fast-acting serum uses an intense antioxidant blend of 15% ascorbic acid, 0.5% ferulic acid, and 1% vitamin E to prevent signs of dull, aging skin.
This DIY mix-in keeps the treatment fresh for each application. The Inkey List 15% Vitamin C + EGF Brightening Serum is a potent yet lightweight gel that brightens and tightens the skin. It's vegan, cruelty-free, and will work with a variety of skin types. It has 15% ascorbyl glucoside and plant-derived EGF to promote the production of new skin cells.
Editor's Note: New skincare dupe rumor… Trader Joe's just launched Daily Facial Sunscreen and the internet is comparing it to SuperGoop Unseen Sunscreen. I don't know about you, but I'm adding it to my grocery list! – Taylor
Whether you have dry, sensitive, acne-prone or oily skin there's a drugstore alternative to those super sought-after luxury products on your social media feed that can actually fit into your budget.
Which of these products are you most excited to add to try? Is there a drugstore dupe you consider a 'holy grail' in your skincare routine that wasn't mentioned? Leave a comment below with your go-to skincare product.