I got out of the car at our Big Bear Lake cabin and the first thing I noticed was how the air smelled just like the inside of a Christmas candle. I knew it was going to be a good weekend. No matter what season you visit, there's tons of fun things to do in Big Bear and in this blog post travel guide I'm dishing out all the top travel tips!
Keep reading for how to spend a weekend in Big Bear (where to stay, what to do, where to eat, pack and more!) This guide is good for year-round trips.
Your Ultimate Weekend in Big Bear: Top Things To Do in Big Bear Lake California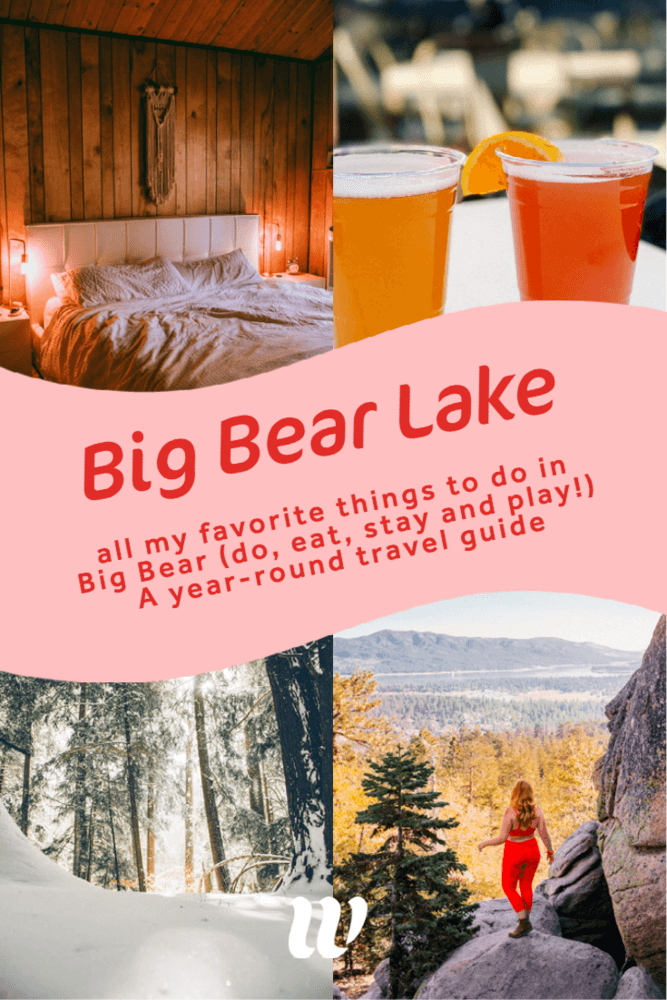 >> Got a question about Big Bear Lake that you need answered quickly? DM me on Instagram @thewhimsysoul and I'll be happy to help!
Robin and I live up in San Francisco and were craving a fall trip. For those unfamiliar with the Bay Area, we don't really get seasons. I'm a basic fall betch – I wanted to see fall foliage! We decided on a last-minute Big Bear road trip this October and I was blown away by Big Bear for a few reasons.
First – even though this is considered the Lake Tahoe of Los Angeles, it attracts far fewer visitors in the fall season than Tahoe. We never had to fight for parking spots at trailheads or wait in lines at the store. Note: it does get busy if you visit Big Bear in the summer or winter but not nearly as insane as Tahoe can get, which is great if you hate crowds!
Second – it's much much smaller than Lake Tahoe. It doesn't take very long to drive around to all the top Big Bear activities which made exploring easy and relaxing. We had a mental map of the place in one day. Third – the air smells freaking amazing here! Seriously, I can't get over it.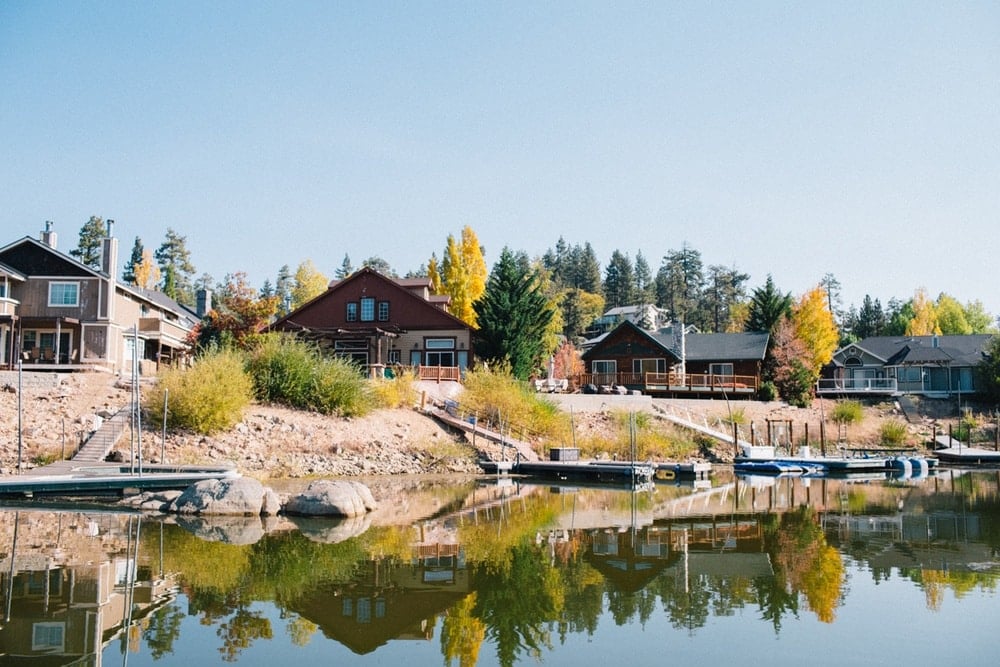 Where To Stay In Big Bear Lake
There are some really cute Big Bear cabins & rentals that you should rent out when spending time on the lake! There are a few basic hotels (like the Days Inn, etc) but cabins are absolutely the way to go when planning a weekend to Big Bear Lake. No matter the season, you'll find yourself curled up next to the fire or hanging out on the cabin patio enjoying the fresh air.
It doesn't really matter where in Big Bear City you book a cabin as you'll be driving everywhere anyway. Most things are connected via Big Bear Blvd so it's easy to drive around, but it's all spread out (It's not like this area is super walkable.) BUT – if you are planning on spending a ton of time on the slopes, it may make sense to book slightly closer to Big Bear Mountain just to cut down on driving time in the morning.
Ultimate Big Bear Cabin: This is the Big Bear Airbnb we stayed at! I booked this for us because I loved the back patio space (hot tub, chairs, lights, hammock.) The living room has fun pops of red decor and a fireplace for winter, and I really loved the bedroom as well (heated beds!) It was in the perfect location for our first time to the lake.
Big Bear Treehouse: One of the most Instagram-famous Big Bear Lake cabins that can fit a huge crowd of friends coming to the mountain for a trip.
Honeybear Cabin: This Airbnb is super affordable at around $100 per night (at the time of writing this blog post.) AND, it's so dang cute! Just look at the decor and the backyard. I tried to book us here but it's super popular so it was all booked out.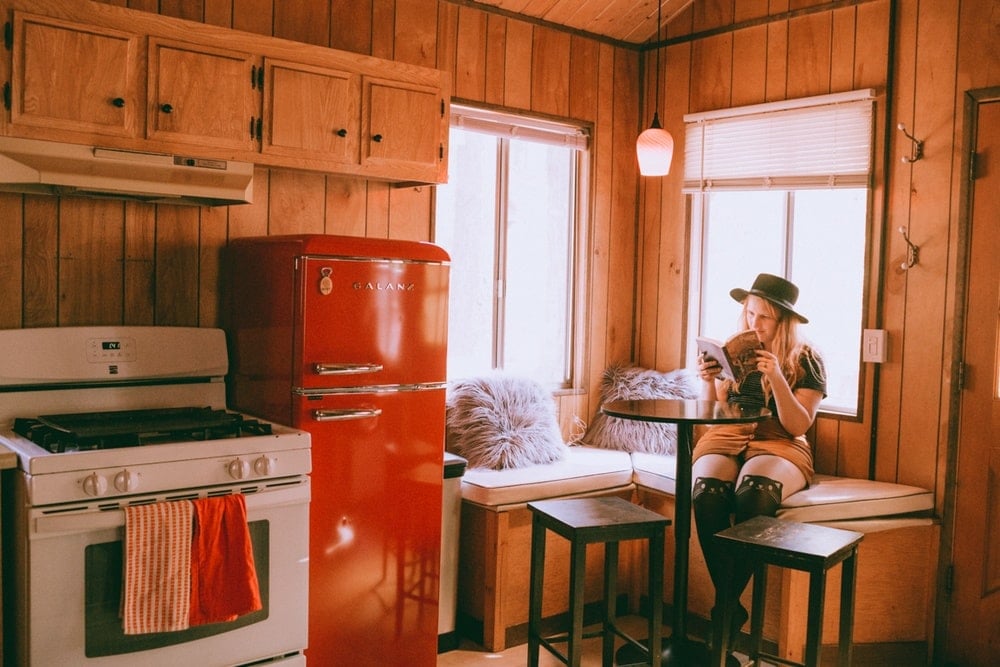 Weekend in Big Bear: Top Things To Do In Big Bear Lake California
Now to chat all the fun things to do in Big Bear Lake.
Hike Castle Rock Trail
There are a good handful of hiking trails in Big Bear but Castle Rock Trail is by far the most popular. I had a BLAST hiking this trail! It's easy to moderate (I saw some pregnant ladies hiking it) and makes a fantastic morning activity to do on your first full day. It's dog friendly so bring your pup, too!
Park at the lot on the lakeside of Big Bear Blvd, which is about 50 feet from the trailhead which has a big sign so you'll see it. You'll have to cross the highway which can be dangerous so take care of cars whipping around the corner. This lot can fill up super quickly on weekends so I recommend getting there before 9am to make sure you get a safe parking spot.
The trail is simply stunning in the morning light. It's a lot of UP the whole way with lots of stairs and scrambling around boulders, but the views at the top are STUNNING (you can see the lake!) Keep hiking until you see the "Castle Rock" sign. You can rock climb all the way to the top, or stop halfway up Castle Rock (which is what we did since I can't rock climb)! It took us about 90 minutes, but according to All Trails, it takes the average visitor 2-3 hours.
Big Bear altitude can kick your butt if you live at sea level (like in San Francisco or Los Angeles area). On top of drinking lots of water, I recommend
a Nuun tablet
in your water bottle to stay hydrated!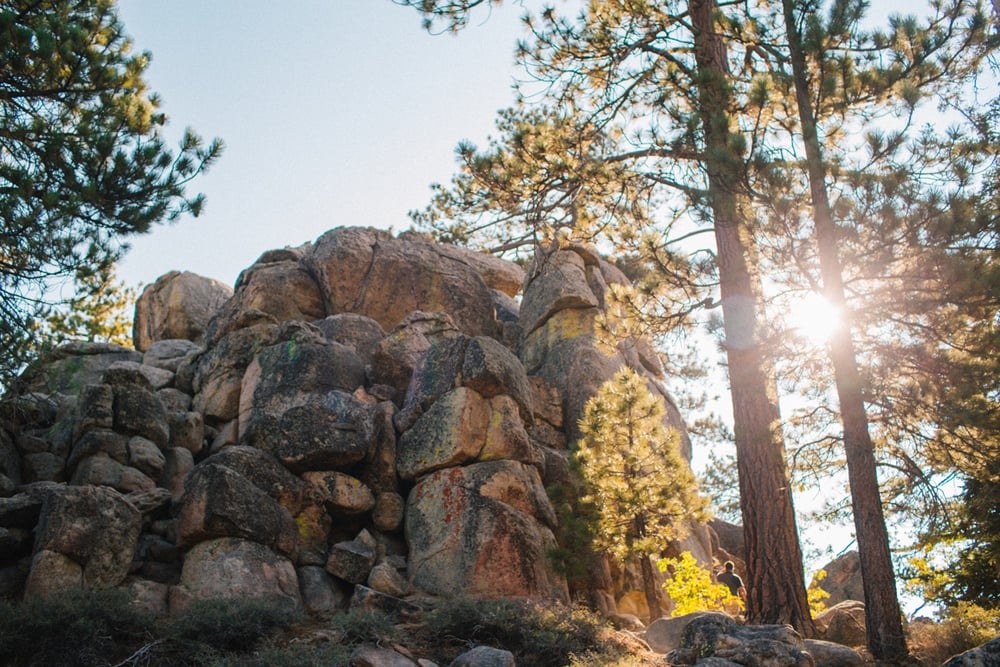 Alpine Slide At Magic Mountain
YOU GUYS I was so excited to go on this mountain slide but alas – they limited open hours during the fall and they weren't open when we visited. *sobs* But if you are in Big Bear Lake during the summer, winter or on a weekend, this is a must-do activity. (Just check their hours, first.)
The Alpine Slide at Magic Mountian is a giant outdoor coaster – sorta like a bobsled (think Cool Runnings). It's safe for all ages and they have a great ticket deal where you can buy a pass for 5 rides for $30. There's also the Minecraft Coaster, which is the only mountain coaster in California.
Stanfield Marsh Wildlife Boardwalk
If hiking isn't your thing, or you are traveling with small kids or non-able-bodied folks, try the Stanfield Marsh Wildlife Boardwalk instead! It's a long boardwalk overlooking a marsh with tons of birds and has some lake views, too. It's all flat and if you go in the morning you'll probably have it all to yourself.
After the boardwalk, pop over to the Alpine Pedal Path Trail On The North Shore (just keep your car parked where it is and walk over.) You'll end up at the lake and you can keep walking even further along the path (it's 5 miles long) or turn around and head back to your car. If you brought bikes, or rented one from a shop in town for the weekend, this is the best bike path to ride on, btw!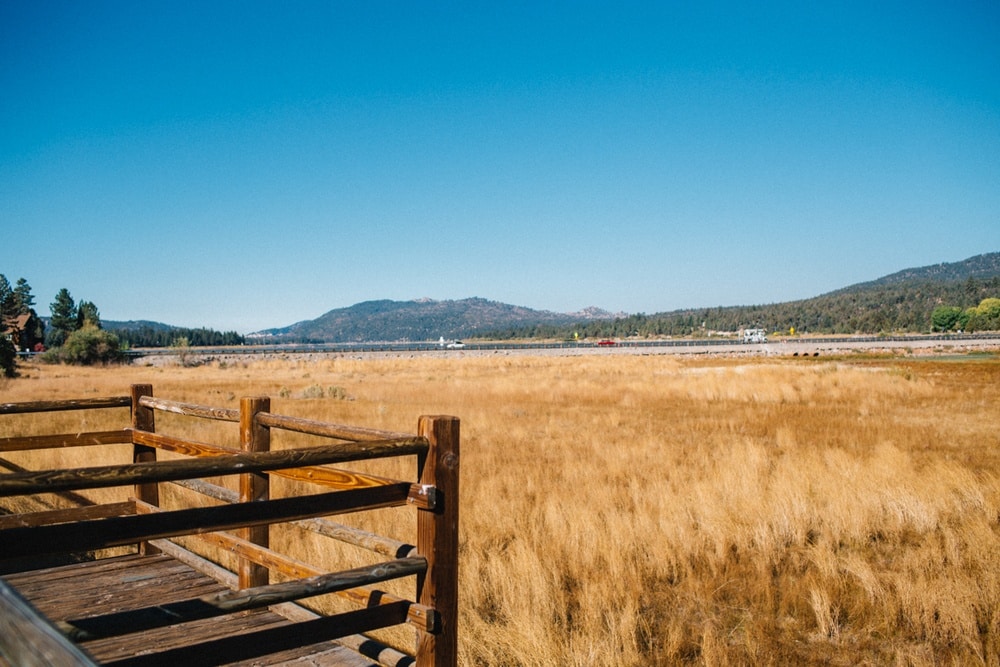 Ski & Snowboard In The Winter Months at Big Bear Mountain
( snow summit ski resort) one of the top Big Bear attractions
Big Bear Village Shops
The Village Shops are kinda like the heart of Big Bear City. I'm not sure if there's an official downtown but this would be it. It's a cute tree-line collection of streets. There's tons of local shops here, along with most of the popular restaurants. It's always bustling here, but especially in the afternoons/evenings close to dinner time.
My favorite store is O KOO RAN – a super trendy boutique with cute clothes, jewelry, they even sell the Yosemite candle that I picked for my November Candle Of The Month! Another shop that I really loved was the Village Sweet Shoppe, an old-school candy shop that gave me all the Honey Dukes vibes.
There aren't a lot of indoor things to do in Big Bear but shopping (kinda) is one of them. If the weather outside is frightful, hop from store to store and check out all the great local goods!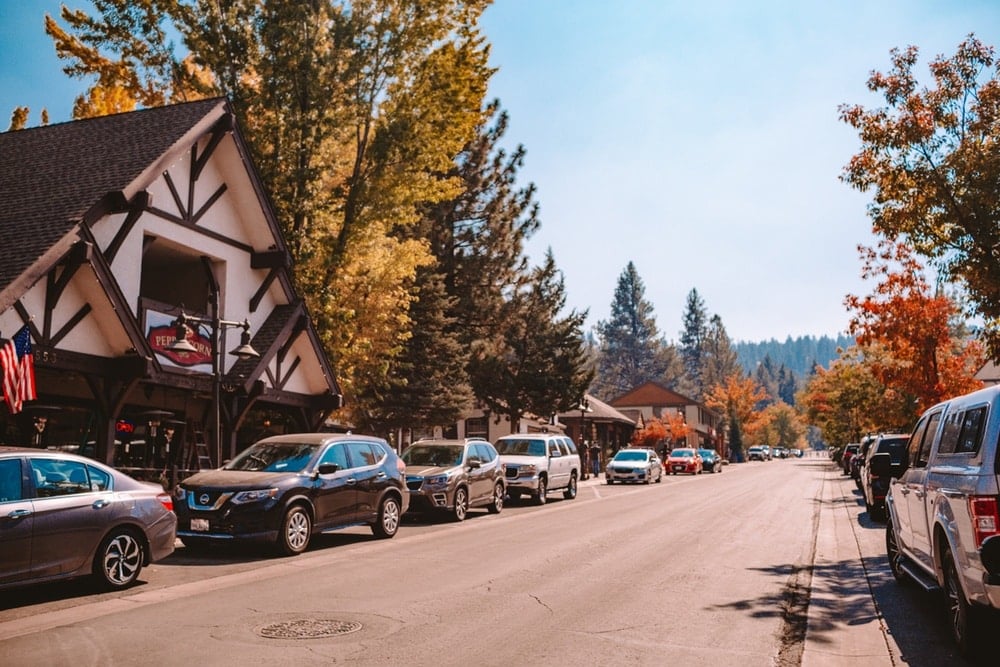 Cruise The Lake
During the summer you simply must get out on the lake to do some boating! You can bring your own boat (oh la la fancy you!) or you can instead easily take a Big Bear Lake cruise. The two most popular Pirate Ship Cruise at Holloway Bay or Miss Liberty Paddlewheel over on Pine Knot Ave Marina.
Both look really fun but I personally would pick The Pirate Ship Cruise because- duh, it's a pirate ship! On top of making it a fun yo ho ho afternoon, they have a tour guide on board to share the history of Big Bear Lake so you can learn about the area in style.
Picnic At Boulder Bay
Boulder Bay is a small little park right on the lake. It's not very big (so it's not the best for a walk) but it has great views and picnic tables if you're looking for a place to get lunch outdoors! There's free parking and bathrooms here, too.
Kayak or Paddleboard The Lake
What to do in Big Bear summer when you don't have a boat or don't want to cruise? You kayak or paddleboard!! I love both activities but recently have been loving paddleboarding on trips and try to go whenever possible. There are a few places you can rent boards around town but I recommend checking out Paddles and Pedals on the North Shore. They're right on the water (no hauling the board to the lake) and have a parking lot so it's easy to rent and get out!
Hike Heart Rock Trail at Crestline
I think hiking is my favorite of the Big Bear lake activities and I had SO many people DM me on Instagram about the Heart Rock Trail hike. I didn't look into it until our last morning and I'm still kicking myself for not going on this hike because it looks AMAZING.
This trail is short, about 2 miles round trip. It leads you to a gorgeous waterfall that has pools at the bottom which are safe to swim in. This would be an awesome summer hike to do so you can cool off under the waterfall. I swam under McCloud Falls and if you haven't gone swimming in a waterfall yet, you're missing out on life.
Oh, and it get's the heart name from a giant heart-shaped rock on the trail!
Day Trip to Lake Arrowhead
Lake Arrowhead is another lake up in the San Bernadino Mountains. It's smaller than Big Bear Lake but the town of Lake Arrowhead is arguably cuter. It's called the "Alps of Southern California" because it feels a lot like a mountain town you'd find in the Swiss Alps.
You can stay in Lake Arrowhead proper (I almost booked us this cabin because I loved the hot tub) or you can day trip over from Big Bear Lake. Walk around downtown, have lunch and take in the sights!
Christmas Village Vibes
While Big Bear Lake in California doesn't usually get as much snow as Tahoe, you can sometimes find a Southern California white Christmas up here! You can do sledding or tubing, or hitting the slopes at Big Bear Mountain. Cozy up in your cabin or stroll the village shops which get decked out with lights and decorations.
Go Extreme
If you love extreme sports, head to the Big Bear Jeep Experience – they do off the road tours around the mountains! You ride around off-trail over boulders, across streams and see parts of the mountains that you wouldn't be able to see otherwise. Or, if you'd rather see the mountains via air, book a helicopter ride – they start at just $35 per person! (There's also segway tours in Big Bear, too!)
Kid-Friendly Activities
Looking for more specific kid-friendly activities in Big Bear Valley? Check these ideas out:
Big Bear Alpine Zoo: If you got kids, this is a top Big Bear things to do. They'll want to spend all afternoon here.
Big Bear Discovery Center: Head here for more info on area things and tons of childrens events.
Gold Rush Mining: I used to love doing things like this as a kid. Your tiny ones can "mine" for themselves and take home rocks!
Where To Eat In Big Bear Lake (Top Restaurants)
Whenever we book a cabin I love to spend at least half our meals at the cabin cooking. There's something so nice about putting on a good playlist, cooking something homemade next to a fire and taking it out on the porch to eat. But I also love to eat out and explore local hot spots! Here's where we think the best places to eat in Big Bear Lake are.
572 Social Kitchen
572 Social Kitchen is a great place to head to for happy hour and just people watch. While there is indoor seating, there's tons of outdoor seating that's open year-round (with cool fire pits for the winter season!) We loved our California Burgers. Grab a beer or cocktail and enjoy the fresh air.
Moonridge Coffee Company
Head to Moonridge Coffee Company or the BEST breakfast sandwiches and croissants in Big Bear. We had their breakfast croissants one morning and I'm drooling just thinking about them.
Dank Donuts
A local hot spot, Dank Donuts makes amazing treats (vegan and gluten-free donuts, too!) They have traditional donuts but also fun flavors (like pineapple). Or, come here on a Tuesday evening after a long day at the slopes for their Taco Tuesday menu.
OJ's Donut House
Dank Donuts has some odd hours, so if they're closed when you're craving something sweet, head to OJ's Donut House instead. This is where we picked up a whole box of donuts for breakfast (and road trip snacks!) If you want something filled with cream and it isn't, the staff will quickly fill a donut up for you, too.
Grizzly Manor
Grizzly Manor Cafe is probably the most famous breakfast spot in Big Bear City. There's always a line to get inside, though you can usually make ar reservation on yelp ahead of time. It's that classic tiny breakfast joint that makes giant pancakes and large serving so you can fuel up for a long day of skiing or hiking.
Barrel 33
Barrell 33 is a cute little wine bar & shop if you're craving amazing wine options. They also have some craft beer available, too! What makes this place stand out is their back wine bar patio. If it's nice out, head here for a happy hour glass of wine.
Important: Driving Safety Tips
Big Bear Lake is only about 100 miles from Los Angeles but most of that drive is spent on winding roads that can get foggy in the summer or icy in the winter. If you are visiting in the winter, drive a 4WD car and be prepared to go slow.
We came down from San Francisco so we decided to take the "back way" to Big Bear through Lucerne Valley to cut down on the time we were winding through the mountains. It's much faster to go right through the mountains if you are coming from LA or San Diego, but if you are driving from up North, considering entering the way we did. It's safer and easier!
What To Take To Big Bear California (Your Packing List!)
While Big Bear Lake is in Southern California, it's tucked in the San Bernardino Mountains which means there's all four seasons here and weather can be all over the place. Layers will be your friend! I spent the mornings bundled up but by the afternoon was strolling around in a skirt and tights.
The elevation of Big Bear Lake is about 6700 feet, which means you'll also have to plan for altitude adjustments (I always pack Nuun tablets for hiking because of this!)
Obviously, look up the weather before you leave, but here's the basics that I would pack for any Big Bear Trip.
Extend Your Trip To Palm Springs & Joshua Tree
Joshua Tree is about a 90-minute drive away from Big Bear Lake, so if you're looking for an epic California road trip, consider tacking on a few days to your weekend getaway so you can drive out to the desert.
We love Joshua Tree. They literally have some of the best, coolest Airbnbs down there (think castles, dome houses, etc.) and the national park is simply stunning if you haven't visited before. Palm Springs is about a 45-minute drive from Joshua Tree if you haven't been there. Think colorful doors, tasty California cuisine, luxury hotels with pools.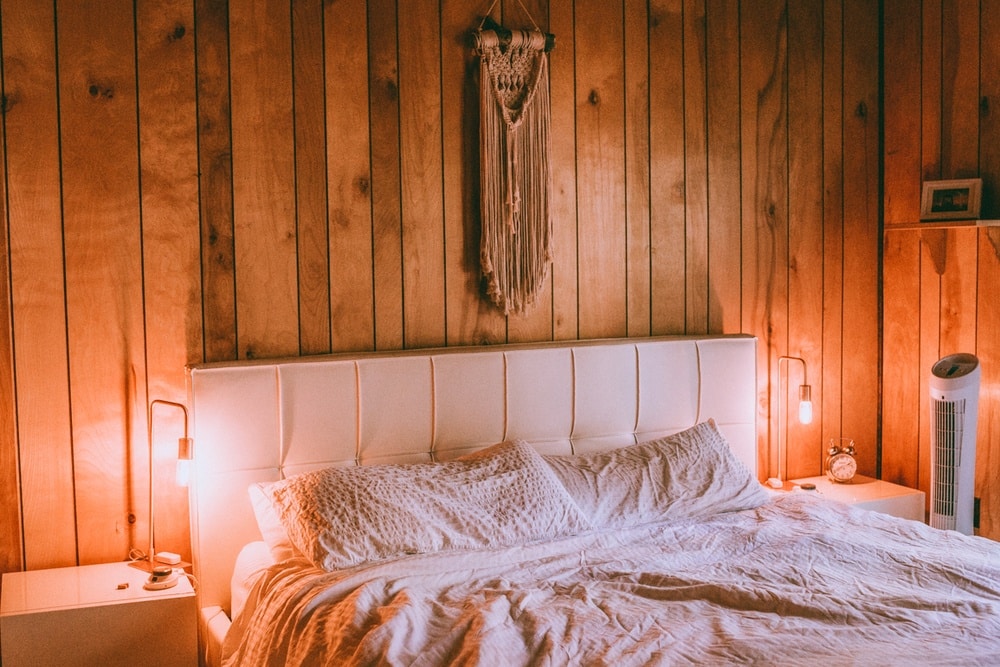 I loved visiting in October. There are fewer things to do in Big Bear in the fall (ie the alpine slide isn't open every day, no skiing, etc) but I loved it that way. It was empty, the perfect temperature had trails all to ourselves and I adored just chilling at our cabin anyway. Next time I want to come during the late spring to do a day trip to Lake Arrowhead.
I hope this travel guide helping you prepare & learn all the things to know before going to Big Bear Lake. I think Big Bear should be on everyone's California bucket list. If you have additional tips to add to this guide, leave a comment below so everyone can see! If you have questions, comment or DM me on Instagram @thewhimsysoul and I'll try to help!