Have you always dreamed of a romantic winter holiday on the mountainside? Experience the best of Colorado winter in this small ski town in the Rockies. Whether you're a "cozied up by the fireplace" kinda gal or you can't wait to race down the slopes,a weekend in Breckenridge, Colorado is just the place for you.
Just 2 hours from other popular destinations like Denver and Boulder, this picture-perfect little skiing town is easy to get to and even easier to add on to an existing trip (it's so close to Vail and the big cities!) After visiting Breck, as the locals call it, here's all the best things to do in Breckenridge, Colorado.
23 Best Things To Do In Breckenridge This Winter That Aren't Skiing
Wondering what to do in Breckenridge, now that you're tingling with wanderlust? This insider's guide will tell you everything you need to know- and more! Justina and I were attending the Taste of Vail event in Vail, about 45 minutes up the road from Breckenridge earlier this year.
We had a lot of down time and ran around the nearby mountain towns and hot springs. And wanna know a secret? I liked Breckenridge a LOT more than Vail. Here's the gist:
Breckenridge at a Glance
Location: ~1.5 hours (without traffic or bad weather) from Denver and BEFORE you hit the Eisenhower Tunnel
Vibe: People actually live here so it has the mountain town meets ski village vibe. Laid back, welcoming and charming
Best unique sights: Ivan the Troll, taking the free gondola, eating a piece of pizza as big as your head at Breckenridge Ale House
Best season to visit: They have all 4 seasons here. Winter snow season usually starts late October and runs through May. Summer can get hot, but is great for hiking trails.
Best Breckenridge Hotels
One of the things I like most about Breck is the number of ways you can stay. Though there are a handful of incredible ski resorts in town, you can also find a wide array of vacation rentals to suit your group. Cozy mountainside cabin? Check. Adorable A-frame? Check. A modern apartment right in the center of all the action (with heated floors, yes please!)? Check, check, and check.
Pro-Tip:
If it's in the budget, consider staying in a ski-in ski-out accommodation. This means direct access from your hotel, resort or vacation rental to the ski run. You can even select it in the filters on
Vrbo
and Airbnb.

How to Get to Breckenridge in the Winter
First things first. You might be wondering how to get to Breckenridge, especially during the wintertime when snow is almost always in the forecast. The easiest, and most popular, route is to fly into Denver International Airport. From there, you can actually take an airport shuttle, which is a great opportunity to save some $$ on a car rental as they start at about $45 a person.
Plus, then you don't need to worry about navigating ever-changing weather conditions on your own which is a LOT to handle if you aren't ready for snow driving. If you do drive in the winter, you WILL need a car with 4WD or snow chains. these are my favorite snow chains that I use on my winter trips that are easy to install.
Getting Around Breckenridge
If you do want to explore the area and take day trips from Breckenridge, you'll need a rental car. But, if you're not comfortable or confident driving in the snow, you have options!
Some of the key areas like Main Street Breckenridge are pretty walkable and there's Uber, Lyft and shuttle/bus options. I recommend checking out Breckenridge Free Ride (aka Breck Free Ride). It's a free bus service that takes you all around town including Beaver Run and the ice rink!
23 Things to Do in Breckenridge In The Winter & Summer
Breck has a little bit of something for everyone. Though the ski hill is next door to the town, there's plenty to do that doesn't involve bundling up like the Michelin Man. Breck has plenty of food and drink options to keep the foodies satiated and a decent number of low-key nightlife options.
Best of all, Breck has TONS of charm. It's totally hip without being pretentious and feels much more like a small town than a fancy ski village. Plenty of locals live here year-round, so you might even make some new friends along the way. Parts of Breck, especially the downtown area, feel kind of old-westerny which only adds to the town's postcard-worthy facade.
1. Take a Selfie with Isak Heartstone
Visiting the famous troll, Isak Heartstone, is basically a right of passage when traveling through Breckenridge. Created by Thomas Dambo, this 15ft creature is the town's unofficial mascot. His trailhead is at the Stephen C West Ice Arena Ice Rink parking lot near the Illinois Creek Trailhead.
Just a warning, the trail to Isak Heartstone is short but can get pretty icy during the winter, so wearing shoe grippers is highly recommended.
2. Ride The Free Gondola
Looking for free things to do in Breckenridge? There is a free gondola that takes you from the parking area in town to the base of the resort/ski hill. Anyone can hop on when it's running.

It takes about 20 minutes and offers tons of scenic views of the resort and mountains below. Gondolas to ski runs are paid, but if all you want is an opportunity to take in the landscape from a bird's-eye view and maybe snap a pic or two, this freebie has you covered.
Pro Tip: Parking at the resort is very pricey (over $30) so if you're trying to stick to your budget, it's best to park in town for free (or cheap) on the street and walk over to the BreckConnect gondola unless you are skiing. Street parking is paid for, but your first hour is free!
3. Explore the Main Street Area
The historic main street is where you'll find the majority of fun things to do in town that don't revolve around outdoor recreation. Especially around Christmas time, this historical street comes to life with twinkling lights, towering evergreens, and cozy shops- it's straight out of a Hallmark movie.
Looking for more specific things to do in downtown Breckenridge? I don't know about you, but hunkering down around the fireplace with a warm blanket and a good book sounds like the ideal way to spend a ski trip evening.
To find a swoon-worthy romance or thrilling mystery to pour over when the sun sets, head on down to the Ole Man Berkins Bookstore. This hidden gem is filled to the brim with novels of all sorts, and of course, that sweet, sweet old book smell.
4. Go On A Day Trip To Vail
Once you've participated in all the Breckenridge winter activities, it might be time for a day trip. Just 21 miles up the road, Vail is a posh hotspot for snowboarders and skiers, not unlike Breck but with a totally different vibe. Even if you're not renting a car, this is a day trip destination that is easily accessible thanks to bus transportation and taxis.
Vail Village will offer you quaint, alpine charm and will leave you thinking you've teleported to Europe without leaving the United States. A bike along the Vail Pass Path is not to be missed if you're traveling during the summer, but it can easily be tackled with some snow gear as well.
We stayed in Vail during our trip to the Rockies and it has a TOTALLY different vibe from Breckenridge. While coming to check it out in the day and do some ski runs is of course, super fun, I would actually recommend sticking around for dinner in Vail and renting out a gondola at Alpenrose. It was the most special food experience I've had in ages.
5. Soak in the South Canyon Hot Springs
Listen, is it really a ski holiday if you don't bathe in some hot springs amidst the snowcapped mountains? I'd like to think no. A day trip to the South Canyon Hot Springs is a longer one (around 1.5 hours each way) when leaving from Breck, but it's totally worth it. The springs will be pretty busy throughout the day, but there are several ways around this if you're looking for a stellar photo op.
The locals show up after dark to party … and also at sunrise to soak off a hangover, so arrive ready to make some new friends. Remember to pack out your trash!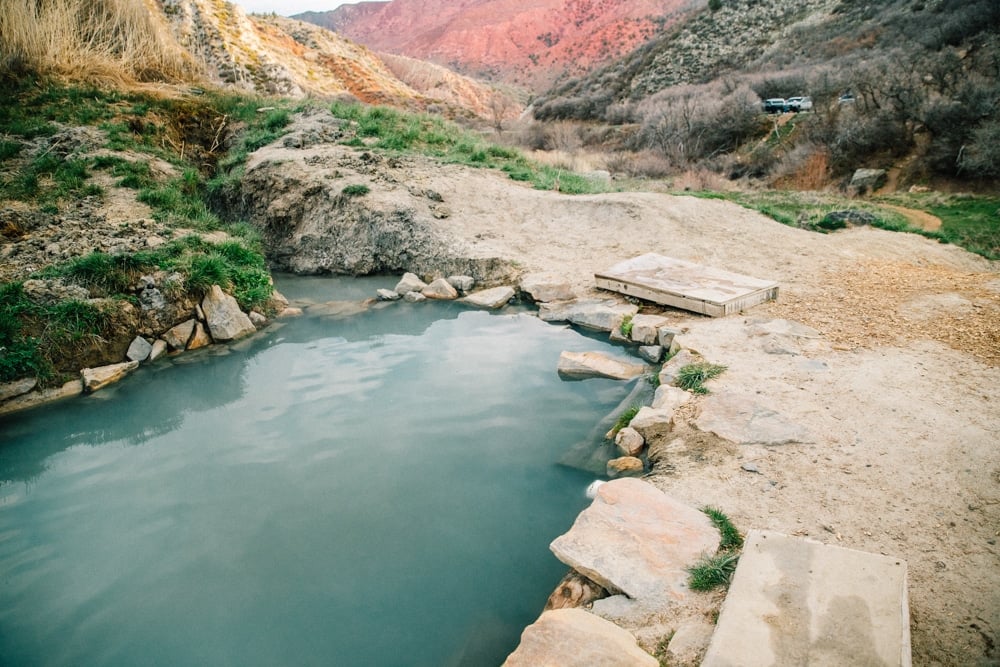 While you're in Glenwood Springs, where the hot springs are, I highly recommend you also swing by the Yampah Vapor Caves. These caves are piped with mineral hot spring water, so they're steamy, over 120 degrees and detox the heck out of you. It instantly cured my altitude sickness and was one of the coolest things I've down in ages.
6. Throw Some Skeeballs Downstairs at Eric's
Get ready to embrace your inner child with a night at the arcade in Eric's. With 27 arcade games and 30 draught beers to choose from (plus an even larger bottle selection), you'll wish they were open later than midnight. Come for the games and stay for the drinks- just don't leave your competitive side at home.
7. Hit the Slopes
Come on now, it may seem obvious, but you cannot have the ultimate ski trip in Breck without- well- going skiing. Even if you're a total beginner, it's worth dedicating at least one day of your trip to taking lessons and learning the ropes. There's truly no shame in hanging out on the bunny hill all vacation long.
Skiing is one of the best things to do during the Breckenridge winter, so this activity is a must. Breckenridge ski Resort is one of the most popular places to hit the slopes, but you can also check out the runs at any of the other surrounding resorts.
Pro Tip: It's no mystery that Breckenridge is a popular tourist destination for skiing. If you're staying in Breckenridge or in the surrounding area, consider skiing at Copper Mountain. It's only about a half hour drive away!
8. Try Dog Sledding
What's better than a super cute dog? A super cute dog with a job. Start your vacation off on the right foot by choosing a unique winter activity led by a group of the friendliest (and fluffiest) tour guides around. Dog sledding tours are a popular choice for tourists in Breckenridge so be sure to book your tour early if this is something you want to cross off your bucket list.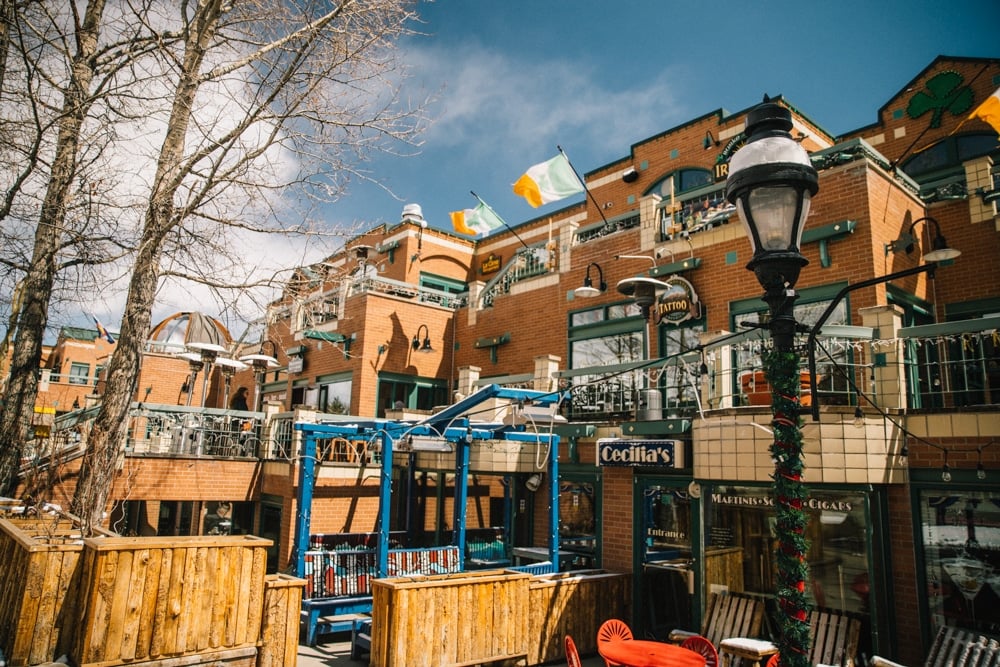 9. Go Wine Tasting
You may not have guessed that Breckenridge Colorado would be a good place for a wine-tasting tour, but guess again. Keep an eye out for tasting rooms like Continental Divide Winery and Ridgestreet Wine when planning your nightlife excursions, or make an afternoon of it and hit them all.
If you're not sure where to start, CarBoy Winery is a local fan favorite and it has super industrial vibes. Don't be fooled by the unassuming saloon-style entrance- this tasting room is super-trendy and has a statement ceiling you'll definitely want to show off on all of your socials.
10. Sample Spirits at Broken Compass Brewing and Breckenridge Distillery
If wine tasting isn't quite your speed, there are still plenty of opportunities for you to try out some local Breckenridge bevvies. For a good craft beer, the Broken Compass Brewery is the place to be. Trust me when I say you need to try the 'Pray for snow" winter ale, which is one of their seasonal staples.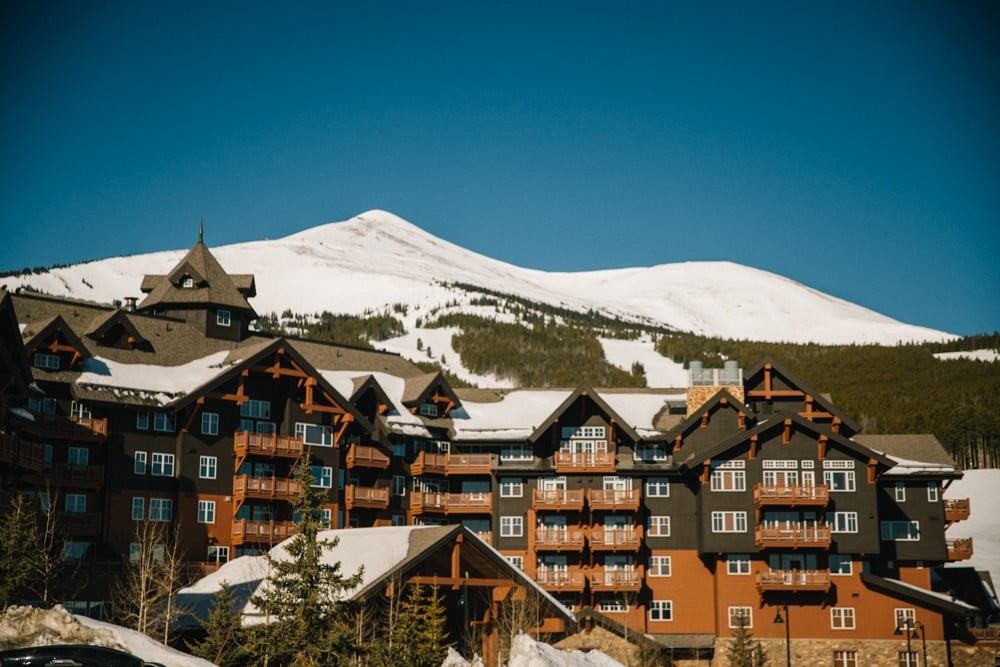 Once you've had a pint or two, make your way over to Breckenridge Distillery for a tasting of their award-winning whiskeys, vodkas, gins, and even housemade bitters. Not ready for the fun to end? You can take a behind-the-scenes tour at either location and make a whole day of it.
11. Snowshoe Or Hike The Trails
One of the best things to do in Breckenridge, Colorado, is going for a day hike, even during the winter months with snowshoes! Amongst the most popular trails winding through the White River National Forest are Spruce Creek Trail, Sawmill Creek trail, and the McCullough Gulch Trail. For expert hikers (and 14er conquerors), embark on a trek up Quandary Peak.
The best part is, this outdoor activity is not a one-size-fits-all adventure. You can totally switch up your experience by changing the scenery or choosing a new method of travel. Getting tired of cold, wet hiking books from navigating the footpaths? No problem! Explore the trails with some rented snowshoes or take things to another level and speed through the trees on a winterized fat bike.
One of the most popular options is cross country skiing, Breckenridge nordic center, which also serves as a great alternative to downhill skiing if the slopes are a little too intimidating for your first time.
12. Be Entertained at the Backstage Theatre
Calling all retired high school drama kids! Breckenridge wants you to indulge your love of live performances once more with a trip to the Breckenridge Backstage Theatre. Score some tickets to one of their original plays and dress up in the fanciest duds you packed in your suitcase. In addition to exciting live entertainment, this is a great way to keep warm after a week spent outdoors in a chilly mountain climate.
13. Go on a Sleigh Ride
Travel through the snow in style with a traditional sleigh ride. As giant flakes drift down around you, you'll be led on a scenic journey through the mountain peaks to the tune of jingling bells. Can you think of anything more magical?
There are various companies in town offering horse-drawn sleigh rides but if you want a more immersive experience, check out Two Below Zero. Their basic sleigh ride includes hot chocolate, schnapps, and freshly baked cookies, but they also offer a dinner package where you will be led to a warm, lantern-lit tent for dinner and live music.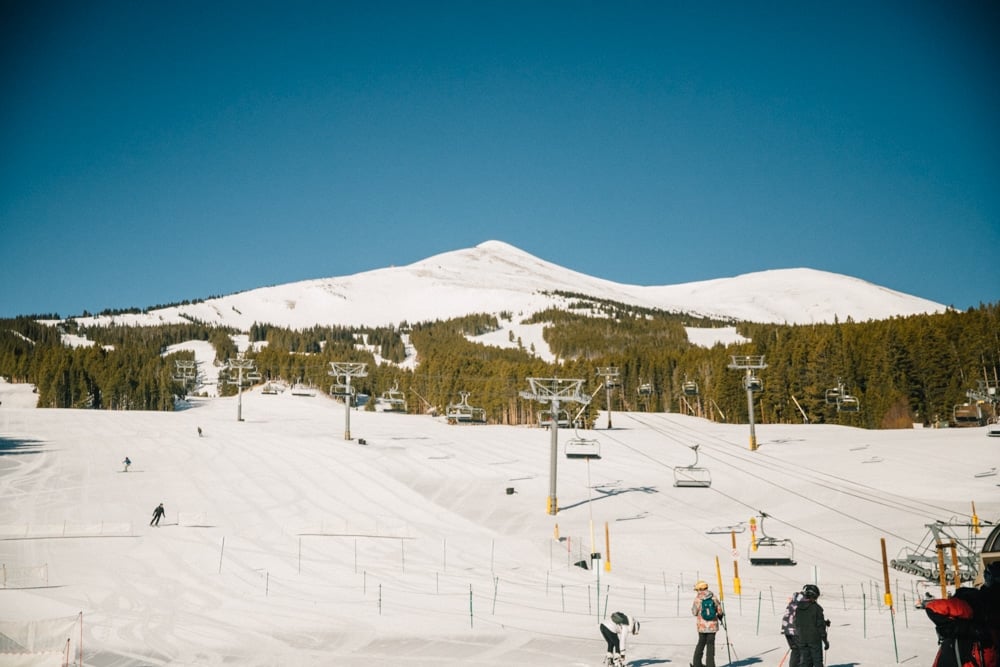 14. Cruise Along the Boreas Pass Scenic Drive
One of the more laid-back Breckenridge things to do is take a leisurely drive down the scenic 189 Boreas Pass. This journey will take about an hour and is sure to be one of the highlights of your holiday. You'll want to pay attention to the weather forecast and safety warnings related to road conditions, but on a sunny day, there's nothing better than driving through the mountainside and watching the snow glitter out the window. Boreas Pass Road leads to the historic town of Como if you want to add another day trip to your itinerary.
15. Go on a Day Trip to Blue River Valley
Another of the best day trips from Breckenridge during the winter is a journey over to Blue River Valley. These powdery slopes offer something you can't find in Breck- Heli-skiing! It will be a bit of a splurge, but I promise you it's worth it. That said, if you don't consider yourself a bonafide adrenaline junkie, you can keep things tame with a fat bike ride along the Blue River Recpath.
16. Learn the Local History
Visiting history buffs will adore these slow-paced Breckenridge activities. Especially if you're traveling with kiddos, a trip to the High Line Railroad Park is a must. Here, you'll get up close to vintage trains and watch your littles scale the mining-themed playscapes.
Don't sleep on a visit to the Barney Ford House, either. Step into the private life of one of Colorado's civil rights pioneers and most prominent citizens. The Barney Ford Museum is a Victorian house with period decor, 19th-century furnishings, and well-preserved architecture. The best part? Admission is free, though donations are encouraged.
Another historical Breckenridge attraction is the Edwin Carter Discovery Center. Explore how Edwin Carter made his epic discovery of the flora and fauna in the area and the tragic effect of mining, spurring his lifelong conservation efforts. If you're heading to the Edwin Carter Center (or Edwin Carter Museum), park in the nearby town lot to avoid fighting for parking spaces- they're pretty limited on site.
17. Embrace your Adventurous Side at the Frisco Adventure Park
If you want somewhere you can enjoy all the outdoor winter activities at once, visit the neighboring Frisco Adventure Park. Here, you can go tubing, sledding, take beginner skiing lessons and hop on horse-drawn carriage rides. Though this list is all about winter fun, summer visitors can also enjoy their bike trails, skate park, and disc golf course.
19. Lace up your Skates
Nothing says winter holidays quite like an evening of ice skating under the night sky. Maggie Pond (off of Main Street) offers a seasonal outdoor rink, maintained by the Breckenridge Recreation Center, and easy-peasy skate rentals.
If you happen to be driving, be sure to pack your skates from home, and then it will be completely free! Ice skating is an activity that will suit everyone in your travel crew; it's one of the best things to do in Breckenridge with kids and it makes for an uber-romantic date night. Be sure to stop at one of the top coffee shops in town (listed below) for a java boost or hot chocolate to keep your hands warm.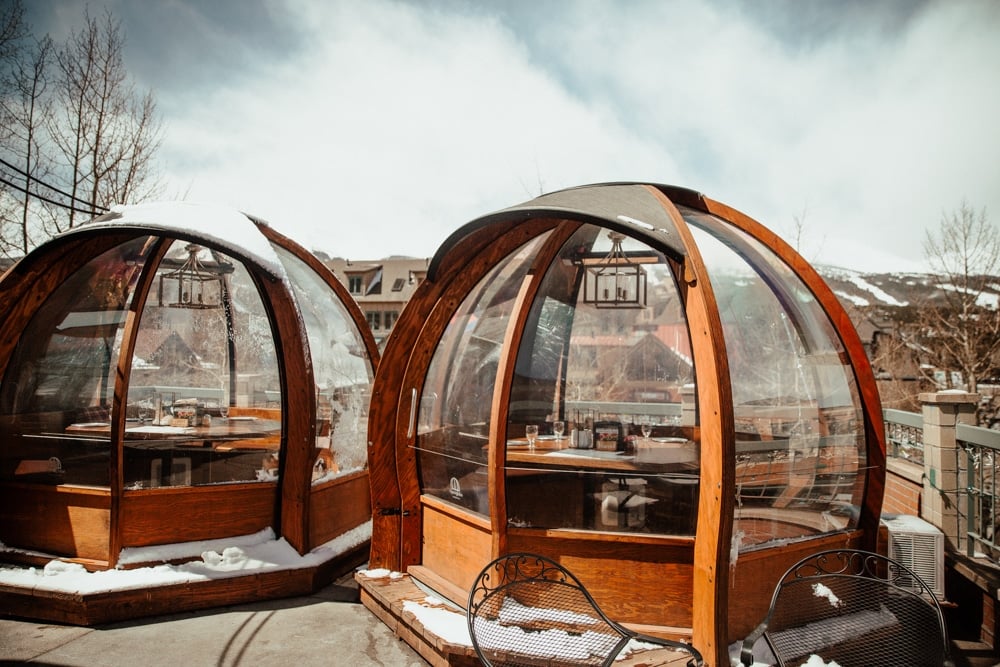 20. Attend the Snow Sculpture Championships
I'd like to introduce you to one of the most iconic snow activities in Breckenridge: the International Snow Sculpture Championships. Though participation in the competition is reserved for the pros, there are still plenty of fun ways to get involved.
If you travel during carving week you'll have the opportunity to watch these icy masterpieces come to life right before your eyes and meet the artists. If you visit during viewing week, you'll have the opportunity to help choose the gold medal; the "people's choice" winner of the competition. Either way, you can't go wrong planning your trip around the event- this is an experience that's totally unique to Breckenridge and worth all the hype.
21. Take a Swing at the Breckenridge Golf Club
Though this won't be an activity suitable for winter, during the summer months, head down to the Breckenridge Golf Club to play a round of 27 holes. Even if you're not an avid golfer, giving this leisure sport a try will be well worth it surrounded by mountain peaks, pines, and shimmering lakes.
22. Go Sledding
Many hotels and resorts offer free rental equipment such as sleds and snow shoes. Grab some sleds and head to Carter Park and Pavillon to take a ride down the sledding hill. They also have an enclosed dog park if you brought you pup along!
23. Tour a Mine
Ever been inside a mine? Now's your chance! Country Boy Mine offers something for everyone, and is great for kids! You can take a gold mine tour, go on treasure hunts, pan for gold and even hang with miniature donkeys!
Where to Eat in Breckenridge
Mom's Bakery
When you need your daily carb fix, head to Mom's Baking Company for some of her infamous bagels. These doughy delights are incredible on their own, but can also be ordered as one of Mom's innovative sandwiches. Still need convincing? These bagels come in awesome flavors like asiago and jalapeno cheddar AND Mom's is the resident cake specialist in Breckenridge, so you can stock up on sweet treats to bring back to the hotel.
Unravel Coffee
Looking for the best cup of coffee in Breck? This Colorado roaster has a few zero-emissions locations in neighboring ski towns, but the one in Breckenridge is extra special. It's chalked full of cute ski lift benches, cozy armchairs, and a massive wood-burning fireplace.
Mary's Mountain Cookies
You simply cannot travel to Breck without finding a Mary's Mountain Cookies location to satisfy your sweet tooth. These giant deserts can be ordered "traditional" or "sandwich" style, stuffed with all kinds of tasty goodies. Though it may be a little too frosty outside during the winter, if you happen to be visiting during the summer months be sure to order your cookies as an ice cream sandwich.
Breckenridge Ale House & Pizza
Have you ever eaten a piece of pizza bigger than your head? Eat a giant slice of pizza at Breckenridge Ale House – called the "super slice" and it's HUGE (two feet long)! If you're planning to tackle this delicious giant by yourself, you better bring your appetite, but there's no harm in bringing a few friends along to share in this challenge.
Trolley Crepes
When you see the crepe trolley rolling by, the universe has decided for you. Whether it's breakfast, lunch, or dessert, you simply must try one of these sweet/savory treats. Don't forget to snap a picture in front of the vintage trolly and mountain backdrop for a super cute Instagram moment all bundled up in your snow gear. Trolley Crepes offers bestselling flavors like bananas foster, apple pie, Caprese, and BBQ pit will have all the foodies drooling.
Cabin Juice
This upscale restaurant has a rustic cabin curb appeal with plaid benches, exposed wood, and warm mood lighting. The dinner me
Top Tips for Traveling Breckenridge like a Pro
Even locals should look at weather and road condition reports before entering the mountains to see if snow tires and/or chains are needed- better safe than sorry!
Breck sits at a high elevation so travelers should drink a lot of water and be prepared for altitude sickness
Winter weekends = busy for ski season, so book reservations and activities ahead of time
No matter your ski town persona – cozy, sporty, boozy or foodie – Breckenridge has you covered! Did we miss your favorite Breckenridge activities? Let us know in the comments!