Can you believe that May is just around the corner?! Say a little goodbye to seasonal depression and say hello to longer days, warmer weather, and an endless list of fun things to do in the upcoming months. Don't know where to start? No worries, I got you!
Lucky for you I took the time to come up with this awesome list of things to do (so you don't have to) and epic places to visit across the United States.
All you have to do is pack your things, book that flight, and add one of these spots to your itinerary to kick off your summer!
20 Epic Places to Visit in the U.S. in May
If you're like me, I thrive in the warmer weather! May is the perfect time to plan a trip because it's not scorching HOT, but it's also not entirely cold either.
Basically, it's perfect weather before you're sweating bullets and getting sunburned (aka June and July), so I'd say plan according to your desired heat.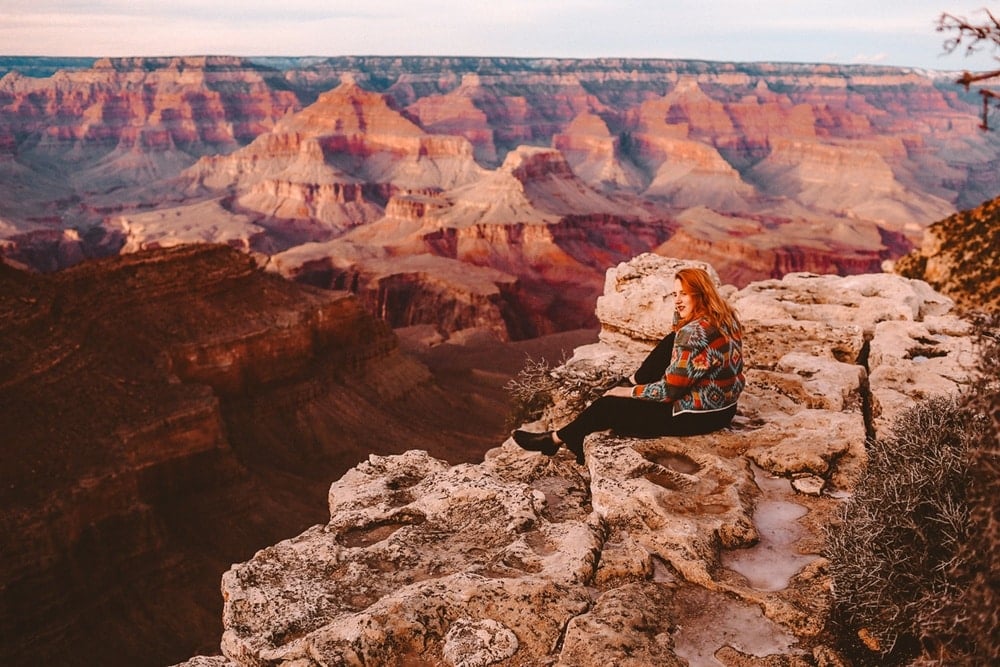 1. Grand Canyon
If you don't mind the heat (meaning 90+ degree weather), Arizona is your spot. You've probably heard of Scottsdale (so many fun eats and drinks!), so I'm sure you've also heard of the Grand Canyon National Park.
Until you actually stand at the rim, looking into the canyon, you'll understand why it's known as one of the 7 natural wonders of the world.
Flying into Arizona? No problem. You can land at the Sunport International Airport and take a 3 hour drive North to the Canyon. If you're taking a road trip, it's a must-see stop while passing through the Southwest.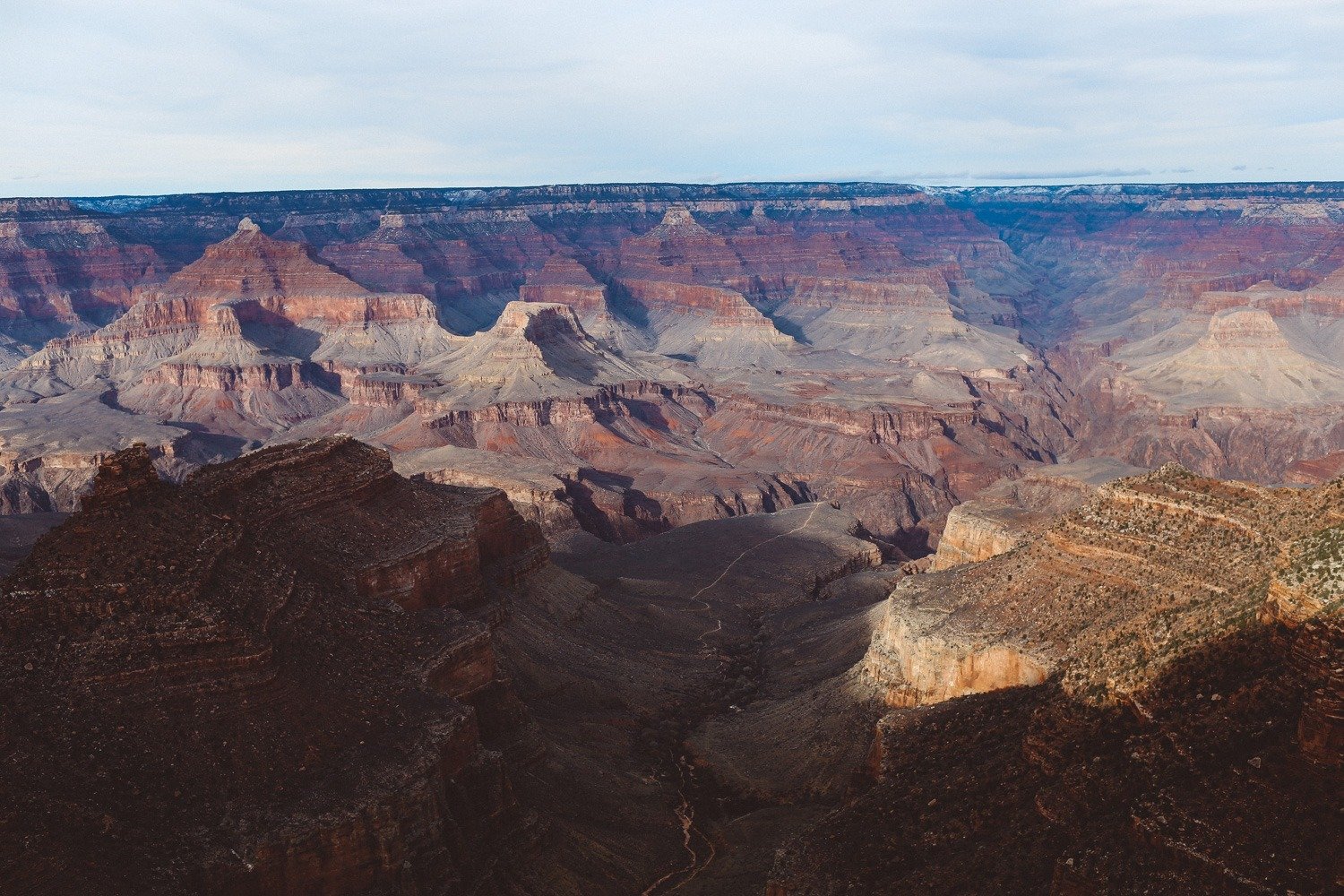 My hubby and I love visiting Arizona for our annual couple getaway. On our last visit, we went to the Canyon and of course saw the sights, but I would definitely add these to our next trip!
Mule rides: You'll most likely have to plan ahead of time for this, but if you can find an opening on short notice (p.s. they book months in advance), I'd schedule a mule ride down into the canyon ASAP.
Whitewater rafting! If you're feeling more adventurous, rafting could be your calling. You'll have to drive to Page, AZ (about 140 miles N from the South Rim), but you can't beat spending half a day in the canyon walls of the iconic Horseshoe Bend. (PSA: Rafting is available in the Grand Canyon, but you have to have a permit or enter a lottery permit drawing)
Glamping near the canyon: I stayed at the El Tovar Hotel on my last visit, but if I could redo it, I'd book one of these cute Grand Canyon Airbnbs in a heartbeat. It's the perfect way to stargaze and unplug with your family, friends, or partner.
If mules and rafting are not your speed, you can also rent bikes to ride along the Grand Canyon rim(s) to look at the sights! The canyon has so many trails to choose from too, from beginner to more advanced hikes.
Once you're done getting some Vitamin D, you can head to El Tovar to grab a quick bite or I'd recommend heading to Sedona or Flagstaff on your drive back to Phoenix for more local eats and a less touristy vibe.
For any of my newly married couples, I also have the perfect AZ honeymoon itinerary for you! I can go on and on about Arizona, but if you haven't been, I insist you go before the June and July months because it can reach 110 degrees in the summer.
2. Savannah, Georgia
May is the time when the summer weather makes her debut back to this Southern city before it gets too humid and sticky. It's known as one of the "world's friendliest cities" for their hospitality and Southern charm. If that wasn't enough, the food is *chefs kiss*.
If you've always wanted to go on a riverboat, you have to hop onto the Georgia Queen for a Savannah Riverboat Cruise where you'll be taken up and down the river for the scenery and sunsets. It's the perfect spot to have a romantic dinner or even a Sunday funday brunch.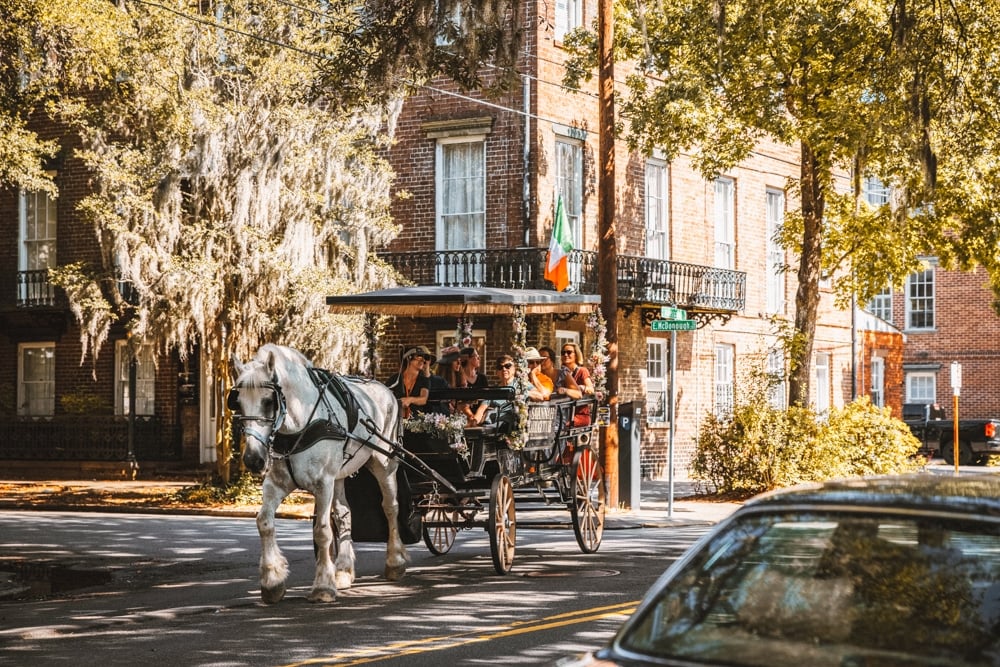 Everything is easy to explore by foot or bike, especially the historic district where you can adore the architecture and walk to Savannah City Market to browse for keepsakes, live music, and dining nearby.
Another thing you have to know about Savannah is that locals love their *drum roll* fried chicken! I personally recommend going to Sisters of the New South (this is where the locals go!).
It's super affordable and a crowd favorite. The Olde Pink House is another fun option (you guessed it, the house is pink) and is known to be one of Savannah's most impressive dining experiences.
In May, the Savannah Scottish Games also take place. It's a huge deal, so I would recommend checking it out for at least a couple of hours celebrating Celtic heritage, food, and music.
If you want to dip your toes in the water or look at some cute dolphins, you'll need to head to Tybee Island. You can plan for amazing weather, more delicious seafood, kayak trips, and of course: the beach! While you're there, you can even ride along the shore with rental bikes or climb Savannah's oldest lighthouse!
3. New Orleans
I'll never forget my trip to New Orleans and the night that the jazz band was playing, the warm wind kissed my face, and my beer buzz was coming through! It was almost magical and is one of the warm places to visit in May.
When you visit the Big Easy, you'll absolutely find so much food, music, and tons of history so whether you're a foodie, music lover, or history nerd, you'll find something up your alley.
Here are a few things that I'd recommend especially if you're in a crunch for time or just need some ideas: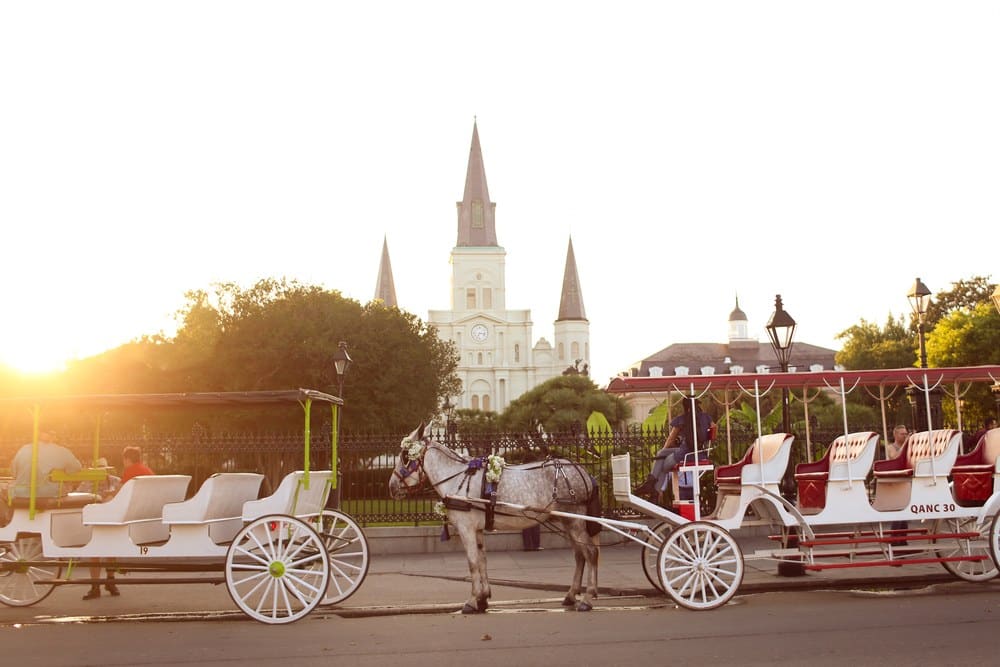 Explore the French Quarter: If you're a first-timer, I recommend walking around the French Quarter to create your own mental map of the area and just so you can immerse yourself in the experience of New Orleans. You'll hear jazz music everywhere you go, you can pop into galleries and stop at different cafes and restaurants to try different cuisines.
Voodoo Walking Tour: this tour takes place at night (grab a jacket if you need to) and the guide takes you around the city and tells local stories (scary ones too) and shows other landmarks within the French Quarter. It's such a fun way to meet the city through the various tour options and takes about 2 hours.
In case scary things are not your vibe, there are TONS of other fun things to do. One of the places that the Big Easy is known for is Bourbon Street, so on one of your nights (21+ and over), you can dress up and head out on the town for some of the best and famous cocktails (psst you can also take them to go!) and go dancing!
In case you need some help finding a place to stay or want even more ideas, I created the best 3-day itinerary for New Orleans packed with food recs and other fun things to do! Of course, don't forget to grab some beignets at Cafe Beignet before you leave, it's a must!
4. Madison, WI
I wouldn't be surprised if you were thinking what is there to do in Madison, Wisconsin?I love my home state of Wisconsin and put together a massive list of 35 cool things to do in Madison.
Think of it as Chicago or Milwaukee's next door neighbor. It is one of the best US cities to visit in May!
I will be honest, I am biased because I grew up running around Madtown and I think it is such a hidden gem, so I have some of the best things to share with you! Keep in mind that winters can be brutal, so autumn and summer is where it's at (mosquitos run rampant but with a little bug spray you'll be fine) for these activities.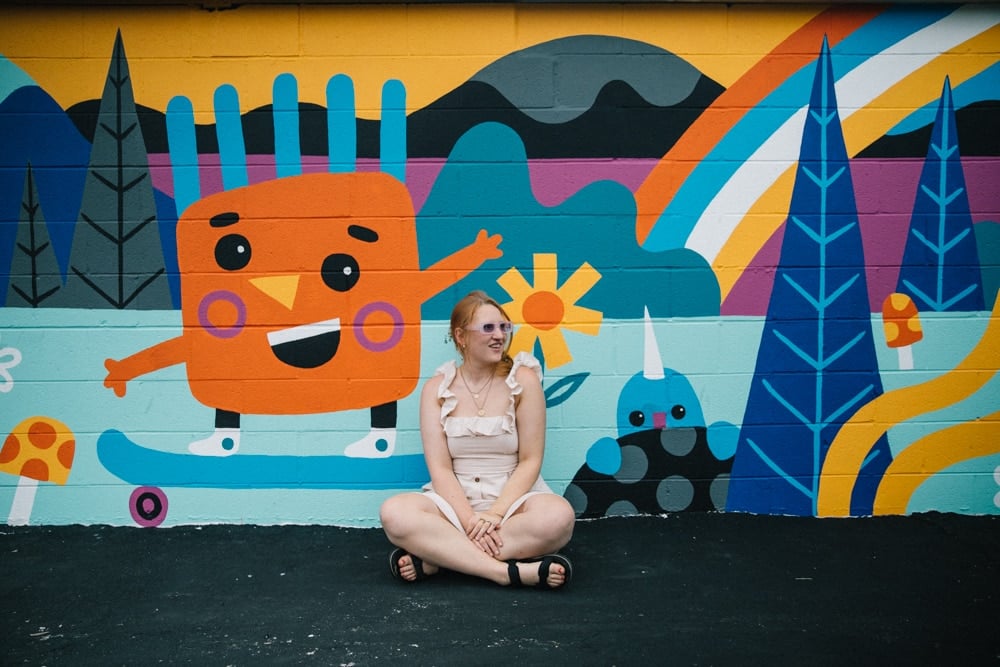 Find cheese curds: It's a crime to not try fresh cheese curds when you visit Wisconsin! You can find them almost everywhere and I mean everywhere. From farmers markets like The Dane Country Farmers Market, grocery stores, or corner markets. It's a favorite for a reason, so you have to try some!
Go kayaking on Lake Monona: Madison is a capital city that is known for having 5 lakes, two of which make the city an isthmus (aka land with two bodies of water on each side). It's by far my favorite lake because you get an awesome view of Downtown Madison which I LOVE at sunset. I recommend renting a kayak at Brittingham Boats!
Brewery hopping: What is Wisconsin's religion you might ask? BEER. Well kind of, but it is definitely part of the culture. You have to try a Spotted Cow beer at New Glarus Brewing Company (you can only find in it WI legally). Afterward, you need to head to some of my local faves:
Explore State Street: With every city, there's always that one area that has it all, from restaurants, stores, markets, and more. In Madison, that's State Street. It's so iconic that I even have a poster of it! I love it because you can get a sense of the city and its culture just from walking the streets and people watching.
Lastly, if you want to find a staple drink, you need to try the Wisconsin Old Fashion (or you can try my recipe with a California twist at home). It is that girl (or guy, however you want to call it) and is a signature drink of Madtown. It's a must for my brandy/whiskey lovers.
For my foodies, you need to look into Fish Fry Fridays, Wisconsin Supper Clubs and the Dane County Fair if you're looking for a local fix!
5. Joshua Tree
If there is one place you NEED to visit in May, it's Joshua Tree. If you think Arizona is hot, Joshua Tree is just as hot, if not hotter! I mean it is the desert after all, but you'll want to go before June or July hits. In case you don't want to just stare at the cacti or hike, here are some other unique things you can add to your to-do list in Joshua Tree.
As crazy as it sounds, I love coming here because I always feel at peace. Something about the desert wind, tall Joshua trees, and quietness is perfect for calming me down and unwinding from the city.
I know I said that there is more to this place than hiking, but Skull Rock is a must-see. It's located inside the Joshua Tree National Park and it's close enough to the road that you can drive by, but if you want a closer look, it's a short walk to see this rock that's actually shaped like a skull. It's super cool, especially during golden hour!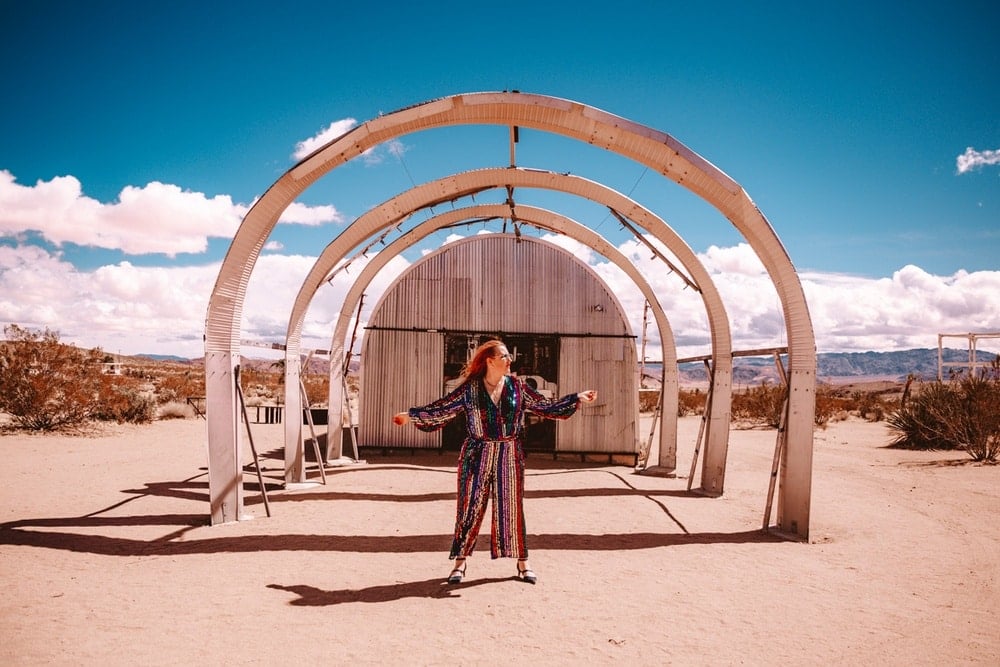 One of my favorite unique things that I loved visiting was the World Famous Crochet Museum! Being from Wisconsin, there were some pretty unique museums, like one dedicated to mustard, but this one was a first.
It's in a super small building and you can't touch anything, but you can count on seeing lots of funky crochet figures and really fun ones too! It's the perfect little stop for any of my crocheters out there.
While on the note of weird things, if you believe in aliens you need to check out this big rock, or if that's too woo, head over to Pioneertown for lunch and drinks.
There are plenty of local eats and saloons that you can visit in town and I highly suggest visiting Desert X art movement if you have the time (this year, it's in Coachella Valley), but honestly I think Joshua Tree National Park is the perfect place for a staycation!
You can find so many cool Airbnbs to stay for a weekend (find one with an outdoor tub, you wont' regret it), so you can pack a weekend of groceries, relax in the tub with the scenery, and listen to the sounds of the desert.
Lastly, I love Joshua Tree since it's a short 45 minute drive from Palm Springs if you're craving a city vibe and iconic houses!
6. Tulip Time Festival
I screamed when I learned about the Skagit Valley Tulip Festival just north of the Emerald City, aka Seattle. If tulips are your fave flower, you need to head here!
The festival does start a bit earlier than May (April 1-30) and features multiple farms that you can visit (great for photos!) With the warmth from the spring/summer sun, it is the perfect time to go to the largest tulip festival in the USA!
In case you can't make it to the festival, Seattle is amazing to explore on its own when you visit in May. We've visited this rainy city multiple times but a couple of years ago, Robin and I only spent a couple days here allowing me to type up the best weekend itinerary with our personal stamp of approval of things to do!
Grab an iconic bowl of chowder: *good soup* I'm a soup girlie and it is such a treat during winter months, but it's great year round let's be honest. Head to Pike Place Chowder, who's world famous for chowder in bread bowls. The classic chowder is AMAZING, but the salmon is a top contender also.
Explore Downtown Seattle: walking around in a new city is my favorite because it really allows you to merge with the locals. Here you can take an underground tour of Seattle, visit local state parks and art exhibits, and even go to the Space Needle, a must for first timers.
Capitol Hill: after a long day of exploring, if you want to try out the local bar scene, Capitol Hill has ton of great options. Some honroable mentions include:

Unicorn(think circus vibes, so fun!)
Pie Bar(yes, they do have actual pies)
These are some of my top picks (some are touristy and some aren't), but whatever you decide to do, definitely skip the ride share and use The Link (one of Seattle's public transportation options) to get around.
7. Sundance Film Festival
Utah is such a hidden gem! It's so beautiful (especially in the fall) and has so many national parks if you want to do some outdoorsy things. May is the perfect time to travel here to beat the tourist crowds that come out in the summer months.
But in case you want to wait to visit in the fall for all of the amazing colors, you can find the most special places to see and stay during your visit here!
One of my favorite things during my last visit to Utah was taking the scenic drives through areas like Provo Canyon and on Mirror Lake Highway, but Utah is also KNOWN for being the "canyonlands" of the Southwest.
Angels Landing at Zion National Park, Bryce Canyon National Park, and Arches National Park are the best places to visit in May in the USA and have so many outdoor things to get into! The bridges and natural rock formations in these areas are jaw dropping.
If you want to soak in a giant hot spring located within a cave, Homestead Crater in Midway was so much fun! You need to book your ticket, grab your swimsuit, and soak in the warm waters soon.
Utah is also home to the Sundance Film Festival, which takes place in January every year (located in Park City, Utah). This festival showcases independent films, short films, and documentaries. If this is your thing, I'd highly recommend booking a ticket for this event next year for its films and panel talks! More info on tickets and passes can be found here!
If you can swing it, make a stop at Canyonlands National Park with some of the most beautiful landscapes in the US!
8. Blue Ridge Parkway
Spring is such a good time to get a head start on the outdoor things that lots of people look forward to in the summer. I've always wanted to see what the fuss was all about with the Blue Ridge Parkway (not far from Shenandoah National Park) and let me tell you, it does not disappoint!
It is known as the first national rural parkway, meaning it was designed and constructed for "leisure-type driving". How cool is it that a road was specifically made for rolling down the windows and looking out your window driving to nostalgic music!? This is perfect when you want to relax and cruise.
It's located in the state of Virginia, stretching over 469 miles (passing through Virginia and North Carolina) and was originally called the Appalachian Scenic Highway.
It allows visitors to easily view the rural landscapes and the Blue Ridge mountains of the Appalachian area.
Keep in mind to fill up your tank beforehand, depending on how far you want to drive because there is very limited places to stop along the route (like shops and gas stations). There is also only one hotel along the main route aside from seasonal campgrounds, so you'll need to plan accordingly. Maps of the different routes can be found here!
The Switzerland Inn is a Blue Ridge Parkway Resort in Little Switzerland, NC. It has so many unique rustic styled rooms to choose from, a spa, and fine dining with a tap room and wine cellar. Following the scenic drive, this is the perfect place to book your stay and stay in the mountains.
9. New York City
You know I had to add the city that never sleeps to this list! New York City is probably on everyone's bucket list and let me tell you, it should be! To reduce your stress (bc it can get overwhelming fast!), I came up with must- sees for first timers visiting the Big Apple.
Before I start, if you're not familiar with the different airports, you'll want to read my tips on where to land and how to navigate the area with my NYC travel guide (p.s. it also has hotel recs)!
Now onto things to do! I will be honest and say that depending on how long you are planning to stay will determine a lot of what you'll get to do and see. May is the perfect month before it gets super hot and maybe even too toursity in the summer, but keep in mind that you may not get to do everything.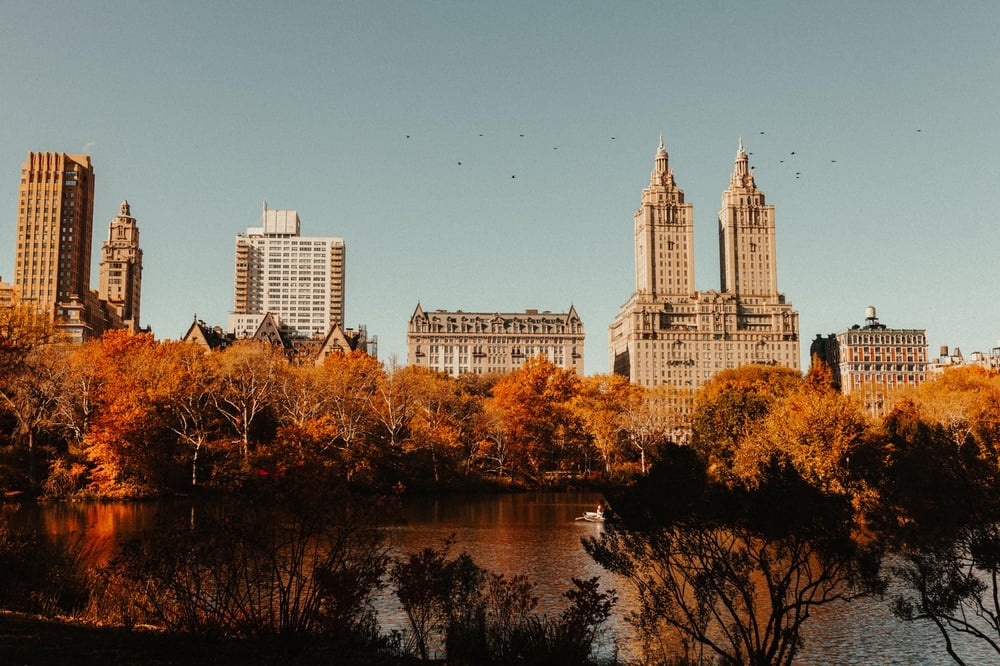 Brooklyn Bridge: Need I say more? It is so beautiful in person and you'll recognize it from so many movies. It almost feels like a right of passage for visitors (aside from the Empire State Building) and is so picturesque!
Chinatown: Almost every major city has a Chinatown, but the one in NYC might be the largest. Its a must for yummy authentic foods and shopping!
Central Park: I think walking Central Park will give you more bang for your buck versus going to Times Sqaure. Be mindful that it is HUGE, but it's perfect for a picnic or getting a quick walk in to feel like a New Yorker.
Depending on what you want to do, I do recommend at least getting a City Pass! It's a pass that sells ticket bundles for popular attractions (The Met, Statue of Liberty, etc.) and depending on where you want to go, you can pick and choose what you want to use your tix on. Its helps tremendously when you want to visit more than one hotspot.
10. Yosemite National Park
We had some random snow storms in the California area, so I wouldn't be surprised if there was still snow in parts of the Yosemite National Park. May is such a nice time to visit this place before the summer crowds settle in.
I love being within distance of some of the best national parks and Yosemite is one of my favorites! I go to Yosemite at least once a year and there's a reason for it–it's stunning.
I've put together the best Yosemite cabins and hotels you can stay at during your time here (if you're not camping).
To stay inside or outside the valley is entirely up to you, it just depends on what types of experiences you're looking for: hotels versus glamping? Wanting to get out on trails ASAP versus being in no rush?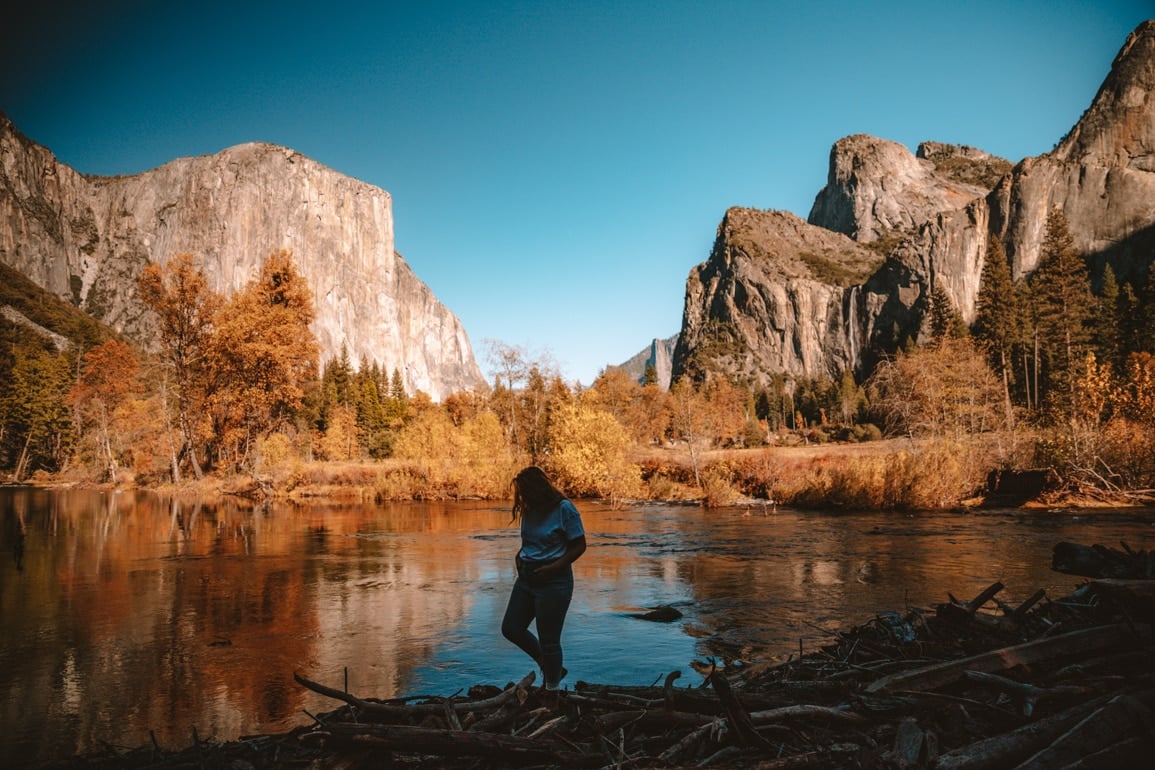 Make sure to snag a Yosemite day pass or an annual pass if you plan to visit often. And, in the warmer months, the park lately has been requiring advance registration (it's free, but you just have to claim a spot to get in.)
I'd recommend hiking to Yosemite Falls (a challenging trail, but so worth it!) or head to Glacier Point at sunrise or sunset to stare at the Half Dome when the rocks turn pink.
If you're staying nearby, The Ahwahnee offers Sunday brunch and dinner (dress code required in evenings) and has a bar on site if you want to grab a tasty cocktail with killer views.
We also love Half Dome Village and the tents may be available in May depending on snow fall that year!
11. Sausalito
Speaking of California, you know I had to include at least one city located in the Bay Area. Sausalito is located across the Golden Gate Bridge from SF (as if you were headed to Muir Woods National Park) and is a town on the bay covered with beautiful houses, and sailboats, and has some of the best seafood!
It's my favorite place to kayak and to get away from the heavy fog in San Francisco. I love making day trips here and it's the perfect stop if you're headed to Napa Valley.
You can arrive by a ferry or hop in your car and drive over the bridge to start exploring. Aside from taking in the house boat sights and shopping at nearby local shops, these are some things you can try:
Go Kayaking: With warmer weather coming soon, booking a time to go kayaking is the perfect summer activity. Not only do you get to be in water, but you'll get to see tons of sea lions, birds, and house boats to adore. You can book with a guide if you're a beginner or rent a kayak on your own.
Sausalito Food and Wine Tour: If you're like me, there's so many things you want to try, so this tour is perfect for squeezing in the best places to eat and drink in Sausalito with a little bit of local history. You go with a small group and it's about 3.5 hours, but you get to explore downtown and the boardwalk trying all the tasty eats!
I could go on and on, so if you want a more in depth travel guide to this quaint town near San Francisco with more places to go in May, you can read on my things to do in Sausalito guide!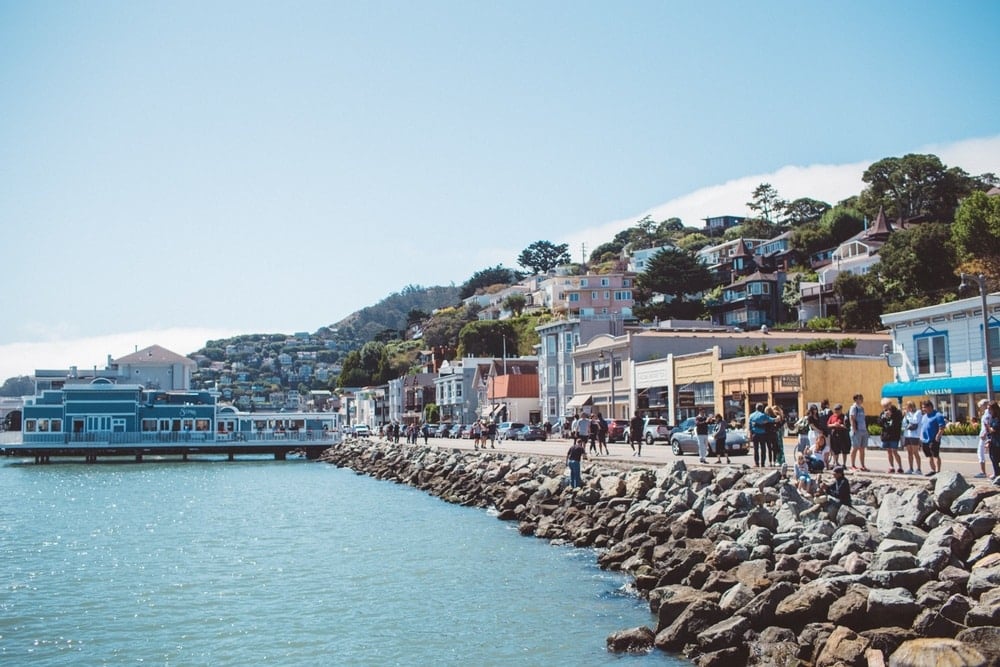 12. Myrtle Beach
May in Myrtle Beach, SC has average temperatures in the 70s and is the best month to visit before the summer crowds arrive. It is heavily known for being a golf destination, but it's also the perfect place to relive your teens or early twenties again.
You need to dine along the Murrels Inlet Marshwalk. With eight of the best restaurants, you can enjoy your fresh seafood on the outdoor patios overlooking South Carolina's beautiful marshes and water.
If you want an outdoor activity, sailing in the Atlantic Ocean for a sunrise or sunset dinner cruise by Enchanted Sailing Charters (they offer private and group tours) is perfect in the daytime. Booking a horseback tour on the east coast shore with Inlet Point Plantation is a popular activity.
If you're not afraid of ghosts, booking a reservation to dine at a haunted restaurant could be a fun, if not an interesting experience at the very least. The Brentwood, offers a 3-course meal and takes you on a tour throughout the building where guests have reported seeing things like shadows, orbs, and even hearing voices. It's even been featured on shows like My Ghost Story and Fright Club.
In case you don't want to see a ghost, there are tons of things to do like visiting the Boardwalk, catching a dinner show at the House of Blues, or learning how to "shag", which is the "state dance", at Fat Harold's Beach Club on the weekends!
If Florida is more your speed for some R&R, check out the quiet Anna Maria Island. It's known for its beautiful beaches along the Gulf of Mexico! Or, head over to Pensacola to enjoy the beaches before the summer crowd hits.
13. Fredericksburg Wine Tasting
Everything is bigger in Texas, including their wineries and wine selections. When I visited my friend in Austin, we headed over to the Texas Hill Country for a weekend and did some Fredericksburg Wine Tasting.
Depending on where you're driving from (a concert in Austin or the San Antonio Riverwalk), Fredericksburg is about 1.5 hour from each place. Whether you want to do a guided tour or self tour, it's always nice to have an idea of which wineries you'd like to visit before you go.
There is the 290 Wine Shuttle (only $39 per person) that you can take, and also this highly rated private shuttle from Austin if you don't have a car.
Here are the some of the best wineries that I went and highly recommend:
William Chris Vineyards (serves 100% Texas grown wine & perfect for wineries)
Pedernales Cellars (nice views, big patio, family owned, and operated by a woman winemaker)

I love this place because they still handpick many of their vineyards and love their blends. They specialize in Spanish and Rhone-style wines and list their tasting notes on their menus, so it's perf if you want to enhance your wine palette.

Lost Draw Cellars (cool vibe, indoor/outdoor spaces, LOVE their 2019 Temprenillo)
14. Paso Robles
If you're a wine lover, this destination is also perfect for you! Paso Robles is known for being another world-class wine region in California with more than 200 tasting rooms and 40,000 vineyards! It's also one of the best places to visit in May for couples!
Many of them specialized in Zinfandel, Cabernet Sauvignon, and Rhone-style wines, but they've got everything! Being from California, it is super easy to hop over to some famous wine regions like Paso Robles. I found 11 of the best wineries, but these were some of my favorite places to taste at.
Tooth and Nail Winery, this winery is a must if you want to sip wine in the coolest castle! Yes, a castle! It used to be a home owned by some rich guy, but now it's a winery, so fun! You may want to save this for you final stop so that you can grab dinner afterward.
Booker Winery, I love this place because they offer so many experiences such as Bocce & Bottles or the Cave Experience. Prices vary, but you'll need to book weeks in advance to snag a reservation.
Tablas Creek Vineyards, imagine sipping on wine and being able to see sheep and alpacas grazing nearby? Here you can with their large outdoor patio. Tablas is known for basically being the OGs and responsible for putting Paso Robles on the map as a wine destination!
Wine is fun to taste, but in case you're wanting to do something else on your trip, Paso Robles has horse trail rides, a huge art scene, and a downtown area to explore!
15. Denver
Known as the Mile High City, Denver is one of the best states to visit in May. Colorado is my favorite because they have all of the seasons. I had a 3 day itinerary for Denver and let me tell you I fell in love while I was exploring different places to eat, stay, and drink at.
Here you'll find so much: from the beautiful flat irons nearby, the street art, tons of craft beer, and not to mention being able to soak up the mountain air (plus the high altitude).
Don't feel pressured to take day trips to the famous mountain spots like the Rocky Mountains or Mount Evans, because it'll take up your entire day. Let's face it, you came to Denver to explore the city of Denver. Colorado is known as the colorful state for a reason, so here are some of my recommendations for your visit:
Wanting craft beer? Denver has TONS of breweries (craft beer is almost their religion too) and even has a Denver Beer Trail which is an endless list of local breweries, most within walking distance of each other making it easy to hop from one to the other.
Explore Union Station, this place is the heart of Denver and is a cute train terminal that has so many little shops located inside, places to eat, and is almost similar to Grand Central Station in NYC. A train does go through at different times of the day, but it's a must stop for any new visitor!
Visit the International Church of Cannabis, don't worry, you don't have to partake in any cannabis activities, but this is an amazing stop to add to see this old church transformed into almost an art exhibit. They have a laser show (it was super fun!), guided meditations, music, and is the perfect photo opp!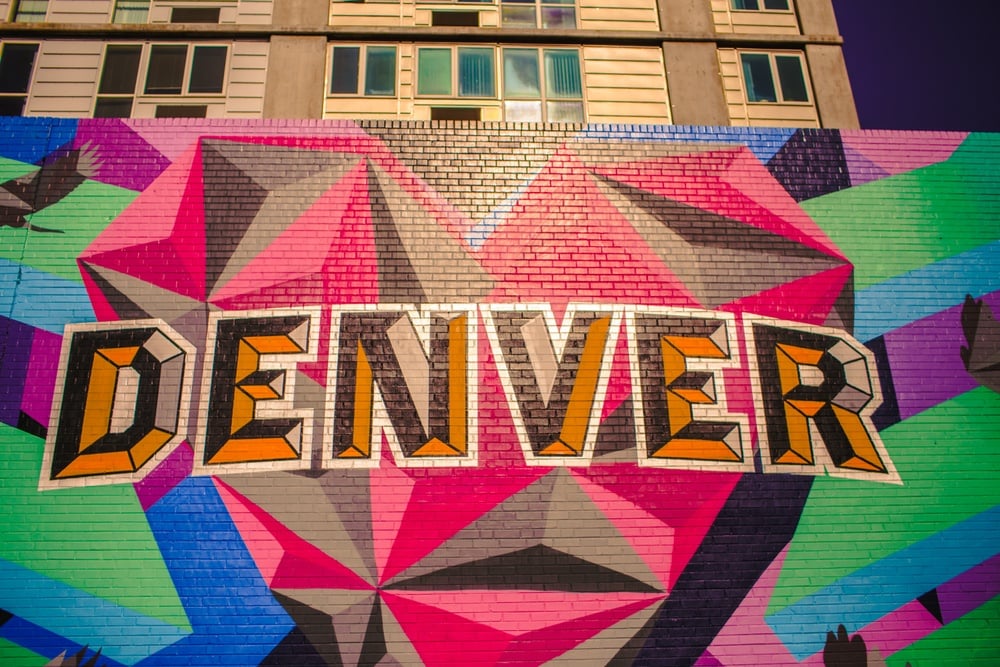 If you do plan to leave the city, check out the Black Canyon of Gunnison National Park – aka Colorado's version of the Grand Canyon!
16. Portland
I think everyone should visit the City of Roses at least once in their life. Portland is such a hipster town full of quirky shops, the famous Powell's book store, and tasty coffe. It is one of the best places in the US to visit in May and is to die for during the Spring months.
There is so much to see that I even planned a 3 day Portland itinerary for anyone who needs a little extra help with finding what to do or where to stay.
Portland is actually a lot smaller than you think, so three days is enough time to do stuff, here are a few of my favorite things:
Food Trucks! Located in the heart of the downtown area, there is an area that has SOO many food trucks to choose from. Portland might actually be known for the food cart scene. Depending on what you're craving, you can't go wrong with Fried Egg I'm in Love or Caspian Kabob.

Kelly's for great for a cheap drink, but I do LOVE their decor of neon lights and motorcycles hanging from the ceilings.

Portland International Rose Garden, May is the perfect month for when the iconic roses bloom. It is so worth visiting to see the different colors and it's open to the public. Head uphill and you'll get to see the Portland Japanese Garden for some beautiful cherry blossoms.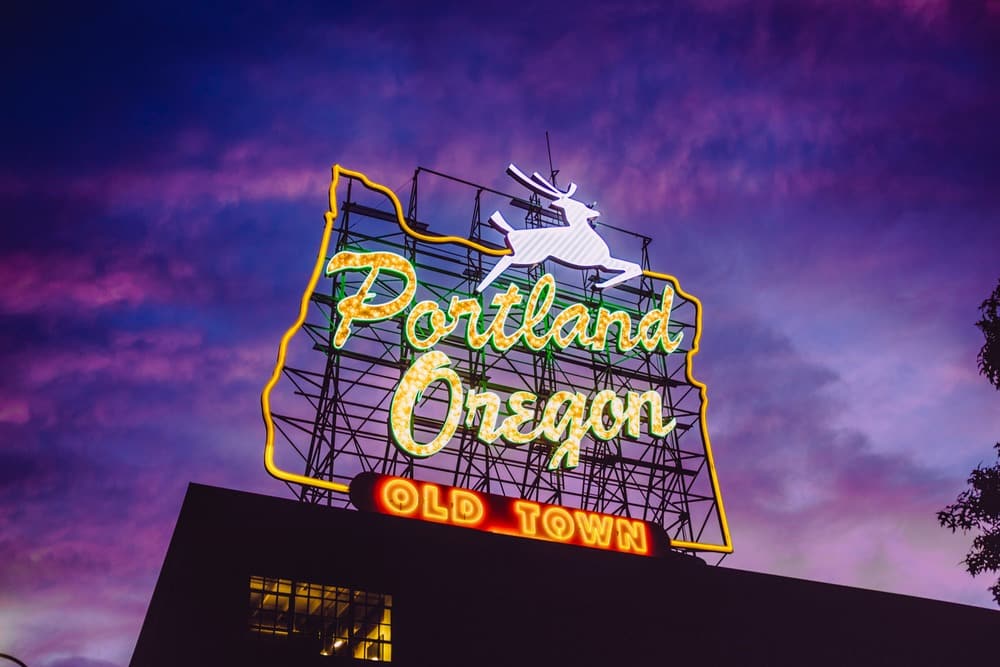 Before you leave, don't forget to grab a shot at the famous Portland sign!
17. Mount Rainier National Park
If you find yourself in the state of Washington, you need to set time aside to explore Mount Rainier to complete your trip. Even if it's for a day trip (which I did a year ago so I def have some tips about the park), it's a must-add.
It'll definitely be more of an outdoorsy destination but there are tons of trails to explore where you can look at so many waterfalls and wildflowers. They even offer horseback riding tours, you can "hunt" for Huckleberries, or just relax at your hotel for a little mountain vacay.
I suggest entering at the Ashford entrance, but some of my favorite highlights from my day road trip were grabbing breakfast at Copper Creek Inn & Restaurant, hiking to Myrtle Falls, Reflection Lake (great place to see the reflection of Mt. Rainer in the water), and the Cannibal Hot Tub at the Paradise Village Hotel in Ashford!
If you don't want to hike or sight see the entire time, there are some amazing hotels or cabins nearby (like the Gateway Inn) that you can book for ultimate relaxation.
18. Maui
Maui was definitely a dream and I'm pretty sure I overloaded on pineapple my entire stay there. I took time to create the best list of things to do and stay in Maui because I wanted to make sure my time went smoothly and only wanted the best experiences, so I got you if you don't know where to start.
Springtime is the best time to visit Maui for whale watching season and less rain, and I noticed that there was less of a crowd (score!)
Try the local food! I know it might be convenient to stay close to the hotel or resort, but I highly encourage you to venture out and try the local food scene (i.e. Maui pineapple wine, moco loco, and Kuluaha Pork). I mean you're in Hawaii after all
Haleakala Sunrise Tour: this had to be one of my favorite memories from my trip. If you want to feel like you're on top of the world, you need to book your reservation ASAP
Drive to Hana: this excursion is so worth it! You'll get to jump into waterfalls (bring your swimsuit), indulge in banana bread, and see the sights on your way to HANA.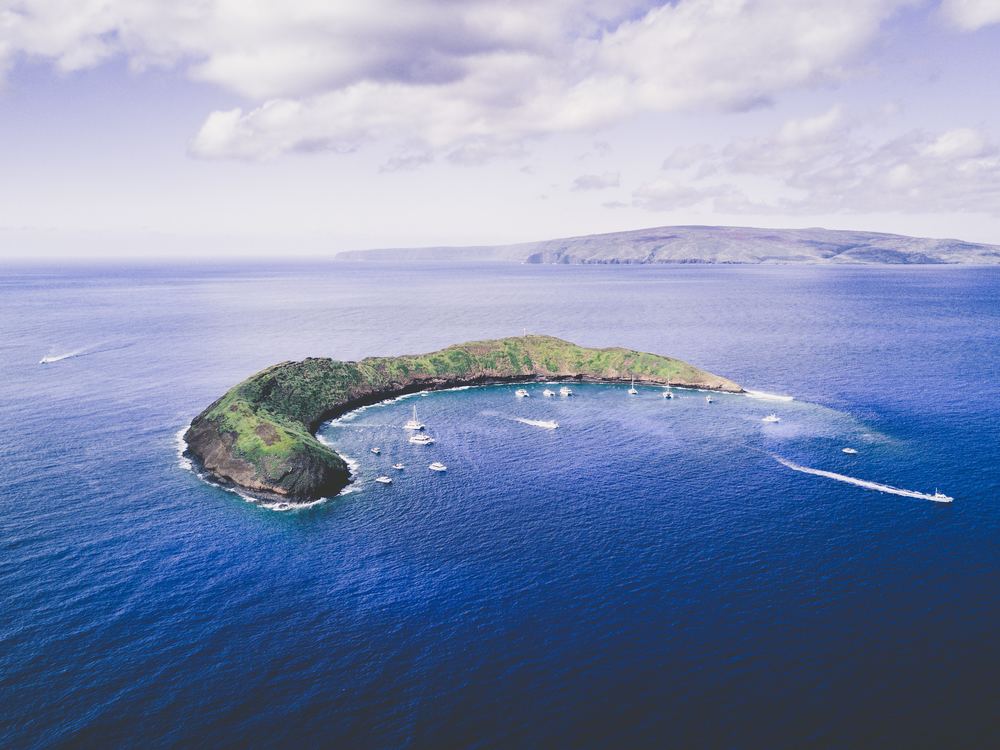 There are tons to do and I will tell you that the locals are absolutely welcoming, however visiting Hawaii and tourism is and continues to be a hot topic among the locals and Native Hawaiians.
If you absolutely need to visit, I highly encourage you to do your research on the social issues present, how to be respectful, and what you can do to help the local's causes and movements.
19. Alaska
I know what you're probably thinking, Alaska!? Believe it or not, May in Alaska is the perfect time to visit because the rates are lower and it's not stupid cold so don't worry, you won't be freezing (but do pack jackets & sweaters).
Alaska is the perfect state for outdoor activities! They have everything from cruises looking at glaciers, views of the Northern Lights (a must!), and flightseeing tours! It is a huge state, so these recommendations are for Anchorage, since it's the more popular city and less rural.
Summer Dog Sledding! Sledding is not just for winter months. In the summer, you can join a dog sled tour where you can lead your own dog team or be a passenger princess in the sled "basket" and come along for the ride! I think this is such a unique experience. Like how many people can say they went dog sledding in Alaska?
Northern Lights, the best times to see these gorgeous light are between August-April, but if you're lucky enough, you may be able to catch a glimpse during your May trip!
After a long day of traveling, there's nothing better than sipping on a cold beer. There are so many great breweries to choose from with some that are more hoppy or on the lighter side.
Before you travel, you might want to check how many hours of daylight you're going to get. During May, you'll get about 18 hours or daylight, but lucky enough many hotels do have blackout curtains!
20. California Flower Fields
Spring is the season for blooming flowers and this is so true in the state of California.
There are so many wildflowers that cover wine country, on the coast, and even along the roads. However, that are areas that are specific to certain flowers during specific seasons.
Here are some sure to bloom in May:
Sunflowers, irises, tulips, poppies, you name it! The fields are perfect for photos that you can post on your Instagram. There are farms where you need to buy tickets like the Flowers Fields in Carlsbad, but other than that you can pretty much look at fields at your leisure.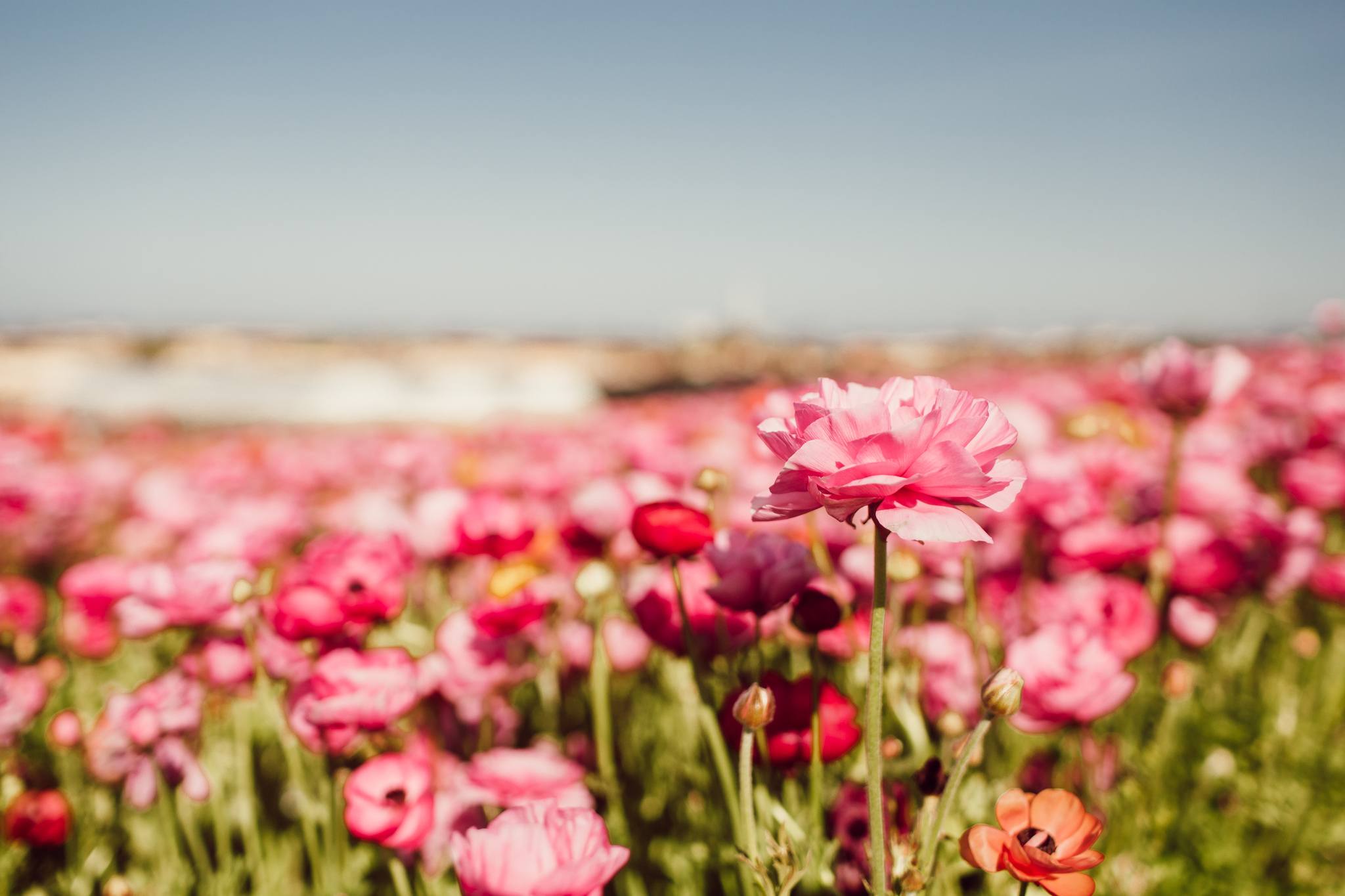 As always, be respectful to Mother Earth wherever you decide to visit and stop at any visitor centers before you venture out.
I hope this helps narrow down your list of places to visit and things to do during May! It's such a great month for weather and less summer crowds. No matter what you decide, I have no doubt that you'll enjoy yourself.
After working so hard, you deserve a little vacay before the summer months hit. If your favorite place didn't make the list, drop a comment below so everyone can see what you love about your favorite destination.