When my little sister decided to move to Pensacola, Florida after college, I absolutely had to pull up Google Maps to figure out where the heck Pensacola was in the state. (Spoiler alert: not anywhere close to Disneyland.)
Since then, I've been to Pensacola to visit her and I'm constantly seeing that beautiful gulf coast beach town in photos she texts me. I tapped her to help me write this travel guide so keep reading if you want to know all the best Pensacola attractions and hidden gems according to a local.
23+ Things To Do in Pensacola, Florida (According to a Local)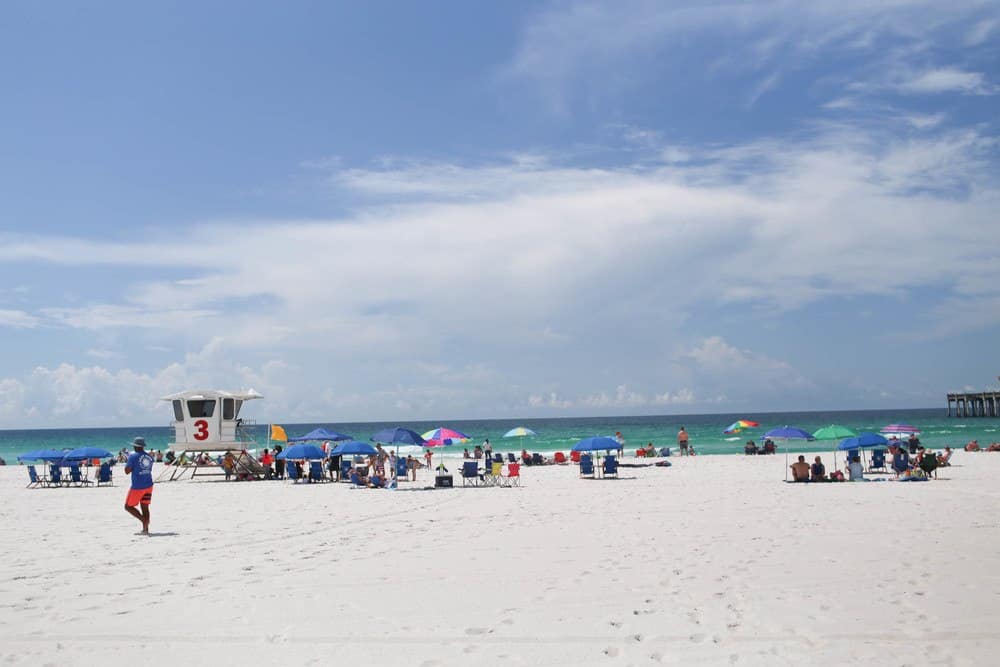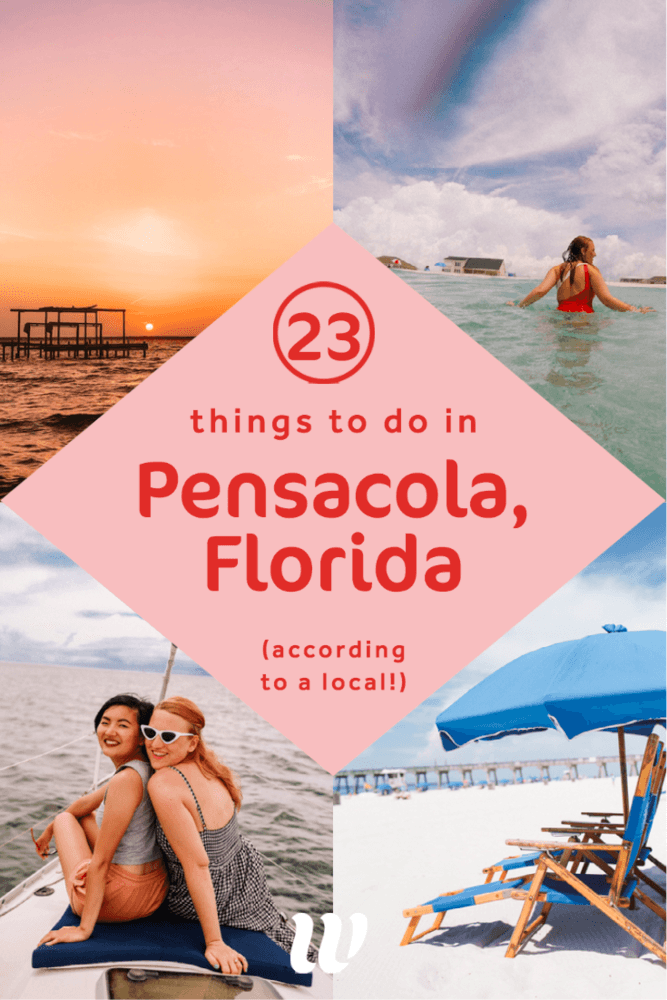 Should You Fly Direct Or Drive To Pensacola?
In the corner of the Panhandle, Pensacola is just a couple hours' drive away from New Orleans. When visiting my sister, my husband and I actually decided to fly into Louisiana and spent a few days eating our way around the French Quarter before renting a car and driving over to Florida.
It ended up being cheaper than flying direct and I really loved getting to explore a bit of the Gulf Coast landscape. (Mobile, Alabama is a LOT smaller than I thought it would be!) Unless you already live within a driving distance to Pensacola, I recommend adding 2 or 3 days in New Orleans before heading to Florida.
What Is The Best Time Of Year To Visit Pensacola?
My sister says the best tie to visit is April-May. This time of year you'll get perfect sunny days with low to no humidity and minimal rain storms. You also miss most of the spring break crowds but are before school lets out and the summer tourists come. *chef kiss* August is hurricane season so make sure you stay away during the late summer/early fall to be safe.
How Much Time Should I Spend In Pensacola For My Vacation?
Pensacola is a beach town and it highly leans towards a spring break/family vacation vibe. While there are some outdoor activities, most of them revolve around the beach or Pensacola Bay. So, the amount of time to allot totally depends on you and your travel group.
I think you should spend at least 3-4 days in Pensacola to truly see the sights and leave time to unwind on the beach. If you LOVE taking it slow and soaking up the sun seaside, go for a 5-7 day bach trip to really do it right.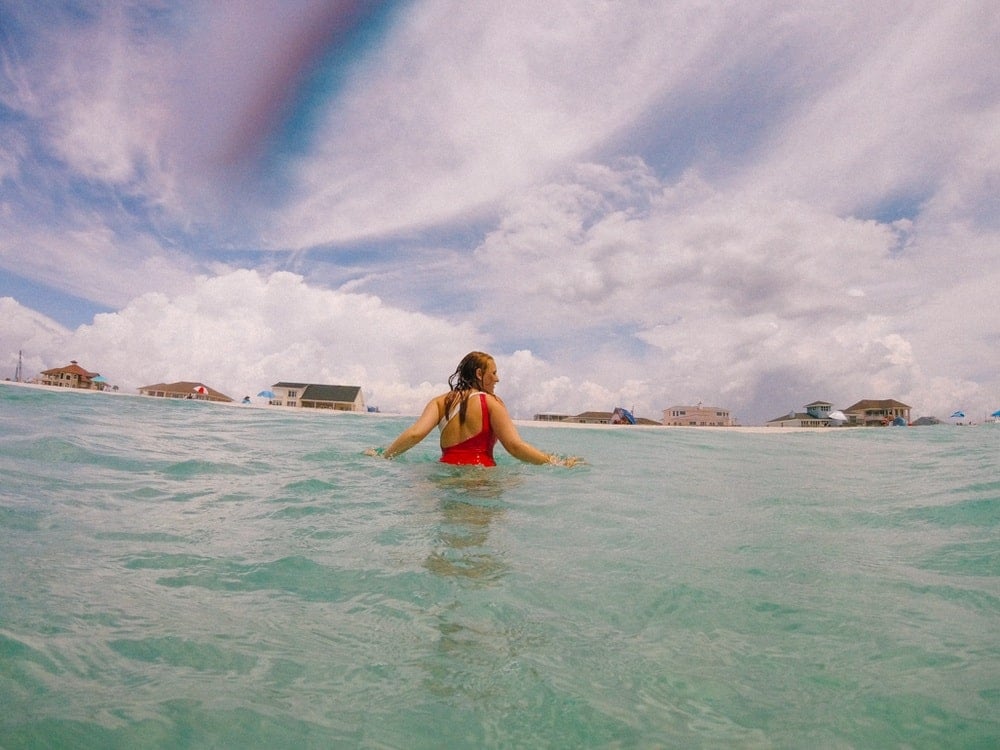 Where Should I Stay In Pensacola?
Instead of staying in downtown Pensacola, I recommend finding a cool bungalow or beach house to rent right on the water in Pensacola Beach. There are a lot of vacation rentals here and instead of spending time in a car driving over bridges and finding parking, you can just set up shop on the beach for your entire trip.
Here's my favorite local spots to rent:
Top Things To Do In Pensacola Florida
Alright, now onto the good part! These are all my sister's favorite things to do either with her local friends or with visitors. She took us to many of the spots on this list and they're good! I chat the top fun things to do in Pensacola along with recommended restaurants and bars.
Beach Day At Pensacola Beach
Grab your sunscreen, it's time for a lazy day at the beach! You have two options. Either head to The Dock (right by the water tower) where you can rent beach chairs out. This spot is within walking distance to bathrooms, hotels, and tons of restaurants, bars and boating docks. But it also can get super crowded during weekends or spring break season.
If you prefer more space or something more chill, head down the beach a bit towards the vacation homes and Gulf Islands National Seashore Outstanding Florida Water area. Here, you'll find a lot of easy places to park and you'll have MUCH more room to spread out on the sand. Bring your umbrella, towels, coolers, snacks and set up shop for a day by the ocean and that sweet sweet gulf breeze.
Pro Tip: Try to park near a boardwalk in between houses (these are public and take you from the road to the beach!)
Beach Day At Perdido Key
If you are looking for a change of beach scenery or really want to avoid crowds, head to Perdido Key instead. It's a bit smaller than Pensacola Beach and thus attracts fewer tourists. But it's next door to Perdido Key State Park, Johnson Beach National Seashore AND Big Lagoon State Park so you can easily explore these spots on the same day. (Hey that's me – I have SUCH a hard time holding still on my towel all day, I like to walk around or do water activities)
Fun fact: the state line to Alabama is over in the Bay Waters here at Perdido Key. That little island you'll see there is called Ono Island and it's Alabama territory!
National Naval Aviation Museum
On top of being a spring break beach town, Pensacola is home to a naval air station base! And thus, there's a pretty cool naval aviation museum if you're into history and military stuff. (Or, are just looking for Pensacola activities that have air conditioning in the dead of summer!) If you're in it for the historic, you'll also probably enjoy checking out the Pensacola Veterans Memorial Park!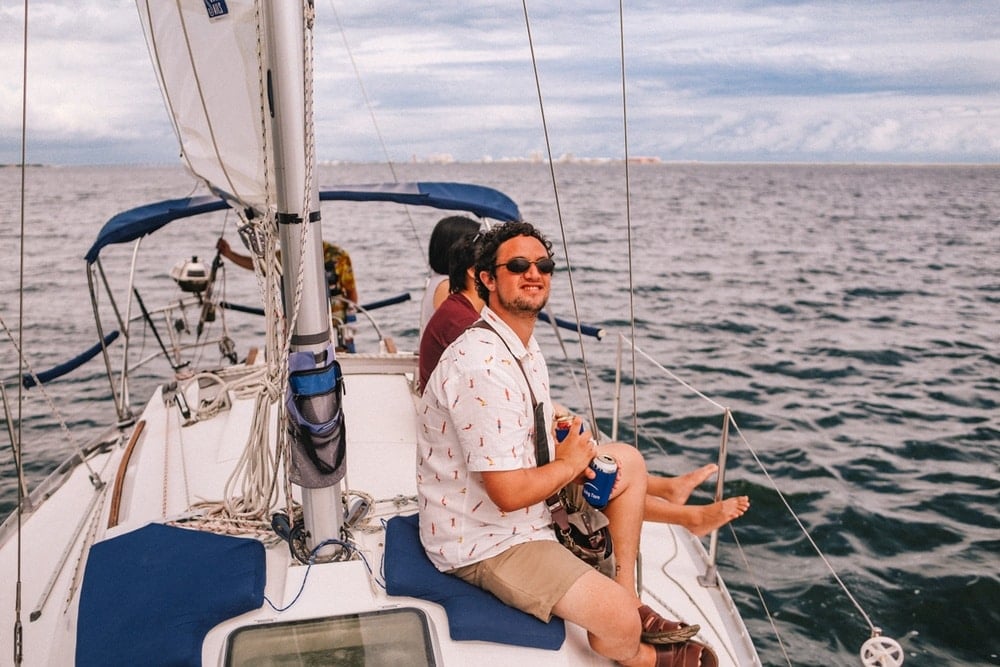 Sailing Pensacola Bay
I have a low-key obsession with charting a private sailboat out while on vacation. Private sailing tours are actually a LOT cheaper than you think it would be, especially with a group. We rented out a private 2-hour cruise around the bay for about $300 (split between 4 people is super cheap, especially as all you can drink beer was included!)
It was so fun to see the area from the water and a cool way to switch up your lazy beach days. Kids will love these if they haven't been sailing before, too!
Kayaking or Paddleboarding
If you aren't into sailing, try kayaking or Stand Up Paddle Boarding. You can rent each by the hour in Pensacola Beach or Peridio Key and go for a nice paddle around the bay. You'll spot tons of birds and probably some water wildlife. I LOVE kayaking here in San Francisco where I live and it's one of my favorite activities to do while on vacation. Super kid-friendly and good for beginners, too.
Walk The Pensacola Footprints in the Sand Beach Eco-Trail
This is a free and public walking trail that uses signs and QR codes to help guide visitors around lookout points, local history, wildlife and educational facts. This is an awesome idea if you have kids or non-able bodied people traveling with you as it gets them up close to nature in an approachable way.
Stop By The Pensacola Graffiti Bridge
Built in 1888, this bridge has been a local gem for artists and taggers for years. It's constantly being painted over and evolving. Maybe somebody got married or graduated from high school – a family member might just come down to the Graffiti Bridge to paint something in tribute. It's a super cool (and Instagram-worthy) spot.
Best Restaurants and Bars In Pensacola
Whether you're looking for fresh seafood, affordable dive bars, epic brunch spots, or cafes, Pensacola has a lot of dining options. These are the spots my sister recommends!
Seville Quarters
If you're looking for things to do in Pensacola at night, head to Seville. This is one of my sister's favorite bars for late-night entertainment. It's a piano bar tucked in Historic Pensacola with about 7 total rooms with different themes to explore plus a dance club. It's really fun for groups.
George Bistro & Bar
George's is THE hip brunch spot in town. It has colorful pops of decor (but in a farm house chic way) and a cute patio if the weather is nice. Make sure to try the bread pudding benedict or the shrimp and grits.
McGuire's Irish Pub
This is a historical Irish restaurant/pub. The ceiling is covered with dollar bills. Supposedly there's over a million dollars worth and it's quite a sight to see! They have live music some nights and is a fun place to start the evening.
Gallery Night
Every 3rd Friday of the month artist and food vendors set up tents in historic downtown Pensacola at and night. Street shut down to cars, music goes up and it's a giant party. Come for happy hour and stay for dinner.
Laguna's Beach Bar + Grill
I loved our lunch at Laguna's on Pensacola Beach. It's basically an outdoor tiki bar so if the weather is good, head here to kick back with some tacos and a beer.
Pensacola Events Not To Miss
Even though it's a small town, there's always something happening in Pensacola.
Pensacon: Pensacola's Comic-Con that happens every May.
McGuire's Run: The city's annual 5k for St. Patty's Day. It's HUGE and locals love to go all out in festivities.
Blue Angels Weekends: Hey, an air naval base city has to have a killer air show, right? They have practices and shows all throughout the year to see.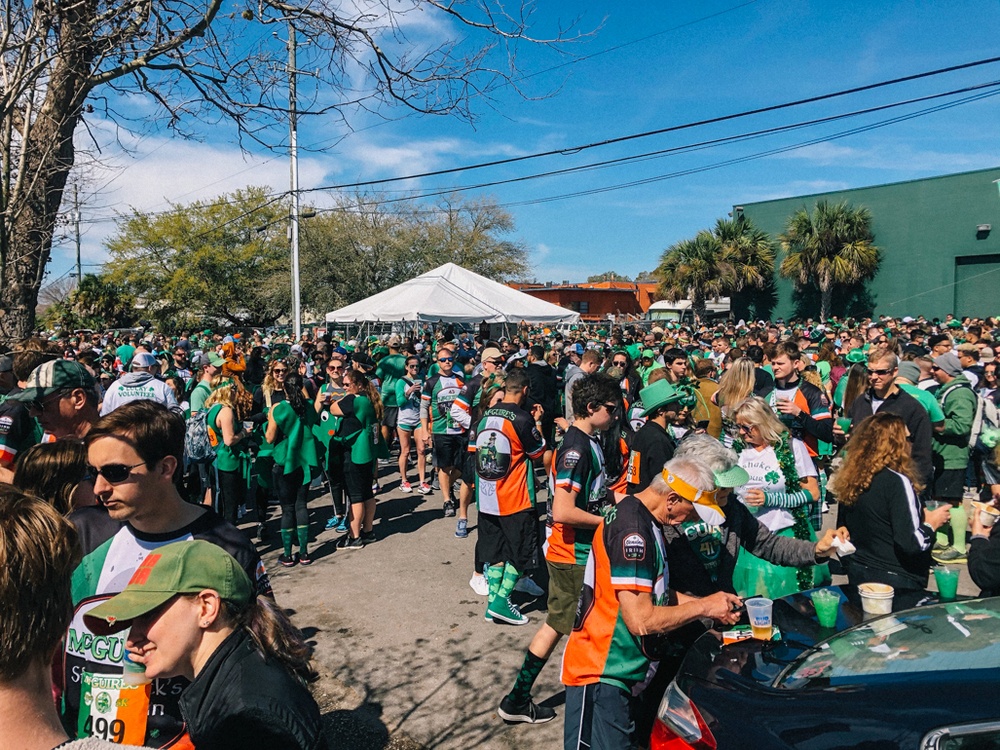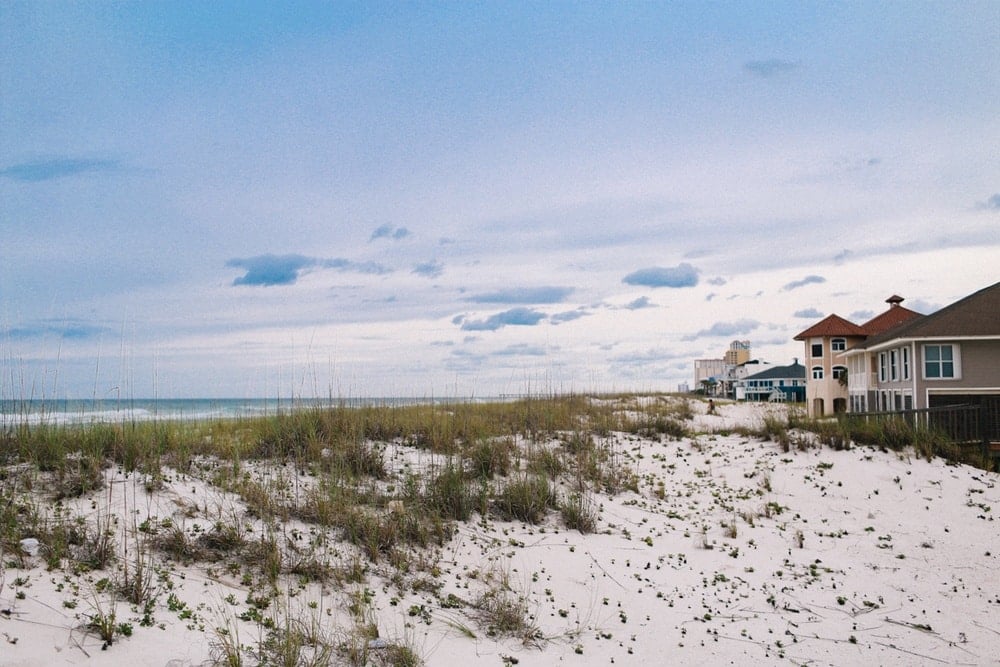 I hope this helps you plan an awesome vacation to Florida! There are tons of fun Pensacola things to do and I know this adorable beach town will hit all the marks for you. If you have any tips to add, leave a comment below so everyone can see.
Got a question? DM me on Instagram @thewhimsysoul and I'll try and help! Or, most likely, text my sister on your behalf to get all the good insider tips.