This past year I've been really focused on the concept of your inner child and have been asking myself a lot of questions like "what did tiny Kara love and prioritize in her life?" Lots of things – like eating violets in the yard and petting every. single. animal. she has ever met. The latter hasn't changed.
But when it came to outfits, tiny Kara LOVED overalls. She loved them but until this year I honestly can't remember the last time I put on a pair of bib overalls. So a while ago I decided to buy myself a pair of dungarees (aka overalls) and hot dang, why have I been avoiding this piece of clothing for years? THEY'RE MAGIC. Tiny Kara was onto something.
Why I Love Overalls As A Curvy Gal
First of all, pockets. I'm wearing a pair of overalls while writing this post and I have 6 pockets. So many pockets!!! A girl's dream. They're also really comfortable which is important to me as a size 12/14. Unlike pants and jeans, denim overalls don't pinch my waist. And unlike jumpsuits, I don't struggle with a back zipper getting in and out of them.
I quickly went down a rabbit hole of shopping overalls for curvy women and now, if you follow me on Stories, you know I'm always wearing a pair these days. And that's not going to stop — this style is perfect all year round.
Layer overalls with boots, cardigans and sweaters in the fall or winter. Come spring and summer, they work so nicely with bandeaus and crop tops. In these photos, I'm actually wearing a swimsuit under my white overalls! And I expect to grow my collection. I'm hooked now. Never returning or going back, tiny Kara knew what was up.
I've been getting so many questions on Instagram lately about the best womens overalls and where I shop this style so I'm finally rounding up and sharing all my favorite overalls of the year and where to shop them! Best part? They're under $100 since I hate those high price tags, too.
Comfy Yet Cute Overalls For Curvy Women Under $100
All my favorite comfy overalls under $100 for curvy women like myself!
Photo Credit: oldnavy.com
I've always been afraid of all-white clothing since I'm a clumsy person and am constantly spilling stuff on myself, or tripping and scuffing my knees up. But I couldn't resist this pair of white overalls and it turns out to not be a problem. I've spilled beer all over the front of my bib (multiple times on different occasions) and it's always washed out. Thank god, because these are so fun to style for the spring and summer months!
Photo Credit: lucyandyak.com
Dungarees is another word for overalls. And I'm obsessed with Lucy and Yak. This sustainable brand has the best plus size overalls. Range in sizes from small/size 4 to a size 32!! We stan size inclusivity. But what really makes Lucy and Yak shine are all their incredibly cool prints and color options. Most brands will make neutral colors, but here you can find floral prints and bright pink (or purple) colors. So fun!
Photo Credit: oldnavy.com
Made with classic denim dyed black, this pair of overalls started out a bit stiff but have gotten softer over time. It helps that I wear them at least 1-2 times a week so they're getting comfier by the day! Totally machine washable with a black denim bib that hasn't faded in color yet. I know these will be my go-to come fall and winter.
Pro tip: size up on this pair!
Photo Credit: lazyoaf.com
Lazy Oak is another brand that make really fun prints for their clothing! Pretty much all of their pieces are gender-neutral. They make 100% cotton denim overalls that are machine washable and so dang FUN. Honestly, everything in their store is really fun. If you're looking to make a big fashion statement, this is your spot.
Photo Credit: oldnavy.com
Yes, I have an obsession with Old Navy overalls!! They just make some of the best ones out there for curvy women. I really love this pair of tan overalls since they are stretchy and comfy (the black pair isn't as stretchy). Plus the tan is great for fall and winter lewks. Can you see this styled perfect with this spooky bat sweater? Anyways, you'll love this pair
This is something Tiny Kara would have been all over this come summertime. Barefoot running through the woods and eating blackberries… but they don't have to be childish! This pair by Levi is high quality and flatters a grown woman's shape so dang well.
Photo Credit: everlane.com
Everlane makes really nice and high-quality canvas overalls in both tan and white. The back strap is designed differently than a classic pair (they cross instead of one on each shoulder) which makes it more elevated and different. Plus, they're really freaking comfy and true to size.
How Do I Make My Overalls More Flattering?
I get this question a lot. Just like with any bit of fashion, a lot depends on how you style yourself. I love to wear overalls over a crop top of bandeau that compliments the color. For example, with my black overalls, I love to wear white or black tops. My purple set looks amazing with yellows and oranges.
Feel free to be bold here with your undershirt. Let the overalls be the "neutral" piece of clothing and then wear a wild print under it. Or dress the outfit up with layers of necklaces or a headscarf.
It's also important to get the right curvy overalls. They can't be too big otherwise you'll drown in them. I do tend to size up on my pairs. Instead of a size large I'll got with an XL or even an XXL, depending on the brand. No matter where I shop, I always buy a couple sizes and do the "sit test" to make sure I can spend all day on the couch without being pinched.
I Need Cold Weather Overalls – Where Can I Shop Those?
I personally don't own any snow pants / cold weather overalls these days now that I no longer live in Wisconsin. That being said, Carhartt is the best brand to shop waterproof / water resistant overalls with insulated bibs for winter. You'll want to look for something with a polyester blend, as pure denim is actually pretty chilly in the winter. (Trust me! I always wore leggings under my jeans growing up in Wisconsin).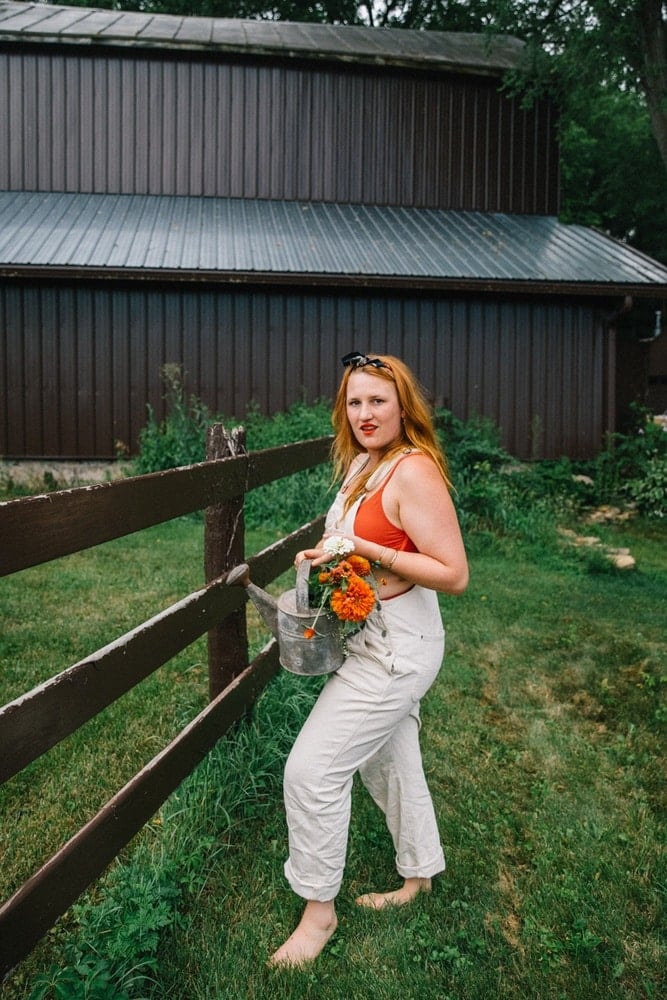 I hope this helps you find the perfect pair of curvy women overalls for yourself!! I've been loving the process of re-finding my love for this style of clothing and I can't wait to grow my collection with more pairs in the future.
If your favorite pair of curvy-approved overalls didn't make the list, please drop a link below in the comments so everyone can see! And by everyone, I mainly mean me. I want to see. And shop them for myself!