Our Gillywater cocktail recipe is sweet, smooth and goes down easy (unlike the actual gillyweed which looks appalling to eat raw, lolz sorry Harry.)
To make this cocktail, we asked ourselves: what does gillywater taste like? The answer? Probably a bit like a gin and tonic. Of course, we put our own unique spin on this cocktail using Bison Grass Vodka instead of botanical gin and few other surprises you'll also love. Keep reading for my Gillywater cocktail recipe!
Gillywater Cocktail Recipe: The Unofficial Drink Of The Triwizard Tournament
My husband and I have been making Harry Potter inspired recipes for happy hour lately and while we've been trying to make sure unique drinks (like a Floo Powder cocktail that sparks when you say Diagon Alley!), gillywater is too classic to pass up and makes for the perfect gin and tonic-style of drink.
What I love about this cocktail is that, while it's sweet, there is no added sugar! That's right, no simple syrups or anything of the kind. See, Bison Grass vodka is smooth and has a nice grassy, floral taste, making it a great spirit for this in place of botanical gin.
Tonic waters have a bit of sugar in it to help make the cocktail sweet but other than that, the taste buds focus on the fresh herbs and the smooth vodka. No added sugar is needed (my skin loves that!)
Wait, What Does Gillywater Do Again?
We learn about gillyweed during the Goblet of Fire when Harry uses it to breathe underwater at Hogwarts' Black Lake during the second of the Triwizard Tournament tasks. Remember that scene – Dobby running up to him and shoving a mess of gillyweed into his hands and told him to eat it? After, Harry grows gills and webbed hands so he can easily swim and breathe underwater.
Later, Minerva McGonagall, orders a Gillywater cocktail at the Three Broomsticks, so we learn that in the book there is a Gillywater cocktail but it's unclear what's in it. When concepting this cocktail, I liked to imagine that it's the official drink you could order in the Triwizard Tournament stands – can't you see McGonagall throwing this back while waiting for the match to end?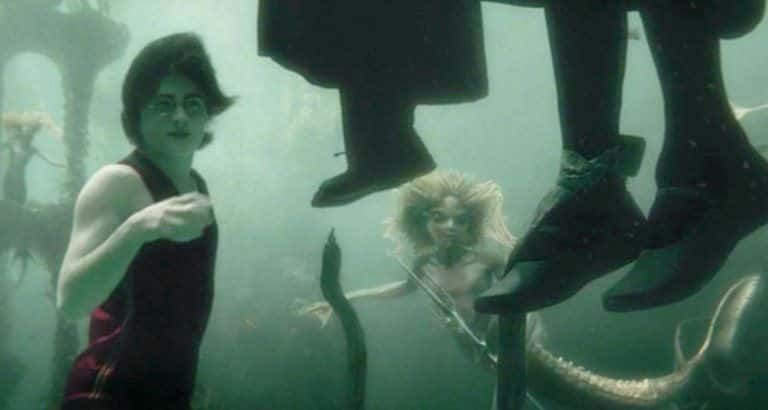 What Is Gillywater A Universal Studios?
You can find Gillywater all around the Wizarding World of Harry Potter Universal Studios park but it's…. just plain water. That's right – it's not a cocktail at the park, just a bottle of water. Apparently, at the Three Broomsticks at Universal Hollywood and The Leaky Cauldron at Universal Orlando, you can find flavored gillywaters (I'm guessing sparkling, lemon, etc) but I don't remember this. But I did visit a few years ago so things can change.
Anyways, our gillywater recipe has alcohol, don't you worry! Here's how you make it.
Our Gillywater Recipe
Start by muddling fresh basil and cucumber slices together wit the Bison Grass Vodka in the bottom of your glass (or cocktail shaker if you are making a bigger batch.)We tried one gillywater recipe with fresh mint instead of basil but it didn't taste quite the same so skip the mint in this one.
Same with gin – it tastes good with gin, sure, but using bison grass vodka instead kicks it up to a whole new level. After muddling, strain basil and cucumbers out. Add an ice cube.
Pro tip: freeze your dried seaweed into ice cube tray the day before for extra fun cocktail element!
Next, time to prep your sliced cucumber! Chop a cucumber into 4ths (half and then half again.) On the skin side, peel off sections so it looks like your cucumber has stripes. Then, carefully slice the cucumber as pictured. Make sure not to cut all the way through, we don't want loose slices but instead a spiral of sorts that bends and makes a statement in the cocktail glass.
OR – you can do what we did here and make a checkered pattern on your cucumber and hallow it out so it can fit snug against the ice cube.
Add your cucumber to the glass and then top with tonic water. Finish it all off by sticking a sheet of dried seaweed into the corner of the glass and a long cucumber peel. This adds that final "gillyweed" element to the cocktail, plus the salt in it adds a nice little punch to the drink.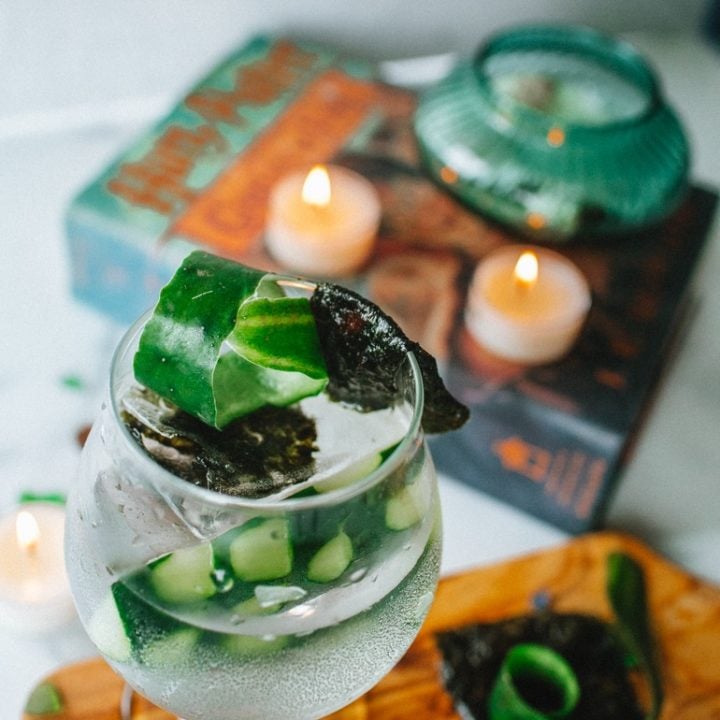 Gillywater Cocktail Recipe
Additional Time:
5 minutes
This Gillywater cocktail recipe hits the spot on a hot day (or from the stands of the Triwizard Tournament!) Of all our Harry Potter inspired cocktails, this one has no added sugar but it's still sweet, smooth and goes down easy.
Ingredients
2 oz Bison Grass Vodka
2-3 fresh basil leaves
1-2 slices of fresh cucumber
1/4 of a whole cucumber
Dried seaweed sheet
Tonic water
Ice cube
Instructions
How To Make Your Cucumber Feature
Quarter your whole cucumber (slice in half and then half again.)
Peel off strips of the cucumber skin with a peeler in a checkered patterned,so you are leaving about half of the skin still on
Carefully carve out the cucumber's soft part without cutting all the way through so it's almost hallowed.
Gillywater Recipe
Muddle the vodka, basil and cucumber slices in your glass.
Strain out the basil and cucumber.
Add in an ice cube and your cucumber spiral.
Top with tonic water, usually about 2oz but varies on your personal taste.
Finally, style a sheet of seaweed in the side of your drink. This does get soggy when wet, so I usually dunk it and drape it over the side of the glass right away.
Enjoy!
Notes
You can use botanical gin in a pinch if needed, but Bison Grass Vodka takes this to a whole new level you'll love.

For an extra fun visual element, freeze seaweed chunks into your ice cube tray the day before to make seaweed ice!

And that's it! That's our alcoholic gilly water recipe. We had so much fun making this Harry Potter-inspired cocktail and I hope you enjoy it as much as we do. You can pair this with food of course but I love drinking it on its own for happy hour, especially on a hot day. Hits the spot!

If you have any questions, DM me on Instagram @thewhimsysoul or leave a comment below and I'll be happy to help. While you're here, check out some of my other Harry Potter cocktails!