YES – this is in California!!!
No need to fly halfway across the world to find endless sand dunes, they're right here down on the Central Coast. But finding the good spots – the area that makes you truly feel like you transported to some beautiful Middle Eastern country – is hard to find.
But I got you – keep reading for my step-by-step guide for finding the Pismo dunes & must-know tips for visiting!
Exactly How To Find Pismo Sand Dunes: Where To Park & Tips For Visiting These Insane Oceano Dunes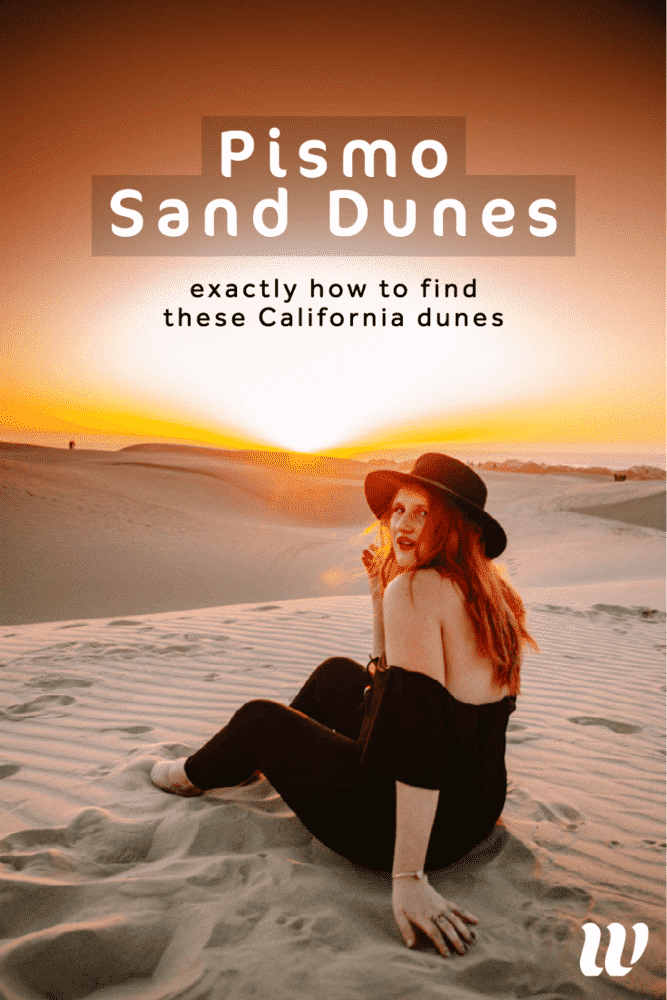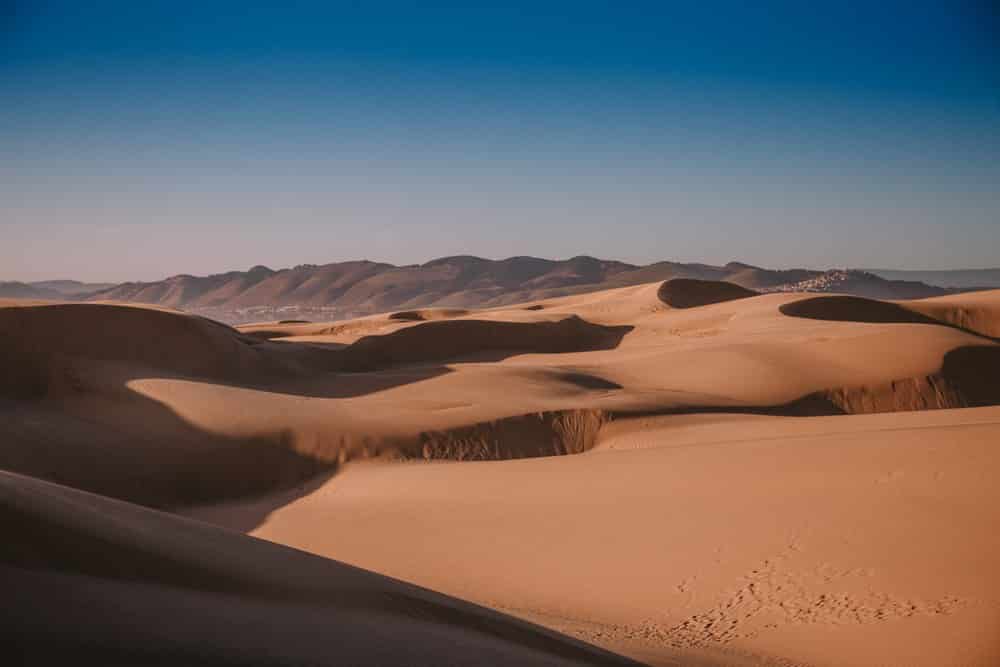 >> Got a question about the Pismo Sand Dunes that you need answered quickly? DM me on Instagram @thewhimsysoul and I'll be happy to help!
Ever since seeing the sand dunes in Pismo Beach on Instagram a few years ago, I've been itching to go see them in real life. I'm constantly blown away by the sheer variety of natural gems here in California but sand dunes? On the beach? That looks like a scene from Aladdin? *Jaw drops*
What Are The Dunes Called?
The dunes are officially called: Oceano Dunes State Recreation Area (aka Oceano Dunes SVRA). You can also refer to them as the Pismo Beach Oceano Dunes or the Pismo Dunes. It's all the same place and I'll be using the names interchangeably in this post.
Where Are The Pismo Beach Sand Dunes?
The coastal dunes are located just south of the town of Pismo Beach. These dunes are a natural preserve, open to the public, and run a few miles in length along the coast. You can go hiking, camping, fishing, horseback riding and even drive ATVs right on the dunes.
Since this park is so expansive, there are a lot of different types of terrain. Some areas of the dunes are smaller and filled with more vegetation, while others (like the part pictured here) are just endless tall dunes of fine sand. In this guide, I'll be directing you how to find the endless sand area of the Pismo Beach dunes since I think they are the most majestic and they are kind of hard to find.
Important! Don't Be A Dick
Before we go into directions, I have to quickly review the basics of being outside: don't be a dick. That means pack out any trash you bring into the Oceano Sand dunes (don't leave it up to Mother Nature or a local to pick up after you). Dogs can go on the dunes, but make sure to also pick up their poop.
Respect the land. Leave it safe and clean for future visits. 🙂
How To Get To Pismo Sand Dunes: Step By Step Guide
OK! The biggest mistake people make when visiting is directing to Pismo Beach State Park, which is near the dunes and has some sand. But it's not as impressive as the area featured here. You have to drive a bit further out.
1. Park Near The Pacific Dunes Ranch & RV Resort
Instead of locking onto the Pismo Beach State Park, direct your maps to the Pacific Dunes Ranch & RV Resort. If you drive out of town and past some farm fields & end up near a horseback riding spot, you're in the right place.
PARK ON THE GRAVEL. Do not park on the concrete!
The RV resort is private but there is a gravel parking lot right outside the resort (with a basketball hoop) that you can park on for free. If you go through the main gates and park on the concrete, they'll probably tow your car.
2. Walk Through The Resort To The Dunes
Once you park, walk through the resort streets to access the dunes. Keep to your right and stay on Euclid Ave. Remember to be respectful when walking through this area and keep your voice down, especially if you are walking back at night. These are people's homes!
3. Enter The Fence To The Dunes
You'll eventually come to a sandy area with a little opening in a fence that takes you directly onto the sand dunes. You made!! From here it'll only take you about 20 minutes to walk far enough out on the sand to really be absorbed in the dune magic.
It's not an easy walk, since it's all in sand, but it was easier barefoot in my opinion. You can also wear sturdy hiking boots if you don't want to go barefoot. (This is my favorite pair). People seem to leave their shoes here at the fence but we took ours with us. Leave your shoes at your own risk.
Want to find where the beach meets the water? Head to the Ocean Dunes OHV Area on Strand Way. This is where most of the vehicles drive around, but I think you can also swim here. I personally prefer this secret access point, though.
What Is The Best Time Of Day To Visit The Pismo Sand Dunes?
The dunes are stunning all the time but I absolutely loved visiting at Golden Hour and staying through the sunset. The light this time of day is warm and makes everything glow. Really looked like we were in the desert, not nextdoor to the beach. From some areas of the dunes, you can see water ocean and the city lights of Pismo Beach.
We stuck around to watch the sunset and that transition of bright sunlight to soft glow of dusk – MAGIC. Just magic. It gets cold when the sun goes down so bring a jacket or blanket.
We were there on a weekend day so there were groups of local teens hanging out and having full-on parties in the dunes (beer pong table and everything) that we past on our way up to the top of the sand. I can tell that this spot is believed to the locals. I also jealous – I grew up in Wisconsin and had to party in basements or cornfields. Sand dunes are way cooler.
Go Off-Roading On The Dunes
Yes – you can drive on the dunes (for now)! If you have an ATV or off-highway vehicles, you can make a reservation on the park's website to drive on the Oceano Dunes State Vehicular Recreation Area of the dunes. You can't go driving anywhere you want on the sand (hey, people and dogs are wandering around there).
If you don't own an ATV you can rent one! There are a few different Oceano Dunes rentals out there. Check out TripAdvisor for a list of local rental companies. We wanted to go this but we visited during 2021 and the park still hadn't opened up off-roading after 2020 shut down.
NOTE: Literally the day before writing this post, it was announced on the news that the city will be phasing out off-roading on the dunes over the next three years. So expect that sometime around ~2024 ATVs may be banned on the dunes. So if you're dream is to drive a sun buggy around the sand, now is the time to go.

Where To Stay In Pismo Beach
I believe you can go Pismo dunes camping if you're eager to spend as much time as possible on the sand. Otherwise, there are a handle of super cute hotels in the town of Pismo Beach just 20 minutes away from the dunes beach area.
Vespera On Ocean: A beautiful Autograph Collection hotel with fire pits & ocean views (I want to stay here on my next Pismo trip!)
Sandcastle Hotel: Another beautiful hotel right on the beach with outdoor seating to watch the sunset. They have free bikes for guests, too!
Inn At The Pier: Literally right on the pier and in the heart of downtown Pismo Beach.
These California sand dunes are simply stunning. Words and photos can't do this place justice. I hope you can find yourself down to the Central Coast at some point in your life to soak up all the beauty the Pismo Oceano dunes offer. I still can't believe these are in California!! This Midwest gal is always in awe of the West Coast.
Looking for more epic natural gems in the Pismo area? Head to Morro Beach Rock at sunrise — you won't be disappointed!
If you have any additional tips for the dunes, drop them below so everyone can see. If you have questions, leave a comment or contact me via DM on Instagram @thewhimsysoul and I'll be happy to help!