We fell in love with Santa Barbara after just one day in town. While it's now an internationally known city thanks to some famous locals, it's still a wonderful stop along the Pacific Coast Highway. With LA 70 miles South, I feel like Santa Barbara is often overlooked as a vacation destination in California.
For everyone who writes this city off, you are missing out on one hell of a gem! Small town feels, beautiful beaches, top-notch food, sunshine and an award-winning wine region next door… my Santa Barbara Travel Guide is sure to help you also fall in love with this city! These are all my favorite things to do in Santa Barbara.
Santa Barbara Travel Guide: Where to Stay, Eat, Drink & 15 Things To Do (+ Easy Day Trips!)
It takes no longer than 10 minutes to drive anywhere you'll want to go, and parking is easy, plentiful and usually free. As with most Southern California cities, Santa Barbara is chill. But unlike Venice Beach or even San Diego, it's slower, in a great way. I think you'll love it there, too.
Santa Barbara at a Glance
While Santa Barbara is an absolute gem, I can't write this travel guide without noting that Santa Barbara isn't the cheapest place to visit so budget accordingly! It's perfect for a long weekend or even a 24-hour trip,
Getting to and around Santa Barbara
From San Francisco, we had two options: a California road trip along the PCH or a quick flight into the Santa Barbara Airport. Like every building in Santa Barbara, it's beautifully designed in the Mediterranean and Spanish-revival architecture style.
Since it's a smaller airport, flight prices might be high so if you can, a little California road trip or taking an Amtrak train like the Pacific Surfliner are great options!
Parking is plentiful, but the main areas of interest are also super walkable plus bike rentals are aplenty. You'll always see visitors and locals zooming around the pedestrian streets!
18 Best Things To Do In Santa Barbara, California
Whether you're the relaxing by the hotel pool type or fit in every possible thing type, there's so much to do in Santa Barbara! Here's 15 ideas to start planning a trip to Santa Barbara.
1. Take a Photo at Chromatic Gate
The Chromatic Gate is one of the top Santa Barbara attractions. I mean look – it's a crazy-cool art installation that looks like the rainbow!! What's not to love?! The best time to visit to take photos is before 10am so you can use the palm trees and ocean as your backdrop.
2. Have A Beach Day
It's a no-brainer that Santa Barbara has beautiful beaches! Some spots have nets so you can play volleyball, others rent out surfboards. I recommend having your beach day on the section near the Chromatic Gate at Santa Barbara beach as there's tons of free parking, unlike the lots near the Wharf which are paid. That being said, you have options. The top beaches for sunny beach days are:
Arroyo Burro Beach (has an off-leash dog park)
Leadbetter Beach
Santa Barbara Beach (with the cute blue lifeguard stands!)
East Beach & West Beach (a little close to the pier so parking is harder)
3. Go On A Romantic Sunset Walk
A romantic sunset walk must be had on Butterfly Beach! It's easy to park on the main road and stroll down to the beach for sunset. One of the fun things about California is it's cool to drink wine on the beaches and parks, so pack yourself a little picnic to make it extra special!
4. Explore the Santa Barbara Funk Zone
This is THE spot for wine tasting, beer, food, cool decor. Bouncing around the Funk Zone is one of the bes things to do in Santa Barbara at night or afternoon when you're ready to start the party early. The vibe is pretty much industrial meets chic meets alcohol. If you can't make it out to Santa Ynez for a day trip, come here to try local wines and beers.
5. Go Mural Hunting
There is a surprising surpassing amount of murals and wall art around Santa Barbara. You could spend a whole day mural hunting! There's always new art poping up (especially in the Funk Zone) so one of my favorite things to see in Santa Barbara is tour all the art. And, it's 100% free all the time.
6. Visit the Moreton Bay Fig Tree
There's a huge Ficus Fig in downtown Santa Barbara that boats being the largest fig tree in the United States. It's over 150 years old and a stunning feat of natural history.
7. Tour Santa Barbara via Land Shark
In Wisconsin, we call these "ducks". They're part bus part boat that makes for a unique and fun tour no matter what city you ride one in. You can also rent a Land Shark out privately for a boozy tour. Great for wedding parties, bachelorette birthdays, etc.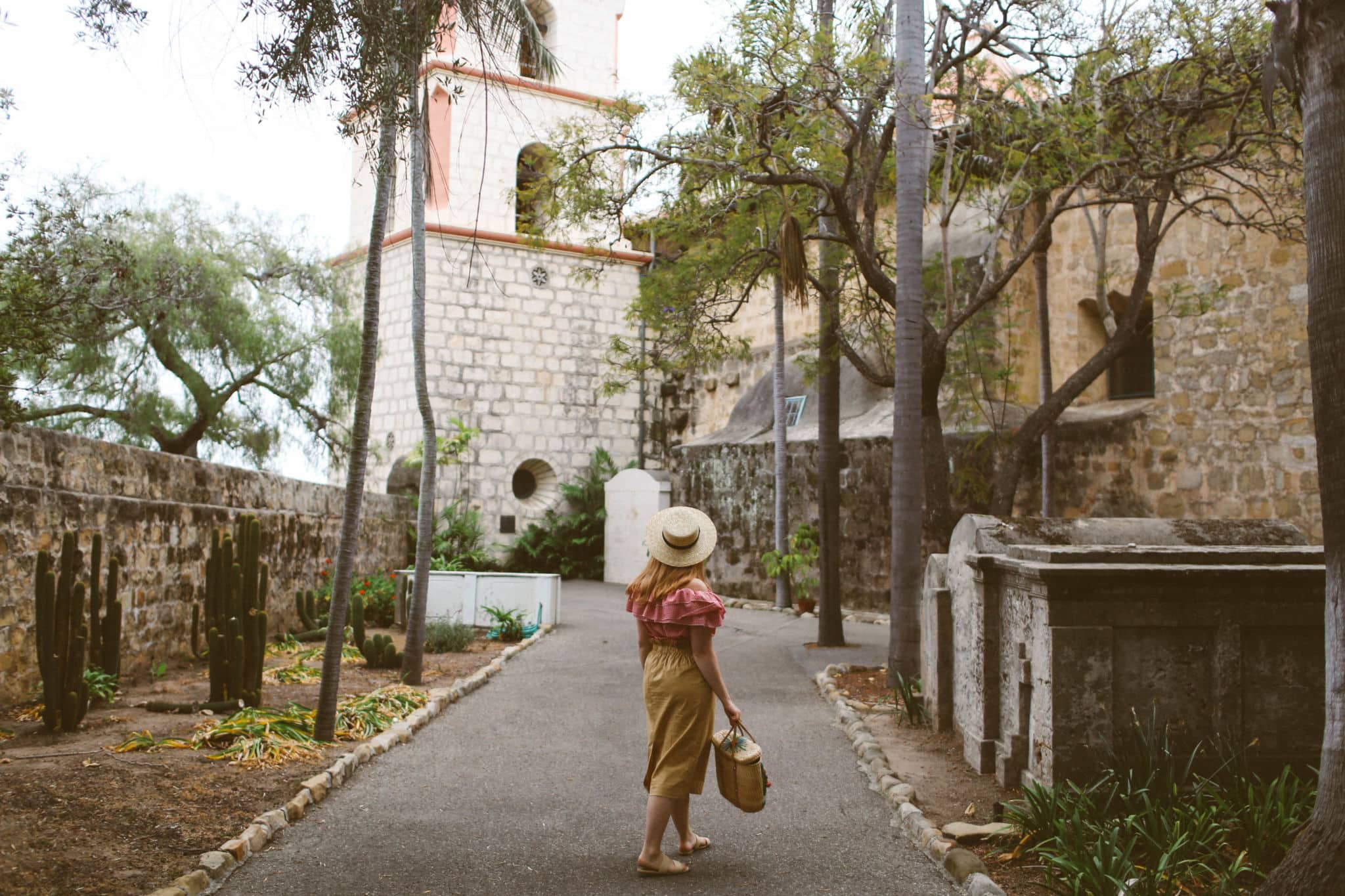 8. Visit Old Mission Santa Barbara
I love touring missions, Basically and churches. Entry to the Santa Barbara Mission is $9 to explore a beautiful property behind those church steeples. I appreciated the number of installations with historical photos and information, which helps you leave feeling educated.
This Mission has a back garden that looks super unique compared to other California missions. They may have church services on Sunday so it's best to on Saturday or weekdays.
9. Climb to the Top of the Santa Barbara County Courthouse
Probably the best view in the entire city. You can see the mountains all the way down to the ocean. Best part? Entry to the Santa Barbara County Courthouse totally FREE! Make sure to set aside time to look at the art on each floor and wander the gardens. If you like tours, each weekday at 10:30am and 2pm free docent tours are available. They are an hour long and meet in the mural room on the 2nd floor. A weekend has only one tour, at 2pm.
PS: are you a fan of Psych the TV show? We're big fans and here's a little tip: while the show takes place in Santa Barabara, it was actually filmed in Vancouver so there's no Psych filming locations here to share. But, the Courthouse is still fun to visit. Bonus points if you bring along a pineapple.
10. Stroll Down Stearns Wharf and Go Fishing
One of the unique things to do in Santa Barbara is fish off the Stearns Wharf pier! The bait and tackle shop at the end of the pier rents out bait and poles so you can cast out, relax in the sun and maybe catch something.
The pier is a classic Santa Barbara attraction as it overlooks all of Santa Barbara harbor and coastline. If fishing isn't your thing, the Wharf also has restaurants, shops, is home to the Santa Barbara Museum of Natural History Sea Center and also where you can pick up whale-watching cruises or charters.
11. Bike Along the Cabrillo Boulevard Bike Path
The whole city is very bike friendly, but the Cabrillo Boulevard Bike Path is 4.5 miles along the ocean – perfect for all ages. I personally love biking around SoCal cities… the palm trees, the sunshine, the boardwalks all make for a fun bike ride. Many hotels offer free bike use to guests.
If your hotel doesn't offer bikes, I recommend Santa Barbara Bike To-Go near the Chromatic Gate. They have a cute shop dog and a large array of bikes that you can rent for just an hour or as long as the whole day. This way you can see all the best attractions in Santa Barbara by bike!
12. Book a Kayak Tour
As you're walking along Stearn's Wharf, you'll see tons of people kayaking and paddle boarding. If you follow me on Instagram, you know I love kayaking and booking tours when I'm visiting new places.
Santa Barbara is an awesome place to go kayaking. There's tours for all skill levels and times of day, including sunset which is so dreamy. If you haven't done sea kayaking before, it's best to book this kayaking tour (they're super affordable) so you have a guide. That way, you have an expert guide showing you the best spots along the Santa Barbara Channel. There are a lot of cool places to visit in Santa Barbara and some of them are the best views from the water.
13. Visit a Santa Barbara Museum
There's a surprising amount of museums in Santa Barbara, but the most notable I saw were the MOXI and the Museum of Contemporary Art. The MOXI, or The Wolf Museum of Exploration + Innovation, is near Stearn Wharf on State Street and almost looks like a lighthouse from the outside! If you love navel history, there's the Santa Barbara Maritime Museum
Santa Barbara Museum of Contemporary Art is also nearby and has free entry to the exhibits. We're always looking for cheap travel tips, so if you're hoping for free things to do in Santa Barbara, or just an A/C escape from the heat, head here!
14. Take A Hike
Hiking in Santa Barbara is a popular activity with lots of trails within 15 to 30 minutes of downtown for all levels. The most popular (and the best view of Santa Barbara) is Inspiration Point, and there are couple ways to get there so be sure to do some research ahead of time!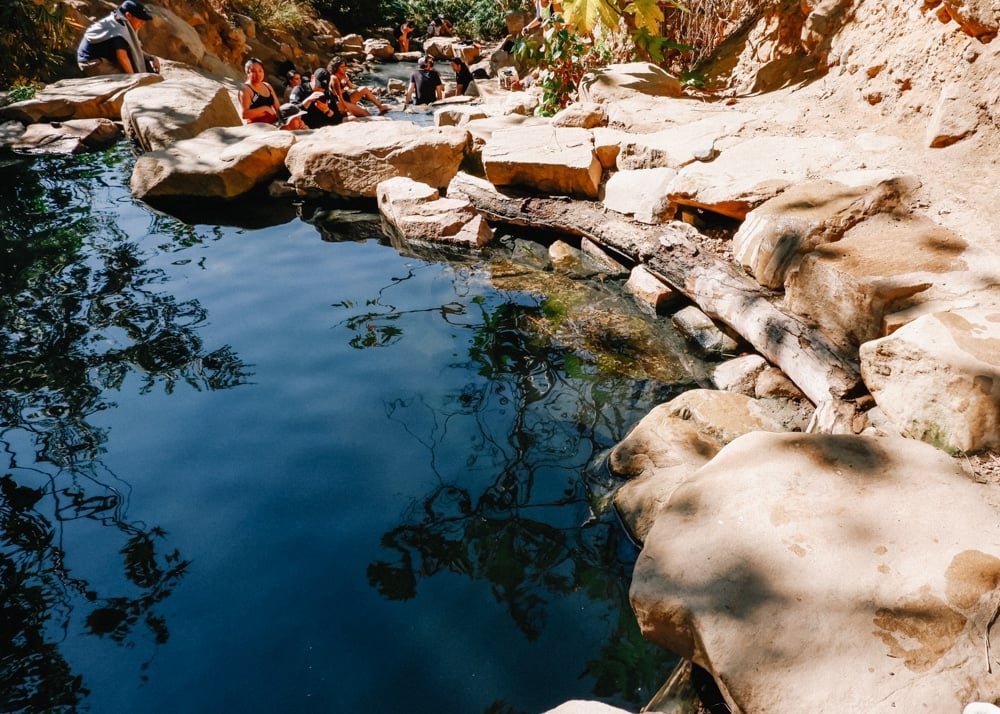 15. Soak in Montecito Hot Springs
One of the best Santa Barbara activities to do on a chilly day is soaking in some hot springs! Also known as Hot Springs Canyon, this hot spring is at the end of a moderate hike!
The easiest way to get there is starting at Hot Springs Canyon Trailhead. I recommend starting early to beat the crowds and grab a parking spot. Sunrise is always a smart move and worth the early wake-up call.
You'll walk along a creek with a decent incline for almost the entire way to the springs. If you're following the signage along the trail, it's a pretty straight shot, but towards the end you'll see a large metal sign and you'll want to hang left. We asked our fellow hikers for directions and everyone was really kind!
As with any hot spring, you'll need to bring your own towels and garbage bag so you can not only pack out your trash, but be kind and leave it cleaner than you found it. We love finding hot springs in California here at Whimsy Soul and want to make sure they stay safe for everyone to enjoy.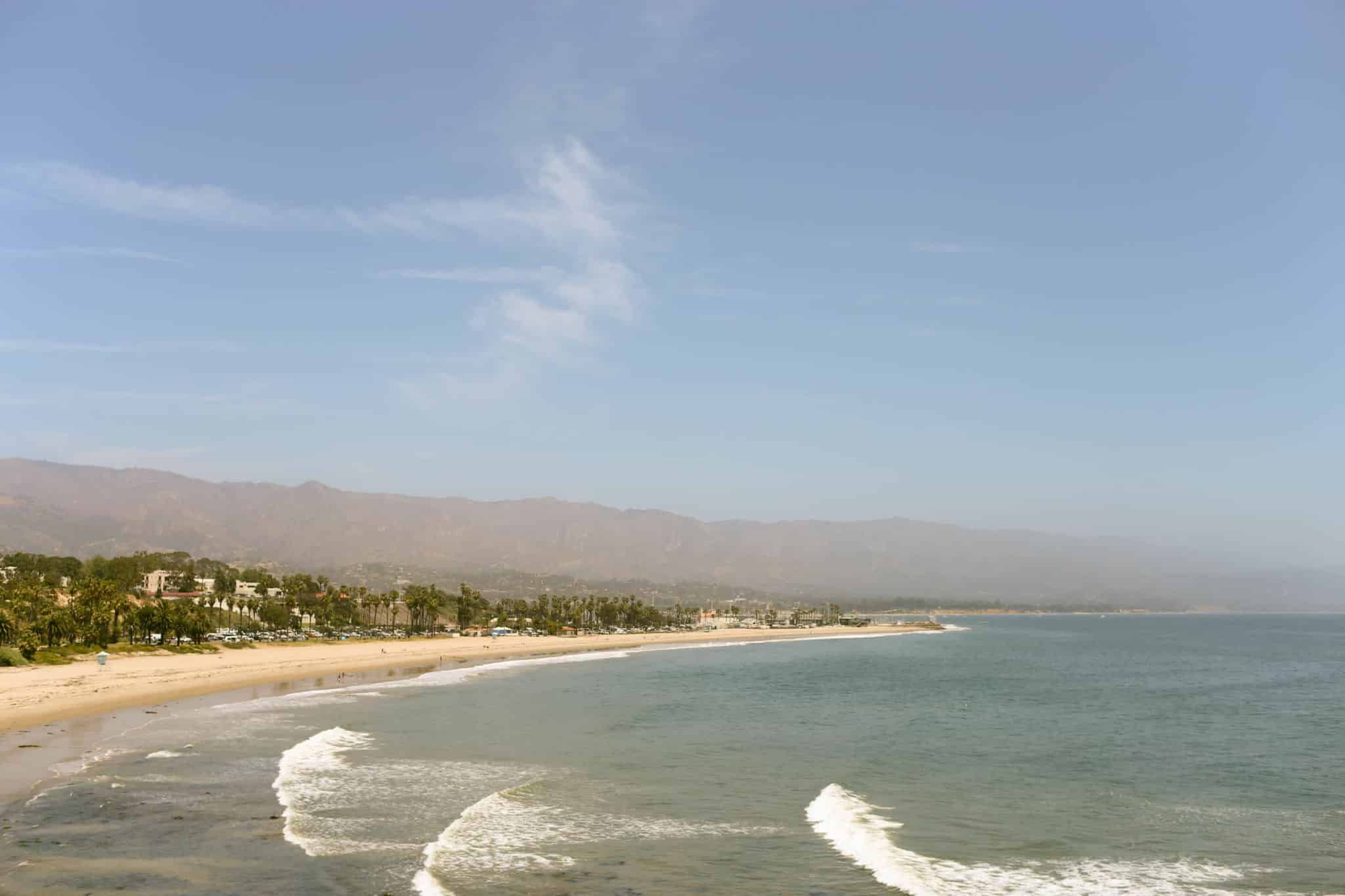 16. Santa Barbara Botanic Gardens
I'm a sucker for botanical gardens. I love finding gardens while I travel to get to know the local native plant species. The Santa Barbara Botanical Gardens has 1,000 species of rare and indigenous plants, tons of workshops, trails to wander and event night events sometimes. It's a fun place to slip into to escape the hustle and bustle of the Santa Barbara downtown area.
17. Whale Watching Tour
One of our favorite activities in Santa Barbara is to do a whale watching tour, but only if we're in town for migration season. Which is a lot of the year, thankfully. Whale migration population reaches peak between January and March, when gray whales are traveling north with their offspring. Between June and November, you can watch humpbacks. For blue whales, the best time is June to September.
I suggest you grab a spot on this catamaran whale-watching tour which will also double as a cruise. The staff keeps a close eye on whale migration so they know all the best spots to safely view them from the boat.
18. Explore Santa Barbara Public Market
Who else loves just looking at all the cute stores and food shops while traveling? One of the best Santa Barbara things to do for foodies is to head to Santa Barbara Public Market, a large gathering of local artisan shops. It's the best food hall in the city and there's always some fun to eat here, plus amazing people watching!!
Where to Eat: Best Restaurants in Santa Barbara
Well, speaking of the Santa Barbara Public Market, there are some really dang good places to eat here. While Santa Barbara wine and the nearby wine country is a big attraction, it's also a foodie haven with a variety of cuisines to choose from. Here are some of our favorites plus some that come highly recommended!
La Super Rica
A cash-only authentic Mexican joint, La Super Rica, always seems to have a line because it's a popular lunch spot among the locals. Plus it has the stamp of approval from Julia Child, herself!
Lily's
Another local favorite, Lily's is great Mexican food option for tacos and margaritas closer to the Downtown area.
Zaytoon
Zaytoon is such a charming hidden restaurant that serves Lebanese cuisine. Most of the tables are outdoors under string lights and around fire pits. It's known for belly dancers mingling among the diners on the weekends.
Order the Strawberry Lemonade for a unique flavor punch! Note – you need to make reservations ahead of time on their site + put outdoor seating in the comments to ensure a table.
Sama Sama Kitchen
Serving up Southeast Asian inspired dishes, Sama Sama Kitchen has a beautiful indoor space as well as an area for outdoor dining. They're known for a tasty cocktail and mocktail menu featuring housemade syrups and juices.
One thing to note, the menu features various dishes intended for sharing and they recommended about 1-2 dishes per person.
Lucky Penny
This local pizza joint is known for its wood fired pizzas! If you're planning a little beach picnic, Lucky Penny is perfect for an easy takeaway meal!
Norton's Deli
Craving sandwiches? Norton's Deli's claim to fame is the best pastrami sandwich in Santa Barbara.
Tondi Gelato
You can't miss Tondi Gelato while you're in Santa Barbara! Conveniently located on State Street near Paseo Nuevo shopping center, it's a mom and pop shop featuring homemade, naturally flavored gelato!
McConnell's Fine Ice Cream
While McConnell's now has locations in Los Angeles, Studio City and San Luis Obispo (plus available at some grocery stores!), it all started in Santa Barbara! Stop by this trendy ice cream shop for some of the best strawberry ice cream I've had in ages!
Andersen's Bakery
A Danish restaurant serving all three meals, Anderson's Bakery is a favorite for brunch. This spot is a landmark on State Street. We just lived in Copenhagen for the summer and now have an extra soft spot for Danish foods. You'll love it!
Helena Avenue Bakery
If you're in the mood for a light lunch, head to Helena Avenue Bakery. It's menu features fresh, local produce paired with their artisan breads.
ALESSIA Patisserie and Cafe
Alessia Patisserie and Cafe is like stepping into Paris, combining the European pastry techniques with everything the Central Coast has to offer. We only grabbed a couple of pastries, but will definitely be back for more!
Oat Bakery
My recommendation for Oat Bakery is to stop by on your way out of Santa Barbara for a loaf or two of bread to take home! Their philosophy is "good bread is healthy bread" and feature things like oats, chia seeds and flaxseeds – so yummy!
Jolly Brothers
An Australian coffee house, Jolly Brothers (formerly Recipes Bakery), features a menu of dlsou pasties and baked goods for those who like to start their day off on the sweet side! They have a small but cute back garden you can dine in.
Farmer Boy
A minimal American diner, Farmer Boy has been a local hotspot since the 50's. The food is pretty affordable and the portions are huge.
Derfs
A silly-boozy brunch is the best way to describe Derfs. It's an old local favorite with a slight divey feel, which comes with the divey prices (aka very cheap!) You can grab breakfast for under $7 here. On a sunny day, sit on the porch, order a Dirty Diane. It's champagne and vodka – it hits you hard and is a great bang for your buck!
Where to Grab Drinks & Coffee in Santa Barbara
We already mentioned Santa Barbara is known for its wine, but did you know it's home to an Urban Wine Trail?
Pro Travel Tip: Trails are for more than hiking! When you're visiting a new destination, do searches for things like "wine trail," "food trail" or even "farm trail" for some unique eats, drinks and local goods!
Dart Coffee Co
If you're like me, your day must start with coffee! Dart Coffee Co is a cute coffee shop serving up ethical craft-roasted coffee in Santa Barbara.
Handlebar Coffee Roasters
Looking for an Instagramble coffee shop in Santa Barbara? Handlebar has pastel lattes. *Mic drop*
Dune Coffee Roasters
With a mission to make specialty coffee available to everyone, Dune Coffee Roasters has a couple cafe locations in Santa Barbara and a couple in Goleta!
Figueroa Mountain Brewery
On the edge of the Funk Zone, Figueroa Mountain Brewery, is perfect if you need a break from wine. Pop onto their back patio, order a flight of beers and soak up sun. Or pet a dog, it's dog friendly!
Municipal Wine Makers
A favorite in the Funk Zone with cool decor. We loved Municipal Wine Makers' trendy decor and open-air seating. I personally loved their Grenache.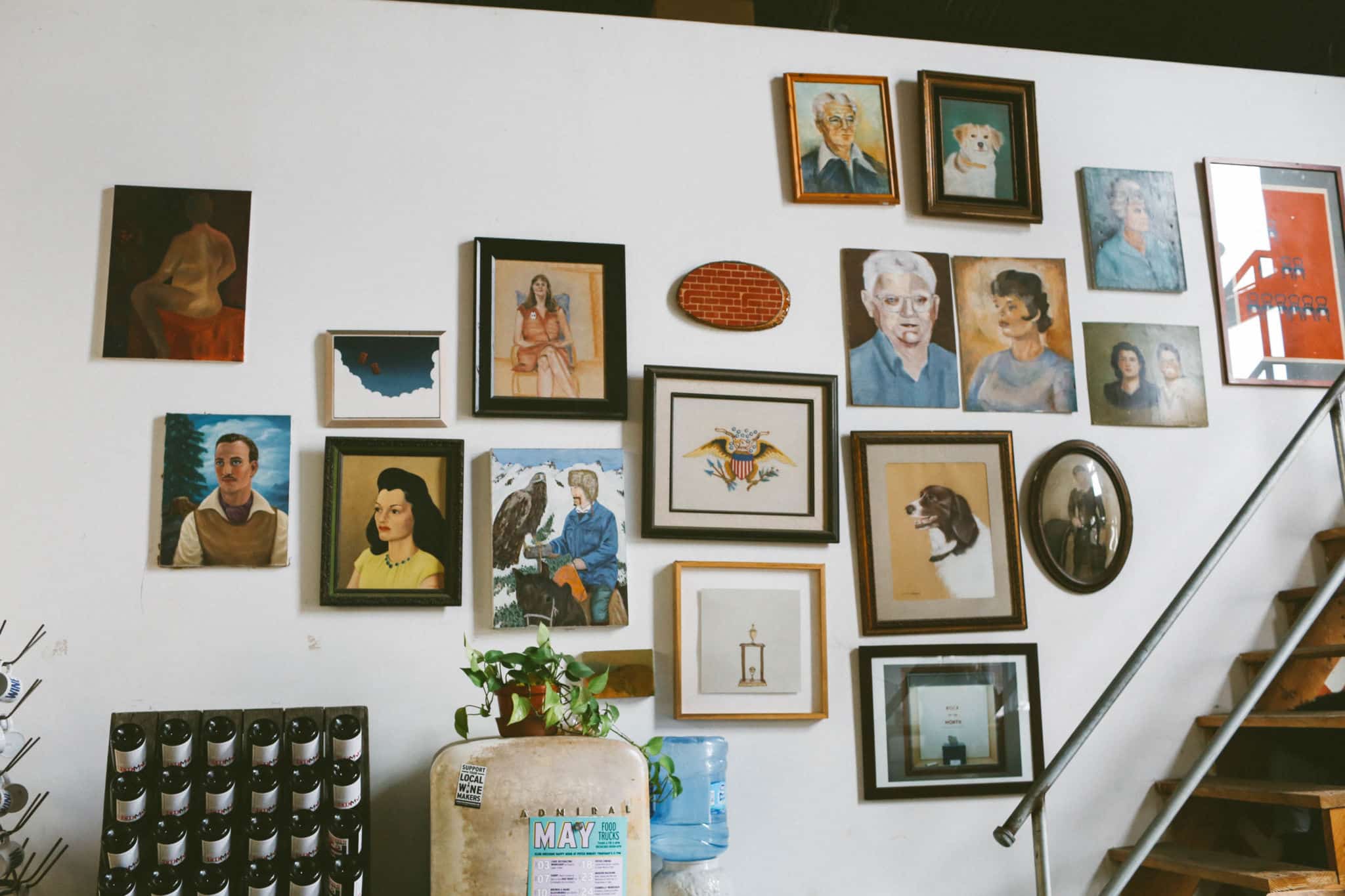 The Red Piano
Got a loud friend who likes to drink and sing songs? Take them to The Red Piano. It looked like a lot of fun (from far away, I don't sing so I didn't get close!)
Test Pilot
Test Pilot is a cute little tiki bar! The bartenders go all out their cocktails.
Sandbar
A beachy bar in the heart of downtown. Sandbar is all open-air seating. Make sure to grab a seat by the fire pit and order Pepino Diablo margarita!
The Good Lion
A speakeasy-style upscale cocktail bar to quench your craft cocktail cravings. The Good Lion features a rotating menu.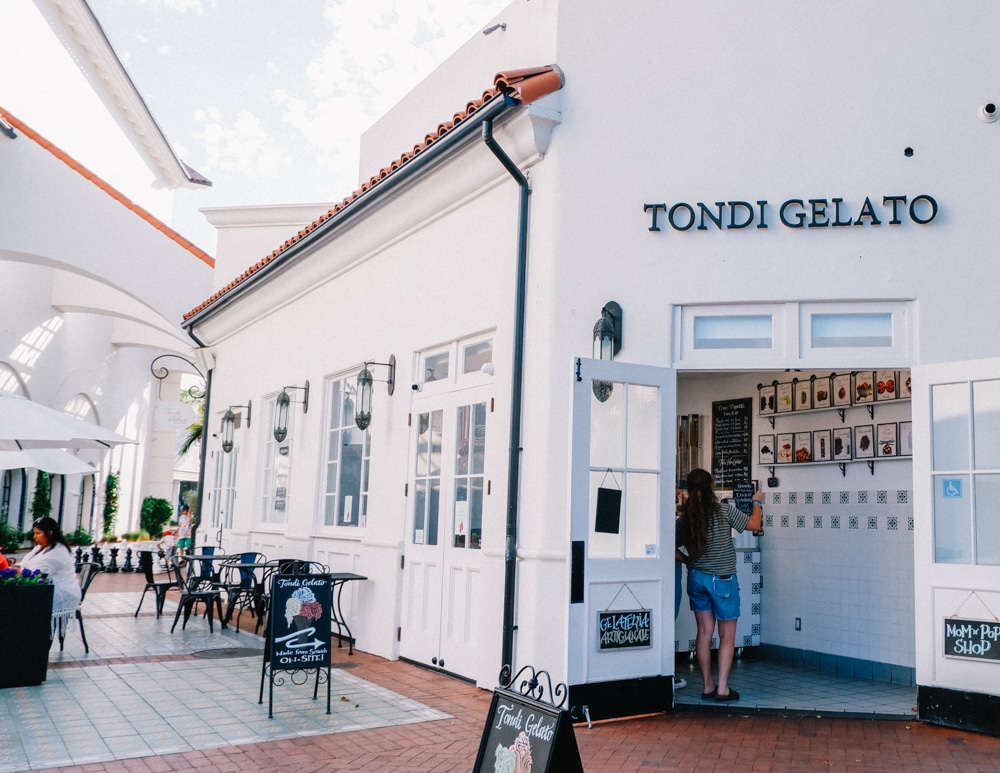 Where to Stay in Santa Barbara: Cool Hotels To Book
Santa Barbara is home to a variety of hotels ranging from luxury to boutique lodges or even vacation homes. We found that most of the places we wanted to get to were easily reached within 10 minutes by car.
Unlike other cities where staying in a particular neighborhood is a must, there are neighborhoods in Santa Barbara that make great places to find lodging.
The Leta Santa Barbar (formerly Kimpton Goodland)
We loved our stay at the Kimpton Goodland. (It's now the Leta Santa Barbar) When we can, we love staying at Kimpton Hotels because we find they always have great charm, cool decor (check out that airstream in the front!) and a free happy hour in the lobby each night (score!)
The downside of this hotel is that it's in Goleta, not Santa Barbara proper. You'll need a car if you stay here and drive 15ish minutes to and from the Santa Barbara center. With that in mind, I think the "commute" is worth the trade-off for a cute space.
If you'd like to stay closer, consider the Kimpton Canary Hotel!
Sandpiper Lodge
I think you'll find yourself out all day exploring, beachside or wine tasting during your time in Santa Barbara. If you're someone who loves to eat and go all out on activities during travel (bike rentals, sunset sail, etc) and are looking cut down on your lodging cost, I recommend booking at a cheap motel like the Sandpiper Lodge or the Orange Tree Inn.
Beachside Inn
If you want to be near Downtown Santa Barbara or within walking distance to the beach, Beachside Inn is a solid option. While the hotel is on the older side, it has been recently renovated and provides everything you need without too hefty a price tag.
We paid a little extra for a room with a view of the harbor and balcony and loved the extra space to drink coffee in the morning.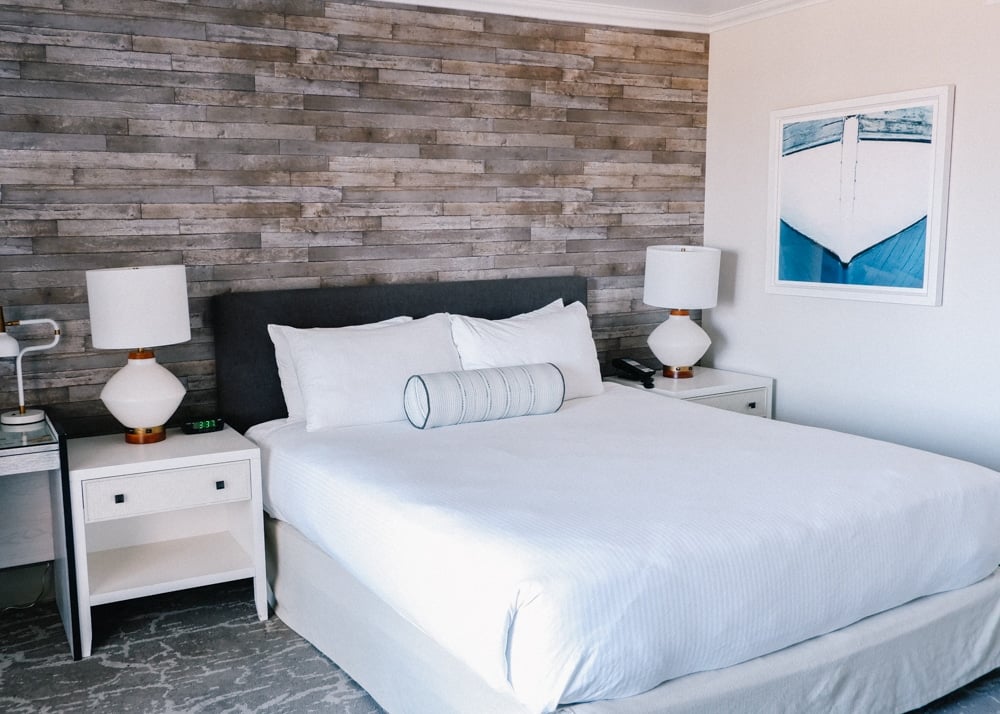 Best Santa Barbara Vacation Rentals
Santa Barbara is home to a lot of beautiful vacation rentals with chic beachy decor. There are also some beautiful retreats in the hillside. If you have a big group, or are staying more than a few days and want access to a kitchen, head to Vrbo or Airbnb. Here are a few favorites I've found:
Autocamp
Fancy staying a night in an Airstream? Live out your Instagram dreams at Autocamp! It's across the street from one of our favorite coffee spots in Santa Barbara, too.

Best Day Trips From Santa Barbara
Santa Barbara is considered the Central Coast, and many overlook this part of California as a vacation destination. But there's so much to see!
For the sake of this Santa Barbara travel guide, we'll dive deeper into the local wine country of Santa Ynez Valley, but first a quick list of day trips from Santa Barbara:
Santa Ynez Valley Day Trip
No Santa Barbara trip is complete without a day trip into the Santa Ynez mountains for some wine tasting! This area has award-winning wines and makes for a relaxing day in the sunshine if the fog has rolled into Santa Barbara.
There's a lot of fun things to do in Santa Barbara wine country year round, and that's a whole other guide in itself. For now, there's are some of my favorite wineries to visit for a day trip of wine tasting.
Fess Parker
When you're craving some wine on a patio, head here! We loved Fess Parker's outdoor seating area and the huge statement fireplace. It was hard to pick a favorite in wine, but we love their Chardonnay. You can reserve a picnic table, Bring your own food and hang out all afternoon. Pst – ask your sommelier for a 2 for 1 coupons for Epiphany, their sister winery.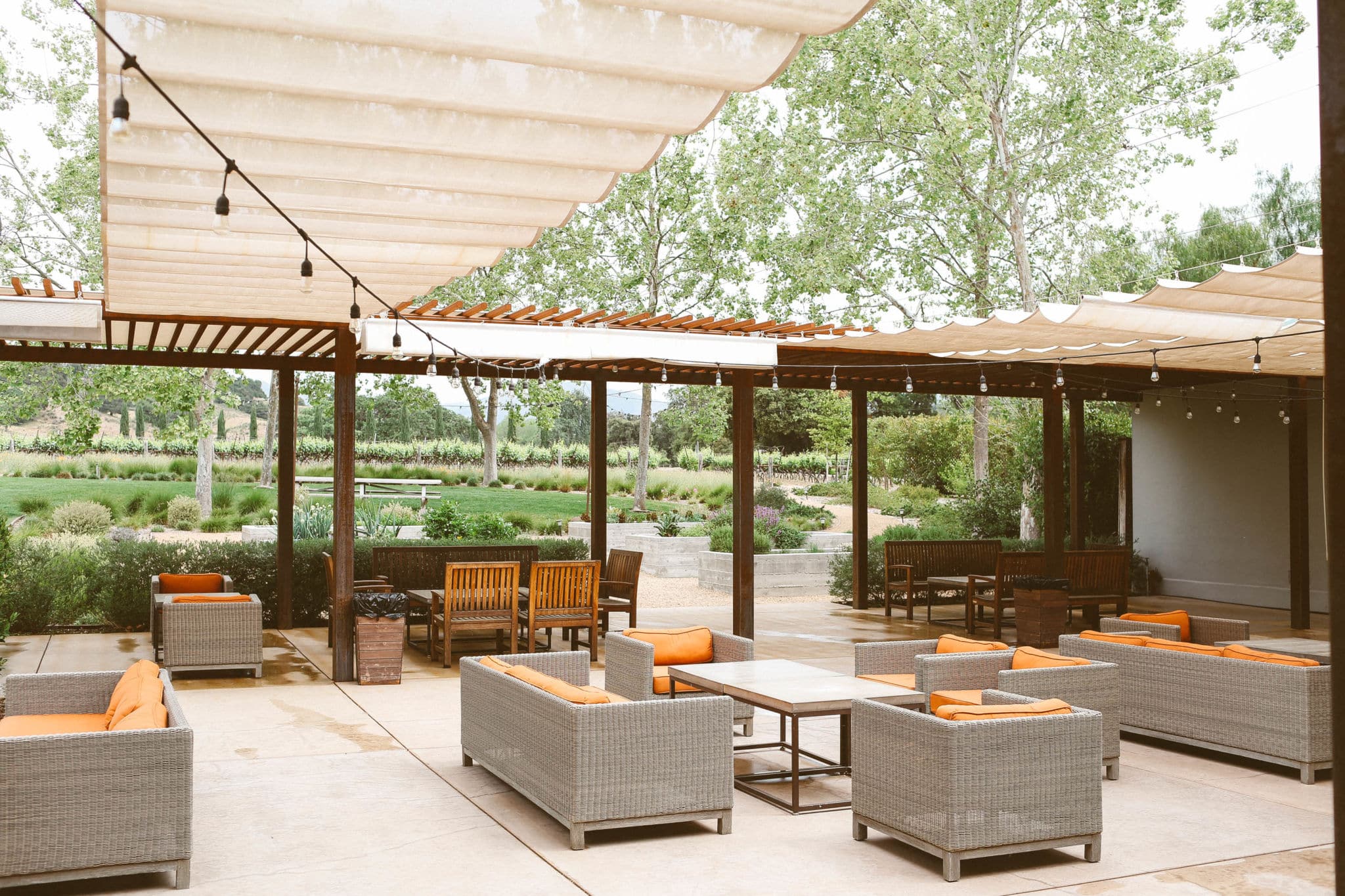 Saarloos and Sons
Saarloos and Sons are known for wine and cupcake pairings! The tasting room has great attention to detail in terms of decor and offers outdoor seating.
Gainey
Gainey offers the most unique wine tasting experience in the valley with their jeep tour! The jeep will take you from the tasting bar down to the Old Barn, a rustic barn surrounded by plains and oak trees. Here, you'll taste 5 wines in the peace and quiet of nature. Pst – jeep tours are only offered on weekends and they are so fun, so please do this if you can!
Fun Fact: You might recognize this barn from Of Mice And Men!
Downtown Los Olivos
Some wineries offer food like charcuterie boards, but some don't serve food at all. You'll see food trucks dotted along the valley. They're your chance to fuel up between tastings! Or, head into Los Olivos, a charming town in Santa Ynez Valley to grab a more formal meal.
Bear and Star is the place to grab an American style brunch, complete with outdoor seating. Sides Hardware and Shoes does meat so well. Plus, there are more tasting rooms down there!
Los Alamos
Only about 12 minutes west of Los Olivos is the small town of Los Alamos. It's absolutely adorable and features even more wine tasting and delicious eats. For innovative food with local ingredients, stop by Pico, or visit Bodega for an open-air wine & beer garden featuring natural and organic wines.
What to Pack for Santa Barbara
Santa Barbara can be very warm year-round, but gets chilly in the mornings, evenings and whenever the fog rolls in. Here's a simple packing list:
1-3 dresses (for exploring, wine tasting and dinners)
1-2 skirts
1-2 swimsuits
1-3 pairs of shorts
3-5 tops or t-shirts
1-2 light jackets, sweaters or cardigans
1 hiking outfit
1 pair of comfortable walking shoes
1 pair of sandals
Sunscreen
Beach bag or tote
Sunglasses
PJs
Toiletries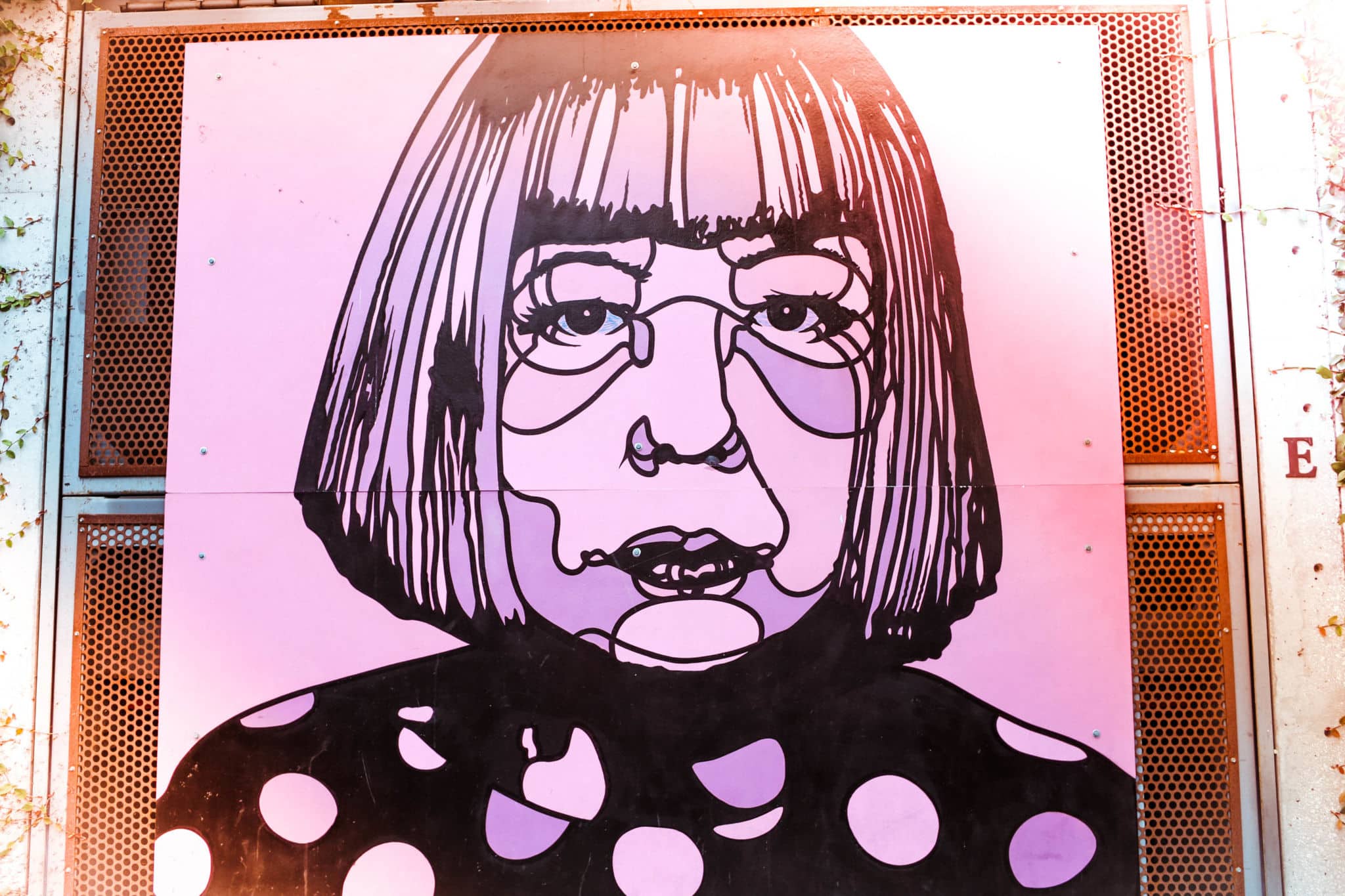 I hope this helps you plan a fun trip to Santa Barbara! Leave a comment below if you have any travel tips to add or questions about visiting Santa Barbara!