Moving to California's Central Coast from Texas, I've come to miss a few things about the Lone Star State. One of those being: swimming holes. Growing up in a small river town in the Texas Hill Country will do that to you.
No hate on the Pacific Ocean or the West Coast (it's probably a step up from the Gulf Coast), but where I live, it's freezing cold. Swimming holes in Texas are a summer haven. The chilly waters of natural swimming holes are a sweet relief from the raging Texas sun (cue Leon Bridges), and the zen energy of Texas swimming holes are unmatched.
When someone asks about my hometown, I'm proud to explain it as the home of Jacob's Well – something you've likely seen on social media since it's gone viral across Pinterest, Instagram and Facebook. So let's start there!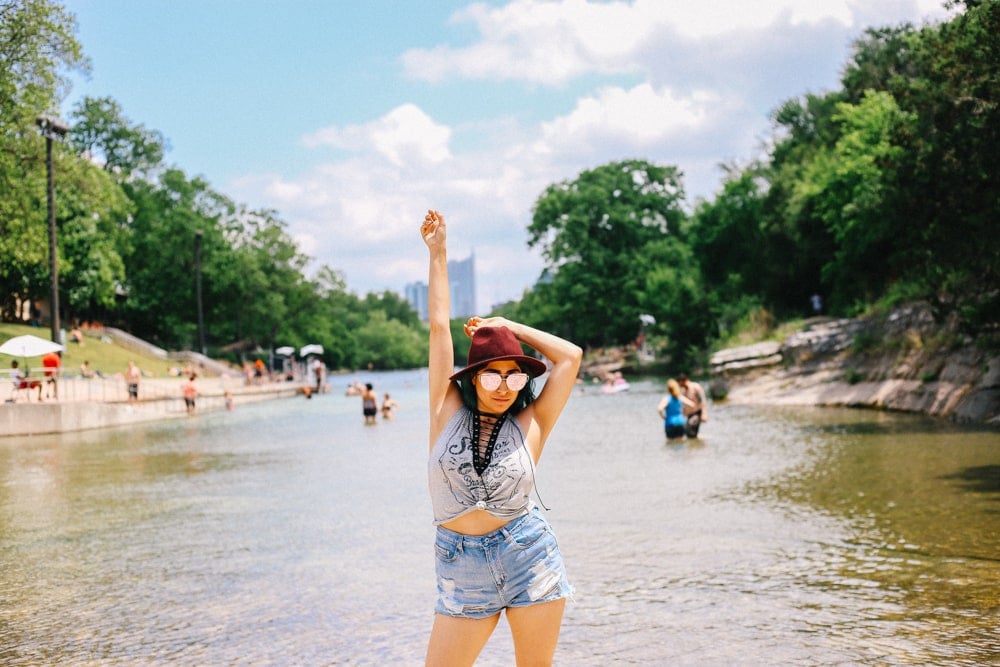 Why Are Natural Swimming Pools In Texas Special?
Easy. Texas is hot. Natural swimming pools like Barton Springs are cold. When the sun is shining, you want to be outside, but what can entice you to leave the air conditioning like a beautiful spring-fed pool? There are other benefits like avoiding the smell (and hair damage) of chlorine. We love a pool moment, but natural pools are less harsh on your skin/hair and so refreshing!
17 Best Secret Swimming Spots In Texas
1. Jacob's Well
Location: Wimberley, TX
A natural spring and giant cave located in Wimberley, Texas. It descends thousands of feet into the ground and maintains a constant temperature of 68 degrees. This is that deep swimming hole in Texas you have probably seen photos of before. Before packing your bags, Jacob's Well Natural Area requires a reservation. It's that popular.
Gone are the days of my childhood where we'd visit Jacob's Well at our leisure, but for good reason! Measures to ensure the safety of its guests and maintenance of this natural wonder. Don't forget, nature is sensitive, so you have to be nice to it by following all park rules and leave no trace.
Jacob's Well is open for swimming from May 1- September 30 (again, reservations are needed) but it's definitely worthwhile to visit during the off-season! Visitors are encouraged to explore the entire area with opportunities to hit the hiking trails, take a guided tour and more! It's one of the best swimming holes Texas has to offer.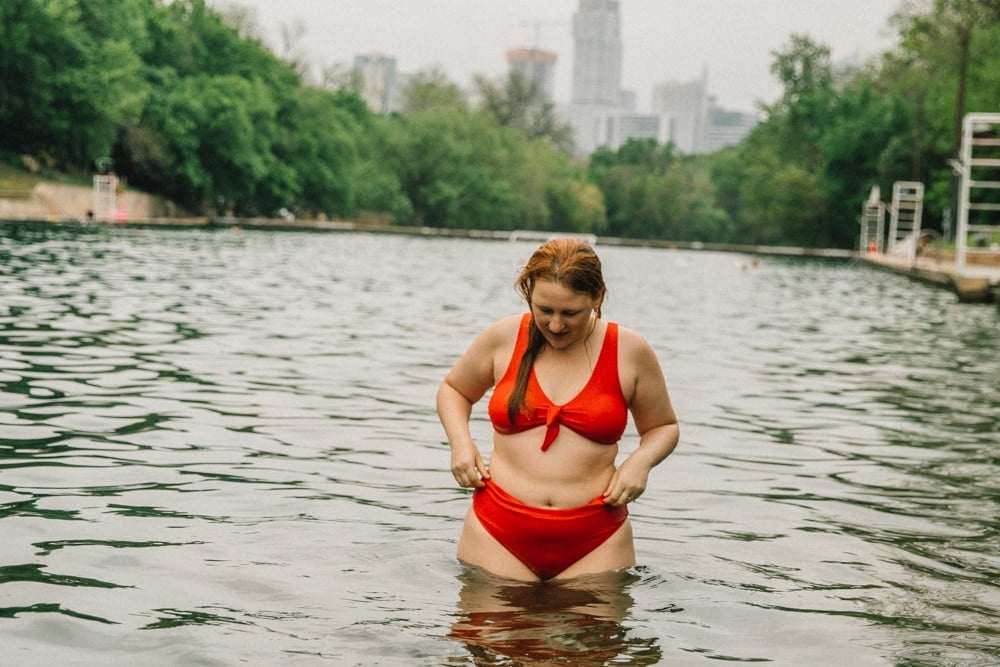 2. Barton Springs Pool
Location: Austin, TX
A timeless, Austin classic. Barton Springs is a spring fed swimming pool known for its expansive, frigid waters. It has plenty of room for laying out in the grass, and is probably the most popular place to swim in Austin
If you want to avoid the crowds, go for a morning swim! However, if you're like me and can't handle the cold, go at the hottest time of the day, lay down your blanket to soak in the sun (aka warm up) and plunge into the cold waters once you're nice and toasty!
While there is some shade provided by massive trees, those spots are usually taken first. Pack your sunscreen and re-apply as needed! In its peak season, the crowd can be raucous as people of all ages dare to jump off the diving board.
Pro Tip: Dogs aren't allowed at Barton Springs, but there is a free area near Zilker Park just outside the park where you can swim with your pup.
Editor's Note from Kara: I LOVE Barton Springs, especially on a muggy morning when it's already 75 degrees at 8am. It's such a refreshing way to start a day in Austin. I went swimming here 3 times on my last visit to Austin! Unlike some of the natural water springs in Texas on the Barton Creek Greenbelt, Barton Springs is open and full all the time so you can always count on it for a dip. No, it's not so secret, but it really is one of the best places to swim in Texas because of its reliability.
3. Blue Hole Texas
Location: Wimberley, TX
Let's stick to my hometown for a bit longer! Wimberley is also home to Blue Hole (aka where I spent all my time every summer). Blue Hole Regional Park is a beautiful enclave near Downtown Wimberley where the river is framed by beautiful Cypress Trees.
This natural swimming hole is perfect for a relaxing dip in the crystal clear waters or sunbathing on the grassy lawn. If you're feeling adventurous, take a turn on a rope swing! Fun for all ages!! The source of the water is Cypress Creek which is sourced from the aforementioned Jacob's Well so the water maintains fairly cool temps.
The swimming season is between Memorial Day to Labor Day plus weekends in September, and reservations are required! Be sure to book as early as possible. That said, I could go on and on this oasis of my childhood. The ambiance is relaxed enough for a nap in the sun or enjoying a picnic with family and friends.
Pro tip:
If you're in
Fredericksburg wine tasting
, swinging by Wimberley swimming holes on your way back to Austin for a late afternoon dip is totally doable! Just make those reservations.
4. Hamilton Pool
Location: Dripping Springs, Texas
In the Texas Hill Country, just west of Austin, you'll also find Hamilton Pool Preserve. Make sure to plug in for directions because it's super easy to miss the turn into the natural reserve. A short hike from the parking lot, you walk down to find a majestic pool of water partly covered by an overhanging cliff. It looks straight out of a fantasy world and is one of the best swimming holes in Texas.
Find a spot to sit on a blanket with a cold drink in hand on the small beach overlooking the water or hike around the path for the best photos under cascading water. Depending on how much it's rained, there's always a trickle of water falling from the limestone cliff.
On a sunny day, the exposed water is warm while the water under the cliff remains fairly cool. Be sure to make reservations and make them early! Hamilton Pool Dripping Springs books up fast, so you need to reserve a day months in advance. Additionally, check to see the swimming conditions! As you can expect with any watering hole, swimming conditions change due to high bacteria. Even if you don't get to swim in it, it's a sight to behold, and with lots of hiking trails to keep you busy!
Pro Tip: After visiting Hamilton Pool, get your fill on some of the best BBQ around at Salt Lick BBQ. It's BYOB and trust me, the long wait is well worth it!

5. Pedernales Falls State Park
Location: Blanco County, TX
One of my favorite spots in the Texas Hill Country is Pedernales Falls State Park. It's a great place to escape for exciting hikes and beautiful views of the Pedernales River. I'm biased, but I think the Texas State Parks system is one of the best. The trail maps make finding points of interest super easy!
All that to say, you'll have to pay a nominal park entry fee, but be sure to ask for a map! The first point of interest is Pedernales Falls Overlook. This is where you want to bring out the camera. It's beautiful to see how the running water has carved through the rock over time.
Unfortunately, it's not safe to swim in the area near the overlook, but your trusty park map has plenty of great spots to swim!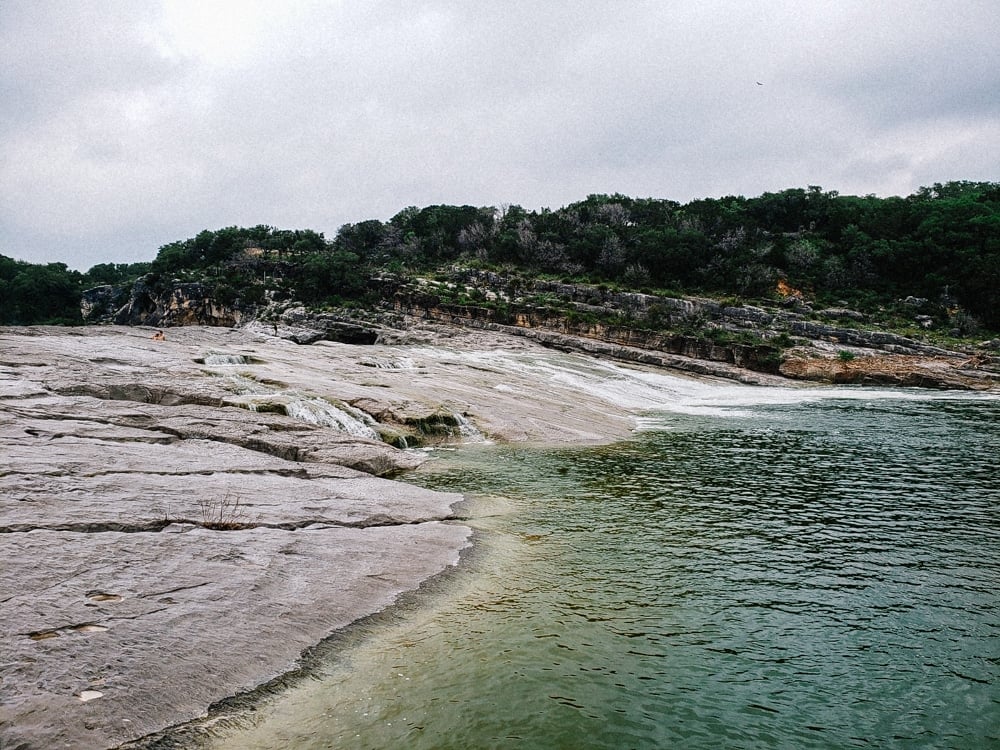 6. McKinney Falls State Park
Location: Austin, TX
Another state park, and not the last! McKinney Falls State Park is the ultimate getaway from Austin. It's within city limits and is perfect for outdoor enthusiasts. With similar features to all of the swimming holes discussed so far, McKinney Falls is fun for all ages (and species)!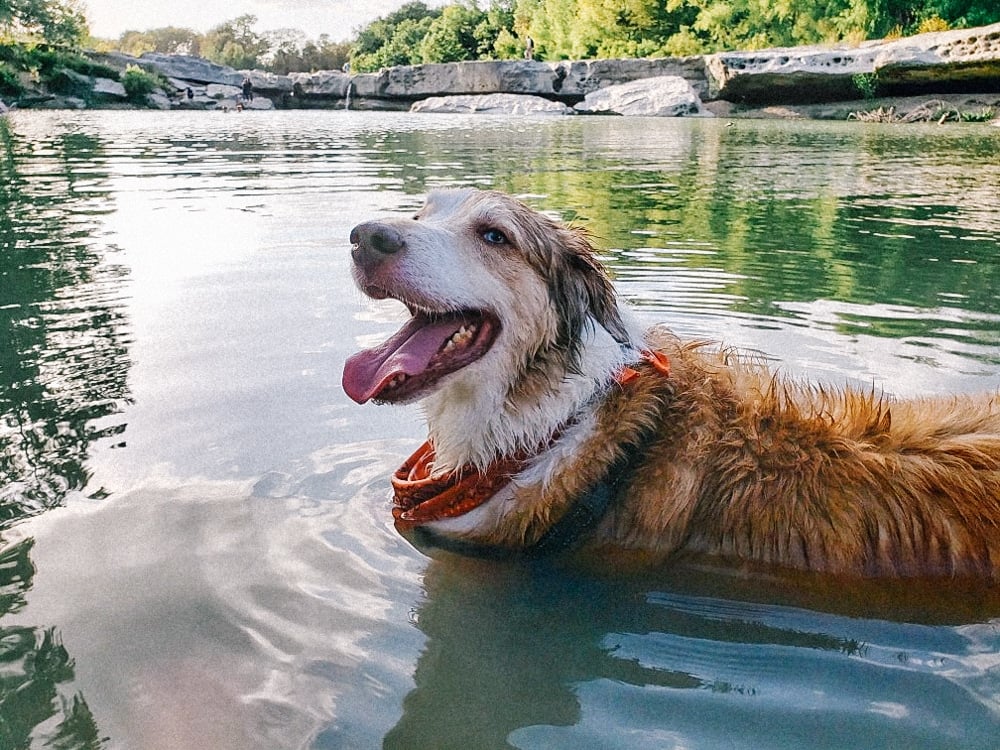 The main event is the Upper and Lower Falls areas, where you'll find a solid crowd of swimmers during the summer months, but the hiking trails surrounding are definitely worth your time.
Start your trip by hiking the Homestead Trail followed by a swim at the Upper Falls, then a picnic on one of the many tables along the Picnic Trail and end the day with a stroll on Rock Shelter Trail to visit Old Baldy, an 100 foot tall bald cypress tree that is more than 500 years old.
7. Deep Eddy Pool
Location: Austin, TX
Deep Eddy Pool is a man-made pool filled with cold spring water. It's massive! In the summer months, it's crowded with people of all ages with two sides available for lap swimming and a shallow end for the kiddos!
Being the oldest swimming pool in Texas, it often is closed for cleaning and maintenance so be sure to check ahead of time! While food and drinks aren't allowed, plan to bring a water bottle and blanket to sun bathe on the grassy knoll.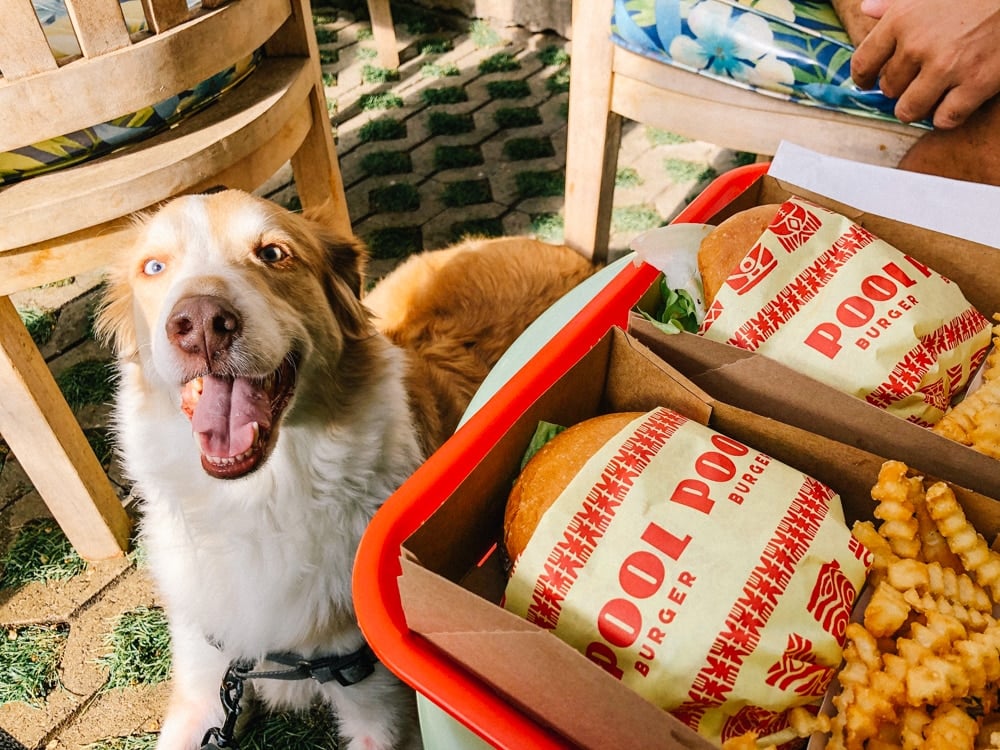 To refuel after a sunny afternoon spent at the pool, visit Pool Burger. A cabana-surf themed burger joint known for its delicious burgers (duh) and fun cocktails.
8. Tubing in San Marcos River and Comal River (New Braunfels)
I can't list a specific location for this one because there's a lot of options to start! You can DIY it or pay a local business to rent equipment and get a bus ride back to your car, which is what I recommend.
While tubing in San Marcos and tubing in New Braunfels are family friendly, there's definitely a party vibe (especially in San Marcos, a college town, home to Texas State University). If you go down the Comal River in New Braunfels, don't miss the City Tube Chute!
Depending on the water levels and which part of the river you choose to tube, it can be an adventure of rapids and rocks, a relaxing lazy river or both! No matter what, the trip will be miles long so you have to prep appropriately.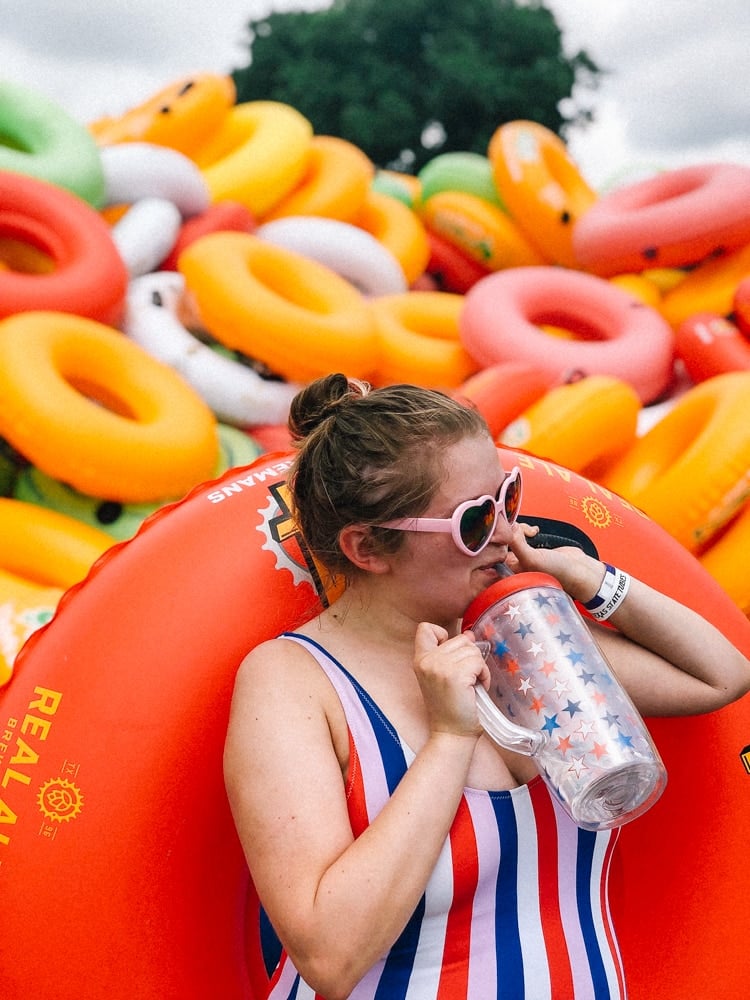 Here are my tips for any tubing adventure:
Pack a cooler with alcoholic and non-alcoholic beverages of your choice. Don't forget water and be sure to check the local rules/laws.
Bring other essentials like sunscreen and try to fit it in the cooler as well.
Wear some sort of water proof shoes (Tevas are our shoe of choice) unless you want to brave walking on rocks or hot concrete.
Don't wear your expensive sunglasses and be prepared to lose anything and everything.
If you want to snag photos for Instagram, purchase a waterproof bag with a strap to keep it close.
Use string (usually provided by tube companies) to tie your group's tubes together so you don't separate. This will depend on group size, but be sure to be tied to at least one person so you don't get lost.
Don't sweat it if you do get separated, you'll have plenty of people to befriend. Just be sure to know where you're getting off and/or remember the name of your tubing company so you can meet up at the end!
In the shallow areas, pick up your bum like you're doing a bridge yoga pose.
Pro-Tip: A trip to New Braunfels isn't complete without visiting Schlitterbahn Waterpark. I spent a lot of time at Schlitterbahn and I even worked there in high school!
9. Sewell Park
Location: San Marcos, TX
Sewell Park is located on Texas State campus and open to the public. The water is 72-degrees year round. You'll find college students and locals alike playing sand volleyball, throwing a frisbee and sunbathing in the park.
The park is right next to the arena where graduation is held (including my very own high school graduation), and It's a tradition for Texas State grads to jump into the river in their hat and gown.
The water can move fast and other hazards can arise, so be careful if you choose to swim here! If you're staying in the area, Rio Vista Park in San Marcos is another great option!
10. Big Bend National Park: Hot Spring
Location: Brewster County, TX
You might be asking yourself, hot springs in Texas? No way! Well, it's true. I've soaked in the warm waters in Big Bend National Park. I love Big Bend with all my heart, but we can get into that another time.
Back in the day, there was a bathhouse on the bank of the Rio Grande river. The remains are what make up the hot spring today. A short hike will take you to the hot springs overlooking the Rio Grande with temperatures of about 105 degrees Fahrenheit.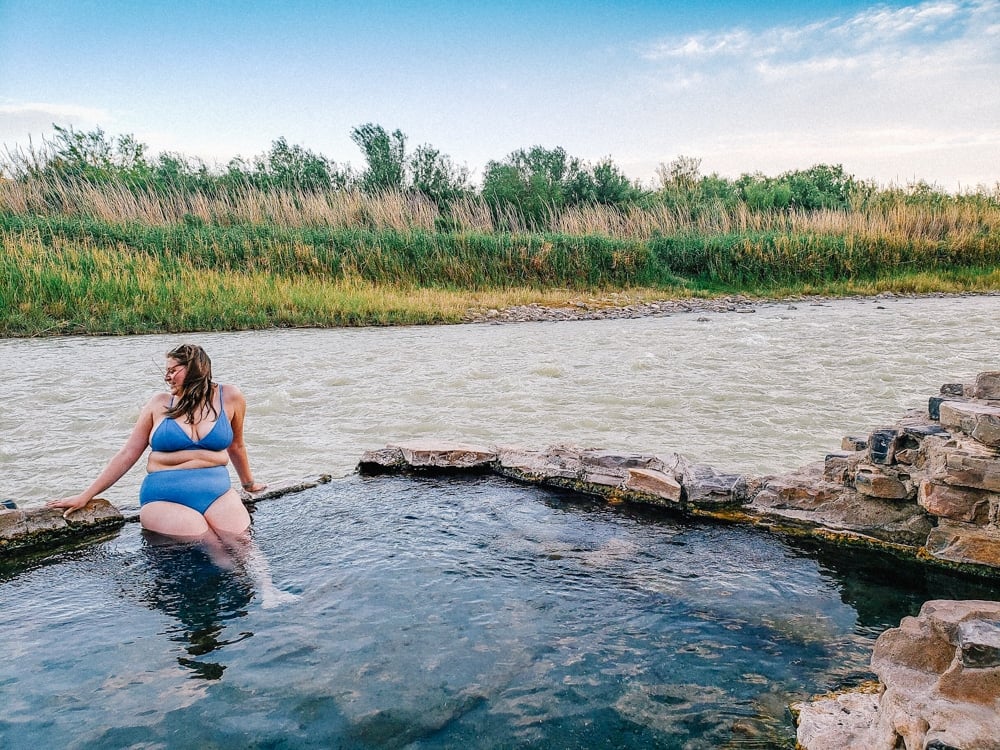 There's something magical about West Texas in general but that's amplified at the hot spring which was rumored to have therapeutic healing powers of its own. The hot water is the perfect escape after a long day of hiking.
11. Garner State Park
Location: Uvalde County, TX
This is where we get a little bit country. Aside from spending the days swimming in the Frio River, you can spend the evenings at the Summer Dance. A long tradition, everyone gathers at the dance pavilion to two-step the night away. It's a true Texan experience.
Back to the swimming, as you can expect from its name (frio means cold in Spanish), the Frio River is cold. Whether you're lounging in the shallow areas or tubing down the rapids, you'll find your happy place at Garner State Park.
Quick disclosure for the rest of this list! I haven't personally swam at these places due to bad timing, closures and let's be real: Texas is big! Growing up in central Texas (aka Texas Hill Country), I had some of the best options in my backyard, but these are still on my list to visit!
12. Inks Lake State Park (Devil's Waterhole)
Location: Burnet County, TX
Inks Lake State Park was a new find for me right before I moved to California. The hiking views over the lake were spectacular, but another hidden gem I'm told about is Devil's Waterhole. Not the most appealing name, but beautiful nonetheless.
I love a good rock formation and this swimming holes is framed by multiple, and if you're brave, you can jump off into the water! As mentioned before, Texas State Parks are fantastic and have a great online booking system so be sure to reserve a day pass.
Pro Tip: If you're planning to visit multiple Texas State Parks, get a Texas State Parks Pass. It'll pay for itself in entry fees plus discounts on camping!
13. Krause Springs Texas
Location: Spicewood, TX
Krause Springs is at the top of my Texas swimming hole bucket list, and probably one of the most secret swimming holes Austin has to offer. It gives me FernGully vibes (my 90s kids know). Similar to Blue Hole, it's framed by lush green trees and has its fair share of rope swings.
Definitely plan to spend the full day at the natural springs. Pack a cooler with drinks and snacks (no glass containers), floats or inner tubes and even supplies for a little BBQ. It's hands down one the best Texas swimming holes since it's the perfect mix of natural but managed.
14. Balmorhea State Park
Location: Toyahvale, TX
Balmorhea is a spring-fed ( San Solomon Springs ) oasis in the middle of dry deserts of West Texas. The infamous crystal clear waters in the world's (it's true, everything is bigger in Texas) largest spring-fed swimming pool.
Unfortunately for me, it was closed for renovation when I was traveling in the area. Day passes (and camping spots) book quickly, so be sure to make reservations early. There's not a lot nearby, so plan ahead and book a camping spot if needed!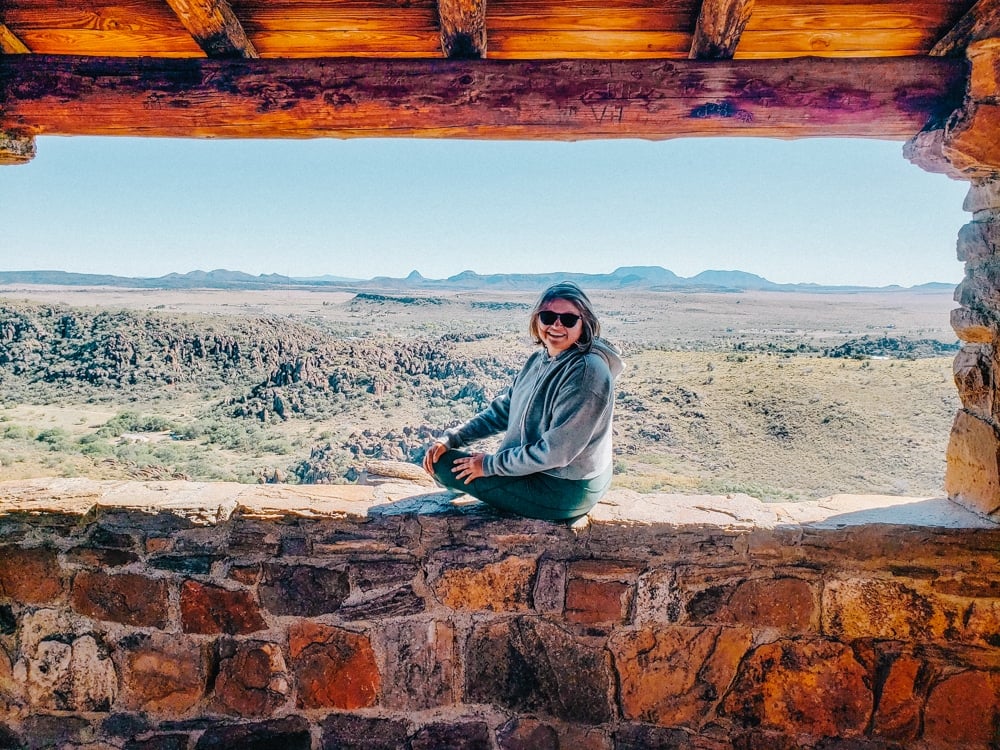 15. Blanco State Park
Location: Blanco, TX
Blanco State Park is centered around the Blanco River. The great thing about that is the areas to swim are endless so you can find a semi-private spot for your crew. However, the pièce de résistance is Falls Dam. There's a shallow wading pool for kids or lounging adults and it makes for a fun photo!
16. Hippie Hollow
Location: Austin, TX
What makes Hippie Hollow special? It's the only clothing option public park in the whole Lone Star State. You read that right. It's a beautiful little swimming area in Lake Travis that just so happens to be equivalent to a "nude beach." If that's what you're into (as Texas native, Kacey Musgraves says), make sure to add Hippie Hollow to your list.
17. Blue Lagoon
Location: Huntsville, TX
Last but not least, one of Texas' most mysterious watering holes, and the closest to my Dallas friends. The Blue Lagoon is located near Huntsville, Texas (aka middle of nowhere) and is known for crystal clear, blue-green water. Think Caribbean blue water. It's insane, and in the middle of nowhere!
The two pools that make up the Blue Lagoon were created by former limestone quarries (the mysterious part). It's a great spot for scuba diving and swimming, but there's a limited amount of people allowed in each day making it one of the best hidden swimming holes in Texas you don't hear about often.
BONUS: Caddo Lake State Park
Something you need to know about Texas – it's massive and the highly varied terrains reflect that. It's part of East Texas that is also known as the Piney Woods.
While this isn't a place to swim, it's definitely a worthwhile place to kayak, paddle or hike. Caddo Lake State Park is forested with bald cypress trees covered in Spanish moss. It's as dreamy as it sounds, and makes for a great shot for the 'gram.
Ready to pack your bags (or maybe a cooler)? Me too! Let us know in the comments which Texas swimming holes made your list.