The most common question I get from followers on Instagram is: what blogging camera do you use? I started my blog Whimsy Soul in 2015 and left the world of a 9-5 office job to pursue blogging fulltime in 2017. While so much goes into a successful Instagram account and blog, image quality, of course, plays a big part.
Writing a camera gear guide has been on my to-do list forever and I'm finally getting to it. In this post, I'll be sharing what camera we started out with, what camera we use now along with a list of good cameras for bloggers and those wanting to get better at photography!
>> Make sure to follow me @TheWhimsySoul on Instagram for daily photo inspiration!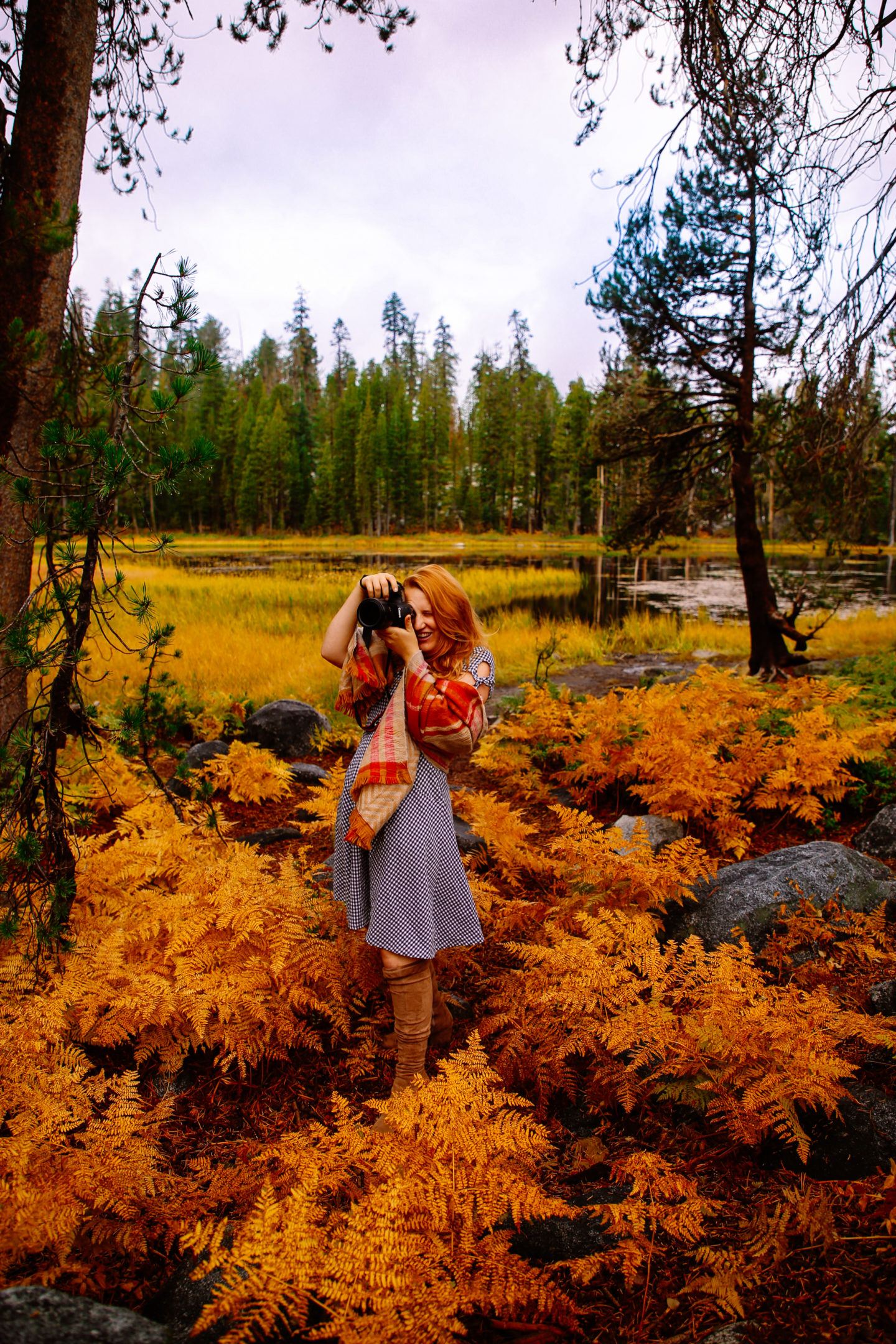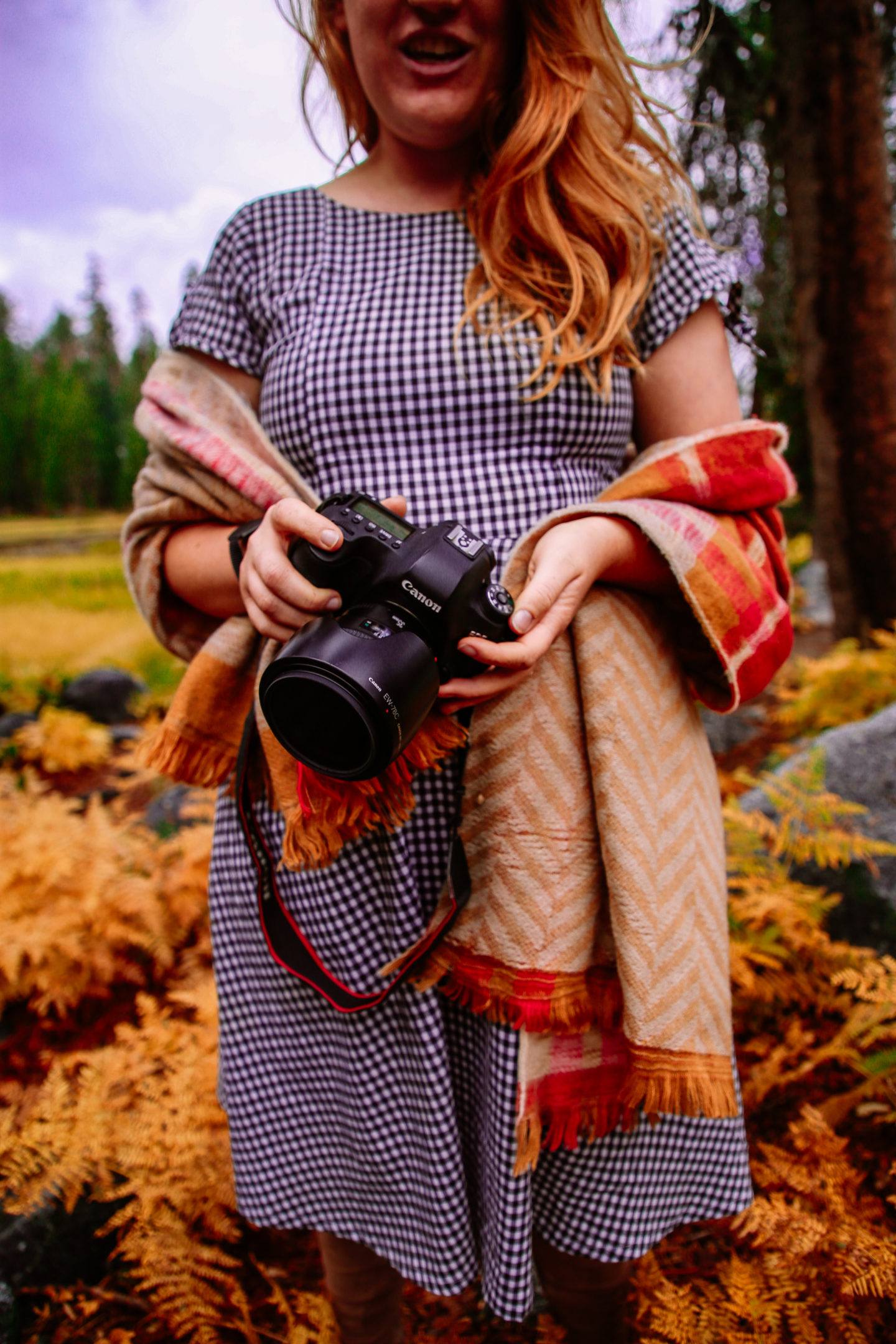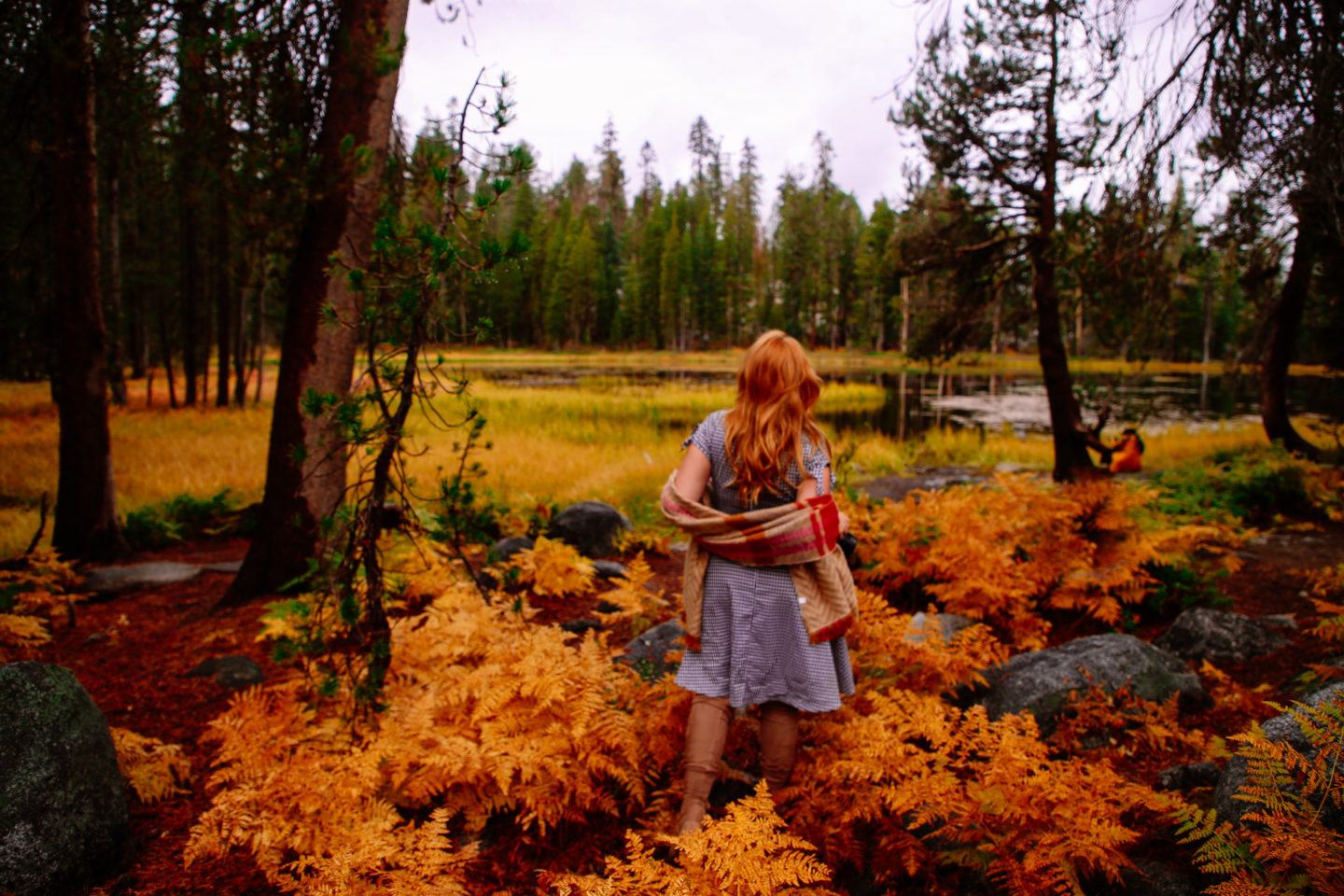 In this post, I'll be talking about my body and lens, with a few tips on how to take great photos, other helpful gear and the best blog camera you should buy. But, before we start, I want to point out what all photographers know to be true: a great photo is NOT achieved by only having a great camera. It helps, a lot!
But, you have to know how to operate a camera (manual mode, always!) and be creative with a situation in order to capture it in a unique, beautiful way. You can have the best camera for travel, but if you don't know how to use it, your landscapes will suck.
Here's a breakdown of how much each thing matters:
20% – the camera body
20 % – the camera lens
30% – the light
30% – the way you edit the photo
If you are serious about your blog or Instagram account and want to really step up your photography game, then you absolutely need nice cameras to help you, but you also need to learn how to properly use the camera and edit photos. I have met so many people who buy a fancy camera but still take bad photos because they don't know how to use it. This is basically a disclaimer!
Ok, now let's get started chatting about the best camera for a blogger and what gear I personally use every single day while blogging full time here at Whimsy Soul!
Ps – want more blogging tips? Read all my blogging tips here!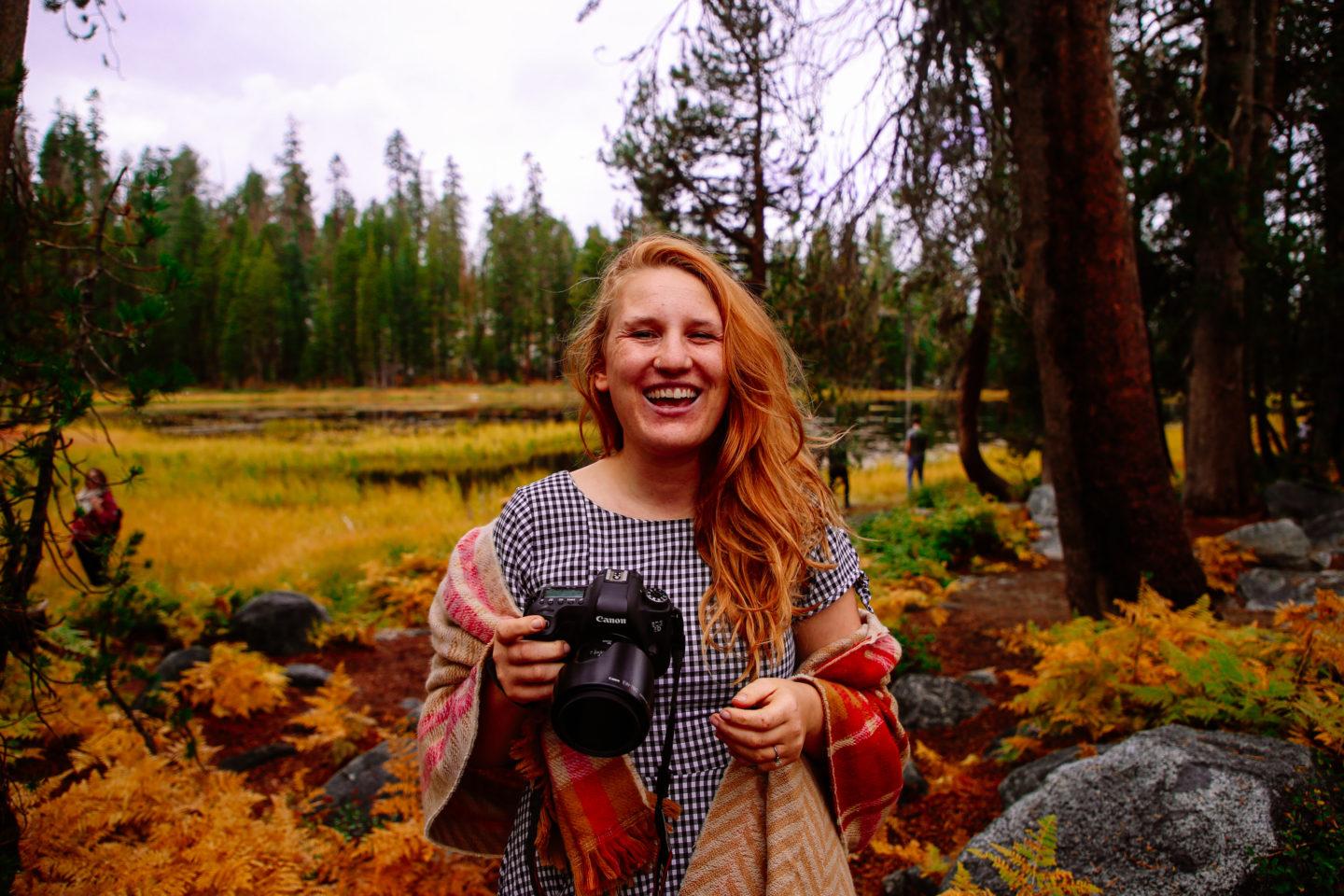 My First Camera
Did you know I used to be a wedding photographer? I picked up my first digital camera at age 15 and later in life, I spent about 8 years photographing weddings, mostly in the Midwest. Almost every Saturday was spent at a wedding, on my feet for 8-10 hours and hauling around a lot of camera gear. I loved it – but you get burnt out really fast, so when we moved to San Francisco, I slowly accepted less and less weddings before I ended that chapter in my life.
My very first camera, which I used for my entire wedding photography career and for the first year or so of Whimsy Soul, was a Canon 7D. I saved up for in High School and my mom pitched in so I could afford to buy it. I think it was about $2200 back then. I slowly added in various lenses, lights and gear to my arsenal over the years.
Now, we only use one blogging camera and one lens for 90% of our photos!
I've sold off almost all of my wedding photography gear at this point in my life, because when you're doing lifestyle photography (like the photos you see on Whimsy Soul!) you don't need that much gear to make it happen. I also upgraded my camera to something better for blogging.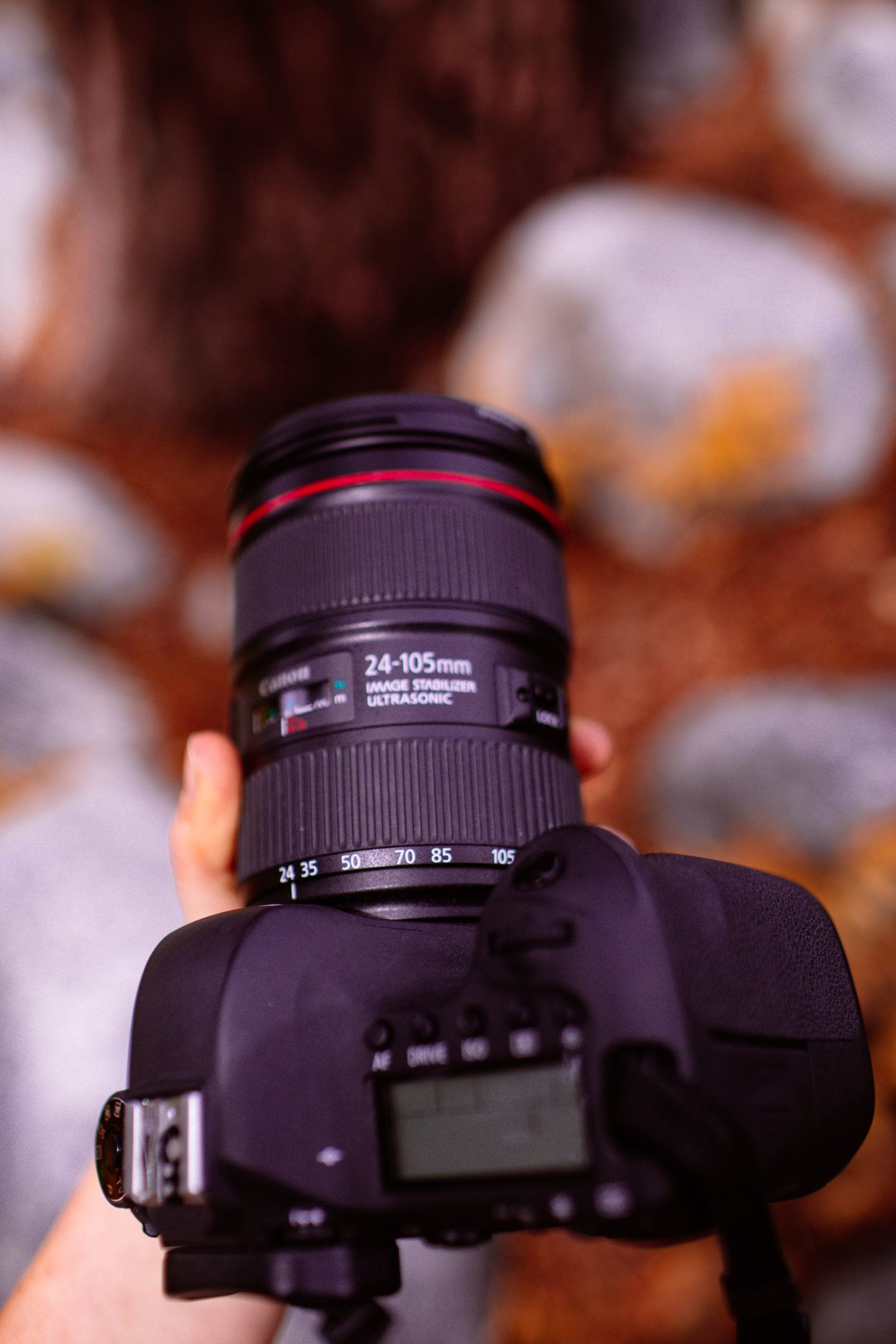 What Blogging Camera We Use Now
About 2 years ago my Canon 7D was at a point where it just needed to be retired, so I upgraded to a Canon EOS 6D, the best camera in Canon at an affordable price point. If you can't tell, I'm a Canon girl. I learned photography on a Canon and have been using them for 12+ years and probably always will as they make good blogging cameras.
That doesn't mean Nikon or Sony isn't great – they are – it's just photographers tend to pick a brand and stick with it. Nikon, for example, has all the buttons basically reserve from Canon cameras, so when I pick a Nikon up, I fumble around taking photos and I get frustrated.

Canon 6D
Canon 6D full-frame camera, which means the photo is what you see in the viewfinder. Some models – like my old 7D – would crop in the final photo. Full frames are usually more expensive, which is why some people choose a cropped sensor. They don't exactly make the best cameras for traveling as they are a bit heavy to carry around, but I think the features are worth it!
I really enjoy my camera and it has many features. It's lightweight, has image stabilization, is full framed, has a great battery life, fps continuous shooting, easy-to-navigate menu, wifi built in so you can put images on social media right away, and is at a great price point. It takes quality images every time, even in low light situations. Right now, I think it's about $1000 for a 6D, and Canon released the 6D Mark ii recently.
A grand may sound like a scary number, but in the photography world, that's really cheap! I highly recommend this camera if you are looking to upgrade your camera gear and focus on better blog photography, or if you are looking to purchase a nice camera for your personal use, but don't want to spend a crazy amount of money. I think this could easily win the award for the best camera for blogging in 2019.
35mm Lens
We use a Canon EF 35mm f/1.4 lens – and guess what? It's more expensive than our camera body! As I mentioned above, the lens you use for your camera is just as (or perhaps even more) important than your body. Your lens is where you get a lot of that camera magic – bokeh backgrounds, zooming capabilities, or crisp landscape shots. While sometimes I wish we had a zoom lens for landscape shots, I stand by every entry level blogger owning a 35mm lens. It's a prime lens, which means it doesn't move or zoom. This forces you to really learn how to take great photos and not rely on zooming to frame something.
Mostly, I love 35mm lenses because that's about the focal range your eye sees naturally, which means it's the most natural-feeling photo you can take. It's great for fashion and travel photography with people as the main subject. It's also good for detail shots and flat lays, making a 35mm lens perfect for bloggers.
Lastly, this len's aperture goes down to 1.4mm. We usually shoot around 2.8mm, but I love having the option of going that low down! This is helpful when taking photos in low light as well. You can also add a wide angle lens like a 24mm if you feel like you need something that can capture more, but a 35mm should be where you start.
Canon Powershot G7x Vlogging Camera
This is our beauty blogging camera aka Canon vlog camera! For our YouTube vlogs and most of our video, we use a Canon Powershot G7x camera. This Canon powershot is the go-to camera for all vloggers out there because it's really small and yet powerful. This is a vlogging camera with a flip screen so you can easily see yourself while you're talking into a camera for video. (Game changer!)
This is THE vlogging camera most YouTubers use!
It's a little glitchy sometimes when focusing, but for the most part, it's THE camera to get if you want to play around with video or vlogging, especially because it's under $600. Everyone agrees it's the best camera for blogging and vlogging combos which makes it the best camera for YouTubers if you are wanting to grow your channel over there.
DJI Mavic Drone
Lastly, we also own a DJI Mavic drone that we love to use while traveling for photos and video recording alike. While the Spark is smaller, I really love the Mavic because the video quality is 4k. It's also a little easier to handle as it's a bit heavier – and when you're flying really high, the last thing you want is for your drone to fly away. Trust, this has happened a few times to us when we tried to fly on very windy days and it's not fun panicking and trying to land it.
The Mavic's legs fold up and once we package it in its case, it's about the size of a water bottle, making it really easy to travel with. If you're looking for a drone, I highly recommend starting with the Mavic!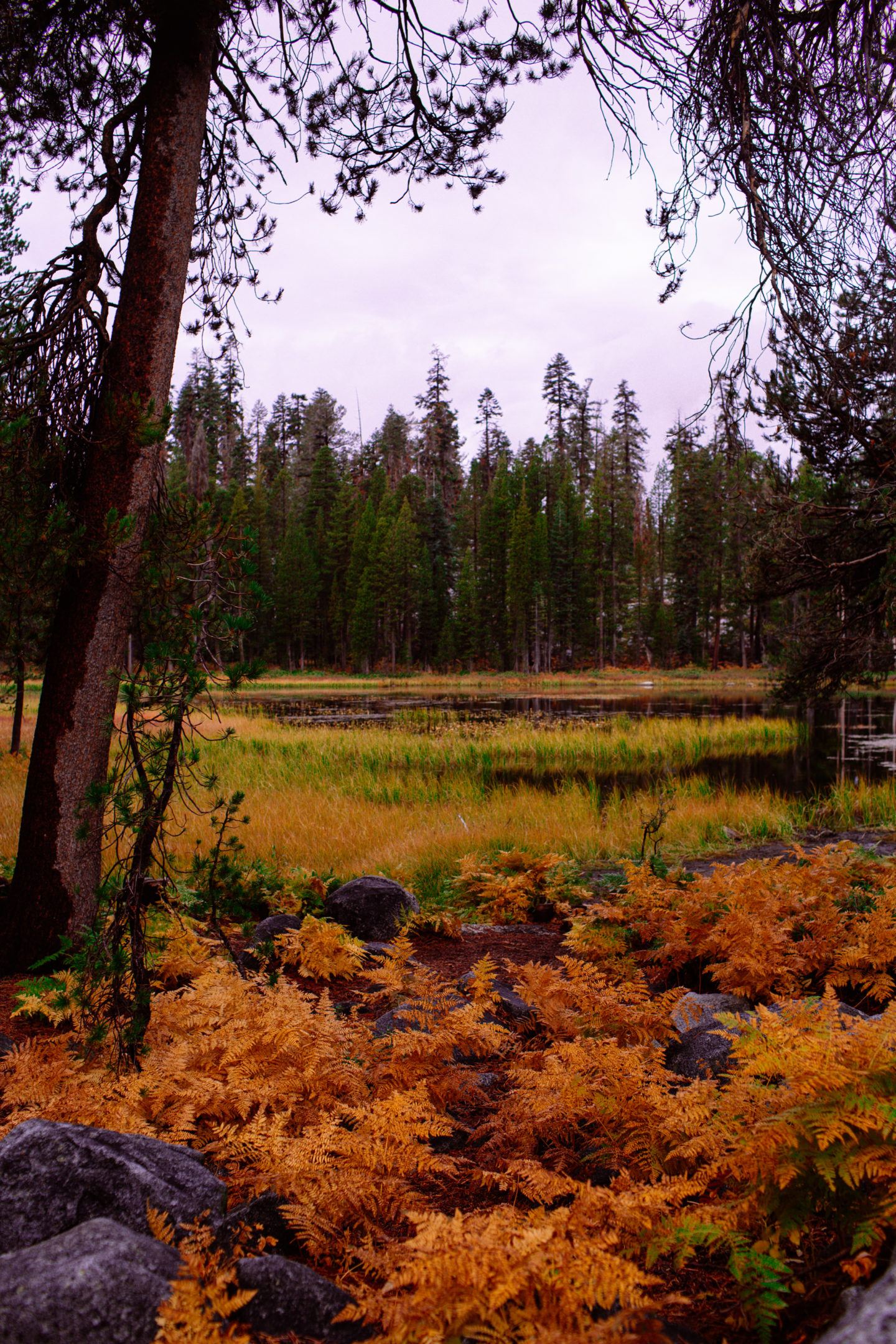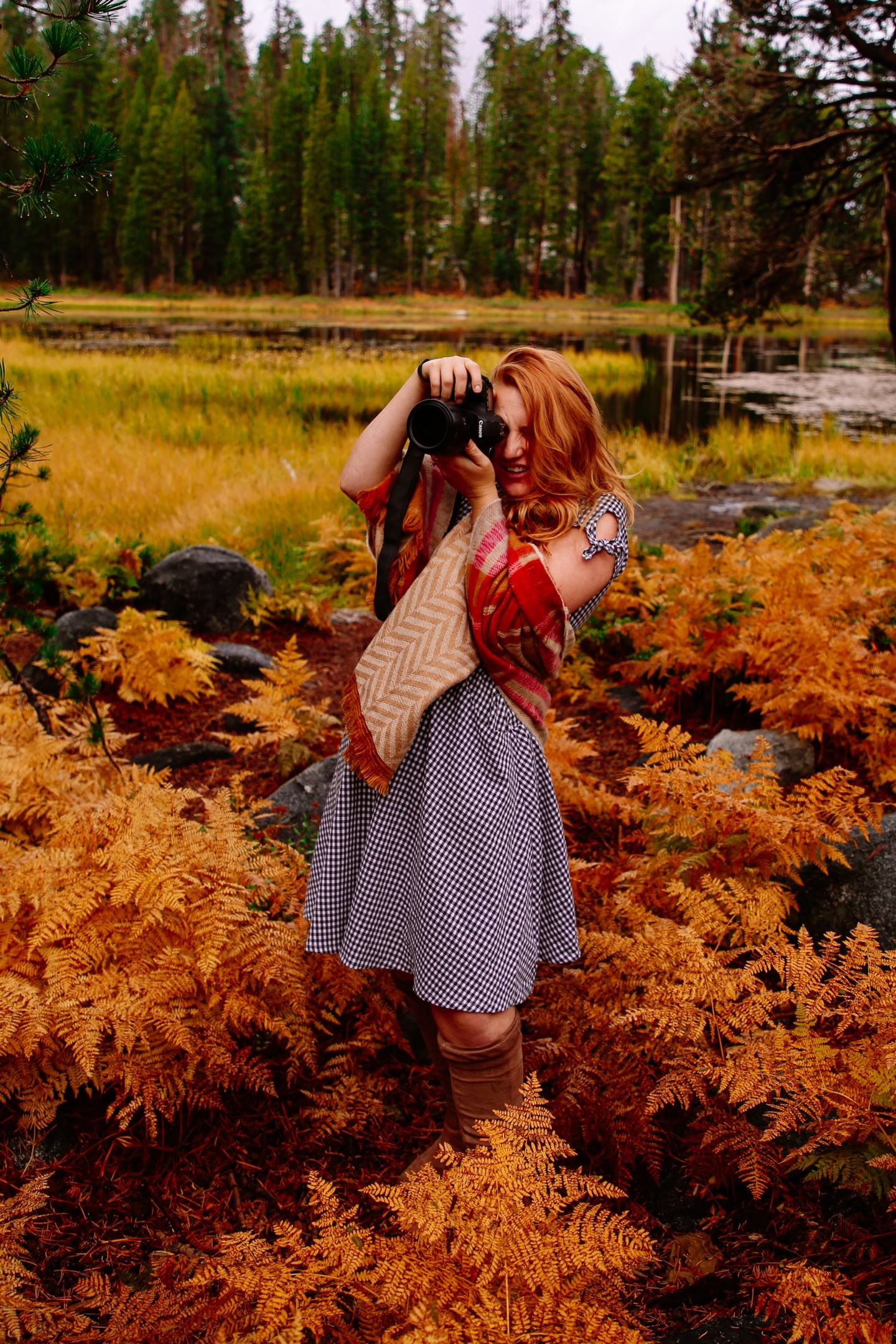 5 Other Really Great Blogging Cameras
I'm pretty set on my Canon 6D and will probably be using it for at least another year or two until it starts to wear out and we'll need to replace it with a new blogging camera. Below are 5 other really great cameras that will help you take wonderful photos – for your blog, Instagram page or personal use! They're all at different price points as I know everyone's budgets are different.
*Note: you'll see that I didn't include many cameras under $800 on this list. That's because I don't see the point in buying, let's say, a $400 eos Rebel Kit or a eos 70d, when your iPhone can do just as good of a job or maybe even better. iPhone cameras area REALLY good now, especially the ones with portrait mode. I actually have started recording a lot of my IGTV videos on my phone! If you are looking for the best cameras for bloggers on a budget, keep saving up for a DSLR that will actually upgrade your photography game!

Sony a7
Price: $800
This is one of those mirrorless cameras you've heard about! This has a full-frame. I have many friends who use Sony and love the brand. It's small, which makes it perfect for traveling, has a good CMOS sensor, and doesn't have a built-in lens, so you can have the professional-level freedom of switching out lenses for different types of photos.
I used a Sony alpha a6500 for a bit and enjoy the Sony brand a lot! I still think that Canon is the way to go, but this Sony alpha is considered the best camera for beginning bloggers as its so dang easy to use. It's also frequently mentioned as one of the best cameras for travel blogging as it's compact.
Sony a7R II
Price: $2000
If you have more to spend and still want to stay in the Sony family, consider upgrading from the a7 to the a7R II. It boasts the same small size and interchangeable lens, but more power (and thus, better photos!) This is the best travel blogging camera to some people as it's so small!
Light L16
Price: $1950
The Light L16 is a brand new camera brand on the market that boast 16 different lenses in one camera. It's small, about the size of your phone. A friend of mine took this traveling with her in Europe and promised me it takes amazing photos. If you're looking for a lot of lens power without actually carrying around the lenses, consider this camera. This made my 'new brand' best blogger camera 2018 list.
Nikon D610
Price: $1500
This is considered the Nikon equivalent to the Canon 6D. If you like the 6D, but want to shoot on Nikon, check this camera out. It doesn't have things I love about Canon, like the Canon-engineered Dual Pixel CMOS AF technology but Nikons are trusted by the top pros around the world. It makes a good action camera and blogging camera alike. I wish I could say more but as you know, I don't like or use Nikon so I can't ramble more.
Leica 10773 M-P
Price: $6000
Do you have a causal 6 grand laying around to spend on a camera? I don't, but if I won the lottery, I would ditch my Canon 6D in a heartbeat and upgrade to a Leica. It's the best of the best in the photography world. They're small but heavy. I got to hold one once and I teared up just a little. they're incredibly powerful, have micro four thirds tech, and take the most beautiful, creamy photos. Leica lenses (not included, so you'll have to spend more to actually take photos) are some of the best in the world. If you are looking for the best camera for fashion blogging or the best camera for lifestyle blogging, this is it.
Panasonic Lumix TS7
Looking for a good waterproof camera? The Panasonic Lumix TS7 is at an affordable price point. I also rented the Olympus Tough T4 camera when we went snorkeling in Maui and loved how easy it was to use. IF you just need a simple waterproof phone case, we use this case while kayaking!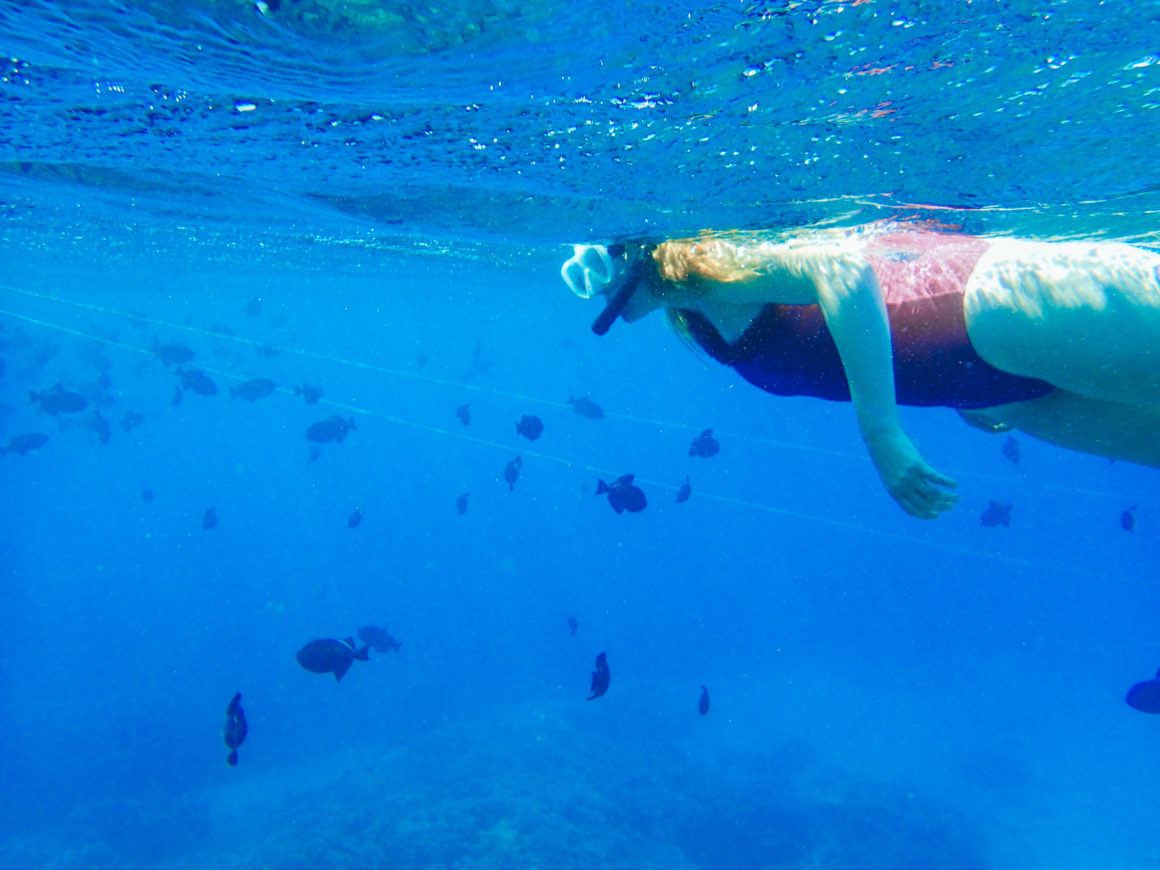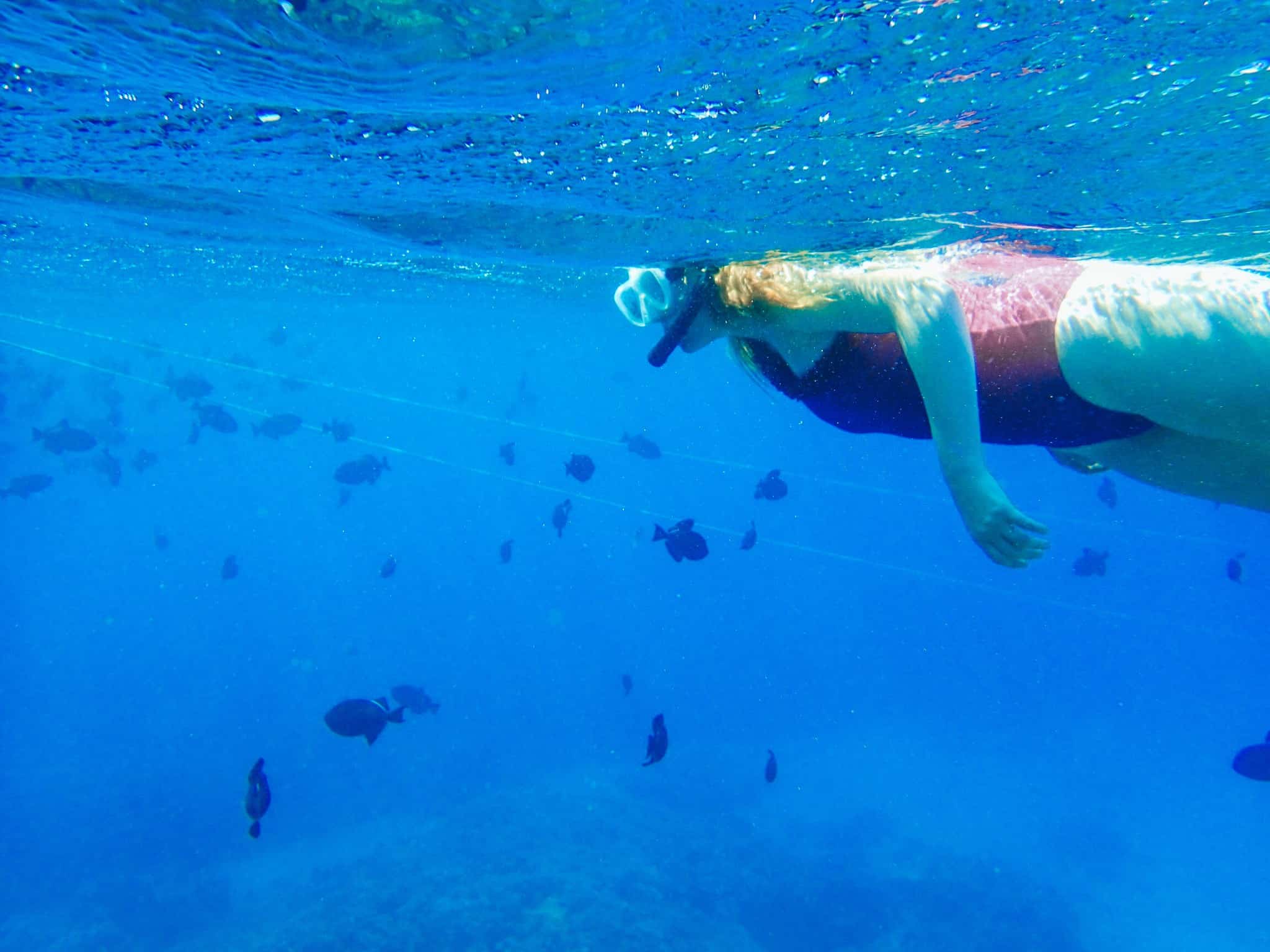 Camera Insurance
Don't forget to get your gear insured! I was once shooting a wedding in my early 20's and forgot to get insurance on new lens I had just bought (and as you know from reading this post that lens are NOT cheap!) As I was switching lens, an elderly women bumped into me and it went flying across the pews of the church, ending up with a huge dent in the mount. I couldn't mount the lens to my camera anymore! I was devasted because I had to pay out of pocket for a brand new lens to replace it.
Don't be like stupid Kara. We personally use Lemonade for insurance (rents and personal property!) I love having all of our adulting things under one roof instead of a ton of different plans at different places. We have my wedding ring, bikes and camera gear insured under our Lemonade plan. highly recommend it! Learn more here.
Oh – here's the ending to that wedding story. I was able to shoot the ceremony and group photos but I had to run to Best Buy between the ceremony and reception to buy a new lens. I had about 45 minutes to pick a new one up and run over to the reception hall across town to take photos of the room before guests showed up. Let's just say, I do NOT miss my days as a wedding photographer! I much prefer writing to you guys online here.
Our Other Photography Gear
On top of our cameras, we rely on a lot of gear and gadgets to help us take great photos.
Tripod
I bought my tripod close to 10 years ago, so it's no longer in stock, but I found a similar tripod here. My tripod is awesome. My favorite part is the hook in the middle where you can hook your camera bag so it doesn't have to get dirty. It's really sturdy and has yet to blow over in the wind. I also want to get a travel tripod, one that folds up smaller so it's easier to tuck into a carryon suitcase for the times we don't have a lot of room.
Vlogging Camera
Manfrotto PIXI Mini Tripod
Let's just say that it's actually pretty hard to vlog without a grip / stick. You need a little tripod to hold your camera far enough away from your face while filming. I love this Manfrotto one that also doubles as a small tripod! I used it all the time when vlogging for YouTube while traveling.
iPhone Tripod Mount
As I've been dabbling in IGTV more lately, I've found that using my iPhone to film is the best. I need a mount so I could use a tripod to film and this one is under $8! You'll still need a traditional camera mount to use this iphone mount, but you'll already have this if you shoot with a DSLR.

Neutral Density Filters
Every photographer's secret weapon for taking nice photos in really bright situations, like high noon on the beach! We always try to take photos during soft light hours (morning and golden hour) but sometimes you just can't avoid it. That's why we always carry around ND filters to cut down the glare and help take better photos in harsh light.
Camera Bag
I love my ONA bag. I've had it for years and it's still holding up. ONA makes some of the best camera bags all of time. I love how gender neutral this bag is. The straps are adjustable and there are tons of pockets to stick things like business cards, ND filters, a waterproof camera bag and more.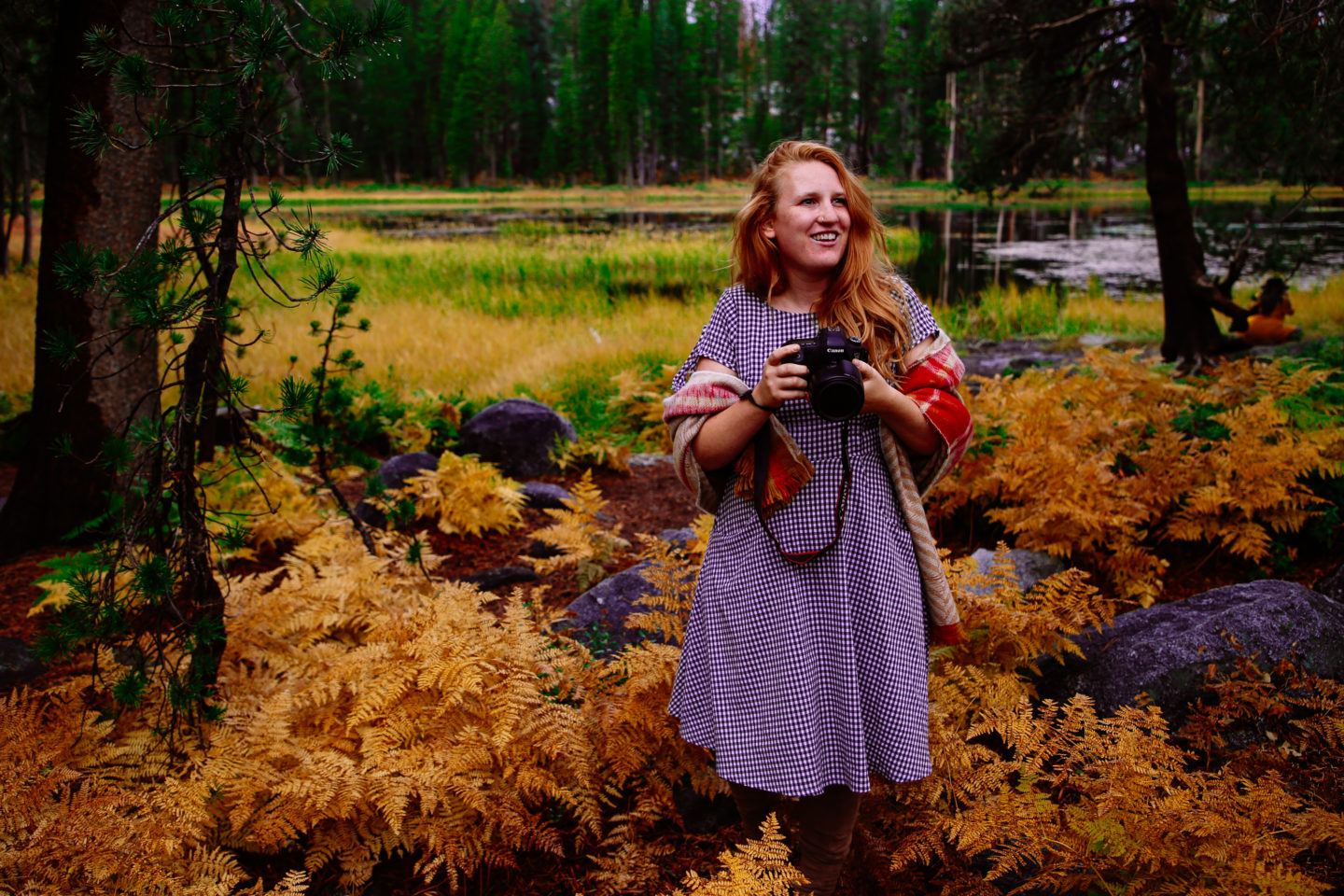 Quick Photography Tips For Great Photos!
I want to stress again that I have been taking photos for over 12 years, most of which I did on a professional basis. I also trained my husband Robin, who has been photographing for over 4 years now. Becoming a good photographer takes time and practice! That being said, these are my top tips for taking great photos that can help you grow your Instagram following!
Shoot on Manual Mode
Seriously. I know it's hard to learn but you can't expect to shoot on automatic and have your photos turn out like this. You just can't. You NEED to learn manual mode if you want to have good photos and thus grow your Instagram following or website readers! As I mentioned above, I also like to train people with a prime lens at the same time. Using a prime lens (one that doesn't move) and also using only manual mode while you are learning photography forces you to learn properly, and quickly. That's how I trained my husband to take photos and now he's the fulltime photographer for Whimsy Soul!
The most important settings to work with are aperture, in my opinion. We shoot most things around 2.8, but will bump up to the 3's or sometimes even the 5's depending on what we're shooting (ie a landscape, a group photo, etc.) From there, pay attention to your shutter speed. Make sure your shutter speed is never below 60 unless you are using a tripod. 60 is usually just high enough to produce a steady / non-blurry image if you are holding the camera. Anything under is too slow for humans as we breathe, move, etc and slower shutter speeds can't work with movement.
Lastly, there is ISO to pay attention to, but honestly, as you're learning, I think the other two settings are the most important to get the hang off. If you are using a good quality camera, you can set ISO to automatic for now until you understand how it plays a part in your photos.
Photograph at Sunrise
My biggest tip for taking stunning photos, even with an iPhone, is waking up at sunrise to snap that photo. Is getting up at 5am fun? No! But the morning light is always perfectly soft and has just the right amount of warmth that it's actually almost hard to take a bad photo at sunrise.
The other best aspect of taking photos at 5:30am? There's nobody else crazy enough to take photos at 5:30am, which means you'll be able to snap that amazing photo of the Chicago Bean without anyone else photobombing your masterpiece. Then, when you come back to visit that spot later that day, you can actually enjoy the beauty of it without being distracted by getting the 'gram shot, because you already got it!
(both of the photos below were taken at sunrise!)
Use Instagram To Scout Good Locations
My other biggest tip for finding off-the-beaten-path-gems is to use Instagram to scout! Search through local hashtags and geo-locations to see what other people are posting about the destination you're heading to. That's how I always discover cute cafes, amazing hotels, literal off the beaten path hiking trails, etc.
The location you shoot at really does matter! The painted ladies will always be a more interesting, popular photo on Instagram than a random wall in San Francisco. When we travel, I'll spend some time on Instagram looking up where other people are posting from to find interesting backgrounds. It doesn't all happen by accident or luck!
Wear Colorful Outfits
When in doubt, use a pop of color to instantly add intrigue to your photos! My go-to is red, pink or yellow. Whether it's a red dress or yellow leaves, these colors really pop out in a photo and makes it more interesting to look at. This is a really great example of this concept played out!
This is a trick that every Instagram influencer uses and makes a huge difference. Black clothing may be better for traveling, but it will make you blend into your surroundings and produces a less interesting photo to look at. You don't need to be sporting a rainbow shirt, but at the very least, a red beanie hat or a colorful skirt can make your photo get on the explore page. That's why influencers are always packing a lot of accessories and changing outfits all the time on vacations!
Use Lightroom to Edit
Use Lightroom to edit your photos. I edit all of my photos in Lightroom on desktop or mobile. It's hands-down the best photo editing platform out there. Lightroom starts at just $9.99 a month so there's no reason not to use the best. Then, choose a preset and stick to it.
All the top Instagrammers and photographers have one preset (or a small collection of presets) that they use on all their photos. This helps keep all the photos looking similar and the style aligned. Having a signature style can instantly help elevate your photos. Plus, there are some preset out there that really transform a photo from blah to magic with just a click of a button! I'll be selling my presets soon, but in the meantime, if you are on the hunt for awesome presets, start at Creative Market or VSCO.
I hope this helps answer your questions about blogging camera gear! From the best camera for beginners to the best cameras for travel blogging, I hope I answered all your questions about cameras and lenses! Soon I'll be sharing a post about how I edit my photos. Stay tuned!
If you have any questions at all about which is the best digital camera for you and your blog, leave a comment below or DM me on Instagram @thewhimsysoul. Also, follow @whimsysoul – a community repost profile where I highlight YOU and YOUR work! Use #whimsysoul on your photos so I can follow along your photo journey. 🙂
Other Posts You May Like
25 Influencer Networks To Join To Earn Money Blogging
8 Hacks To Becoming A Better Blogger
Q&A With Kara (That's me!)
14 Essential Things Every Blog Needs To Have
9 Fail-Proof Ways To Rock At Networking
Alt Summit – Is It Worth It? Everything You Need to Know!
How To Make Money With Your Fashion Blog