So, you want to become an Instagram influencer? In this post, I'll be sharing tips on how to get your first 50k followers!
Back in 2015 when I started blogging, I don't think the word "influencer" wasn't even coined yet. I grew from 0 to 5,000 followers on Instagram @thewhimsysoul within a few weeks with little effort just because of the lack of competition in the space. These days, growing a following on Instagram is considerably harder.
Instagram influencers aren't built overnight (unless you go on the Bachelorette then you are pretty much guaranteed a million followers by the end of the season.) There are hundreds of thousands of people striving to make a living off Instagram and it's hard to stand out in the space.
Also, you don't need a million Instagram followers to be a full-time influencer
But not impossible. Also, you don't need a million Instagram followers to be a full-time influencer. I went fulltime in 2017 when I had about 50,000 followers. Last year, my husband joined me. Now I'm at about 70k Instagram followers (and have a much larger total brand reach due to my pageviews, newsletter and other social accounts.) Together we both work 100% on Whimsy Soul fulltime (and still can afford to live in San Francisco!)
So, how do we do it? Keep on reading for my tips on growing your account from zero to your first 50k (and hopefully a few paychecks in between!)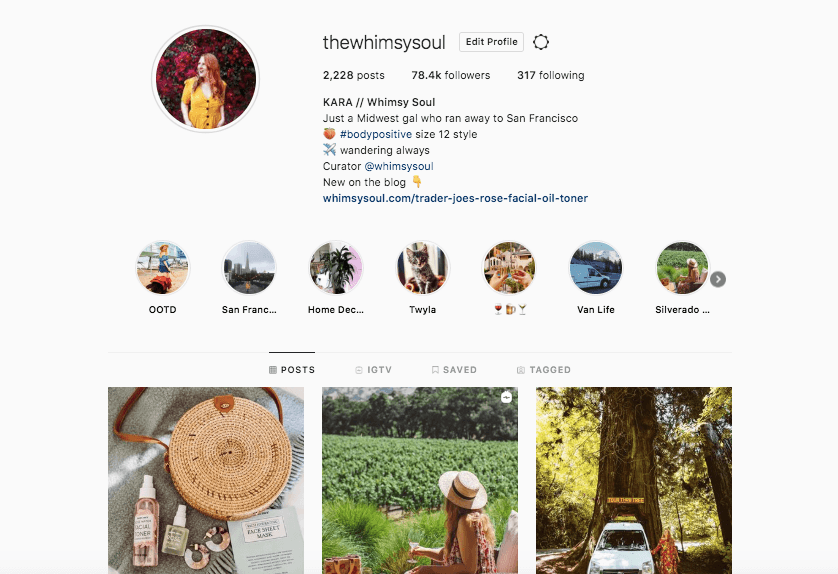 How To Become An Instagram Influencer – Grow from Zero to 50k Followers
Disclaimer: If you want to become an influencer, be prepared to HUSTLE, be creative, open and smart. I love my job as an influencer. I feel so honored that every day women look to Whimsy Soul and myself for advice, inspiration, support and little sparks of joy. It's a job I take very seriously. It's also the hardest job I've ever had. This isn't an easy career!
Bringing a unique POV
There are hundreds of thousands of Instagram influencers. What makes you stand out? No, seriously, you need to do some soul searching and find your purpose. Are you wanting to start a popular account to get in on lots of Instagram influencer marketing campaigns to make money? Well, that's a bad reason to start an account.
Top social media influencers are people who have something unique to say. They are utterly unique and deliver something other people can't. Here at Whimsy Soul, we own middle size style and attainable United States travel inspiration. We also make general lifestyle content because our readers love it, but in our elevator pitch, we focus on what makes us stand out.
If you can't figure out your purpose and what makes you stand out, go back to the drawing board. Once you figured out what makes you different, own it and don't get distracted.
Decent quality content
I say decent because it's 2019, incredibly curated feeds just aren't the hot ticket to success anymore. Ask me a few years ago and I would be preaching you to drop mad dollar on nice camera equipment and focus solely on making the best images possible. And also editing with the best presets that I've made myself (I will be selling them soon!)
>> curious what camera gear I use? I listed it all out in this post.
Good quality content is still incredibly important, don't get me wrong. That being said, I'm seeing more and more people throwing iPhone videos up on their feeds randomly and it ends up getting them on the explore page and thousands of new followers. Users like to see raw moments sometimes.
Basically, work hard on making nice videos and images but don't stress TOO much on making everything 100% perfect. I don't think it's as incredibly important as it used to be.
Always be trying new things
Instagram and pop culture are constantly changing. If you aren't changing, you'll get left behind. Things that used to work or used to be popular even 6 months ago may not be what your followers want to see right now. Plus, you can't expect to grow your target audience if you aren't interesting and cutting edge!
So, you have to step up and always try new things. Make a few IGTV videos. Post about different topics than you normally would do. If you post curated images, try posting a few raw, iphone shots (or vice versa!) You'll also probably be surprised about how well your followers react to new content and this process may help you discover the topics that will help bring you to fame!
Granted, some of the new stuff I try totally bombs, but that's ok! Social media marketing tactics are always evolving and so should you!
Use Instagram Like A Normal User
I get it – Instagram is my job and it's not always a fun escape for me. Normal people browse through Instagram on lunch breaks while I'm stressing over insights or thinking about what I'm posting 9 days from now. It's tempting just to open the app to post and close it again (boundaries with work!) but if you are trying to grow your account, that's the last thing you should be doing.
Instead, you should be using Instagram like a normal user. Open it every day and tap around the explore page. Like photos that catch your eye, leave meaningful comments on posts you like. Follow accounts that make you happy and engage with them. Basically, be present!
This helps users find your account and increases your following and reach! Even if the Instagram algorithm isn't on your side, you can engage with other users and force your own brand awareness.
Make Your Followers Feel Special
So many social media influencers complain about engagement rates but aren't actually engaging with their followers! (That's so bananas to me – influencers literally wouldn't have their fame and jobs if it wasn't for their fans!) To really stand out among other Instagram accounts, it's key to give as much as you take and make your followers feel special.
By that, I mean by present and there for your followers. Reply to their comments, go like their photos every once in a while, ask for their input and for god sakes, answer your DMs! Like, every single one of them! I make it a point to answer all my DM's (minus the creepy ones from pervs) and I can't tell you how many times people tell me how thankful they are that I answered because most influencers just ignore their followers.
How are you supposed to grow your trust and community if you aren't engaging back? I personally adore the conversations I've had with followers, some I'm pretty sure I could grab drinks with and chat like old friends at this point.
So, if you're a micro influencer looking to grow fast, start by doing what so many aren't: making your followers feel special. They'll stick with you forever.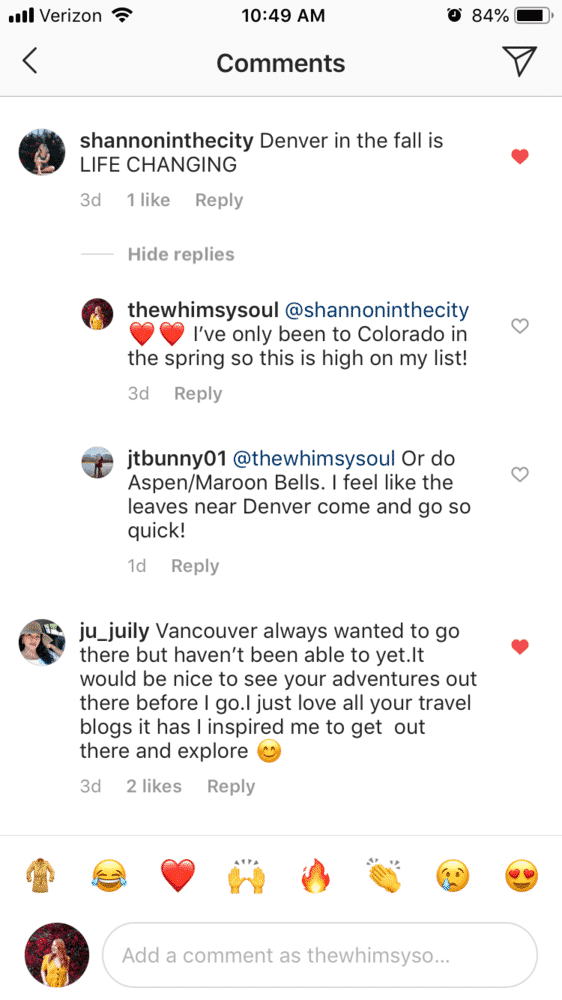 Be Discoverable By Sponsors & Brands
I spoke at Alt Summit this winter about landing paid sponsor deals and one of my biggest pieces of advice is actually probably the simplest: be discoverable. Unless you're people like Ammie Song or Sophie Turner, brands aren't going to know about you off the top of their head. They have to go hunting for you.
>> Read more: the best influencer marketing platforms to join
And it's not an easy task (trust me, I used to work on the brand side of influencer campaigns at my old 9-5!) There are a LOT of companies that hep digital marketing teams find the right influencers for their marketing strategy, but you can't rely on signing up for a couple of platforms and expecting all the brands to know about you.
You have to be discoverable. This means things like…
Put your email in your Instagram bio OR having a business account with an "email" button
Having a clear contact page on your blog with your email address WRITTEN OUT (not just a form!) Check out my "contact us" page for an example. Simple but effective!
Have a professional email, like yourname@blogname.com so it's easy to locate
Update your Linkedin profile with your blog / Instagram account (some brands use Linkedin to gather contacts for Instagram marketing campaigns.)
Join as many influencer networks as possible to expand your discoverability reach (check out this list for the top platforms to join!)
If you have any more questions about Instagram influencer marketing & landing sponsored posts, shoot me a DM @thewhimsysoul or leave a comment and I'll be happy to help!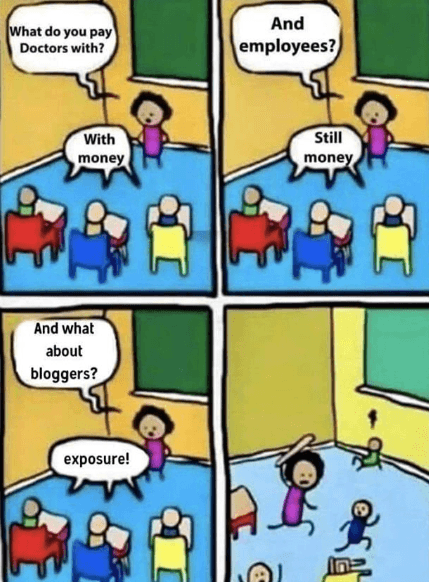 Know Your Worth (Aka Charge Monies)
At the end of the day, if you are serious about being an influencer full time, you have to make money of it. Being an influencer is a job I take seriously, but at the end of the day, it's a JOB and I make sure I get PAID.
An Instagram influencers salary varies so much. It's a bit like the wild west and figuring out how much to charge per post can be hard to figure out. There's this Instagram influencer calculator, but I feel like it suggests rates that are too low. A good starting base is $10-15 for every 100 followers. So, if you have 10k followers on Instagram, charge $100-$150 for a sponsored post (not counting Stories!)
>> Need a media kit? Find cute & affordable ones here!
Of course, I recommend adding onto that base to consider all the other costs that you may have. Being an influencer is being a small business owner and there are a lot of Instagram influencer costs to consider!
Photographer costs (they aren't cheap!)
Videographer costs (again, not cheap for the good ones!)
Time (how long will the campaign take to shoot, edit or write?)
Props (will you need special props to make this campaign come to life?)
After taxes (don't forget you have to pay taxes, set aside about 30% of every campaign for taxes)
Your brand worth (is your personal brand in a niche? That means you can charge more since it's harder for companies to reach people like your followers!)
Since we have a strong blog presence, not just Instagram, our yearly business cost covers things like professional inbox address, hosting, domain names, pricey tools like Tailwind to help us expand our Pinterest reach, assistants, camera gear, health insurance and so much more. If you have questions about how much you should be charging, feel free to DM me on Instagram @thewhimsysoul and I'm happy to recommend rates for you. Get that money!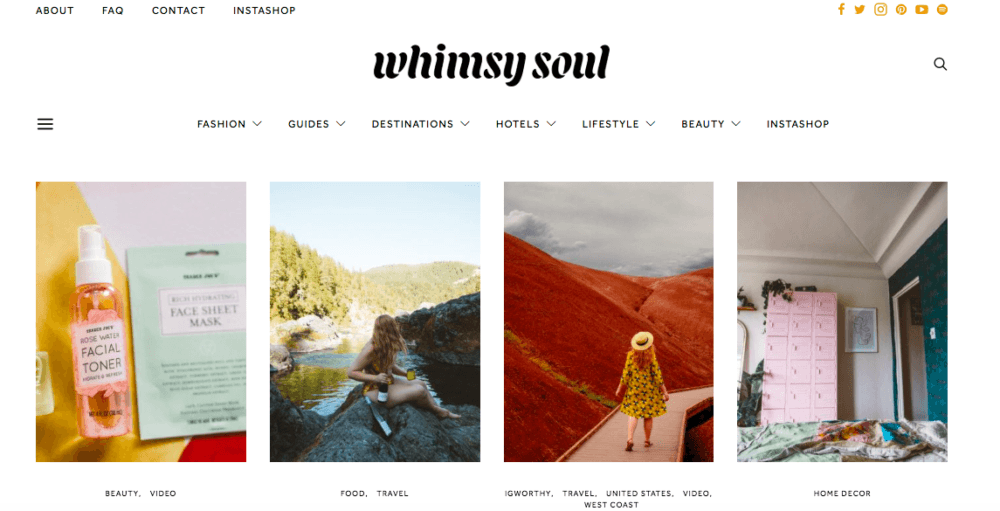 Think Outside Instagram
Content marketing doesn't just stop at Instagram and if you are putting all your eggs into the Instagram basket, you're going to fail. Most top influencers don't ONLY have a strong Instagram account. They have thriving blogs, popular TikTok or YouTube channels, millions of followers on Pinterest or clothing lines. Sometimes even Podcasts!
I'm constantly discovering Instagram famous people through their other channels. Having a wider opportunity for people to discover your brand will help you grow your account. Plus, remember that you don't own Instagram. If you get hacked or the channel dwindles in popularity, you need to make sure your followers can still find you.
Right now if Instagram shut down or I got hacked, I could still easily reach my followers through my blog. I also monetize my blog with ads and could still afford to keep the lights on even without sponsored Instagram posts.
So, if you only have an Instagram account but want to become an Instagram influencer, right now I want you to go and make a secondary channel. This will help more people discover your account but also be a safety net.
Have Fun!
Lastly, have fun! It's so apparent when people try too hard on Instagram. Followers can sniff out fakes, copycats and posers so quickly. If you aren't having fun with your own channel, you're going to have a hard time growing. People crave authenticity on social media! Again, the top Instagram influencers are people who stay true to themselves and look like they are having fun with life.
Pin for later!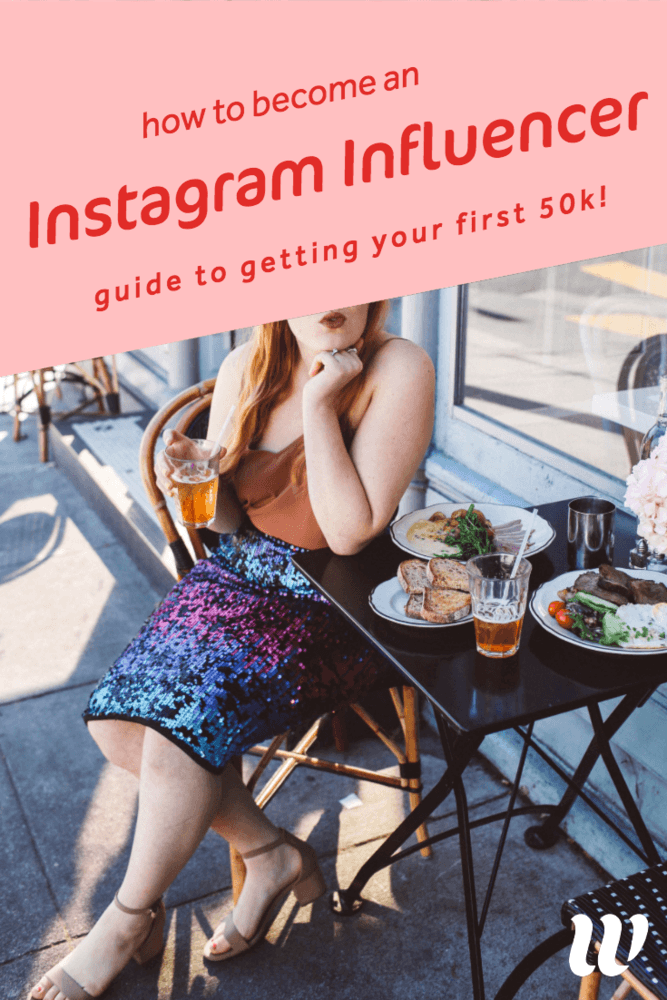 Whether you are one of those micro influencers just starting out or a large account looking to brush up on good practices, I hope this helps you grow your account and think about applying marketing social media tactics to your growth strategy.
If you need any additional support, give me a DM on Instagram @thewhimsysoul or leave a comment below! I love my Instagram influencer job, it's the best job I've ever had. I want to everyone who wants this to be their dream to reach it, too.
Other Posts You May Like
How to go viral on Pinterest
Best Influencer networks to Join
Q&A with Kara – the founder of Whimsy Soul
This is the blogging camera gear I use
8 hacks to becoming a better influencer