I am strongly convinced that when all but a few students go home for the holidays, the elves make a big batch of Hogwarts Christmas Glühwein for the professors to party with. I also like to think after a few drinks in, McGonagall even lets her favorite students have a glass.
Glühwein (aka mulled wine) is my favorite holiday drink. Everyone has their own different glühwein recipe using different traditional spices, but I think my mulled wine recipe is one of the best you can make at home (or, at Hogwarts!) Keep reading for my Harry Potter inspired German mulled wine recipe!
Hogwarts Christmas Glühwein Recipe: A Harry Potter Inspired Mulled Wine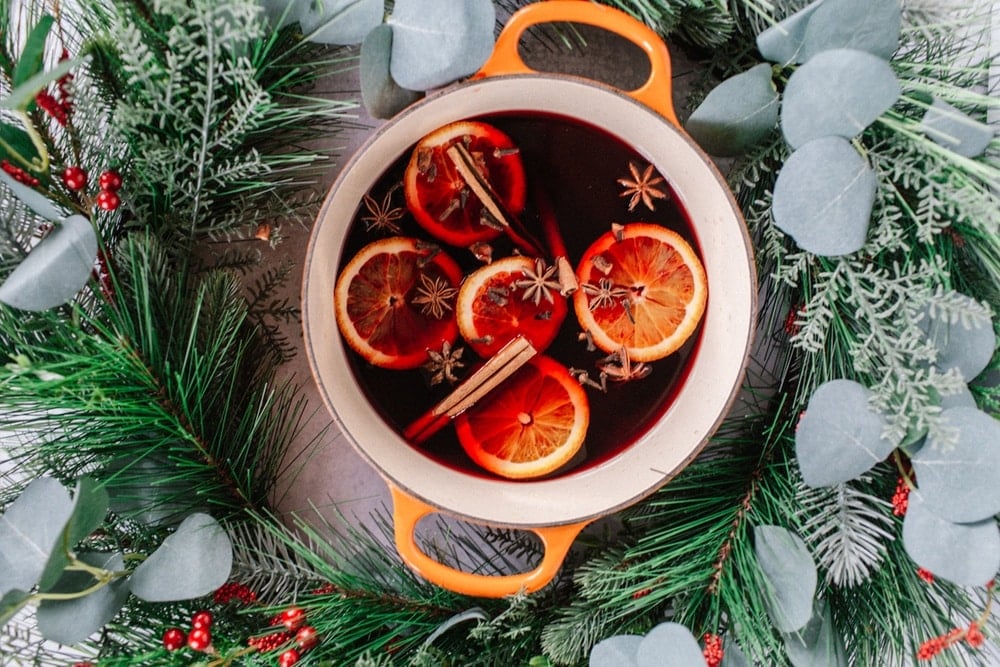 What Is Glühwein?
Mulled wine, or glühwein in German, is a traditional Christmas spiced wine drink. It's usually found at German Christmas Markets – that's where I first discovered it! I was in Leavenworth (an adorable little Bavarian Christmas town in Washington State) Ever since I've been hooked on this holiday wine recipe – the spices, the warm red wine, the smells.
Since that first fateful trip to Leavenworth, we've had the chance to visit multiple German Christmas Markets over the years (like the Christmas market in Nevada City) and have tasted this traditional mulled wine drink in so many different forms.
Glühwein means " glow wine " in German
Glühwein is served hot and usually at outdoor Christmas markets (so you can stay warm while exploring the shops!) Every recipe is a bit different but a traditional Bavarian glühwein recipe usually works with a dry red wine (I prefer using a Pinot Noir from Germany. It's a nice nod to the drink's German origins, and I think it's the best wine for mulled wine) Also, orange peels or orange juice, cinnamon sticks, star anise, sugar, whole cloves and – sometimes – rum or brandy! It basically tastes like Christmas in a cup.
When thinking about cocktail recipe ideas for my Harry Potter Cocktail series, I just knew I had to share an easy Glühwein Recipe that you'll love to get into the Wizarding World holiday mood.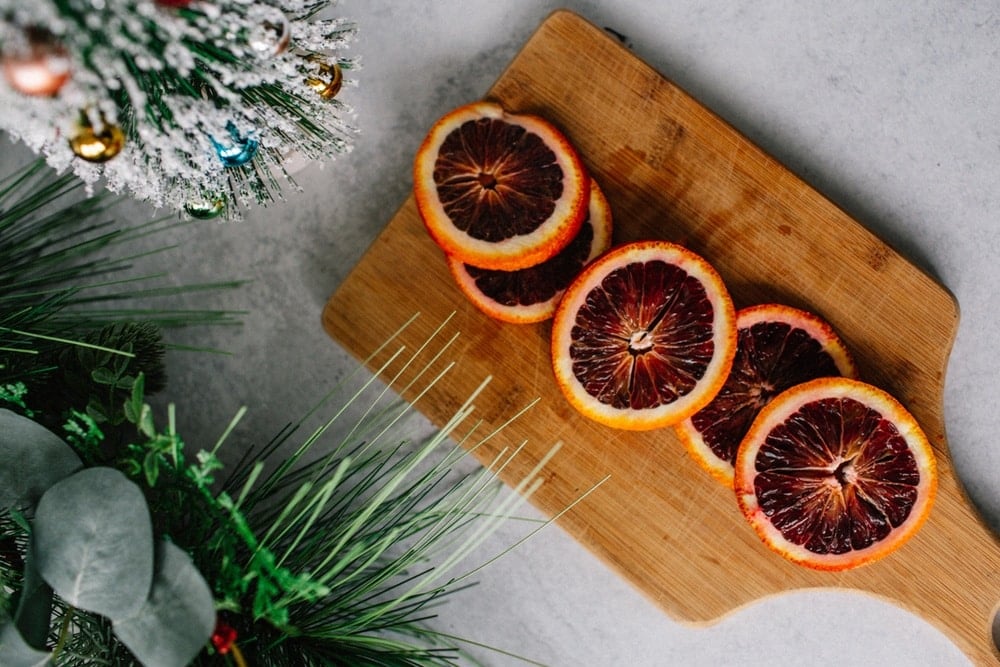 How To Make Glühwein
And now, here's how to make mulled wine! It's pretty easy. First, grab a bottle of German Pinot Noir, also known as Spätburgunder in Germany. In my opinion, the best wine for glühwein is a German Pinot. It's spicy and fruity so it makes a great base for a spiced hot German wine drink. Some people like to use cabernet sauvignon but German Pinot Noirs make the best glühwein recipe.
And no, of course, Hogwarts isn't located in Bavaria, but I like to think professors like Dumbledore are into the traditional Glühwein recipes and would advocate for a German wine vs a British one to be used at the Hogwarts castle.
Look for these bottles at your liquor store or order online from wine.com & use code GERMANY10 to get 10% off 6 or more bottles of German wine!
Ok, start off by adding a whole bottle of German Pinot Noir in a large pot over low heat with all your spices for about 30 minutes. Here I'm using a Le Creuset Dutch Oven for a more even cook. Some people prefer to use a slow cooker but I like to be able to watch my wine. ?
It's important to keep the wine on low so the alcohol doesn't burn off!
I prefer to use thinly sliced blood oranges (vs regular oranges) for a fun twist on a traditional German spiced wine. Also, oranges in the foot of Christmas stockings is a British tradition so I think it's fitting that a Hogwarts mulled wine put a Britishy twist on the recipe.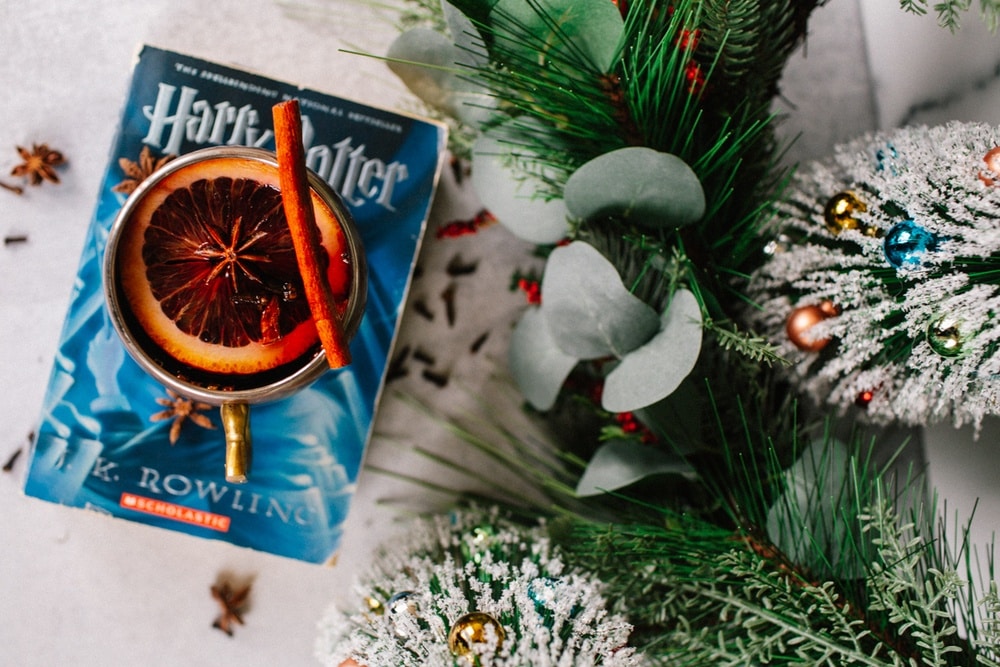 Also plop in whole cloves, star anise, cinnamon sticks and sugar or honey. I prefer a spicy German Christmas wine (vs a super sweet one) so I go slightly hard on the spices and use a bit less sugar. Feel free to tinker the ratios to fit your taste buds! Some people even add in water or orange or apple juice to weaken it (I don't do this.)
Once the wine is done cooking, reduce heat, let it cool for a few minutes (hot wine can burn you!) and then strain it out. Use fresh blood orange slices for garnish and serve in mulled wine glasses, Moscow mule cups or mugs.
Feuerzangenbowle Glühwein (Aka Mulled Wine With Rum!)
Can I properly say Feuerzangenbowle? Heck no. Robin can though, he's a champ – you gotta say it with speed and not stop. Anyways, Feuerzangenbowle is a special type of glühwein. It's made by lighting a rum-soaked Sugarloaf on fire and letting it melt into the mulled wine pot. We tried this while at the Vancouver Christmas Market and we fell in love.
Have I attempted to make a sugarloaf and light it on fire over a pot in my tiny studio apartment kitchen? Again, heck no. Do I believe that Dobby would be up to the challenge in the castle kitchens? Totally. Anyway, I have made a few batches of glühwein spiked with rum to make it stronger and help us relive that glorious German Feuerzangenbowle we at the Christmas market in Canada. You can try adding rum into your wine pot, too!!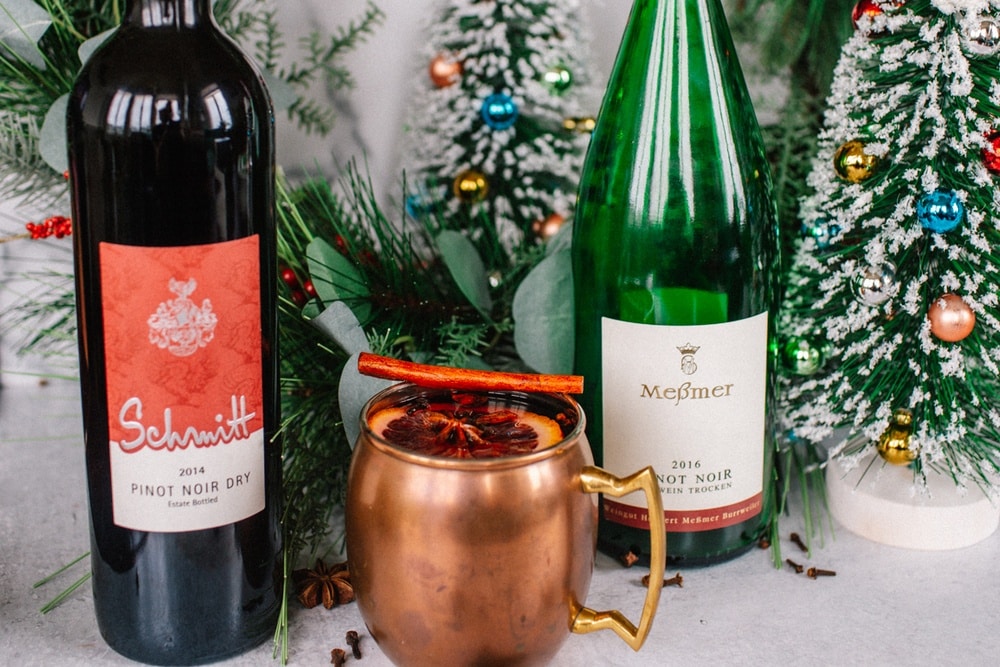 Ok, here's my recipe for Hogwarts Christmas mulled wine: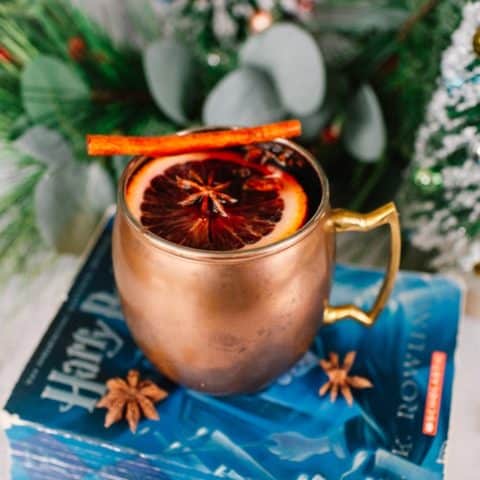 Hogwarts Christmas Glühwein Recipe
Additional Time:
10 minutes
Hogwarts at Christmas is magical. I imagine everyone at the castle drinks mulled wine. This is my Glühwein recipe for Christmas, inspired by Harry Potter books.
Ingredients
1 bottle of German Pinot Noir wine
1 blood orange, thinly sliced
4 cinnamon sticks
2-3 TB whole cloves
7 whole star anise
3-6 tablespoons sugar or honey
Rum or brandy (optional)
Instructions
How To Make Hogwarts Christmas Glühwein
Take out a large pot and pour a whole German Pinot bottle into the pot.
Add in blood oranges, cinnamon sticks, cloves, star anise, and sugar.
Heat for 30 minutes on low heat. Stir every few minutes to prevent it from burning. The longer you let it cook together, the spicier your wine will be.
Once cooked, strain out the spices.
If you are making a Feuerzangenbowle mulled wine recipe, add the rum now.
Pour wine into mulled wine glasses or mugs.
Garnish your cups with fresh orange slices and cinnamon sticks. Serve hot!
Notes
You can also play around with adding additional mulled wine spices like:
nutmeg
peppercorn
allspice
orange juice instead of orange peel
apple cider
Recommended Products
As an Amazon Associate and member of other affiliate programs, I earn from qualifying purchases.
Nutrition Information:
Yield:

4
Serving Size:

1
Amount Per Serving:
Calories:

247
Total Fat:

3g
Saturated Fat:

1g
Trans Fat:

0g
Unsaturated Fat:

1g
Cholesterol:

0mg
Sodium:

60mg
Carbohydrates:

44g
Fiber:

9g
Sugar:

27g
Protein:

2g