As someone who is constantly at war with their skin, I am very picky about my skincare. Half the time, I feel like the serums, lotions and potions I buy aren't working, and the other half of the time, they're burning my face off.
So, when Good Molecules popped up on my Insta and on the shelves of my local ULTA, I only had one question in mind: are Good Molecules legit?
I'd heard great things about this brand's skincare products, and my face had been flaring up pretty much since 2023 began, so I gave them a shot and picked up a few of their featured best-sellers and newly launched items!
Let's get into my Good Molecules skin care review and which Good Molecules products truly changed the game in my skin care routine.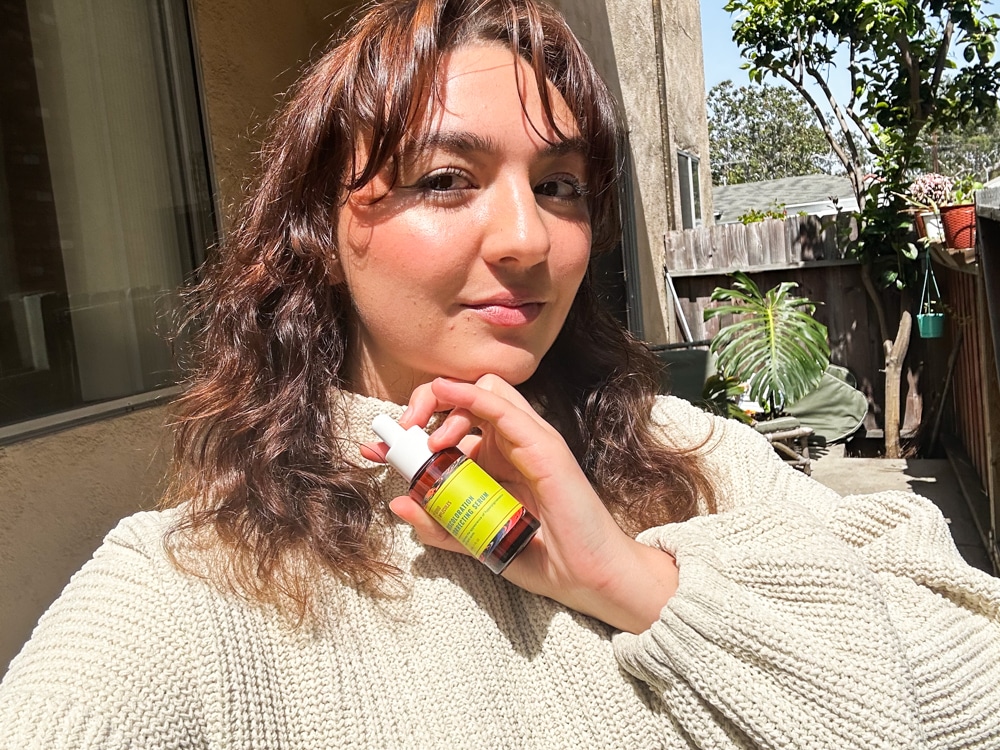 Best Good Molecules Products
I suffer from uneven skin tone, acne, and pores that like to have a meltdown anytime I have an inkling of dairy.
I thought the only way I was going to get rid of my skin problems effectively was by seeing a dermatologist and spending the big bucks on an ointment. Then the clouds parted, and a light shined down on the absolute cutest Good Molecules skincare box that had arrived on my doorstep.
A lot of the skincare industry is oversaturated with useless, gimmicky skin care products and brands are more about making money than actually helping people, but not Good Molecules.
Their products work. Like actually work. I don't know if it's possible to be in love with a beauty brand, but baby, I'm in lovveeeeee.
Okay, enough of me ranting about how good their products are. Let's get into which items you NEED in your bathroom!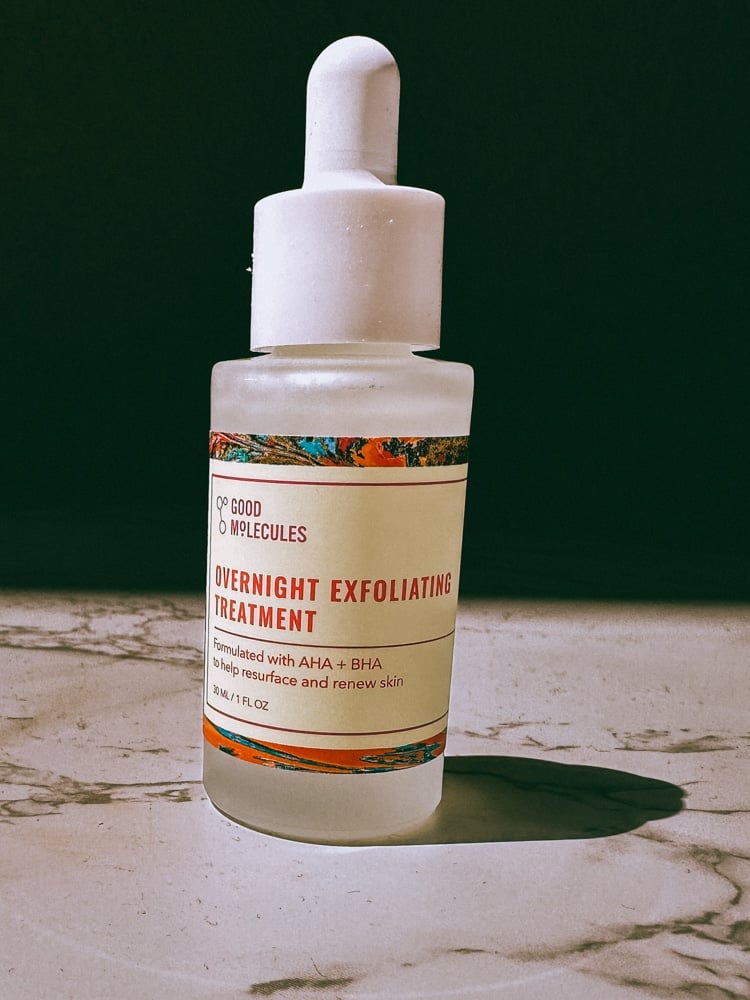 Overnight Exfoliating Treatment
Starting this skincare review strong with the Overnight Exfoliating Treatment!
Coming in at only $6, this overnight exfoliating treatment has 10% alpha and beta hydroxy acids in its ingredients to renew the skin, unclog pores, and smooth away the dead skin.
The Good Molecules overnight exfoliating treatment is gentle enough to use up to 3x a week, and I have seen visible differences within the first week of use.
I will say the treatment has a bit of a kick to it when you apply it to your face because of the acidic exfoliation, but it's nothing to complain about on my end. You can follow up with any serums you have and a nice moisturizer.
To wrap up my overnight exfoliating treatment review, I want to point out that my experience with Good Molecules before and after starting has been incredibly noticeable, largely due to this amazing, simple, and inexpensive product!
Discoloration Correcting Serum
Okay, I know it sounded like the exfoliating treatment was my all-time favorite, but the Good Molecules discoloration correcting serum is a hard one to beat.
This serum improves dark spots, acne scars, hyperpigmentation, and more! I was recently having a pretty bad outbreak of acne around my mouth this past month and they were leaving dark patches all over my face.
After using the Good Molecules discoloration correcting serum for almost a month, my skin has bounced back to nearly spotless. If you take anything from this discoloration correcting serum review, take this: you're not going to regret losing $12 to this product. In fact, you'll probably keep this serum in your beauty routine for years to come.
The Good Molecules skincare products do not come to mess around!
Discoloration Correcting Body Treatment
A new arrival to the Good Molecules shelves, this Discoloration Correcting Body Treatment is a moisturizer that doubles as a discoloration correcting serum!
It's great for those recovering from body acne, age spots, sun spots, and hyperpigmentation.
Although I didn't pick this up when I was ordering, I think this body treatment could be a game changer for people like me. I have significant discoloration on my back and I've tried toners, serums, and ointments to no avail.
After seeing the effects of the discoloration correcting serum on my face, I'm confident this body treatment would significantly help other areas of my body!
NOTE: Don't put this in any intimate areas! There are acidic ingredients that could damage sensitive skin.
Niacinimide Brightening Toner
The Good Molecules Niacinamide Brightening Toner is alcohol-free, dries super quick, and has made my skin look tighter and brighter!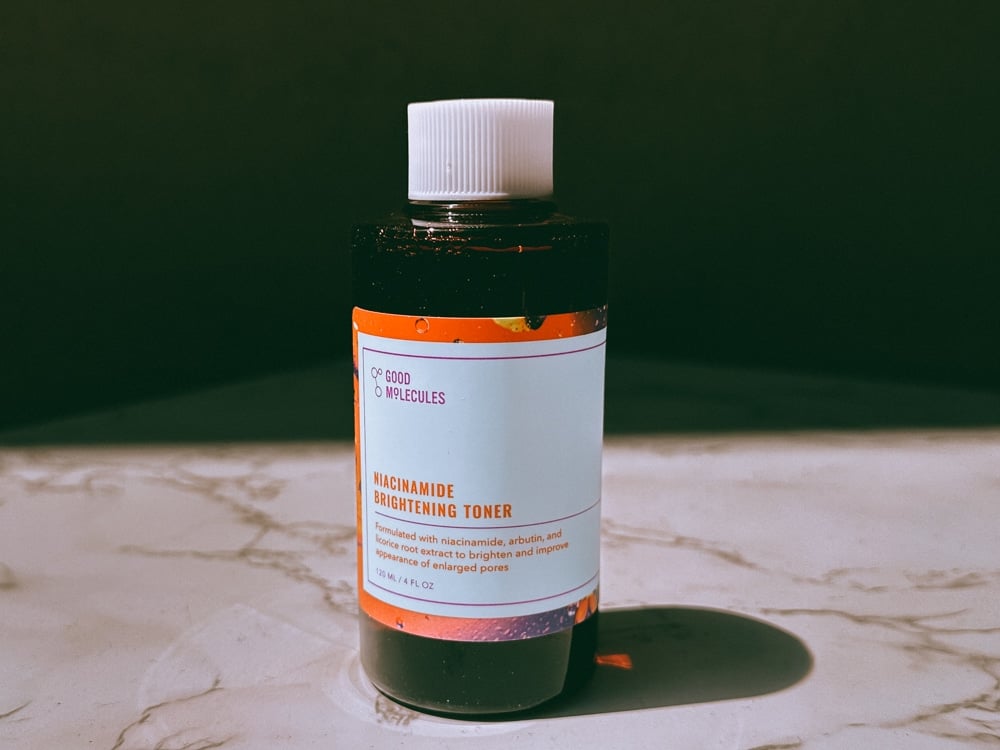 This Good Molecules toner might be better than any other toner I've ever tried. I never get dry skin from it and it's super soft.
I know it sounds like I'm just a fanatic about ALL the Good Molecules products, but that's only because they're ALL excellent and they work well together.
For the products and acids that don't blend well, Good Molecules provides a quick FAQ on their website under each product so you can ensure you're not harming your skin!
Niacinamide Serum
Speaking of working well together, this Good Molecules Niacinamide Serum is a great follow-up to the toner. I just got this for my mom for Mother's Day because she loved it so much the last time she tried it!
For only $6, this serum packs a punch by brightening the skin, reducing the size of pores, and improving uneven skin tone and texture.
My Good Molecules niacinamide serum review is actually based on what my mom thought of the product. Still, seeing as how much I loved the niacinamide toner, I can't imagine not also loving this serum!
It's a great product to put on before makeup as it's lightweight and blends seamlessly into the skin.
PRO TIP: Let serums and toners dry before layering more products! Use a small fan to speed up the process.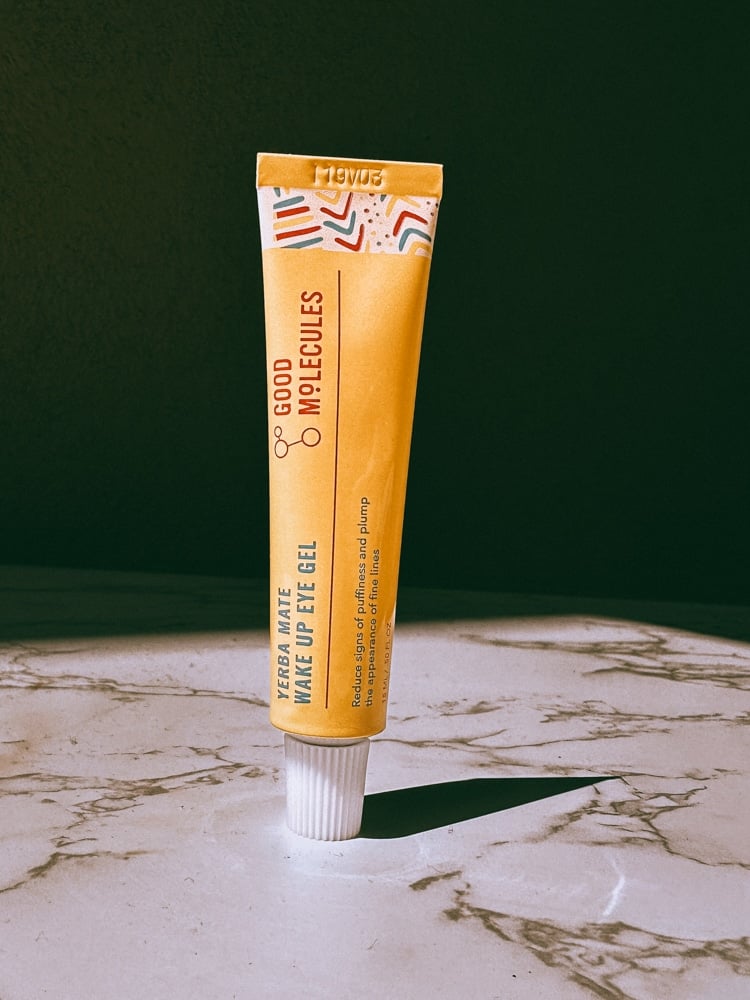 Gentle Retinol Cream
Another product I picked up for my mom, the good molecules Gentle Retinol Cream helps skin feel firmer while reducing signs of fine lines, wrinkles, and helps to minimize dryness.
My mom probably spends over $30 for a retinol cream, but Good Molecules skincare provides a practical, anti-aging product for only $8! It's one of the brand's new arrivals and already has 382 5-star reviews that boast about its instant changes on the skin.
Be aware that Good Molecules retinol cream should not be used with Vitamin C, benzoyl peroxide, AHAs/BHAs (chemical exfoliants), or physical exfoliants.
Yerba Mate Wake Up Eye Gel
Since starting adult life (blech), I've had the lovely experience of developing puffy under eyes when I wake up.
To try and remedy this, I picked up the Good Molecules yerba mate wake-up eye gel for a whopping… $6. (You really can't beat the prices and effectiveness of these products!)
This eye gel is packed with yerba mate extract to help reduce puffiness and protect against UV rays. Plus, it's got a cool-to-the-touch feel and glides super easily along my eyes.
And a little goes a long way. I've only used maybe 10% off the tube and used it every morning for the past month.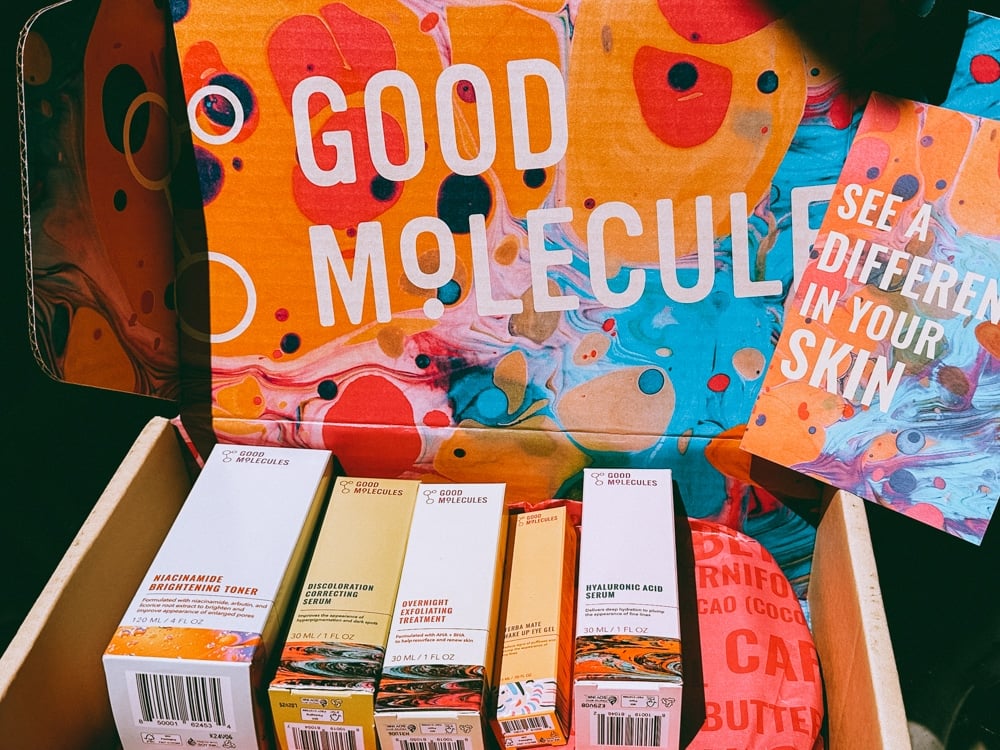 Caffeine Energizing Hydrogel Eye Patches
These eye patches are great to pair with the Yerba Mate wake-up eye gel! Good Molecules actually provides an Energizing Eye Kit with both products so you can have the best effect on your under-eye puffiness.
This product uses caffeine, licorice extract, peptides, and aloe vera to visibly reduce under-eye puffiness in 10 minutes! It also helps moisturize and reduce the signs of fine lines.
At $18, the eye patches are a little pricier than others and online reviews note that the texture can come off a little sticky, but customers still love the visible improvements to their under eyes!
Hyaluronic Acid Serum
I have been a hyaluronic acid girlie for over five years now. I was first introduced to the benefits of hyaluronic acid through another brand I love, The Ordinary. They hooked me on their Hyaluronic Acid 2% + B5 serum, and I've kept it in my beauty routine consistently since then.
The Good Molecules Hyaluronic acid compares pretty much the same to the one I had been using before, but it's almost half the price of The Ordinary's serum. So, by that logic, I will now be using the Good Molecules serum to save some money.
Glycolic Exfoliating Toner
I have recently become a big fan of acidic exfoliants, especially the ones Good Molecules makes. They're not too harsh and improve your skin's look!
This Glycolic Exfoliating Toner can be used 3-5X a week and keeps your skin hydrated while it exfoliates. It uses glycolic acid, Galactomyces ferment (a moisturizing agent), Hyaluronic Acid, and Aloe to give you clearer, more even-toned skin!
Some Extras to Add to Your Cart
If you've already picked up everything above and are still looking for a few more items, then check out these three Good Molecules products!
Instant Cleansing Balm
This cleansing balm is excellent for removing makeup, washing away pollutants, and maintaining skin moisture.
A lot of cleansers like to completely strip your face of all oils, but this cleansing balm makes sure to leave your face still feeling soft and nourished after washing it off!
It also melts on contact with the skin, which is a good sign that it'll tackle even your toughest makeup. Throw away the makeup wipes because they're not good for you or your skin! Instead, pick up this cleansing balm for a fresh face ready for serums and lotions.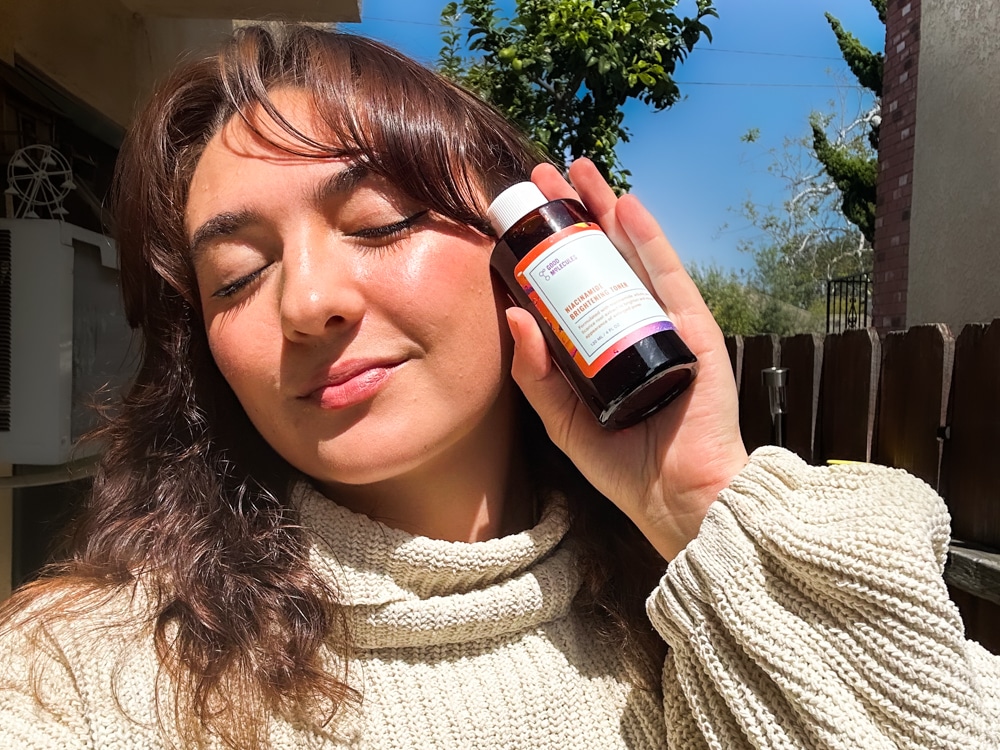 Lightweight Daily Moisturizer
The Good Molecules Lightweight Daily Moisturizer has shea butter, macadamia seed oil, and a naturally derived silicone alternative that keeps your skin nourished while also being breathable.
One person wrote a Good Molecule review saying, "Great results and the price is unbeatable. For me, it's a no-brainer of value for money."
I love when you can create a fully rounded-out routine using mainly one brand's items and Good Molecules has thought out how to best use your time and money with their systems!
Ultra Hydrating Facial Oil
The ultra hydrating facial oil is another fun addition to your cart, especially if you live in dryer climates or have dryer skin.
This facial oil would be a great addition to your skincare routine during the winter months! It's lightweight and you can get the full spa treatment by rolling your jade roller over it or smoothing it out on your skin with a gua sha tool!
Those are the top 9 products (and then some) to pick up from Good Molecules! Always be sure to double-check before mixing serums, toners, and acids, as some do not complement each other and will hurt rather than help your skin if used together.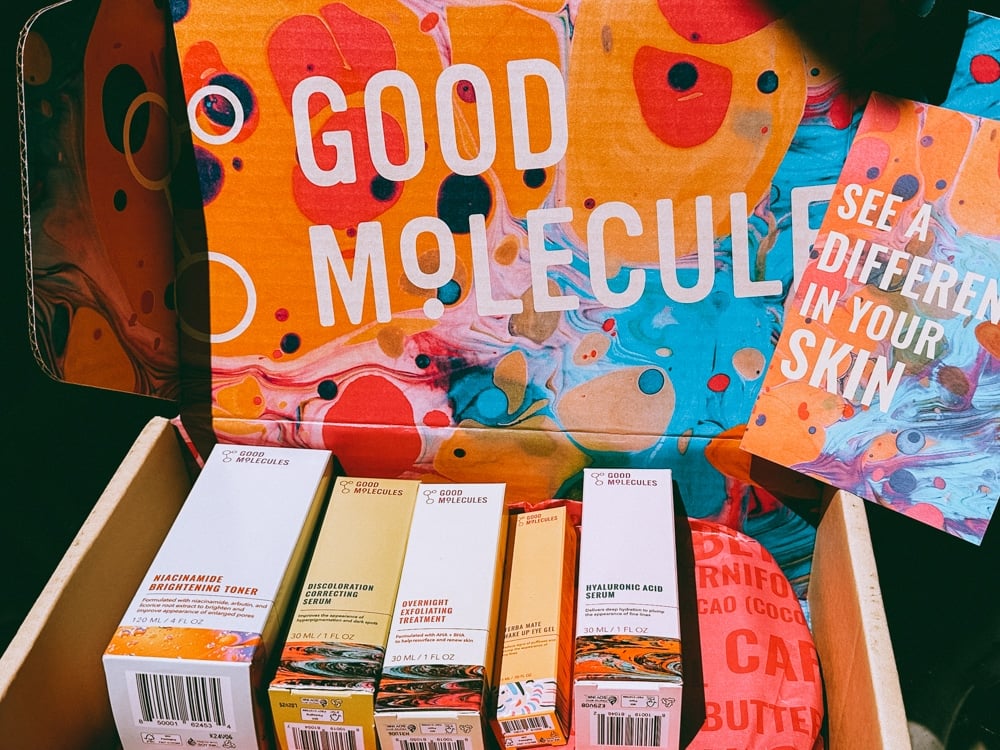 The Good Molecule Bundles
Before I forget, Good Molecules has some incredible bundles to pick from, so you don't need to take time out of your day researching each product and picking which item would best suit you.
Here are a few of my favorite bundle packs to pick up.
Hyperpigmentation Bundle
The Hyperpigmentation bundle includes all my favorites: Niacinamide Brightening Toner, Discoloration Correcting Serum, Overnight Exfoliating Treatment, and a Sheer Mineral Sunscreen.
After testing out most of these products, I can say this bundle will change your skin in a matter of a few weeks!
Cleanse, Tone & Moisturize Bundle
If you like to keep things simple, this bundle is for you. The Cleanse, Tone & Moisturize bundle comes with just that, the Instant Cleansing Balm, Niacinamide Brightening Toner, and Lightweight Daily Moisturizer.
I personally would love this bundle for traveling, going home for the holidays, or when I just need the basics to get my day started!
Breakout & Pores Bundle
This Breakout & Pores Bundle is perfect for those still suffering from breakouts and who have tried almost everything else. One reviewer wrote about taking Accutane twice and not seeing any results until they tried this Good Molecules bundle.
There are several more bundles to choose from that target oily skin, dry skin, hyperpigmentation, and more!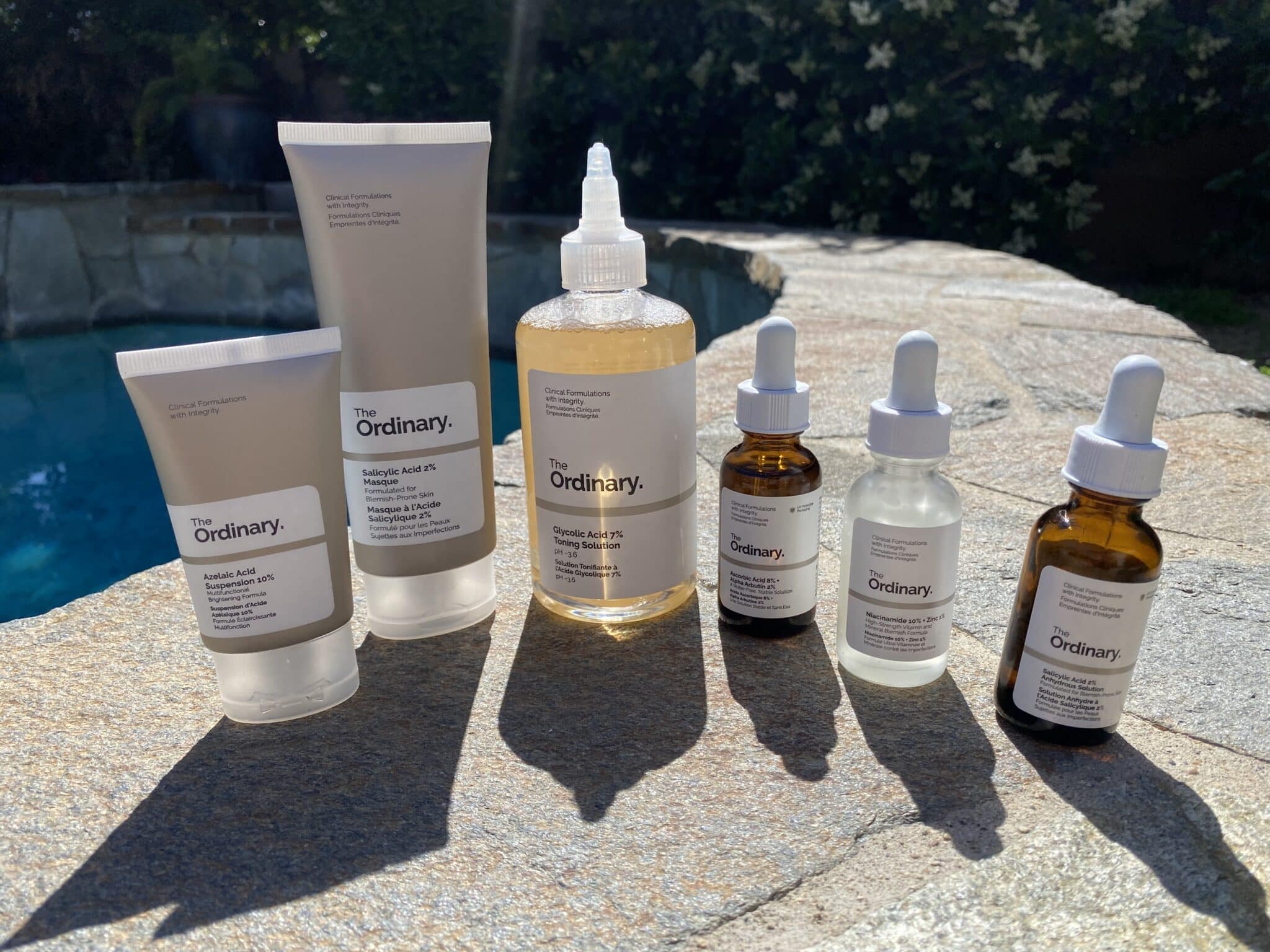 Good Molecules Vs. The Ordinary
Good Molecules and The Ordinary are two of my favorite brands. They're science focused, cost-effective, and provide products that work.
I've been using The Ordinary for the last seven years and just started on my Good Molecules journey this month, but I can easily say the two brands create good quality products that I would recommend to anyone.
So, which one should you choose? Either! I like to blend the two brands. For instance, The Ordinary just came out with a Glucoside Foaming Cleanser that I love to use and follow up with my Good Molecules Niacinimde Brightening Toner!
Or you can switch it up and do the Good Molecules Instant Cleansing Balm with some of The Ordinary Serums!
However, I do think Good Molecules is more beginner friendly. Their website is easier to understand and their bottles are labeled with information on each serum.
The Ordinary takes more research and diligence to know about the product you are buying and how to use it correctly.
Other than that, they are interchangeable affordable skincare with their similar products. Head to an ULTA and pick a few products from each brand! They're cheap enough that it doesn't feel like you have to love a product because you spent so much money on it.
If you want to diversify your skincare products, check out Drunk Elephant and Versed Skincare to create an amazing routine!
Good Molecules FAQ
Is Good Molecules a Clean Brand?
Yes. The brand is cruelty-free and safe for you and the planet, but beyond that, they have a solid moral compass. They provide an entire breakdown of the ingredients and percentages on the package in an effort to give you complete transparency about what you're buying.
The company's website states, "The world has enough products that don't work and cost too much."
It's harder and harder to find brands that care about creating a good product for the sake of helping people and their skin, but Good Molecules is definitely one of them.
They make skincare easy, affordable, and fun! They even have a "How to Layer" guide for people just starting to build out their skincare routine.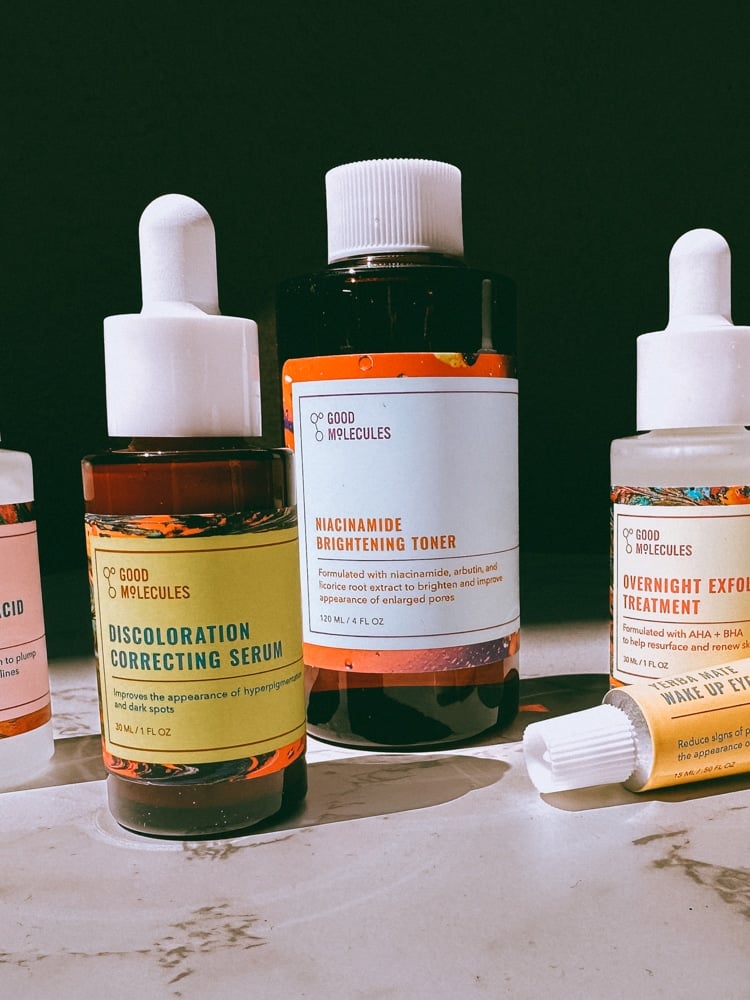 Should I Buy Good Molecules?
In my view…100% yes. I have not found another brand, besides The Ordinary, to give me such great results on my skin for such a low price.
I recommend testing out a few products to see how great this brand is and then you can fully dive into the Good Molecules world like I did and never look back!
Where Can I Get Good Molecules?
You can get Good Molecules at ULTA, online, through Amazon, or on Beautilysh! I highly recommend ordering some products through Good Molecules because their packaging is insanely cute! It comes in a custom box, wrapping paper, and a card!
Or, go to your local ULTA and ask one of the staff to help you pick a few products to start off on!
Have you tried Good Molecules? What was your favorite product? Do you know of another similar brand I should test & review? Let me know in the comments below!