When people ask me what my favorite place I've ever traveled to is, I always say Scotland. There's something about Scotland that just took me by surprise. It's wild and green. Magic seems to seep from every inch of the Highlands, maybe it's all the fairies up there in the Isle of Skye.
The castles are beautiful, the people are friendly and the whiskey is good, sure, but there's just something about Scotland that makes me daydream about throwing caution to the wind and booking flights back. Like right now. This second. YOLO.
My husband and I spent about a week in Scotland during part of our European honeymoon. This is my Enchanting Scotland Itinerary – 7 Days In Scotland Road Trip Guide. I'll be sharing all my favorite cities, cool hotels, hidden gems, best places to eat, travel tips and more. Grab a whiskey neat, sit back and dig in!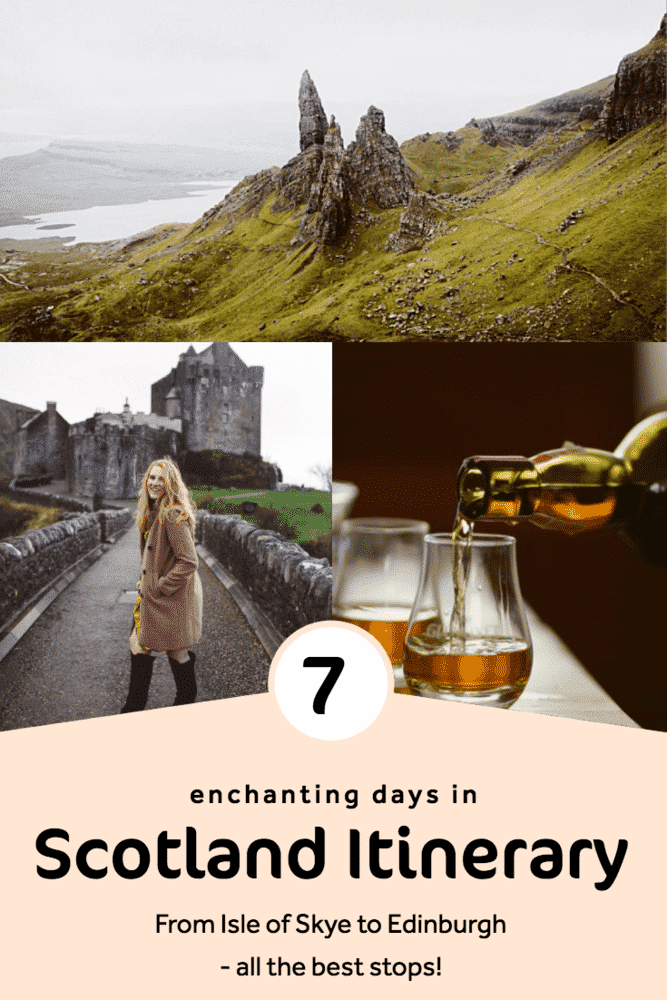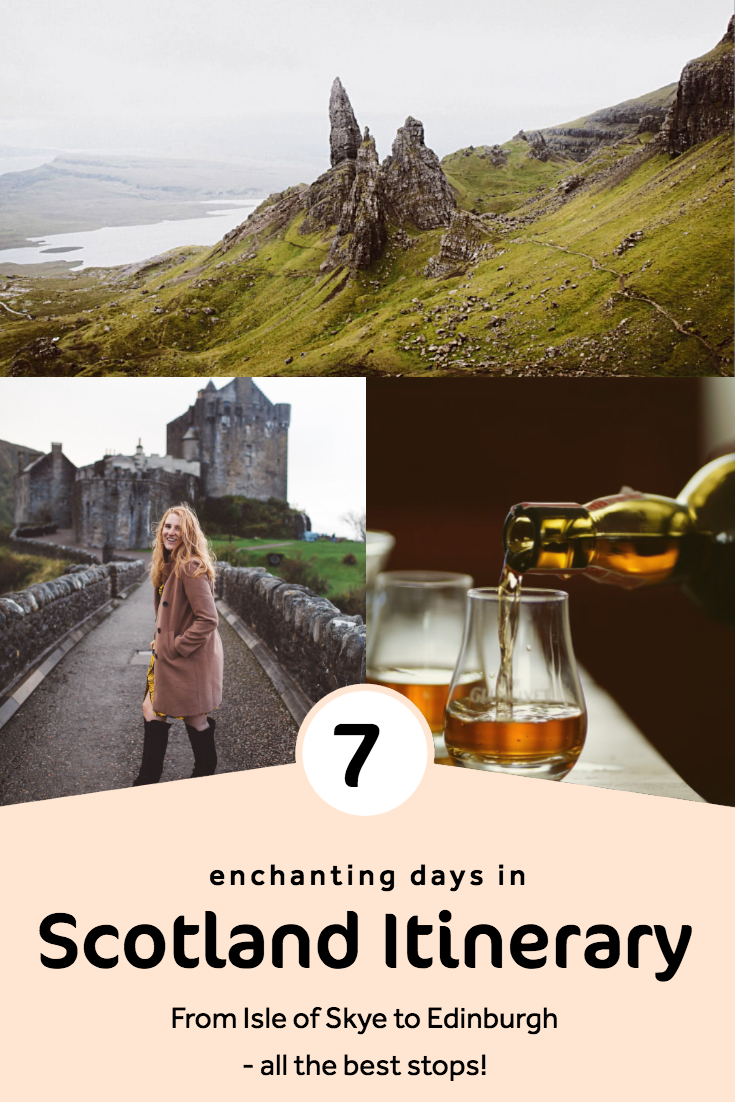 Where Should I Start My Scotland Road Trip?
To start your Scotland 7 day itinerary, I recommend you fly into Glasgow. ( If you want to copy our road trip itinerary start in here, or do the reverse and start in Edinburgh!)
If you are coming over from Ireland as we did, the ferry is a good option. Since we were also exploring Ireland, we came over from Belfast via the Cairnryan ferry. This ferry is dope. It's big, airy and has tons of cool things to do while you sail over. It felt more like a cruise than a ferry.
We were able to easily pick up our rental car at the Cairyan Ferry terminal rental office. I always recommend my readers to book their cars from rentalcars.com because they have the best deals for places all over the world, Europe and America!
When Should I Visit Scotland?
You can tour Scotland year-round, but we went in the fall and it was stunning. Think orange trees, fewer crowds and crisp air. I should visit again in September or October easily. I imagine Springtime would also be stunning when everything is in bloom. Just think about all those wildflowers on the moors!
Yes, it was a bit chilly up North but nothing a Scottish wool sweater and socks can't fix! Pro-tip, you'll want a few of those on your 'Scotland in a week" packing list, along with a rain jacket and sturdy boots for hiking!
Oh, here's my vlog from our trip!
Scotland Itinerary 7 Days
Try to have our rental car no later than 11am-Noon to follow this plan and have the best road trip ever! I hate wasting that first day with afternoon flights, so hustle to make sure you start on time!
Day 1 – Loch Lomond
If you take the high road and I take the low road…
Oh the bonny bonny banks of Loch Lomond are beautiful. Just a quick 45-minutes drive from Glasgow is this famous loch. You best believe I was singing this song the entire time we were there (as you can see in my vlog!)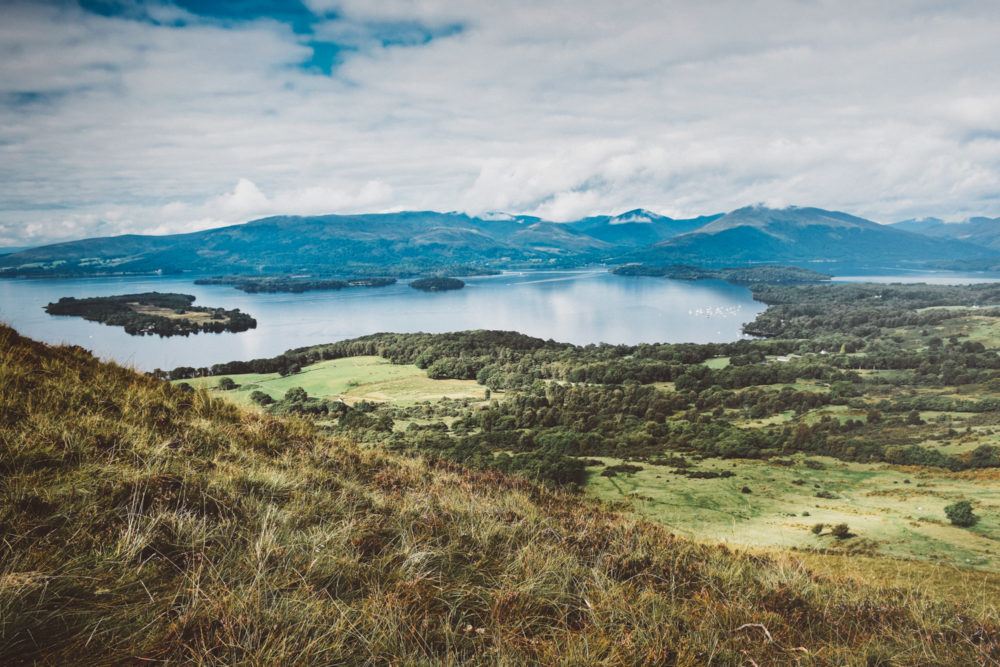 Hands down, you should book your stay at the Cameron House. This luxury 5 star castle hotel is something I frequently think back to because we just fell in love with it. It sits directly on the loch, so you can walk over whenever you want. It also has a few small trails near the shore for a morning stroll.
It has fantastic onsite restaurants options and we personally loved happy hour at the library bar each evening. They have outdoor firepits on the porch and blankets so guests can wrap themselves up against the chilly air in the fall and winter.
NOTE: There was a fire at the Cameron House in 2017 but they plan to reopen in early 2020! YAY!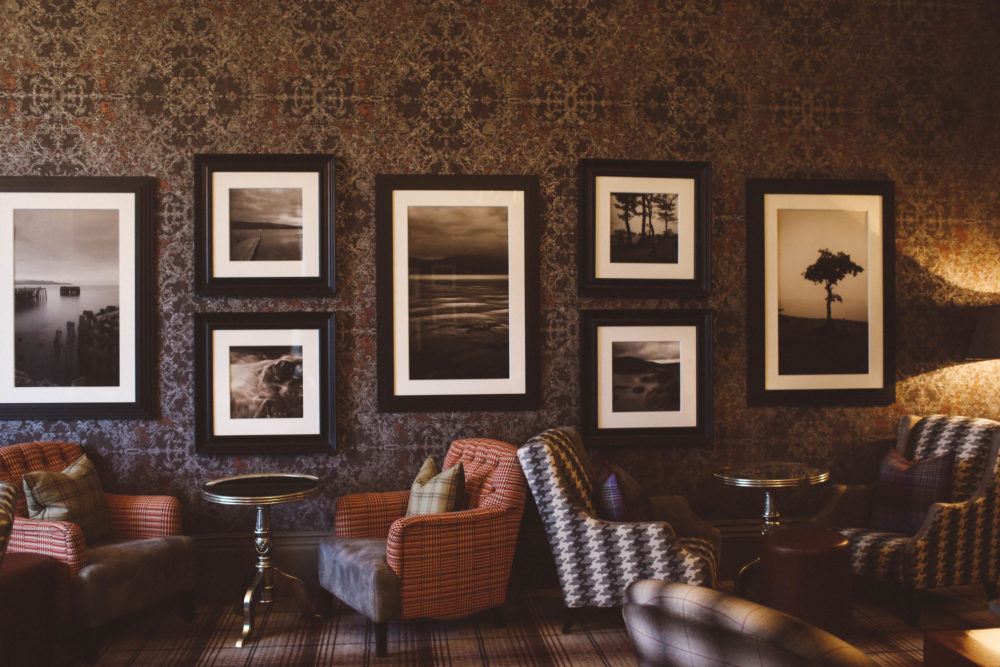 You can visit the Balloch Country Park while waiting to check into the Cameron House. There's a cool old castle here that you can see from the shores of the hotel so it's really fun to visit in person so you know what it looks like up close! You can also visit the Buchanan Castle further into the hills if you're on a castle kick!
I recommend spending your first evening in Scotland around the Loch and the hotel. You can book a ferry ride on the water or even a seaplane excursion to get a bird's eye view! We didn't do this but I was low-key having FOMO for not getting out on the water in some way or another.
Of course, you can kick your trip off with a nice spa treatment and rooftop infinity pool at the Cameron House.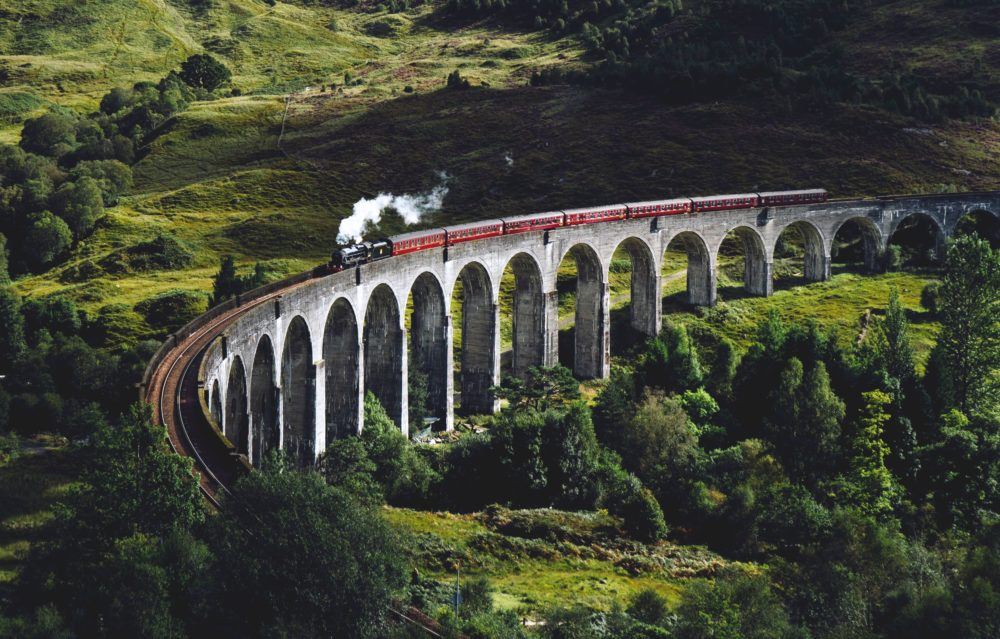 Day 2 Fort Williams
Fort Williams is notable to me mainly because this is where you can find the Jacobite Steam Train aka the Hogwarts Express!!!!!!!!!!!!!!!!! Based on the number of !! you can probably tell I'm just a wee bit in love with Harry Potter. I'm a Slytherin, how about you?
If you haven't figured it out already, Hogwarts is totally on some Isle in the Scottish Highlands. AND, that classic shot of the Hogwarts Express on the curved track is a real thing you can ride!!! 100% doing this next time.
If you're a muggle and a train ride doesn't sound fun, there's also the famous Ben Nevis here! It's the highest mountain in the British Isles so naturally, you can find tons of hiking trails here.
We didn't spend a night in Fort Williams (I didn't know this train was a thing until last year otherwise I would have booked our asses a trip on this!) so we didn't stay at any hotels in the area. But, I think the Alexandra Hotel looks really cute and fun!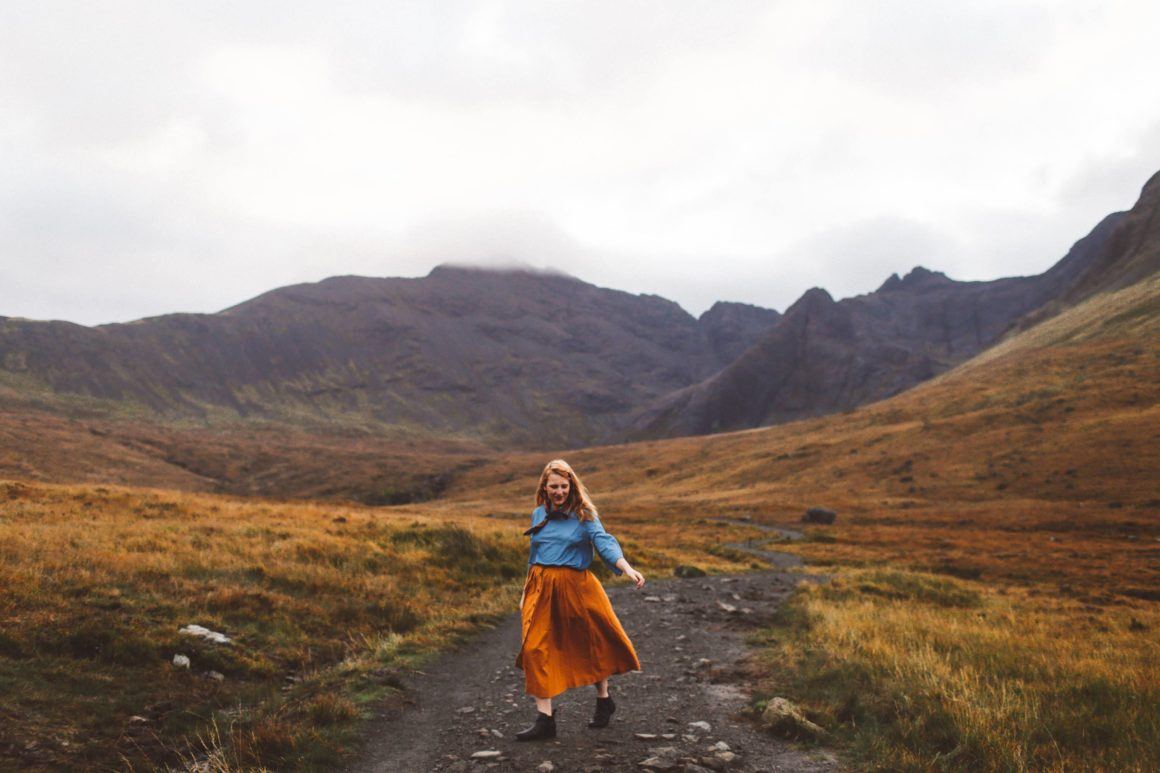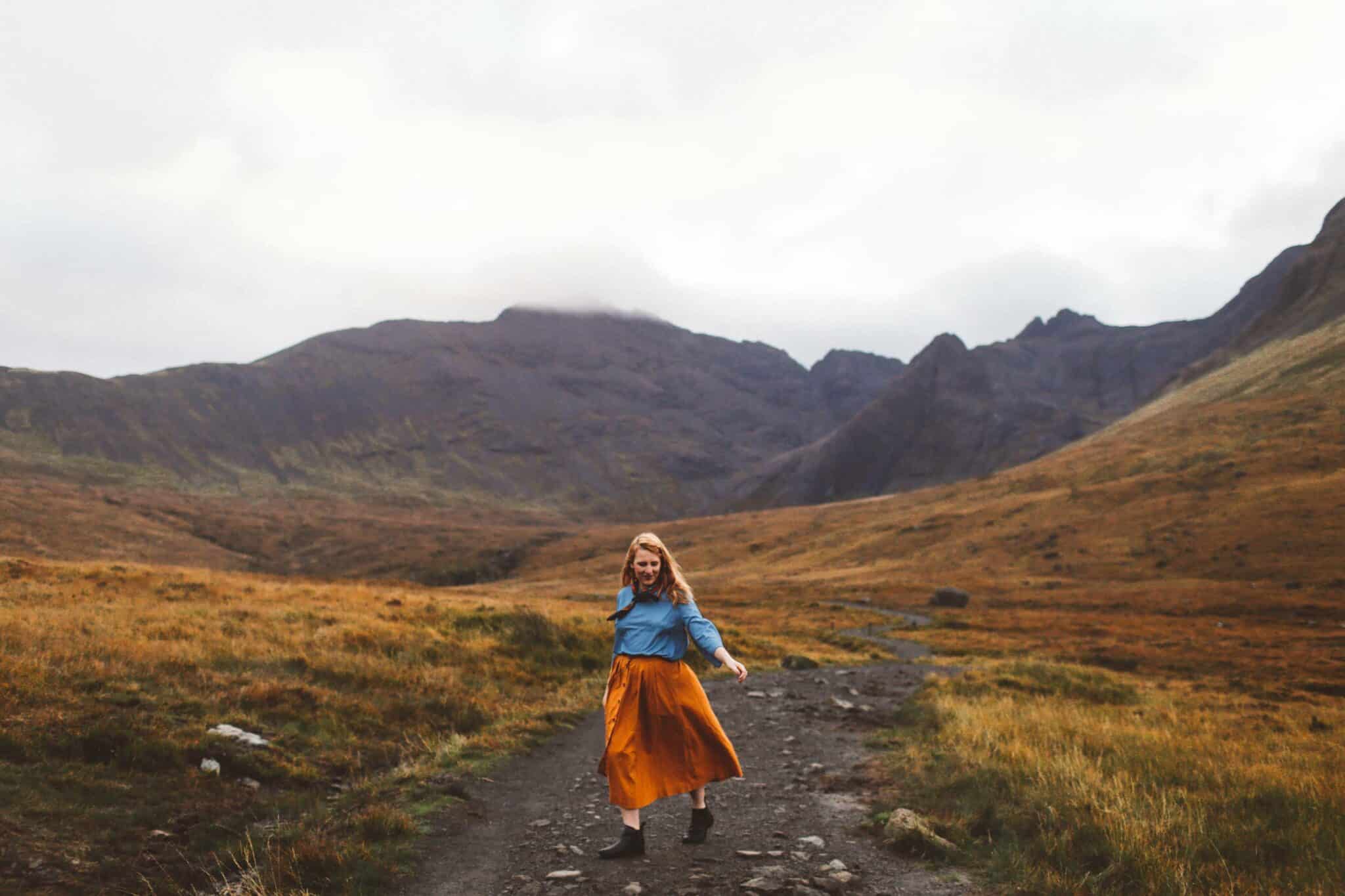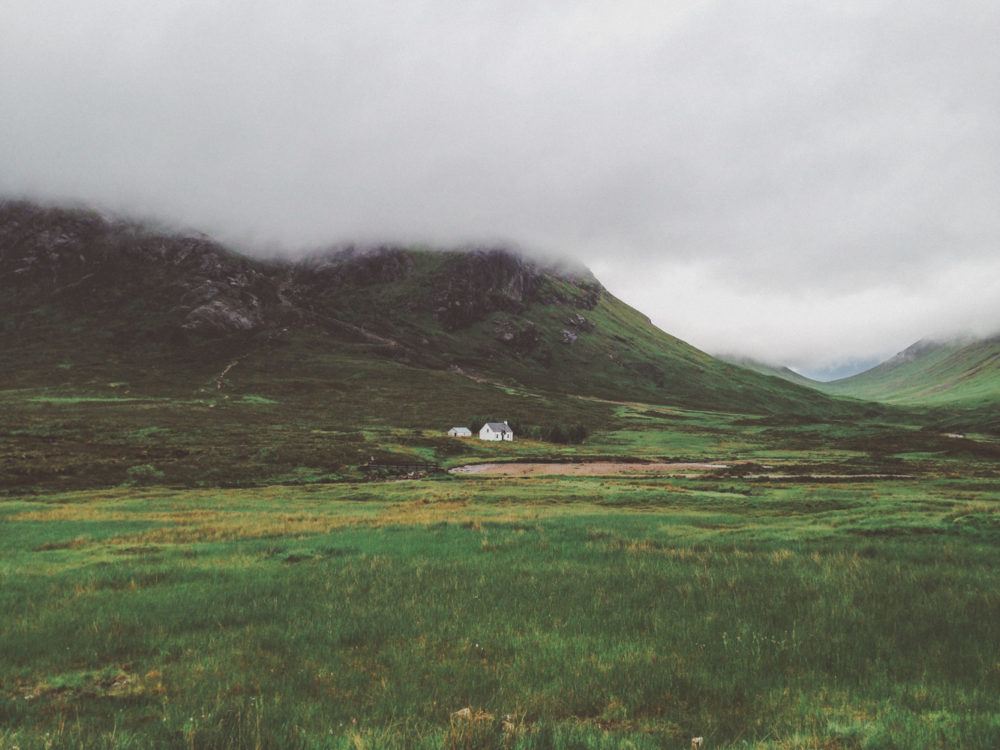 Day 3 – Isle of Skye
Time to drive into the Scottish Highlands! This was my favorite part of our entire trip. Going from the lowlands to the highlands, there's this sharp shift in the landscape. You are suddenly finding yourself winding along at the base of towering green mountains.
When you look up, you can see these tiny little waterfalls tucked hundreds of feet above your head.
We listened to the Harry Potter Audiobooks the entire honeymoon, starting in Ireland. By this time, I think we were on book 3. I just remember cruising along and feeling like I *finally* stepped into the magical world of wizards.
On your way up to the Isle of Skye, give yourself permission to stop by any lookout points, towns, shops or anything that catches your eye. In particular, there's this little white house in the middle of a field somewhere along the way. I can't remember the exact spot, but you'll see other cars parked there, too. Pullover and visit!
The house sits at the base of a tall hill and looks SO SMALL from far away, it's fun to see up close. The Isle of Skye really has some of the best of Scotland. I could easily spend a week in Scotland just on the Isle of Skye. TAKE ME BACK!
Kinda right on the edge of the "mainland" and the "isle" if that makes sense, is the Eilean Donan Castle!! There are a lot of castles in Scotland but this one is my favorite (other than the one in Edinburgh!)
It sits right on the water and is open for the public to tour! It was used as an actual castle years and years ago, but more recently a rich family lived here, so the inside has a mix of old and modern things in some rooms. They've made other rooms into museum-like displays to educate you on the history.
You are free to wander through *most* of the castle, so take your time! It can get a bit crowded here, so be prepared for a rush of people in the mid-afternoon. I think sunset here would be stunning, with the sky turning pink behind the castle.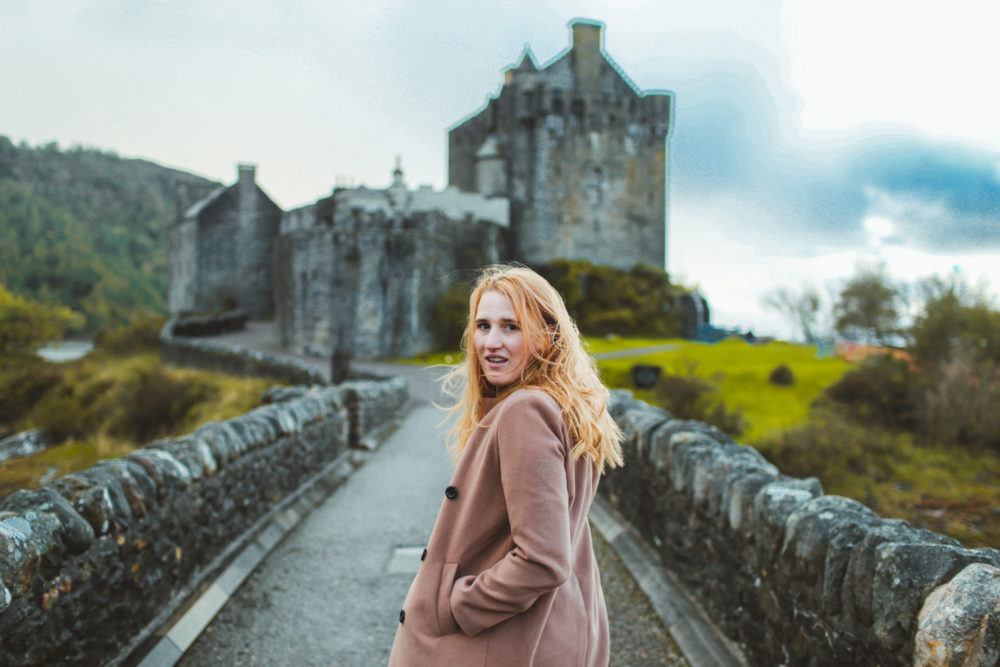 Your goal is to get to the Portree area! We personally stayed at a B&B in Portree but I have always regretted not booking us at the Sligachan Hotel. It's a bit outside of town on acres of private property (you'll drive right by on your way into Portree!) It's also right nextdoor to Cullin Brewery and I got hard FOMO over morning walks on the moor and evenings sipping beer.
So, I suggest you book there. For your first dinner in Portree, this is open for whatever catches your eye, sort of based on when you arrive! You can possibly squeeze in a small hike or exploration of Downtown Portree. Or, maybe you just want to hunker down in Sligachan and have dinner and beer there.
Day 4 – Isle of Skye
So, bear with me here but I'm going to ask that you get up before sunrise today. I KNOW, I know, that sounds hard but it'll be worth it, I promise because today I want you to go to a Fairy Pool!
The Glenbrittle Fairy Pools are about 25 minutes from Sligachan and about 20 from Portree. We drove up in the dark and rolled up to the car park right around sunrise. Nobody else was there. The sheep in the pasture on the trial leading to the pools were startled by us. But we had the whole place to ourselves at sunrise, which is why I want you to go then, too!
There are a few different pools here and the biggest one has a waterfall. They're tucked in a valley with huge hills on either side. The pools are a really popular place to visit so by 10am and onwards it's just crowded and full of people, which totally would take all the magic out of the visit.
You'll be hungry by now, so head into downtown Portree for breakfast! We really liked Cafe Arriba – we actually went twice during our time there! They have a great breakfast but even better views of the harbor.
If you haven't explored the town yet, take some time to walk around and pop into all the cute shops. But, save your energy because this afternoon is all about the Old Man of Storr!
This is probably the most famous natural landmark in the Isle of Skye. The Old Man of Storr is a group of tall rocks jetting out of a hillside (pictured below!) You can hike all the way up past the Old Man to look down, which was our original hiking goal. But, we had really bad colds on this leg of the trip and I had a hard time just hiking to the first one.
So, you can hike a little or you can hike a lot, but no matter what, make sure you hike here! Even if you only make it a little way up, you will still be treated to stunning views of the Isle below you. there's something different about the light up here, since it's so far North. The entire country has this cozy glow to it and it's the most apparent from up there.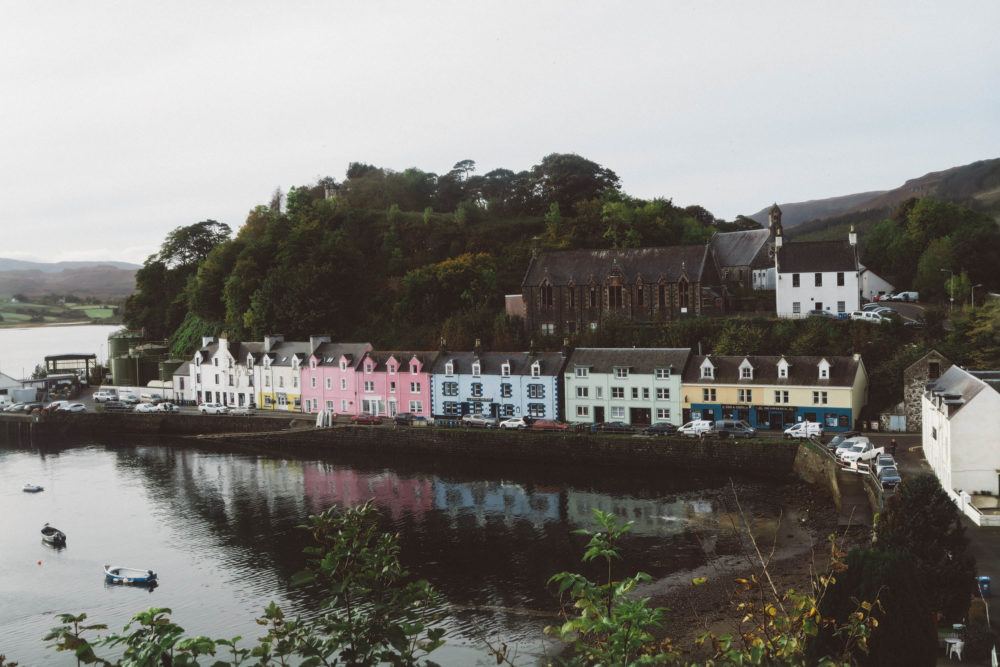 For dinner, beeline to Sea Breezes. It's the white and yellow building in the photo above! As you can see, it's right on the harbor and is probably the most popular – and for good reason – seafood restaurant in all of the Isle of Skye.
It opens at 5:30pm and they don't take reservations, so you have to get there asap. We were like, 2nd or 3rd seated and within minutes all the tables were taken. We were able to score a seat by a window so we could on a huge seafood platter with that harbor view! I drool over the memory of this dinner all the time..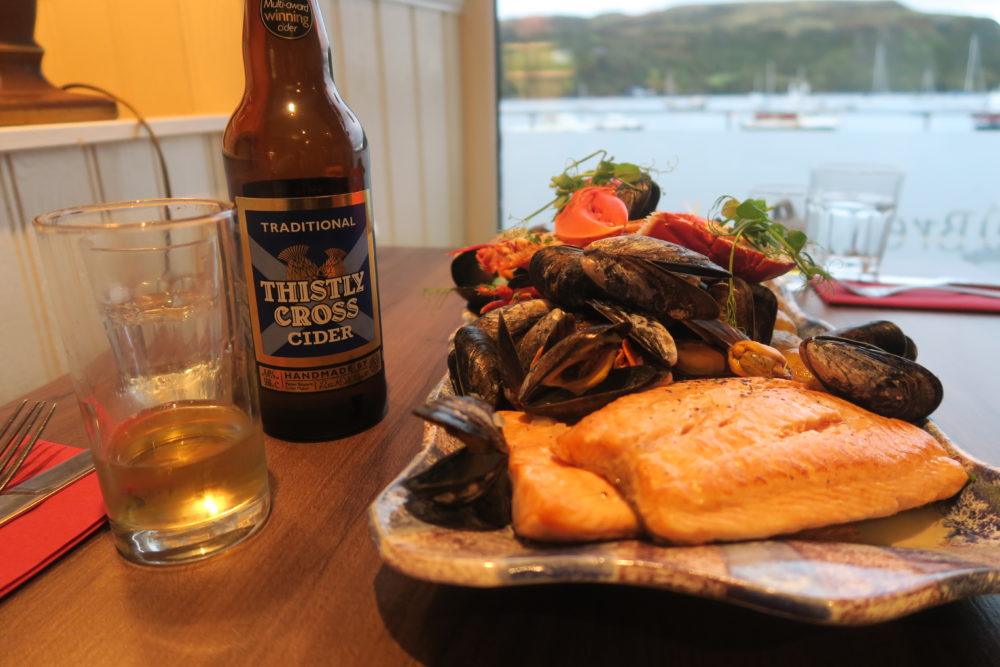 Day 5 – Loch Ness & Inverness
Say goodbye to the Isle of Skye and drive back down South, this time heading to the famous Loch Ness! We didn't have time to stop here but you best believe on my next trip to Scotland I'll take a day tour on the loch hunting for Nessie.
I personally would book a hotel right the Loch, perhaps at the Aldourie Castle, a luxury hotel castle right on Loch Ness, NBD. Or, stay in Inverness proper and spend a night in Kingmills Hotel.
No matter what, make sure to visit the famous Urquhart Castle, a 16th-century castle right on the water. You can actually climb the tower! A lot of people like to book this Loch Ness cruise which includes a tour of the castle.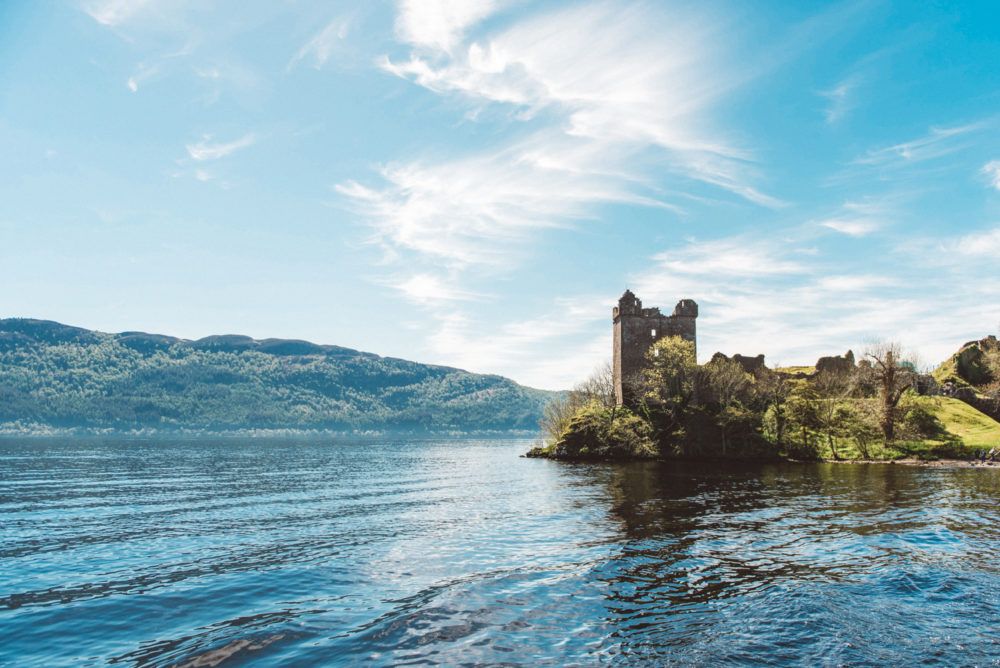 The next morning hit the road and head South a few hours to Edinburgh! On your way, make sure to drive through Cairngorms National Park to soak in all the views. Once you get to Edinburgh, return your car, you don't need it anymore.
Put on comfy shoes and get ready to explore this historic fairytale city by foot! (Public Transport is ok, though we found ourselves walking everywhere instead.)
Day 6 – Edinburgh
We instantly fell in love with Edinburgh. There's something so magical yet easy going about this city. We stayed downtown, which I highly recommend, so you can easily walk to all the cool stuff.
We enjoyed our stay at Hotel ibis Styles Edinburgh Centre St Andrew Square, a budget hotel but it plopped us right in the middle of old town. The rooms were small but clean and trendy. Moer money for whisky tastings!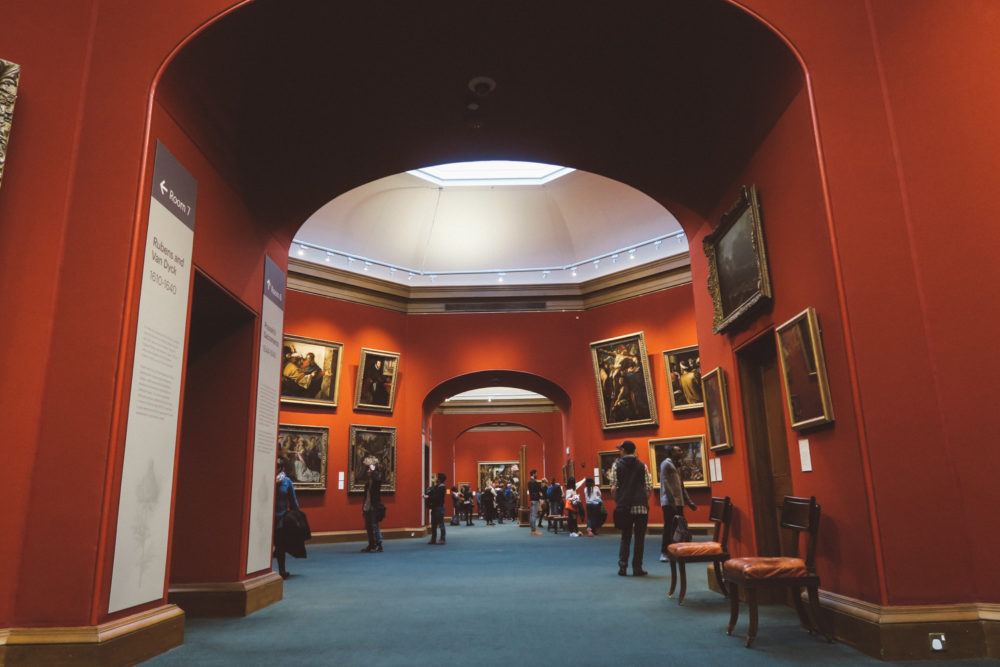 You can find all my recommended things to do in Edinburgh in this blog post, but mostly I recommend you just start walking around. Start at Princes Street Gardens, a really pretty park, sort of like the Central Park to Edinburgh.
Next door is the Scottish National Gallery, a free art museum (pictured above) that is SO cool to walk around! Make sure to hit this up before it closes for the evening! Eventually, make your way over to Lebowskis, a Big Lebowskis themed bar in Old Town! We had o much fun trying all the themed cocktails here (like a classic White Russian, of course!) plus they have great food!
Looking for a tour? Of all the Edinburgh tours, the only one I would pay for is the Harry Potter tour (hell yeah!)
Day 7 Edinburgh
This morning you should go tour the famous Edinburgh Castle! This thing sits tall on a hill and towers over the entire city. It opens right at 9:30am so I suggest you get there around 9:15am to stand in line. It gets SO freaking crowded by 11am that you will want to get in before the rush.
This castle is really really cool. They have a great self-guided audio tour that takes you through the history of each room. Of course, the view from the top is stunning. Also, this is Hogwarts IRL. Jk Rowling lived here while writing Harry Potter and you can totally see how the fictional castle came to be.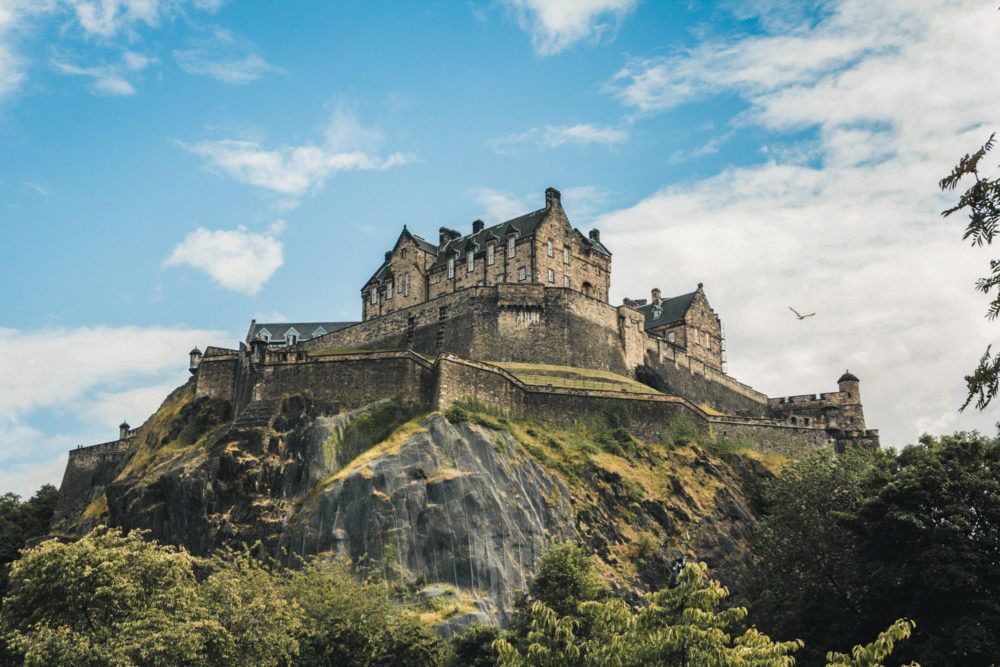 After your castle visit, walk the few blocks down to the Royal Mile, aka the colorful street that I'm *pretty* sure is where JK Rowling got her inspiration for Diagon Alley from. Around the corner is the Elephant Cafe, where she wrote the early books! They have great soup here, but make sure to pop into the bathroom. Low-key may make you cry (that's all I'll say!)
By this time, you should do anything else you haven't seen yet that you're itching to do, but soon it'll be time to check out of your hotel and head on home or to your next destination. Make sure to book a late-night flight to squeeze all you can out of Edinburgh!
Heading to London next? We took the train there, it's about 4 hours. It was our first time to London and I have a whole guide to help you plan that trip, too!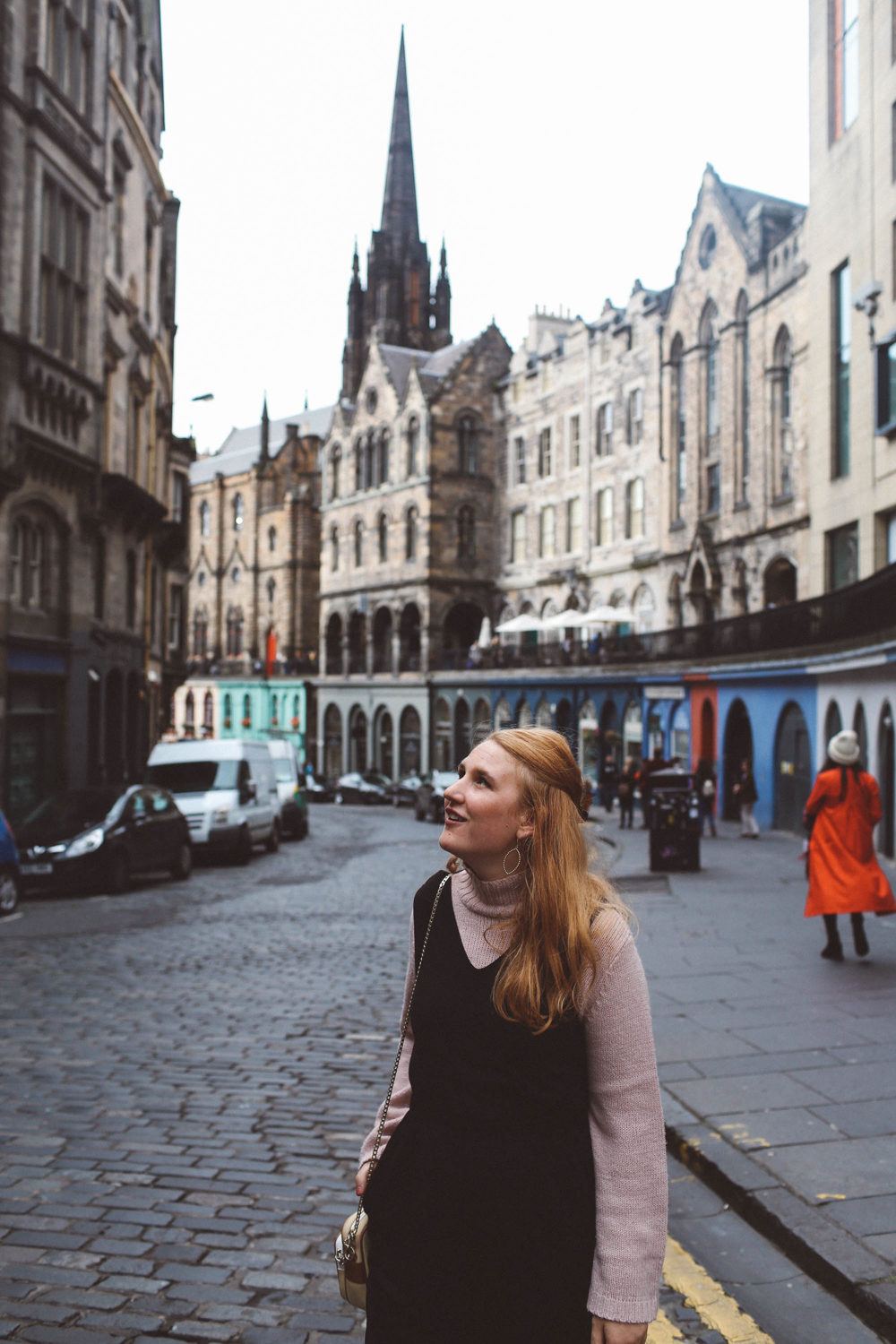 Looking for more ideas for your Seven Day Scotland Itinerary? Other really cool places to go in Scotland for the perfect Scotland vacation:
Glen Coe (hiking and nature!)
Isle of Isle (The Whiskey Isle!)
St. Andrews (for golfing!)
Glasgow (if you want to explore the other big city!)
Of course, check out my giant Scotland Travel Guide which goes over other areas and things to do in more detail! Seven days will go really fast in Scotland, so it's not a bad idea to plan a longer trip to squeeze more in.
I hope my Scotland travel guide helps you plan the most enchanting 7 days in Scotland! I think everyone should visit Scotland at least once in their lives.
It's now been about two years post-honeymoon but I think about returning all the time. Literally just asked my husband if we can do a one-week campervan trip along the famous North Coast 500 route. Gah, I have a Scotland addiction!
If you have any questions or tips that will help others planning a trip to Scotland, leave a comment below so everyone can see and learn from it! Or, shoot me a DM on Instagram @thewhimsysoul and I'll be happy to help!!