I am a basic fall betch. And a basic Christmas betch… I just really love the fall and holiday season!!! But fall is my favorite. I love the crunching of leaves under my feet, the cozy sweaters, the pumpkins, the way the air has that specific smell you only can find in October…
If you're anything like me, come mid-august, you're ready for all things spooky, cozy and pumpkin. Let's channel your inner fall aesthetic girl together with my 18 favorite ways to get in the mood for autumn plus TONS of fall photos for inspiration!
Fall Aesthetic Inspiration Guide: 17 Perfect Ways To Get In The Mood For Autumn
To me, a great Autumn aesthetic is all about cozy vibes, tasty food, good smells and visual reminders of the season everywhere. So, I tend to go a little overboard come September. Here are my favorite autumn aesthetic plus best ways to channel all things fall!
1. Fall Scented Candles
My first go-to step to channel aesthetic fall vibes is through a candle (let's be real, MANY candles are burned in the fall season!) While pumpkin candles are always a classic, I love to seek out more unique ones. Like this October candle that's black and makes my living room smell like a moody fall day in Vermont.
I do also love this Pumpkin Latte candle that's only $13. It's orange, too! Homesick Candles always make amazing fall candles based on memories, like a crisp fall day or a football game that really helps set the mood. Smells are so correlated to memory and setting the tone of the day. I love to light a fall-scented candle up in the morning and let it burn all day. Plus, the aesthetics of a cozy candle is so nice on the coffee table.
2. Go On A Fall Trip To A Cute Cabin
As a travel addict, I love to go on adventures in the fall season. And, since I live in San Francisco, our warm season is actually October, so I always feel the pull to escape into the mountains to surround myself with foliage, cabin vibes and all things fall.
There's something about renting a cabin, lighting a fire, putting on a sweater and watching a Halloween movie that really hits the spot. In California? I rented this Big Bear Lake cabin on a recent fall trip and it was perfect! I could see so many stars at night, too.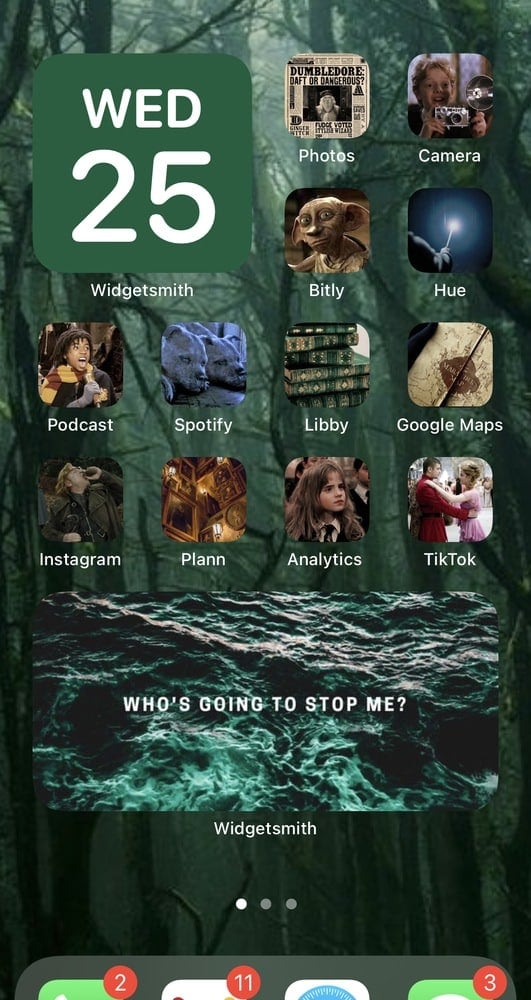 3. Change Your App iPhone App Icons To Fall Themes
Do you still have a boring phone? Did you know that you can totally customize your phone app icons and or download aesthetic backgrounds for your phone main screen and lock screen? There are so many free iPhone ios 14 fall aesthetic icons and ideas on Pinterest to look at and download. You can go bright orange and yellow, or get nerdy and make your theme around a favorite fall movie. It's what all the autumn aesthetic girls do!
Last year instead of the classic design of leaves and pumpkins, I had a Harry Potter Slytherin Common room theme going on. I love a fall aesthetic wallpapers for my lock screen as well so if you have a Pixel or Android and can't change our icons, you can still get add some fall aesthetics to your phone! I don't yet have a round up of free downloads, but come Christmas time these are over 60 free aesthetic wallpapers for the holidays!
4. Have Halloween Photoshoot With Your Friends
I don't care how old you are, it's always fun to get in the autumn mood by having a fall-tastic photoshoot with your friends! I do this with mine every year. Sometimes we just go out into the mountains to track fall foliage. We'll get dressed up in cute sweaters and beanies and take photos with the leaves.
But sometimes we channel that autumn Halloween aesthetic by getting full on nerd and silly. Like, dressing up as Hogwarts characters or the three sisters from Hocus Pocus. You'll have so many laughs and some really fun photos for your Instagram feed!
5. Watch Halloween Throwback Movies & TV Shows
Always a classic. I love to have watch parties with girlfriends (and then of course, watch a bunch with my husband and cat at home.) I like to get in cute pjs, grab a comfy blanket and watch a classic Halloween movie. These are highlights:
Hocus Pocus (#2 is coming out this year!)
Beetle Juice
Addams Family
Sabrina (Netflix)
6. Take A Fall Hike in Foliage
I personally love fall and winter hikes. It's amazing to see nature in a different way and season. And, come fall you usually get rewarded with tons of colorful leaves on your hike! Tracking down fall foliage season near you is a bit hard.
Peak dates vary year by year based on weather, so it's important to stay tuned to local fall foliage reports to see when and where the leaves are popping off. In the North East (Vermont, Maine, etc) colors start late September to early October. But in California Sierras, you can find orange leaves sometimes in November. It just depends on where you live.
These are all the best places to find fall foliage in California! And, in case you wanted a spooky themed trip, these are all the best places around the United States and world to celebrate Halloween.
7. Go Apple Picking
Apple picking is probably my favorite way to kick off the fall season. Here in Northern California, we go to Apple Hill or Sonoma for their apple picking season starts in September!! It's usually the first really hard-core fall activity that I do with friends.
We always plan cute apple picking outfits to wear at the orchard, too! With the apples you can come home and make tons of apple pies and other desserts. My husband makes us pancakes every Saturday and during the fall after I go apple picking, he'll make apple panckes! Yum!
8. Go To A Pumpkin Patch
And of course, come October you can find me in the pumpkin patches of Half Moon Bay! These have pumpkins in all the colors of the rainbow these days, I swear. (My favorites are the white ones – they look so cute at home stacked with other fall decor!) Plus, pumpkin patches usually have fun fall activities like hay rides, corn mazes and more.
Even though it's always still hot in California come October, I always plan cute pumpkin picking outfits to wear to patches. Usually involves sweaters and boots since I don't care if I'm dripping in sweat, I just can't go shopping for pumpkins in a summer dress.
9. Make Homemade Pumpkin Spice Lattes
you could order one at Starbucks if making them homemade is too much work but it's actually quite easy to make a homemade pumpkin spice syrup (you melt down canned pumpkin with water, sugar and spices.) It's really fun to drink these every day at home without spending $6 on a coffee run. You can use it with coffee or espresso.
10. Decorate House With Cute Fall Decor
When in doubt, start with twinkle lights to make your fall aesthetic room. They make everything vibey. But also swap out your coffee table decor for fall things. Think: tiny pumpkins, orange candles, dried foliage bouquets. Swap your throw pillows and blanket on the couch for more fall-themed ones. Get a cute fall welcome matt. You don't have to be cheesy to go hard on autumn home aesthetics!
11. Light Your First Fire Of The Season
Your autumn aesthetic room needs a fire!The smell of a fire, the sound of crackling wood. Toss in leaves turnings orange and a cool autumn breeze outside… there is nothing more satisfying than getting all cozy next to a fire and drinking some apple cider. If you don't have a fireplace ( I don't), I recommend you instead use the Netflix fireplace feature. It does the trick in a pinch!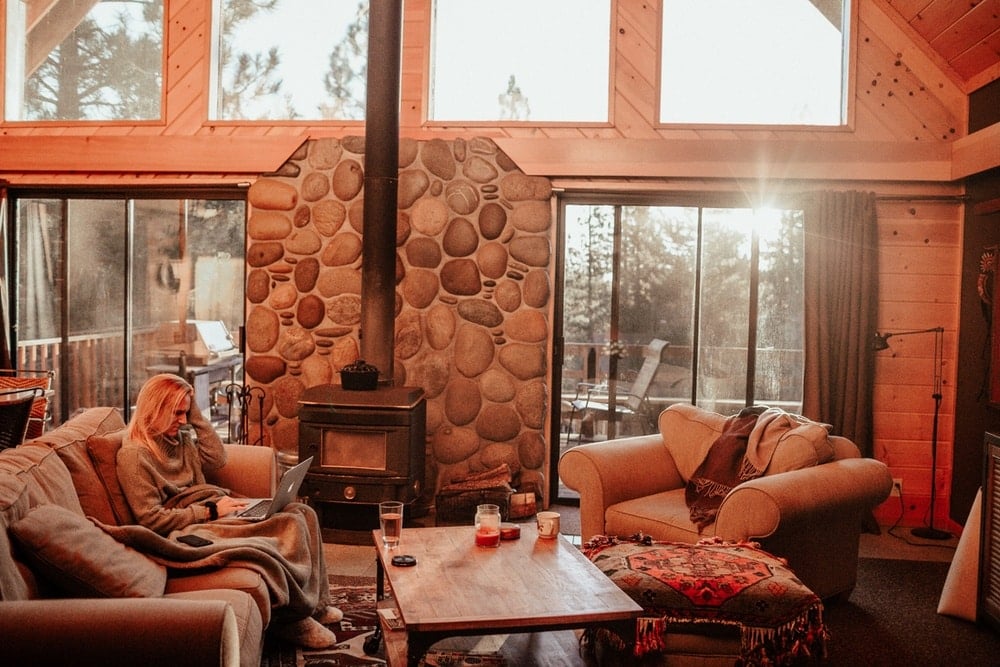 12. Turn on Ambient Backgrounds
Ambient Worlds on YouTube quickly became my favorite thing to put on while working from home and now it's my go-to fall and winter vibe. They're ambient worlds usually around themes (Harry Potter, Lord of the Rings, etc) and also moods, like Fall Day or Rainy Day. They set the vibe and aesthetic of the room perfectly! Especially when you are like me and don't have a fireplace or cozy reading nook.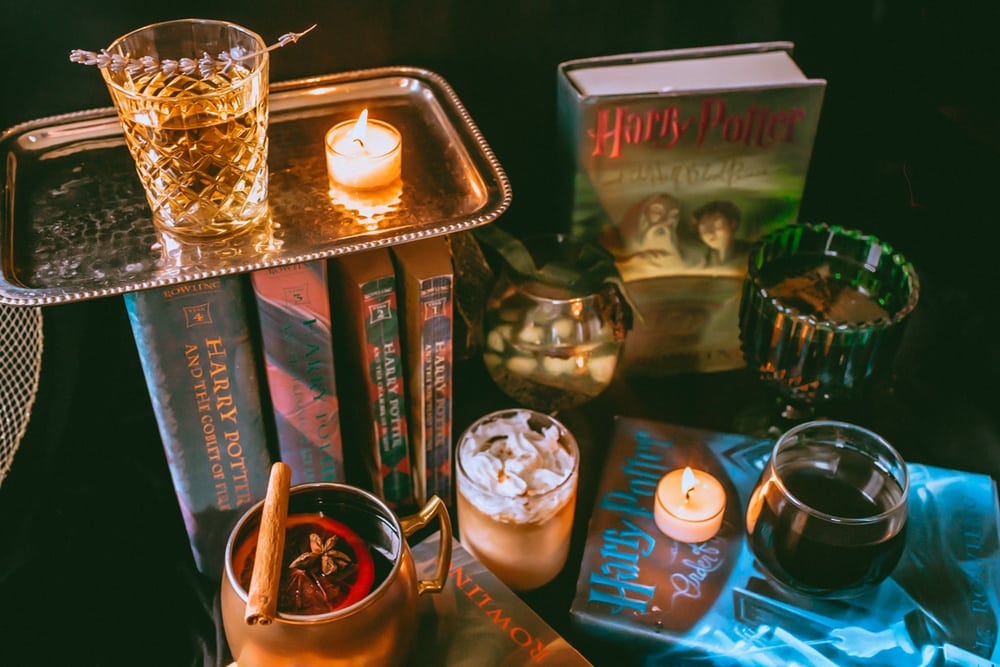 13. Make Harry Potter Cocktails
If you can't tell, I'm a big Harry Potter fan and I always make some themed cocktail drinks during the fall and holiday season. They're so fun to make and really help me get in the fall mood! Harry Potter has always been a Halloween (and Christmas) movie for me so I usually end up watching them twice. Once in October and once in December. I have a whole list of cocktails that I made up myself!
Cocktails not your thing? An Oktoberfest beer or a glass of red wine is always a good option!
14. So Many Fall Aesthetic Outfits
Fall aesthetic clothes are easily my favorite way to get in the fall mood. I pack away my summer dresses and pull out my stockpile of cold weather things. Here are some of my favorites:
15. Make Butternut Squash Soup
Butternut squashes are in season in the fall so it's a no-brainer to make a big batch of soup!! My husband always makes some in our Instant Pot and then we freeze some of it so we can keep having tasty homemade fall soup all season long. There are a LOT of recipes on Pinterest you can find, but I recommend trying one that uses coconut milk. TRUST ME.
16. Comfy AF blankets on the couch
I adore being warm year-round, but I know most people only like to get cozy during the winter months. Come fall, it's time to pull out the chunky blankets for the couch! These are some of my favorite chunky throws to have on hand for October movie parties.
17. Use Clever Fall Instagram Captions
After taking all those cute photos at the pumpkin patch or at home with all your decor, don't forget to use a cute fall themed Instagram caption too! I have a whole list of fall-tastic captions to use so you don't have to think too hard. Shh you don't have to tell anyone you found them here!
18. Take A Halloween Trip
Grab your spooky season besties and head out to explore a famous Halloween town somewhere in the world! There's the literal Halloweentown from the movie up in Oregon, but also US towns like Salem or Bangor, Maine that go all out for Halloween. Up in Washington, there's Forks so you can channel your inner vampire and explore all the Twilight filming locations.
But there's festivals that take place all over the world. Derry, Ireland has Europe's largest Halloween festival and of course, Mexico is known for its beautiful Day of the Dead celebrations. I can speak from first hang experience that planning a whole trip around the changing of the leaves can be tricky since it varies each year, but you can always count on Halloween festiviies each October.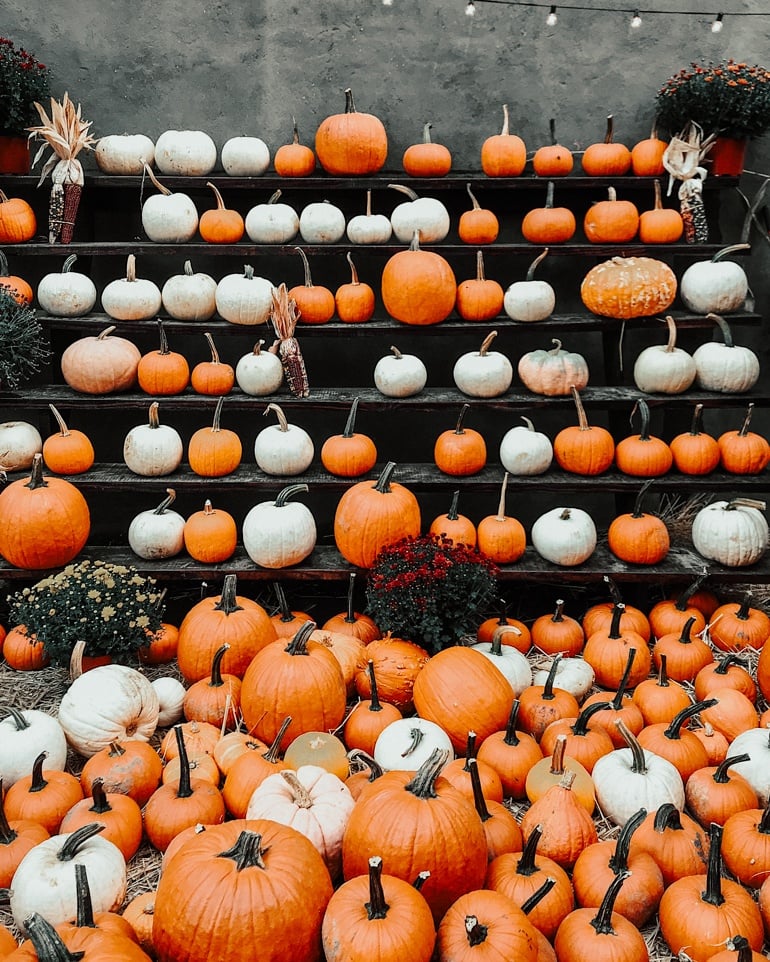 Fall is my aesthetic, it really is. This is my favorite time of year!
Love any of these cute fall aesthetic pictures? Pinning these images would mean a lot so other aesthetic Pinterest lovers can find my site.
Find my Instagram page @thewhimsysoul for more lifestyle inspiration!
More Fall Blog Posts You'll Love