I've been seeing foot peels all over the internet lately. Since my poor sad feet haven't had a pedicure since before the pandemic and they are in desperate need of some TLC, I decided to finally try a Patchology Poshpeel Foot Peel (with a side of wine and cheesy holiday movies, of course!)
Next up in my "Saw It On Social Series" I'm giving you my honest Patchology Foot Peel review on if it works, what to expect and of course sharing before and after photos. So you can decide if you want to buy it or not. Let's go.
I Tried The Patchology Foot Peel So You Don't Have To: Honest Poshpeel Pedi Cure Review + Photos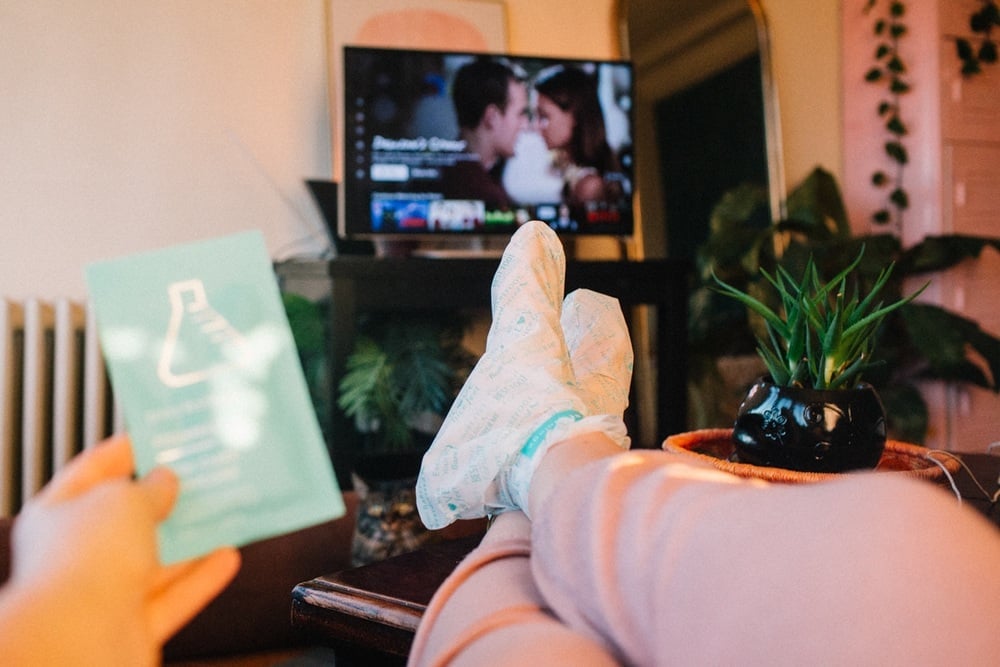 >> Got a question about the PoshPeel that you need answered quickly? DM me on Instagram @thewhimsysoul and I'll be happy to help!
Despite being a beauty junkie and spending over a year trying out all these Instagram famous products and trends for my Saw it on Social series, I haven't actually ever tried an at-home foot peeling treatment before. I'm all about "me nights" full of face masks, CBD baths, wine, fun stick on nails and, now, fun things like chemical foot peels.
I opted to try the Patchology PoshPeel Pedi Cure because it was easy to buy online and I like their eye masks, so I figured they may have a good peel for feet as well. This chemical foot peel uses botanical root extracts and Alpha Hydroxy Acid to dissolve dead skin and exfoliate rough patches while also "brightening your feet" (whatever that means!)
But, does it work?
Well – not all the time. I actually had to try this foot chemical peel twice. The first attempt was a total fail, didn't work at all. Normally you are supposed to start seeing the peeling results within a week or so, but after 4 weeks of my first try… nothing.
I'm not sure why. I waited a whole month and didn't see any results so I tried the foot mask again since I bought two. The second foot peel worked much better (but still not perfect. I explain more at the end of this post!)
First, here's how you use the mask.
How To Use The Patchology Poshpeel Pedi Cure Foot Mask
Soak your feet in a bath or a bowl of water for at least 15 minutes to get them soft. I like to pour myself a glass of wine and soak them in the tub while listening to a true-crime podcast.
Take out the socks that come with the packs and pour the Activating Essence into each of the socks, evenly coating the inside.
Stick your feet in and at this point, I recommend you kinda rub the sock around a bit to make sure the solution covers your whole food.
Seal with the sticker and wear the socks for 60 minutes (grab some wine and turn on a movie!)
After 60 minutes, rinse your feet and in about 10 days you'll see your feet start to peel!
Patchology foot peel not working? It happens apparently.
As I mentioned above, my first attempt didn't work at all. My second try did work much better. I did my second PoshPeel Pedi Cure mask about 2 weeks ago and my feet just started to peel about 3 days ago at the time of writing this review. My concern is that most of the peeling seems to be taking place only on one foot…
My right foot is peeling like crazy and the skin on that foot underneath the dead skin is feeling so dang soft. I'm super impressed. But my left foot has considerably less peeling happening. It's peeling, but not as much as my right foot. Though, perhaps I just have to wait a bit longer to see peeling start to form.
I'm thinking I probably didn't coat the inside of my left foot sock as well as I coated my right sock, which could explain why I'm not seeing peeling all over that foot. It really is important to coat the essence evenly so unbalanced peeling doesn't happen to you.
Patchology Foot Peel Before and After Results
Sorry, you have to look at photos of my peeling feet! But, this is what you can expect about 2 weeks after using the mask. Not like we're going anywhere this year in 2020, but in the future don't plan on having any really big event with open-toed shoes within 4 weeks of using the Patchology foot peel since you probably will leave a little trail of dead skin flakes everywhere you go.
My feet are in the middle of peeling but the parts that have finished peeling are soft and look youthful. I think that's what they mean when they say your skin will look "bright". I can't really explain until you try it for yourself, but it does look brighter, or younger somehow.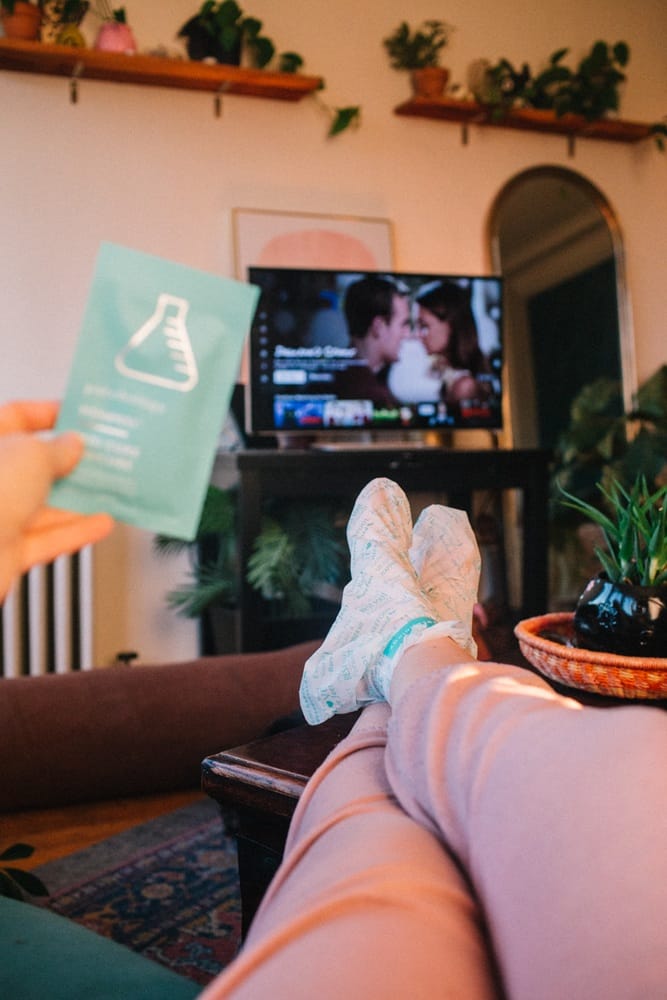 Patchology PoshPeel Review: Is It Worth It?
To be honest, I'm a bit torn. I'm super impressed by the foot that has started to peel – it's gross but totally satisfying and I can see a huge difference in my skin that's been chemically exfoliated and the parts of my skin that haven't peeled yet.
But, my left foot hasn't caught up on the same level yet and after my first failed attempt at using this exfoliating foot peel, I'm not sure it will catch up. That being said, I would buy this mask again since I trust Patchology way more than a random questionable foot peel from Amazon.
And, as you can see, when it works, it WORKS well. And for only $20, it makes a fun self-care night activity.
Have you tired the Patchology foot peel? If so, I'd love to hear your thoughts! Did it work for you? Drop a comment below so everyone can see.