Sausalito CA – a whimsical town on the bay full of beautiful houses, sailboats, seafood and sunshine. It looks like a seaside East Coast town and Positano had a baby but it's in California!
Whenever we need to escape the San Francisco fog, we pop over to Sausalito for lunch or a walk along the water. I'm also over in Sausalito at least once a week to go kayaking (it's my thing!) And, I just got back from an early birthday weekend relaxing here and since I'm still gushing over how dang cute this town is. I'm never not over it! So, I'm sharing with you all my favorite things to do in Sausalito! (Because I low key wished I lived here!)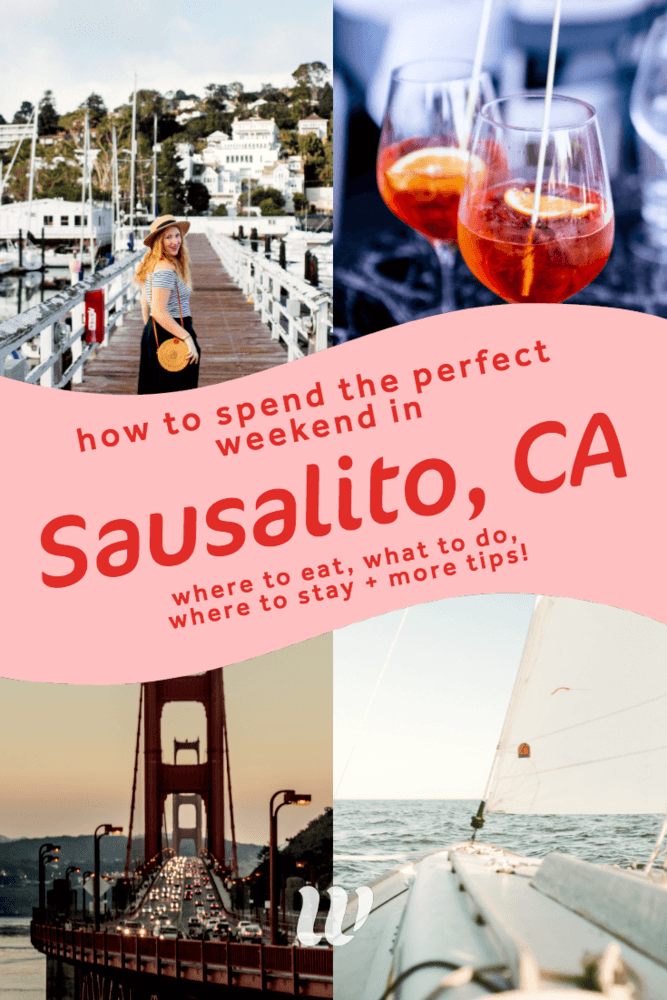 Whether you are coming for a day trip, an easy weekend getaway from San Francisco or a longer stay, these are all the best things to do in Sausalito aka your ultimate city guide! Keep reading for my recommendations on where to stay, where to eat, what to do, what to pack and more!
I've been to Sausalito, California on countless day trips, go there all the time for kayaking at SeaTrek, and have driven past it even more as it's the first town you pass on your way to Napa Valley from San Francisco. It never ceases to amaze me how San Francisco will be foggy and cold, but the second we pass that second tower on the Golden Gate Bridge and cross over into Marin County, the fog suddenly clears and the sun peaks out.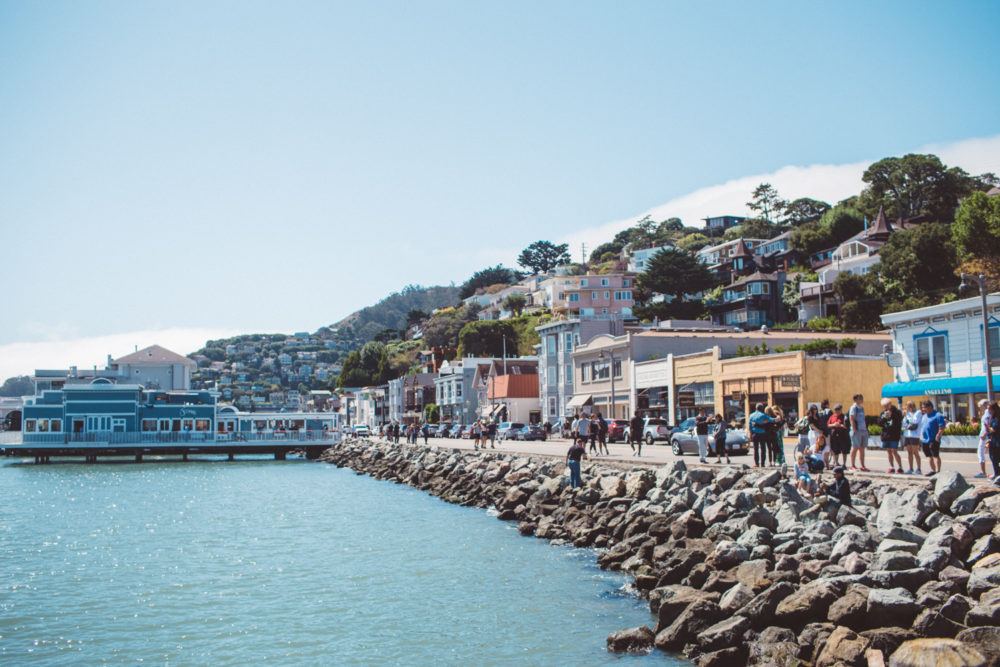 For my (early) 28th birthday back in 2019, Robin and I decided to trade a long drive for a quick 15-minute dash across the Bay from our apartment to Sausalito for a weekend eating icecream, stuffing ourselves with seafood, lounging with wine at sunset and low-key plotting to buy a Sausalito houseboat and live in it (I don't think our cat would be a fan, though!)
Top Things To Do in Sausalito CA
Once you arrive via ferry or drive over the Golden Gate Bridge, put on that straw hat and sunglasses: it's time to explore! These are all my favorite things to do in Sausalito on a weekend trip or day trip!
1. Shopping Sausalito Downtown
Downtown Sausalito is so dang so cute and charming! Here you can winding streets with boutiques, nautical shops, crafts, clothing and more!
2. Ice Cream at Lappert'ss
Lappert's Ice Cream is the most popular ice cream shop in town and it's probably due to their unique flavors (like Ube!) Grab a cone and take a stroll along the docks while looking at sailboats.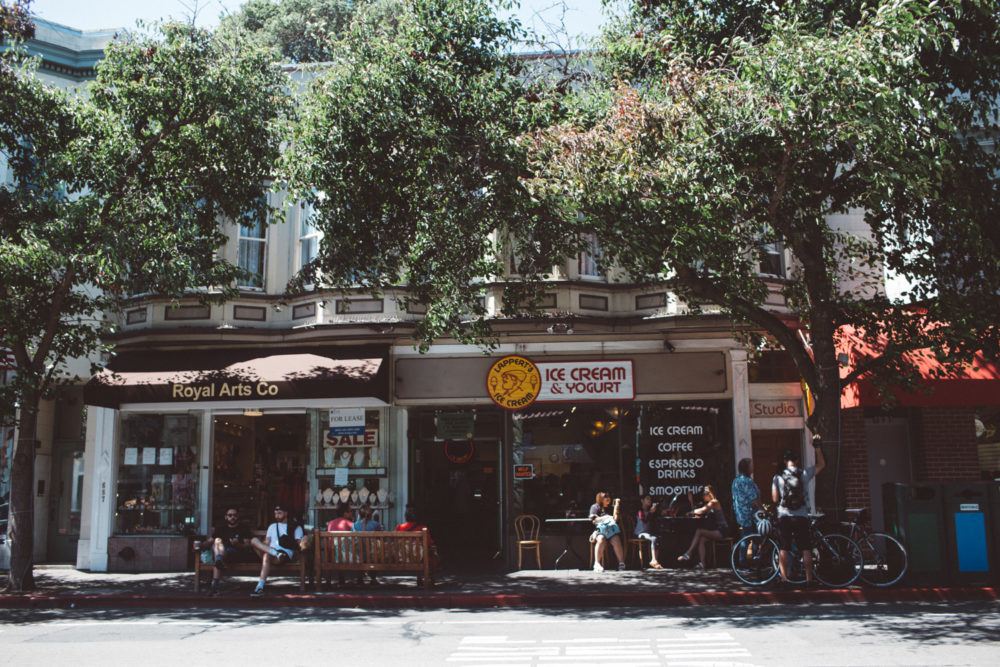 3. Look At Houseboats
On the note of sailboats, I love these little floating homes and sailboats. (They are the most popular free Sausalito attractions!) If a dock has a rope on it or a "private" sign, don't enter but if there's no rope, you're clear to walk on that dock!
My favorite houseboat is the Taj Mahal boat, which looks like a mini version of the World Wonder! And,it's fun to view from the water. During Christmas, they decorate with garland and it's super cute. It's one of those cool secret things to do in Sausalito that only the frequent visitors know about.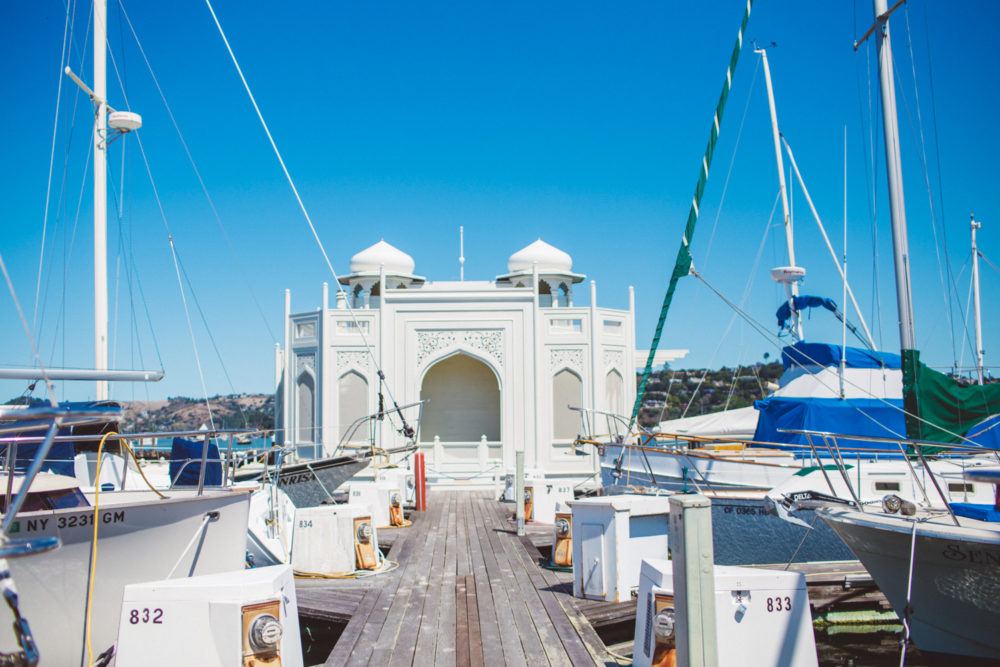 4. Hiking in Marin Headlands
I adore the Marin Headlands! If you love nature, hit the trails! A lot of California visitors want to do a day trip to Muir Woods and you *may* be tempted to do one during your Sausalito visit, but save Muir Woods national monument for another time. That's like a trip in itself!
Instead, I recommend you just hike the nearby headlands like Hawk Hill, Rodeo Beach, Kirby Cove to Point Bonita Lighthouse. You can also pop up to Battery Spencer at sunset to watch the sun dip over the ocean with a bangin' view of San Francisco. Or, if you're up for like, a lot of stairs and evening hiking, Hawk Hill usually has fewer folks but just as good of views.
If you DO want to go to Muir Woods, don't forget to reserve a parking spot online in advance, otherwise, you'll need to take the shuttle in. They started the parking system a few years ago and it works so well. You used to have to come really early, or walk up to 1-2 miles just to get inside the park which is a sucky way to start a 3-5 mile hike.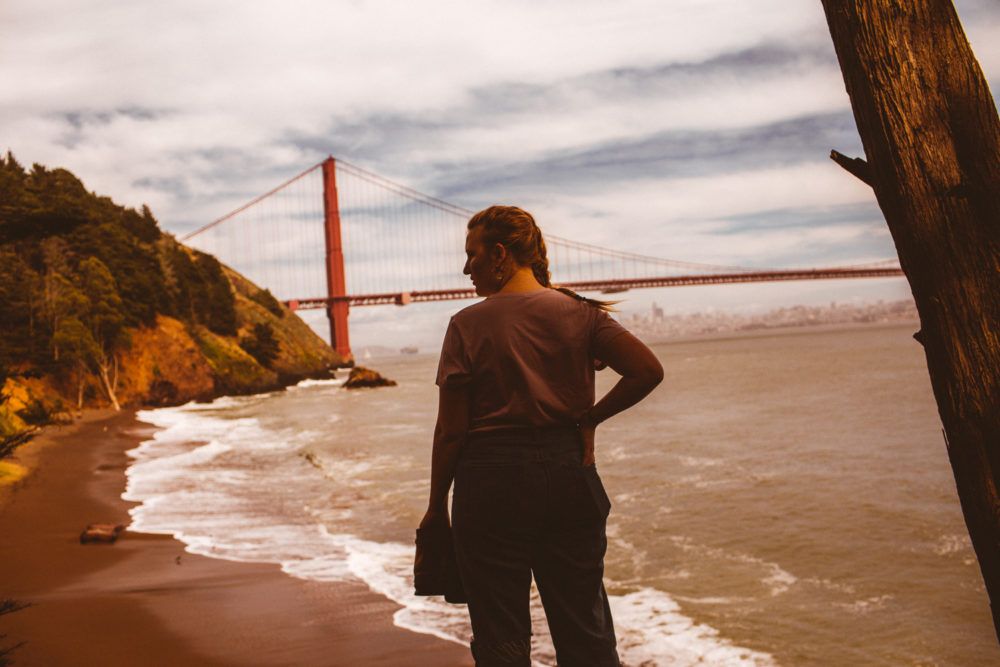 5. Sunset Sail On The Bay
When the weather is nice, there is nothing more romantic and memorable than a sunset sail around the Bay! Cruise under the Golden Gate Bridge while the sun sets over the ocean, sip bubbly while gazing at the city twinkling in the distance.
I really do think this is one of those unique things to do in Sausalito, as many people just come for day trips or quick stops on the way to Muir Woods. We haven't done the sail that departs from Downtown Sausalito yet but we love to do a sunset sail from San Francisco once a year. Especially on warm, clear winter nights when it's not foggy and you can maybe catch some whales, too! Book it now!
6. San Francisco Bay Model Museum
The San Francisco Bay model visitor center has a model of the city!!! It's pretty big and really fun to look at, especially if you are familiar with or live in San Francisco. I pop in here sometimes after I go kayaking since it's next door. Come and find your house in a miniature version!
7. Explore Fort Baker
There are tons of old military forts and housing area all over the bay area. Fort Baker is the 9th and final "Post-to-Park" conversion in the Golden Gate National Parks. It's a 335-acre former 1905 U.S. Army post that's next to the Cavallo Point Lodge. Think: tons of cute white buildings with red roofs and lots of trees.
This fort also has a great view of the Golden Gate Bridge and is right on the water! Come wander the grounds, see the old houses and soak up the history.
8. Bike or Walk the Sausalito Boardwalk
Skip the guided tours and instead do your own bike or walking tour of the city! There is a boardwalk of sorts that runs alongside the water so you can start at one end of Sausalito and walk past the shops, piers, famous restaurants and end up at the cool houseboats.
Other Sausalito points of interest are the Bay Area Discovery Museum and The Marine Mammal Center. I think these would be really fun for kids but aren't exactly my cup of tea.

9. Visit Heath Ceramics Shop
Heath Ceramics is legendary in the Bay Area for beautiful handcrafted ceramics. This spring I stood in line for close to 2 hours just to shop their sample sale and those are some of my most coveted plates now.
Everything is handmade in Sausalito with a huge focus on sustainability and creating home products that are elevated and timeless. Make sure to stop by their store while in Sausalito! It's one of those special places and companies that are really doing good things.
10. Go Kayaking or SUP
OMG I love kayaking in Sausalito! So much so that I actually joined a club there so if you go kayaking, you may see me (I go a few times a week!) There's tons of sea lions, birds and houseboats to look at, and a killer view of the San Francisco skyline and Angel Island. Sometimes I even see jellyfish if the water is calm enough.
You can take guided kayak tours go rent on your own. Richardson's Bay is a super calm water (not like San Francisco bay which is choppy and has like, whales that may breach under you!) Come on over for a paddle, just book something online first.
11. Go Swimming
On a hot day, nothing feels better than jumping into the cool bay water. I paddle by two very popular swimming beaches all the time and I'm always really tempted to dock my kayak and join them for a swim (but I never remember to wear a swimsuit, opps!)
Sausalito Beach and Schoonmaker Beach are two great spots to go for a swim, or at least dip your feet in the water. I don't believe either are dog friendly, but double check before you bring your pup.
12. Take A Seaplane Tour!!
If you're wandering around Sausalito, you'll probably notice a little yellow seaplane dancing in the sky abobe. Well, you can book a tour on that plane! The Sausalito Seaplane is iconic and famous. It takes off near the houseboats and flies you over Sausalito so you have an epic view of Tiburon, Strawberry Island, Angel Island and San Francisco.
Best part? You can cancel up to 24 hours in advance so if the forecast is calling for tons of fog (aka no epic views of the Golden Gate Bridge or Marin Headlands) you can cancel. This is truly a bucket list thing to do Sausalito offers. Book it now.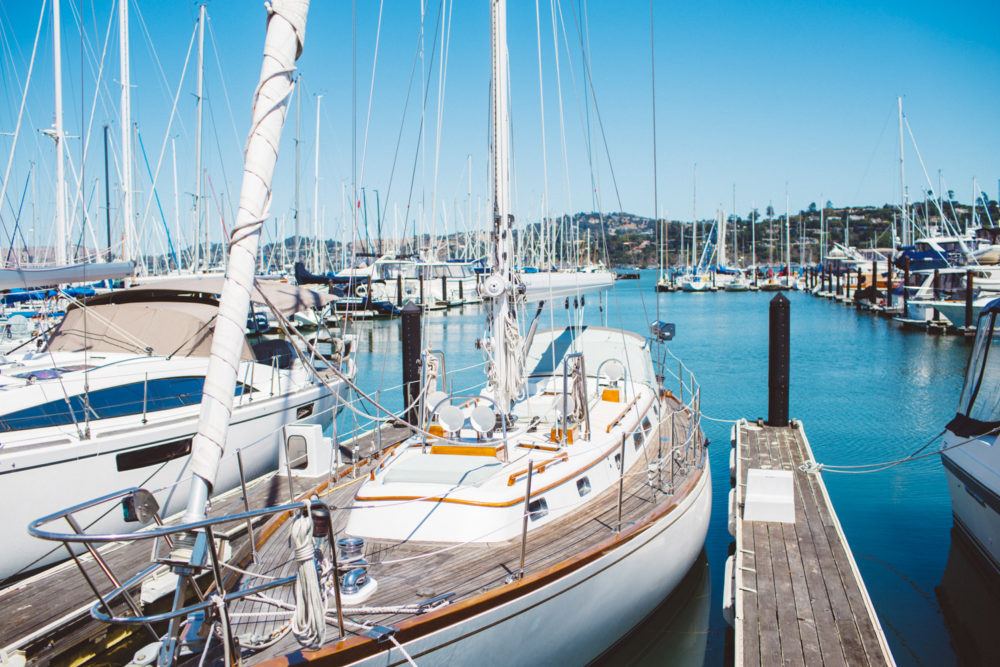 My Favorite Sausalito Restaurants
Our favorite eats in Sausalito! Since it's a Bay-side city, there is tons of fresh seafood. Here are the spots worth visiting in my opinion.
Poggio: OMG is pretty much the best way to describe Poggio. We tried a lot of their menu and while and everything is tasty, I'm still daydreaming about the pizza we had. Gorgonzola and figs *cue drooling* Sit outside for fresh air, order a house craft cocktail, tarte to share and at least one pizza for the table. You'll have the best dinner in town!
Fred's: I went here on a previous trip with some girlfriends. We swung by before heading on to a weekend trip to wine country. We LOVED this little hole in the wall – they have simply the best classic American breakfast around, and it's a good bang for your buck. It has a communal table style, so expect to share their large tables with other parties. It's kind of the charm, you know?
Scoma's: Scoma's is probably the most famous seafood restaurant in Sausalito. It's that blue building right on the water! We haven't eaten hear personally but have heard good things about the menu.
Cibo: Looking for a quick coffee shop to grab breakfast in the morning? Cibo is a local's favorite for craft coffee and quick eats!
Le Garage: I love brunch here! Located right next to the docks, I adored filling up on eggs benedict on a patio just steps away from cute sailboats. No better way to fuel up for a fun day exploring Sausalito!
Bar Bocce: Waterside bar overlooking the bay with Bocce courts, sourdough pizza, drinks and firepits. It's a whole vibe, especially for brunch since it's near the Sausalito Ferry Terminal so San Francisco folks will ferry on over on weekends.
Fish: Fish is THE fish spot in Sausalito. I love coming here for lunch. The line can be a bit long, but it's so worth it for their Tuna Melts, oysters, soups, lobster rolls, fish and chips… *drooling*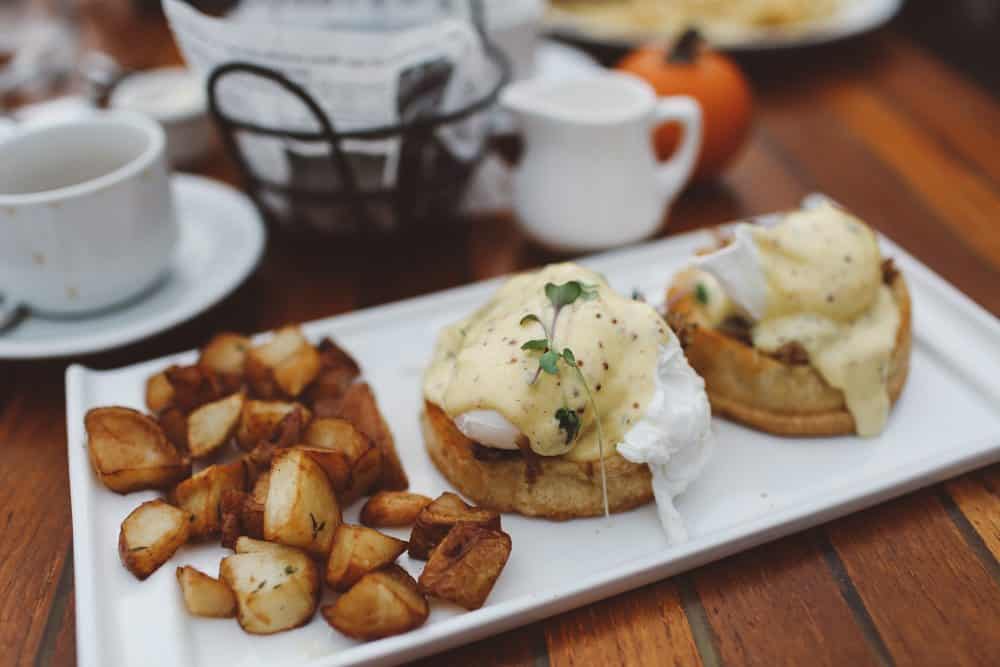 Best Sausalito Hotels
I highly recommend spending the night in Sausalito! After a dinner stuffing myself with seafood and drinks, it's easier to just stay put for that famous Bay Area sunset and cozy up in a hotel instead of heading back into San Francisco.
Casa Madrona Hotel
Located in downtown Sausalito, Casa Madrona is THE place to stay overnight in the city! We've never stayed at a place like Casa Madrona before, it's utterly unique. Sausalito is a hilly city so this hotel built their rooms up along the hillside, meaning almost every room has some sort of view of the bay.
We stayed in a room with a sweeping patio – I loved drinking wine on it in the afternoon and sipping coffee while watching sailboats in the morning. The hotel constantly has specials for the seasons – we took advantage of their chocolate and wine special (it was waiting in our room on arrival!) Casa Madrona also has a spa, which we didn't get to try this time around but I would love to come back for another (almost) staycation. Read my full review on Casa Madrona in this post.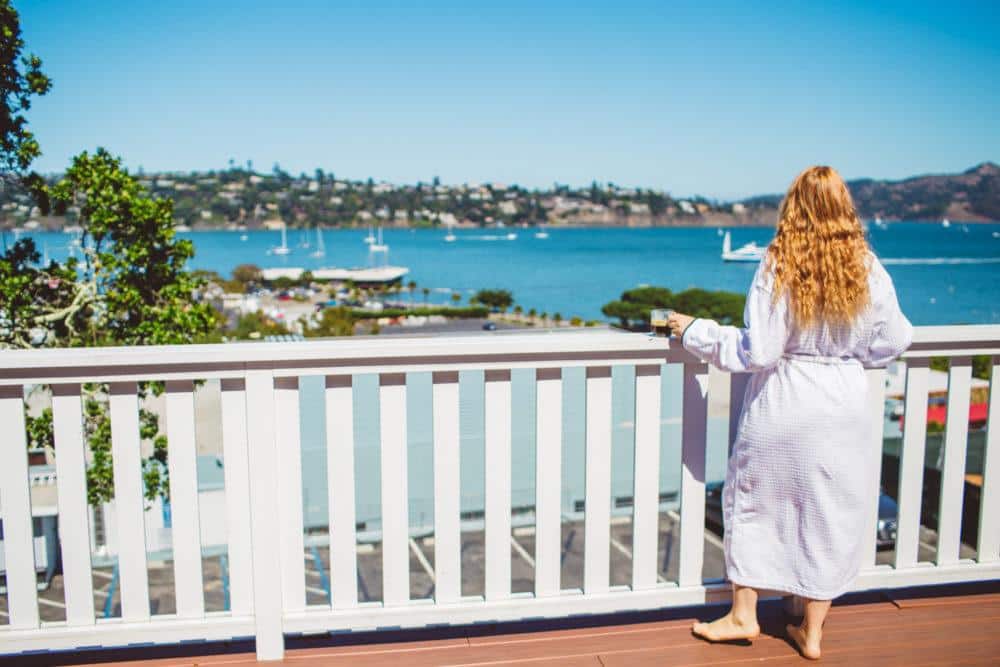 Houseboat Vacation Rental
We love using Airbnb and VRBO when we travel to find super unique spots. Why not sleep like a local in a houseboat while visiting Sausalito? It would be so cool to wake up literally on the water. Try this cute one with a rooftop and a free kayak rental!
Cavallo Point Lodge
I have such a soft spot for this hotel. I've never actually stayed as a guest, but I've had lunch at their restaurant a few times and love the property. Cavallo Point Lodge is a luxury hotel super close to the Golden Gate Bridge and thus has epic views of the San Francisco skyline and Bay.
It has a lot of buildings and trees, so it's very tranquil. And, I hear they have an AMAZING day spa which I really need to visit one of these days. Even if you don't want to book a night here, one of the most romantic things to do in Sausalito is stroll around here at sunset. The property is almost like a mini park. I know folks who got engaged at the pier over there!
Sausalito is small but beloved, which translates to: it's one of those places that can get busy, especially on holiday weekends like the one we visited on when capturing images for this post. Any time it's extra foggy & gross in San Francisco, the locals will hop over to Sausalito for ice cream from Lapperts and warmer weather on Richardson Bay.
But, I see it really empty all the time when I come to kayak. It's best to visit Sausalito on a non-holiday weekend, weekdays are better for a more crowd-free experience.
How To Get To Sausalito California
Sausalito Ferry: If you don't have a car, consider taking the San Francisco ferry to Sausalito! It takes about 30 minutes and picks up downtown
Driving The Golden Gate Bridge: Depending on where you live in the city (or where your hotel is) the drive over can take just 15 minutes to closer to 45 if there's a lot of city traffic. You get stunning views of the city and bay (if it's clear that day!)
Bike Over: I don't recommend this one, but I have seen tourists bike over from San Francisco. It's not fair, but extremely hilly as you pass through the Golden Gate National Recreation Area, over the bridge and down a hill (and vice versa). I can't imagine the return trip would be very easy or fun! The Bay isn't like other major cities like New York City where it's mostly flat. We have hills for dayssss.
Sausalito Weather Is Warm & Sunny
Most of the time, that is! I've done some chilly morning paddles in the winter, but most of the time expect Sausalito to be warm and sunny, and even hot in the summer. It can get pretty windy June-August in the afternoon, so if you are doing any sailing or activities near the water, don't wear your favorite hat.
The sunshine over here makes it one of the best quick weekend getaways from San Francisco.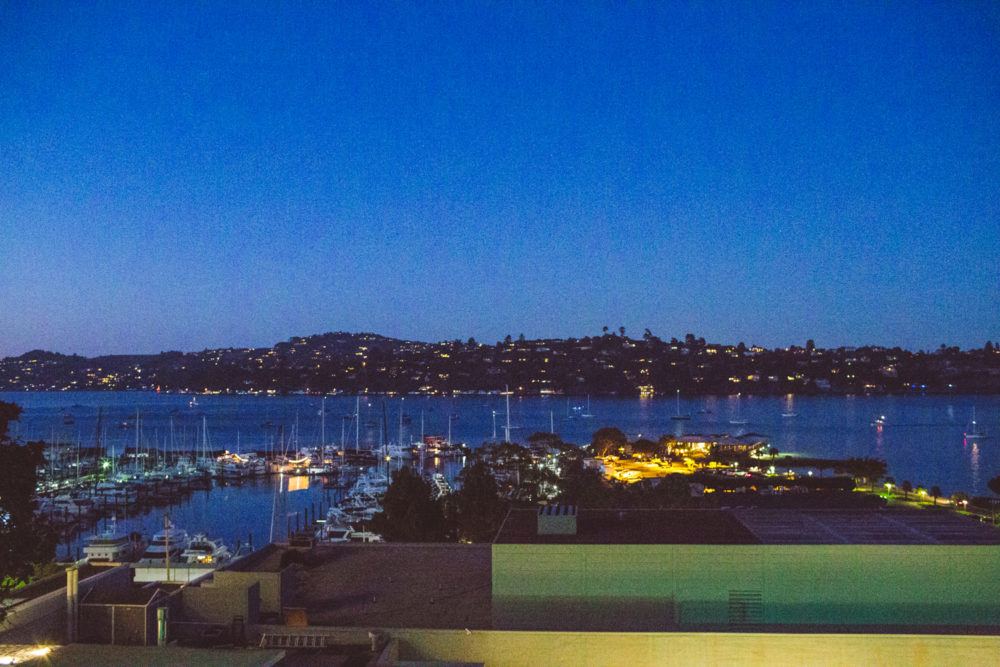 I hope this helps you figure out what to do in Sausalito! I love this tiny charming city and I hope you go explore it for a day, a weekend or longer! If you have any tips to add, leave a comment below so everyone can see. If you have questions, comment or DM me on Instagram @thewhimsysoul and I'll be happy to help!
Other Posts You May Like