If magical beasts and fairies were real, you'd find them in the Isle of Skye Scotland. Everything about this country oozes beauty but I fell especially hard for the Scottish Highlands.
Maybe it's because I swear Hogwarts was going to pop out around any given corner or maybe it was the tiny waterfalls cascading down hundreds of feet on hillsides, but I would travel back to the Isle of Skye in a heartbeat.
If you're looking for a killer trip planner, my Isle of Skye Itinerary For A MAGICAL Scotland Vacation is your one-stop-shop! In this post I'll be sharing what you should do each day, which hotels are my favorite, my top recommended things to do and tons of insider tips!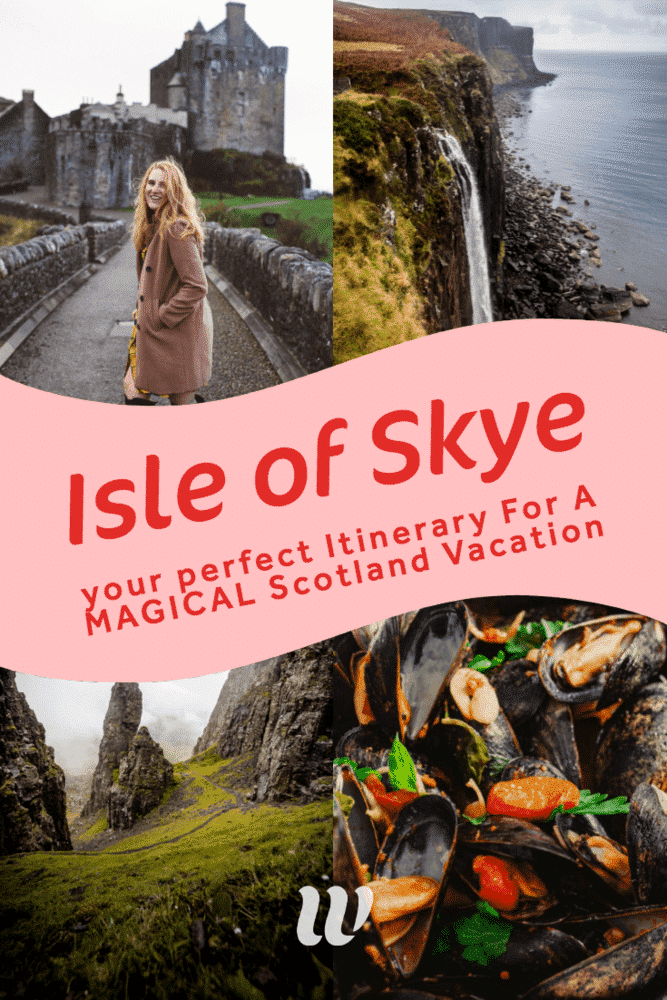 3 Day Isle of Skye itinerary
2 days in Isle of Skye isn't enough and honestly, 3 is pushing it a bit but I got you covered with the best long weekend itinerary out there! I would easily spend a whole week here and not get bored, but that's just me. I recommend you do a three day weekend at the very least, so you have breathing room to see (and eat!) all the good stuff.
The Isle aka " island of Skye " is on the Northern part of Scotland and takes about a 4 hour drive from Edinburgh. You can do a weekend trip from somewhere else in Scotland if you live there (lucky!) but I personally had it in the middle of our Scotland Road trip on our honeymoon.
My husband and I started in Ireland and took a boat trip across to Scotland. We drove through Glasgow, up to Loch Lomond for a few nights, and then up for an Isle of Skye trip before heading back South to Edinburgh (eventually ending up in London!)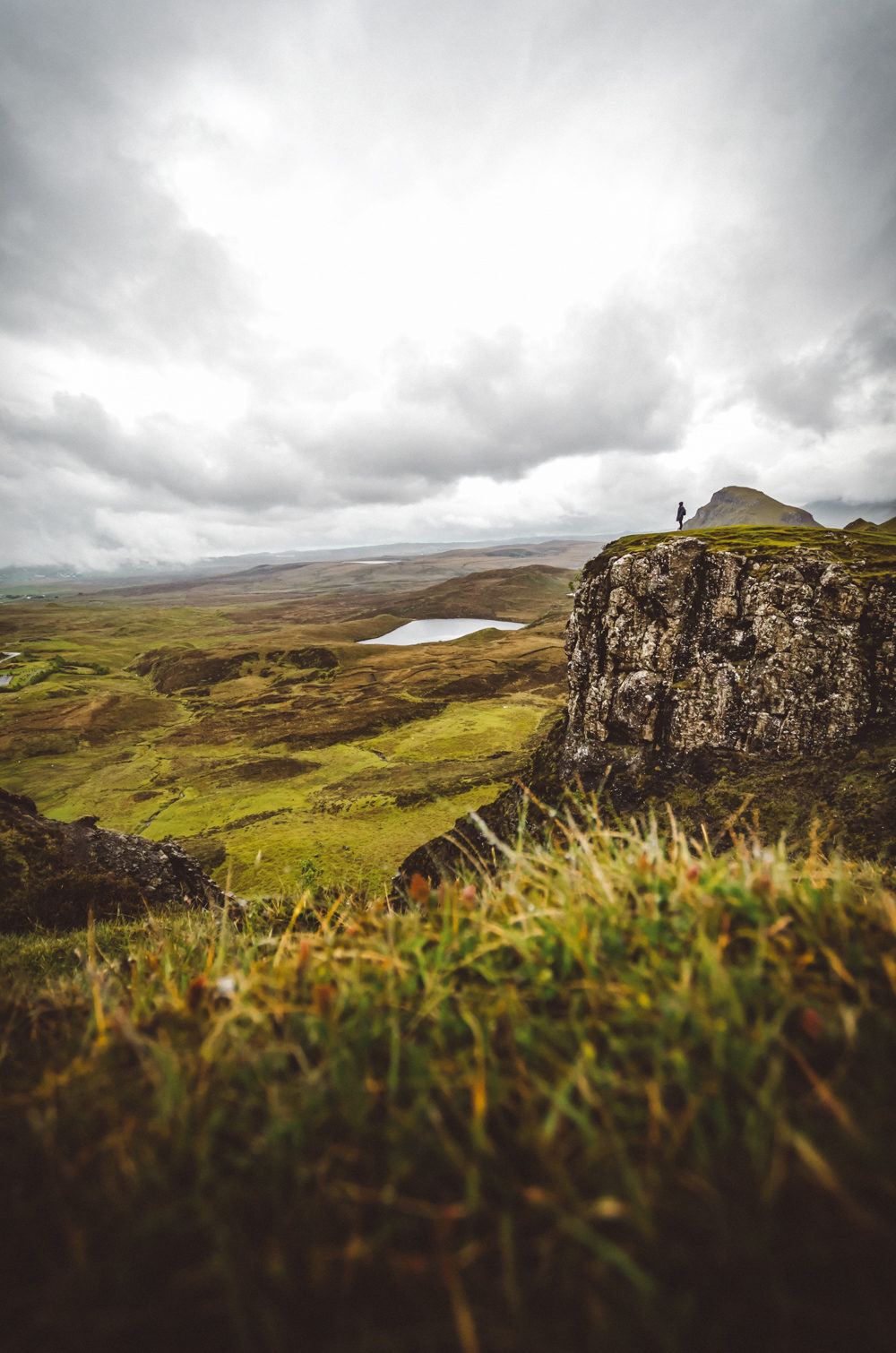 How To Get To The Isle of Skye
Edinburgh to Isle of Skye itinerary: 191 miles / 4 hours
Glasgow to Isle of Skye: 173 miles / 3 hours and 50 minutes
Inverness to Isle of Skye: 69 miles / 1 hour and 45 minutes
My husband and I already know one day we want to return strictly for an "isle hopping" tour of Scotland so we can visit all the other cool isles. Each kinda has its own thing going on. He's really eager to visit the Isle of Islay so we can sip whiskey at the legendary Lagavulin!
Best Isle of Skye Hotels
Before we jump into your day by day, let's chat hotels! There are a LOT of Isle of Skye accommodations. Everything from budget hotels, B&Bs to luxury castles or manors.
Where you stay is really important, which is why I recommend you place yourself near Portree. Portree is sort of in the center of all the fun stuff, so this will help you manage time and driving mileage so you won't spend your whole trip in the car. It may be tempting to book a luxury hotel near, let's say, the famous Loch Coruisk but it's too far south for an itinerary like this, so I recommend against it.
We stayed a B&B which was just ok, not the greatest so I'm not going to recommend it. Here are 3 places I would stay when we return:
Sligachan Hotel: I had FOMO from not staying here. We kept driving past it and it looked nice. It's a bit outside of Portree but on a lot of land, perfect for strolling around in the morning. It's also nextdoor to a brewery, s you can hunker down with drinks after a long day of exploring!
Skeabost Hotel: Just a short drive outside of Portree is this castle-like manor house that sits right on Snizort. It also has a golf course!
Cuillin Hills Hotel: On over 15 acres, this hotel is known for stunning views of Portree and the surrounding mountains. Hence the name of its famous restaurant, " "!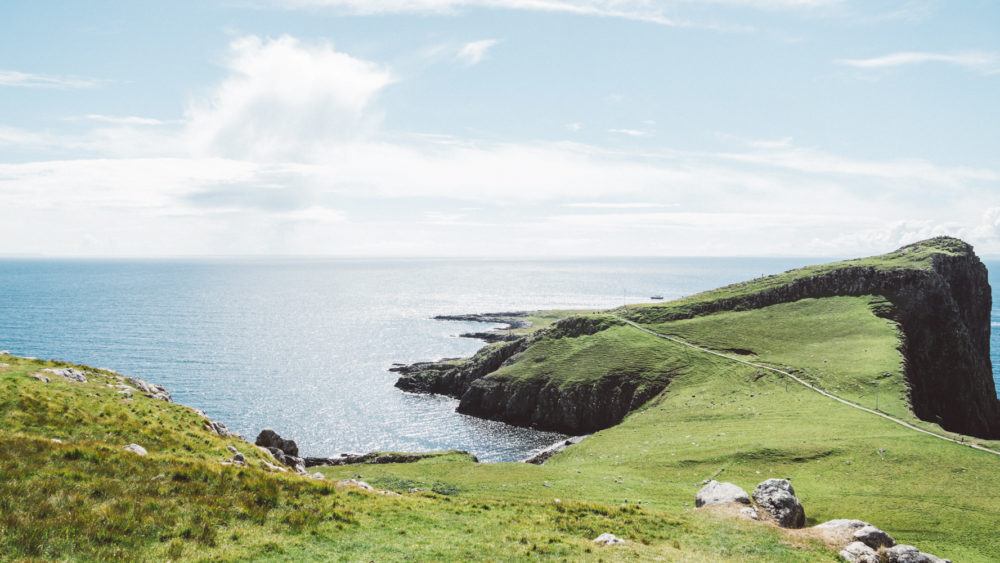 Alright, let's get started!
Day One
Your first stop will be the Eilean Donan Castle which sits at the gateway to the Isle of Skye! It's ticketed, you can easily buy the tickets there at the office, no need to purchase ahead of time. It can get crowded in the afternoon, but the castle is large.
Once an operating 13th century castle, this site eventually made its way to a wealthy family which restored it to former glory in the 1930s. Some of the rooms are set up like a museum, which goes over the history, and some are preserved in decorations. It's such a special, cool spot to start your trip!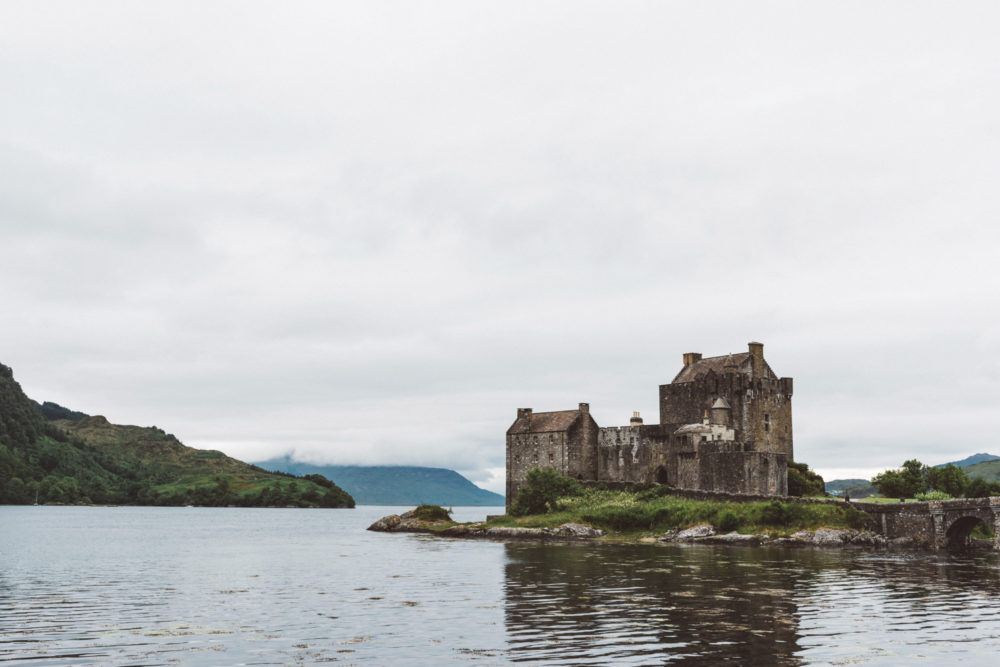 After exploring the castle, head to your hotel and check-in, or drop your bags off if you can't check in yet. Stretch your legs and get ready to drive to Dunvegan Castle and the famous Neist Point Lighthouse on the West Side of the isle. Dunvegan Castle is extra famous for the gardens on the surrounding property. Stroll along hand in hand with your bae for a romantic afternoon!
Then, pop over to the Neist Point Lighthouse about a 25-minute drive away. It sits on the edge of a cliff and visitors love the walk down, frequently describing how it feels like you are standing on the edge of the world. The lighthouse is extra pretty during sunset, but let's be real. Its Scotland, it's beautiful all the time
On your way back to your hotel you'll probably be close to the famous Fairy Pools. The car park is a short walk from the pools, so if you have energy check them out as well! We visited at sunrise one morning and had the whole place to ourselves. I swear I felt magic in the air.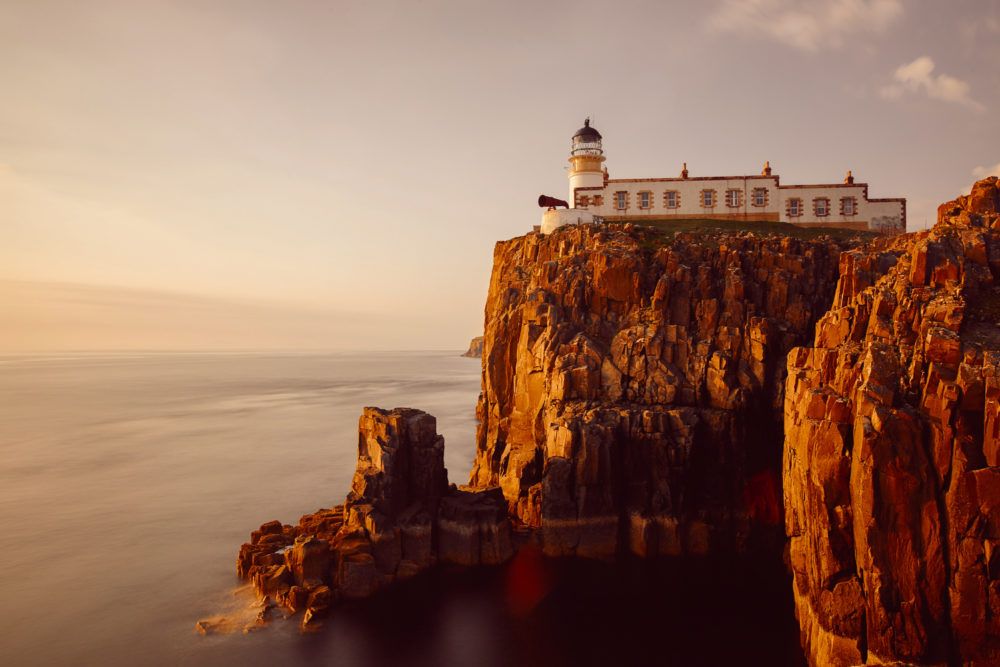 After this long day of exploring and soaking up the views, I recommend you grab dinner at the restaurant inside your hotel. Have a glass (or two) of local whiskey or beer. Order a soup or seafood, it's amazing up here. Sit back and relax, get ready for another fantastic day!
Day Two
Today we'll be exploring the other "finger" of the Isle of Skye. Set your alarms early – before sunrise if you can muster it. The famous Fairy Glen Uig is something we missed but I always wish we visited (we went to the pools instead which were amazing but I wish we came here!)
The really cool site is the "fairy ring" of stones. This area can get crowded during the day and I think all those people and noise ruins the magic. So, head there right at sunrise to have the whole place to yourself.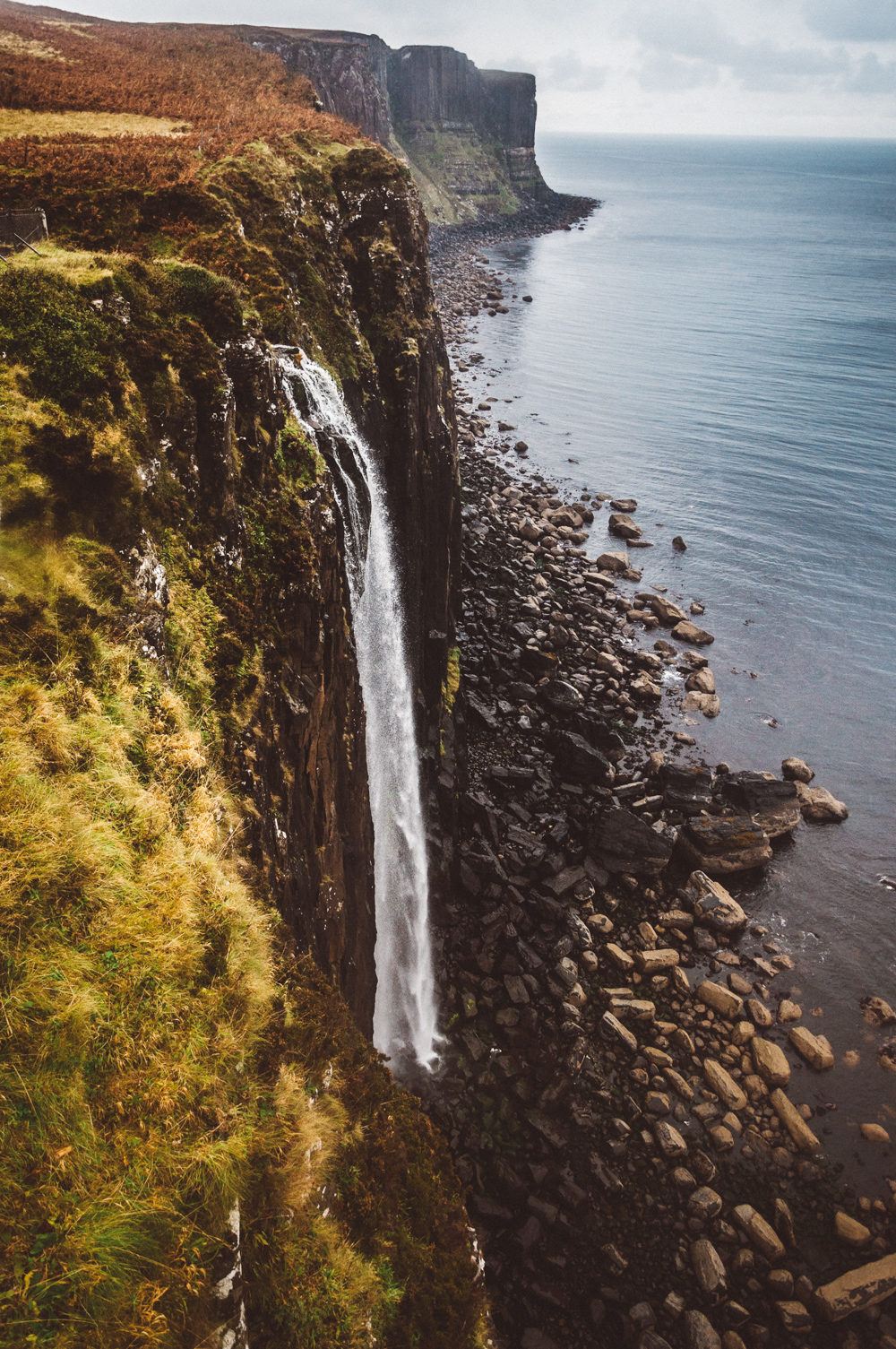 After your sunrise adventure, grab breakfast on your way to the Kilt Rock and Mealt Falls! This is about a 30-minute drive away. Kilt Rock is kind of like the Scottish version of the Cliffs of Moher. It's a huge cliff that apparently looks like a kilt, you know, the skirts!
On the side is Mealt Falls, a huge waterfall cascading down into the ocean. BEAUTIFUL! It's extra powerful after a lot of rain so if you've had rain on your trip, expect to be extra wowed by this one.
After your waterfall gazing, head into downtown Portree to explore all the cute shops! Make sure you set your alarms for 5pm and book it to Sea Breezes down by the harbor. This was one of my favorite meals on our entire 3-week honeymoon!
Grab a huge seafood platter here and drinks. Sit back and feast!
Sea Breezes is only open for dinner and only takes walk-ins. They open doors at 5:30pm. We lucked out and were couple 2 or 3, so we were able to get sets rigth by the window which offered stunning views of the harbor as we dined! Within 10 minutes the whole place filled up and people ended up having ot wait for hours for a table.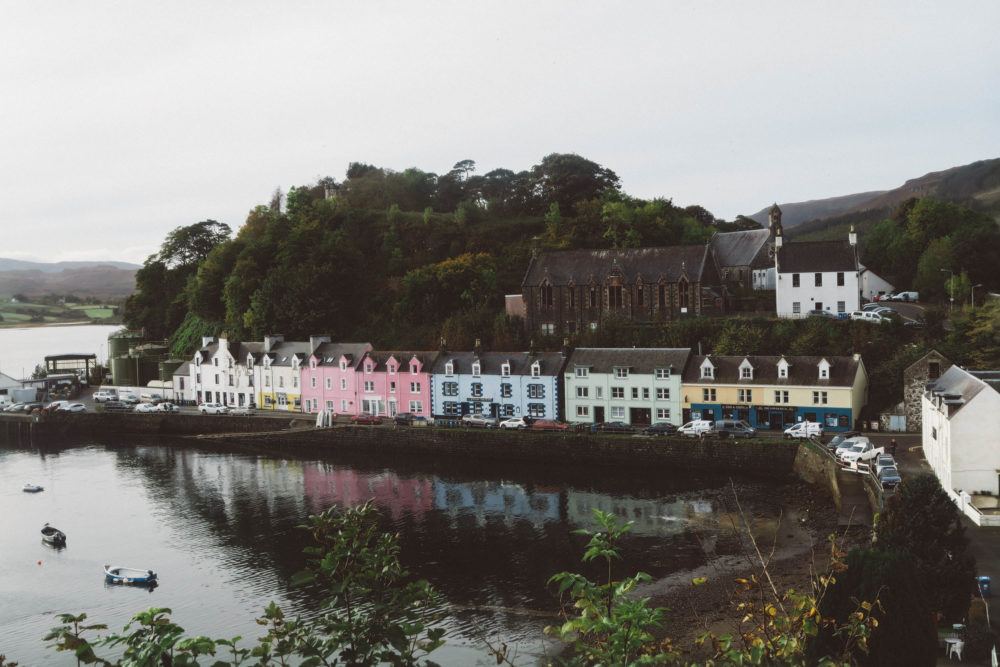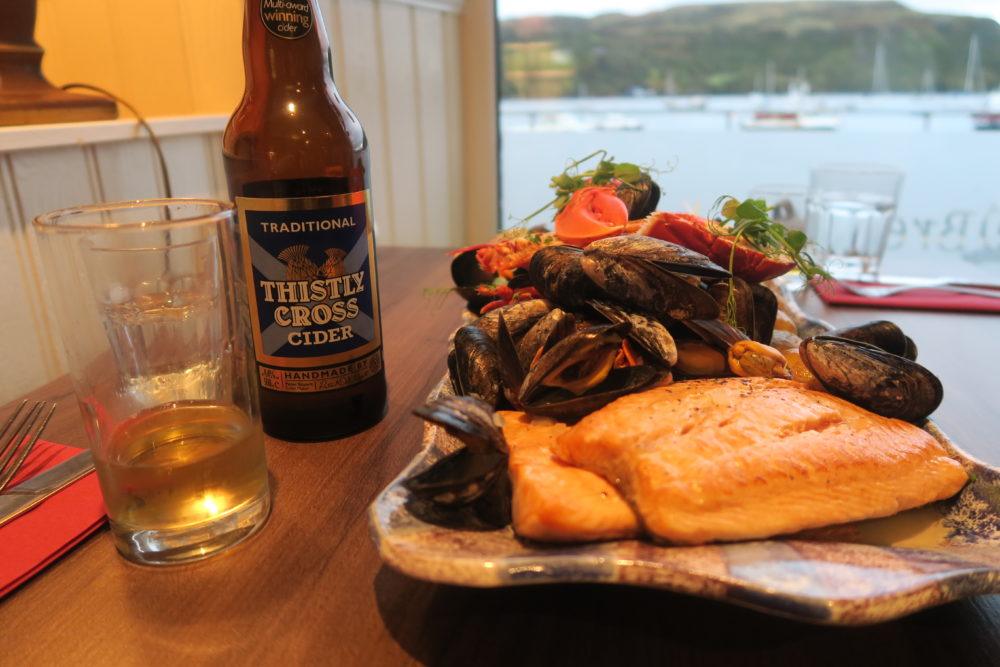 Day Three
Even though we were both battling really bad colds on this leg of our trip, I loved visiting the Old Man of Storr. I had originally intended on hiking all the way past it for that classic view of the Storrs with the Sound of Raasay below, but my body was NOT having it.
Located on the Trotternish peninsula, this site is a Sanctuary of sort and centers around a lot of folklore from Scottish history. After it rains, the trail can get really wet, so make sure to wear waterproof hiking boots. Also pack water and snacks and it may take you a couple of hours to hike, depending on how far you go.
I don't know about you, but after hiking, I also love a good drink. Head to the famous Talisker Distillery for a whiskey tasting and tour! My husband adores whiskey and he geeks out whenever we can do a tasting (I think he's had enough of all the Napa Valley wineries we go to and was happy for something different!)
For dinner, it's up to you! Most likely you'll be heading back down South for another leg of your Scotland trip. If you can, stop by Fort William to ride the famous Hogwarts train. Loch Ness is nearby so perhaps you'll be heading there to hunt Nessie?
Best Time To Visit Isle Of Skye
On a parting note, what's the best time of year to visit the Isle of Skye? We visited in October and I adored all the moody autumn vibes, but it was getting chilly in the evenings.
Next time, I think I want to head to Scotland in the summer. There's so many beautiful places to visit in the UK in June anyways so I would probably start in Edinburgh then hit up the Isle of Islay for whisky tasting when the isle is open, before going up to the Isle of Skye and then back down off to England for a proper summer trip.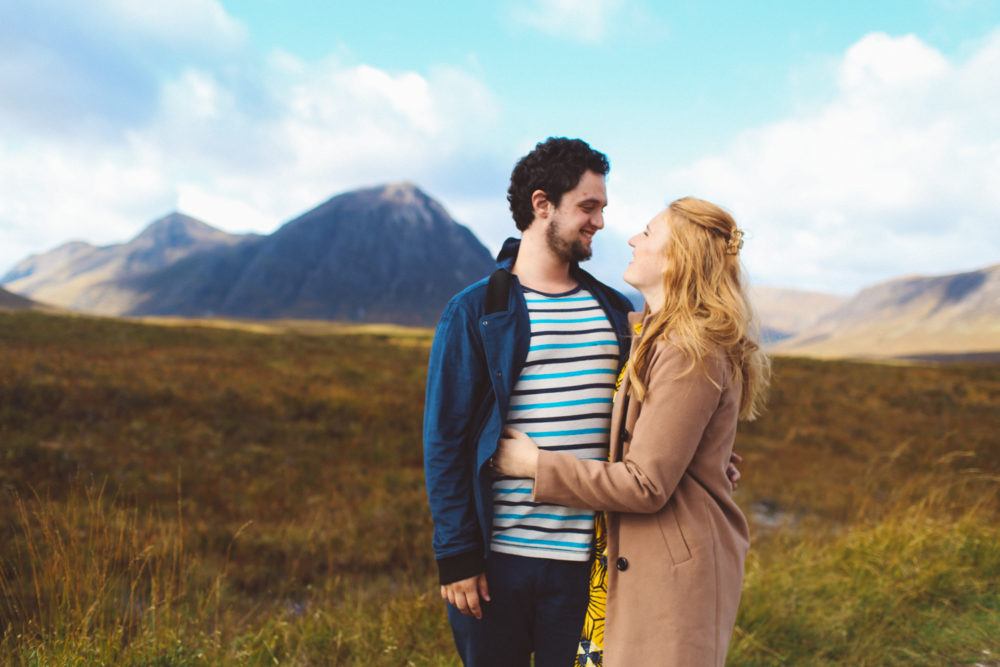 I hope my Isle of Skye itinerary helps you plan the best vacation ever! If you have any questions or tips to add, leave a comment below! Or, DM me on Instagram @thewhimsysoul and I'll be happy to help!
Other Posts You May Like