So, you want to get on the For You Page and have your TikTok videos go viral?
One of the most important hacks you can do to get viral videos is using TikTok hashtags – but not any ole hashtags, they have to be smart and calculated! Don't worry I got your covered. These are the best hashtags for TikTok and my secret strategy for winning this social media platform! It's all about social media strategy, not luck.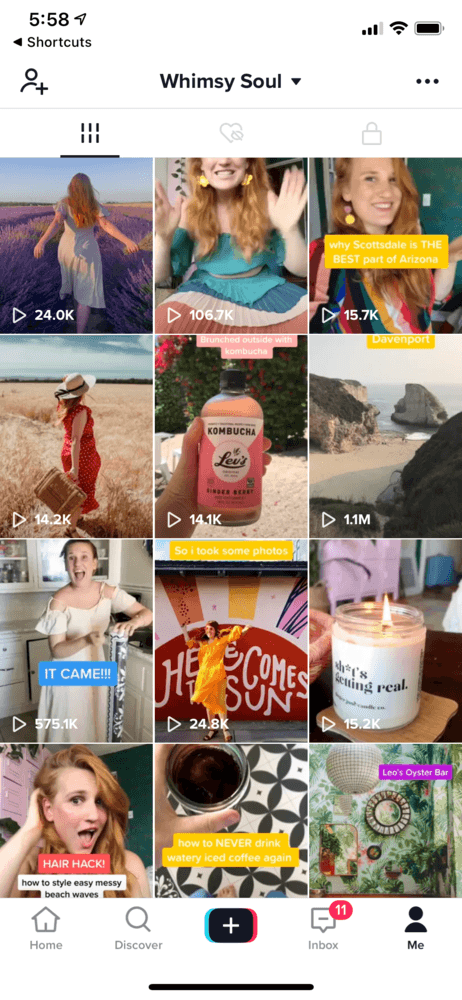 The Tiktok Hashtags That Will Get You On FYP Page 2022
Want to see view numbers like this on your page? You can!! Anyone can go viral on TikTok if you put in the effort of smart content. Here's my TikTok hashtag strategy that you can steal to use on your videos!!
Step 1: Picking Smart Descriptive Hashtags For Your Video
Actually, the very first step is, you need to create a good piece of content. No amount of TikTok secret hashtags can get you viral videos if your video isn't good to begin with. But we're assuming you have a great video and all you need is smart trending hashtags on TikTok to use. What ones do you use??
You'll want to use a combo of:
Broad description hashtags
Niche description hashtag
Location-based hashtags
Viral/trending hashtags
Personal branded hashtags
The amount of hashtags you can use on any given post depends on how long your caption is. It can usually range between 2-7 hashtags. The first step is to pick 1-2 descriptive hashtags. For example, if you are posting a video about glamping, you want to use #glamping (this applies to any social media platforms – broad description is good!)
But, unlike Instagram where using the popular hashtags can actually limit your reach (since there are soo many posts for followers to see yours), hashtags TikTok uses works the opposite way. #glamping tells TikTok what your video is about, and will serve the video to people who like to go glamping and will be more engaged in your video.
Another example: If you are posting a video about a home decor DIY, use broad descriptive hashtags like #homedecor and #diy (or other related hashtags like that.)
Step 2: Niche description hashtag
Now, pick at least one niche hashtag. So, on that home decor video, maybe your decor style is bohemian. So use #boho or #bohodecor to narrow down the topic of video even more. This way TikTok will show your video to people who not only like home decor, but like boho decor styles.
This means the viewers will like your video, comment on it, share it, save it, even follow you. This all tells TikTok that your video is good and they'll serve it to more people on the FYP!
Step 3: Use A Location-Based Hashtag
With this same theory, most videos benefit from a location-based hashtag. For example, if you are posting a video about a secret spot to visit in San Francisco, use #sanfrancisco so TikTok will serve the video to other people who live in the city and will be interested in your video.
If you are sharing a video about 3 coats to wear at New York Fashion Week, make sure you include #nyc or #newyorkcity in your video! You'll also want to use that year's fashion week hashtag (it may be #fashionweek or something else like #nycfashionweek2021)
Some of the top TikTok hashtags in my industry of travel are all based on locations. A smart social media marketing strategy is to lean on the location the video was filmed to get more views. Even if your video isn't about travel, using specific hashtags around location will help your video be served to locals to grow that audience!
Step 4: Use a viral/trending hashtag
Lastly, if you still have space in your caption, throw on a# from one of those branded hashtag challenges or a trending hashtag of the week.
You can find top trending hashtags or branded hashtags by simply typing in # and letting TikTok populate a suggestion. They have a built-in hashtag generator! The branded and trending hashtags will pop up first, usually with a little fire emoji next to them. Brands pay a lot of money to get these hashtags trending so it means that videos with those hashtags have a chance of being promoted more on the FYP so TikTok can impress the brand with high impression counts.
Jumping on trending TikTok hashtags right now / the day they go viral is also a handy trick. As you know, trends come and go so quickly. If you see a pattern of video ideas using the same top trending TikTok hashtag (like when the Ghost Photoshoot went viral this fall) jump on that trend and hashtags ASAP to get more reach and views!
Do you run a business or brand? Consider using hashtags that are all yours – aka branded hashtags! This helps customers or fans find more videos about your product & create a loyal fan base.
I personally use #whimsysoul on all my videos as part of my TikTok marketing strategy. That hashtag now has over 1 million views. It's so popular other people are starting to use it, too. This is an old digital marketing tactic of brand awareness. Folks who find my #whimsysoul hashtag will start to remember the name and recognize me in the future. I may not get a billion views on the hashtag, but it still works for my goals. It's kind of like secret TikTok hashtags.
Codeword: UNICORN
Want some love on your videos? Follow me on TikTok @whimsysoul & dropped the codeword Unicorn (or emoji ?) on my most recent video. I'll go to your profile & if you're following me, I'll shower you with likes and comments. It's a win-win!
Note: if your videos are hateful, sexist, racist, feature animal abuse, etc I will not engage. Also remember that I sleep and work and play with my cat, so please allow me time to engage back. Thank you 🙂
Frequently Asked Questions About TikTok Growth And TikTok Hashtags
Does TikTok Hashtags XYZ or FYP work?
No – using #xyz or #fyp or even #foryourpage no longer work as "secret weapons" for getting your vide on the FYP page or a lot of views. They both used to be new hashtags with not a lot of videos tagged with them, and that's why people thought they were both top hashtags to use. Because, for a while like, 1 year ago, using those hashtags probably did work to get more views. But not anymore. Save your character space for smarter, trending hashtags instead.
What is Best Hashtag For Likes?
I advise against partaking in any #likeforlike or tags for like sort of behavior. It's a huge time suck and that's not how TikTok works – it's a smart enough algorithm to possibly ban you for spammy behavior. Instead, keep working at great content and using popular TikTok hashtags to grow your video views.
What Are The Best TikTok Hashtags For Music?
Are you an emerging artist just trying to go viral? Lean on words like aesthetic and covers. Let's say you make music that is in the same genre of The Lumineers. You can use #folkaesthetic or #thelumineersaesthetic to help people find your music who want to listen to it. You should also be using copy like "same vibe as The Lumineers" to give that extra push.
If you have a cover song, that's easy. Use things like #opheliacover. Add in a few hashtags trending on TikTok and you'll probably get tons of views.
Why Are TikTok Hashtags Red?
Hashtags sometimes appear red for users in the draft/edit mode. This is to help you easily see what copy is part of your caption or description, and what space is used for hashtags. They publish white like normal and they aren't red for everyone.
Should I Get A Pro Account?
If you are serious about growing your TikTok account to become an influencer or using it to market your products then yes, switching to a pro account / a creator account is super useful so you can see all the backend insights and use that data to make educated decisions on what type of content to post.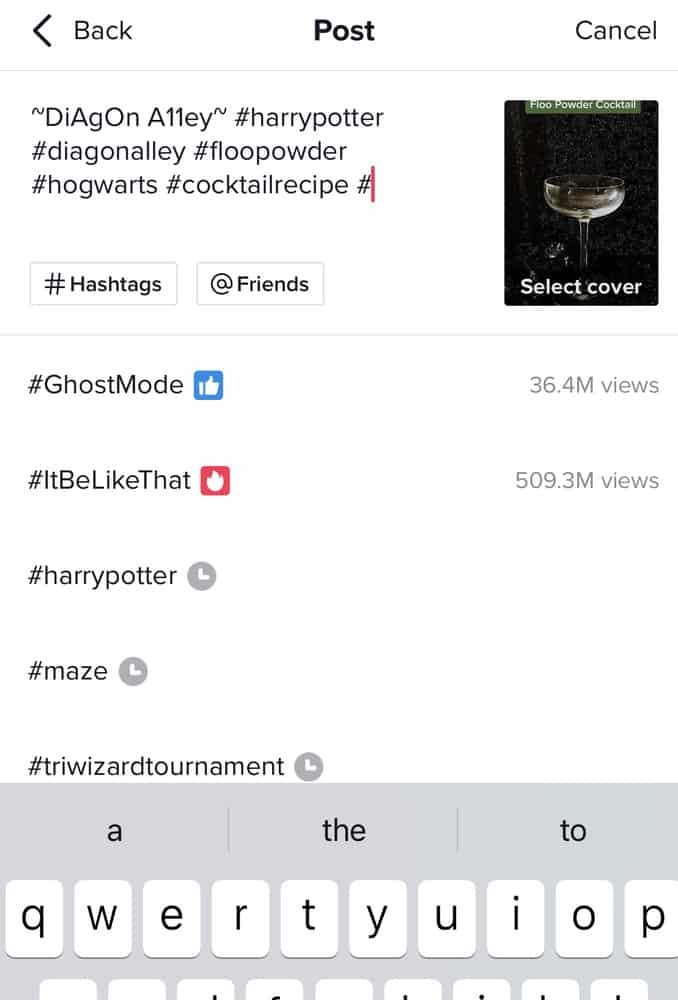 Can you buy me TikTok followers?
Sorry, I can't buy your followers. please don't DM me on Instagram asking me to get you more followers. I do have a blog post sharing tips on how to grow your TikTok account that you should check out.
How Do TikTok Influencers Make Money?
TikTok influencers make money a few different ways (I know because I make money from TikTok as an influencer!) First, I'm part of the Creator Fund, so I earn a few pennies for every video view. It's not a lot of money, usually about $50-100 so I donate that each month. The real money is in sponsored videos via influencer marketing. In this post I share the basic steps for becoming an influencer and landing paid deals!
How Do I Know If My Video Is On The FYP?
Here's the thing: every video posted goes to the FYP. That's how the app works. You have our follow page and FYP page. BUT, when people say they want their video on the FYP, they really mean they want it to go viral, like put on a LOT of For You Pages, not just a few.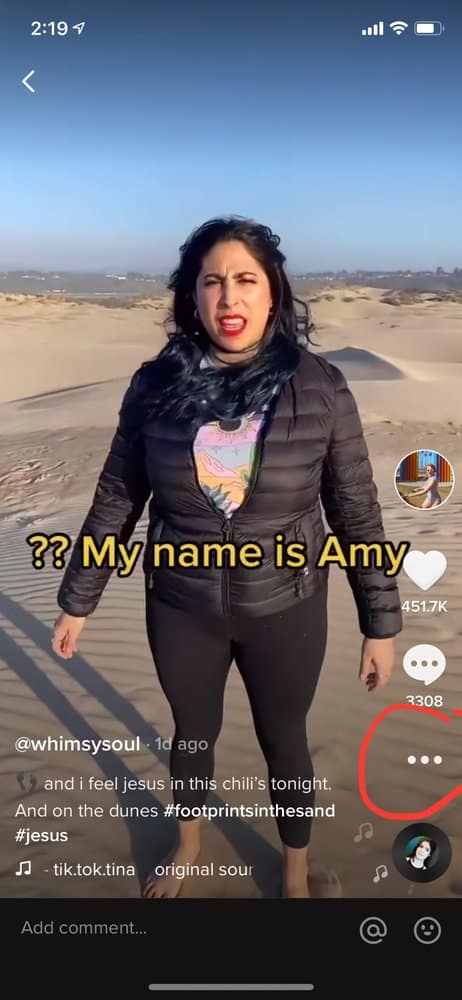 TikTok Hashtags Copy and Paste List
Not sure to even start with my viral hashtags strategy? That's ok! I have the most trending hashtags of the moment broken down by category that you can use on your videos, or use to get ideas on other hashtags to use ideas!
Remember, these should be used as your descriptive hashtag section. You'll still want to also use famous hashtags of the week and location ones in your caption!
Hashtags For Beauty Videos
#beauty
#skincare
#makeup
#beautyhaul
#beautyhacks
#beautytips
Hashtags for Fashion Videos
#fashion
#ootd
#curvystyle
#plussize
#curvy
#fallstyle
#summerstyle
#winterstyle
#springstyle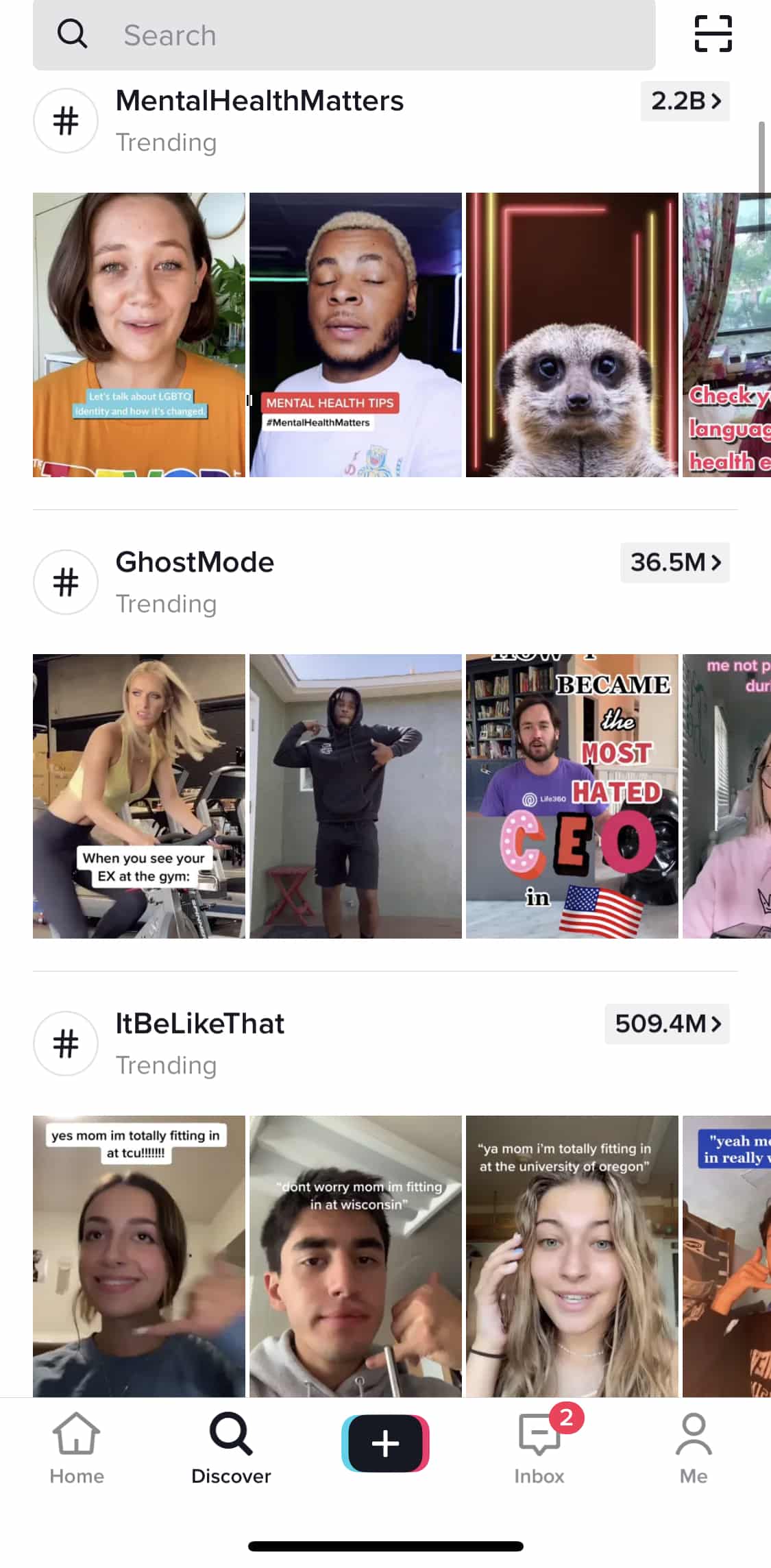 Hashtags for Travel Videos
#travel
#whimsysoul
#tiktoktravel
#travelback
#roadtrip
#adventure
#cute
#lol
#hotel
#luxurytravel
#budgettravel
#hiking
#adventuretime
#visit*insert destination here*
Hashtags For Funny Videos
#funny
#blooper
#comedy
#prank
#joke
Hashtags for Pet Videos
#cat
#dog
#cute
#petoftiktok
#bestfriend
#furbaby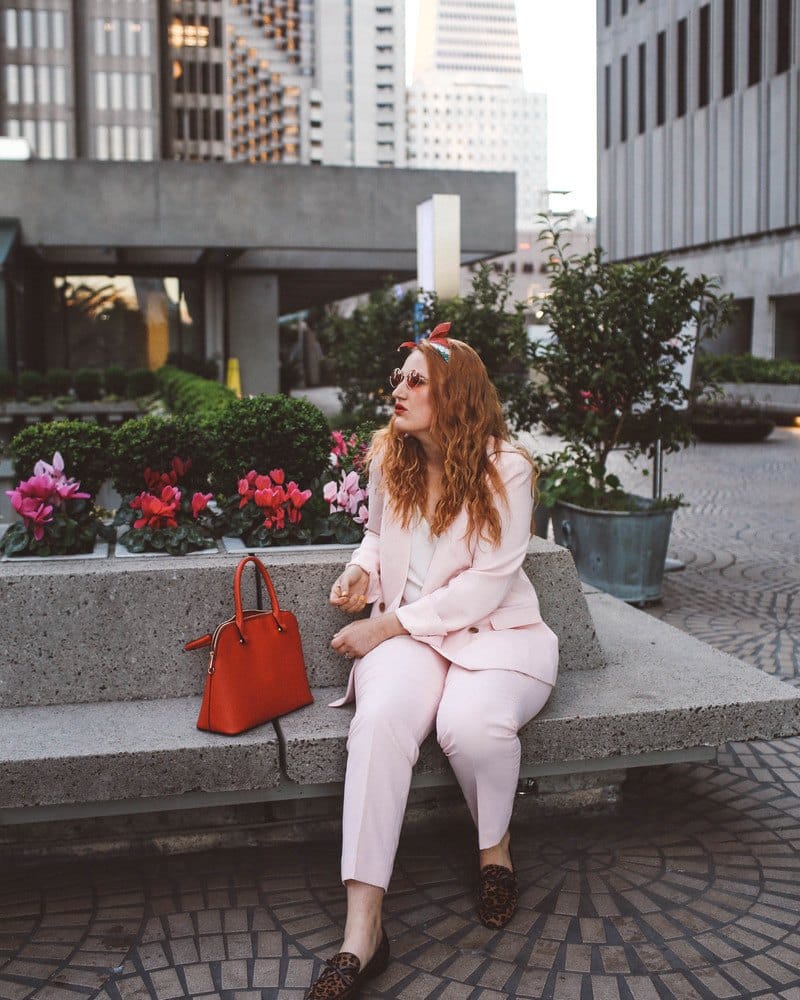 Hashtags For Home Decor Videos
#homedecor
#diy
#farmhouse
#decor
#decorhacks
#homesweethome
#hometour
#apartmenttour
Hashtags For Dancing Videos
#dancechallenge
#dancemoves
#dancetutorial
#learnfromme
#charlie
#music
#dance
These are good starting points to use, but if you need more ideas you can also use a TikTok Hashtag Generator like this one. You'll need to input some ideas to start, but then it'll give you suggestions. They aren't always the best, you still need to use some human brainpower to ensure it's picking hashtags that make sense.
Just like with any AI, they have faults but in general, you can use it to help you find large hashtags that are trending right now.
Alright, I hope this helps you find the most popular hashtags for your video topic so you can go viral, get those followers to make those sales and have fun knowing your video got on the FYP!
If you have any tips to add, leave a comment below. And while you're here, make sure to follow me on TikTok so we can connect!!! Don't forget to sign up for my free email course, too!