I kind of felt like I walked onto the set of Avatar when wandering the 'Entwined' enchanted forest of lights.
These special pop-up Golden Gate Park lights can only be described as MAGIC… or maybe like an alien planet. Either way, my husband and I walked over to visit on the opening night and I fell in love. He practically had to pry me away from the art installation and I absolutely will be returning a few times before it goes away.
If you're in the San Francisco Bay Area (or visiting the city) put this on your bucket list! I have all the tips and information for visiting the 'Entwined' lighted forest in this post for you
Entwined Location: Peacock Meadow in Golden Gate Park, San Francisco
Tickets: Totally free, no tickets needed!
Best time to visit: Lights turn on at dusk. Come when it's fully dark out to get alien planet vibes.
Safety: Masks are required and you must be practicing social distancing when visiting
Robin and I live in the Inner Sunset so it was easy for us to walk over to Peacock Meadow to visit Entwined. Parking is really hard over here, so I don't recommend driving your own car. Instead, walk or take an Uber.
You'll be able to spot the installation through the trees from pretty far away. The colorful changing lights look like a giant disco party. I almost wanted to start playing EDM music on my phone – Entwined really sparks so much inner joy when you see it.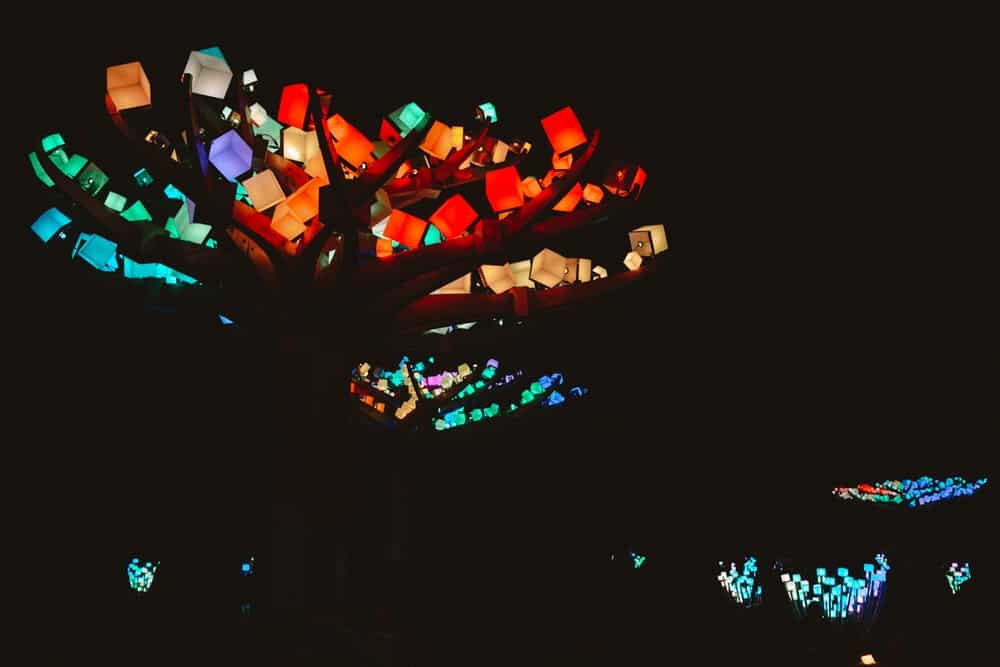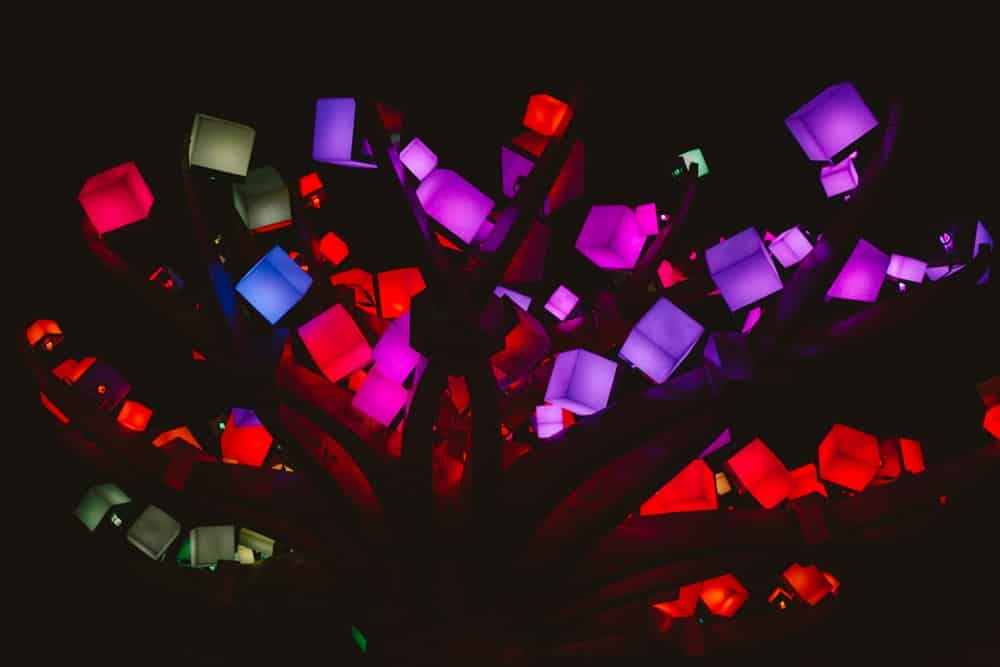 The three Entwined sculptural trees are just one of the many installations put up this year in celebration of the Golden Gate Park 150th anniversary hosted by the San Francisco Parks Alliance. (You may have noticed the 180 foot observation wheel next to the California Academy of Science – the Ferris wheel is another tribute to honor Golden Gate Park!)
Entwined was created by San Francisco artist Charles Gadeken. Parts of the forest have been installed at the Electric Daisy Carnival Vegas and Canada's Toronto Light Festival, so you may see other photos floating around the internet.
This light forest is a temporary art installation, up now (December 2020) until the end of February 2021... though I really really wish they would make it permanent. As you can probably tell from the name of my blog, I'm a lover of art and whimsy, and this whimsical wonderland of lights is an extra special way to experience Golden Gate Park.
There's nothing else like this in the city, or the Bay Area. And while I'm personally working on embracing the fleeting moments of life and being comfortable with the temporary, the change that comes with being human – I'm also selfish and want to be able to walk over to Entwined any night I want for years to come.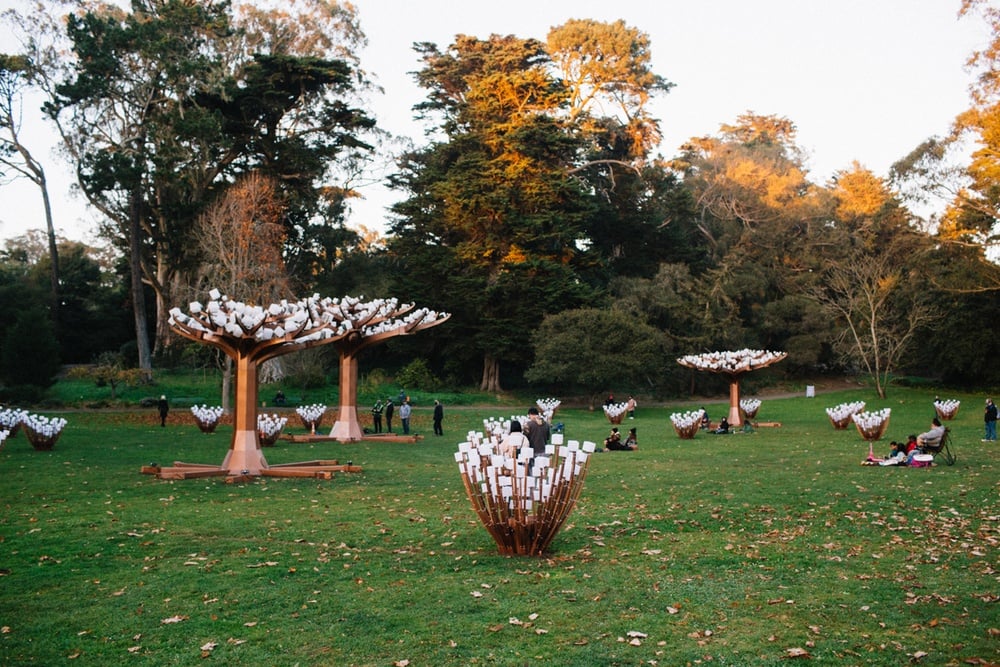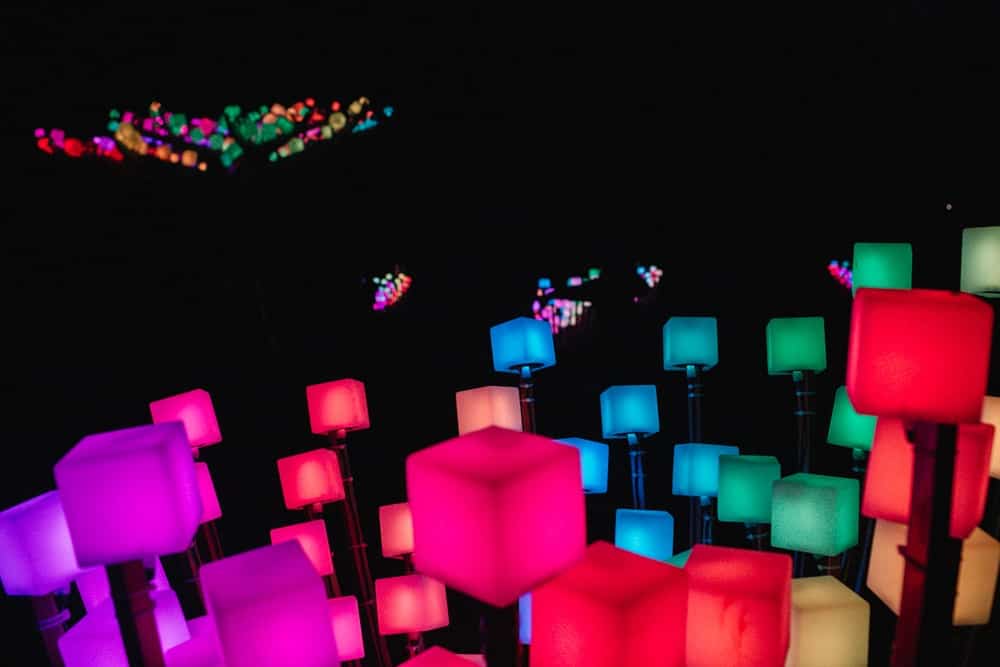 I hope you make it over to these Rainbow Trees in Golden Gate Park!
After wandering around this whimsical wonderland, make sure to stop by McLaren Lodge to see their giant official holiday tree and also to the Converstaroy of Flowers. They project colored lights onto the Conservatory and it's so so pretty! And check out my guide for finding the best Christmas lights in San Francisco and the Bay Area (includes my favorite holiday events in the city!)
Looking for more fun things to do in in the park? Check out my Golden Gate Park map highlighting all my favorite gems!
>> Got a question about the San Francisco that you need answered quickly? DM me on Instagram @thewhimsysoul and I'll be happy to help!