First you need to know: I'm a basic Christmas betch. I'm that – day after Thanksgiving the tree goes up, Jingle Bell Rock is turned on loud, consuming more Trader Joe's Peppermint Bark than my doctor would probably want me to – kinda girl. Christmas is MY JAM.
And one thing I really love about living in San Francisco is getting to surprise everyone with just how festive this city gets around the holiday season. Who needs snow when you have huge light displays in Golden Gate Park or ice skating rinks around 100-foot trees or Victorian houses that look like Santa threw up on them? I know all the good spots & sharing them with you. Keep reading for my guide to San Francisco Christmas lights!
Christmas Lights in San Francisco: 15 Magical Spots To View Holiday Displays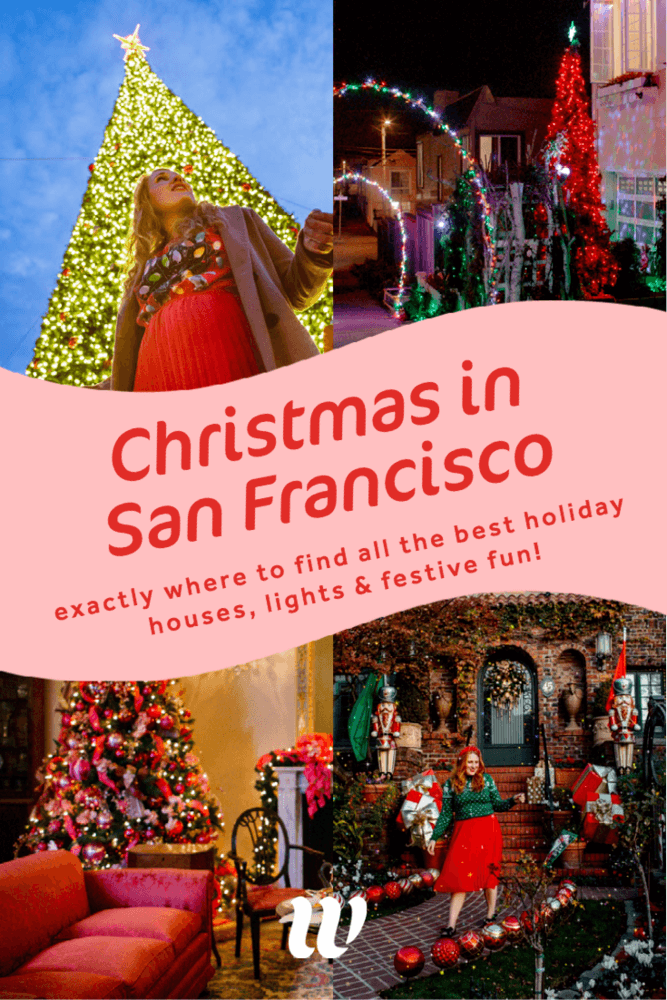 >> Got a question about Christmas in San Francisco that you need answered quickly? DM me on Instagram @thewhimsysoul and I'll be happy to help!
So, usually, in December, I'm running around the world visiting magical Christmas towns like Leavenworth, Washington, or sipping Holiday High Tea at famous (and low-key haunted) Canadian hotels. It's our holiday tradition to take a Christmas trip, but of course, 2020 got in the way of that.
Luckily, San Francisco has some AMAZINGLY whimsical and beautiful holiday lights and fun Christmas events all season long. And I'm honestly surprised about how I just keep finding more and more light displays around the city. Some are truly hidden (until now!)
Where The Find The Best San Francisco Christmas Lights
I'll be keeping this post updated as I discover more fun houses and light displays to visit around the Bay Area! If you know of a great spot that isn't in this post, comment below or DM me on Instagram @thewhimsysoul so I can add it to this list!
68 Castro Street House
This house is like, THE Christmas house to visit. Every year it's decked in string lights, giant candy canes, tinsel and so so much more. It looks like Santa threw up on it, I love it. The best time to visit this house is at dusk when the lights are on & twinkling, but there's still enough daylight to soak in all the details on the house.
We didn't meet the owners, but we did chat briefly with some friends of the owner who told us a whole crew is hired each year to decorate and it only takes them about 8 hours, so they get it up FAST.
Castro Rainbow Tree
Located on the same street as the 68 Castro House (just down about a mile) is the famous Castro Rainbow Tree on the corner of 18th and Castro Street. This one is best viewed in the daytime so you can take in all the colors properly.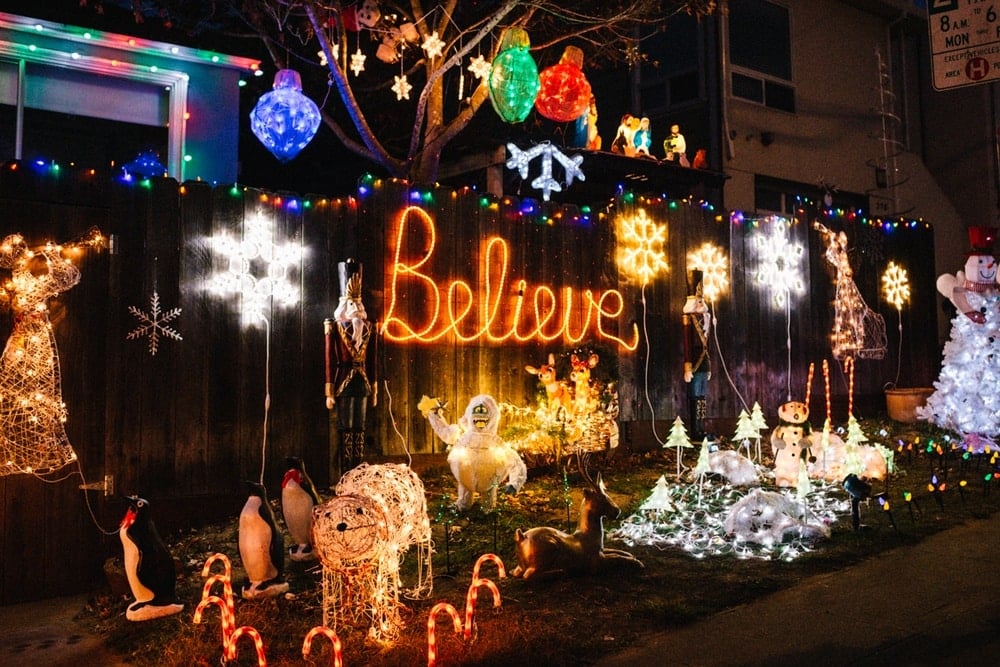 Merced Heights Houses
These are my new favorite houses that I want to bring friends to next year. Located at the corner of Garfield and Monticello (near SF State) is a collection of 3 houses kitty-corner to each other that go ALL out with lights, inflatables, nativity scenes and decor. (Someone really needs to get that 4th corner on board – Eric, Shannon – you on it?)
There's simply so much to take in at these houses, you need at least 20 minutes to look at everything. But, I think the best part about visiting the Merced Heights corners is when you get to meet the owners. I got to meet the owners of two of the houses and they were all so sweet and passionate about their decor, it rubs off on you. They were also still adding to their masterpiece with new details that night (not sure how they found more space to fit stuff!!)
The best time to visit these houses is when it's pitch black out so you can see all the displays in their full glory. Come after 6pm/6:30pm since the 3rd house usually turns its lights on a bit later and you'll want to see the full effect!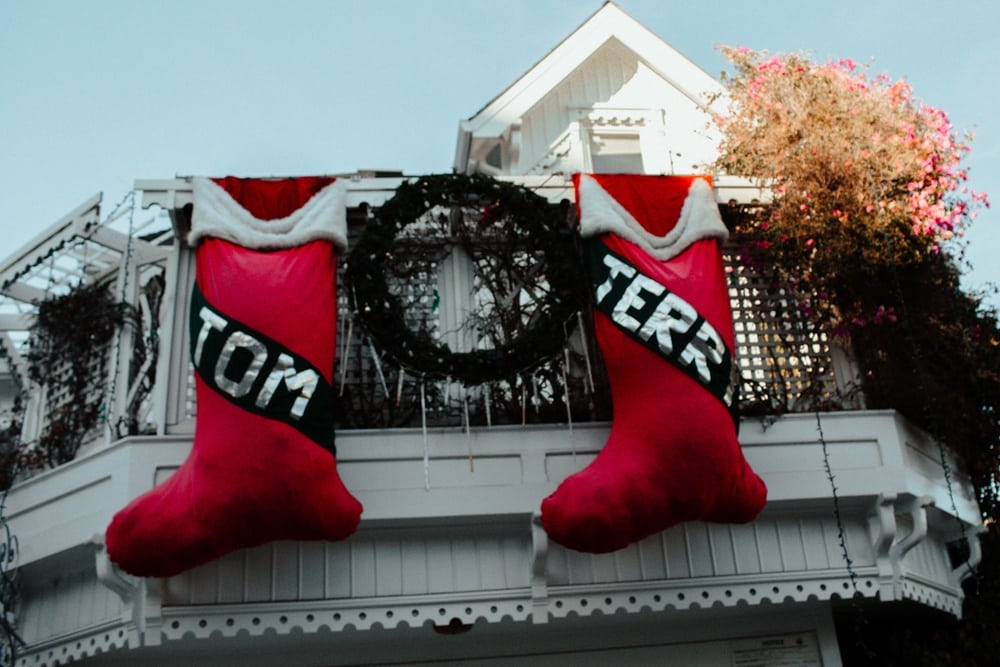 Tom & Jerry's House
Tom & Jerry's House is so famous it has its own name on Google (though you can find it at 3650 21st St if it's not pulling up for you.) Tom Taylor and Jerry Goldstein have been decorating their house each year for Christmas since the 1980's and when I say they go all out, I mean they really go all out! There's tiny displays with dolls, huge stockings hanging off their deck, a little Ferris wheel that moves AND – each night Santa comes out to greet the visiting children.
If you are coming to take photos, I would recommend stopping by around 3-4pm in the afternoon. The house will be fully shaded at this time and have plenty of light for you to snap close-up photos of all the little details. Or, come at night to see it lit up and meet Santa!
Note: Tom passed away in October 2020 at age 77 due to cancer. The house was decorated this December but TBD on if the tradition will be kept up in future years. I sure hope it will be – this house is now part of San Francisco culture and it would sad to see it part of history, but alas, that is life. Everything human is fleeting, so visit Tom & Jerry's this year just in case it's the last Christmas.
Light Tunnel House
Head over to the Outer Sunset on 43rd & Riveria to find the Light Tunnel House! These guys put up arches of colorful lights that span almost the entire block so you can stroll under them and feel like you are truly living in a cheesy Hallmark Christmas movie. I'm so happy nobody else was on the street when I visited since I absolutely ran through them like 5 times with a big stupid grin on my face.
The Outer Sunset is over by Ocean Beach and this house is just a few blocks off. That means the sunset is *chef kiss* over here when it's not foggy. So, you can come at night when it's dark and twinkly. OR, if it looks like it's going to be a good sunset, come at dusk to be treated to holiday lights AND a cotton candy sky behind the arches.
Union Square
Since we don't have snow in San Francisco for me to frolic around, I love to head down to Union Square's seasonal ice rink to skate around the giant tree and *pretend* like I'm having a white Christmas. My favorite time to book an ice skating session is for the dusky timeslot (start time of 4pm or 4:30pm) so I can watch the city turn from day to dusk to night. MAGIC. This is truly one of my favorite Christmas in San Francisco things to do.
The giant Christmas Tree you skate next to is about 80 feet tall. Thousands of people usually gather on Union Square each year to watch the Christmas Tree Lighting to jumpstart the holiday season. Unless you like crowds, I don't recommend coming for this. The tree will stay up until usually New Year's Eve so you have plenty time to stop by and soak in the holiday magic!
While you're down to see the tree or skate, make sure to swing by the opposite side of Macy's to see their puppy window! That's right – each year for Christmas they team up with SPCA for a live window display all about helping pups (and sometimes kittens, too) get adopted. They are SO dang cute and always put a smile on my face when I see them.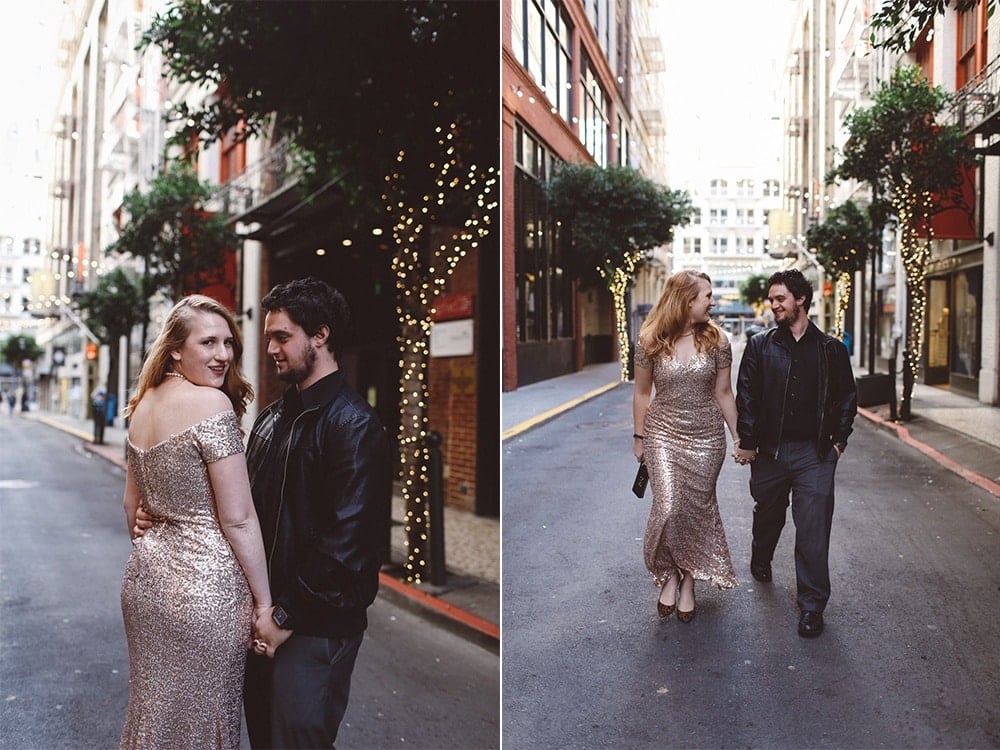 Maiden Lane
Between Union Square and Market Street you'll find Maiden Lane which is as adorable as the name suggests. It's a tiny one-block street filled with brick buildings, fancy shops and gives off total NYC vibes. Maiden Lane tons of string lights up and stores decorate for Christmas, so it's always fun to stroll down it after ice skating. SO romantic! (It's where we shot our engagement photos years ago!)
Illuminate SF
OMG, hold my eggnog – this annual light event around San Francisco has always been cool, but this year it just went to the next level with "Entwined" in Golden Gate Park. It's a giant light sculpture installation that gives off Paso Robles Sensorio Lights meets Singapore's Solar Powered Trees kind of vibes.
Now, THIS is the kind of stuff I love finding when I travel. Last year I was in Vancouver visiting their sheer array of Christmas light installations around the city and to be honest, I was super bummed when I realized we wouldn't be doing a holiday trip in 2020. But the Entwined installation, which is a short walk from my apartment, was like a giant gift from Santa and totally quenched my holiday itch.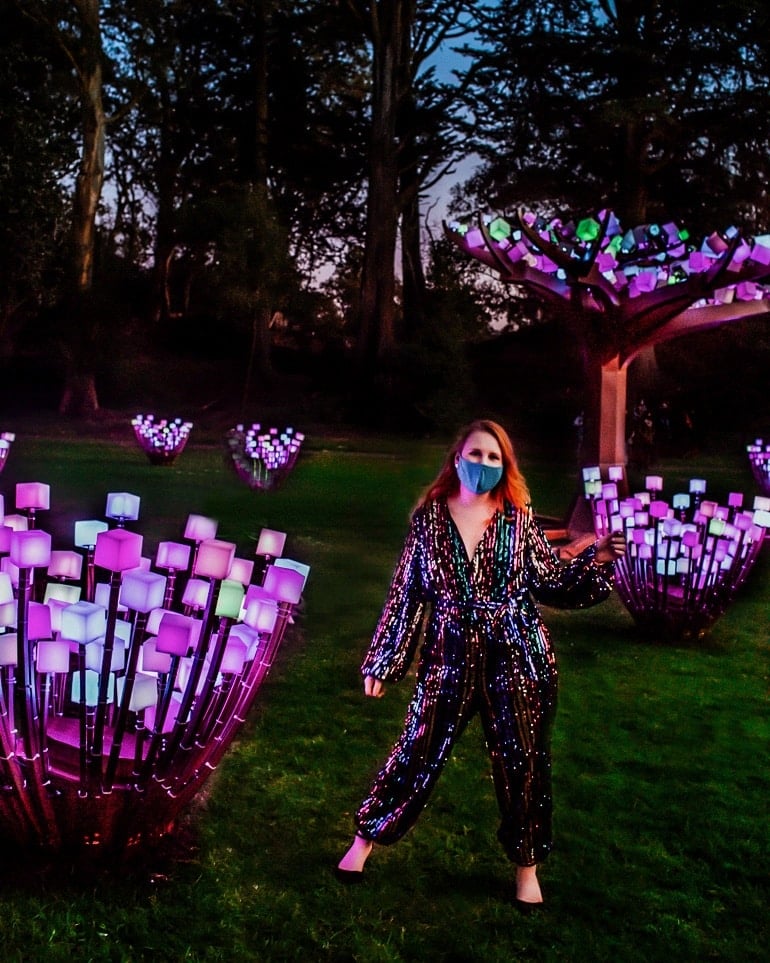 It's located in Peacock Meadow next to the Conversaorty of Flowers. It's open all the time and free, but the lights don't turn on until dusk so come then to soak it in properly. Parking is hard over here and roads are frequently closed off this time of year in the park. I honestly recommend taking an uber or parking somewhere in The Richmond and walking into the meadow.
PS: Currently, there is the Golden Gate Park Ferris Wheel in from of the California Academy of Arts that's also part of the Illuminate SF 2020 event. It's open at various dates and times depending on current city lockdown rules – you can buy tickets ahead of time online and it's incredibly fun during the day to see views, but at night you get all that holiday magic!
45 Upper Terrace House
Bring your kids here! This house loves fun lawn decor pieces – think giant wrapped presents, huge nutcrackers, even Santa himself. But the best part is their Christmas gnomes that are crawling on the roof or hiding in the garden. It's so fun trying to spot them all!
If you are coming for photos, dusk is best as this house gets hit with tons of evening sunset light (it faces West.) Otherwise, come at any time of the day – they don't have as many lights going on as other houses so you don't have to wait until dark. Plus, you won't be able to spot all the gnomes at night!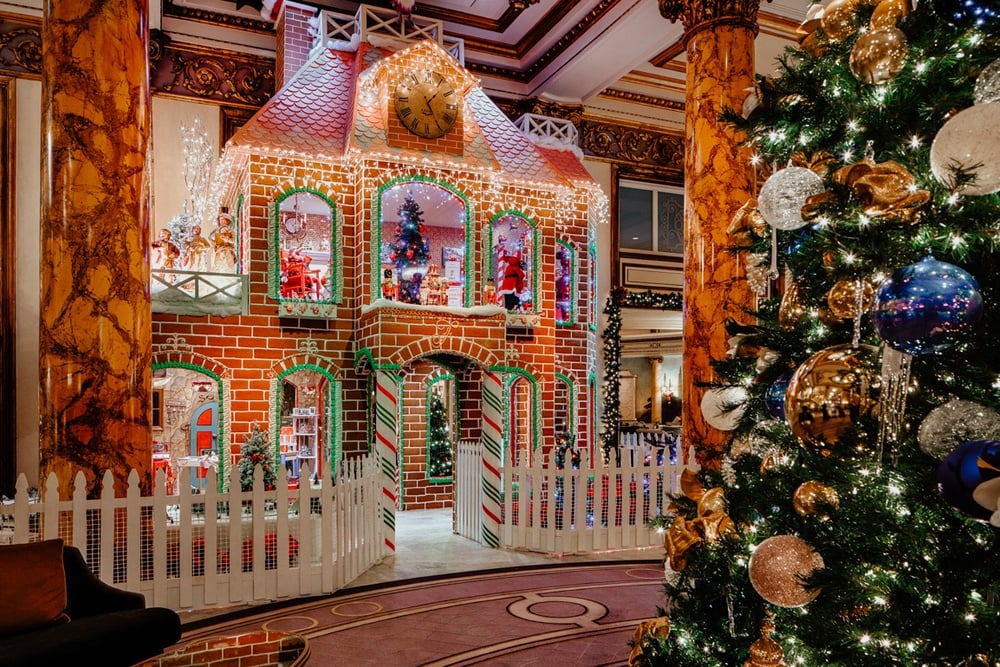 Fairmont Hotel Gingerbread House
The Fairmont is one of my favorite San Francisco hotels. It's historic, has great views and the architecture is simply stunning. (We love Fairmont hotels and when traveling love to stay at them since they also seem to be in castles or super historical buildings) Anyway, during Christmas time, the San Francisco hotel puts a giant gingerbread house in the lobby. (Not open in 2020 for COVID safety.)
It's HUGE. You can easily walk around in it and they sometimes host holiday tea inside the gingerbread house. It's a San Francisco tradition o head over to the Fairmont during the holidays to see the house, maybe have some high tea and hang.
Intercontinental Hotel
Across the street from the Fairmont Hotel is the Intercontinental Hotel which also decorates for the holiday season. They put big wreaths up out front and have a huge Christmas tree in the lobby. Leave some time to pop over after your visit to the Fairmont Gingerbread House!
Fisherman's Wharf Pier 39 + Ghirardelli Square
Each holiday season two giant trees go up on the Wharf. The first is at Pier 39 – they put up a huge Christmas tree on the pier for visitors to enjoy. The other is at the opposite of the Wharf at Ghirardelli Square tucked next to all the shops. Start at one end and walk over to the other to soak up all the holiday vibes! (Make sure to get your free sample of Ghirardelli chocolate from the store!)
Cherry Street Swing
San Francisco is famous for rope swings. Usually the swings – like the famous Kirby Cove Swing – get cut down after a days of being up, but the Cherry Street swing seems to be pretty permanent. It's been there for ages. And, during December someone decorates the trees up in TONS of pretty string lights.
I like to think it's Santa that put the lights up to make swinging more magical for all the kids (and kids at heart.) The best time to come is when it's pitch black outside. Parking should be pretty easy over there so drive over. The swing is located at the end of the street right next to the Presidio. You may have to share it with other eager visitors so be kind and let everyone take a turn!
McLaren Lodge
Located on the edge of Golden Gate Park, this lodge has a huge tree outside that gets all dressed up with string lights each holiday season. Usually, there's a big tree lighting ceremony, too – sometimes even with a choir. It's one of my favorite underrated holiday San Francisco lights. It's always a joy to drive by late at night, especially back in the days when I could see my friends in person and I'd grab a late-night Uber home. This tree would emerge out of the darkness, almost like it was shouting "MERRY CHRISTMAS!"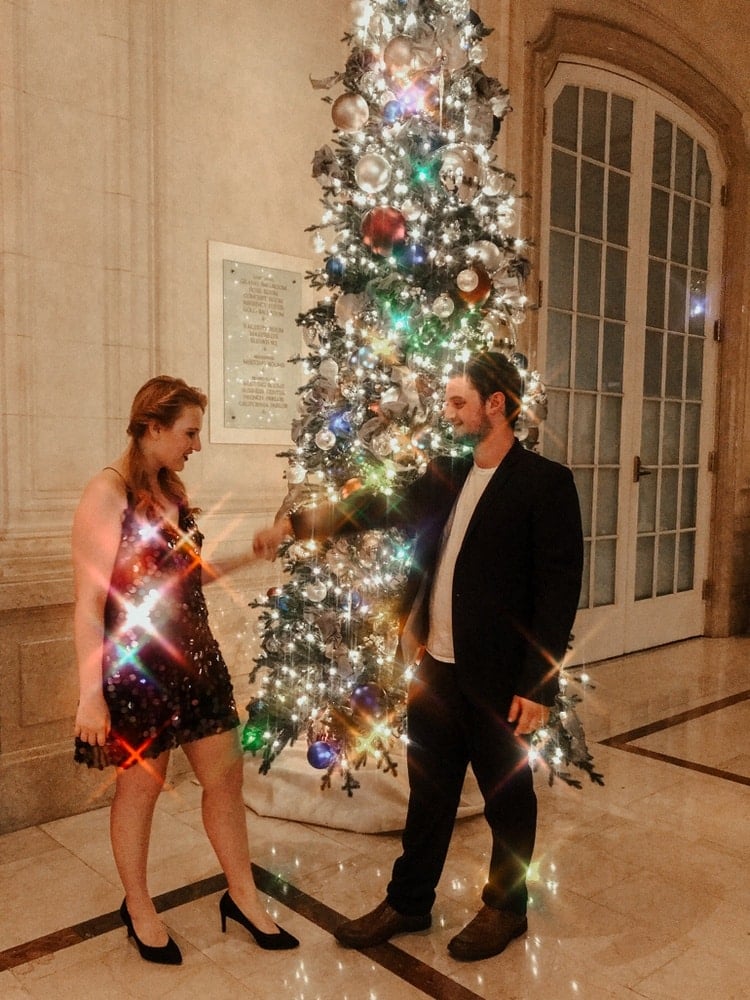 More Fun Things To Do In San Francisco For Christmas
Again, San Francisco is kind of sneaky when it comes to holiday activities. No, we don't have skiing or sledding or reindeer to pet but if you like High Tea or shows or themed events, San Francisco has it all. Here's some of my favorite holiday things to do in the city (on nights I'm not hunting down all the cool houses!)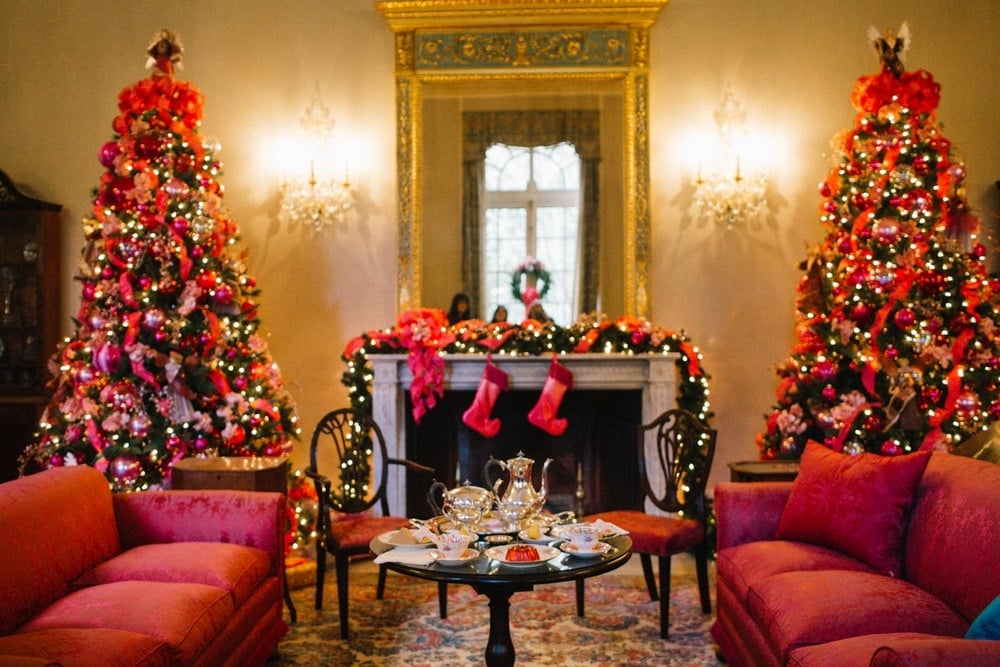 Other Magical Bay Area Christmas Lights Spots
I can't talk about San Francisco Christmas without highlighting the best lights around the Bay Area, too. I haven't been able to visit all of these spots in person yet (only a few) but they come highly recommended by friends and local followers.
Filoli Gardens: Filoli reminds me of Tivoli Gardens in Italy (where a scene from the Lizzie McGuire movie takes place.) Basically – it's huge, romantic and not at all something you would expect to find outside San Francisco. During Christmas, the house is packed with tons of Christmas trees for you to tour. They have a Holiday High Tea and other events. It's so fun.
Christmas Tree Lane in Alameda: Head over the bridge to the 3200 block of Thompson Ave in Alameda to walk down their famous Christmas Tree Lane. Every house decorates and it's a huge tradition for East Bay locals!
San Carlos Christmas Tree Lane: Or, head to the South Bay to San Carols' famous Christmas Tree Lane on Eucalyptus Ave. All the houses coordinate their theme of the year so it's extra fun to walk through. Park a few blocks away to avoid a clusterfuck of cars.
Sausalito House Boats: Drive over the Golden Gate Bridge to the cute town of Sausalito to see the houseboats get all decked out with holiday lights. Each year they have a competition and lighted boat parade, it's super cool!
Oakland Zoo Glowfari: Head to the Oakland Zoo's annual lighten lantern festival featuring 100+ huge large-than-life animal-shaped lanterns that glow. I know it's probably built for kids but, hello, that sounds amazing!
Willow Glen in Palo Alto: Another neighborhood block that teams up together for a Christmas Tree lane that one follower describes as "Christmas on acid". Start at 1851 Cherry Ave.
Rombeiro's in Novato: This house has over 80,000 lights each year and even won the Great Christmas Light Fight one year!! It's special because they decorate the inside AND outside, so make sure to leave enough time to tour everything.
I hope this helps you find all the wonderful Christmas magic that San Francisco has to offer!! Again, if you know of cool spots to add to this list, leave a comment below so everyone can see (and by everyone, I also mean me, you know I'll be beelining over when I find a new address to check out!)
If you need more ideas of fun things to do in San Francisco, check out my city guide packed with all the best stuff to see, eat, etc. And of course, let me know if you need any travel tips! Enjoy my favorite city in the world!