My oVertone story begins with the sudden urge to change something in the middle of the panny lockdown of 2022. After talking myself out of a new tattoo and ear piercings, I settled with trying out a different, bolder shade of red hair color.
A good friend of mine uses oVertone blue on her hair and loves it, so I decided to try their Ginger shade and blogged the whole journey so YOU can know what to expect. Keep reading for my (not at all sponsored) experience and essential tips to know before using oVertone.
oVertone Review: How "Ginger" Looked On My Hair + Essential Tips You NEED to Know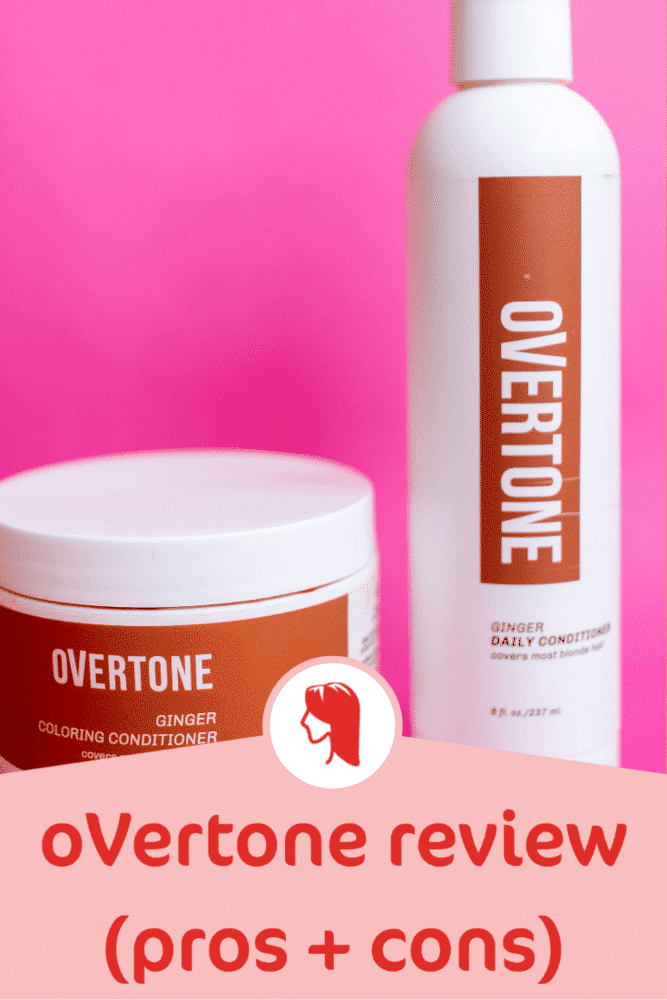 >> Got a question about oVertone that you need answered quickly? DM me on Instagram @thewhimsysoul and I'll be happy to help!
My natural hair color is a dirty blonde, almost a light brown hair and for the longest time I didn't think dye actually works on hair without bleaching. But when I moved out to San Francisco over 5 years ago, I decided to go strawberry-blonde red (sans bleach) and I haven't looked back since. I've been using the same boxed hair dye and I love the color but decided it was time to try something new. Something brighter.
I actually used oVertone hair dye three times before writing this review (orginally posted in 2020). The first time was an EPIC FAIL. I have been using home hair dye for years and thought I was good at it, but this time around I totally messed up my roots. (I used gloves that were too thick and I just couldn't dye my hair correctly with the home hair color.)
The Ginger oVertone hair treatment made the ends of my hair an awesome bright red hair, but my roots were still super dark brown. I thought I looked a little like a crazed clown.
WATCH MY VIDEO OVERTONE REVIEW!
The whole situation got worse when I used the deep conditioner in the shower too soon and made the ends of my hair even brighter while my roots stayed mostly the same. Let's just say I spent a LOT of time using this handy apple cider vinegar wash to stripe my hair of red color and start over.
But, despite this rocky start, I wanted to try oVertone products again. My friends in the hair coloring world just have tons of great oVertone reviews to give. So, this time, I made sure not the mess up my roots and gave it another shot.
Here's what I learned from round three (which was much more successful, but not perfect. I'll share more on that in this post.)
Essential Things To Know About oVertone Ginger (& All Their Colors)
I found that oVertone was a bit different than other at-home hair color products I've used. Here's the major things to know about this before you use.
It's Messy!
Like, really really messy. I found that the dye stains are really harsh and don't clean well compared to other hair dyes. I mean, just look at the outside of the jars in these photos – that yellow is stained from the product! And yes, it turned my hands yellow, too (even with the plastic gloves.)
SO, make sure to use gloves while dying your hair, don't wear clothes you like, take off your wedding ring, move your bathroom rug, etc to minimize what this dye touches. It WILL stain your hands orange, your nails, your towel after the shower.
Color Sets QUICKLY So You Have To Dye FAST
On the same note, because this stuff is intense, it deposits color into hair very fast. I did a test strip on my hair and washed it out in 5 minutes to see what would happen and the hair was already brightly dyed. As I chat about more below, I learned that to get my ideal shade I maybe need to leave it on for less time than it recommends.
This also means I need to dye my hair FAST. I have long hair and by the time I get to my ends, the roots (where I start) are exposed to color for much longer and thus can result in patchy color. Just something to keep in mind when you dye.
You Need To Use It Weekly
As in, there's a daily conditioner that comes with the complete system that you need to use weekly (or more) in the shower to redeposit color. This is different than most dyes where you are just supposed to dye your hair once a month.
I actually really like this, I think it makes for a longer color (more on that later!) and is one of the things that makes oVertone stand out in a great way!
Overtone Before And After Photos
How To Use oVertone Hair Dye
Start with the complete system in your shade of choice (I went with Ginger!) This comes with a coloring conditioner which is basically a super-charged color depositing hair dye. It also comes with two daily conditioners (normal size and travel size) that is similar to the dye, but less intense and meant to lightly replace hair color between dipping into the heavy-duty deep treatment coloring conditioner.
Make sure your hair CLEAN when using this. If it's oily or dirty the dye may not stick to your hair very well. You can use it on dry or wet hair. In my experience, using it on dry hair results in more intense color.
Unlike other dyes that use harsh chemicals, oVertone positions itself as being ammonia-free and opts for ingredients like coconut oil, shea butter, avocado oil and aloe to prevent the negative side effects of other hair dye (like super dry hair!)
Surprisingly, you aren't supposed to keep this on your hair for as long as the chemical-based hair dye that I've been using. My regular box dye needs to stay on for 30-35 minutes, but oVertone works VERY differently.
They suggest keeping it on for 10-15 minutes but I found keeping it on closer to 5-7 resulted in a shade I liked better. Again, I'm going for bold red hair, but not fire hydrant red or clown red.
The Major Flaw in oVertone
I think the major flaw in oVertone is just how powerful their formula is. As I mentioned above, the box recommends you leave color on for 10-15 minutes tops.
I have super long hair and it takes me about 10-15 minutes just to properly cover all my locks with dye. Am I suppose to wait a full 10 minutes AFTER I finish my hair (so that means dye stays on my roots for 20-25 minutes) or just quickly wash it out?
Because I start at my roots, my roots and top-level locks tend to be a darker shade than the rest of my hair, resulting in it being patchy.
Again, I think I'm only running into this problem because I'm going for a semi-natural looking shade and looking to dye my whole head vs. sections. Otherwise, the short time frame wouldn't be an issue. Like, if I was dying my whole head bright blue it wouldn't be an issue or I wanted to color the ends of my hair rose gold, it would perfectly fine.
I also still have to practice working with oVertone dye. I've been using a different brand for so many years, I need to practice with this one!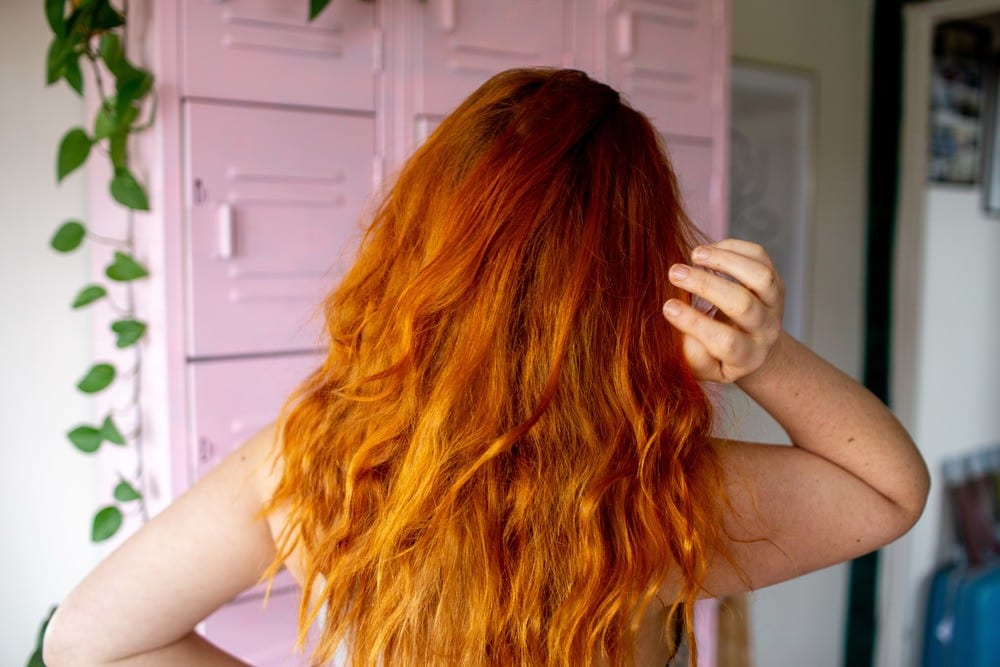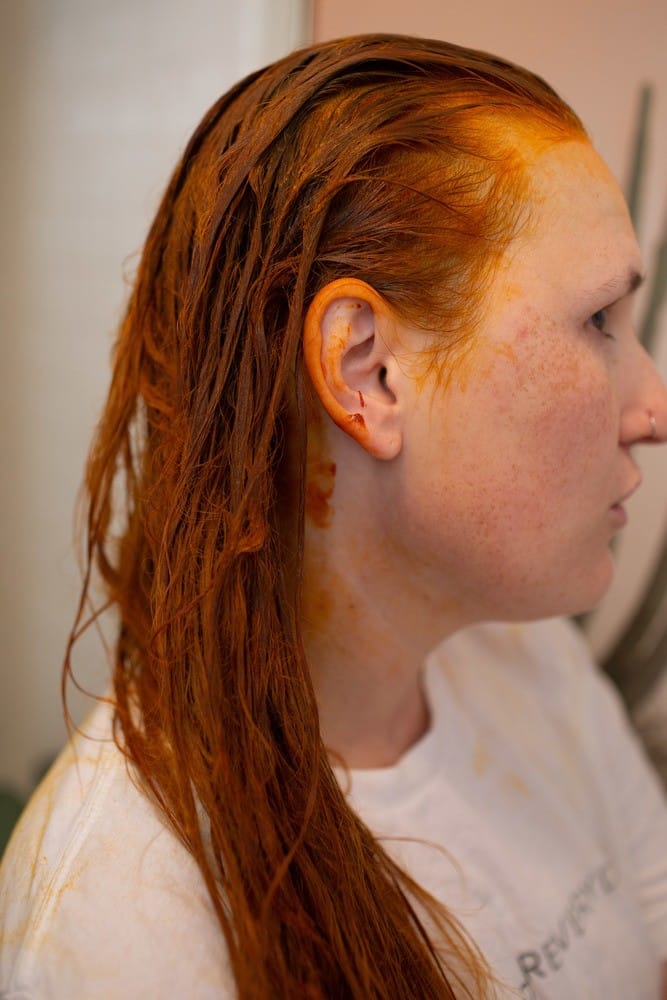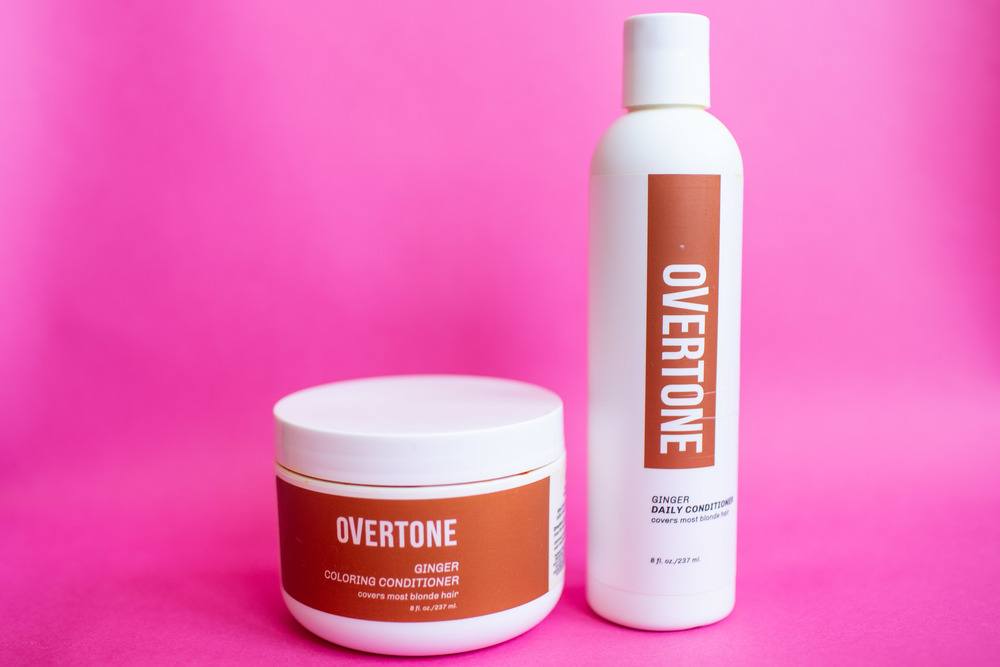 My Hack For Using oVertone
I actually use oVertone a bit differently then they suggest. I decided one day to test out what would happen if I just used the daily conditioner in the shower over my 3 week old boxed dye color job.
And BOOM, it worked well! My hair got a nice subtle color boost without being overwhelming or patchy. I've been using my regular box shade of red once a month(ish) but then also using the oVertone daily conditioner Ginger shade in the shower 1-2 times a week. This makes my boxed dye red color last a bit longer!
I do like the coloring conditioner shade. It's a bit darker than my normal ginger red, which is fun, but I haven't yet got the hang of getting even color. I need to practice with this different formula, but honestly right now during the pandemic lockdown may be the perfect time to start (HA!)
And I know that if I ever want to do a crazy color, oVertone is going to be the first brand I reach for.
How Long Does Overtone Last?
My Ginger oVertone hair color lasted for a couple of weeks before it started to fade. It lasted even longer when I use the daily coloring conditioners regularly as they recommend.
The hair dye isn't exactly cheap ($47 for the set) but I think it'll last you much much longer than other home box dyes thanks to the daily conditioners. You may only have to buy 1-2 set a YEAR and $100/year is much cheaper than going to the salon.
It helps to have good haircare to maintain color, too. Don't do as many washes and lean on dry shampoo in between. When washing, only use shampoo on your roots to help the color stay longer on the ends. And, your water filter may be stripping your hair color faster, so look into that if you notice your hair color fading quickly.
You also may want to try special shampoos like Olaplex that help support healthy hair and preserve color!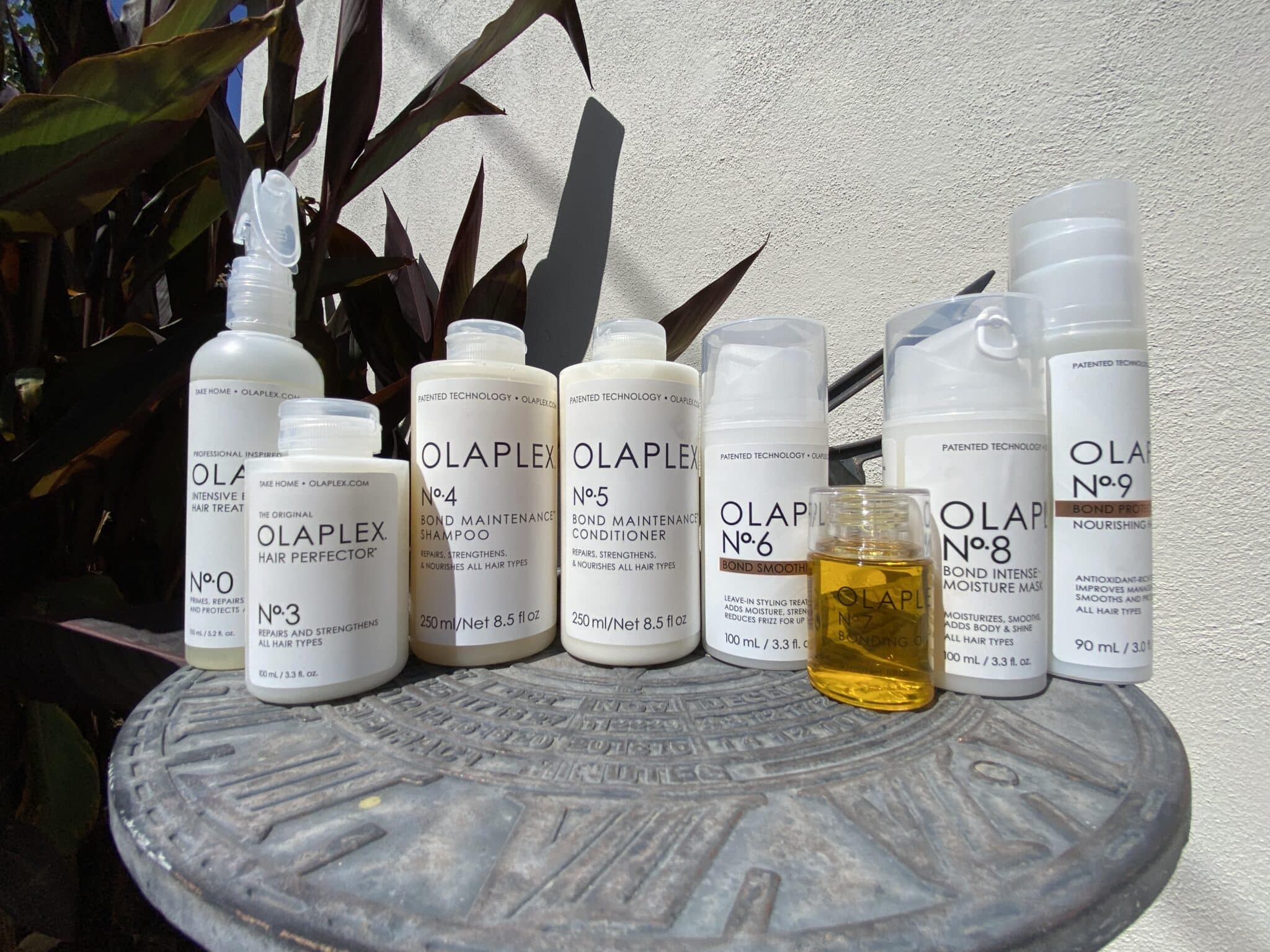 Conclusion: Worth It Or Skip It?
Worth it! BUT…
It's not perfect. Or at least, I'm not perfect yet at getting an even color. I have to practice on this new formula! I will keep buying it in the future, especially their daily conditioner which I LOVE. It's $18 but lasts a long time.
I find it hydrating and works really well for that extra boost of color in-between the "big dyes".
I think it's best to use the color conditioner/dye when you are going for a bold color (like purple hair, blue, green, etc) or are looking to dye your ends. I found, as a seasoned at-home-hair dyer, I have to practice to get the color looking natural with the all-over color conditioner.
I also would love to hear from someone who used the new oVertone color dye for brown hair. They just launched shades, like rose gold, that are formatted for when you have dark hair (usually you can only see successful color for light shades like rose gold if you bleached your hair first or have naturally light hair.)
If you have used their brown hair dye, please leave a comment below I'd love to hear your thoughts and learn about your experience! !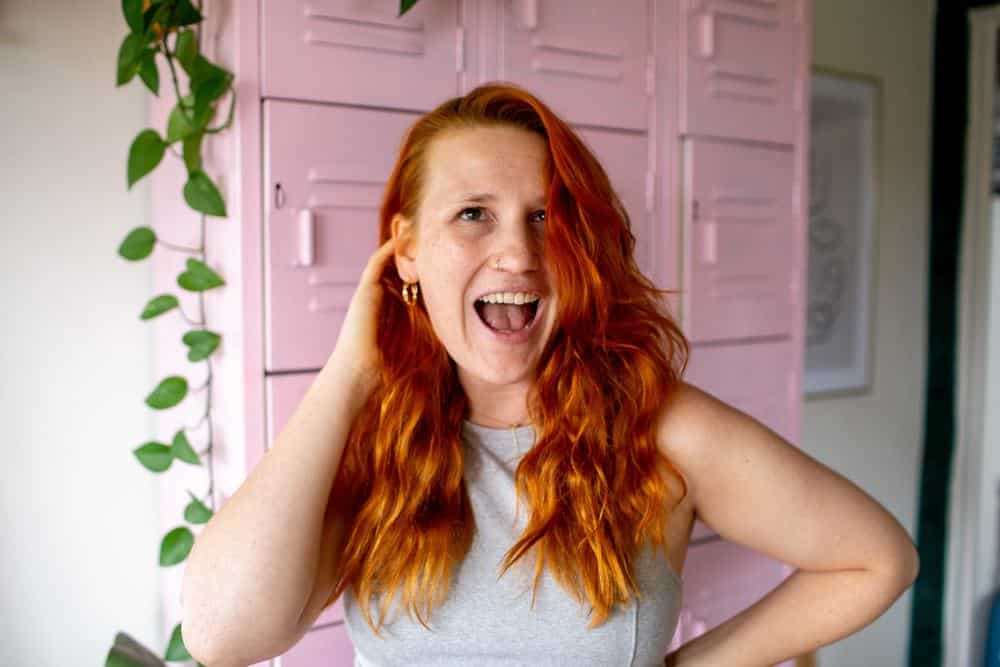 So, I hope this oVertone hair review is helpful! I found a lot of people were doing oVertone pastel purple reviews but I couldn't' find too much on the ginger shade so I hope this helps you determine if this is the right dye for you.
I stand by the daily depositing conditioner and am happy to have it in my weekly beauty routine now! I love using overtone haircare daily conditioner to maintain my color.
If you have any questions, leave a comment below or DM me on Instagram @thewhimsysoul and I'll be happy to help you out. I'd love to hear your thoughts, too! Do you have blonde hair or using the brown hair complete system? How does Overtone work for you?