I love Yosemite National Park. It's probably my favorite National Park in the United States and certainly my favorite in California (which is saying a lot because we have so many amazing parks here!) I discovered that in Yosemite Valley there are canvas tent cabins for rent and immediately knew I wanted to lodge there. But, it was a little tricky trying to figure out what to pack for Half Dome Village.
Waking up under Glacier Point and having all the best trails footsteps was heaven.
While researching what to pack for Half Dome Village in Yosemite (used to be called Camp Curry Village), I found an utter lack of resources of what to bring. Half Dome Village sits in the middle of the Yosemite Valley and is made up of about 400 permanent tents, with a few cabins. These aren't standard campsite and they also aren't the luxury of Yosemite hotel rooms, it's more like glamping without the chic decor.
These Yosemite tent cabins are so charming and are such a good way to connect to nature, but they do need a special packing list. In the end, we over packed to prepare (better safe than sorry!) and I learned what is helpful to pack and what is not. Here's my ultimate list of things to pack for Camp Curry/Half Dome Village in Yosemite – everything you should bring with you and also tips on the best tents, my favorite hikes, where to eat in the valley and more!
You can DM me on Instagram @thewhimsysoul with questions & I'll be happy to help!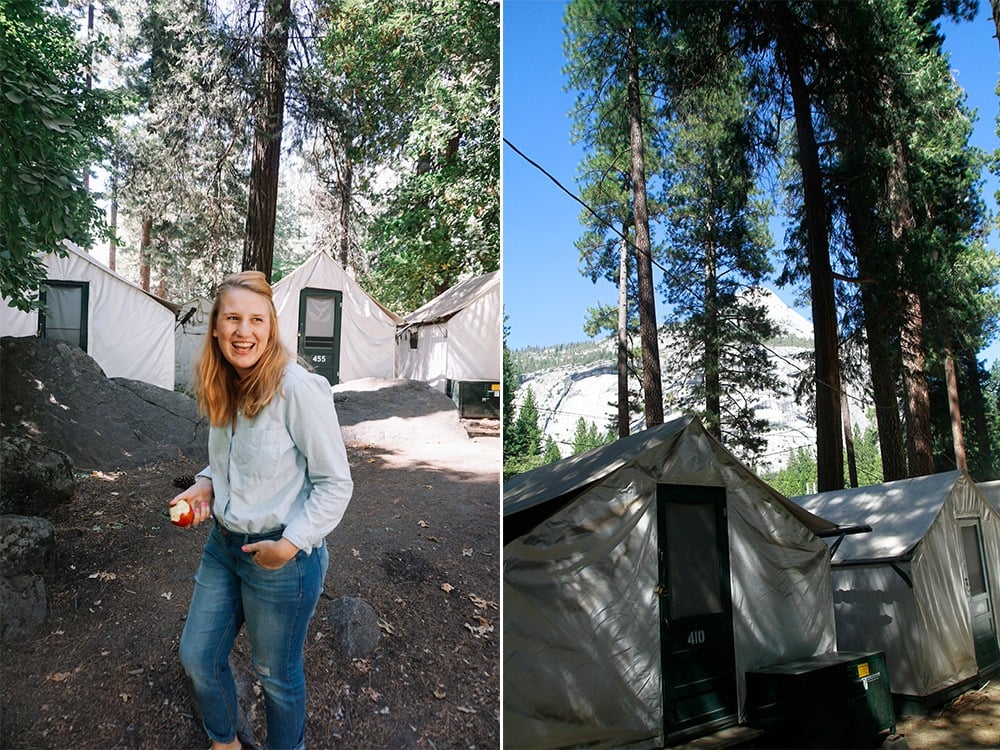 The Best Half Dome Village Tent Cabins + Booking Tips
First, you need to make Half Dome Village reservations. You can make them online here. Warning: these tens are extremely popular and while there are over 400 tents for rent, they get booked up FAST! I had to book our tent in February for a September visit.
Book your Yosemite tent cabins
here.
Here's another tip: even if you are visiting in the summertime, I highly recommend booking a tent that has a heater. The days can be boiling, but the valley cools off at night. It gets really cold and I think we would have been frozen if we didn't have a heated tent!
You can rent tents with just one bed and I think they go up to 4 beds (I snuck a peek into some tents as there were being cleaned and there were double beds in one and I bunkbeds in another.) If you are traveling with your family or group, these tents will do!
So, while there are actually half dome village cabins with bathrooms and the whole shebang, I recommend skipping the cabins and instead of doing one of the tents. They are such a unique experience! I don't believe you get to pick your tent, but if you do, I recommend one near a bathroom in the Yosemite Village area so you don't have to walk as far. I also recommend NOT getting one that's right by the parking lot (hello noise!)
Speaking of the parking lot, this lot gets filled up FAST because it's open to all visitors, not just those camping in the tents(I totally think people with curry village reservations should get special parking passes because we found it really hard to just find any place to park our car & unpack. If you can, come early, park as close as you can to your tent and then try not to move your car unless you have to. Take the valley shuttle!
Now, let's chat packing list!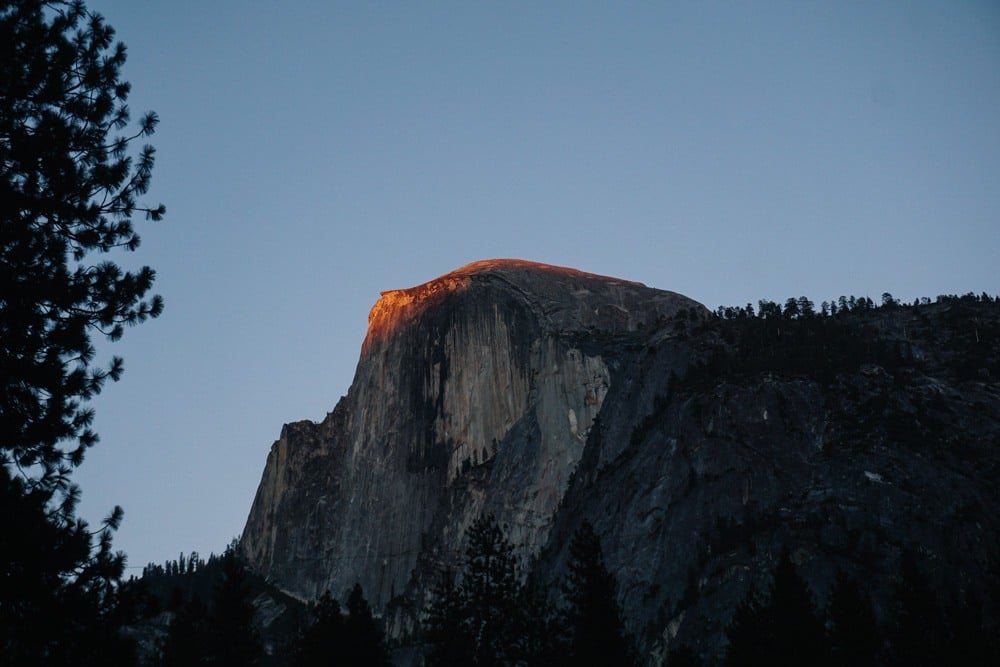 Fun fact: Delaware North thinks it has rights to names of some of the famous locations & lodgings in the park. Half Dome Village used to be called Curry Village Yosemite and frequently is still referred to as such (the road leading in was also called Curry Village Drive, btw) These sites all called different things right now formally, but everyone still knows what you are talking about if you refer to them differently.
The Ahwahnee = The Majestic Yosemite Hotel
Curry Village = Half Dome Village
Badger Pass = Yosemite Ski & Snowboard Area
Wawona Hotel = Big Trees Lodge
WHAT TO PACK FOR HALF DOME VILLAGE
So, what's included in your tent? An outlet and lightbulb are in each tent. Ours had a steel wire shelf and also a safe, which I was happy to see as we brought our cameras and I wanted to make sure it could be stored safely. We had one chair a trash bin.
Every tent also comes with a bear locker outside for all your food and blankets and pillows. We brought extra blankets and I highly recommend you do that same, even if you are visiting in the summer.
TENT PACKING LIST
Extra blankets and pillows: We got a heated tent and I thought for sure during the day that we wouldn't need the heater. Wrong! Because the camp sits under Glacier Point, from about 3pm onwards, the area falls into shade, so the tents cool off quickly, even in the summer. We woke up in the middle of the first night freezing and turned it on. They give you blankets, but they're thin, so we brought a couple of extras for a cozy + warmer experience.
Sweaters for the cool night. Again, the tents get cold at night, even if the day is hot hot hot. Remember, these are glamping tents, not motel rooms with actual walls! You'll want a sweater.
Flashlights /Lamps are great for running to the bathroom, navigating the camp at night and for stargazing explorations. There are "street lamps" scattered across the camp to provide light, but it's not enough to navigate around alone. Bring at least one flashlight or lamp! I liked it better than carrying around my phone. Yosemite is all about digital detoxing, right?
Extra water jugs and bottles are great to fill up in the morning and keep in the tent to use for hikes and throughout the day. The walk to the grocery store where the pump is located can be a pain to do over and over again multiples times a day.
Padlock for the bear locker. You have to keep anything scented (food, makeup, etc) in the bear locker. They're great at keeping wild animals out, but you should bring a padlock to keep other humans out. I've heard reports of guests wandering the camp at night and stealing beer and food from other lockers.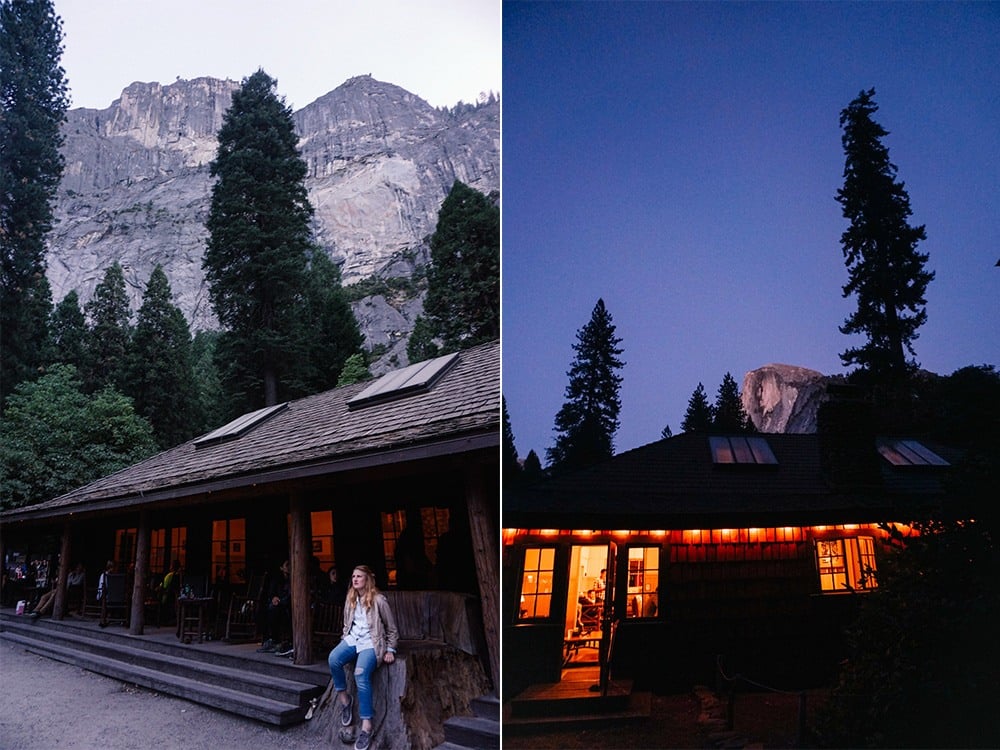 WHAT FOOD TO BRING
We grabbed $2.50 burritos for each of us each morning at the store. There is one microwave to heat them up, which got crowded but made a hearty yet cheap breakfast. For lunches, we snacked on dried fruits and PBJ sandwiches on our hikes and treated ourselves to pizza at each night at the village for a hot meal. We found this the most economical and easy to do.
We also brought a portable grill and charcoal in case there was a place to grill/make a fire, but there wasn't. Unless you are actually staying in a campsite in the valley, don't plan on cooking any of your food while there.
The grocery store is stocked with snacks, fresh fruits, sandwiches, frozen meals and alcohol. They have a bar, pizza deck, a restaurant and a burger joint to satisfy any hot meal cravings you have. You can drive over to the Majestic Hotel for fine dining, but I recommend sticking around Half Dome village because parking can be tough!
Copy & Paste Food Shopping List:
Dried fruits
Trail mix
Fresh fruit (apples, bananas, etc)
Instant coffee (cheaper than buying coffee each morning. You can get hot water for free from the coffee machine in the store)
Towels/napkins
Plastic silverware and plates
Plastic bags to hold snacks during hikes
Tea
Bottle opener for beer and wine
Granola
Bread
Peanut butter & jelly
TOILETRIES
I always try to condense and bring just the bare minimums while camping or staying outdoors. Trees don't care if you have a bold red lip on!
Yuni No-Rinse Body Cleaning Foam: this stuff is a life saver. Half Dome Village does have showers for campers, but they're small, not the cleanest and are highly competitive to use. Seriously, there was always a long line to the showers, so we instead opted to rely on Yuni No-Rinse Body Cleansing Foam (aka shower in a bottle). You pump it into your hand and use it like you would use soap and water. This magic stuff helps clean and leave you feeling fresher. If you insist on showering, bring along everything you need and plan on showering during the middle of the day when most people are hiking and the line is shorter.
Dry shampoo. Again, when you aren't showering each day. it's a lifesaver. I love Batiste!
Toothbrush + paste ( I love this collapsible toothbrush for traveling)
Hand lotion + facial moisturizer because your skin WILL get dry at that high elevation! I love these little Green Goo tins because they're so tiny but powerful and can be used for a lot of different purposes.
Minimal makeup (BB, chapstick, mascara, etc.)
Contacts and glasses
Bug spray. We were lucky and didn't have too many bugs by Labor Day, but my sister visited in July and was eaten to death. If it's the summer, bring a powerful bottle of deet along.

WHAT TO WEAR TO YOSEMITE / HALF DOME VILLAGE

Obviously,, what to bring to Half Dome Village does depend on what time of year you are visiting. If it's a winter month, tons of jackets, snow boots, and proper gear. This list is more geared towards late spring, summer and early fall visits. Also, don't forget to check the Half Dome Village weather before you leave for your trip in case there's extreme weather happening (ie lots of rain or a wildfire.)
Jeans for the evenings around the camp
Sandals for showers/slipping on and off quickly while hanging around the tent
A sweater for the morning and evenings
Hiking outfits (I like to wear athleisure attire)
Swimsuit if you are rafting or wading anywhere
Clean undies for each day (there isn't a laundromat)
T-shirts and button-ups for the day
Bandana and/or hat
Clean socks for at night + hiking

Other MISC things to pack
Camera + battery charge there's an outlet in your tent
Phones + chargers (there is half dome village wifi. It's just ok. There is LTE in the valley.)
Backpack to use while hiking.
Reusable water bottles
Books to read in the evening
Cards and/or board games. (we loved sitting on the porch of the guest building and playing cards for about 5 hours one night. Great view of the sun setting over half dome and great people watching. Plus, the pizza deck and bar is right across the path for easy access)
A keychain to hold tent and bear locker keys.

We loved staying at Half Dome Village / Camp Curry Yosemite. The second time we visited, we stayed at the Tenaya Lodge because we came in the winter for the holidays & I didn't want to deal with winter camping (cold!) But, I think about these tents all the time and hope to get back there again soon.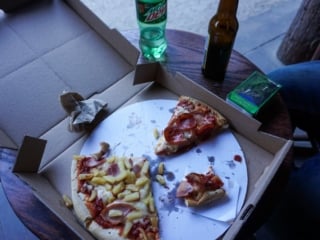 My husband and I had such a wonderful time. I adored waking up under Glacier Point and just already being in the valley. It's fun watching it come to life over the course of the day. All the best hiking trailheads were either within walking distance from our tent or we could easily hop on the shuttle. No need to sit in traffic for 2 hours to get into the valley. By the time most visitors arrive, you can already have your first hike of the day done!
In the evenings, we loved ordering a pizza and sitting on the rec room cabin porch. They have about 10 or so rocking chairs and tables. They face Half Dome peak so you can watch the sunset and light it up red. It's so dang relaxing. And of course, at night, you can escape to the prairie across the street, lay down on the walkway path & stargaze.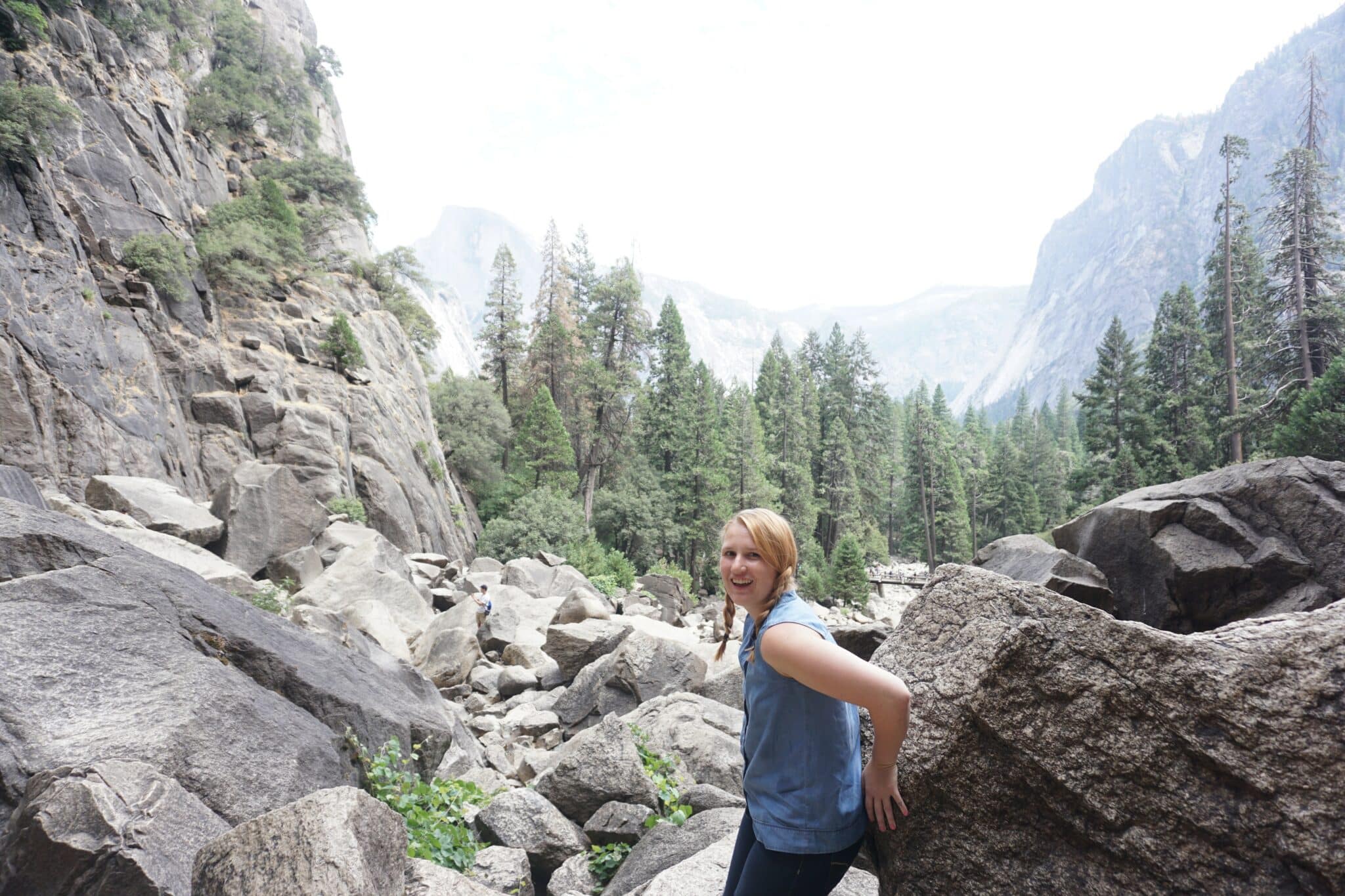 Best Easy Yosemite Hiking Trails
I'm not a crazy intense hiker. I like a good hike, but I prefer day hikes and ones that don't totally kill me. Luckily, Yosemite has tons of easier hikes with valley trailheads which is great. This park is really accessible to everyone which I love. These are my 3 favorite hikes!
Mirror Lake: This hike is my favorite because there isn't much uphill incline, but you do have to walk back about 1.5 miles through the forest. I like this hike because there are two ways to get here. There's a paved road, which is easiest, but there is also a trail that jet off to the right. I love this trail because it takes you through the woods and is exactly what you picture when you think of hiking in Yosemite! We even saw a bucked deer about 3 feet away on this trail!
Lower Yosemite Falls: This is the most popular hiking spot because it'snot really a hiking spot, more like a very big paved path. I really love it though and always visit. The Lower Yosemite Falls don't always have water as they dry up over the course of the summer, but when they are going, you can usually see a rainbow through the water. If they are dried up, people like to climb up the waterfall rocks and swim in one of the pool of standing water at the top.
Vernal Falls: This hike is harder, it's a lot of uphill hiking but most of it is paved. There's even a station to fill your water bottles halfway up. Many people hike to the bridge, look at the falls and hike back, BUT I think it's totally worth it to push yourself a bit more and hike to the top of the falls. There's a stone staircase! The view at the top is stunning, I promise.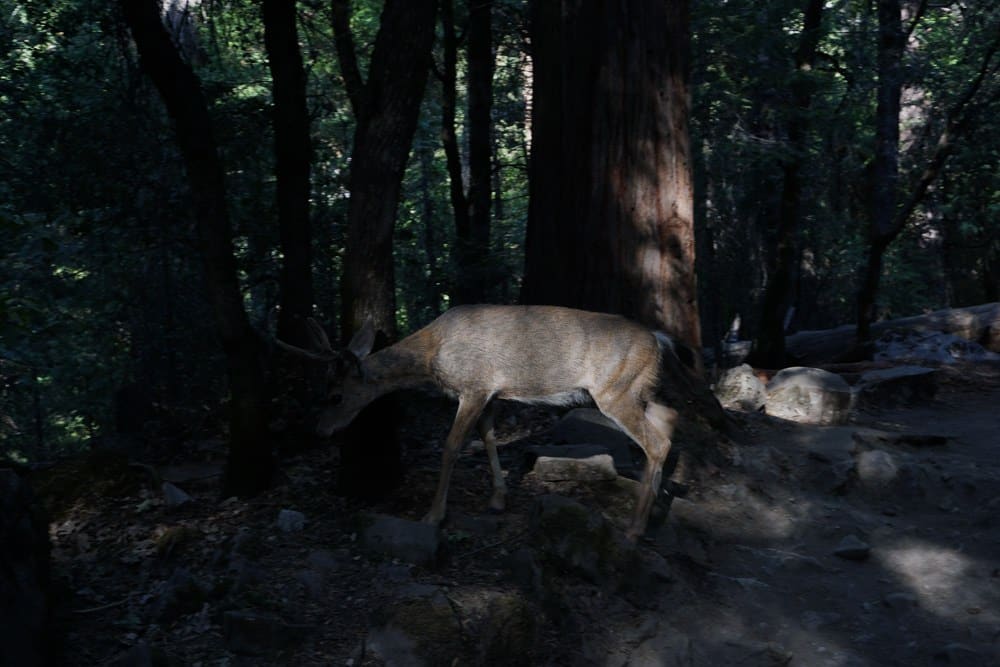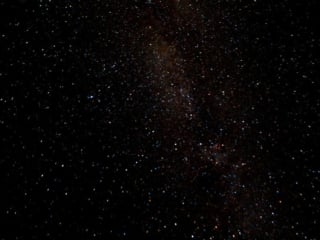 Did you know that about 99% of visitors only visit Yosemite Valley? I had no idea! Basically, this means it's really crowded in the valley, so be prepared. There so many great corners to this park. There's Tuolumne Meadows, which I stopped in on my way to June Lake last fall. They are beautiful and deserve a trip of their own.
There's Glacier Point, which you can drive up and stargaze. You can go skiing in the park at the ski area, hike to Hetchy Hetch, see the famous Tunnel View and even visit Redwoods up close at the newly opened Mariposa grove, just to name a few of the many things to do.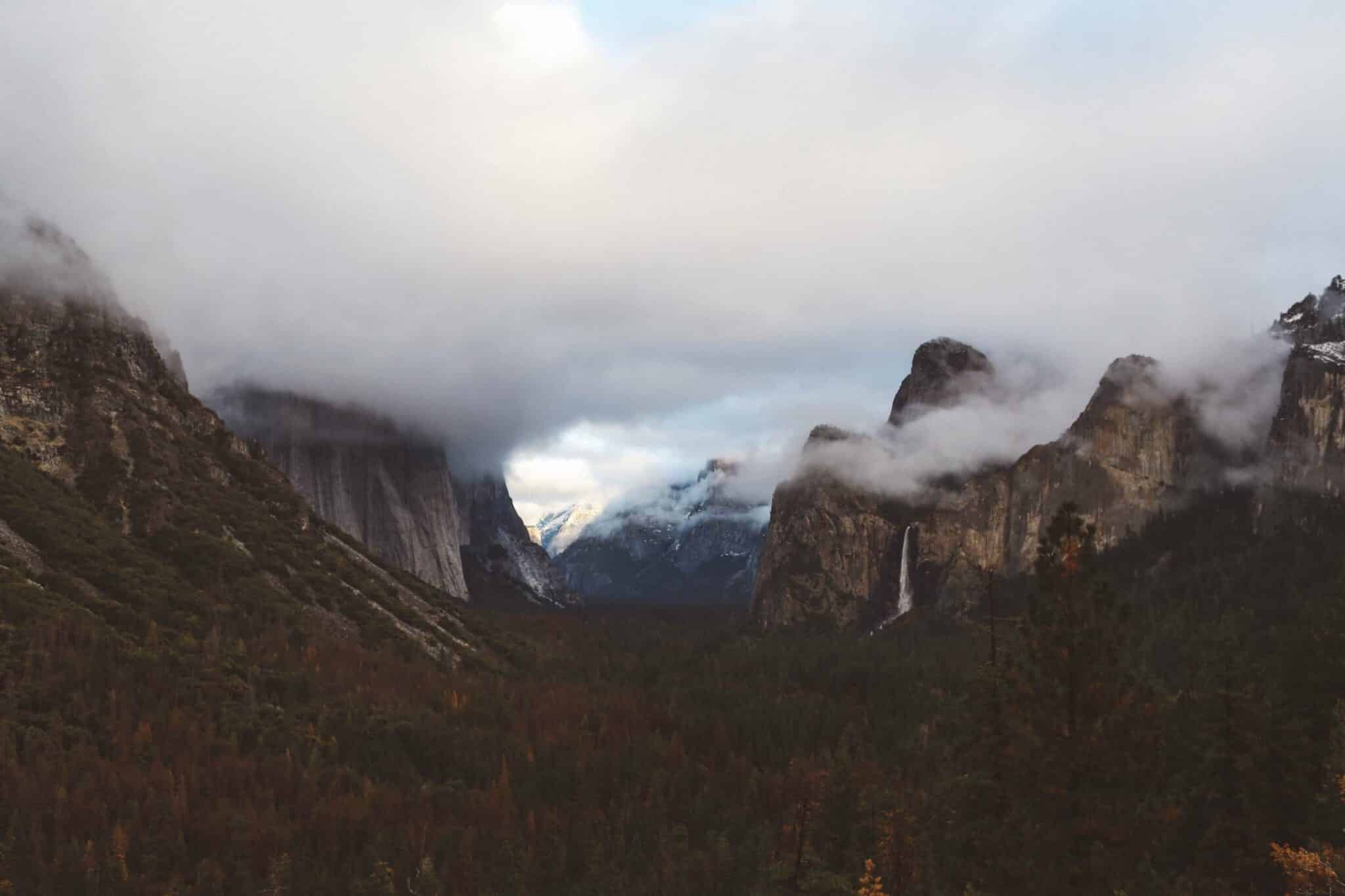 I hope this helps you pack for your wonderful trip staying in Half Dome Village in Yosemite! Please leave a comment below if you have anything to add to this list or if you have questions. You can also DM me on Instagram @thewhimsysoul & I'll be happy to help!