Originally posted May 2018. Updated May 2022.
After a long road trip and a night camping nearby, woke up before sunrise and made the trek down to Wild Willy's Hot Springs. The chilly mountain air was still below freezing, but the hot springs kept us warm as we watched the purple sky turn blue. Nobody else was there, we had the hot springs all to ourselves.
I fell in love with the Mammoth Lakes Hot Springs and made a point to visit all three of the main hot springs. One is shaped like a heart. One is a popular hangout spot. Another has stunning views of the mountains.
This is my guide to the top three natural hot springs in Mammoth Lakes, including Wild Willy's Hot Springs, The Crab Cooker Hot Springs and the Whitmore Hot Springs. They aren't the easiest to find and there are some important things to do before you go visit and/or try to camp on the BLM land at the hot springs.
Keep scrolling to learn exactly how to find each spring, a description of each, which one I think is the best, what to pack on your hot springs trip and more. Happy Mammoth Lakes hot spring hunting!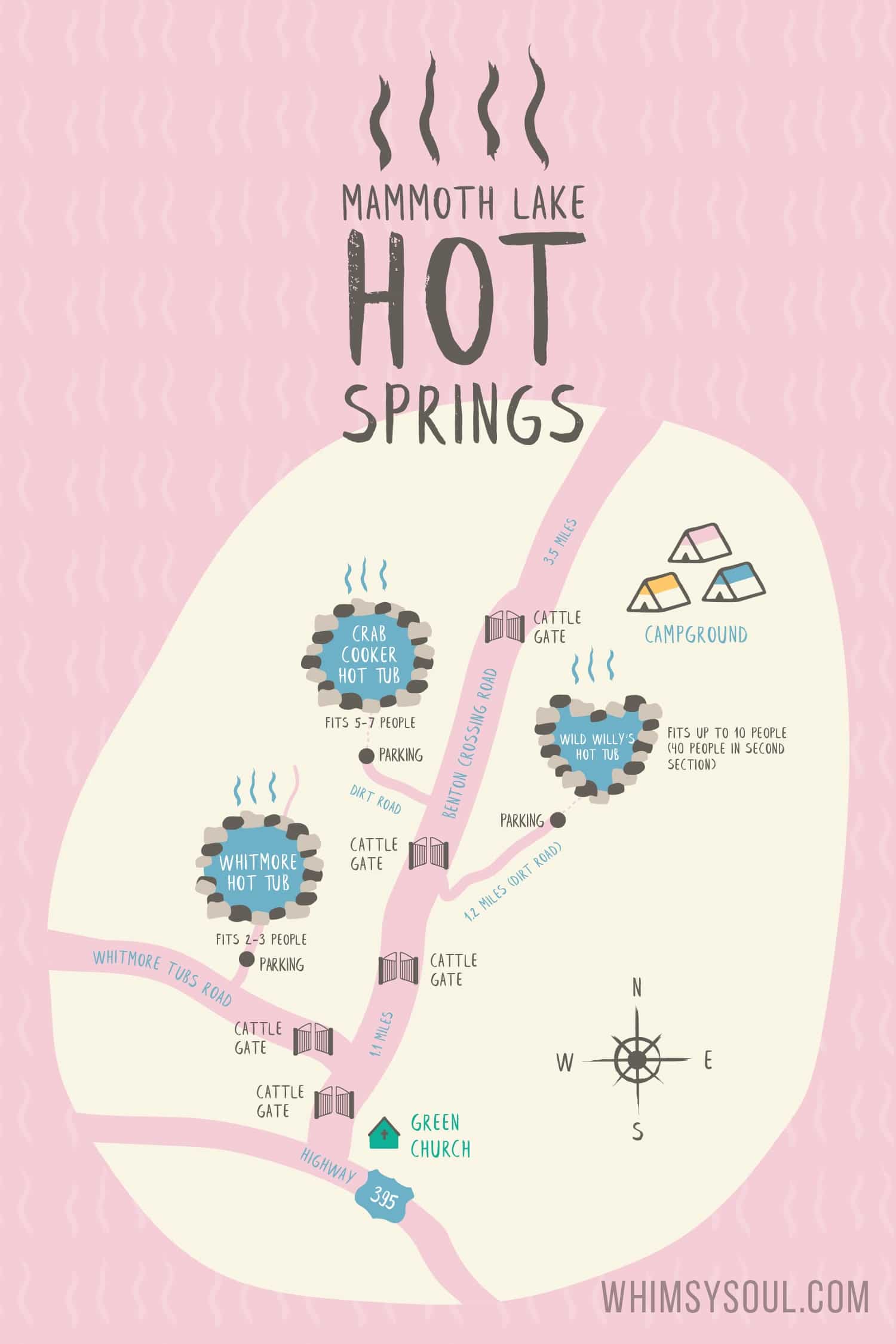 The three Mammoth Lakes Hot Springs we are highlighting are all onto Benton Crossing Road of Hwy 395. This road is marked by a green church. Benton Crossing Road is paved, but the dirt roads leading into the hot springs are not and it's recommended that you drive a 4WD car for the easiest visit.
(Don't confuse these for the Mammoth hot springs in Yellowstone National Park. The Mammoth Lakes Hot Springs are in California in the Eastern Sierra range!)
Important Tips For Visting Mammoth Lakes California Hot Springs
Take a screenshot of my Mammoth Lakes Hot Springs map above now so it's on your phone for easy access when you're looking for the hot springs! It has all the information, mile markers and details you need to find each hot springs.
Cell service isn't the best

, so don't plan on being able to make calls or easily search things on your phone (like directions, so again, screenshot my map!)

The weather changes quickly

in the mountains, so bring layers, sunscreen and water, just in case!

The gravel roads

to each hot springs are VERY bumpy and rough. If you can, take a car with 4WD.

These hot springs aren't that secret.

You will have to share most tubs with strangers unless you arrive right at sunrise and on off-season day. Don't be shy!

The National Park Rangers will NOT help you find the hot springs,

it's against their policy to even talk to you about them. (They actually get pretty rude about it.) It'll be 911 that would be available to assist in an emergency, not any local rangers, so please keep that in mind.

Be safe!
Insider's Tip:
The locals love to come here on weekend evenings to drink beer and hang out. Weekdays are less crowded. If you choose to come in the evening, remember:
Swimsuits are optional
Pack out what you bring
Don't be shy, make new friends!
Bring glass into the pools
Hog the pools + not let others join
How To Find All The Mammoth Lakes Area Hot Springs
Now on how to find all the best hot springs in Mammoth Lakes California area!
Crab Cooker Hot Tub / Hill Top Hot Springs
How to find: Pass 3 cattle gates. Take a left on the first dirt road after the 3rd gate.
The Crab Cooker Hot Springs is called the Crab Cooker because the water is the hottest here. This is one of the springs Mammoth has with a pipe pumping in hot springs waters into the tub. Because of this, it's far cleaner than Wily Willy's, which is the only 100% natural spring, mud and all. But, it's still the natural water!
If you aren't looking to get dirty, this is a good option. It also has a nice rim to it which makes for a good seat to cool off on while still hanging out with everyone.
It sits higher than all the others and thus has a sweeping 360 view of the valley and Sierra Nevada Mountains. The mountains look extra BEAUTIFUL here. It's big enough to easily fit 5-7 people, probably up to 12-15 if you squash in tight. This one has the best view of the mountains in my opinion. If you can nestle yourself in the corner of the tub, you can have a front row seat to the mountain "skyline".
This Mammoth Lake Hot Spring has a dedicated parking area at the end of a dirt road. There is also a boardwalk that takes you almost right up to the hot springs. You still need to walk up to the rock tub hot springs.
Whitemore Tubs Hot Springs
How to find: Turn left onto Whitmore Tubs Road. A little past the cattle gate, take a right on the dirt road.
The Whitmore Tub is the smallest of the three. It's tucked right off the side of a BLM parking area, so you'll be soaking right next to trailers, RVs and perhaps tents. Because it's literally footsteps from a parking lot, there's usually always people here soaking in the tub, and it's small, so there may not be room for you. It can fit 3 people, 4 would be pushing it.
On the flip side, because it's so close to your car, it's a great place to stay overnight if you own an RV. Imagine waking up, grabbing your coffee, waking a few steps and waking up to the day in a hot spring! The proximity also makes it a good tub for families and people with disabilities who can't walk .5-1 miles down to the other two hot springs.
This tub is the other one that has water pumped in, so it's not that muddy. We really wanted to sit in this one, but there were two people soaking in it when we arrived and they weren't very welcoming, so we left.
Wild Willy's Hot Springs
How to find: Take a right on the dirt road right before the 3rd cattle gate. It's 1.2 miles down a bumpy dirt road and has a large parking area at the end.
And finally, time to talk about Wild Willy's Hot Springs! This is the big one that most people know about. There are actually three smaller pools that make up the Wild Willy's Hot Springs. One can fit easily 50-75 people and another is shaped like a heart! There's a decent-sized BLM area if you wanted to camp the night there.
There is a boardwalk for most of the path down from the parking lot, and some stairs. This one takes the most effort to get to, but it's worth it! In the evening, I loved hanging out with locals and visitors in the main pool, sipping beer & making new friends.
The next morning, we woke up early and did a sunrise dip. This was probably the most magical part of our trip – having the whole place to ourselves was very special.
Wild Willy's only 100% natural hot spring in Mammoth Lakes because no water is pumped in like it is for the other rock tubs. You'll be sitting in the spring directly in the earth! You'll get a bit muddy, but it doesn't stain clothes, don't worry. Of all the Mammoth Lake Hot Springs, this one was my favorite. We drove 6+ hours from San Francisco to soak here and it was glorious.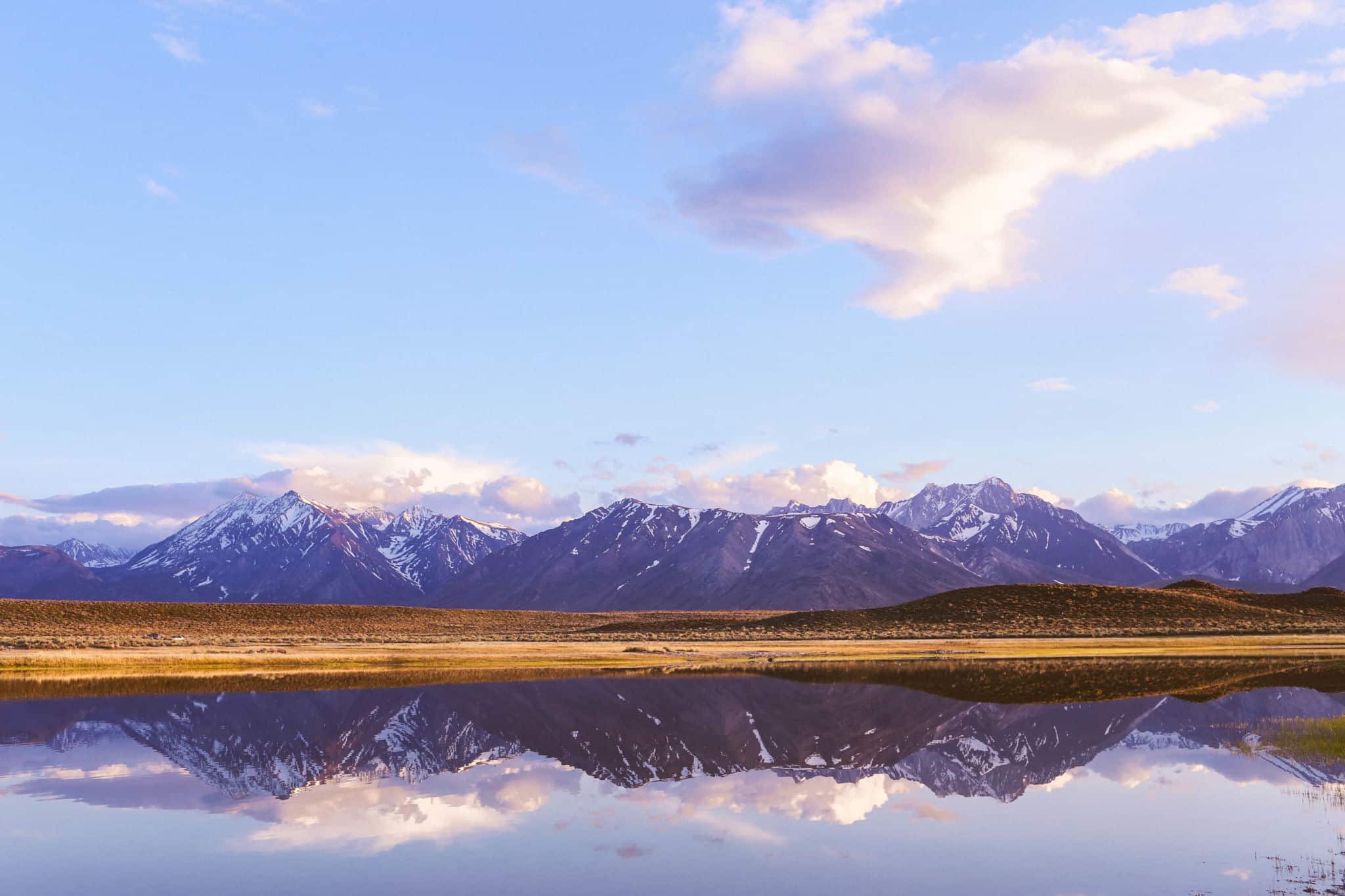 Hot Creek Geological Site
Don't get confused with the nearby Hot Creek Geological Site, which is a geothermal pool like you find in Lassen National Park. These are super dangerous to touch so you can't go soaking here. Sometimes Google Maps will take you here by mistake, so please follow the directions above to find safe natural springs to soak in.
If you're looking for more hot springs in the California area, I do have a list of all my favorite hot springs in Northern California plus one in SoCal.
The next nearest hot springs to the Mammoth Lakes area that I know of and have visited is Travertine Hot Springs on Jack Sawyer Road over in Bridgeport. You probably passed through here on your way to Mammoth Lakes as it's the most popular route coming from the Sonora or Yosemite National Park side of the mountains.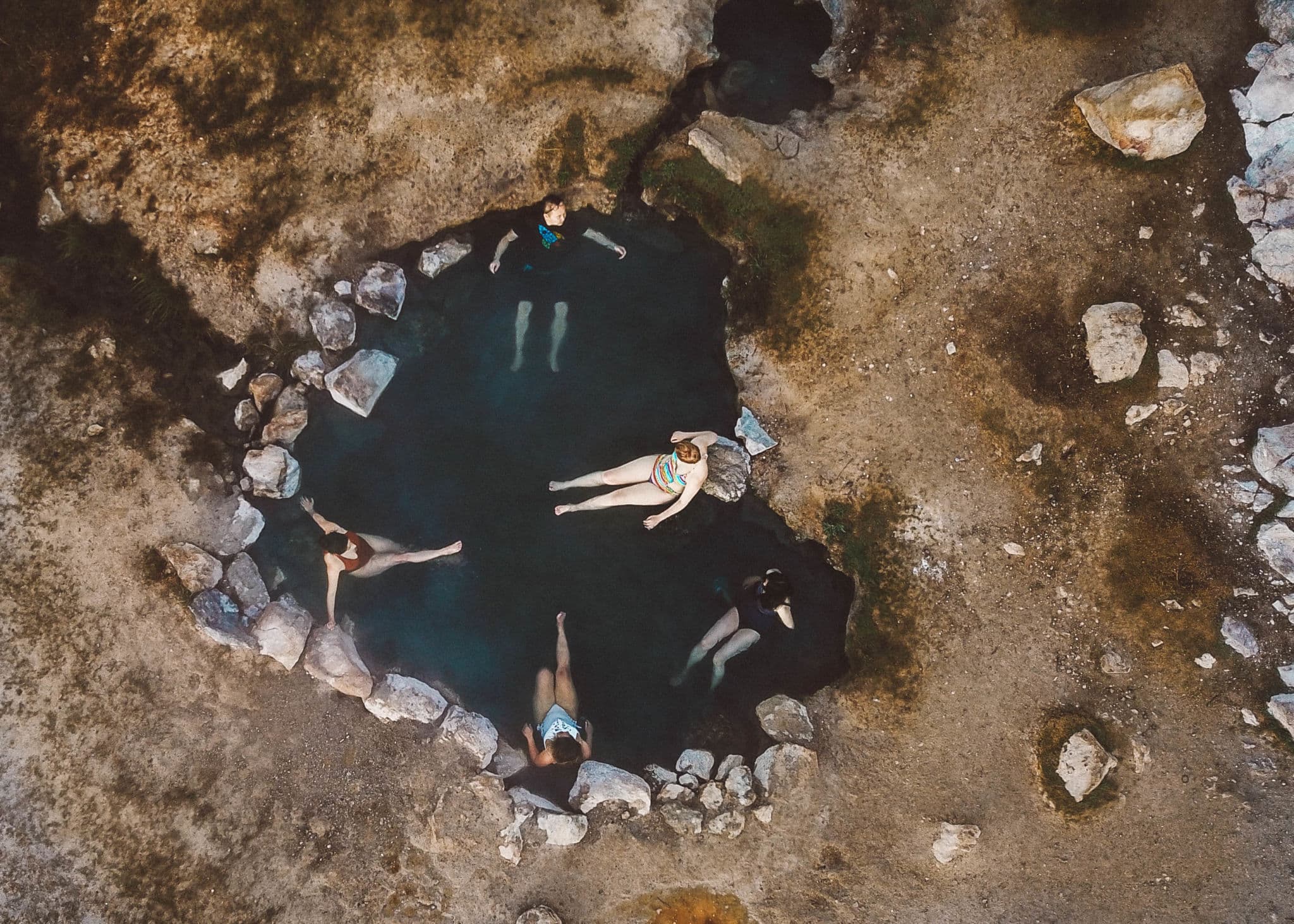 What To Pack For Hot Springs
So, obviously what you need to pack totally depends on the weather. This is in The Sierras, winter is real tough up here. Because technically the gates to the hot springs are closed in the winter (you can totally walk past them) I'll be focusing on what to pack if visiting in the spring, summer or fall when it's warmer and, frankly, more fun to visit.
Here's what you'll need:
A swimsuit (the mud will wash out, so it can be a cute one like this swimsuit!)
Sandals that can get dirty (dried mud is harder to wash out of shoes. This is not the place for Tevas!)
A towel for drying off.
A jacket in case it's chilly outside.
Sunscreen (you're at really high elevation, don't forget to apply sunscreen!)
Sunglasses. It can be bright out there!
A gallon of water per person. Again, you're at high elevation and sitting in hot springs. Stay hydrated!
Beer and/or wine! Please avoid bringing glass.

MAMMOTH LAKES HOT SPRINGS CAMPING
If you want to camp at the Mammoth Lake Hot Springs, you have two options. You can camp at the dedicated camping site, or do free camping on BLM land. If you are camping, please make sure you have the proper gear for the season. We camped at the end of May. Even though the days were warm, it dipped to the low 20's during the night and we all literally froze.
Camping: We camped at the Browns Owen River Campground just a few miles down the road. It's also the one marked on the map! It's $30 a night, has bathrooms and about 80 campsites and a cute creek running through it. You'll need to reserve your spot ahead of time during the busy season. Read more details on this campsite in this post!
We loved this campsite but we were COLD. We made the mistake of tent camping in May when the nights still dip into the low 20's. If you are coming to came here, be more prepared.
BLM Camping: Lastly, Mammoth Lakes has tons of BLM Land. BLM Land is public land that you can camp on, for free. There's a BLM area right by Wild Willy's Hot Springs if you want to camp there for free. BLM camping is not glamorous, you're on your own to bring everything and to pack out all your own waste. Yes, that includes human waste. But if you're on a budget and already have the gear, why not? You can learn more here.
BEST MAMMOTH LAKES HOT SPRINGS HOTEL
Lastly, you have some options on where to stay while visiting the hot springs in Mammoth Lakes. The city is small but it's a ski town, so there are a lot of vacation rentals and hotels to pick from!
The Village Lodge: Mammoth Mountain is a popular ski destination. The Village Lodge is one of the most popular ski villages in the area. Rent a luxury condo and take advantage of all the onsite perks (like the pools and hot tub!) while staying at the Village Lodge. From $212.
Tamarack Lodge & Resort: Stay in this historic lodge while visiting the Mammoth Lakes hot springs! After your dip, sit by the fireplace in the lounge or grab a drink at the hotel bar. This cute cabin hotel over on Twin Lakes Road has all the mountain charm you want! From $170. Claim deals here.
Vrbo: We love vacation rentals. Often, you can find a space that's far more unique than a hotel and sometimes for a cheaper price. They're also great if you are traveling in a group (more space!) and/or for longer than a few nights, as you can buy some staple groceries and cook a few meals at the rental. There are a handful of cute cabins for rent in Mammoth Lakes!
Juniper Springs Resort: A cool ski in/ ski out lodge in Mammoth Lakes that has a nice pool for the summertime visits.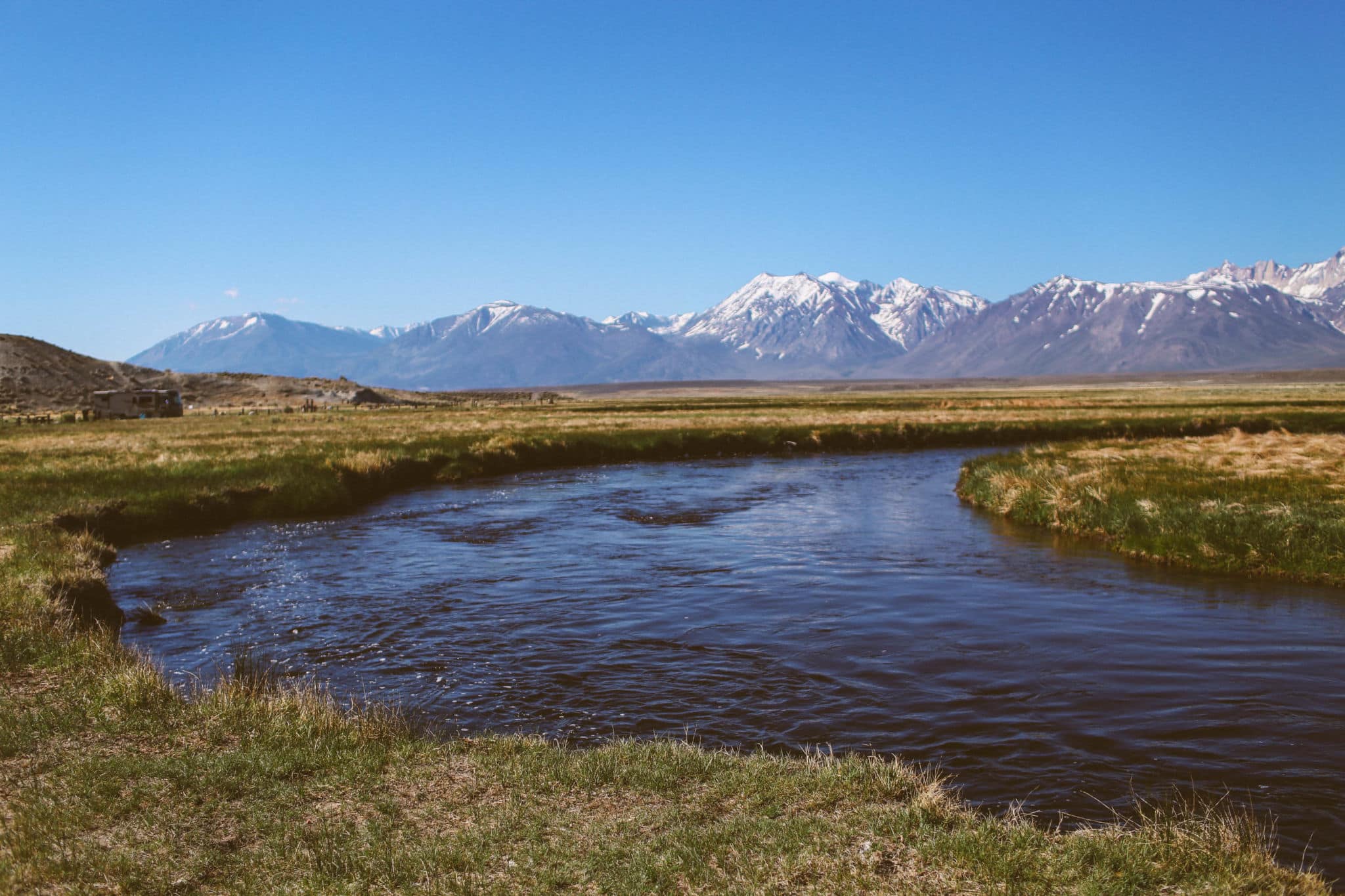 I hope this helps you plan your trip to any Mammoth Lakes hot springs! If you have any questions or want to leave reviews, at all drop a comment below or shoot me a DM on Instagram @TheWhimsySoul!
There are more hot springs near Mammoth Lakes CA, like the Travertine Hot Springs (read that guide here) and also a few other smaller ones that mostly only locals know about. If a local really likes you, they may tell you how to find them, but for the most part, they keep those locations secret.
I love hunting for natural hot springs in California and it's now a personal mission of mine to do a road trip along the Sierras to visit all of the best hot springs in the state! I just stopped by Kern River hot springs recently on a trip to Southern California.
Read my
June Lake Loop
guide, a little town near the hot springs in Mammoth Lakes, CA!
PIN THIS GUIDE FOR LATER!