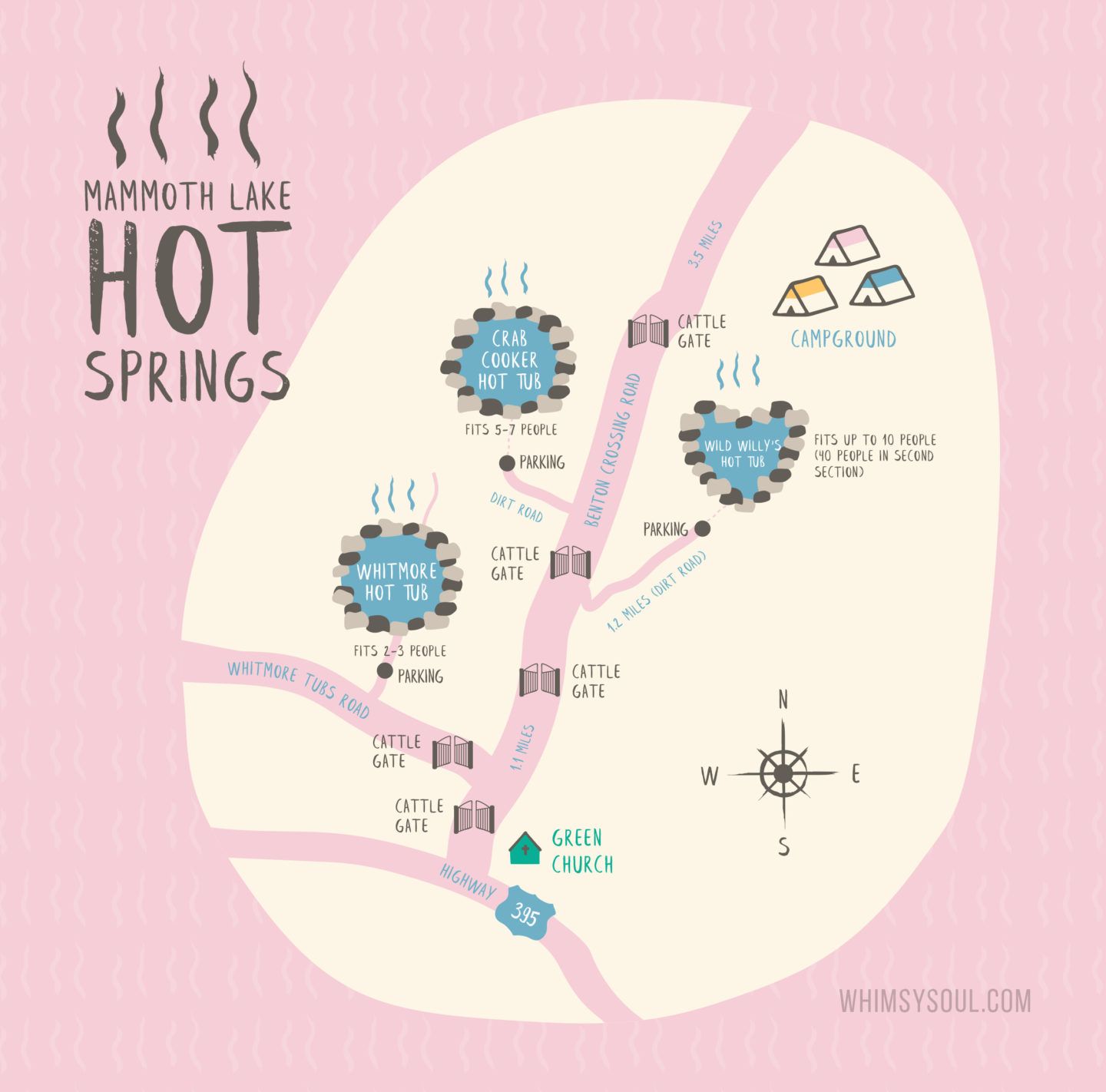 Last month, friends and I road tripped from San Francisco up to Mammoth Lakes to go camping and visit Wild Willy's Hot Spring, a natural hot spring in the mountains that has one pool that looks like a heart! What we didn't realize was that there are actually three natural hot springs all in the same area outside of Mammoth Lakes, so we of course had to stop by all three!
This is my guide to the top three natural hot springs in Mammoth Lakes, including Wild Willy's Hot Springs, The Crab Cooker Hot Springs and the Whitmore Hot Springs. Keep scrolling to learn exactly how to find each hot spring, a description of each, which one I think is the best, what to pack on your hot springs trip and more.



First, who am I and why should you take travel advice from me? My name is Kara, I'm the gal behind Whimsy Soul (follow me on Instagram @thewhimsysoul HERE.) I grew up in the Midwest and ran away to San Francisco because winters suck (seriously.)  My big passion in life is helping other women feel confident in themselves and confident to explore the world around them. I try most things out myself to see if it really lives up to the hype, so you can go explore without any FOMO. Read on to find my hot springs guide! If you have any questions, pop them in the comments below or DM me on Instagram.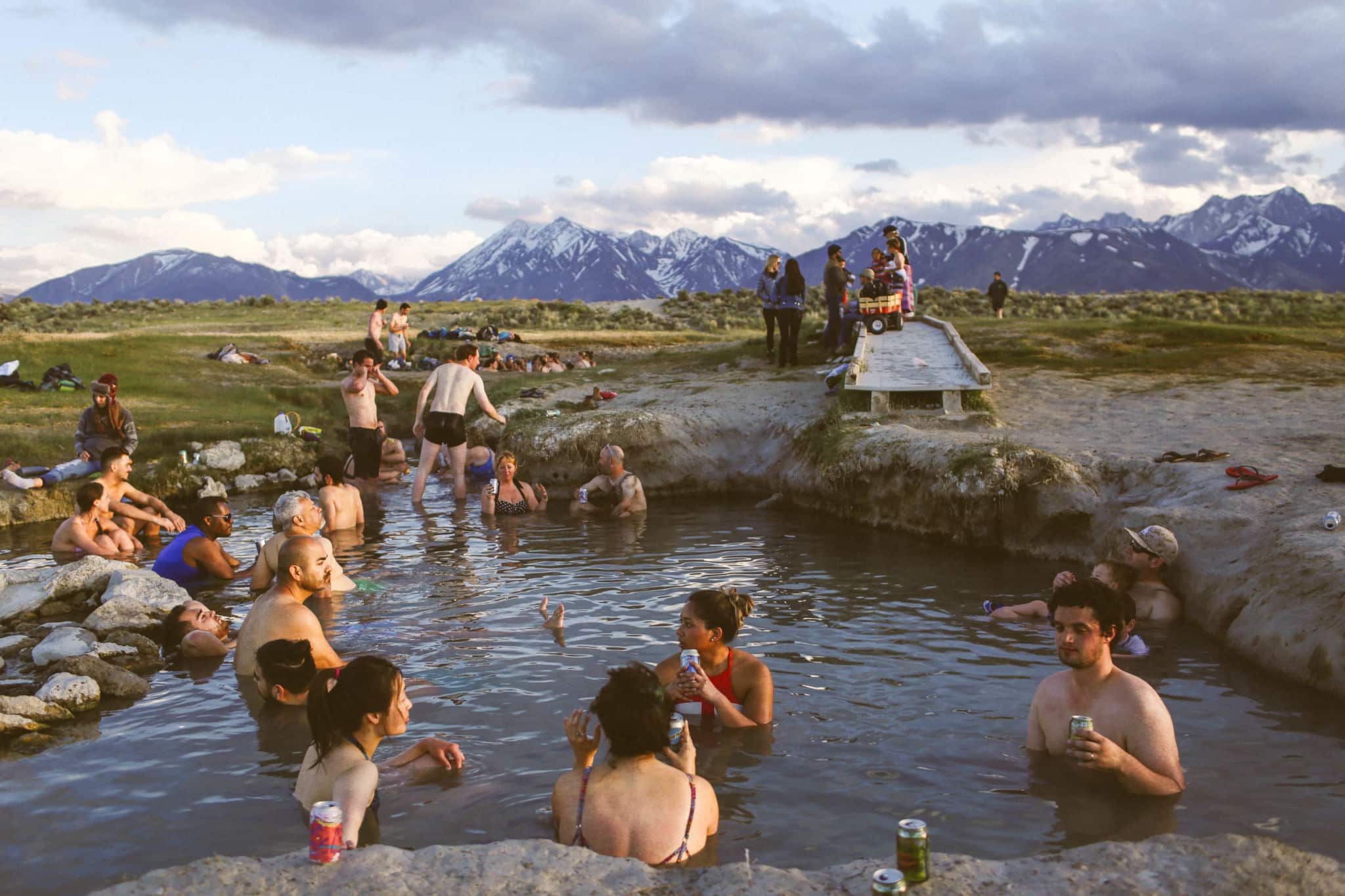 ---
QUICK TIPS FOR THE HOT SPRINGS
---
Take a screenshot of my map above now so it's on your phone for easy access when you're looking for the hot springs! It has all the information, mile markers and details you need to find each hot springs.
Cell service isn't the best, so don't plan on being able to make calls or easily search things on your phone (like directions, so again, screenshot my map!)
The weather changes quickly in the mountains, so bring layers and water, just in case! I recommend this jacket.
The gravel roads to each hot springs are VERY bumpy and rough. If you can, take a car with 4WD.
These hot springs aren't that secret. You will have to share most tubs with strangers unless you arrive right at sunrise and an offseason day. Don't be shy!
The National Park Rangers will NOT help you find the hot springs, it's against their policy to even talk to you about them. (They actually get pretty rude about it.) It'll be 911 that would be available to assist in an emergency, not any local rangers, so please keep that in mind. Be safe! 
---
CRAB COOKER HOT TUB
---
The Crab Cooker Hot Springs sits higher than all the others and thus has a sweeping 360 view of the valley. The mountains look extra BEAUTIFUL here. It's big enough to easily fit 5-7 people, probably up to 12-15 if you squash in tight. This one has the best view of the mountains in my opinion. If you can nestle yourself in the corner of the tub, you can have a front row seat to the mountain "skyline".
This is one of the springs that has a pipe pumping in hot springs waters into the tub. Because of this, it's far cleaner than Wily Willy's, which is the only 100% natural spring, mud and all. But, it's still the natural water! If you aren't looking to get dirty, this is a good option. It also has a nice rim to it which makes for a good seat to cool off on while still hanging out with everyone.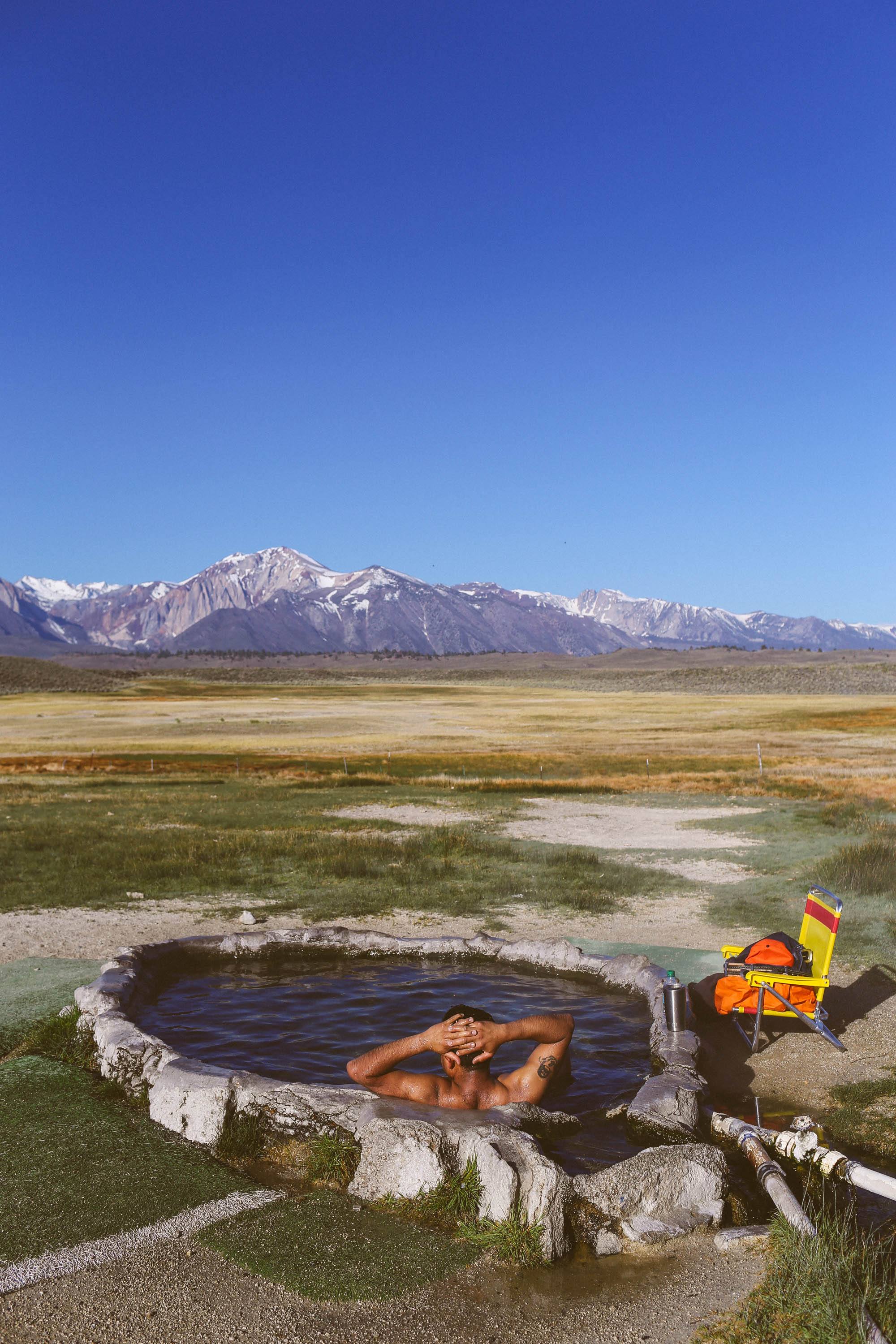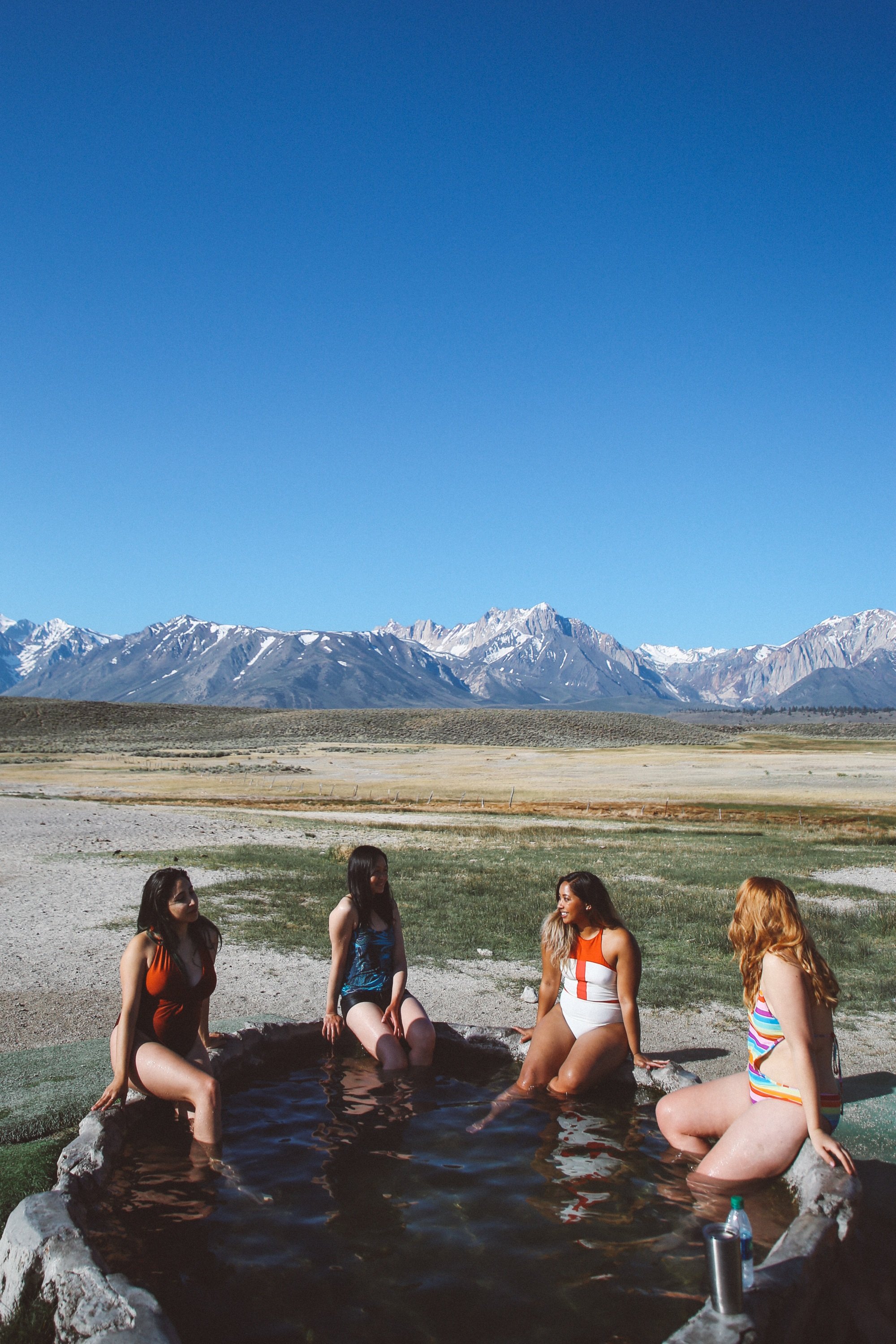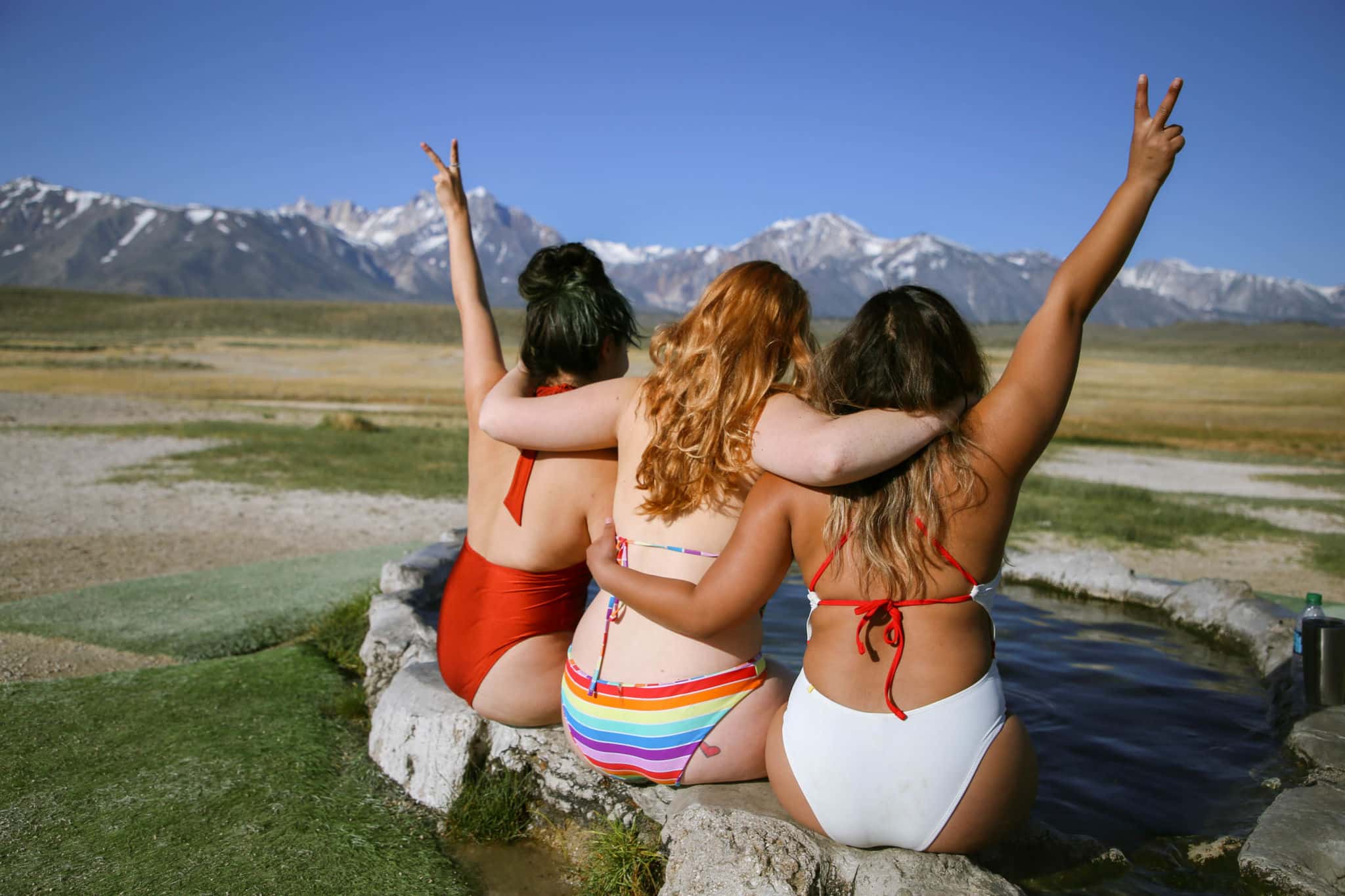 ---
WHITEMORE HOT SPRINGS
---
The Whitemore tub is the smallest of the three. It's tucked right off the side of a BLM parking lot, so you'll be soaking right next to trailers, RVs and perhaps tents. Because it's literally footsteps from a parking lot, there's usually always people here soaking, and it's small, so there may not be room for you. It can fit 3 people, 4 would be pushing it.
On the flip side, because it's so close to your car, it's a great place to stay overnight if you own an RV. Imagine waking up, grabbing your coffee, waking a few steps and waking up to the day in a hot spring! The proximity also makes it a good tub for families and people with disabilities who can't walk .5-1 miles down to the other two hot springs.
This tub is the other one that has water pumped in, so it's not that muddy.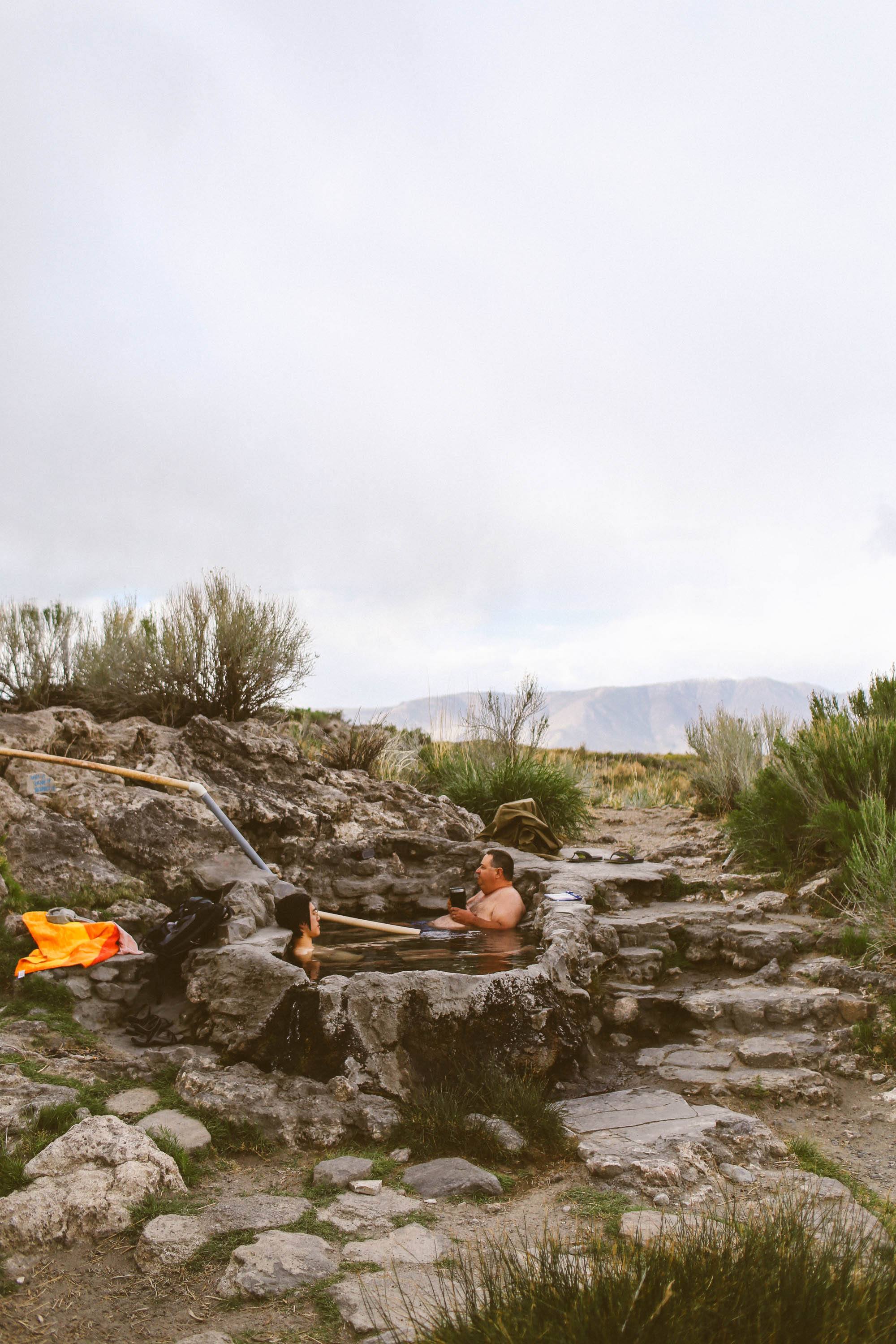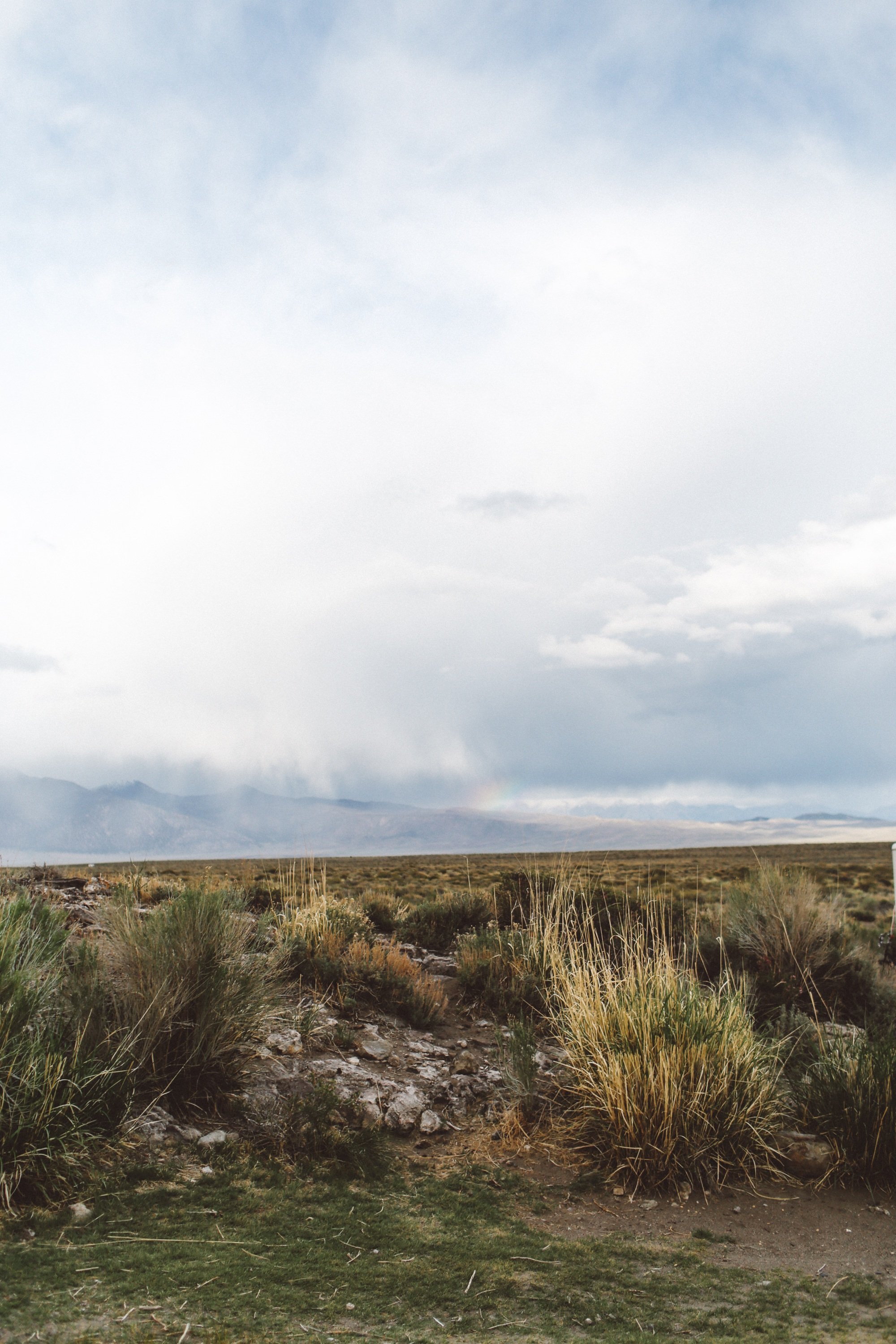 ---
WILD WILLY'S HOT SPRINGS
---
And finally, time to talk about Wild Willy's Hot Springs! This is the big one that most people know about because it can fit easily 50-75 people and even has a pool that is shaped like a heart! It's also the only 100% natural hot spring because no water is pumped in, you'll be sitting in the spring directly in the earth. You'll get a bit muddy, but it doesn't stain clothes, don't worry!
So here's the thing, Wild Willy's Hot Springs has so much to say about it that I wrote a blog post that's totally dedicated to the hot springs. If you want to visit Wild Willy's, I highly recommend reading this blog post that is 100% filled with to everything you could possibly want to know about Wild Willy's.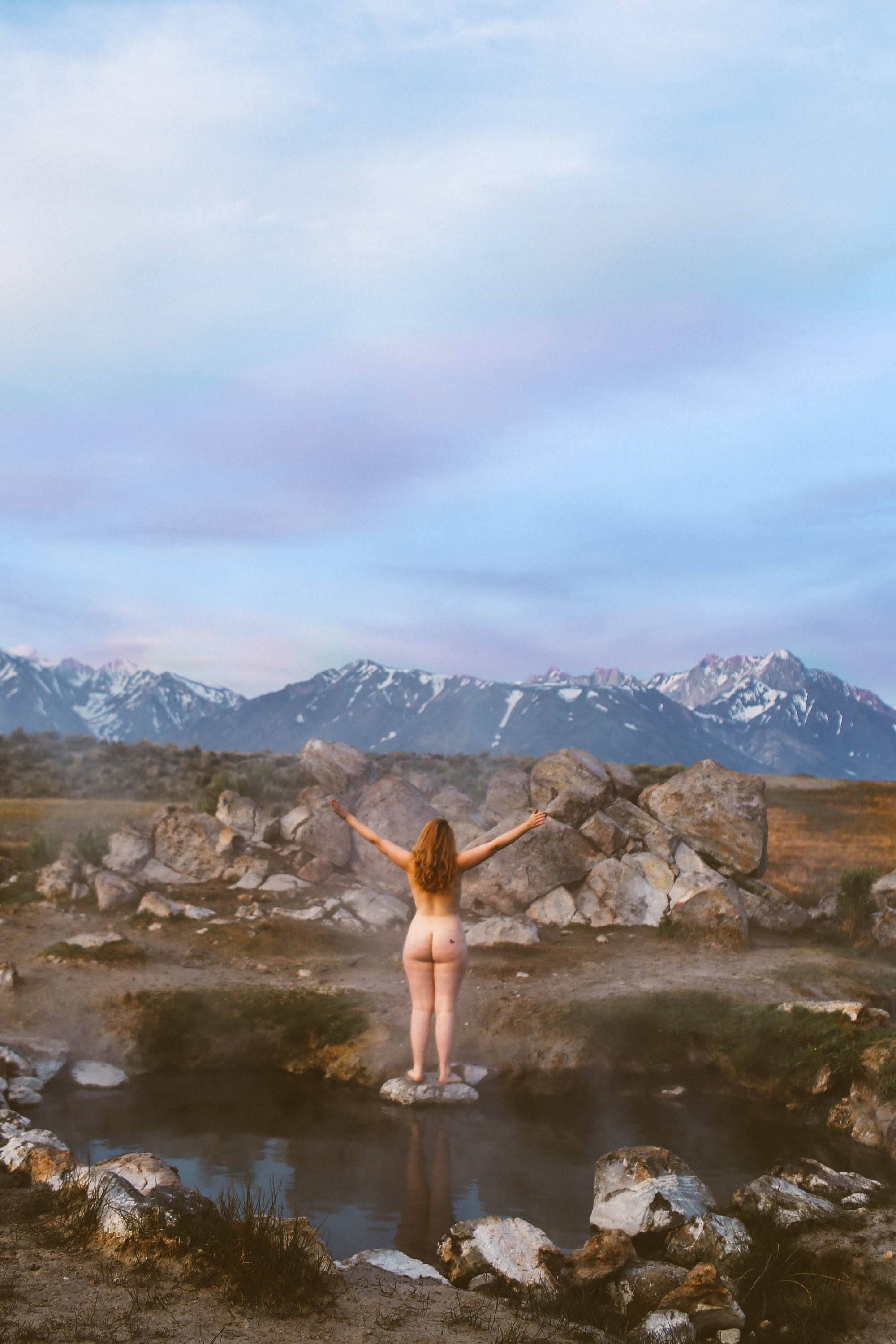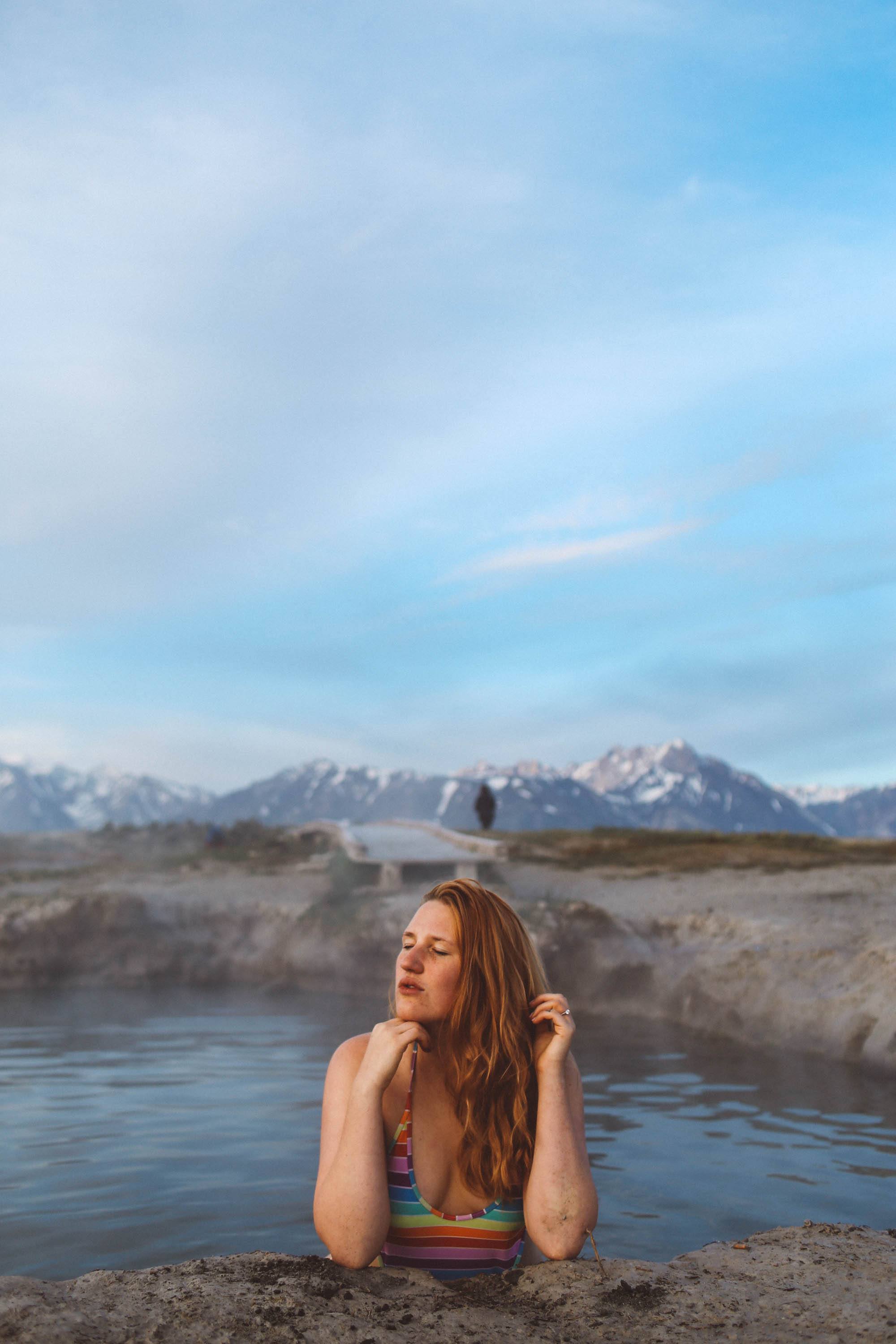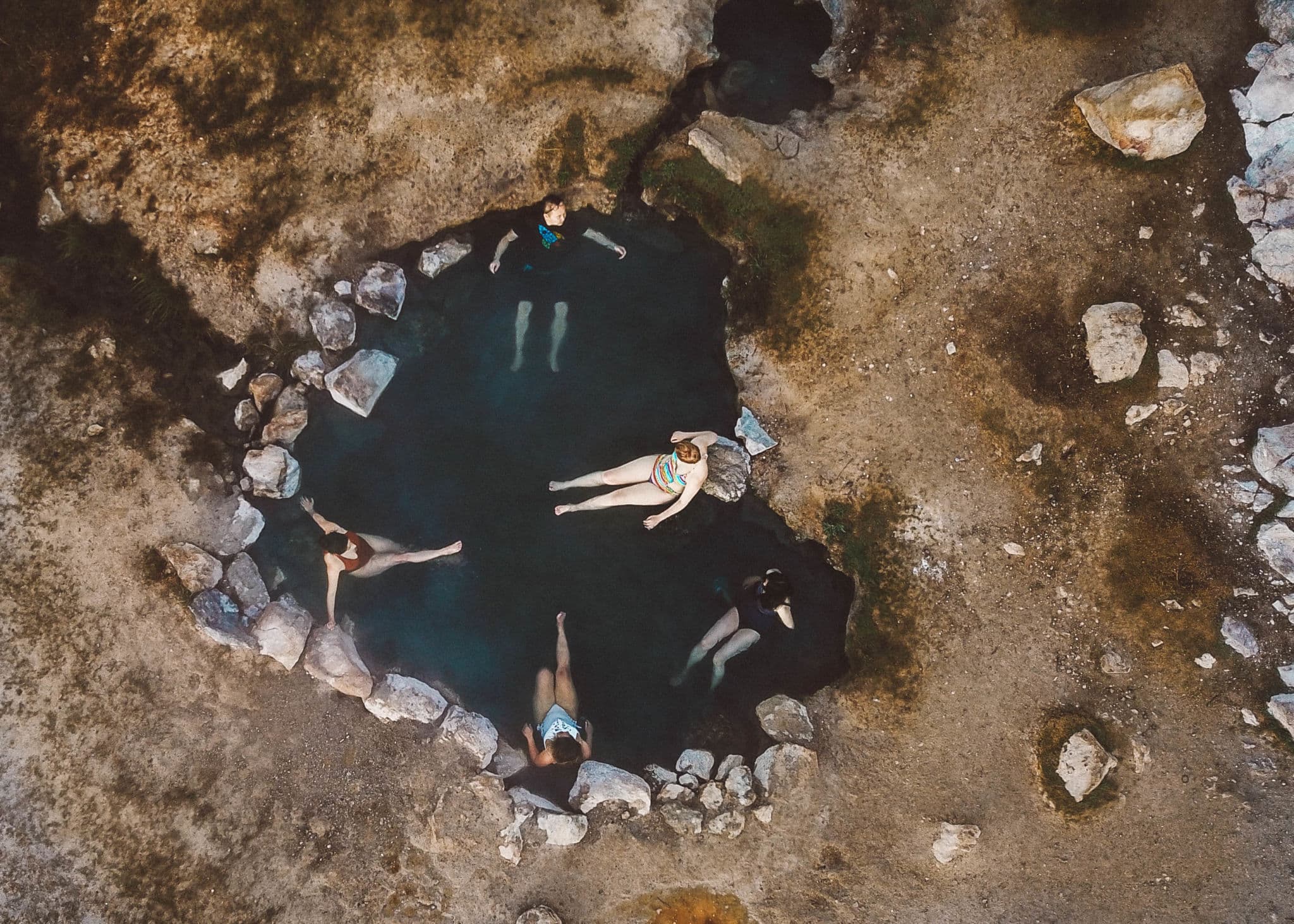 ---
WHAT TO PACK FOR HOT SPRINGS
---
So, obviously what you need to pack totally depends on the weather. This is in The Sierras, winter is real tough up here. Because technically the gates to the hot springs are closed in the winter (you can totally walk past them) I'll be focusing on what to pack if visiting in the spring, summer or fall when it's warmer and, frankly, more fun to visit.
Here's what you'll need:
A swimsuit (the mud will wash out, so it can be a cute one like this swimsuit!)
Sandals that can get dirty (dried mud is harder to wash out of shoes.)
A towel for drying off.
A jacket in case it's chilly outside.
Sunscreen (you're at really high elevation, don't forget to apply sunscreen!)
Sunglasses. It can be bright out there!
A gallon of water per person. Again, you're at high elevation and sitting in hot springs. Stay hydrated!
Beer and/or wine! Please avoid bringing glass.
---
WHERE TO STAY
---
Lastly, you have some options on where to stay while visiting the Mammoth Hot Springs. From camping, hotels to vacation rentals, there's plantly of options!
Camping: We camped at the Browns Owen River Campground just a few miles down the road. It's also the one marked on the map! It's $30 a night, has bathrooms and about 80 campsites. You'll need to reserve your spot ahead of time during the busy season. Read more details on this campsite in this post!
Hotel: If camping isn't for you, or the weather isn't ideal, there are hotels and Mammoth Lakes, about a 25-minute drive from the hot springs. You can find a list of top-rated hotels in Mammoth Lakes HERE!



Airbnb: We love vacation rentals. Often, you can find a space that's far more unique than a hotel and sometimes for a cheaper price. They're also great if you are traveling in a group (more space!) and/or for longer than a few nights, as you can buy some staple groceries and cook a few meals at the rental. Use THIS link for $40 off your first night on Airbnb!
BLM Camping: Lastly, Mammoth Lakes has tons of BLM Land. BLM Land is public land that you can camp on, for free. There's a BLM area right by Wild Willy's Hot Springs if you want to camp there for free. BLM camping is not glamorous, you're on your own to bring everything and to pack out all your own waste. Yes, that includes human waste. But if you're on a budget and already have the gear, why not? You can learn more here.
---
I hope this helps you plan your trip to any Mammoth Lakes hot springs! If you have any questions at all drop a comment below or shoot me a DM on Instagram @TheWhimsySoul!
PIN THIS GUIDE FOR LATER!