Yay, you made it to the best and easiest (and totally free) vintage lightroom preset!
Way back when I was a teenager, I taught myself photography on a film camera. I took film classes in school and have spent so many hours playing around in dark rooms or cracking open old Kodiak cameras to make retro-style lightrooms.
A free preset is one of the most requested things I get from my followers, so when it came time to launch my first FREE lightroom preset to my followers, I was inspired by the film look I used to use all the time.
Keep scrolling to download my retro Lightroom preset + learn how to install it correctly on your desktop and mobile!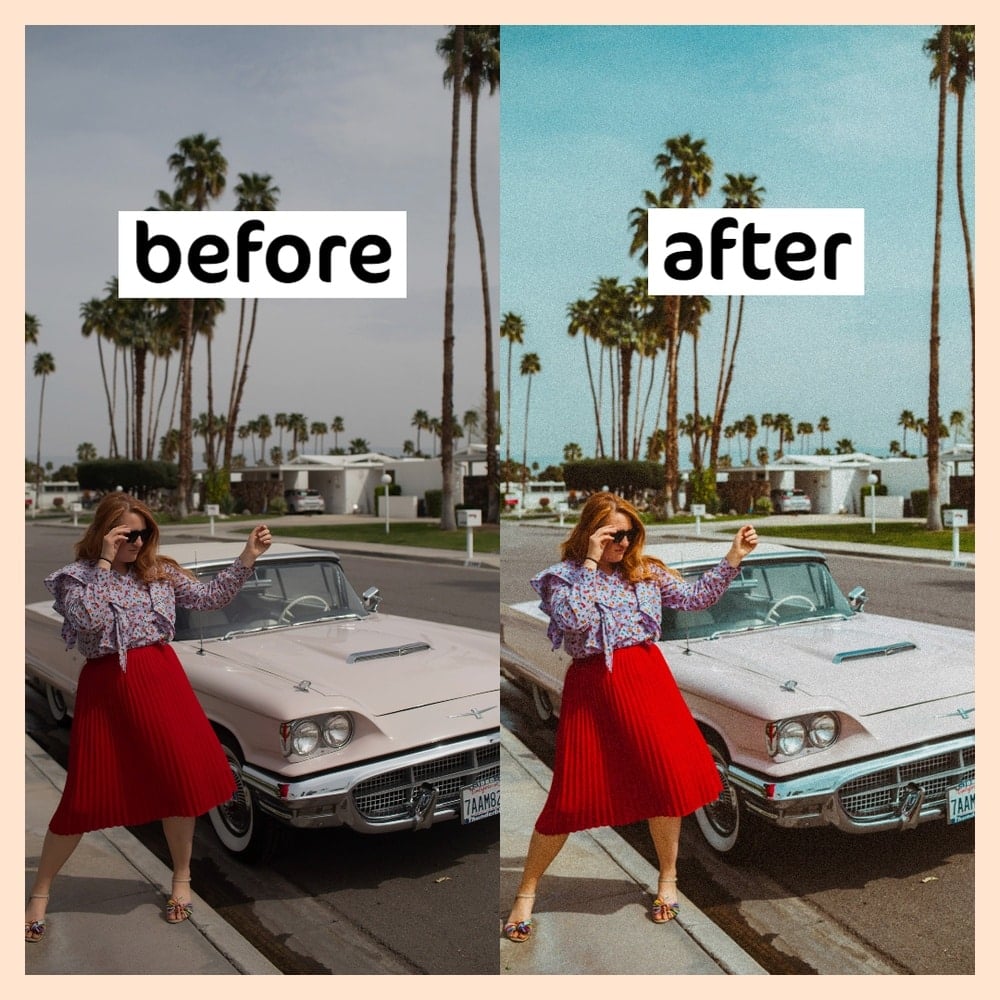 This filter, which is called "Palm Springs" was inspired by the old retro feeling that Palm Springs gives you. It was also made with my follower's needs in mind.
While Robin and I will wake up at 6am to photograph our travel photos at sunrise's golden hour, I 100% don't expect regular non-bloggers to do that. Most of the Whimsy Soul community are taking their vacation travel photos in the middle of the day in bright, harsh light.
This is a lightroom preset vintage one-click solution for those types of photos, making it easy for anyone to turn travel photos from meh to beautiful in a few seconds. I think the effects look the best on landscape or portraits looks that are taken in bright light.
But play around with it, and make sure to use #whimsysoul on Instagram if you post anything with my preset!!
Download my FREE vintage lightroom presets for desktop AND mobile! That's right, my free preset pack has both!

Yay, you're ready to install and start turning your photos into dreamy, vintage looks that look like there were taken with a real film camera!
Now, onto how to install and other Lightroom tips.
Why Use Adobe Lightroom Presets?
Lightroom presets are a game-changer for editing a lot of photos in a similar style and to do it all very quickly. I learned photography before Lightroom existed and I can attest that photoshop actions and janky old software can't match the power of lightroom.
(Seriously – it used to take me literally all day editing photos on the couch)
And now, there's even lightroom mobile for users to do photo editing on the go and there's a free version so you don't have to pay for the subscription! But, I recommend getting the subscription since it's only $10 a month and I think editing photos on desktop is always ALWAYS better as you get more control that way.
But lightroom mobile is awsome on the go, especially on vacations when I'm looking to post that lit beach photo to Instagram from the comfort of my lounge chair.
How To Install My Free Lightroom Presets On Desktop
I'm going to walk you through how to install and use my free vintage preset (called Palm Springs) on dekstop and mobile. Let's start with desktop.
Install Lightroom Classic CC on your computer.
This is available through a paid subscription but it's only $9.99 a month + worth every penny. You can also usually get huge discounts if you are a student, so milk that student ID baby if you can!
Click the "Develop" tab
This launches you into the develop mode so you can import presets!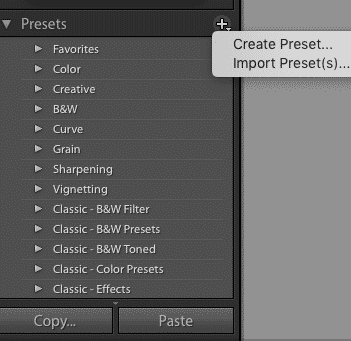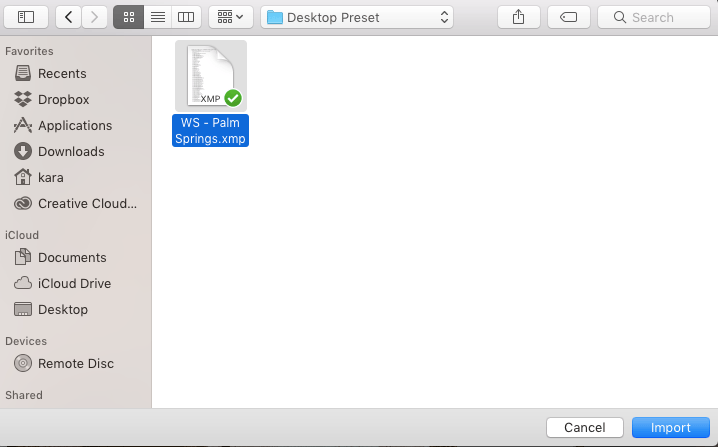 Click the +/- button in the presets tab to import
Head to the window in the bottom left and look for the "presets" tab. Click the +/- button in the top corner and then click "import presets"
Import the download
Then, unzip the download, click through the "desktop" folder and choose the .xmp file there. Your preset will be automatically loaded into your preset folder in Lightroom!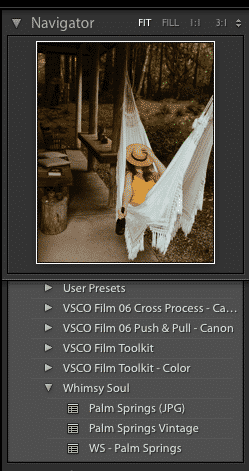 How To Install Lightroom Mobile Presets
Installing and using mobile lightroom presets are a bit trickier. Here's how you do it.
Download Lightroom Mobile To Your Phone
Download the free Lightroom mobile app from the app store. You'll need to make an account and login even if you are using the free Lightroom mobile app. So, have the login info ready and at hand!
Download The Lightroom Preset Mobile To Your Phone
I think it's easiest to airdrop the file to your phone after downloading and unzipping the folder. You can find the mobile preset (which is a DNG file) in the Mobile folder.
Import The Preset
To import the Palm Springs preset, you need to click the three … in the top right corner. This will prompt you to your camera roll where you can select the DNG file (it looks just like the photo of me in Palm Springs in front of the car!)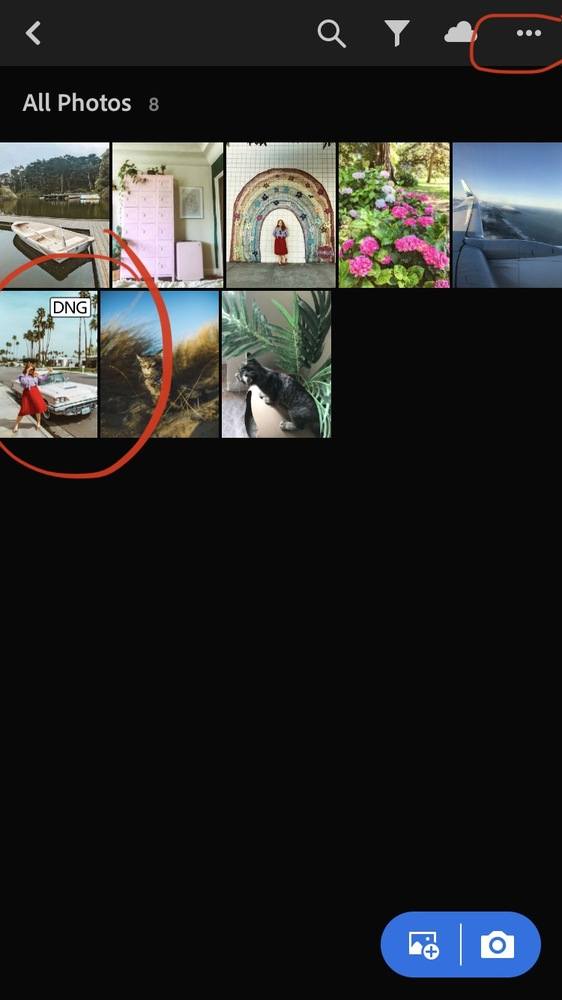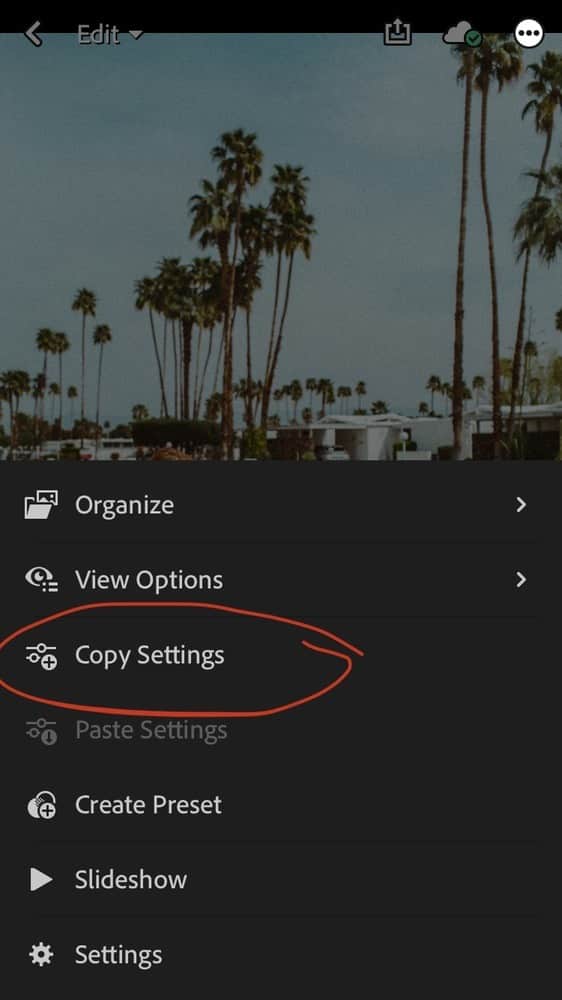 Using The Preset
To use the mobile prest, you need to first always copy and paste the preset effects. To do this, open the DNG file (it'll have a little label in your Lightroom roll) and click "copy settings".
Then, open up the image you want to edit and click "paste settings" and BOOM, the effects are pasted on that photo! You can then make any further edits needed with the Lightroom editing tools.
It's not as fancy as using presets on the Desktop but that's how to do it.
Some Super Important Things To Know About My Lightroom Presets
Not every photo is going to look that same when using this preset
This vintage preset was inspired by Palm Springs and indented for my followers to use on their travel photos, especially ones taken in the middle of the day.
Just like with all Lightroom presets, not every preset effect is going to look good on every photo.
You'll still need to make individual edits
Most likely you'll still need to make individual edits to each photo you take. This is totally normal! A lot of people think presets are the only thing you need to do when editing a photo, but that's not true. It's a huge first step, but you still need to make edits.
For this vintage lightroom preset, you may have to color correct. It's pretty blue so if your photo is looking too blue or even too green, adjust the hues a bit until it looks better.
Don't be afraid to play around!
I'm going to be working on more preset collections and free retro lightroom presets since I love this look. Keep in touch so you can catch all my future free Lightroom presets!
Got questions? Leave a comment below or DM me on Instagram @thewhimsysoul and I'll be happy to help!