You may have driven right past the cute town of Truckee on your way to North Lake Tahoe, most people do. This is one of the reasons I love Truckee so much – you get all those Lake Tahoe mountain vibes with a fraction of the crowds.
I just spent a long weekend with the girls in Truckee so I can bring you the ultimate city guide. Keep reading for my tips on how to spend your time when visiting this cute town.
Things To Do In Truckee California: What To Do, Eat, Hike & Shop in This Adorable Mountain Town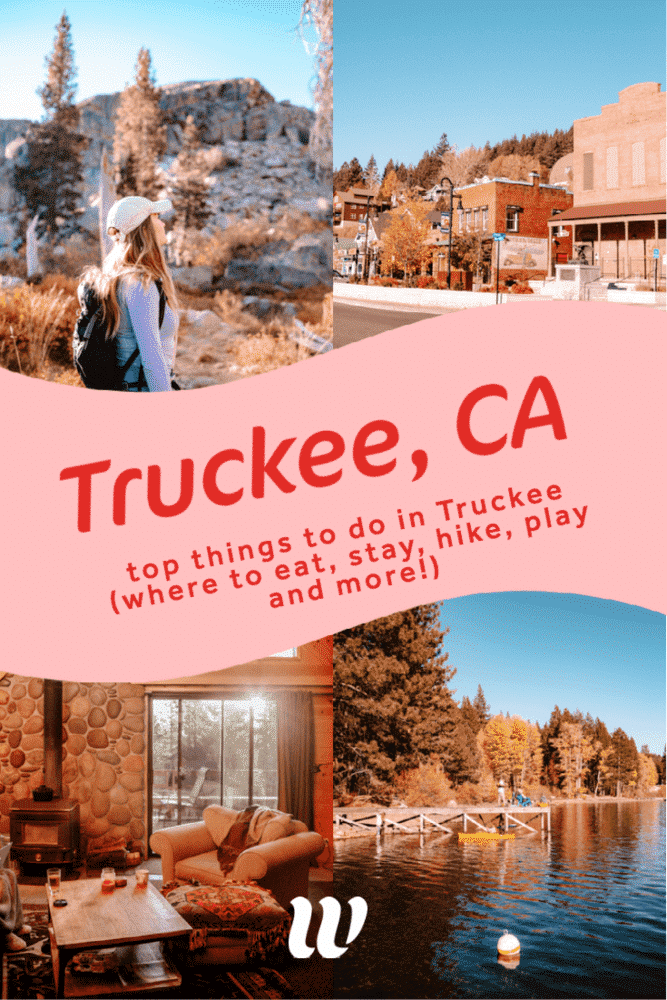 >> Got a question about Truckee that you need answered quickly? DM me on Instagram @thewhimsysoul and I'll be happy to help!
I kinda want to convince you to change your Lake Tahoe trip to a Truckee trip. This was my first time really just staying put in Truckee (instead of visiting on day trips) and holy moly, it was amazing. I love Tahoe, don't get me wrong…
I love hiking Vikingsholm Trial on Emerald Bay. Brewery hopping in South Lake Tahoe is a blast, and unwinding with a drink at the Hyatt on North Lake is simply bliss. But there's something special about making Truckee your home base. It's 1000% more peaceful (being on Lake Tahoe can sometimes be like a zoo) and staying in Truckee made me feel like a local, not a visitor.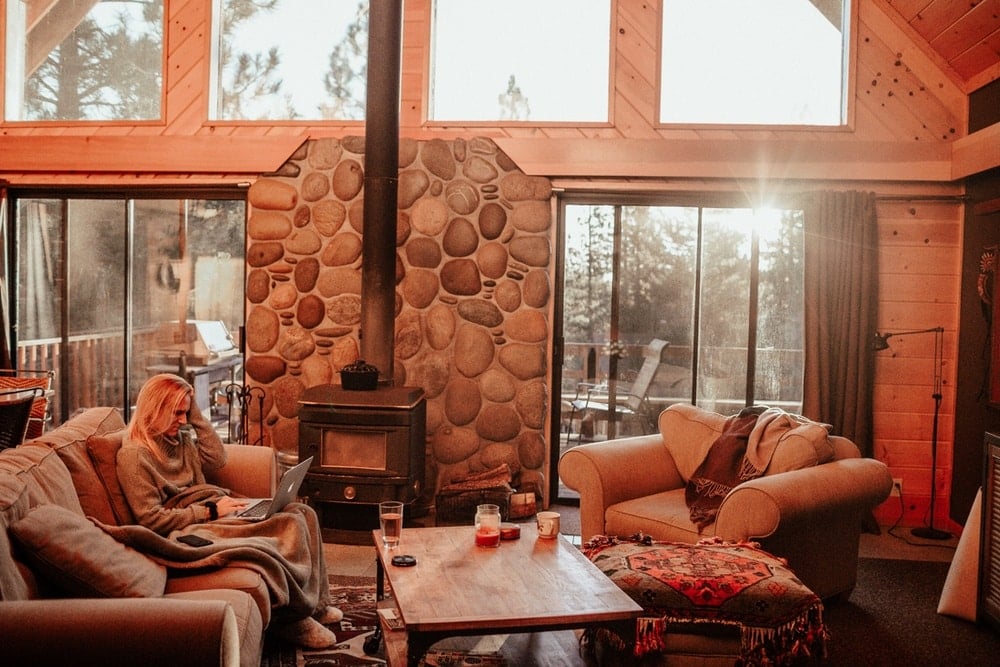 Where To Stay In Truckee (Hotel Or Cabin?)
So, first things first- where should you stay in Truckee? While there are some hotels in town, and also nearby ski resorts, I'm very pro-cabin and vacation rentals. These are the Sierra Nevadas after all, the mountain simply make the best place to rent a cabin to get cozy in. Here's my favorite spots:
Stargazing Cabin: This cute cabin is out in the Tahoe Donner neighborhood, which means tons of trees and clear skies at night for stargazing! You can easily stroll right outside to the backyard which has river access and mountain bike trails. Inside there is a fireplace to get cozy next to. BLISS.
Donner Lake Cabin: The highlight of this Truckee Airbnb cabin is the porch that overlooks Donner Lake!!! It looks like the perfect spot to sip some beers or hot cocoa on while watching the sunset over the lake.
Cedar House Sports Hotel: There aren't as many Truckee hotels as you can find on Lake Tahoe, but I think the Cedar House Sports Hotel is a fun mix of cabin vibes with hotel amenities. They allow dogs, too!
Things To Do In Truckee, CA
Once you book your cabin, it's time to plan out all the fun things to do in Truckee! First I have listed fun activities, then I share all my favorite restaurants.
Keep in mind that there are all four seasons here, so make sure to check the Truckee weather before you go so you can adjust any travel plans accordingly.
1. Hike The Angela, Flora, and Azalea Lakes Loop
WOW is really all I can say after hiking this trail outside Truckee. It features about 6 alpine lakes, sweeping views of the Sierra Nevada Mountains, a stop at the famous Donner Summit Lookout and, if you time it right, you can have it all to yourself.
The girls and I hiked this the long way round, which is almost about a 7 mile loop in total. You can take the shorter way if you just want to see the lakes and your hike will be much shorter, probably 2-3 miles roundtrip. Either way, you end up at the Angela, Flora and Azalea Lakes, which are each beautiful. I dipped my toes in them (they were cold AF!) but I imagine on a hot summer day it would feel amazing to jump into these.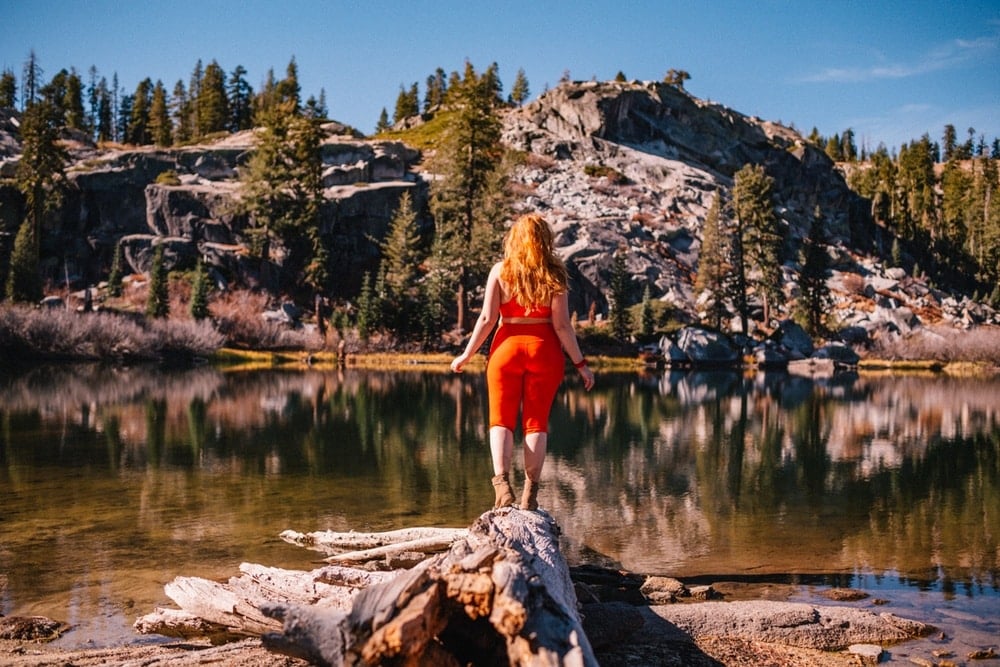 2. Donner Summit
If you don't feel like doing a 7 mile hike to Donner Summit, don't worry, you can drive up to this viewpoint & trailhead instead. It has a STUNNING view of Donner Lake below, which makes for a great photo op, and you can really see how much larger the lake is than most people realize.
This is also the gateway to a ton of recreational sports, like rock climbing, cross country skiing, sledding, skiing, hiking and more. This is where you find the trailhead for Mount Judah Loop Trail, one of the other most popular hikes in the Truckee area. It's also near the trailhead to the Hole In The Ground Trail which leads you across Soda Springs Mountain. It's 12 miles so most people choose to mountain bike this one.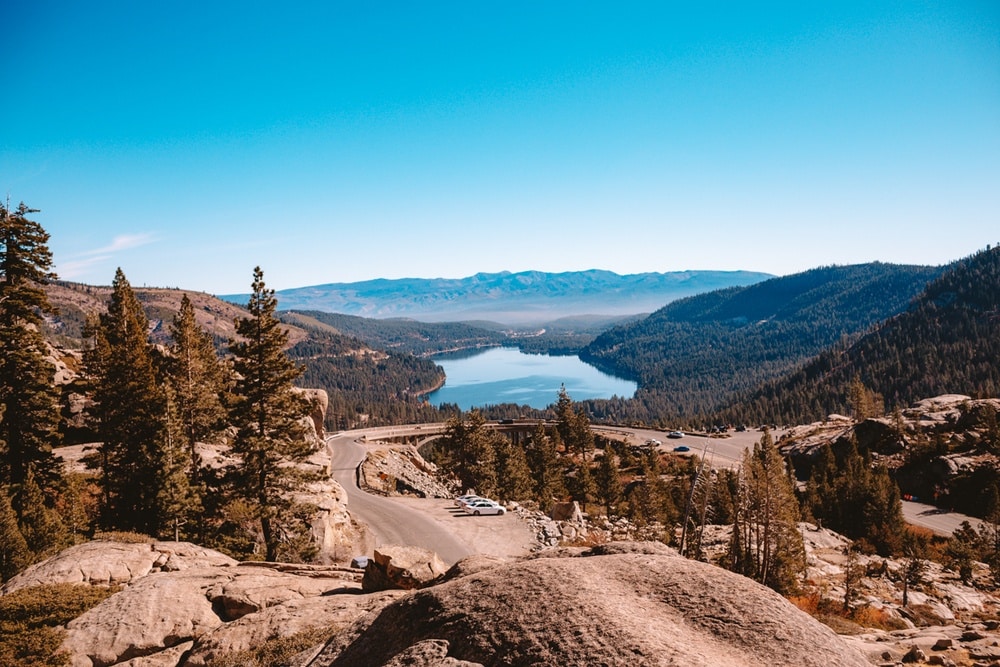 3. Explore Downtown Truckee
The historic downtown Truckee is super cute, totally has all those tiny mountain town vibes you want while also delivering on the more modern touches that make traveling more fun (like craft coffee shops, well-curated boutiques, kombucha on tap, etc.)
Set aside a couple of hours one afternoon to just walk around, pop into shops and explore downtown Truckee. Truckee is actually split up in two areas: the historical part and what I like to call the "locals area" with Safeway, Rite Aid, etc. This historic part is where most of the good restaurants and things to do are for visitors. (Scroll down for my list of favorite restaurants!) Keep an eye out for all the rainbows around Truckee. Almost every store has one in their windows.
Parking meters are free before 10am. Make sure to pay the meter if you are parking after 10am to avoid tickets!
4. Hit Up A Historical Museum
Not many small mountain towns deliver on museums like Truckee does. There's a lot of history to unpack in this area and a few museums you can visit!
Old Truckee Jail Museum: 19th-century jailhouse that offers tours
Truckee Railroad Museum: A small (and fee) museum with models and displays. Good for all ages.
Emigrant Trail Museum: Located next to Donner Memorial State Park, this museum details the Donner Party expedition & other area histories.
Tahoe Maritime Museum: This in Tahoe City on Lake Tahoe but worth the drive for anyone who really loves maritime history.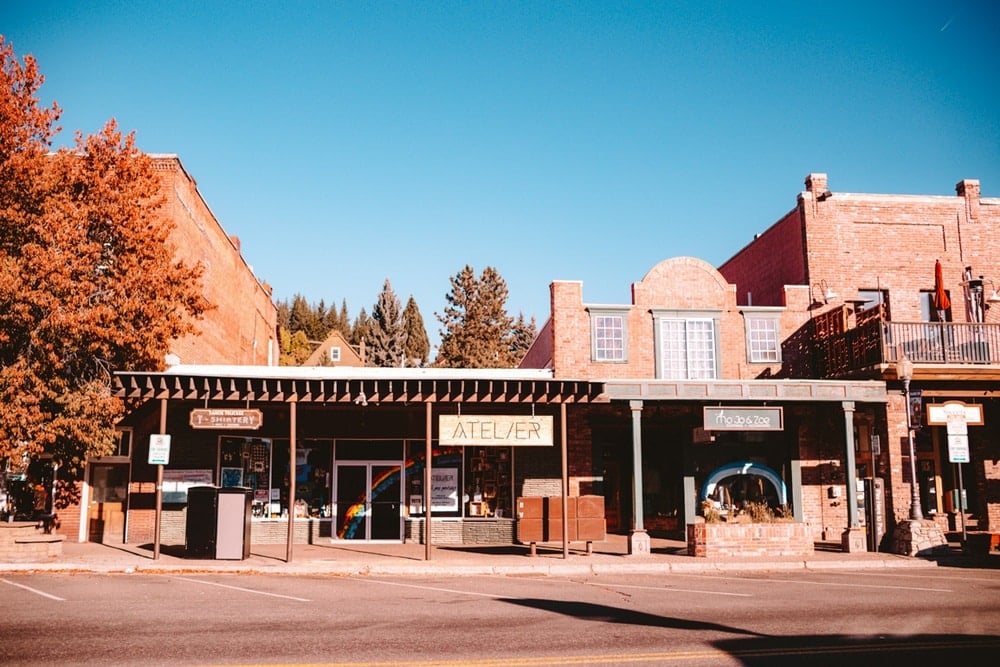 5. Truckee River Regional Park Trail
The Truckee River Legacy Trail is about 9 miles long and stretches along the Truckee River. It's totally paved and mostly flat, making it a great option for leisurely strolls or even bike rides!
6. Claim A Dock On Donner Lake
One thing I really love about Donner Lake is all the public docks available. Unlike Lake Tahoe, where most of the docks are private, Donner Lake has many, many docks that are totally free and open to the public to use. The girls and I drove down sunny afternoon to just chill by the water, watch the kayakers and soak up the beauty of the lake.
This would make a great place to bring a picnic! If all the docks are claimed, head to Donner Memorial State Park instead. There is a little beach there that you can probably find some space to spread out!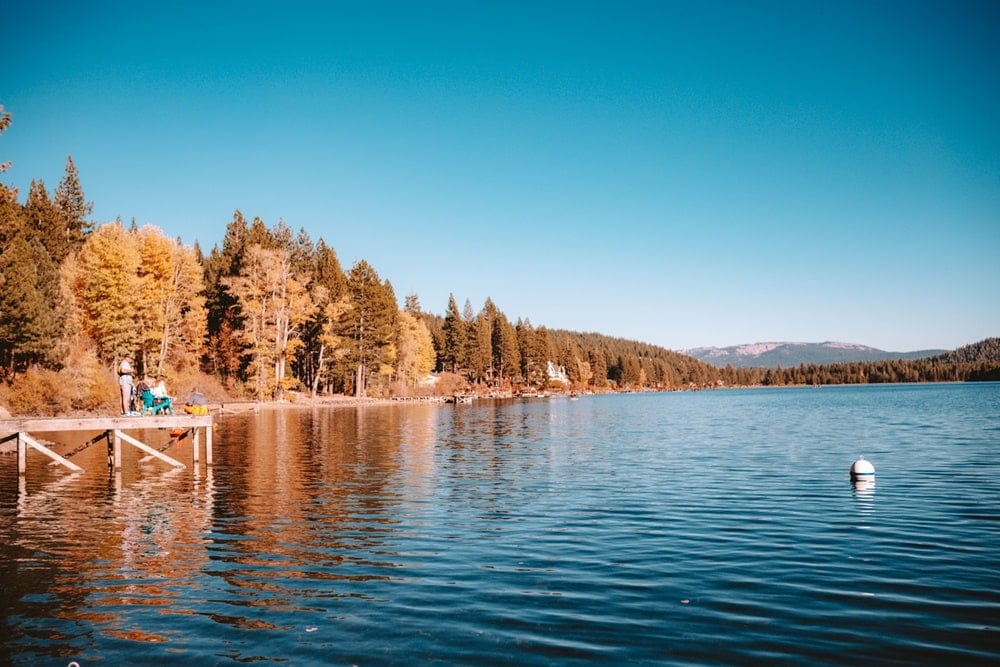 7. Go Kayaking or SUP
Donner Lake watersports are always fun. If you don't own your own gear, head to the Doner Lake Marina to rent boats, paddleboards, canoes or kayaks. You can even try a hydro bike here – which I saw someone on Instagram ride this summer and now I 100% want to come back to Donner Lake during the warm months so I can hydro bike my little heart out, too.
8. Go Skiing or Snowboarding
One of the best things to do in Truckee winter is skiing or snowboarding (or, if you're like me: hanging out at the ski village drinking beer while watching people hit the slopes because I don't have enough hand-eye coordination to successfully do that.)
Since these are the Sierra Nevadas, there's tons of ski resorts and hills all over the place, but these are the 4 that are nearest to Truckee:
9. Day Trip To North Lake Tahoe
North Lake Tahoe is probably only about a 30-60 minute drive from Truckee (depending on weather and traffic.) If you're in Truckee for a while, it's absolutely worth it to take a day trip to Kings Beach and Incline Village. Dip your toes in the largest alpine lake in North America, hike along the shores or even rent a boat to get out on the water!
Kings Beach is another cute town with shops and restaurants that you can explore, or you can pop over to the Nevada Side to hit up a casino if that's your thing. Or, if you're really up for an adventure, head to Secret Cove for some of the bluest parts of the lake. It's magical.
10. Day Trip To Reno
OR, you can opt to pop into Reno for a day trip! It's also only about a 30 minute drive from Truckee and there are surprisingly a lot of fun things to do in Reno these days, it's really starting to grow. From cute hipster coffee shops, to a riverwalk, museum of art and of course, casino culture, Reno make the perfect city day trip.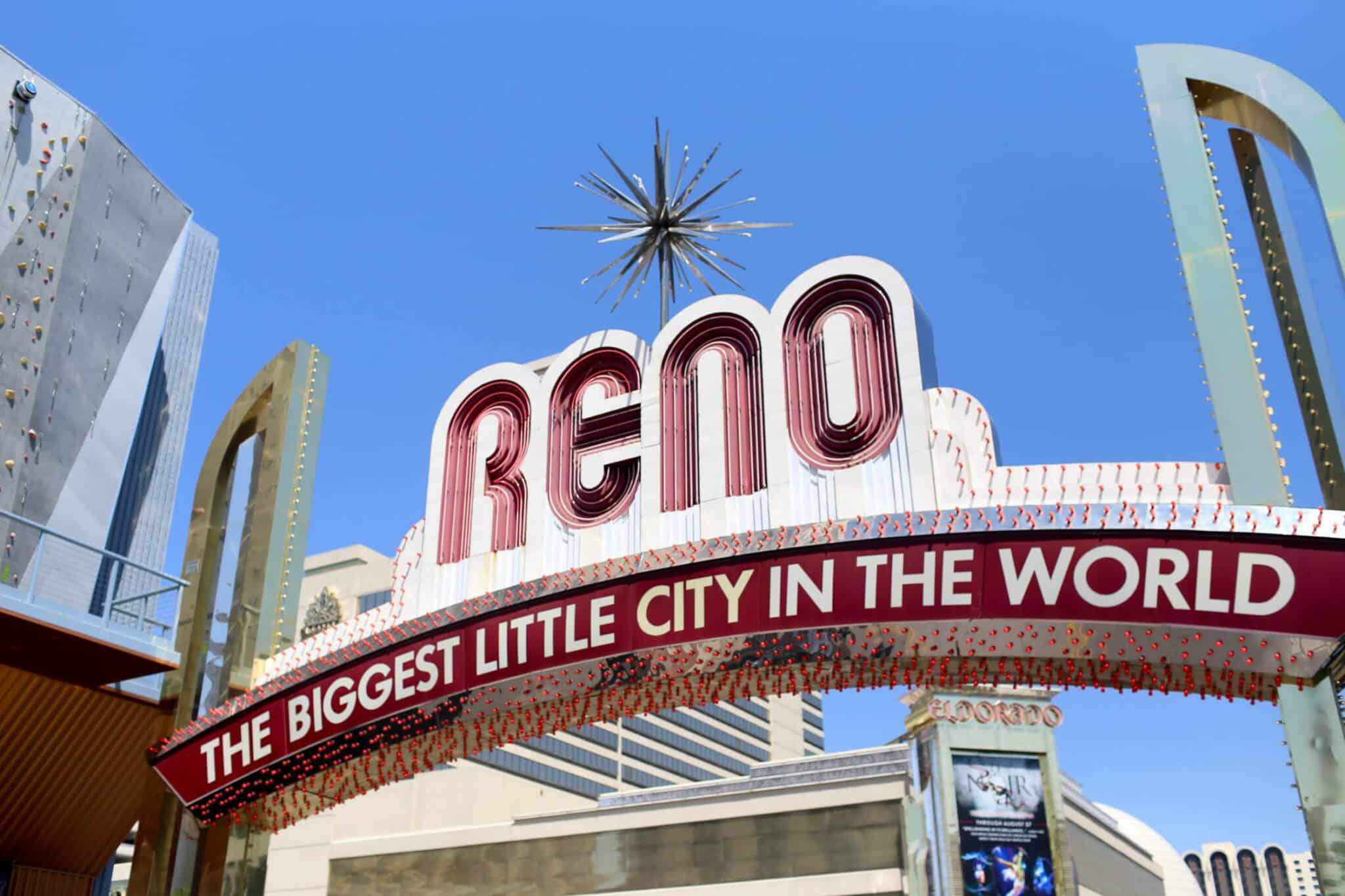 Where To Eat – My Favorite Restaurants In Truckee
There are tons of Truckee restaurants considering it's a small town.
Dark Horse Coffee
Dark Horse is THE best coffee place in town, all the locals love it. They roast their own beans, so you cup is always on point. Plus, the decor inside is perfectly done.
Squeeze In
Squeeze In dinner is a must if you're in the Truckee Tahoe area, even if you are just stopping by for a day trip. Located in a tiny narrow building (hence the "squeeze"), it's probably the best classic American style breakfast I've had in years. You may have to wait a while on a weekend, but it's worth the wait. Portions are huge and it's the best way to fuel up for a long day of exploring.
Wild Cherries Coffee House
Another local favorite cafe, Wild Cherries is up in the "locals part" out of the historic downtown. They're really known for their sandwiches and are a popular lunch spot, especially in the summer since they have outdoor seating.
Jax At The Tracks
Nothing more small town America than a classic dinner. Jax At The Tracks always seems to be bumping with people coming to eat at this spot once feautred on Diners, Drive-ins, and Dives. It has all the old world charm I love in terms of decor, and the prices are great as well (think $7 for a pancake breakfast!)
Morgan's Lobster Shack & Fish Market
Locals tell me Morgan's is the best fresh fish place in all of the Tahoe Truckee area! You can pick up fresh fish to bring back to your cabin to cook that evening, or you grab a freshly cooked sandwich, lobster roll or fish and chips here! It's all delisous.
Bud's Ice Cream
On a hot summer day, I love heading to Bud's to grab a milkshake to go. I then like to stroll around town with it in hand. Bud's is another local spot that's channeling the 1950's, making you feel like you stepped back in time to an oldschool ice cream counter.
Craft Breweries
The entire Lake Tahoe area LOVES their beer. (We went on a huge beer crawl in South Lake Tahoe this summer and only scratched the surface!) I found four berwerys in Truckee proper (with more a short drive away on the North Shore.) I think the top two are The Good Wolf and Fify Fifty. After exploring downtown, use that same afternoon for a min brewery crawl of your own. Make sure to bring growlers so you can fill your favorite beer!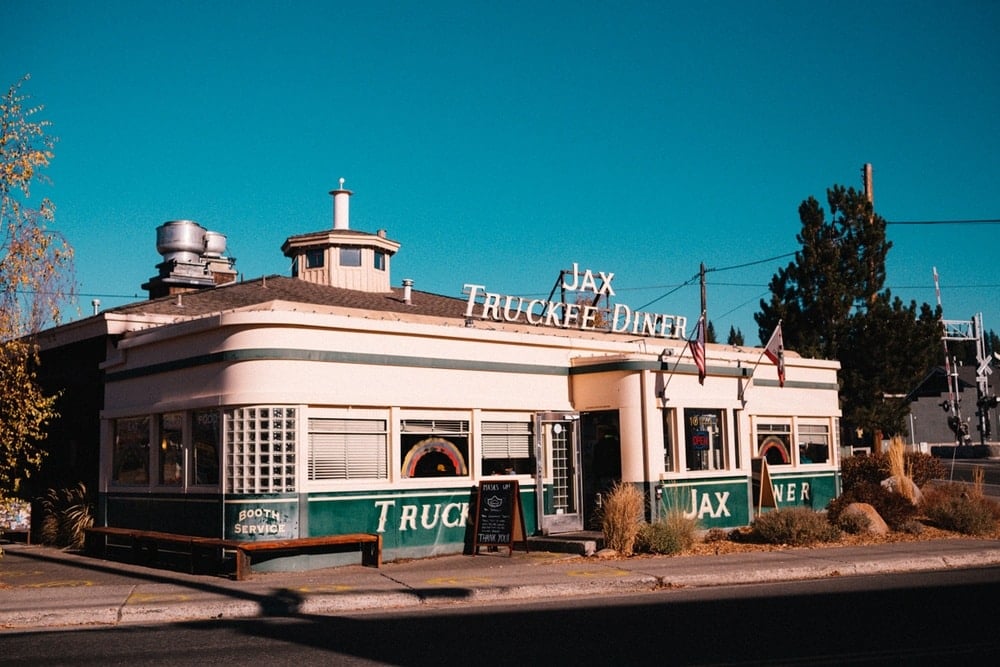 The Donner Party
As a true crime junkie, I can't end this article without mentioning the famous ill-fated Donner Party, which the lake and Donner Pass Road are named after. As you may know, the Donner Party was a group of pioneers on their way to California but they planned very poorly (I blame it on toxic masculinity) and ended up being stranded in the Sierra Nevada Mountains for all the winter.
Most of them died and things got so dire that they resorted to eating each other to stay alive. They eventually got rescued but not after a series of really shitty events. If you want to learn more, I highly recommend listening to the Last Podcast On The Left's series on this story – they go into deep detail and it's super educational.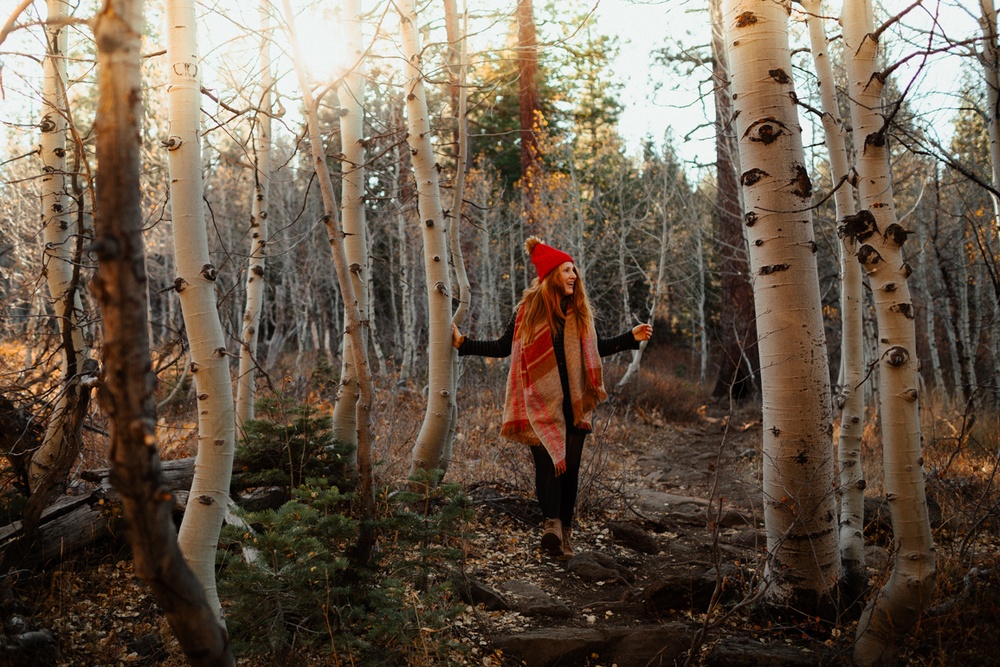 I hope this helps you find some fun city of Truckee things to do during your visit! I had such a relaxing time unwinding with some amazing friends under the pine trees. It was the complete opposite vibe of being directly on Lake Tahoe and it was exactly what I needed that weekend.
If you have more Truckee travel tips that didn't make it to this post, please drop a comment below so everyone can see! Got questions? Comment below or DM me on Instagram @thewhimsysoul and I'll try to help!