You might have seen Cadence Travel Capsules on your Instagram feed or FYP page on TikTok (#cleangirlaesthetic). But what are Cadence Travel Capsules? A travel pod kit for your toiletries made up of 20% plastic bottles found on beaches, and 30% recycled material (reusable scraps from their warehouse).
The aesthetic toiletry containers remind me of a beehive as it's designed like a honeycomb. While they might make you feel like you have your life together, they also break the bank with a comically large hammer. Which made me wonder: are the pods actually worth it? Come with me on an honest Cadence Capsule review!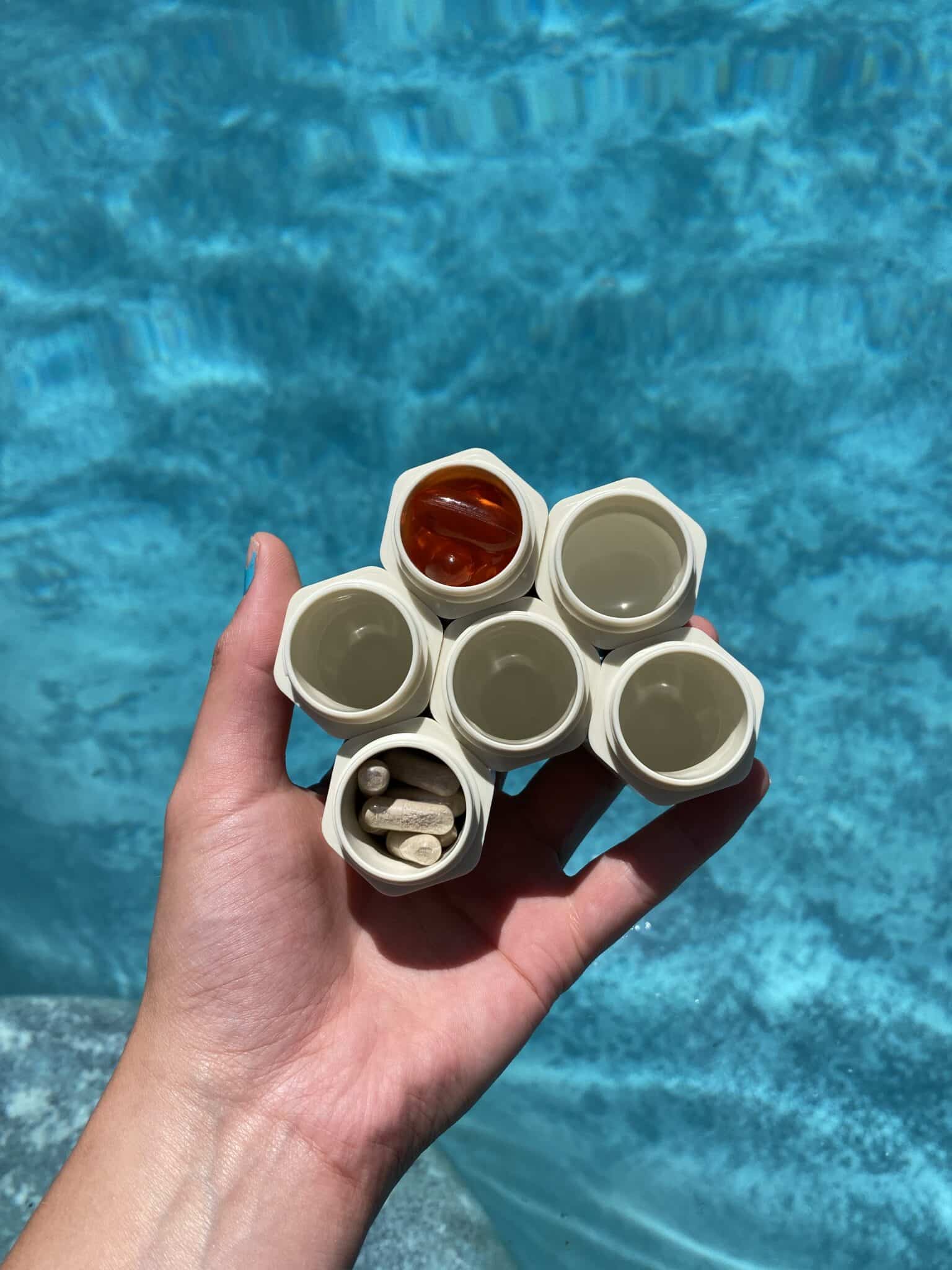 Cadence Capsules Review: Should You Buy the Travel Containers For Your Next Trip?
The Cadence Capsules are aesthetically pleasing, leakproof and magnetic to stay together. You create "systems" to help keep your cadence, or routine, with examples of users who spend their time between two or more places, or utilize for daily routines like taking supplements.
There are 7 core product lines that come in 7 colors:
When you build your capsule, you choose each color and you have a choice of "tiles" to label your capsules including words, icons and different items for face, hair, body, shaving and wellness. These tiles are also available to purchase separately if you choose to 100% customize your pods.
Design: What Makes Cadence Capsules Unique?
The appeal of Cadence capsules is the clean look, and full-proof design. The intent is to provide a versatile and sleek way to organize small items (with many uses, not just travel toiletries).
Shape, Size and Weight Of Cadence Capsules
The capsules are small with a hexagonal shape and magnetic on all sides. This allows the capsules to magnetically snap together for easy packing, and help to be hands-free while using products within the capsule. Don't worry – the pods are magnetic but don't harm your electronics, so you can pack them next to your phone or camera.
The Cadence capsule weight is fairly light AND TSA-approved. Probably not as light as your average, reusable travel-sized plastic bottles, but they might take up less space at the end of the day since they stick together.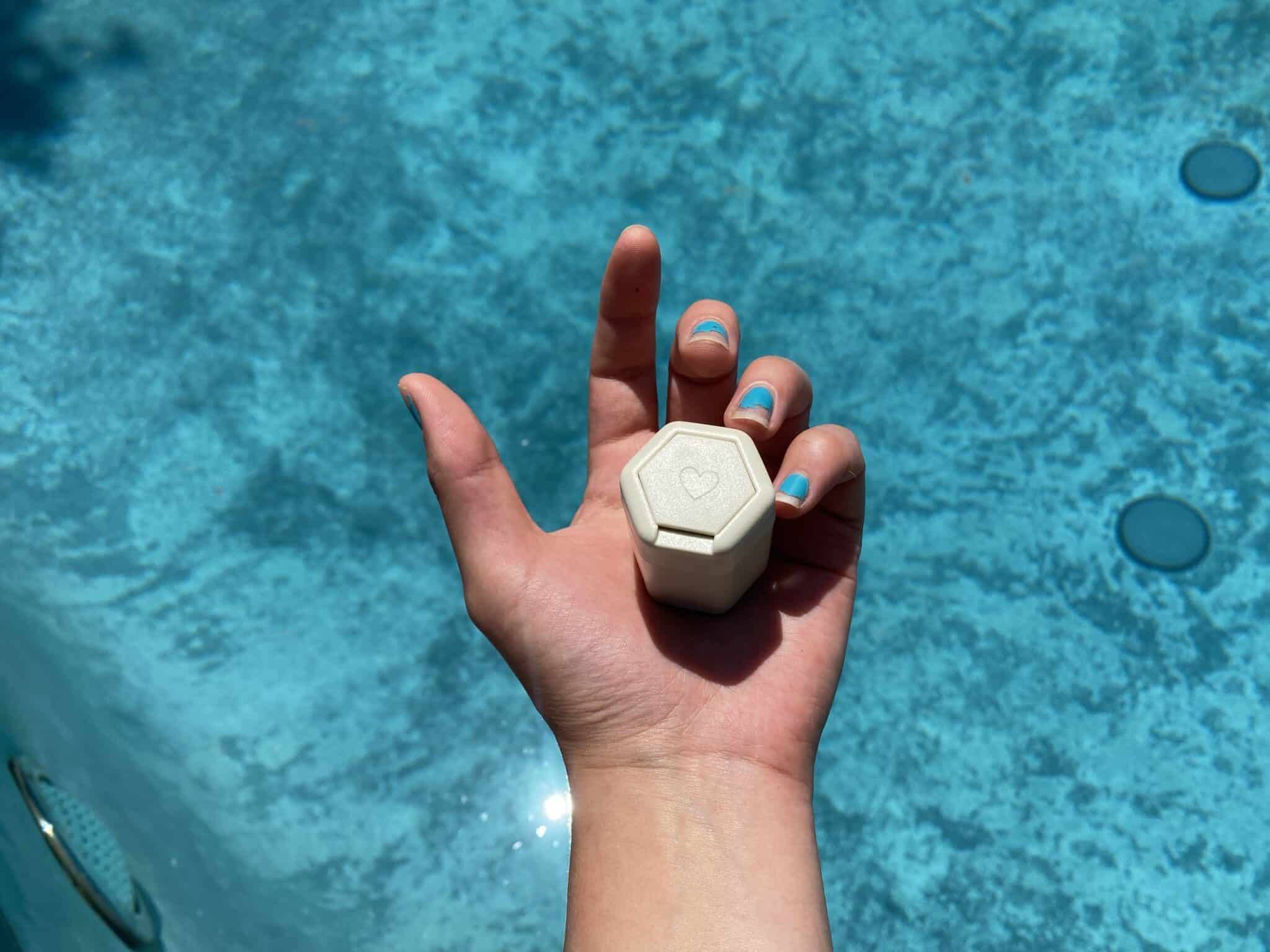 The magnetic travel capsules are not very big. I would say they're about the size of a golf ball… a long golf ball. They hold .56 fluid ounces which is not a lot, especially for a long trip, but a nice amount for a shorter trip.
The outside looks like it could hold more body wash, hand cream, hand sanitizer, or some other liquid, but when you open the cap, the interior is slightly smaller. Cadence designed round edges on the inside of the capsules to make it easier for scooping out products.
I like the scooping design, but it also seems like a bit of wasted space. A little bit like how beauty products (especially Drunk Elephant) love to make bottles look large when they actually hold very little product.
Packaging
I really liked the Cadence packaging. Everything was simply designed and recyclable. I saw a Cadence review where someone got a welcome card made from seed paper that you could plant and grow flowers. That blew my mind! I got a cardboard card… but it was still sweet to see they sometimes offer that.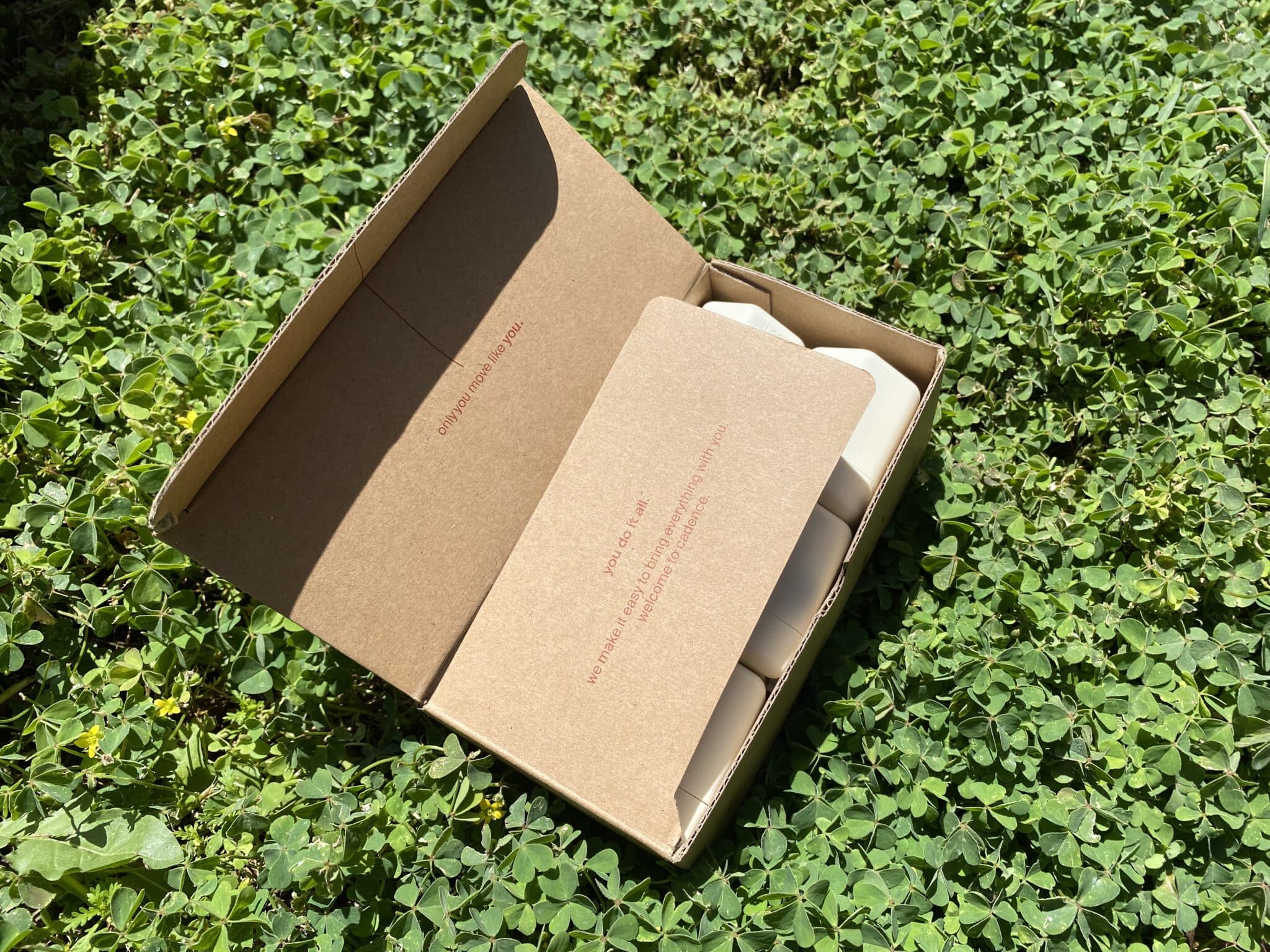 Tiles
The customizable tiles magnetically hold to the top of the cap. I selected six capsules with varying tile icons of a heart, pill, sun, rainbow, wave and tear. Other than the available product labels such as shampoo, conditioner, toothpaste, makeup remover and so on, you can personalize it for an extra $3.00 with anything.
If you know you love to travel with certain things, like daily meds, a certain brand of primer, etc, I could really see the benefit of having these custom labels to help make things easy to identify while traveling.
Editor's Note:
I'm using Cadence on our summer trip right now and didn't customize my labels. I used a dry erase marker to write on the bottom of my tile so I could remember what products were. It rubs off with water but stays intact when flipped downwards. It's handy if you need to use a pod that says "shampoo" for your shaving cream.
– Kara
Colors
You can also choose from the 7 different color options, all the same color or all different. I really loved all the colors. They aren't too harsh and really match my energy as a soft, plant-loving traveler.
I got a set in the color Sand, an off-white neutral base, that I felt really flows with the other gear I like to wear and bring along with me. Other colors I loved were: Eucalyptus, Lavender, and Terracotta.
The custom title for each capsule and the unique coloring really elevate Cadence above all the other travel container brands. They just look so dang good!!
Branding: The Cadence Capsule Lifestyle
The capsules fit a certain lifestyle by providing the organization and aesthetic to help a person feel like they have their life together. It's a small item, but the message behind these containers carries a lot of weight.
The woman-founded brand's mission is to "create a product that helps everyone feel both chill, prepared, and proud at the same time: ready with everything we need, without any worries." What they call "Cadence calm."
Editor's Note: The inspiration behind Cadence reminds me of the concept behind the book Atomic Habits. The capsules help create a "system" to help some maintain habits and routines, especially when splitting time in different places or being outdoors. – Taylor
For some, the capsules serve as a small motivator to stay calm and organized amongst the natural chaos of life. Especially travel, which can be choatic. Who else has walked into a hotel room and exploded your stuff all around in a mess? These pods help contain.
That being said, if you're just looking for a practical way to carry things, but don't give a hoot about the message behind the capsule system, then you might want to look elsewhere as the price tag is a bit steep.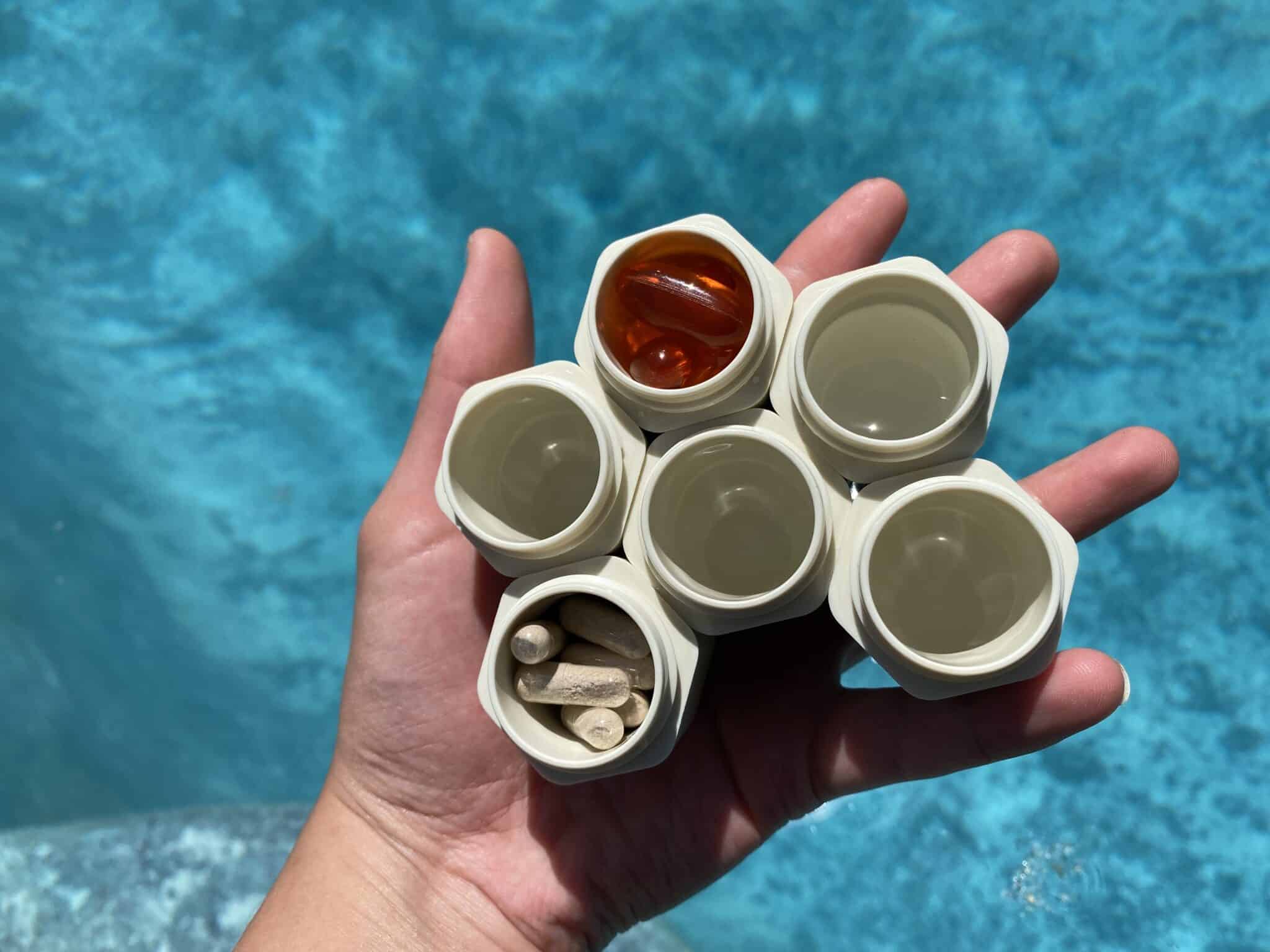 How I Used Cadence Capsules
Personally, I used these capsules for face serums or beauty products where a little goes a long way like The Ordinary products. I also like storing my beloved rings I collect when I travel, and maybe even a shot of tequila. These travel containers are advertised to hold all kinds of stuff, so why not fill one up with some Patrón!
Note From The Editor: I'm using my pods in Denmark right now and they helped me cut down on a lot of suitcase weight because I didn't have to bring my full size bottles of my favorite curl cream, face scrub, primer, etc. Though, as I note below, I do wish the pods came in bigger sizes. I ran out of my curl cream a week ago *sobs in flat hair*. – Kara
Pros & Cons: Are Cadence Capsules Worth It?
Like any product, there are pros and cons. I really like the concept plus the look and feel of the capsules, but Cadence doesn't check all the boxes to make this the best of the best.
TBH, I wanted to love this product, and be the "IT girl" who tells you these are a must, but they aren't the best first for everyone, so let's get into it.
Pros
Eco-Friendly: I love how they source from Bound Plastic (plastic at risk of ending up in the ocean), and the brand is overall very purposeful with how their products are made.
Design: Depending on what you're packing, the small, modular design might take up less space and add less weight to your luggage!
Aesthetic: There's no denying the Cadence capsules are nice to look at! It looks way more organized and tidy than the normal clutter of various travel-sized toiletries or sample bottles. It could really help to streamline packing as well!
Leakproof: This one is HUGE. If you've ever had something spill in your bag, you get it.
Customizable Labels: Makes it a little easier to find what you need when you're on the road.
Magnetic Top: The cap magnetically holds to the sides of the capsule when you open it making it super easy to use without worrying if you'll lose a piece.

Cons
Cost: With a price tag of $84 for a set of six, these little travel capsules feel more like a luxury, not a necessity. At the end of the day, this is my main hangup.
Airport Security: While the Cadence capsules are TSA-approved. I saw one review where someone was pulled aside in security because of the magnets.
One Size: The capsules only come in one size. That size can only hold a few of my pills and a few days worth of face cream.
Longer Trips: The weight of the pods themselves are a bit heavy for a longer trip, especially when I'm trying to cut weight from my suitcase! But, if you use them strategically, you can save weight if your large products are heavy. But maybe not always.
Does Cadence Have The Best Travel-Size Containers?
Without having tried every travel size container on the market, I would argue the Cadence capsules have a strong case of being the best purely based on the leakproof design. Depending on your budget and purpose, the capsules are great for shorter trips (up to 10 days) or if you travel frequently.
Who Would Benefit From Cadence Capsules?
I think these capsules work best for people who need things at work, a quick overnight with a friend or partner, or parents who are juggling all the things.
A doctor, nurse or anyone who works long hours and wants to carry a little face wash, supplements or hand cream, these are perfect. For a mom who wants to fit a few personal items in the diaper bag, these are a great find. If you're headed to a sneaky links' house, or traveling from New York to LA on a weekly basis? These are a great find.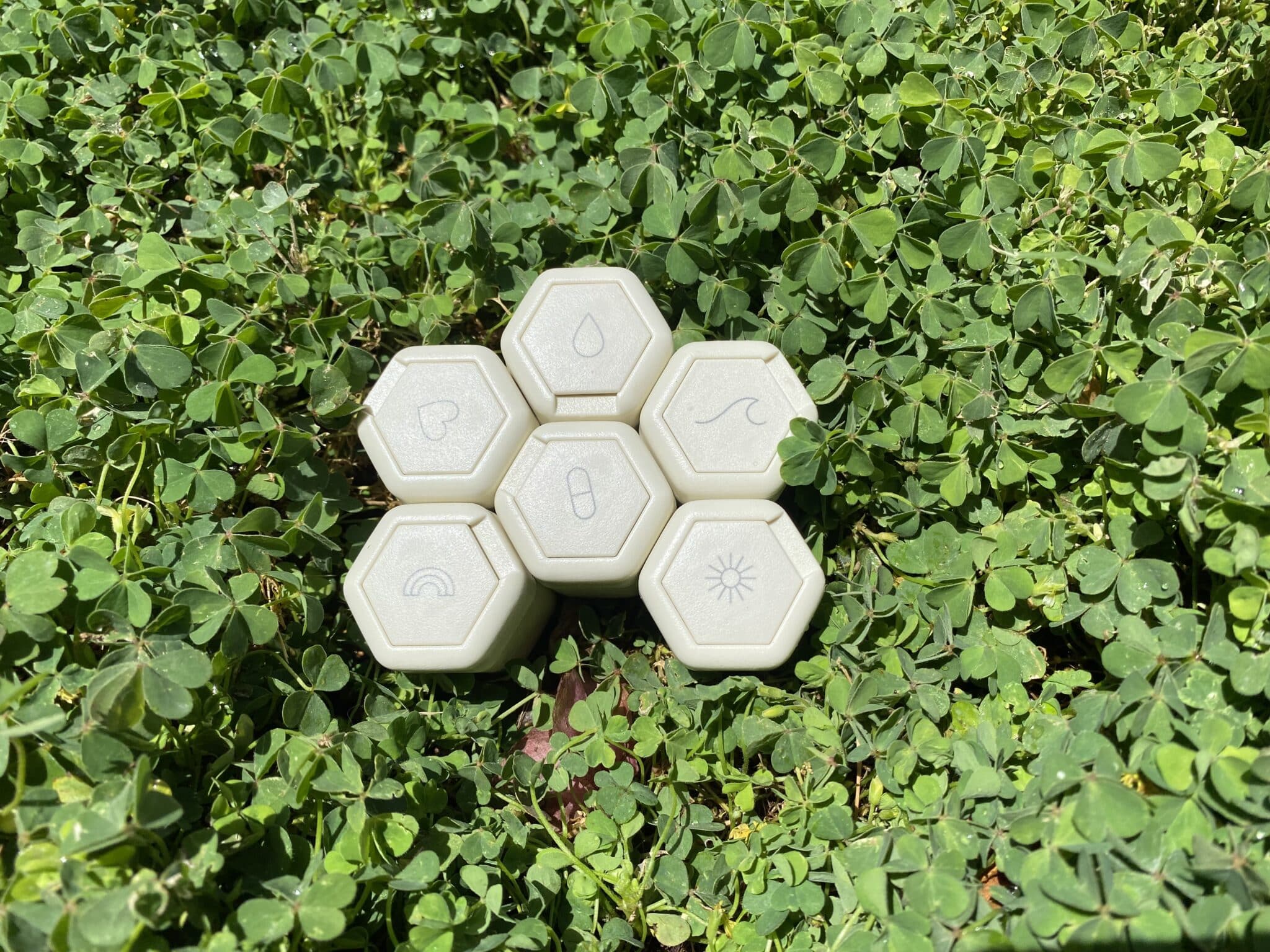 If you're backpacking through Europe or taking a month-long honeymoon, these may not fit the bill. Unless you're willing to buy enough capsules to fit everything you need!
Does Cadence Travel Capsules Actually Make Traveling Easier?
For practical use, they can make traveling a little easier. Especially when you're trying to maintain habits like a skin care routine or daily supplements, or you tend to lose things easily like jewelry or bobby pins. There are cheaper solutions out there that I have used in the past (like the ole contact lens case hack!) so maybe I should phrase this as: if you have the budget, they make traveling easier, and prettier.
Kara's Thoughts On Cadence
(Whimsy Soul's founder here! 👋) I took Cadence travel pods with me to Denmark (we're living here for part of the summer!) and at first I was so not sure how to use my pods.
I planned on bringing only what I couldn't buy easily overseas – I'm not emotionally attached to my shampoo or conditioner, so I wasn't planning on filling my pods with those. I can buy those for cheap anywhere. So, I had no idea what to use the pods for!
But, then I started gathering all the things I wanted to bring and all those containers weighed a ton. Especially the bottle of Saie Super Glowy Gel, which I'm obsessed with but is heavy and knew I couldn't easily find in Denmark.
Suddenly I "got it", I understood the purpose of them. I transformed my literal bag of products I couldn't part with for the summer down to simple, uniform containers. I brought:
As I noted above, I did already run out of some products, like my curl cream, so I'm not yet sold on a single 6 piece set being the end all solution to longer trips like the one I am on right now.
Final Thoughts! Why Buy Cadence Capsules?
Should you buy Cadence travel containers? For frequent travelers, yes. Cadence capsules provide a way to elevate your travel experience, and maintain routines when you're away from home. For the homebodies, not so much.
I don't really have a huge pitch as to why you need these in your life, but if you travel consistently or need help making your life feel more put together… These could be your answer. If you're someone who really cherishes their things and wants everything to have a purpose, these capsules could bring you a lot of joy!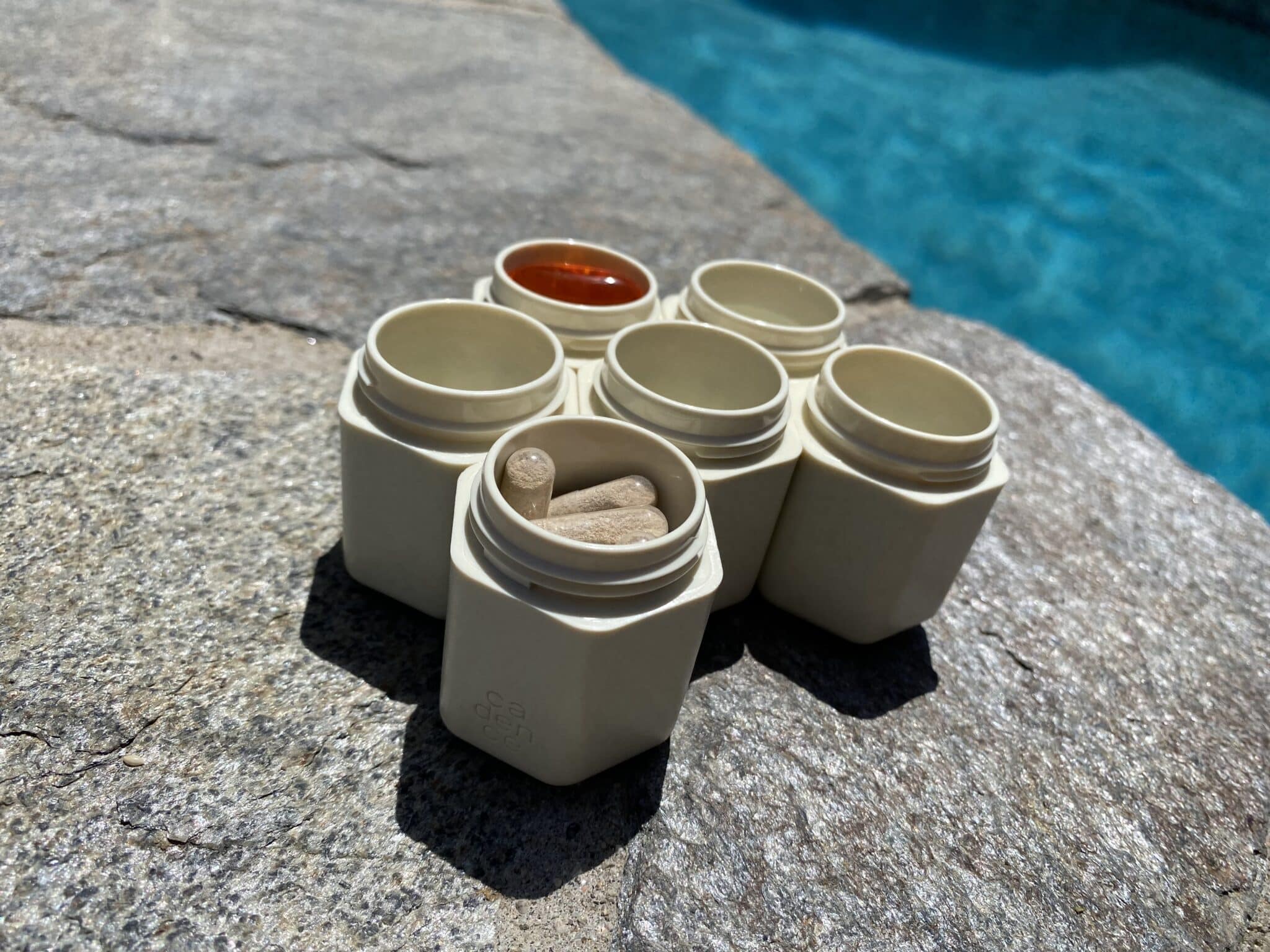 While I really like this brand and their impeccable aesthetic, the Cadence travel containers reviews and I have one very thing in common: they are a lot smaller in person. From the site, you would think these guys can handle at least a half bottle of lotion and a week's worth of shampoo, but ohhhhh no they can't.
The whole idea of the brand is to keep your Cadence, meaning to keep your rhythm in life steady, but that can be difficult when you're down to the last drop of face wash or you can't fit all your fish oil supplements for a trip to Nicaragua.
Here's my verdict…You don't need these. But you do want them.
If I had better resources, the Cadence capsules would be all over my house. I think they're very carefully thought out and a well-made product.
They're sturdy, fashionable and make me feel composed. Cadence capsules cracking or breaking are the last thing on my mind, withstanding the ups and downs of travel. But they are soooo small. And extremely expensive.
If you have the money, go for it. Why not? But, be careful because they are addictive. I could see someone buying one, and buying like fifteen more.
But you DON'T NEED THEM. Sorry, I'm talking more to myself now so I don't go and order more.
There are plenty of solid travel containers on Amazon or at the drugstore that work just fine and hold more product. Of course, those containers might not come with the same kind of care and attention to detail as Cadence. At the end of the day, they're just travel containers.
For me, I'm keeping an eye on Cadence for larger sizes and lighter-weight products. I could see myself using these guys all the time when I travel!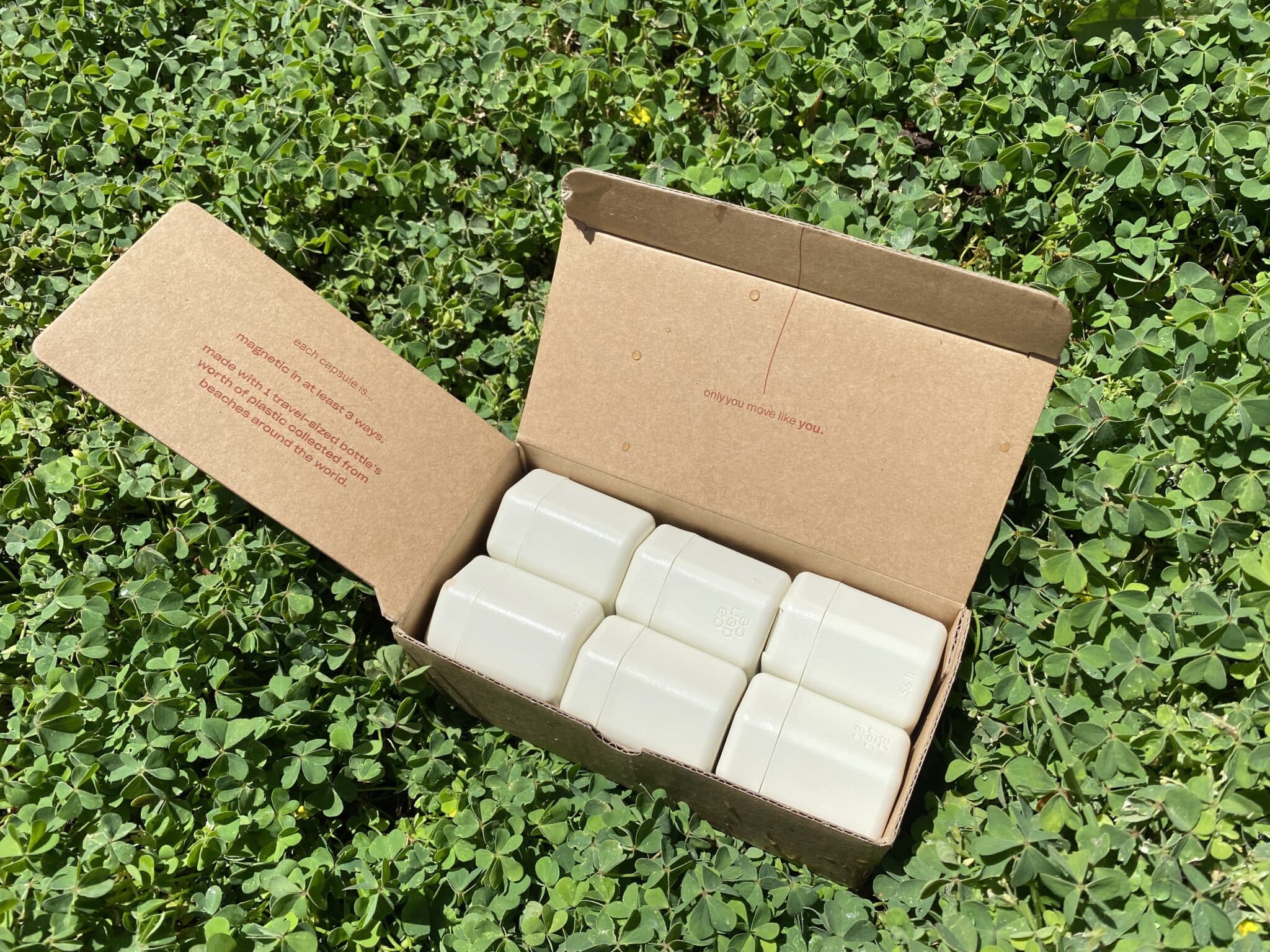 Where to Buy Cadence Capsules
Cadence capsules are available for purchase online at keepyourcadence.com or on Gwyneth Paltrow's health and wellness website, GOOP!
If you're shopping for a travel lover and want even more ideas, check out Kara's 30 unique travel gifts that are useful and within budget.
Note From Kara: I personally wish Cadence came in different sizes. While packing in Denmark, I don't need a huge amount of shaving cream, but I would have liked to have brought more of my face moisturizer and curl cream without having to fill two additional pods. Especially since the weight of two pods equals the weight of the full-size product. I agree with Jafei here that there are travel containers out there that can hold way more and are cheaper. In the past I've even used old contact containers for short, weekend trips to carry small amounts of creams, etc. Those work well! But dang, Cadence pods are so pretty and I do like traveling with them here in Denmark. If Cadence can introduce different sizes in the future…Then they can conquer the packing game.
Have you found a good Cadence dupe? Or have you tried Cadence? What did you think? Let us know in the comments below!