As a 30-something my priority of shoes has shifted from my 20's. While getting ready for frat parties in college, we would throw on ridiculously tipsy heels that hurt after walking 2 blocks (but looked FANTASTIC).
These days, I'm hyper focused on comfort, but I also still want fantastic-looking shoes. I just don't want to break my ankles wearing them.
Enter: my hunt for chic yet comfy shoes (bonus points if they're made by a company with ethical or sustainable values). Which is how I discovered Vivaia. I ordered a few pairs and spent a few weeks testing them out for my honest Vivaia Shoes review to see if they really live up to the type.
This Vivaia shoe review is part of our Saw It On Social series, where we review the brands you see all over your feed and spill the real tea on if they are worth it or not.
For this review, I bought the Samantha Square-Toe Loafers and the Madaline Over-Knee Water Repellent Wool Boots.
Vivaia Shoes At A Glance
Vivaia is a new sustainable shoe brand that makes their shoes out of recycled plastic bottles! They founded in 2020 and are already taking the shoe world by storm.
All of their shoes are also machine washable to rival brands like Rothys but also makes caring for shoes easier for gals like me who are constantly getting my footwear dirty. Hey, I like to travel and that means my shoes get dirty!
I've been wearing Rothy flats for years but wanted to try something new with a square toe vs a pointed toe. I also have been itching to upgrade my tall boots and loafers. Vivaia Shoes has not just flats, but heels, loafers, boots and extra tall boots, the latter I bought.
My Vivaia Shoes Review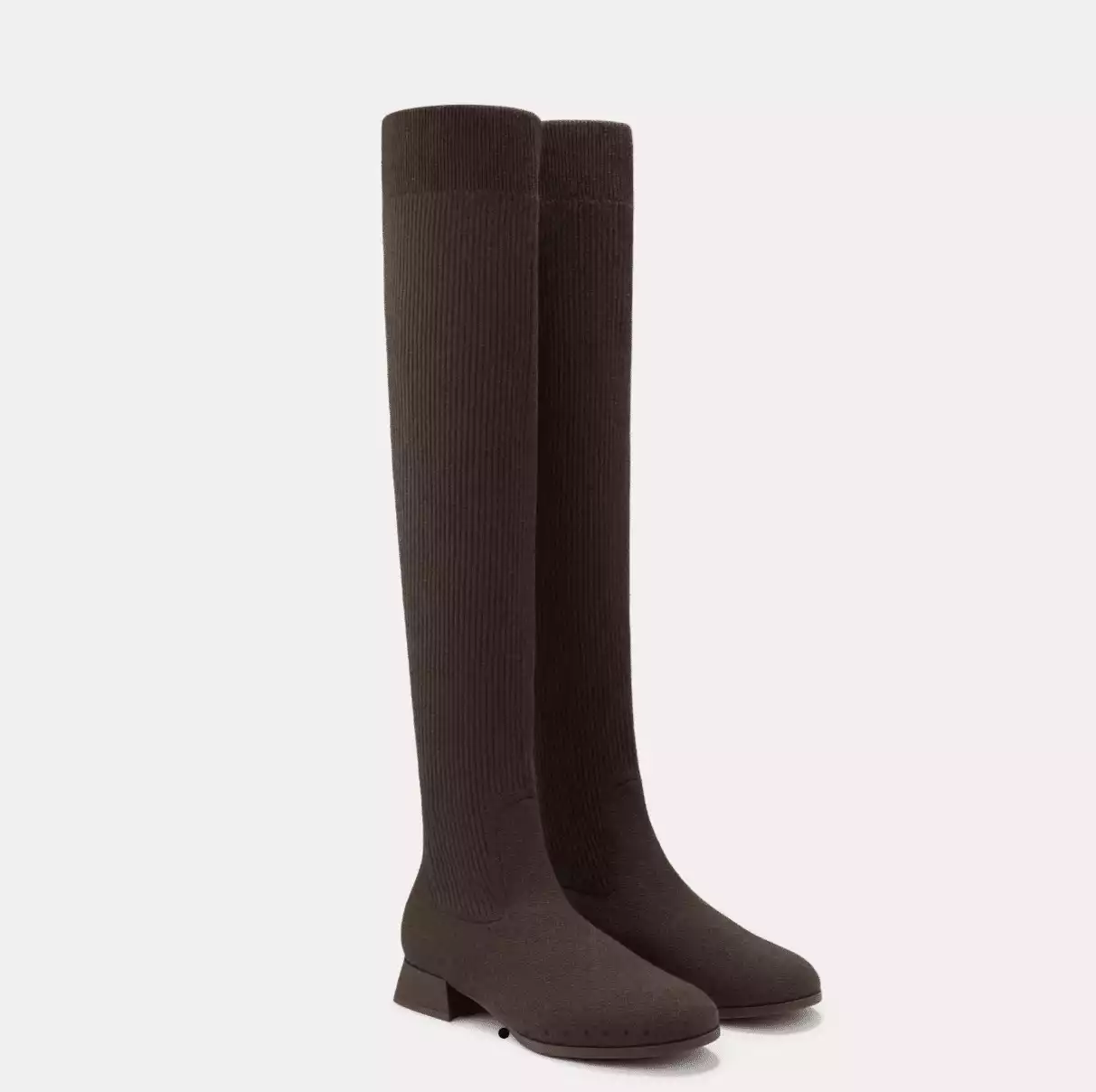 Over-the-Knee Boots (Madeline)
The Madeline boot features a soft terry lining to keep your legs warm, cozy and comfortable throughout your entire day, and a stretch shaft! They are a statement boot that comes in many neutral colors and are water-resistant, too. This is my favorite boot of the season.
Pros:
water resistant

Anti-stain

Antimicrobial and Breathable

very comfy

soft lining

calf portion stays up all day
Cons:
not machine washable

calves run tight (like a compression sock)
Buy Now
Madaline Over-Knee Water Repellent Wool Boots Review
Spoiler alert: these are the shoes I kept from my order. I've been itching for a new pair of over the knee boots and loved the look and feel of Vivaia tall boots online.
Like all over the knee boots, they're hard to put on. It's like wrestling a cat into a costume, there's just no easy way around it. But once I have them one, they feel free great.
The calves on the Madaline Boots could be a little roomier but I love styling these boots with the tops folded down and the arch support is very comfy. Though, they just launched a new Pro arch support model of the boot which I bet is even better (but I've worn my pair all day and with many miles logged and my feet don't hurt).
The fabric is water repellent which does not mean waterproof. Don't go stepping in a giant puddle an expect dry feet, but it's great for situations like a rainy day or walking on dewy grass in the morning.
I style these boots with dresses and skirts, and they quickly have become a staple in my fall wardrobe. They come in a lot of earth ton colors and I'm eyeing their black boots to really round out my closet.
The only downside is the boots are machine washable.
Square-Toe Loafers Review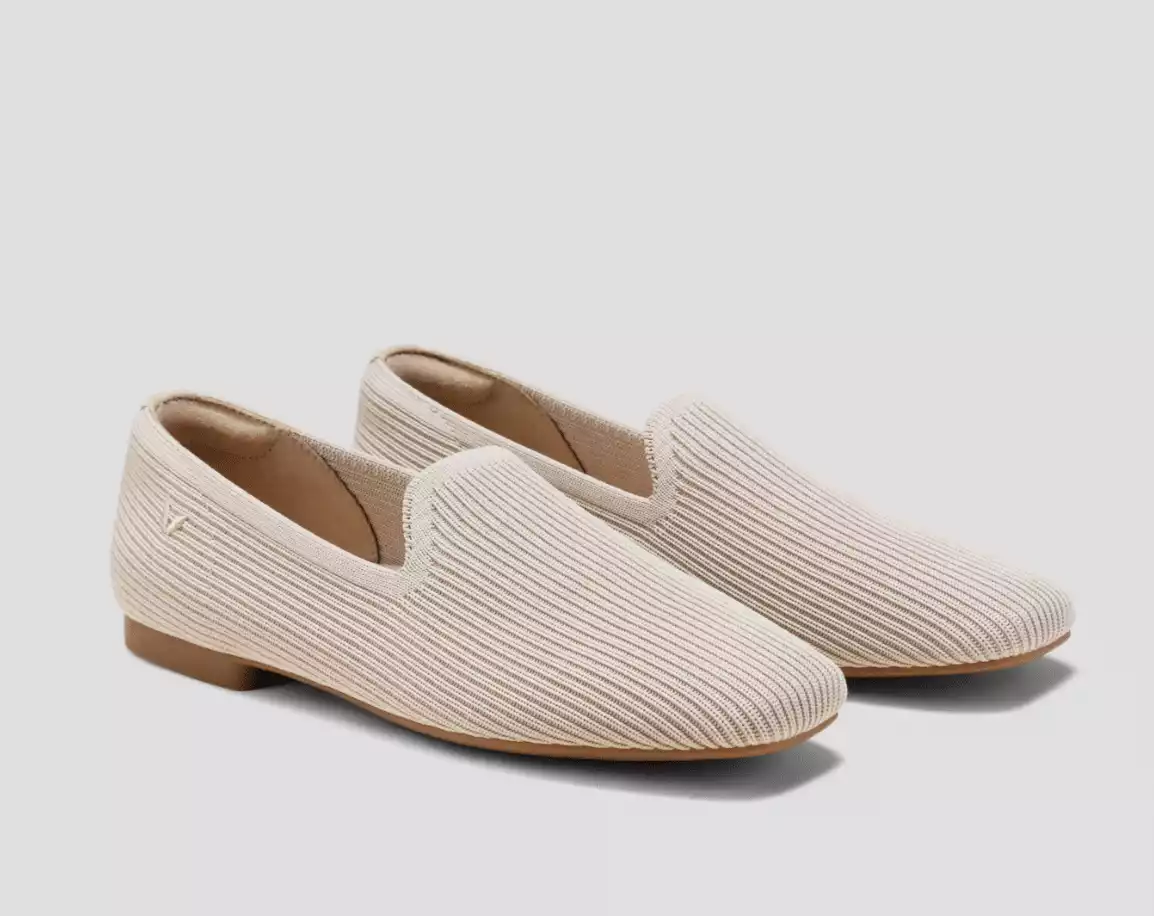 Square-Toe Loafers (Samantha)
Surround your feet with coziness, comfort, and style. Samantha is wide feet friendly, and features a hyper stretchy knit upper. Arch support footbed to keep your foot comfort, combined with a long-lasting carbon-free rubber outsole. Perfect to wear indoors and outdoors.
Pros:
Made from 6 Plastic Bottles

Machine washable

Antimicrobial and Breathable

PU foam insole
Cons:
Runs small

Could use more color options
Buy Now
I really wanted to love these loafers, I really did. But the sizing was all wrong on them. I got my trusty size 9 but they were way to small. A size 10 would have fit better.
I could have exchanged them but decided just to return them. That being said, I tried them on and if you remove the tight fit, I could tell the Vivaia Loafers are very high quality.
The most notable part is how it feels like you are walking on a cloud since the inside is so squishy! I could see how these are great for travelers or people on their feet all day who need good arch support.
I do wish I bought one of the Vivaia collection heels, just to test. I saw Selena Gomez wearing a pair of their heels and if she approves, I think I would too. I'm not a big heel wearer these days, but I just may buy a pair and update this post if I do.
Vivaia Shoes Sizing
Vivaia sizing was a little less than desirable for me. I found thier shoes run small, so with that in mind please size up or buy a couple pairs and pick the best fit.
I bought the loafers in my usual size 9 but they were WAY too small. I think a 10 would have been better.
That being said, they do offer wide sizes on most shoes, in case your feet run large. I wish they offered shoes for gals with wide calves, though. I love my over the knee boots, but the calf portion squeezes my legs. It feels like a compression sock which isn't bad but a little extra room would be nice.
Where To Buy Vivaia Shoes
It's best to buy them directly from the company, as they frequently have sales happening, free shipping offers and other deals. But you can also find them on Amazon.
Vivaia Shoe Reviews Complaints
Vivaia is NOT BBB accredited (Better Business Bureau). It seems like most negative reviews revolve around return processes, so just make sure you understand return policies when you order. Again. I had no issues and I thought they were clear.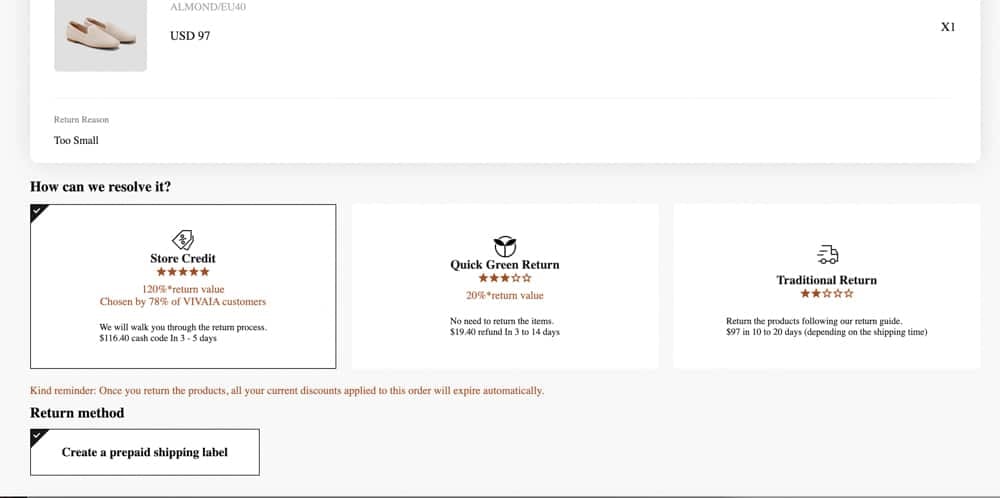 Vivaia Returns
On that note, let's chat returns!
The biggest pressure test I like to put on brands are their return policy and return process. Some brands make it really easy – they include a pre-printed return label to make it easy to pop in the mail.
For my Vivaia Flats that didn't make the cut for me, I did have to print out my return label but returns are free and otherwise pretty easy.
I also got my refund within a week so no complaints there. Longer than with Amazon shopping but very fast. They pride themselves on a 30~45 Day Return & Exchange Policy which is great.
If you were looking to shop Vivaia again, during returns they offer you to swap the shoe for store credit that's worth more than the shoe value, which is just something to keep in mind.
Vivaia Shoes Reviews – Final Verdict
So, is Vivaia Shoes worth it? Yes! If you couldn't tell from my Vivaia review, I do like this company and I do plan on ordering from them again in the future.
My biggest hang up is the sizing, as they seem to run very small. But the materials are breathable, comfy and sustainable. They make beautiful styles of shoes, boots and flats and I love how they are machine washable.
I also really love their focus on extra arch support for us folks looking for a little help on the feet. They make great travel shoes since they are so comfy and washable. I myself wore my boots to Mendocino while glamping, got them dirty and was able to rinse them off easily.
Frequently Asked Questions About Vivaia Shoes
Are Vivaia shoes comfortable?
When you get them in the right size and style, yes! As I chatted about before, I had a little issues with the sizing but once I nailed it, I found them to be more comfortable than my Rothys.
I haven't tried their heels yet, but they even have something called the "pro" shoe, a new feature after a lot of comments from users wanting even MORE cushion and arch support on their feet. For example, the Melody Pro – Upgraded Pressure Relief Insoles has even more comfort built in so you can wear the items all day long.
How is Vivaia shoes customer service?
Great I had a question about my order and I heard from the team via email within 48 hours.
Is Vivaia Sustainable?
Maybe? Good On You rates them right in the middle with a "it's a start" since there are still parts of the manufacturing process that is not shared to the public. But the use of recycled materials like recycled water bottles to make product is a great step towards reusing and reducing.
They also have a goal of becoming a 100% carbon-neutral brand in the future and they claim to have a production process that reduces waste by 30% compared to before.
Is Vivaia Shoes High Quality?
I think so! You can tell they are made well and they feel luxurious. Not at all like some other cheap loafers or boots I've bought off Amazon or Old Navy. These shoes are built to last years.
What is the Vivaia shoes country of origin?
Like most fashion brands, Vivaia manufacturing is based out of China. It is founded by Marina Chen.
Are Vivaia Shoes legit?
Yes! Vivaia shoes are legit and pretty dang nice. They fit well (once you get the right size), are water resistant, wash easily and are comfy for all day walking.
You can feel confident shopping from here. I guess the only question to ask now is: are you team loafer or flats? What are you going to buy first?