Have you spotted people running around your city wearing white sheets and taking photos of each other? Well, they're taking part in the Ghost Photoshoot TikTok trend and since I'm low-key addicted to TikTok (and any excuse for a fun photoshoot) I caved and did one, too!
This weekend my friends and I grabbed white sheets and some morbid props (like a Steven King novel) and ran around San Francisco dressed as ghosts to take photos and videos of each other. In this post I'll explain a bit more behind this trend, how to do it and some ~ spooky ~ inspiration.
Here's the thing: I grew up in a small Wisconsin town in the height of Myspace and as a teenager when my friends and I were bored, more often than not we found ourselves doing photoshoots… usually in cornfields or prairies. So, when I saw this Ghost Photoshoot trend go viral TikTok I was SHOOKTH and needed to take part asap to relive my glory days of oversharing random AF photos on social media.
Ok But -What Is The Ghost Photoshoot TikTok Trend?
The trend is pretty simple but everyone has widely different takes on it. You start by taking a white sheet & friends (or a tripod) and run around taking photos of yourselves dressed as ghosts. The key is to basically pretend like you are a moody hipster ghost so props and ridiculous apathetic poses are encouraged.
Edit them in a vintage film style (this is important! Hipster ghosts do NOT like crisp, modern portraits duh!) You'll want to use the song Oh Klahoma – Jack Stauber for this video. Film an intro clip as a hook, either BTS footage of your shoot or something else.
When the lyrics reach " tears falling down at the party" then you drop the ghost photos. You'll have enough time to fit in and share about 5-6 ghost images so don't hold back on having fun while out on your shoot!
I think the more random the place the better for this trend. Cornfields, shorelines, backyards, parks, parking lots – anything. Try shooting at dusk through twilight to get extra Halloween feeling ghost pictures.
Behind The Scenes Of My Ghost Photoshoot in San Francisco
When my friend Brianna texted me asking if I wanted to join a last-minute ghost photoshoot I jumped at the chance to get spooky. We masked up and all headed over to the Filmore / Japantown area of San Francisco since we all swoon over the old Victorian houses there which, at twilight, totally look like they could be haunted with hipster ghosts.
We found a really cool black house to take photos in and a few other spots before hiking up to Lafayette Park to snap some portraits with a view of the skyline. I packed along sunglasses, a film camera, a pumpkin and a book all as props to ~elevate~ our ghostliness.
Boy did we have fun! It felt like things were normal again for a night. I found a cat. And people really loved seeing us, especially kids in the park. This is how our video turned out!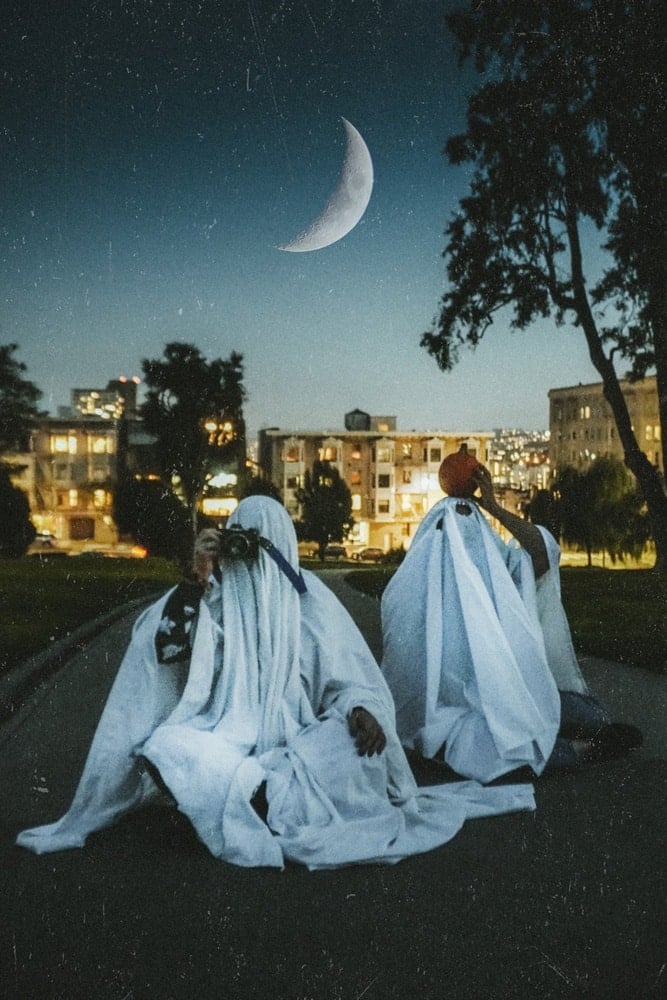 I hope this gives you inspiration (or clarity) behind this viral TikTok trend and your ghost photoshoot outfits. If you see anyone in your neighborhood running around in sheets and it's not Halloween night, now you know why.