Rolling vineyards, sunrise hot air balloon rides, luxury resorts, world-class wine and restaurants… a honeymoon in Napa Valley sounds pretty perfect. In fact, if we didn't live next door to wine country I probably would have planned a Napa Valley honeymoon for ourselves.
Napa Valley hands-down one o the most romantic places in the United States. It also takes a bit of navigating to plan the perfect honeymoon here.
One of the biggest questions people DM me on Instagram about when it comes to California wine country is always: I'm planning a honeymoon in Napa – where do I stay? why is everything so expensive? which wineries are the best? HALP" I got you. In this post I'm covering the more romantic resorts to book, my favorite wineries, where to eat, hacks to save money and even how to get free wine tastings! Let's go.
In case you are wondering, my husband and I did a 3-week honeymoon around Germany, Ireland, Scotland and England. We spent more on our honeymoon than we did our wedding, but even so the end damage was only about $3000. You can absolutely have a luxury, romantic and bucket list honeymoon without going totally broke. Yes – even in Napa!
Because, as you probably have discovered while doing some light research of your own, wine tastings are pricey in the valley. Hotels can run a pretty penny, too. So, unless you have deep pockets for a honeymoon and price tags don't matter, where do you allocate the budget?

Where To Splurge On A Napa Honeymoon
Resort: the resorts up here are insanely beautiful and worth allocating more budget to. You deserve to relax in a luxury vs a cheap motel room.
Spa treatments: After our wedding, we both need a major Treat Yo Self day. You probably will, too.
2-3 really nice dinners: Honeymoons are meant for a couple of Michelin star dinners to make it special.
Hot air balloon ride: Super romantic and unforgettable!
Where To Save On Your Honeymoon Napa Valley
Breakfast & Lunch: Save some money by opting for complimentary hotel breakfasts or lower-priced yet still tasty local spots for breakfast and lunch. I share my list of fave spots below!
Wine tastings: Use my secret hacks below to get free or discounted wine tastings. Never pay price if you don't have to!
Personal Driver: We always drive ourselves around Napa to save the hundreds spent on a personal driver plus tip.
6 Best Napa Valley Honeymoon Hotels & Resorts
Let's chat where to stay! First I'll be sharing my favorite resorts. I've been to all of them in person and only included the hotels I really loved in Napa (some did not make the list!) Then, after this section I share 5 ways to get discounted rates at these hotels, as they can be pricey.
An Auberge Luxury Collection Hotel, The Solage oozes breezy California chic. I love their two pools (yes, plural! They have a standard one and a saltwater pool!) and the bungalows that act as guest rooms. They're private, quiet and super spacious.
The Solage Spa is huge so you can treat yourself to a massage and facial after the wedding. Plus, Calistoga is also one of my favorite towns within Napa Valley. It's right up at the Northern end so it's a little quieter and less crowded. I've seen this hotel go for as little as $350 a night during a deal, but it can be as high as $1000 a night.
2. Calistoga Motor Lodge & Spa
Location: Calistoga
Earn free hotel nights here
My other favorite hotel up in Calisgota is the Calistoga Motor Lodge & Spa. This gem is the best affordable hotel in Napa Valley that doesn't sacrifice charm or perks. It usually ranges around $150-$200 a night depending on the season. It's a super hip boutique hotel with a 3 salt water pools at different temperatures, a good spa, cute rooms and is walking distance to downtown Calistoga.
3. Carneros Resort & Spa
Location: Napa
Earn free hotel nights here
If you are looking to stay closer to downtown Napa without being downtown, try the Carneros Resort! I just came back from a girls trip at Carneros Resort and loved the cute bungalows which house all the rooms. Even though it was pouring rain during our visit, I adored their hot tub that overlooks rolling vineyards and has epic views of Napa County.
This is a luxury resort with on-site dining, a spa and other top-notch amenities like plush robes. All their rooms are great, but if you have the budget get their king suite which features a private outdoor shower and tub!
4. Indian Springs Resort
Location: Calistoga
book best rates here
Another really unique resort up in Calistoga is Indian Springs. They offer hotel rooms vs bungalows, but they don't compromise on space or style. I love all the palm trees on this property, they're seriously so quintessential California.
Since Calisgota is also known for hot springs and mud baths, you can find these treatments at the Indian Springs spa. Borrow a vintage cruiser to get from your room to the spa to the pool and back. How fun.
5. Alila Napa Valley (Formaly Las Alcobas)
Location: St. Helena
Earn free hotel nights here
As you can probably tell, I love Calistoga but that love is actually tied with St. Helena. This town has a slower pace than downtown Napa, but isn't sleepy either. And the Alila (firmly Las Alcobas) is *chef kiss* the best hotel there. My husband and I stayed here right before the world shut down in March 2020 and it was honestly the perfect last relaxing weekend.
Get a ground-floor room that overlooks the vineyards. You'll get a firepit and can stargaze at night. Set aside time to visit the spa (seriously one of the best massages I've ever had) and the pool. The hotel is literally minutes drive from some of my favorite wineries, another perk.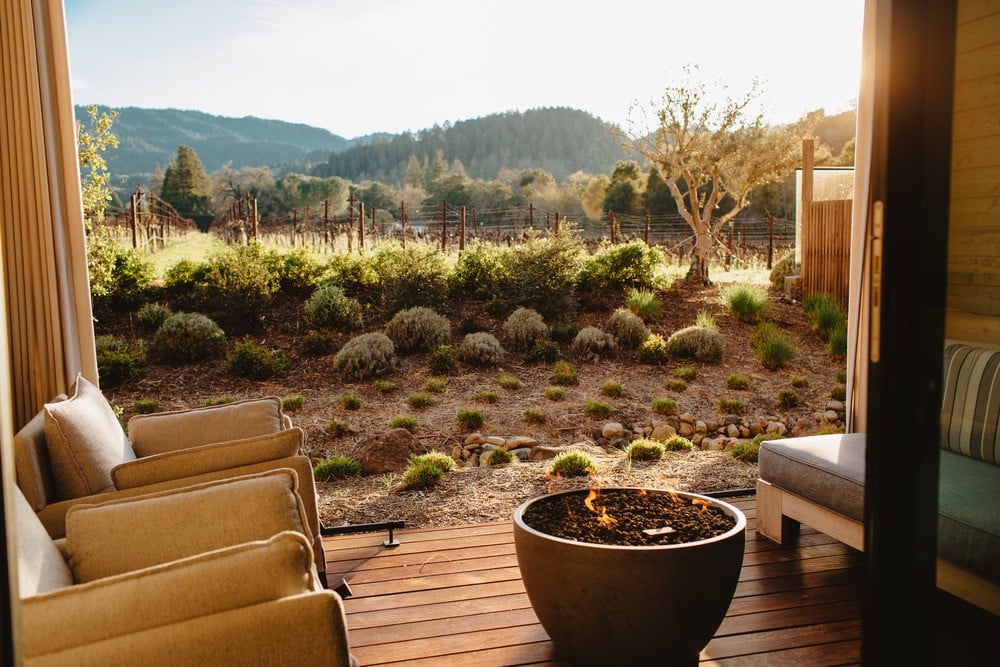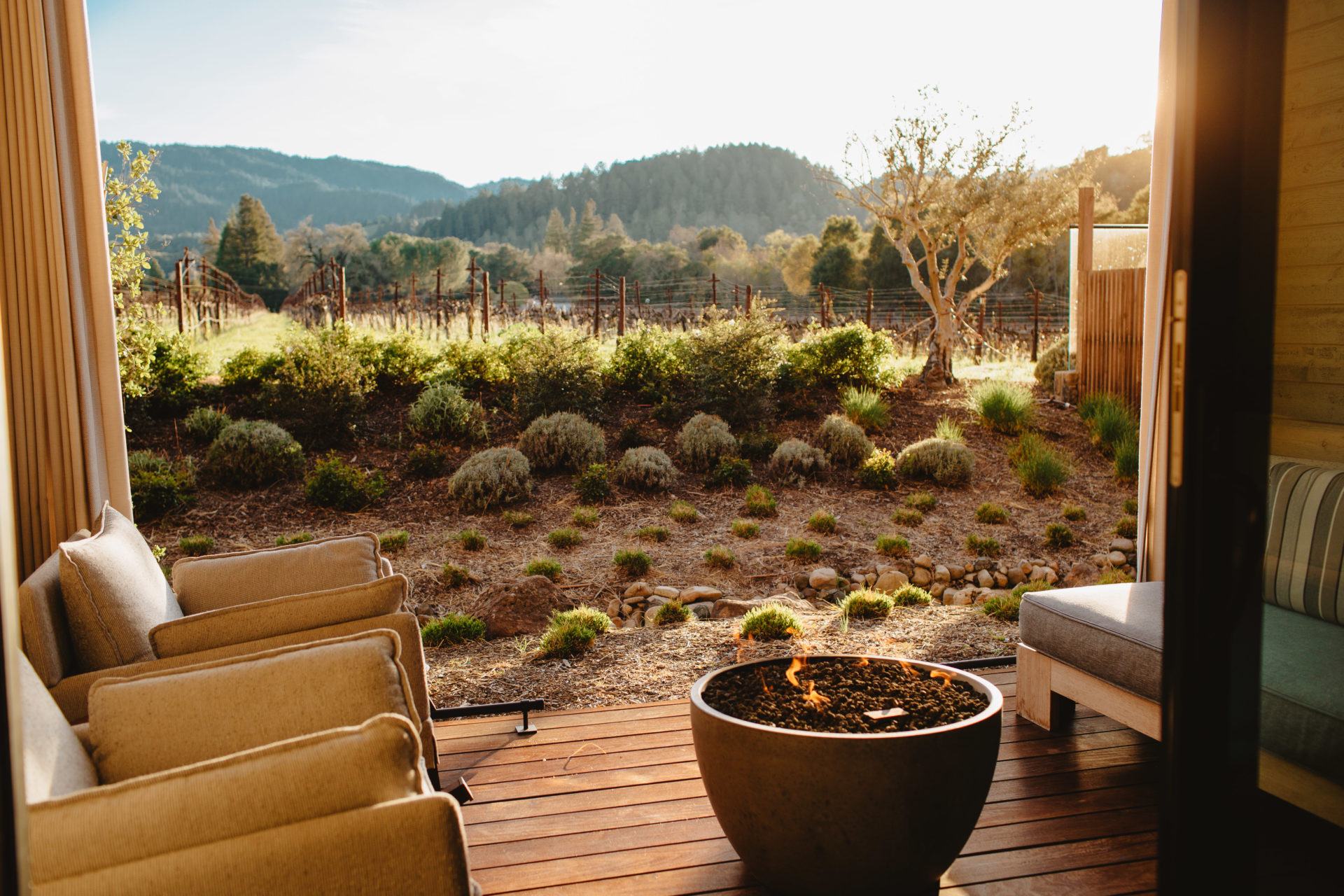 6. Meadowood Napa Valley
Location: St. Helena
Earn free hotel nights here
Last but not least is Meadowood. I've only driven past here to check it out and WOW, the property is beautiful. This is also probably the most expensive luxury resort in Napa Valley with rooms easily running up to $2500 a night, but if you have the budget to go all out you won't be disappointed.
They have a few pools, a poolside bar, luxury rooms, tennis, cricket, a dreamy property and overall bougie vibes. Just want you want on a honeymoon!
Note: Calistoga Ranch was always considered one of the best honeymoon resorts up here but they closed in 2020.
How To Get Discounted Or Affordable Resort Rates
1. Travel In Off-Season: Splurging on a really special resort in Napa Valley doesn't mean have to drop $1000 a night on guest rooms. Like with all honeymoon destinations, Napa has an off-season, which is in the wintertime. It's pretty common to be able to find packages and deals for these fancy resorts if you travel in the winter.
This may look like 3 nights for the price of 2, or full-priced rooms that also included breakfasts, spa credits and drink credits. Some of them even offer dedicated Napa Valley honeymoon packages you can book that included discounts and special perks like rose petals on the bed!
2. Sign Up For Resort Email Newsletters: I've subscribed to many of the top Napa VAlley honeymoon resorts newsletters for work purposes and have noticed it's there in the email that they tend to offer the best discounts. If you have your eye on a hotel, sign up for their newsletter now and cross your fingers!
3. Use Hotels.com Rewards Nights: Whenever possible, we book our hotels on Hotels.com so we can rack up points that can be used to free hotel stays. This is how we travel for free so much. Start booking through this platform now so by the time your honeymoon rolls around you'll have at least one night for free, if not more.
4. Use Credit Card Points: Another way we get totally free hotel stays is by our credit card. We use the Chase Sapphire Reserve Card which is focused on travel so it's easy to rack up thousands of points that can be traded for hotel rooms!
You can either book your hotel directly through your credit card platform to pay with points, but sometimes it's more lucrative to transfer your points to a hotel account. This is because sometimes hotels have specials happening where their points are worth 1.5 or 2x more through their platform.
ie, you could transfer 30,000 credit card points to your Hyatt account to turn them into 50,000 Hyatt points, for example.
5. Book Last Minute: Of course, you can always book last minute, which is maybe something I don't totally recommend for a big important trip like a honeymoon but I do want to put it out there! That's how we get massive deals on really nice hotels.
For example, we booked the Solage literally the day before we went up and got our room for about $350 a night, when it normally costs $900+ a night for the summer season. HotelsTonight is a good platform for this, so is Hotels.com!
The Most Romantic & Beautiful Wineries In Napa For Tastings
Now that you know where you are staying, let's chat wine tasting!! Wineries and tasting rooms vary from decor, property and even staff. Some big-name wineries are all about quickly getting you in and out, others seem to be on a sales quota to try and get you to become a wine member or buy bottles.
We don't like those places. We prefer to find vineyards with friendly sommeliers, good views, great wine and aren't too salesy. I have a LOT of favorite beautiful wineries in Napa, but these are the ones that I think make for the best honeymoon visit (or a Valentine's Day in Napa).
Note: recently most wineries require a reservation, even if you have a wine passport. This can easily be done online or by calling them. Plan ahead instead of just showing up.
Sterling Vineyards
Sterling is iconic. This is the famous gondola winery in Napa Valley! You start at the base of the mountain and take a private gondola car up, soaking up sweeping views along the way. At the top you'll be greeted with a splash of something white, depending on the season.
Then you'll do a tasting and cheese pairing on a patio surrounded by trees. If you book a tour, which I recommend, you can end in their famous deck which has epic views of all of Napa Valley. It's especially stunning at golden hour. Book your visit here.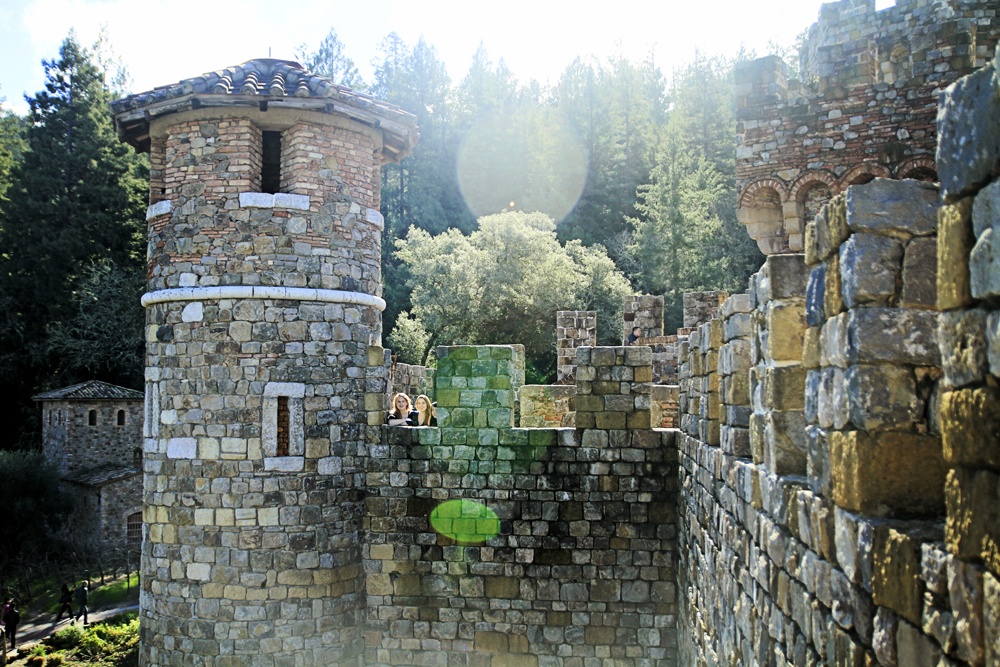 Castello di Amorosa
Castello di Amorosa winery looks like a castle! It's modeled after a 13th-century Tuscan-style castle but was only built in the 90's. It's super unique and always makes for a romantic visit, especially on a honeymoon. You can pretend like you took a day trip to Italy! Definitely book a tour and a tasting here, as with a tour you get shown all around the castle and can learn some cool history.
Heading to Paso Robles, too?
Check out
Tooth and Nail
, another California castle winery!
Darioush
Darioush is another winery that doesn't feel like it belongs in California wine country. I mean, look at those columns out front! It was founded by a Persian couple and they decided to build a winery on the Silverado Trail that's totally unique.
On top of wine, they also offer olive oil tastings which I highly recommend. We took one a few years ago and walked out feeling like olive oil experts and it's been a skill that's oddly been super handy.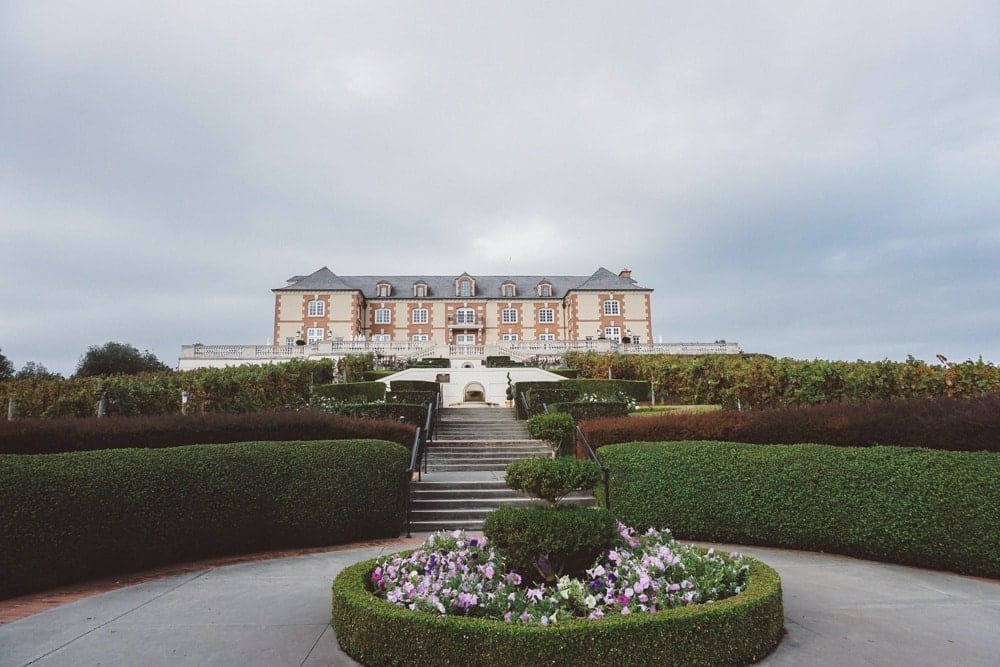 Domaine Carneros
Ug, Domaine Carneros is just so dreamy. You'll pass this winery as you head into Napa as it's one of the first ones at the gap. And it's a real stunner. The wine itself is amazing of course. They make sparkling wine and Pinot Noir, and also offer tours of the sparkling wine process.
I went on a tour with friends a few years ago and back then, it was my first sparking wine lesson. They are so good at teaching you the basics of riddling and how it's made. Then after, we got to sit on their majestic deck overlooking the gardens. Perfection.
Mumm Napa
If you're looking for something closer to other wineries along the Silverado Trail, try Mumm Napa for sparkling wine! You probably recognize the Mumm name as they ship all over the country. I always think it's fun to see where the wine is made from bottles I've had before.
Their winery is super charming. It features a big oak tree, gardens, a chic farmhouse-style tasting room and a whole educational tour to teach you how sparkling wine is made. If it's raining in Napa, this can be your indoor savior.
AXR Napa Valley
It surprises me how many people have never heard of AXR, even seasoned Napa visitors. Perhaps because it's tucked at the edge of St.Helena and looks like a vintage house from the front. What you can't see is a little patch of Redwood trees in the back of the tasting room, which of course guests get to sip wine under.
The inside of the tasting room is equally beautiful. They specialize in Cabernets and are so chill and nice. It's my favorite stop at the end of the day when you may be overstimulated from larger properties. AXR is also usually always part of the St. Helena wine passport!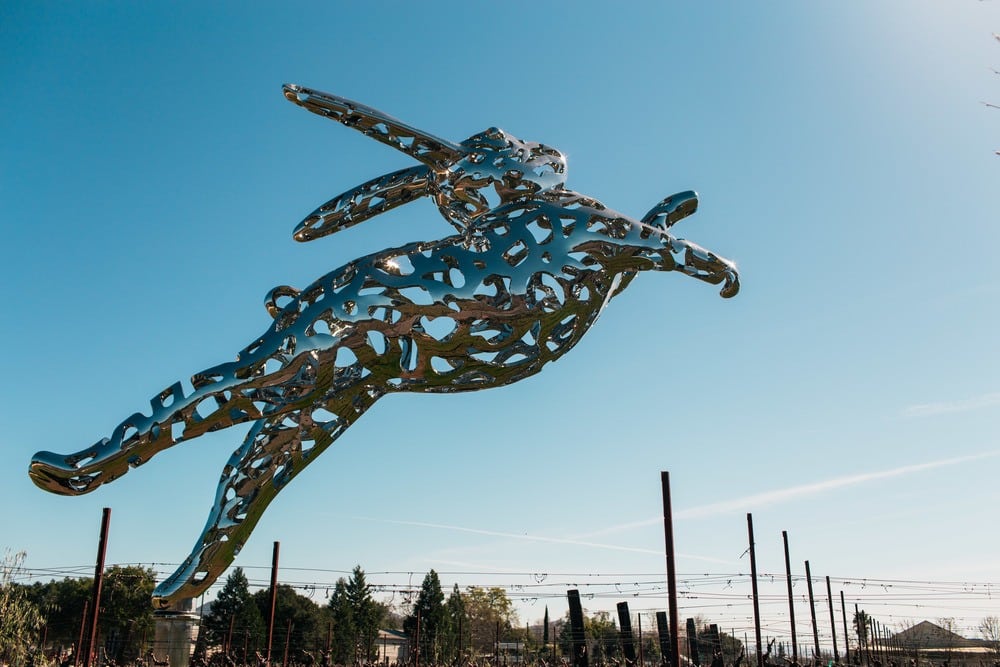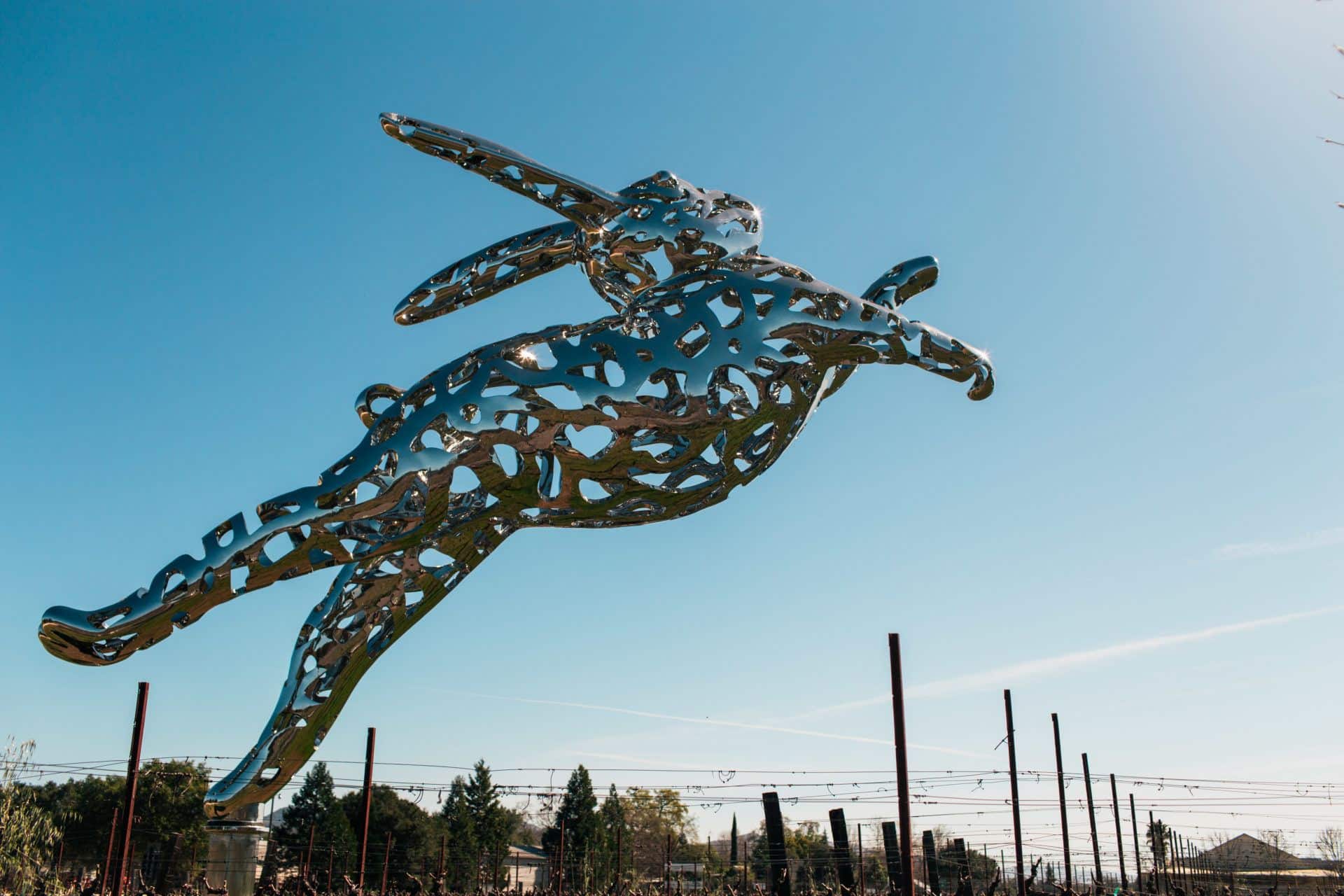 Hall Winery
You maybe recognize Hall Winery's bunny from The Bachelor years ago, and you absolutely can't miss it as you drive down St. Helen's Highway. It's iconic. And the winery itself is also stunning. Hall is always earning awards for their wines, especially Cabernets Sauvignons so if you love red, head here. Best part? They tend to be part of wine passports so you can save some coin tasting.
Frog's Leap
On a hot summer day, all I want is to slowly sip chilled Rose on the porch of Frog's Leap Winery. This spot is special as they use organically grown grapes and do biodynamic micro-farming. Heck, there's even a barn here and chickens, along with tons of flowers and good vibes. Oh, and they have a wine dog you may be lucky to sneak a pet with as you enter the historic farmhouse that doubles as a tasting room.
Ride The Napa Valley Wine Train
Ok, so the Napa Valley Wine Train is a historic train, not a single winery but it's a fun thing to do in Napa Valley for first-time visitors. You meet at the train depot and spend the afternoon eating a multiple course meal on the train, with stops to wineries in-between courses.
This is a nice option for people who aren't keen on driving, as it's all taken care of for you. You also get to learn a lot it's basically a crash course to Napa and wine tasting. Plus, it's just plain fun.
How To Get Free Wine Tastings In Napa
As you have noticed, Napa valley wine tastings can run you really high. When possible, I hate paying full price for a tasting. They can run pretty pricey in Napa. You could literally drop $1500 on wine tastings during a week visit, and that doesn't include bringing home any wine. Fret not, us locals have a secret to share with you.
Wine Clubs
If you become a member at a winery wine club, usually all of them allow free wine tastings for members and 1-3 guests. These tastings are always fun because they give you the VIP treatment (good seats, reserve wines, sometimes extra pours and snacks.) If you tell them you are on your honeymoon, they would probably pull out even more stops for you.
This is a great hack to get everyone in your group covered for a tasting. The downside is, you still have to pay for the wine club, albeit you do get wine with it. And you have to know which wine club you want to join.
Wine Passports
You can also use wine passports! This is my favorite way to get free wine tastings in Napa. There are a few different passports that run at different times and include different wine tastings. How they work are, you by the passport and then can use it to get a free tasting or two-for-one tastings at the listed wineries.
Usually, you just have to visit 2-3 wineries to break even and these tend to be valid for a whole season. My favorite passports are:
Priority Pass: This program has over 400 wineries in it, and the passport is usually 70% off via Groupon!
Napa Valley Passport: This one is valid for two people so you only need to buy one!
St. Helens Passport: This is my favorite passport as it tends to cover most of my go-to wineries in Napa Valley.
Hotel free tasting coupons
Sometimes hotels will give out free winery coupons as a perk for staying at the hotel. If you don't see that listed in the offering, ask the front desk. Sometimes they have them stashed and can give them to you. It's always worth asking!
Book Through Groupon
Lastly, it's not uncommon for major wineries, like Robert Mondovi, to offer Groupon tasting deals during slower seasons. Discounts are always changing up, so it's worth it to take a peek while planning to see if anything good is listed!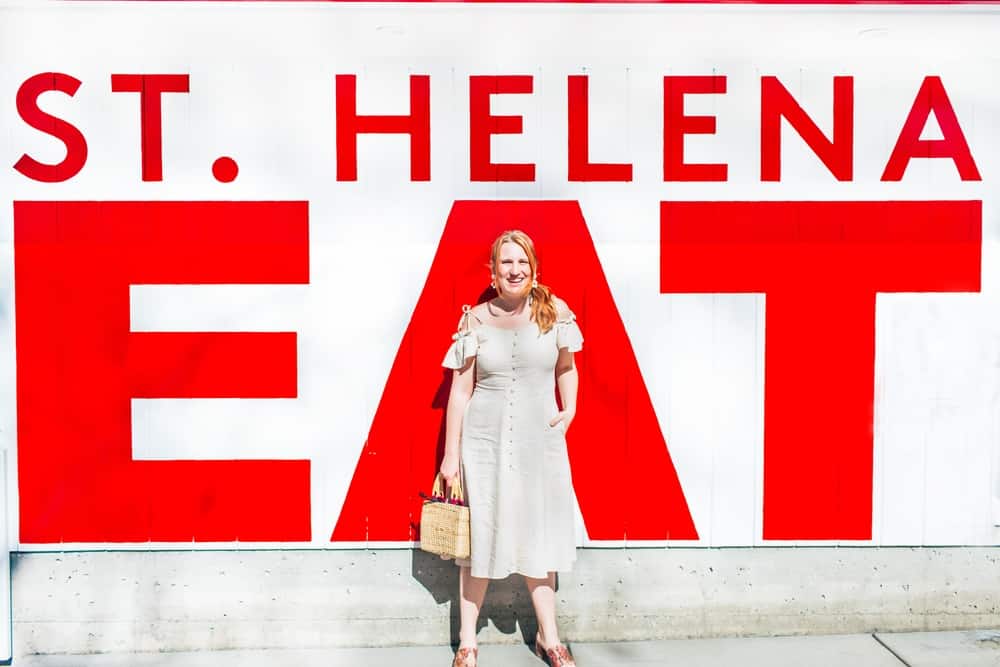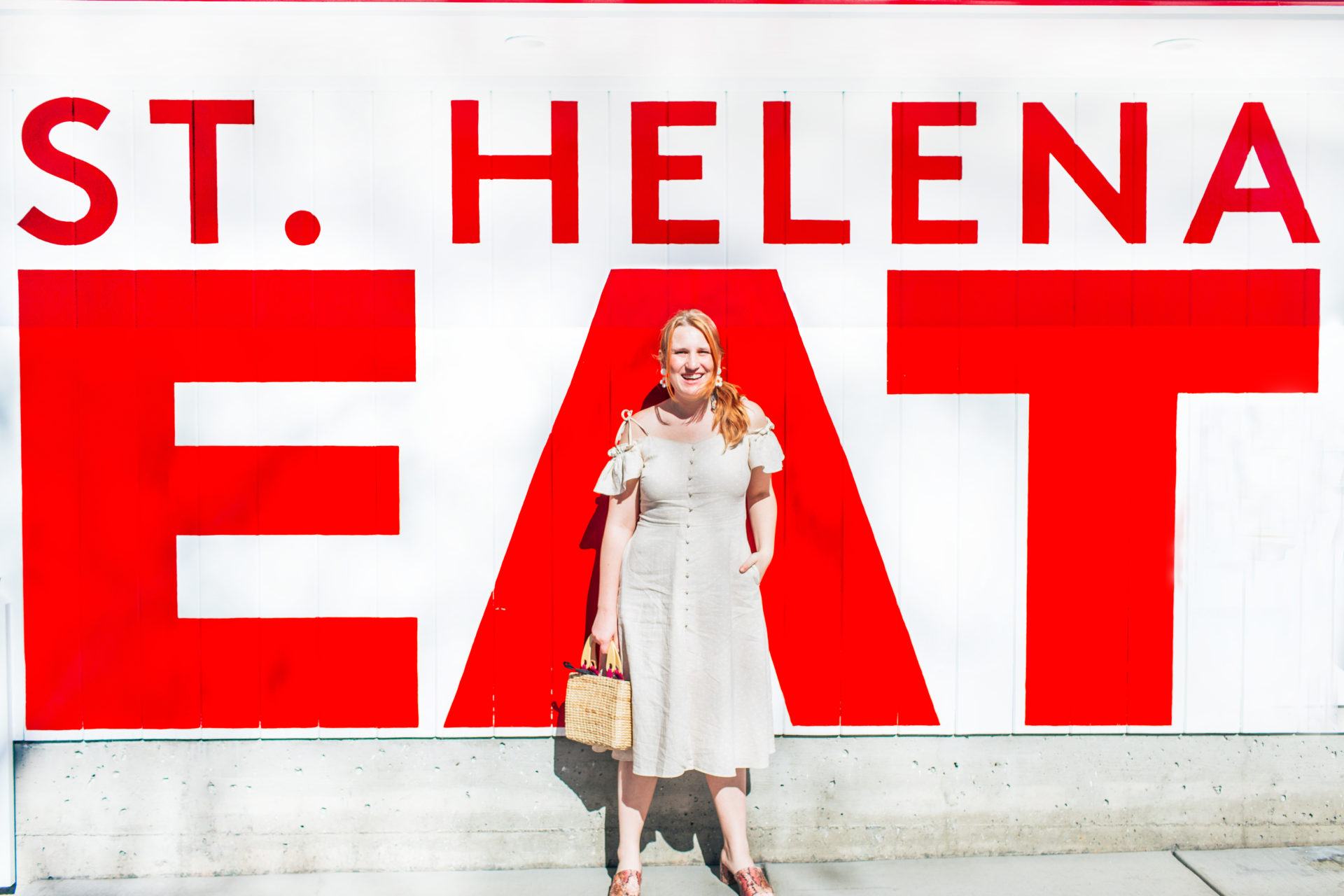 Best Restaurants In Napa Valley
Now you know where you're staying, let's chat about where to eat! I have this broken into two parts. First are the best overall restaurants that are bucket list eats. Usually, these are best for dinner when you may want to spend more compared to breakfast or lunch. Then I share my favorite spots that are more budget-friendly.
Bucket List Restaurants In Napa Valley
Best Affordable Dining In Napa Valley
Just like wine tastings can run a pretty penny, dining can really add up during a trip to Napa Valley. We tend to opt for more casual (and more affordable) eats during the day, leaving most of our food budget to dinner. These are our spots that still taste amazing but are more affordable!
Oakville Grocery: They have a cafe here and do a wood fire pizza that's do die for. We usually make this our breakfast stop and then also pick up sandwiches and cheeses for lunch later that day.
Clif Family Winery Food Truck: Clif is one of our favorite wineries in Napa, but they have a daily food truck outside that serves up seriously the best eats. Especially the brussels sprouts. You don't need a tasting to eat from there, but I do recommend it.
V. Sattui: This place is a VIBE. Come for lunch and picnic on the lawn with cheeses and meats from the store. On summer weekends they usually also have BBQ grilling out back.
Oxbow Market: Located in Downtown Napa, the Oxbow is one giant market full of restaurants, cafes and shops. This is a good option if you can't agree on what to order, as you can both go to different spots but eat together at the same table.
La Luna Market & Taqueria: This little Mexican grocery store has a taco hop at the back that makes THE BEST tacos! They're also just a couple bucks so this is probably the most affordable meal you can find in Napa.
Winery Picnics: Many wineries allow you to picnic or bring your own snacks to your outdoor wine tasting. Bring cheese, meats and bread for a little charcuterie board lunch.
How To Get To Napa Valley
The easiest way is to fly into San Francisco or Oakland International airports, rent a car and drive. It's about an hour from the city. If you live in California, you can of course always just road trip from your house.
How To Drive Myself Around Napa
Unless you are sticking to Downtown Napa, where all their tasting rooms are in walking distance to each other, or are taking the wine train to vineyards, you'll need a car. We always drive ourselves, as we like to go at our own pace and have control.
How you do this without drunk driving is the Sip and Spit method. Ask for a spit bucket at your tasting. The driver can still sip the wine, and then spit it back out. You'll get the taste of the wine without getting drunk. I do this all the time and I promise it works. Plus, drink lots of water and limit yourself 2-3 wineries per day, MAX. And go slow – spend time gazing at the rolling hills instead of pounding back wine.
What Should I Wear Wine Tasting?
Honeymoon wine tasting calls for cute outfits! What you want to wear varies on the season, as Napa gets all four. I have a whole guide on what to wear wine tasting you should read for ideas and tips.
What Is The Best Season For A Napa Valley Honeymoon?
A honeymoon in California's wine country means choosing before four seasons. Summer is hot hot hot which can get overwhelming, but it's also so relaxing to sit in the sun on a warm summer day and sip a crisp white wine while overlooking green vineyards. It's also the most popular time to visit so you will have crowds and traffic to deal with. And, lately, there may be wildfires happening in the late summer.
Winter will be cooler weather, far less crowded and you can usually find discounted hotels or tasting specials at wineries. The downside is, the vines will be bare and you can encounter rain. Springtime brings flowers and autumn is when all the vines turn orange and yellow. Yes – wine country is one of the best places to find fall colors in California!
Consider A Joint Napa – Sonoma Honeymoon
What's the difference between Napa vs Sonoma? I have a whole guide on that. If you get this far and think, perhaps a Sonoma Honeymoon is a better fit, that's totally ok! I find myself up in Sonoma County a lot more than Napa these days. I love the laid back vibes and the forests. Plus I have a weakness for Pinot Noir.
You can totally opt to just hang out in Sonoma, but you could also break your honeymoon trip up to spend a few days living in Napa Valley luxury and then pop over the mountain for a different vibe that isn't all focused on wine tasting. Here are my suggested highlights:
Farmhouse Inn: One of my favorite California wine country honeymoon resorts to anchor yourself in. It's simply stunning and almost hard to leave.
Healdsburg: My heart is in Healdsburg. My friends and I visit 3-4 times a year we love it so much!
Guerneville: A quirky little town right on the Russian River with wine tasting, hiking and river fun.
Suggested 5 Day Napa Valley Honeymoon Itinerary
Day 1
Arrive to Napa
Check into your hotel
Relax at resort
A really nice dinner to kick off your trip
Day 2
Breakfast at hotel or local cafe
2-3 wine tastings during the day
Late afternoon at hotel or exploring one of the small towns
Nice dinner
Day 3
Spa day at your resort
Poolside
Casual dinner in town or in your bungalow
Day 4
Breakfast at hotel or local cafe
2-3 wine tastings during the day
Late afternoon at hotel or exploring one of the small towns
Dinner (casual or fancy)
Day 5
Slow morning at your resort
Pack up and check out
1-2 last tastings (optional)
I hope this helps you plan an affordable Napa Valley honeymoon that fits your budget! If you still have questions by the end of this, drop a comment below and I'll help you out. You can also DM me on Instagram @thewhimsysoul, too.
Happy planning and congrats on getting married!