Let's be real – you can do better than basic coffee dates or happy hour drinks. This is San Francisco after all! When I say the options for fun date ideas are endless I really mean it.
My husband and I have been living in San Francisco for over 5 years and love hitting the streets for fun, unique date days. Too many of my single friends tell me about how date after date they go on are so boring (aka safe dates like coffee shops, restaurants everyone goes to, etc.)
So, to help my local readers out, I compiled a list of my favorite unique San Franciso date ideas for you to try out instead of ANOTHER boba guys meet-up.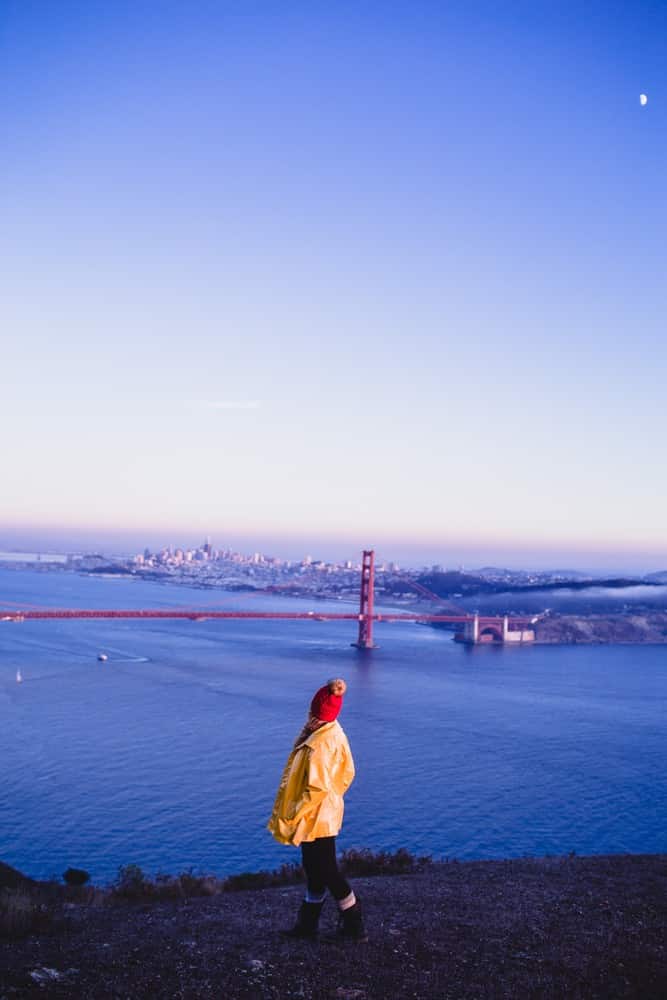 >> Got a question about San Francisco that you need answered quickly? DM me on Instagram @thewhimsysoul and I'll be happy to help!
32 Unique San Francisco Date Ideas (According To A Local!)
Guys, there are SO many fun things to do in the San Francisco Bay Area! It was hard narrowing this list down to the best of the best. When Robin and I first moved out to San Francisco we were right out of college and broke AF. So we quickly learned how to have awsome dates on a budget.
As our careers have evolved (aka we turns from broke AF to financially comfortable) we've explored other not-so-budget friendly date ideas, some which I have included here.
Basically, no matter your budget or interest, you should be able to find fun San Francisco date ideas to do with your boo in this post! Now, let's get this list started.
Outdoorsy Fun Date Ideas in San Francisco
What I adore about San Francisco and the Bay Area is how many outdoor recreation things to do there are, year-round too.
Stroll along Lover's Lane
Every city needs a Lover's Lane, right? if you're looking for romantic things to do in San Francisco, head to the San Francisco Lover's Lane a stretch of trail located in the Presidio. On a sunny day, the sunlight streams through the trees in the softest, most romantic way. Perfect for a lazy Sunday afternoon!
Hunt for the famous swings
Did you know San Francisco has a bunch of hidden rope swings around the city? Finding them can be a bit of a challenge, as they are constantly being put up and cut down, only to be put up again.
Robin and I tried to track a few down last year (like the famous Kirby Cove swing) and I found the hunt – and the question of if the swing will be there – to be super fun and unique. When you do find a swing, it's really satisfying! This would be such a fun first date idea.
Pet a puppy at Corgi Con!
Twice a year, Corgi Con takes over Ocean Beach. It's a magical day were corgis from all over the Bay Area come together (usually in cute costumes) to socialize. We don't own a dog, but that doesn't matter. All the puppers are for pets and love! It's one of my favorite free date ideas (we go every year!)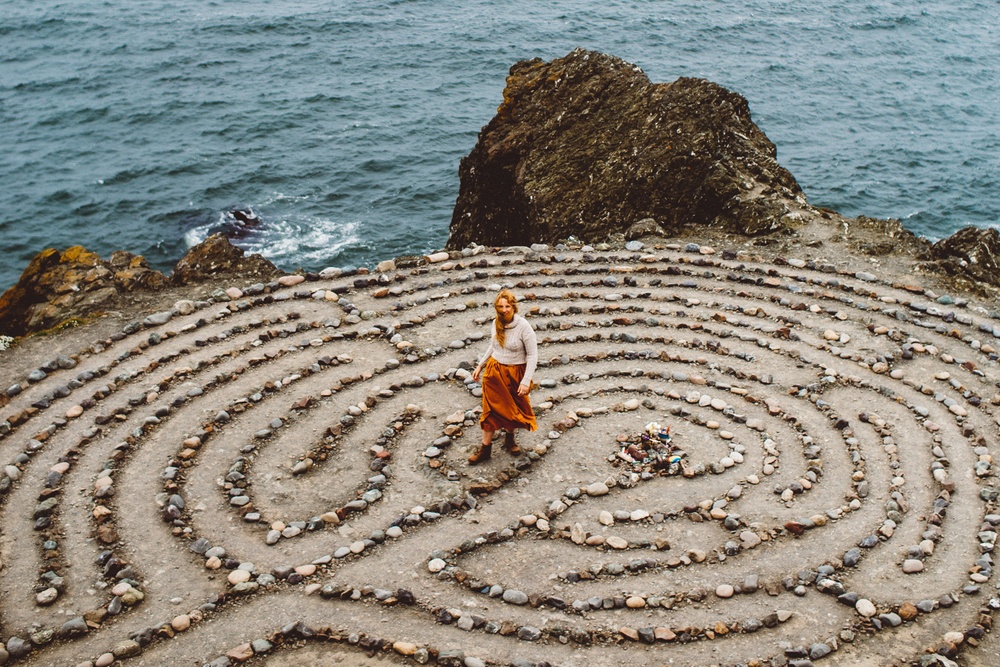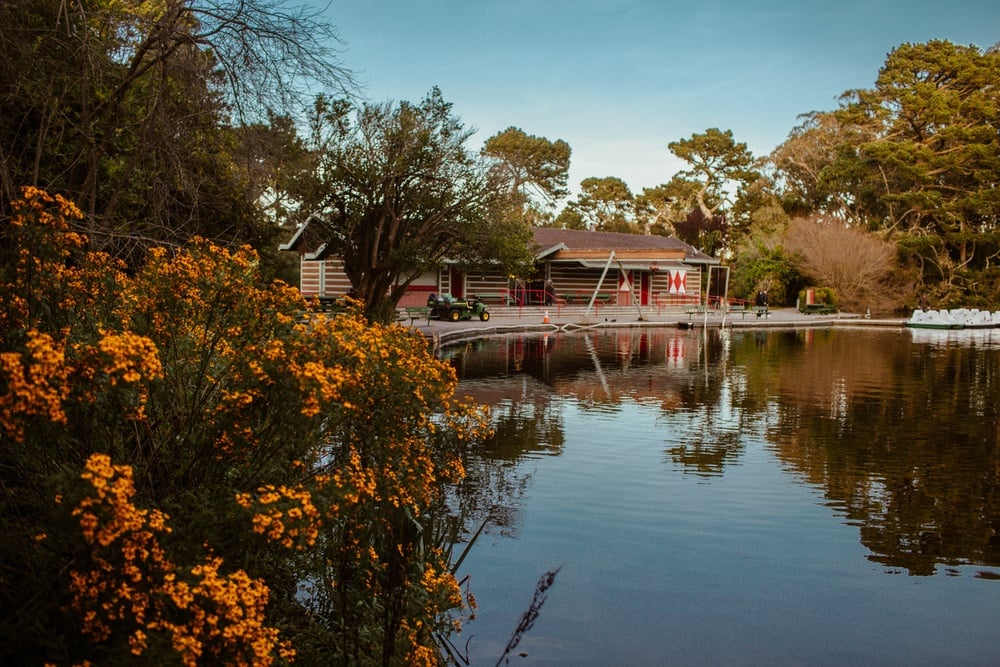 Find the Land's End Labyrinth
Hidden in Land's End there's a secret Labyrinth that, on a clear day, offers views of the Golden Gate Bridge. The hike is pretty easy and takes about 20 minutes. I wrote a step by step guide to help you find it!
Hike to Black Sands Beach
If you're looking for secret romantic spots in San Francisco for a date, head over the bridge to the Marin Headlands and hike a hike to Black Sands Beach! This hidden beach has dark, almost black-colored sand which is unique and fun.
It also overlooks the city of San Francisco! Grab a bottle of wine, a blanket and come here to watch the sunset. (You don't need to dress up in fancy clothes as we did – ha! We just wanted new, couple photos together and went a little extra.)
Rent a Rowboat on Stow Lake in Golden Gate Park
Another one of those romantic date ideas in San Francisco is renting a classic rowboat and paddling around Stow Lake! Open daily, you can easily rent a boat for under $25 and take a romantic spin around this adorable lake in the park!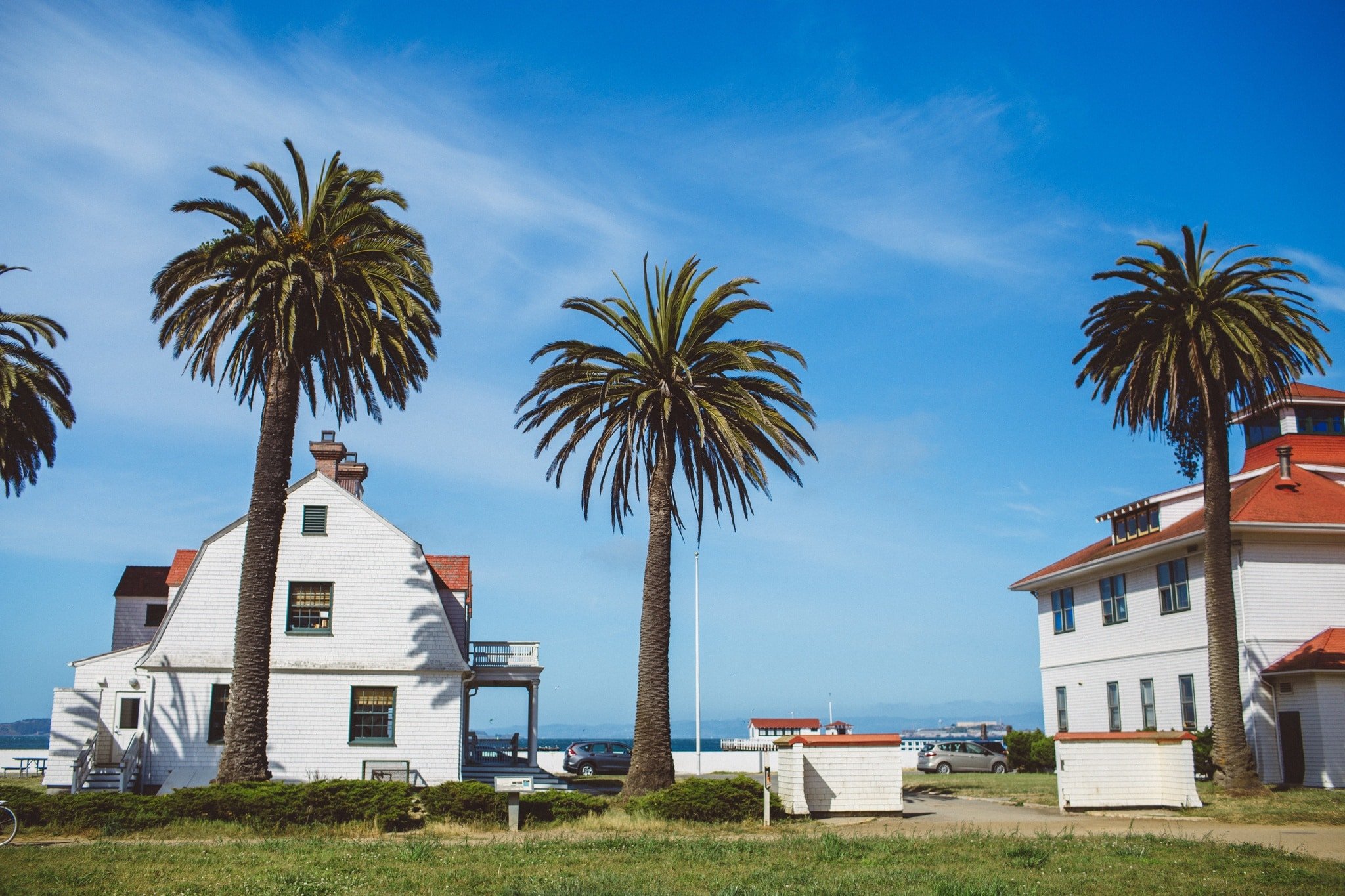 Stroll Crissy Field
Crissy Field is a large, open park right on the water. On a clear warm day, this is one of our favorite spots to take a long walk at because it's just so dang stunning! On one end there's the Golden Gate Bridge and the other is the Palace of Fine Arts.
In between is a nice path for walking, a beach, a coffee shop and (if you walk a bit further) a wave organ! I love taking in the views of the Bay, Alcatraz, Angel Island and the windsurfers.
Battery Point lookout at sunset
One of my FAVORITE places in the entire city is right across the bridge at the Battery Point lookout (ok, so technically in Sausalito but just barely.)
Try to only do this on a clear and warm evening because if it's foggy you won't be able to see much (plus, it gets windy up there and it won't be a fun date!) But on a good day, drive up there for sunset. We once saw a couple get engaged here, it's that romantic! It's one of my favorite quirky romantic date night ideas (follow by cocktails and dinner in the Mission District)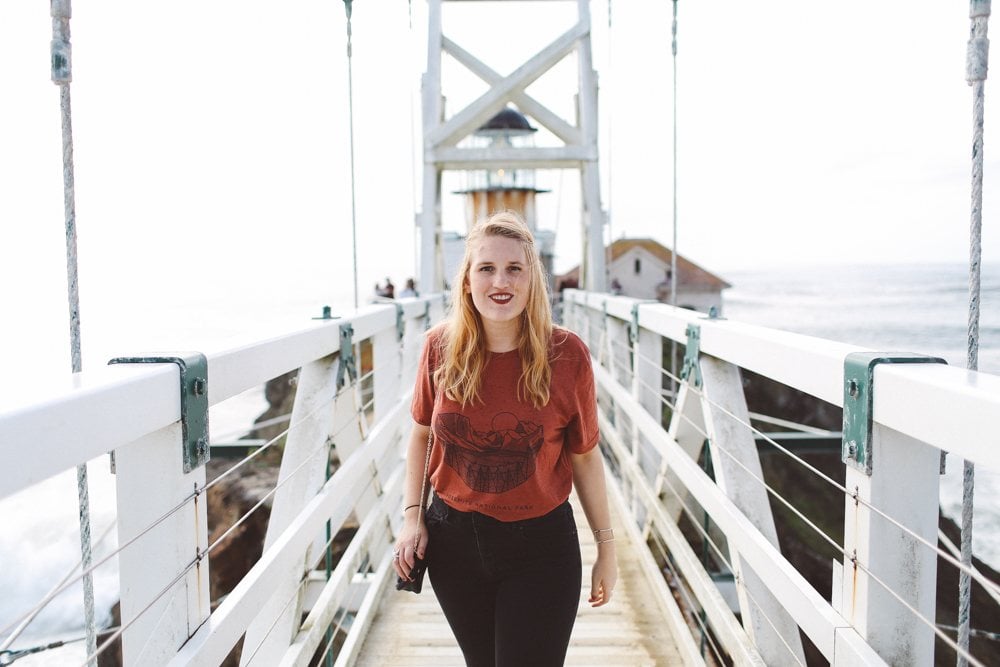 Point Bonita Lighthouse
Right across the bay in the Marin Headlands is the Point Bonita Lighthouse! You can see it from the shores of Land's End. On certain days of the week, this lighthouse is open for tours! I wrote a whole guide for visiting for info and tips (it's a really fun, easy and FREE date!)
Mega Walk Through The City
I actually do this with friends and family visiting, but it makes for a really fun date day, too. I've down this exact route many times and it's alway fun! Start at Market Street on Powel and walk-up towards Union Square and to Chinatown through the Dragon's Gate.
Pop into the stores and look around the market. Make sure to grab some dumplings or pastries from Golden Gate Bakery (SO GOOD!) for a snack. Keep walking up to North Beach. You can picnic in Washington Square Park if you didn't already get your haul from the bakery.
After, make the trek up to Lombard Street (there's a great view at the top, totally worth socializing with tourists for these epic date spots!) and after, walk down to Ghirardelli Square. Grab yourself a free piece of chocolate and head to Fisherman's Wharf. End your date with a clam chowder bowl from Tarantino's (make sure to get it in a bread bowl!)
Neon Sign Tour
Turns our, neon signs in the city have a really cool history. Sign up for this 2 hour walking tour through your choice of the neighborhood to view all the fun, wacky and historic neon signs in the city. Dating can be unique this way!
Unique Date Ideas in San Francisco
Hiking and long walks on the beach aren't your thing? That's ok! There's other fun, unique things to do in San Francisco that also make great dates.
Ferry Building Farmer's Market
Every Tuesday, Thursday and Saturday mornings there's a farmer's market at the Ferry Building that makes for a really fun date, even if you don't buy anything. I think the Ferry Building is beautiful and I love how pretty the Bay Bridge looks from this view.
You can do some shopping, or have breakfast here at one of the stalls. Also, right next door is the Rainbow Coit Tower popup you can visit, too! I personally think going to the farmer's marker on a weekend morning is one of the most romantic things to do in San Francisco together. How cute!!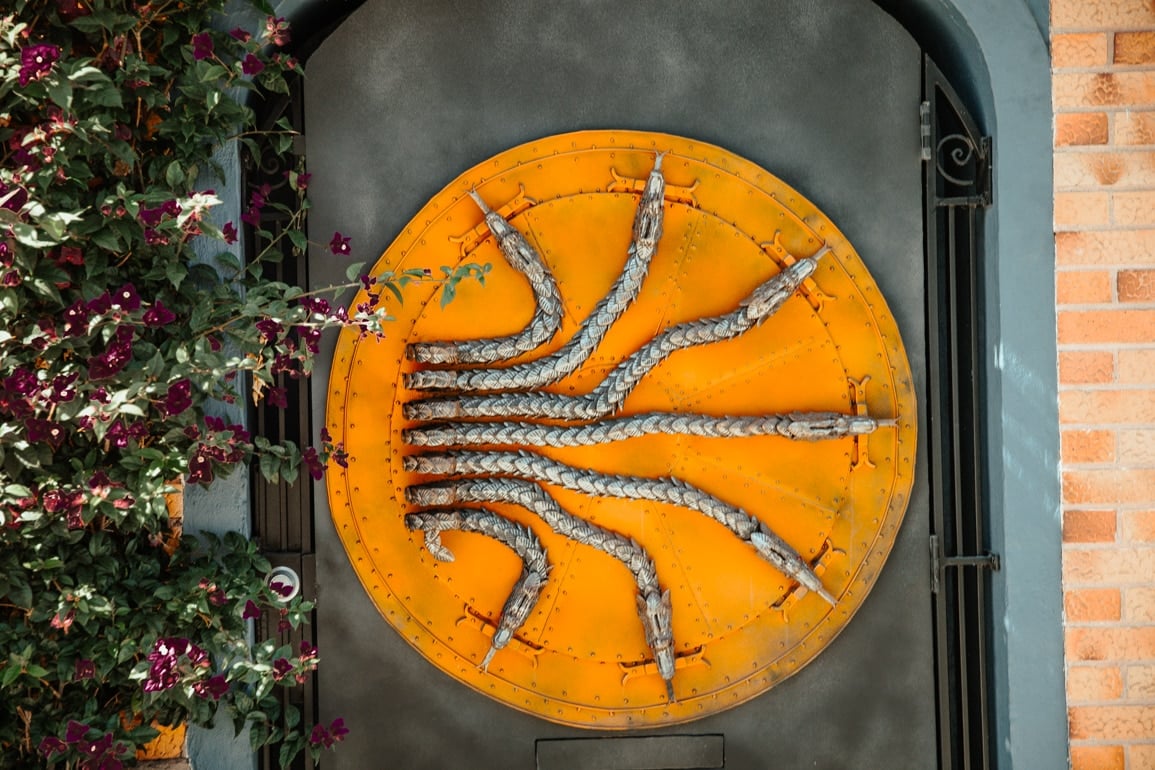 Find The Chamber Of Secrets Door
Calling all Harry Potter fans! There's a hidden Chamber of Secrets Door near Fisherman's Wharf. Hunting this down is one of those fun date ideas San Francisco offers. I recommend you get dressed up in your house robes and takes some funny photos together!
Treasure Island Flea Market
Once a month a huge flea market takes over Treasure Island! We've been going for years. We don't always go with the intent of buying something, rather it's fun to look at all the artisan tents and thrifted stalls for goodies. There are also food trucks and tons of dogs to pet.
Attend a Podcast Show
Figure out what your date's favorite podcast is and buy tickets for the next show happening in San Francisco! I personally love My Favorite Murder and always go with my girlfriends since Robin doesn't like true crime, but an evening out to a podcast show would be a great date!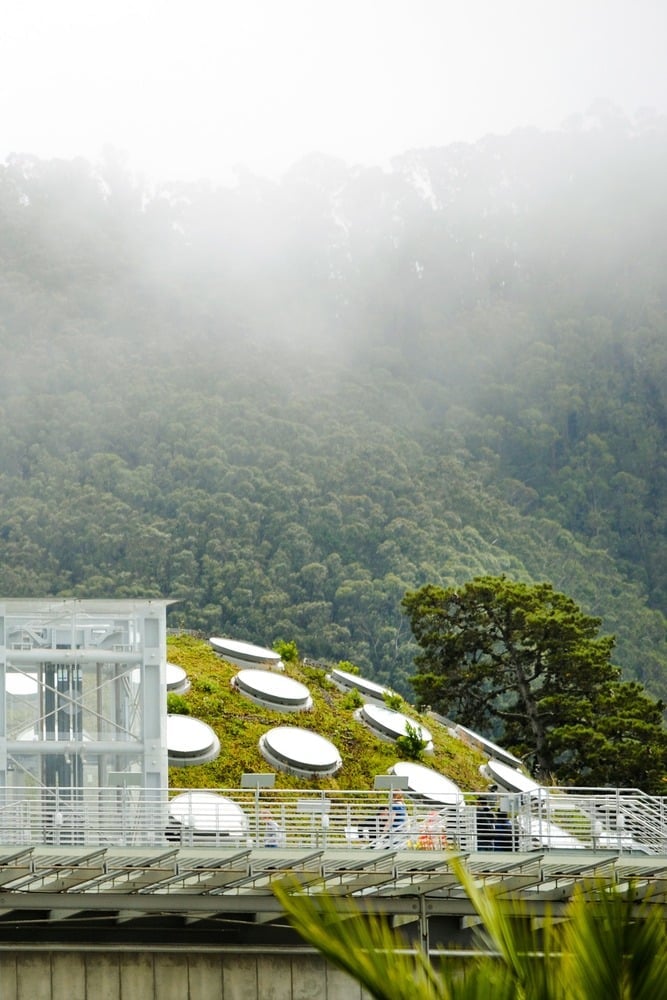 Airbnb Experiences
Did you know Airbnb has extended to experiences hosted by locals (not just rooms to sleep in?!) Everything from cooking classes, guided tours, even things like crab fishing lessons or yoga with goats can be found on Airbnb.
Wine tasting in Santa Cruz mountains
Ok again, not technically San Francisco but is in the Bay Area. If you live or work in South Bay, the Santa Cruz Mountain wineries are a quick 20ish minute drive away! Or, about an hour if you live in San Francisco. Unlike Napa or Sonoma, the wineries here are usually much cheaper and less crowded. I shared my favorite Santa Cruz Mountain wineries in this blog post!
California Academy of Sciences After Dark
Every Thursday the California Academy of Sciences in the Golden Gate Park host an adults night called After Dark from 6pm-10! No kids allowed in this 21+ event. Explore the academy with fun weekly themes, sip on cocktails and listen to live music!
Exploratorium After Dark
The Exploratorium also has an After Dark Thursday event for grown-ups that is SO much fun! We used to have a pass here and would go a few times a year. The Exploratorium is huge and personally, I think it's a lot more fun to explore without small children there. This makes such a cool date in San Francisco!!
Jazz Festival on Fillmore
Every July the Fillmore Jazz Festival take place on Fillmore Street. Block of it are sectioned off for live music, food booths, wine and beer tents and seating area to enjoy the sunshine and jazz! It's such a fun afternoon and I love going every year with Robin and friends.
Alcatraz Tour
Are you a true crime junkie or a history buff? Or maybe your date is? I know a tour to Alcatraz is a touristy thing to do, but I think it's the best touristy thing to do in San Francisco. The ferry ride out to the island is stunning, it's basically like sailing.
And the self-guided audio tour is well done, complete with sound effects and great narration. Everyone is free to walk around the old prison on their own. if you visit on a sunny day in the summer, tons of flowers will be blooming on the island and you'll be treated to an A+ view of downtown San Francisco.
No, this isn't what a lot of people would think is one of the best date spots in SF, but I love it!!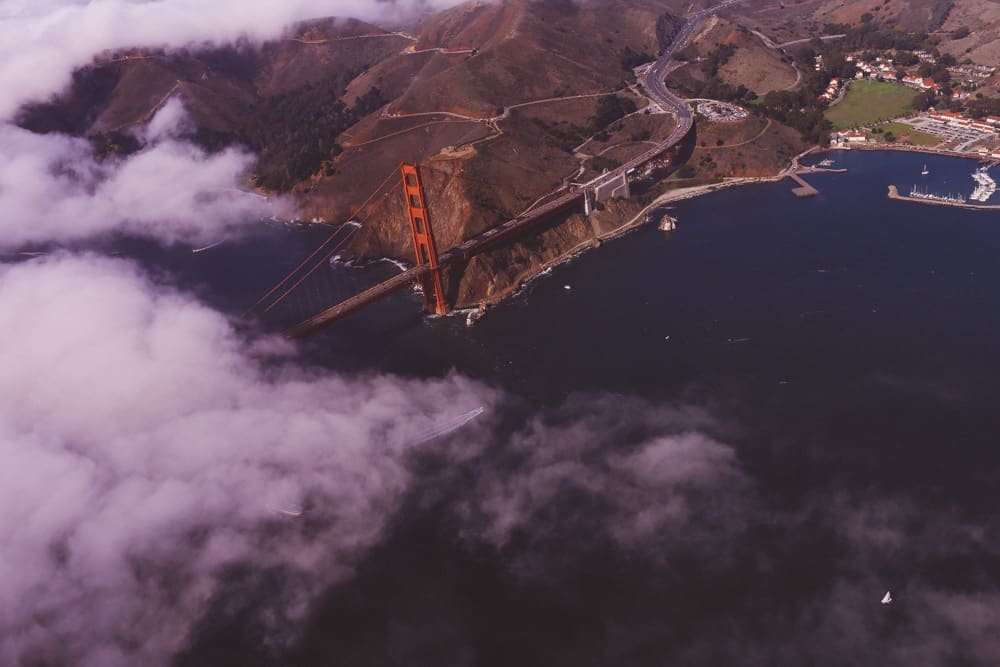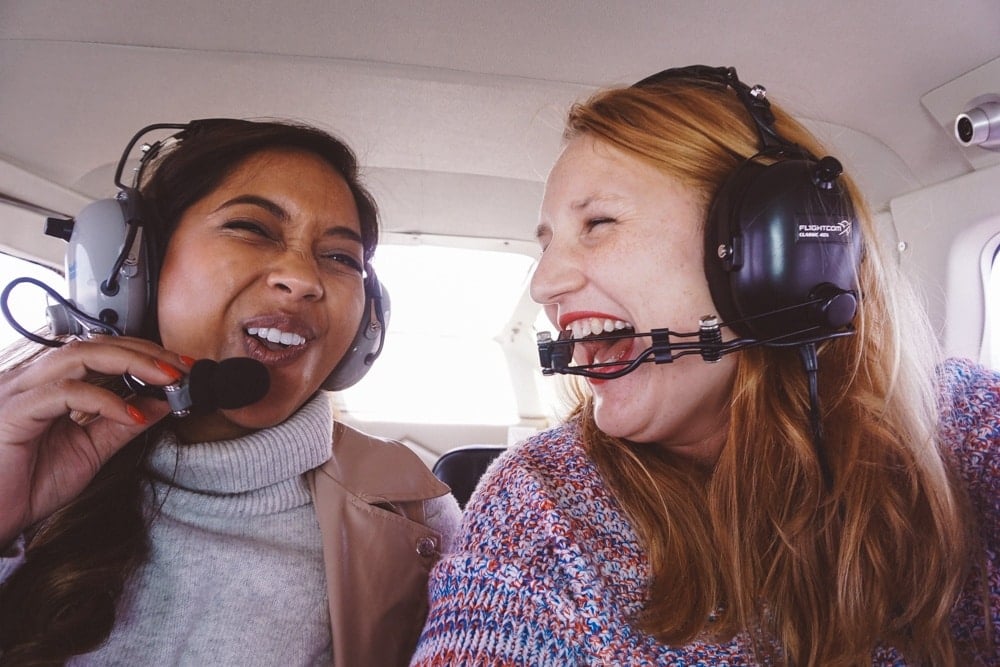 Luxury Date Ideas in San Francisco
Private plane ride
I had the once in a lifetime chance to take a private plane tour over San Francisco and HOLY COW it was stunning!! Seeing the Golden Gate Bridge from above was pure magic. If you're looking to really to wow your date take them on a plane ride over the foggy city.
Sunset Sail on the Bay
Obviously, this is not ideal on a cold, rainy or super foggy day. BUT, if the weather plays nice, a sunset sail around the bay is romantic. I've done a few sails at sunset and my favorite part is always sailing under the Golden Gate Bridge at sunset. I've even seen a whale out in the bay during a sail!
Hamilton Tickets
If your date still hasn't seen Hamilton, this is an easy luxury date ideas San Francisco offers that they'll remember forever!

Whisked away to Napa Valley for wine tasting
Day trip to Napa anyone? I think this would be fun to do as a surprise. Napa Valley is only about an hour from San Francisco so it's not far at all. I recommend visiting wineries on the famous Silverado Trail which are grand and ooze luxury.
Baseball Game in Luxus Seats
Right behind home plate in the Giant's Stadium is the Lexus Club, which is the ULTIMATE way to watch a baseball game. You can even be on TV here!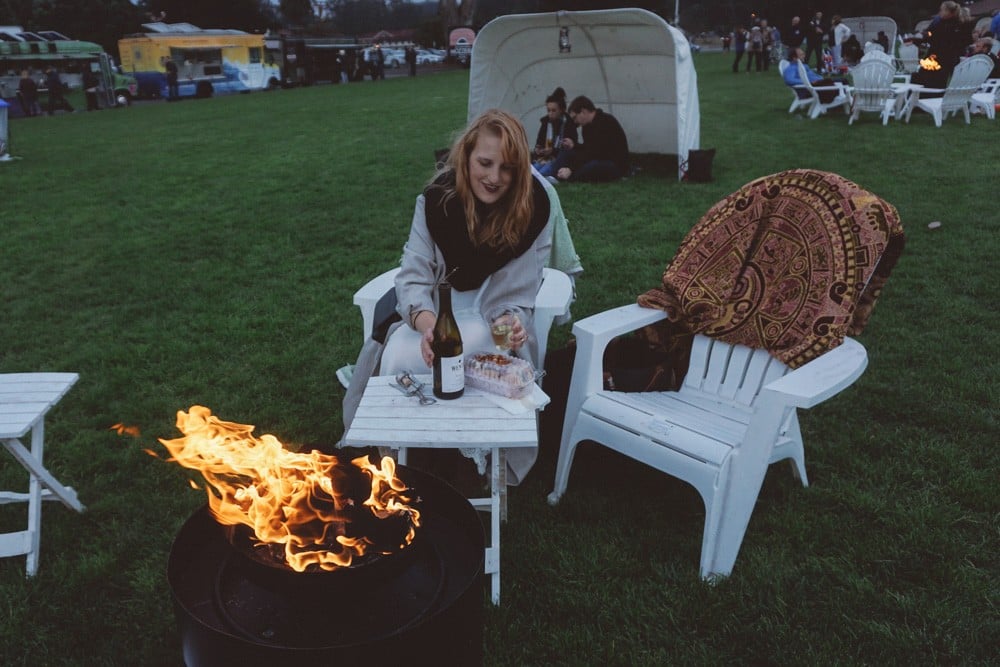 Best San Franciso Date Night Restaurants
OK, so everyone has to eat and if you are looking to do a dinner date night in San Francisco, do it right by doing something original.
Off The Grid Presidio Twilight
Off The Grid is basically a weekly food truck party with pop-ups all around the Bay Area. My favorite location is the Presidio Twilight, which takes places in the summer on Thursday evening in the Presidio. First time I went here I feel in love with the fire pits, the food, the view of the sun setting over the bay. We try to go at least once a year now!
Dinner at Berber
New to San Francisco, Berber is a North African supper club with a live circus performance while you eat. Truly the best take on dinner and a show.
Cityscape
My favorite spot to sip on craft cocktails with a 360 view of downtown San Francisco. Come before sunset so you can watch the city transition from day to night!
Anchor Brewery tour
As Wisconsinites, Robin and I LOVE beer. Heck, it's basically one of the main food groups over there in the Midwest. The Anchor Brewery is located in Potrero Hill and puts together a really nice brewery tour where you learn the history Anchor has in the culture of San Francisco (plus take a lot of beer at the end!)
North Beach food crawl
I adore this historic neighborhood that has tons of hidden gems. Robin and I went on a fantastic food crawl of North Beach a few years ago and had a blast learning about the history of this old part of the city and of course, eating a lot of Italian food!
Ice cream flight at Salt and Straw
Last but not least, head to Salt and Staw for an ice cream flight. Make sure to try some of their unique flavors like Olive Oil (that's my favorite!)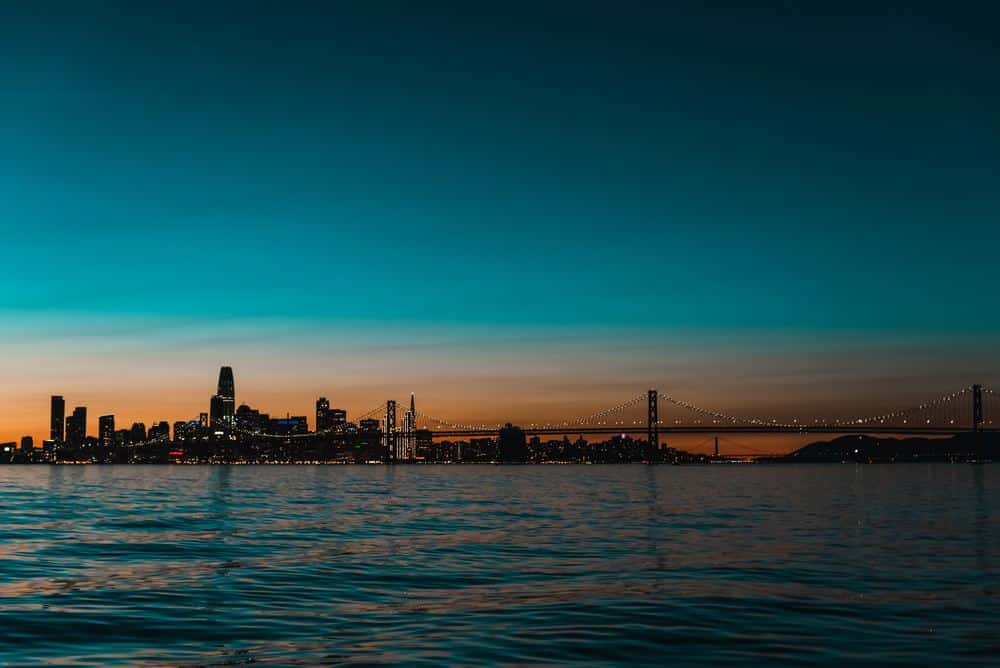 I hope this post helps you find awesome, original date ideas in San Francisco! If you have any suggestions to add, leave a comment below so everyone can see. If you have any questions about things to do in San Francisco, leave a comment or DM me on Instagram @thewhimsysoul and I'll be happy to help!