One of my favorite perks of living in California is getting to soak in all the hot springs in the Eastern Sierras
Buckeye Hot Springs along Buckeye Creek are special for a few reasons. There's multiple tubs all with drastically different temperatures. It has this rad little cave situation going on with a waterfall, which I've never seen before, meaning you can find shade while soaking.
AND they're right next to the creek so you can plunge in the river and then warm up in the tub for a little natural cold plunge ritual.
In this post I'm sharing Buckeye Hot Springs directions, must-know tips before you go!
My friend Justina and I decided to run off to June Lake and Mono Lake on a little fall foliage road trip. On our way to Lake Tahoe and Hope Valley, we decided to finally check out Buckeye.
We visited Travertine Hot Springs a few years ago and I loved the mountain views at these pools. They're also located outside Bridgeport but in the opposite direction. We didn't have time then to swing by Buckeye but I keep hearing everyone rave about these magical pools, so we finally headed over on a sunny October day!
Name: Buckeye Hot Springs
Address: Located outside Bridgeport, California (available via Google Maps)
Road condition: 4WD is best year-round, needed in the winter
Best time to visit: Any. It's next to a campground so expect people at all hours.
Driving Directions To Buckeye Hot Springs
All in all, it's pretty easy to find Buckeye, but not easy to physically get there.
These pools are located near Buckeye Campground which is outside Bridgeport about 20 minutes drive. Make sure you use the gas station in town to fill up and download maps offline since there is no cell service as you get near the hot springs.
You can pop " Buckeye Hot Springs " into Google Maps and it'll take you right there no problem, but there are two roads to get here.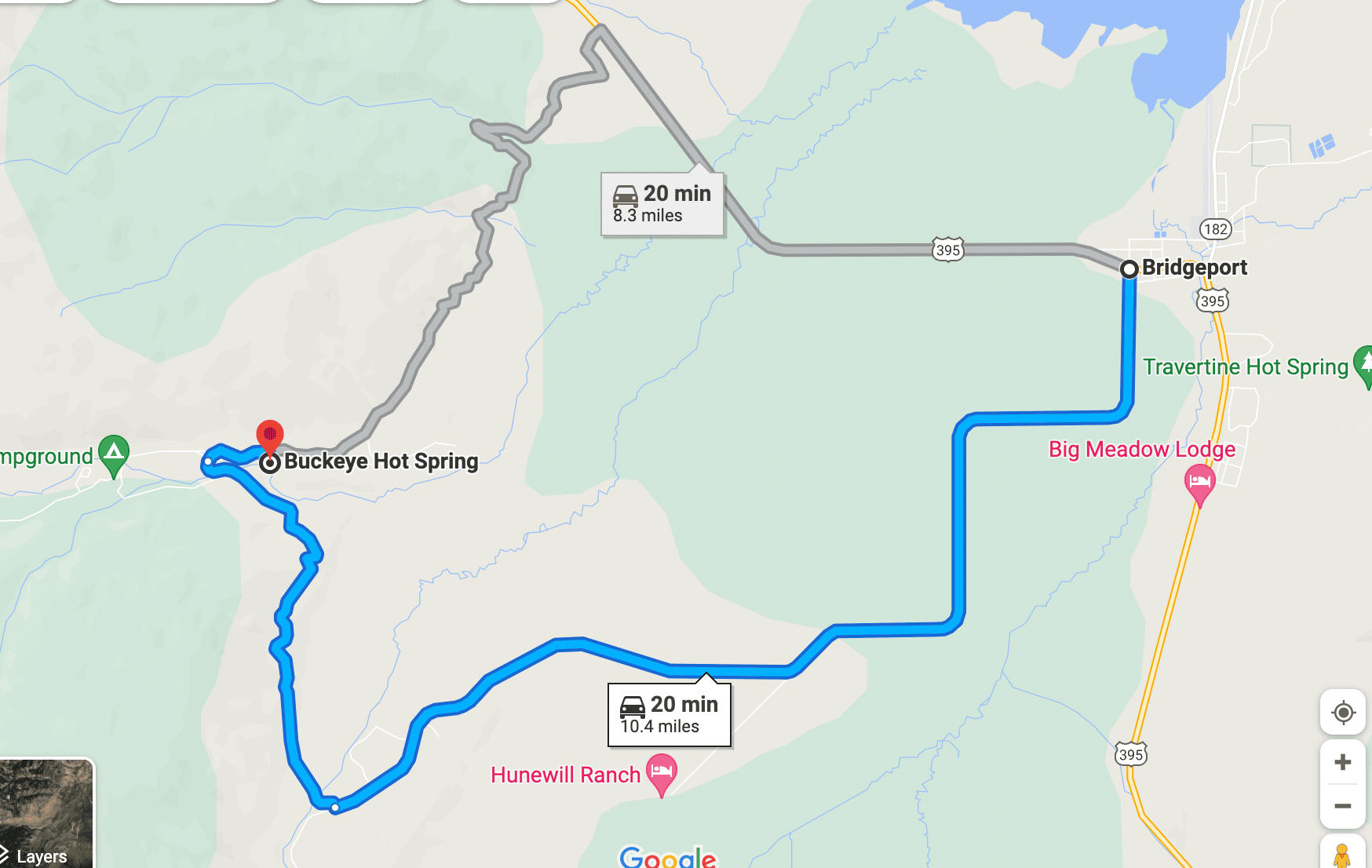 You can take Buckeye Road, which is shorter but I have not personally driven this so I can't vouch for the condition. Most people, including ourselves, arrived via Twin Lakes road.
Twin Lakes Road is a dirt road that has many potholes and bumps. You can make it without 4WD if you drive slowly, but I highly recommend 4WD, especially if you are coming in the winter.
Personally, our car is really janky and old so we decided to leave it at the top of the hill and hike the mile down the road to the pools. This is always an option if you don't feel like your car can safely make it!
What To Prepare Before Your Visit To Buckeye Hot Springs
Download Maps Offline: No cell service here! While I personally think the road is pretty easy to navigate back if you get lost, it's still always smart to download your maps offline while you have service. It usually always forget to do this so saying it now to remind you!
Bring snacks + water: During the summer this area can get hot hot hot so on top of getting dehydrated from soaking in hot springs, water is key. Pack in your snacks and water, the latter I would bring extra of just in case. And of course, pack out!
Trash bags: I always bring trash bags to hot springs since they're so dull purpose. You can place belongings on them to stay dry and then fill it with any trash when you leave. Pay it forward!
Tell someone where you are going: The first rule of any outdoor activity – tell someone where you are going, just in case you have an emergency. Again – no cell service up there.
10 Rules & Tips For Visiting Buckeye Hot Springs, California
Now, everything we learned from our Buckeye soak so you can have a safe and fun visit!
1. Don't Soak Unless You Can Pack Out Your Own Trash
Seriously. Just because the hot springs Buckeye pools are public and free doesn't make them your trash can. There aren't paid onsite attendants here to pick up after you.
Bring a garbage bag (two – one for your wet clothes and one for trash) and clean up after yourself AND others. If there's abandoned face masks or trash from other people, pick it up instead of walking by.
There are usually a lot of people here from the nearby camping ground and local mountain resorts, so it's extra important to keep this area clean and safe for everyone.
2. Be Prepared For A Steep Yet Short Hike
The hot springs are located at the bottom of a hill while the parking area is up top. You will have to hike down the side of the hill and the path is pretty steep and can get slippery.
When we visited, there was a big muddy area at the bottom so don't wear your favorite hiking boots and be prepared for a haul back up. It was totally doable, just not fun. It's a very short trail thankfully!
I wore my Tevas and they were perfect for grip and can easily be washed off after they got muddy. Highly recommend!
Kara's Fave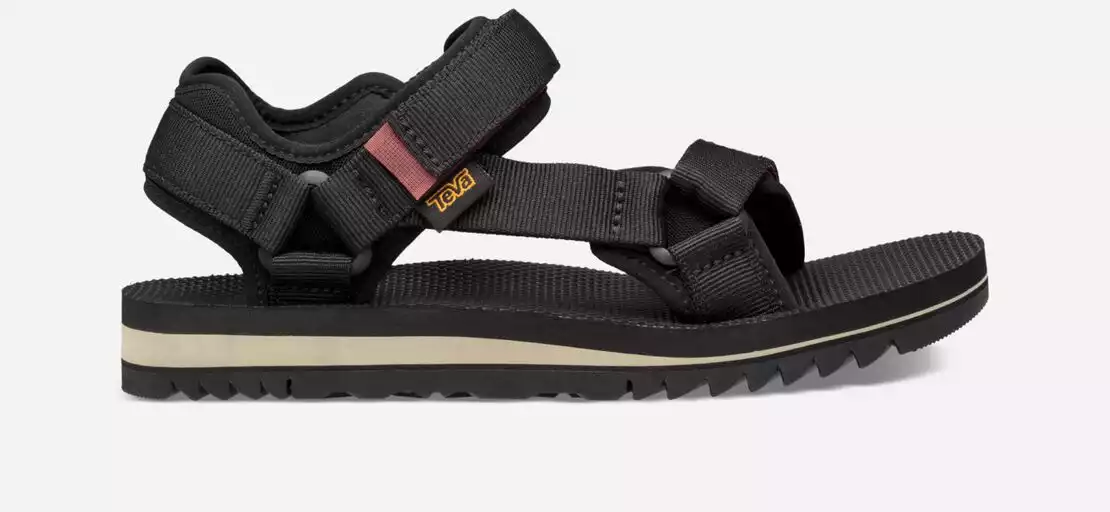 Teva Universal Trail Sandal
I adore my Teva Universal Trail sandals and wear them everywhere (from trails to cities to waterfalls since they're waterproof!) They're sturdy, comfy, non-slip and the perfect outdoor travel sandal on the market. Tip: size down when ordering.
Shop Now
My Review
3. Tub Have Mixed Temperatures
Some hot springs I've visited, like Wild Willy's, aren't crazy hot and you can safely jump right in. Buckeye has about 4 different tubs that vary in temperature.
The hottest pool is the one with the little cave and hot spring waterfall. They tend to get cooler as you go down the line.
This is because the creek runs right against the hot spring pools and for the lower ones, the creek water mixes in with the mineral water. We found in some of the pools that one section would be hot and then a rush of the creek water pours in and the temp cools down.
Note: if you are soaking in the morning, be extra careful of water temperatures. All hot springs tend to be warmer in the mornings since bodies weren't splashing the water around in the night and it's had time to heat up.
4. Go On An Off-Season Week Day For Fewer Crowds
A general rule of thumb when trying to visit hot springs is that the early bird gets the good tubs. If you want the hot springs all to yourself then plan to arrive for sunrise.
That's not always the case for Buckeye. It's next door to a campground so it's very easy for campers to pop over at sunrise, and many do.
Weekend afternoons will be the most crowded, but to optimize the chance of having the pools to yourself, or with minimal crowds, come on a weekday in the off-season.
On season is determined by the official campground open season, which tends to be May-September. We went in October and since the weather was nice, there were a lot of free forest service land campers nearby so the pools were pretty crowded. I think in the winter they would be very empty.
5. Be Prepared For Nudity
All-natural hot springs like these are clothing optional. Usually, during the day people wear swimsuits but come nighttime (or sunrise), it's not uncommon for the clothes to come off.
During our soak at Buckeye, a nude gentleman was occupying the furthest pool but was being very respectful to everyone and vice versa. You absolutely do not have to soak nude if you don't want to (but it's fun, trust me!)
6. Dip Into The River For Natural Cold Plunging
I was so delighted to see that these hot springs are right up against a creek! This meant that you can soak in the tubs and then jump into the ice water, and then back into the tubs to mimic classic Scandi cold plunges.
It's what makes Buckeye really unique from other California Hot Springs. I got low-key addicted to cold plunging after trying out a classic sauna in the Oslo Fjord this summer.
Ever since, I've been seeking out ways to do cold plunges back home in California. Cold plunging is insanely good for your body, and combined with the minerals from the hot springs water, this is like wellness overload in all the best ways.
7. Bring A Lot Of Water
Buckeye Hot Springs elevation is at 6,890 feet which means you are high up and due to elevation, will be more easily dehydrated (and may be harder to breathe if you aren't used to it).
These are backcountry hot springs and while there is a (very gross) outhouse, there are no other amenities like water pumps.
Make sure to bring more drinking water than you think you need just in case.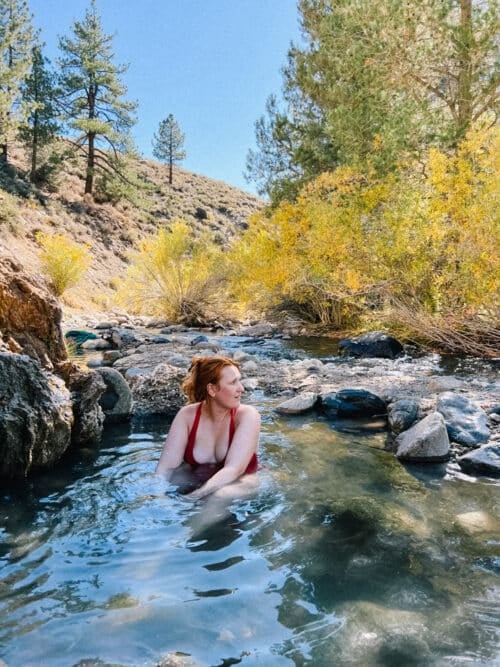 8. Wear Natural Body Products
Just like when you visit places like Hawai'i, who ask people to wear reef-safe sunscreen, it's also a good idea to keep your body products to a minimum or all-natural based on the day you're soaking in the pools.
This helps keep the biome in the water as natural as possible and is a courtesy to other people soaking. Corpus is my favorite natural deodorant if you want to try it out.
9. Be Nice To Locals & Fellow Campers
As mentioned above, these hot springs are frequented by locals and fellow campers. And they're really nice people! So be nice back.
Yes, the tubs are on public land and EVERYONE has a right to be there. That being said, don't be a dick to the locals who come here. Share the tubs, make friends and play nice.
10. Consider Buckeye Hot Springs Camping
Bridgeport does have a few lodging options, but there's not a lot to choose from. BUT, there's tons of paid and free camping near Buckeye hot springs!
During May-September, there is a paid campground that has a bathroom, but no water pumps. During off season, you can usually camp for free on the forest land. We saw tons of campers in tents, RVs and vans over here.
It's a first come, first serve system. I have a whole guide on how to find free camping spots in the United States if you want to check it out.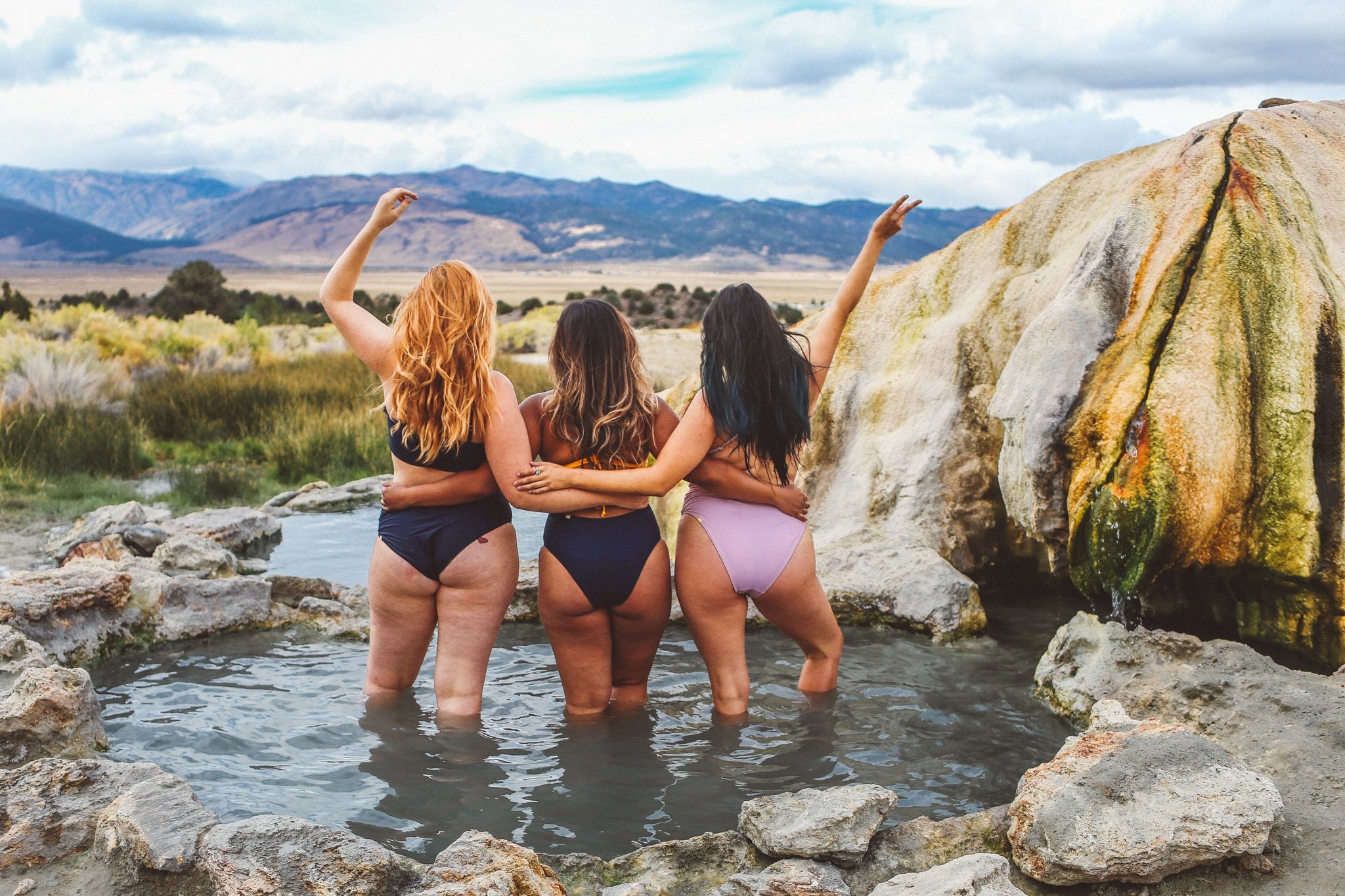 Don't Forget To Visit Travertine Hot Springs
As I mentioned above, there are more hot springs near Bridgeport California! Travertine Hot Springs are totally worth a visit, too.
I think the Buckeye hot springs hike is harder than Travertine because of the steep side of a hill, so if you aren't up for that climb or have kids or something, Travertine is pretty much a flat walk from the parking area to the pools.
They have stunning views of the mountains but the downside, there's a lot of bees over there. I have a whole guide for soaking in Travertine Hot Springs if you want to check it out for more tips!
What To Pack & Wear To A Hot Springs Soak
Bikini swimsuit: I prefer bikinis when soaking in hot tubs so it's easier to run to the bathroom or pop a squat if needed. I adore Cupshe swimsuits since they're cute and affordable.
Backpack: To carry water, towels, trash bags, phone, clothes, etc.
Sturdy Shoes: Opt for Tevas or sturdy hiking boots since the trail down to the hot springs is on the side of a hill and steep!
Towels: You'll want to dry off and clean your body from mud after soaking.
Trash bags: As chatted about above. At least 2 bags! Bonus points if they're compostable.
Natural deodorant: Skip Dove and wear a natural stick like Corpus.
Backup dry pair of clothes: As a backup in case your clothes fall into the water. TRUST ME on this. Learn from my mistakes ha!
Kara's Fave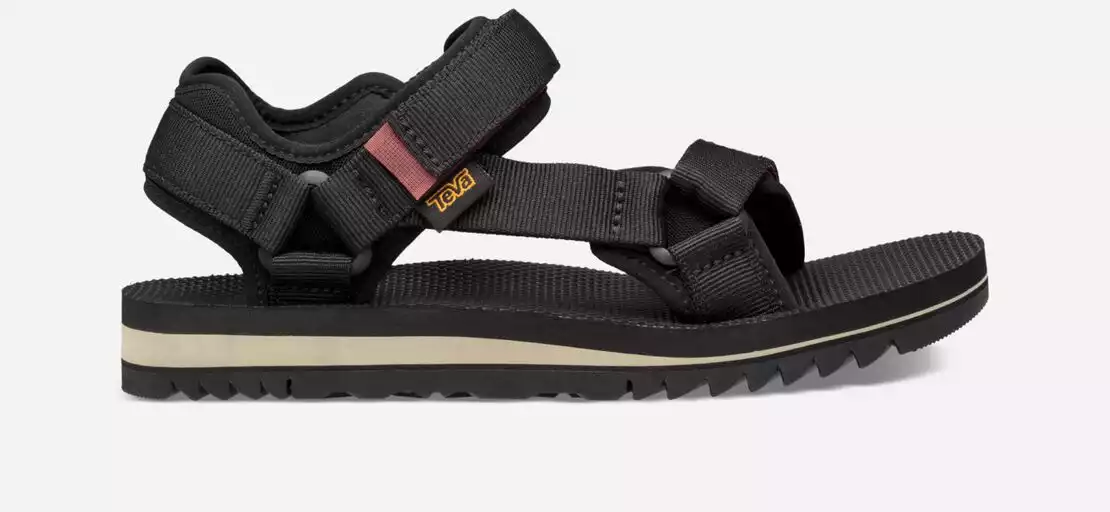 Teva Universal Trail Sandal
I adore my Teva Universal Trail sandals and wear them everywhere (from trails to cities to waterfalls since they're waterproof!) They're sturdy, comfy, non-slip and the perfect outdoor travel sandal on the market. Tip: size down when ordering.
Shop Now
My Review
I hope this helps you plan a fun and safe visit to Buckeye Hot Springs!! They've quickly become one of my favorite hot springs on the West Coast and I can't wait to come back down to the area soon to soak in these pools again.
While there I was chatting with a guy who soaks here a lot, and he was saying how magical this area is at night when you can stargaze. 100% gotta come back at night!
If you have any questions about visiting these hot springs, or just about hot spring etiquette in general, drop a comment below or DM me on Instagram @thewhimsysoul and I'll be happy to help! Pretty much just be nice to people and nature and you're good to go.
More California Travel Posts You'll Love