Would you walk across a 150+-year-old suspension bridge 300 feet above the forest floor surrounded by millions of Christmas lights?
If you're anything like me: HECK YEAH! Vancouver's Capilano Suspension Bridge Christmas lights were my most highly anticipated part of our British Columbia trip last December. I've been seeing this park on Instagram for years & couldn't wait to visit myself, especially for the holidays when they deck it out with lights!
I picked up a lot of tips I want to share to make my reader's visit to the Capilano suspension bridge easier, so keep reading for my insider tips (like the best time to visit, how to get there for free, etc), along with advice on what to wear and tons of photos so you know what to expect.
Capilano Suspension Bridge Christmas: Best Time To Visit, What To Expect + More Tips!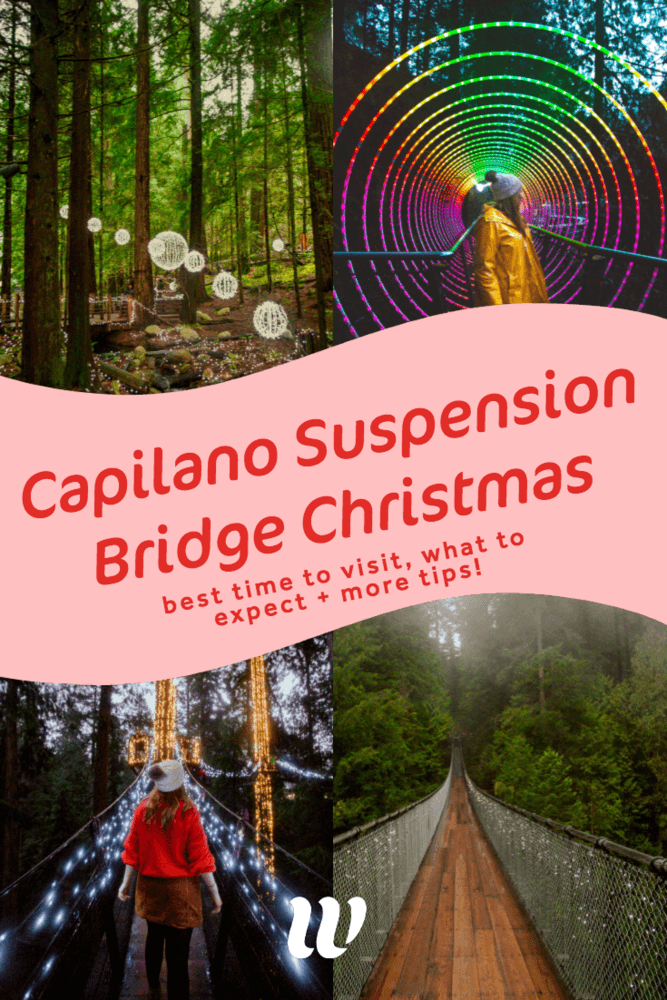 >> Got a question about the Capilano Suspension Bridge Park or Vancouver that you need answered quickly? DM me on Instagram @thewhimsysoul and I'll be happy to help!
Capilano Suspension Bridge Canyon Lights 2020
Aka Capilano Suspension Bridge Christmas aka the Winter Lights Festival (they seem to go by a few names.)
I freaking LOVE Christmas, I low-key turn into a little kid during the holiday season. Over the past few years, Robin and I have been picking out a wintery destination to visit for Christmas. We live in San Francisco, where it's 60ish degrees year-round and isn't a very festive city. We both hail from Wisconsin originally so I crave allll the Christmas vibes during December.
And British Columbia is totally the best place for the holidays!! There are so many Vancouver Christmas lights and events, like Canyon Lights, that I lost track. I really enjoyed the VanDusen show, but I think Capilano suspension bridge lights takes the cake as the best Christmas lights festival in the city.
Robin and visited on a rainy Tuesday evening, but don't let rain get you down. It adds to the magic of the park!
Where is the Capilano Suspension Bridge park?
The park is located at: 3735 Capilano Rd, North Vancouver, BC
It's about a 15-20 minute drive from Downtown Vancouver and straddles the Capilano River (hence the need for a suspension bridge to cross!)
While it's close to the city, when you are inside the park you totally forget that you aren't in the middle of nowhere. The sounds of Vancouver disappear – I've seen people compare the park to walking through the wardrobe to Narnia, and that feeling is pretty spot-on.
How to get to the Capilano Suspension Bridge Vancouver
Don't drive! Just take the Capilano Suspension Bridge shuttle! It's a free shuttle that picks up at a few spots in Downtown Vancouver and takes guests right to the park, which is located in North Vancouver. You could drive, but the parking lot is small (plus, we didn't rent a car on our visit.)
You can take the public bus on Metro Vancouver, but it takes twice as long. Taxis are expensive to get up to North Shore, so instead, just take the free shuttle!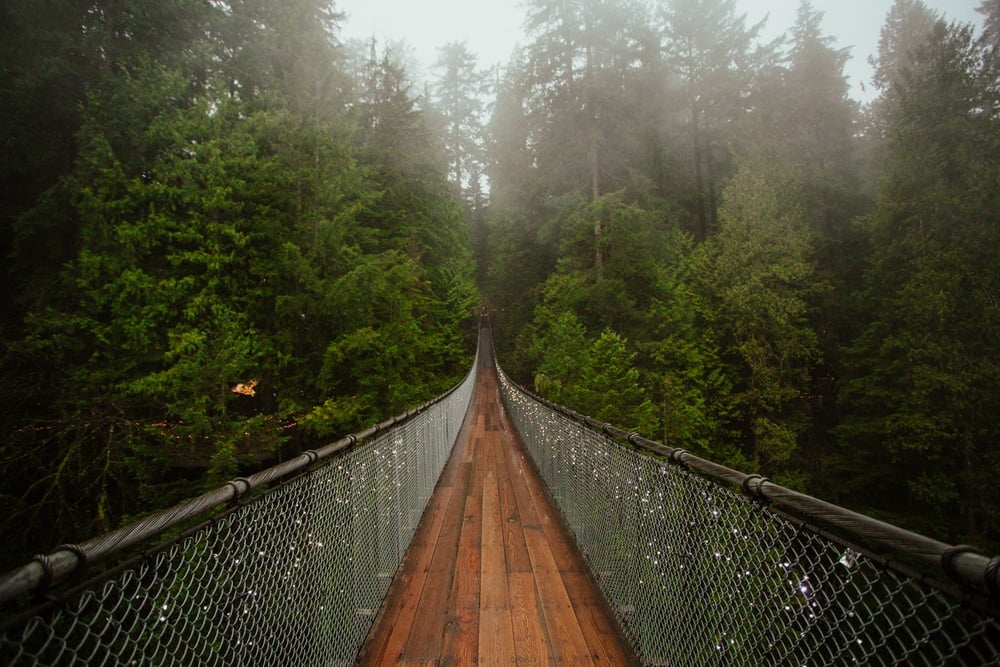 How To Get A Capilano Suspension Bridge Discount
I know of two ways to get a Capilano Suspension Bridge discount.
First is buying a Groupon Capilano Suspension Bridge ticket. Groupon deals seem to range in terms of a discount, I've seen them offering deals anywhere from $5-$15 off a ticket price. But, those Groupon deals aren't available year-round.
The second way is to pick up a discount ticket from the Hyatt hotel concierge. The Hyatt is one of the free shuttle pick up stops. When we asked the concierge which side of the hotel is the shuttle stop, he pointed us in the right direction and also handed up two $5 off tickets to the bridge!!
When Is Canyon Lights?
The Cayon Lights event at Capilano Suspension Bridge park starts in November goes through the New Year, ending in late January 26th ( it's closed Christmas Day.)
I believe the exact event dates shift a bit year to year. The year I went, the lights ran from November 22, 2019 to January 26, 2020.
Best Time of Day to Visit Capilano Suspension Bridge
The park opens at 11am but I think the best time to arrive for the Canyon Lights is between 2:30pm-3pm. Sunset in Vancouver during December is around 4:15pm. BUT, remember that the Capilano Suspension Bridge is surrounded by a ton of Douglas Firs that block out light.
We arrived around 2:30pm and were treated with a fairly empty shuttle bus, no wait at the ticket booth and a fairly empty park. The bridges themselves are narrow, so it's hard to walk around when it's crowded. By the time we left around 5pm, the line to get in was HUGE and the park was getting really crowded.
Another reason to come early is so you can see the park shift from day to dusk to night, which is super magical. If you're coming to take photos of the park, you'll be struggling to snap good photos at night. My favorite photos are the ones we took at dusk when the forest floor was still bright, but the lights on the trees were twinkling.
If you are visiting during other times of year (not the holiday season) I would think arriving right away when the gates open and trying to be the first people in the park will yield the most enjoyable experience.
What To Wear To The Vancouver Suspension Bridge Christmas
Vancouver winter is mild, in my opinion. It's also part of the Pacific Northwest rainforest, so it's also wet and a bit humid. I felt totally comfortable in a mediumweight sweater and a rain jacket.
Most of the walkways in the park are wooden, which can get slippery when it rains (which happens a lot!) Because of that, I recommend you wear rain boots (I love these affordable ones!) or shoes with really good traction. Skip the heels and sandals!
If you are coming in hopes of snapping some epic photos, consider the color of clothing you are wearing. Skip the green, blacks and dark blue outfits and instead opt for red, pink and yellow. These colors POP against the moody PNW forest & will make your photos 1000X more interesting. I love yellow rain jackets!
I also recommend you pack a water bottle, hand sanitizer (there are a lot of kids who visit and nobody wants to get sick before Christmas!) and a waterproof camera bag and/or purse (this one is my favorite!)
My Recommendations:

What To Do At Capilano Suspension Bridge
There are so man fun things to do at Capilano Suspension Bridge Park!! We spent a few hours here and – no matter what time of year you visit – it can easily be made into a half-day activity.
Treetops Adventure Vancouver
The Treetops Adventure section of the park is a series of seven suspension bridges attached to eight 250 years old Douglas fir trees with viewing platforms at each tree. I think this was my favorite part of the whole park because it feels like the bridges just never end (in a good, magical way!)
Warm Up With Hot Chocolate
Nothing says Christmas like hot chocolate, right? Grab a cup at Dr. Wood's Cabin and sip it as you enjoy sitting under the towering trees. On that note, the park has 6 restaurants you can eat at. Six!! You can have lunch or dinner here, too, if you wanted. Learn more about all the places to eat at Capilano here.
See the Tallest Christmas Tree in Canada!
The trees in the park are hundreds of years old, which means they are also hundreds of feet tall! It was such a delight to walk back across the main suspension bridge one final time at night, look up and see a HUGE Christmas tree all lit up.
Apparently it's about 300 feet tall and some places I found online say it's the eight tallest Christmas tree in the world. But I do know the park is the largest grove of living Christmas trees in the world during Canyon Lights.
Looking for more Christmas trees? I swear Downtown Vancouver has one in every town square! My favorite is the one at the Vancouver Christmas Market.
Take A Stroll On The Cliffwalk
Robin is deeply afraid of heights and it took some coaxing to get him to cross the glass-bottom Clifwalk. But this was my second favorite part of the park because it felt more intimate with nature.
See, this pathway is SUPER narrow, it's really meant for one person (vs two standing side by side) so it offers a nice way to gaze on the river below and trees without getting bumped by other people.
During the Christmas Canyon Lights, a huge light tunnel (pictured above) is installed and it's simply STUNNING! The rings change colors and it was actually hard to snap a good photo of the rings in their rainbow stage as the transition is pretty quick. Even if you aren't coming for photos, this tunnel is super fun to walk through.
Learn The History At Capilano Tramps
One thing I really appreciated about the park was their extensive displays detailing the history of the park, which was fun for foreigners like ourselves who don't know much about the park or British Columbia in general. Make sure to set aside a bit of time to read the displays (aka Capilano Tramps.)
Snowy Owl Prowl Scanaver Hunt (For Kids or Kids at Heart)
Apparently, back by popular demand, there is a Snowy Owl Prowl Scanaver Hunt. There's also a treehouse at the Treetop Adventures for kids to play in and sometimes even real Raptors there (with a handler) to teach kids about the birds! Basically, kids and adults alike will love exploring the park.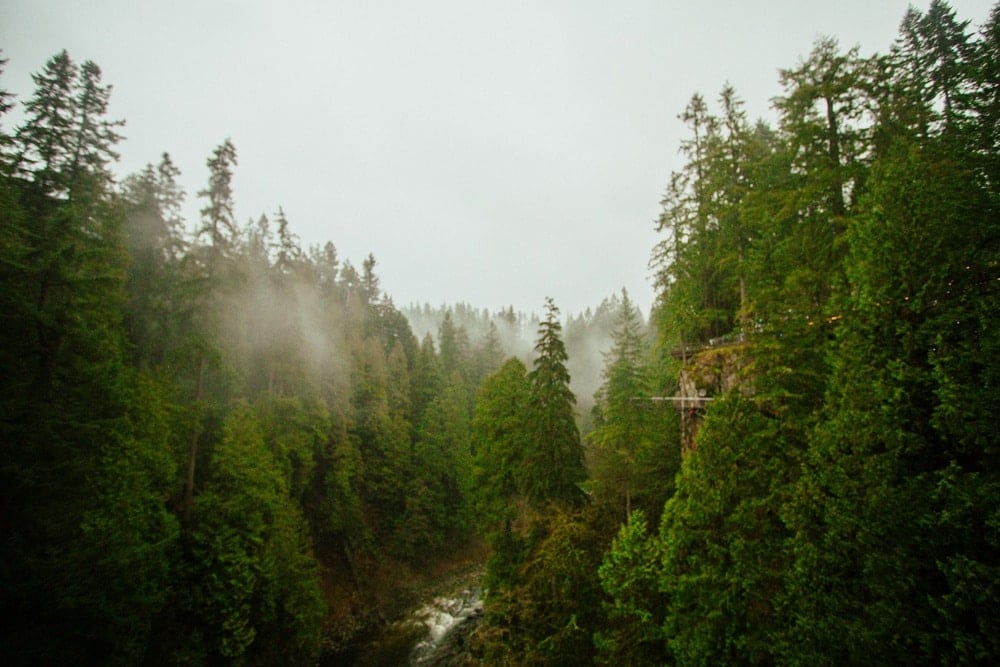 More Things to Know About The Park
Is Capilano Suspension Bridge Safe? YES! The main suspension bridge can hold up to 96 fully grown elephants. It's super safe.
Has anyone died at the Capilano Suspension Bridge? Sadly, yes. I believe just two teenagers have died, both who climbed over the railings and fell to their deaths. As long as you are being safe and not doing dangerous things (like climb over railings or veer from walkways) the park is super safe.
Are dogs allowed? Yes! As long as they are leashed, they are allowed. I would make sure they are trained well, though, as it can get crowded here and some of the walkways are narrow.
Wifi? Shockingly, yes! I found Wifi at the cafe that was strong and fast.
Cash or credit? They can take credit cards here.
What Are The Capilano Suspension Bridge Opening hours: 11am-9pm.
What is the Capilano Suspension Bridge Christmas Ticket Price?: The Canyon Lights admission is $54 per adult. It's a bit pricey, especially for a couple, but 100% worth it! If you are a family, grab their family pass ($109) that covers two adults and two children.
Are There Bathrooms? Yup! Large and clean ones near the entrance.
Are strollers allowed? No! You won't be able to use it very well here anyway. Be prepared to carry your little ones if they can't walk.
I LOVED our visit to the Capilano Suspension Bridge Christmas event. If we lived in Vancouver this would totally be a yearly holiday tradition. If you are heading to the city for Christmas, don't miss out on this park!
As I mentioned, Capilano Suspension Bridge park is open year-round and while they won't have lights up during other seasons, this park is still SO FREAKING FUN to visit and most of my tips still apply, too! Go have an adventure in the trees.
Got any tips to add? Leave a comment below so everyone can see! If you have questions about the suspension bridge, leave a comment or DM me on Instagram @thewhimsysoul and I'll be happy to help!