The first time I spent a long weekend in Austin Texas was years ago for my bachelorette party. I instantly fell in love with the plethora of swimming holes, quirky outdoor bars, fun murals and the sheer amount of tasty taco and BBQ spots. Oh, and you can't forget about the bats. It's a thing.
Last year a friend of mine moved to Austin so I thought it was high time to pay the city another visit (and write you a brand new Austin city guide that's updated post-panny!) With the help of a local by my side to find all the extra good spots, I'm tooting my own horn here when I say this is the best weekend in Austin texas itinerary and travel guide out there. Let's go!
Note: This itinerary is focused on 3 days in Austin along with recommendations for 4 days, and even 5 days in Austin if you are staying a while more (I have some cool day trips up my sleeve for you folks staying longer.)
Austin Texas At A Glance
Austin's Vibe: It's trendy, southern, woodsy and full of color and swimming hotels. And with like, a LOT of beautiful oak trees. It's also the Texas State Capitol but more importantly, the Live Music Capital of the state. Oh, and there's bats. It's a thing.
Best time to visit Austin: Late spring and early fall are the best seasons to avoid crazy heat and our favorite time to visit. But middle of the summer is when all the swimming holes in Texas are open.
Top Activities: Swimming in Barton Springs, buying yourself cowboy boots, kayaking Lady Bird Lake, sipping your way through craft coffee shops, OMG Squee Donuts, and dancing to live music.
How To Get Around: Visiting Austin in the summer means you'll want to rely on Uber/Lyfts across the city (trust me, walking more than a few blocks in 100+ heat is NOT fun). Any other time of year, you can easily walk to neighborhoods or even drive if you're bringing a car, but it's not necessary.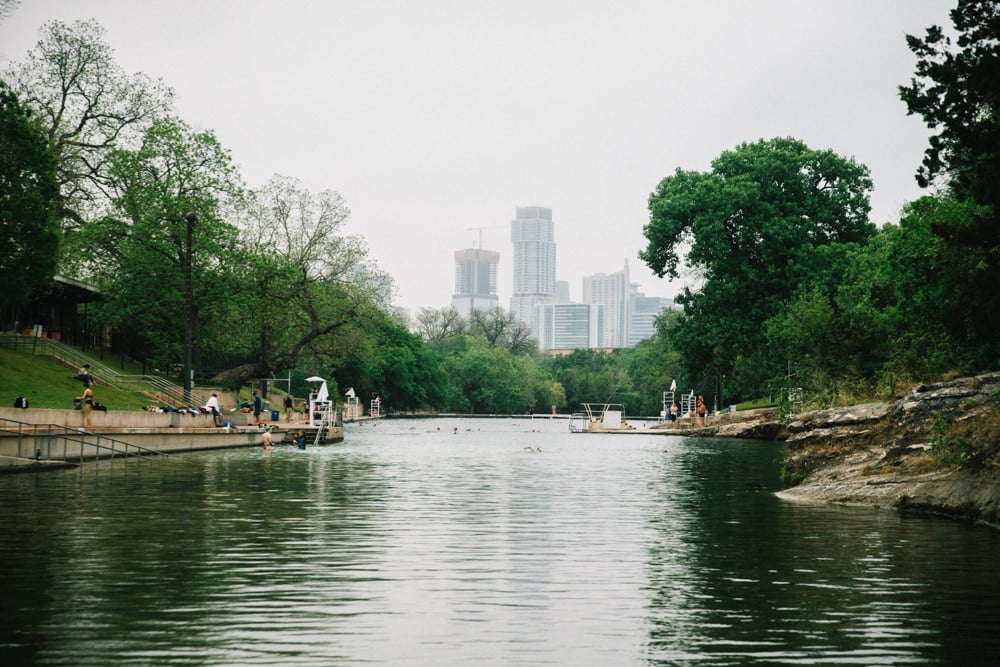 How To Get To Downtown Austin From The Airport
What I love about Austin is it's one of the few major United States cities that has a super cheap and direct bus that takes you from the Airport to downtown Austin (with stops along the way near South Congress Avenue.) It's just $1.25 to ride the Number 25 bus.
At the airport, head to the end of the baggage carousel area and look for the giant guitar outside. The bus picks up near here. You need cash or can download the CapMetro app to pay for your ticket. (Do the later ahead of time since the cell service at the airport isn't great.) It'll take about 40 minutes to get to downtown! I do this every time I visit Austin.
Where To Stay In Austin: Best Austin Hotels & Rentals
First things first: where to stay for your Austin weekend getaway! Austin city limits are pretty sprawling and due to the explosion of population growth the past few years, the traffic has also exploded. This means it's not worth it to stay at a cheaper place on the outside of town – you'll just be spending your entire weekend in Austin stuff in traffic.
Book a hotel near one of the main hot spots you'll be spending more of your time in: South Congress Avenue, East Austin / East 6th Street, or Downtown near Rainey Street.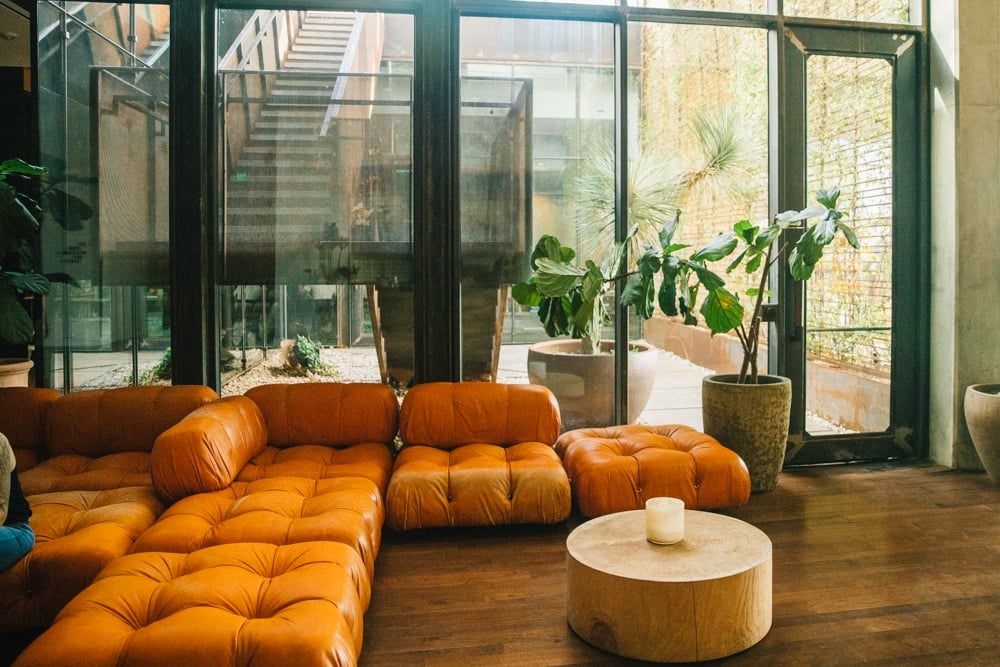 South Congress Hotel
Location: South Congress Avenue (North End)
See rates
Omgee this hotel is just so dang cool. As per the name, the South Congress Hotel is right on South Congress Ave so it's footsteps away from some of the city's best restaurants and shops. I popped in on my most recent visit and loved the airy, planty vibe here. Plus there's a great drink spot attached!
East Austin Hotel
Location: East Sixth Street
See rates
East Austin is full of upcoming bars and food spots but still full of locals. The East Austin Hotel is cute and modern spot in the heart of it all with a huge 40-foot pool. (Plus a pool bar!) it's a great affordable and central option for your Austin 3 day itinerary.
Kimpton Van Zandt
Location: Davis Street near Rainey Street District
See rates
We LOVE Kimptons here at Whimsy Soul. The staff are always so nice, they're decorated well and they all have free nightly happy hours and bike rentals. The Kimpton Van Zandt sits right on the top of Rainey Street so it's in the heart of the city, and has a killer rooftop pool.
Hotel San Jose
Location: South Congress Ave near the Bridge
See rates
Looking for something quiet yet in the heart of it all? Hotel San Jose is in SoCo near the South Congress Avenue Bridge and is dripping with oak trees and gardens. I stopped by and was amazed by how quickly the sound of the street was drowned out when I stepped into the courtyard.
Your 3 Day Austin Itinerary Guide
Now for your perfect 3 days in Austin Texas itinerary!!
1 Day In Austin (Arrival, South Congress, Murals, Shopping, Dancing)
Start your day in Austin – aim to land or get into town before noon to have the most time to explore the city! Remember: if you don't ride share to your hotel or Airbnb, you should take the $1.25 airport bus. Drop your stuff off, refresh and get ready to explore!
Refuel At Juiceland
After a flight, I'm always starving. On your way to your hotel or right after checking in, look for a Juiceland nearby to refuel with a smoothie or juice. This is an iconic Austin establishment with a lot of locations around the city. I'll be the first to admit I was hesitant to try them – they just looked too much like a Jamba Juice to me but WOW, these guys make such a good smoothie.
So fresh and flavorful, I see why locals love them. We stopped here for breakfast one morning and I was blown away by my smoothie. I had the Wild Child with added fresh ginger (pineapple, dragon fruit, banana, mango, lime, pea protein, maca, coconut oil!!!)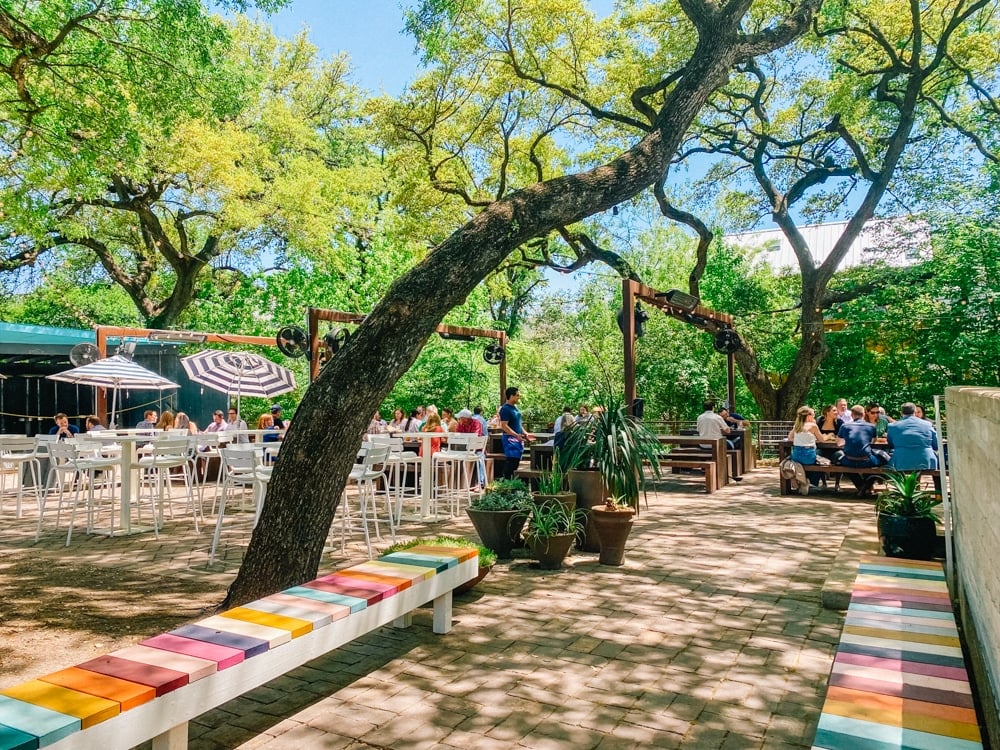 1pm: Late Lunch At Fresa's South First
After checking in and getting freshened up, head over to Fresa's South First for a late lunch. I'm obsessed with this place. They have a large outdoor patio with beautiful oak trees for shade, and a bright, colorful interior with A/C.
They make a dang good elote here and always have happy hour running at the bar. Come for loaded tacos, elote, a Pineapple Mint Aguas Frescas (the perfect meal for kicking off your time in Austin!) Across the street from Fresca's is Bloomers and Frocks, a cool vintage clothing store that was featured on Queer Eye. Make sure to pop by!
Alternative: A couple blocks down from Fresa's is Elizabeth's Street Cafe which is this tasty Vietnamese café and French bakery combo with simply the most unique brunch I've had in ages. It's super, cute!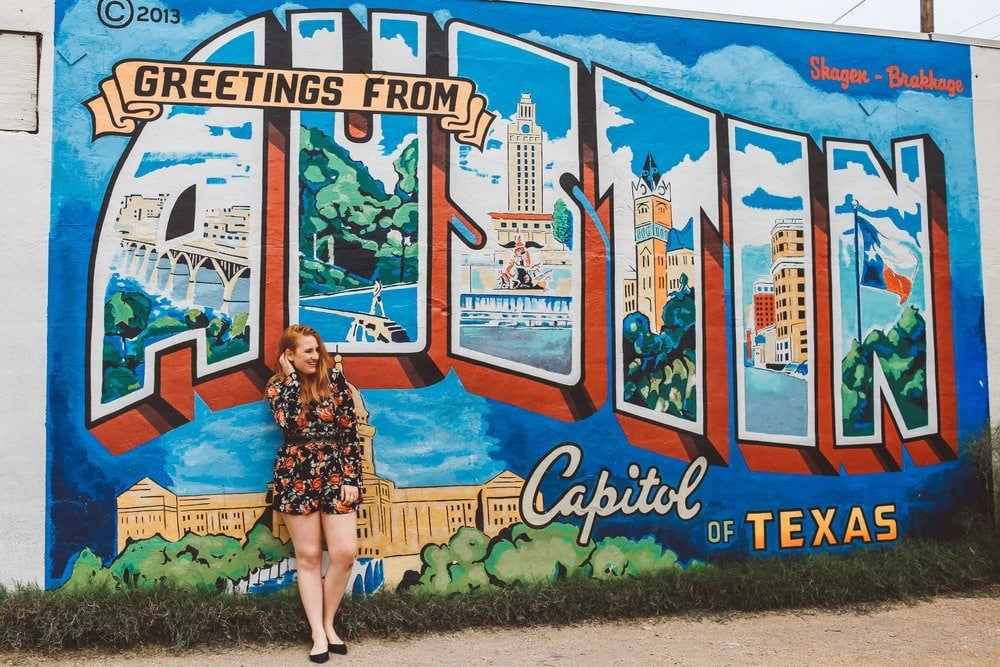 2pm: Welcome To Austin Mural
Just around the corner from Fresa's is the famous Welcome To Austin mural! I'm a sucker a fun to stop by for photos. I'm always a sucker for a good mural (and usually will hunt down like 5-10 cool murals in any given city for photos but you don't have to be that neurotic).
Afternoon: Optional Walking Or Bike Tour
Sometimes I really like to start off with a walking or bike tour to get a crash course on a city. Austin has a few cool options, from free walking tours to electric bike tours (the last is super handy on hotter days when you don't maybe have the energy to peddle the whole time!)
4pm: South Congress Street Shopping
Make sure to set aside at least 2 hours to explore South Congres Avenue. I love this street – it's full of vintage shops, boot stores and quirky places like a costume shop that's stuffed to the brim with literally any costume you could possibly need.
It has been changing a lot recently and sadly some of the small shops have been pushed out for places like Everlane or Kendra Scott, but there is still tons of local charm here (like at Big Top Candy Shop!) The top stroes to make sure you visit are:
Triple Z Threadz: A unique thrift store that adds embroidered designs to clothing to repurpose them. I came *this close* to buying a button-up shirt with a tiny mushroom embroidered on the collar. So cute!!
Allens Boots: An Austin classic! My biggest regret during my first visit to Austin years ago was not buying cowboy boots here so I treated myself this past visit and got rad black and white cowboy boots. They're a bit pricey ($200+) but so fun!!
Feather Vintage: A small but curated vintage shop with really cool pieces
Prototype Vintage: A pretty large curated vintage store with peices for all sorts of seasons. They run a bit pricey but you can find cool stuff here.
Tiny Grocer: This is a really neat grocery market that has a tasty deli if you need to pick up something to eat, but also has a huge selection of craft drinks. Think: CBD soda, kombucha, cold brews, tea, etc. You may need a little energy boost after the travel day, so pick up a CBD coffee here like I did. It helps a lot!
Austin has a lot of party activities but congress street is really teen-friendly. I would have gotten lost here for hours as a youth, so if you're visiting Austin with teens take them here!
Don't Forget The Hello From Austin Mural & I Love You So Much Mural
At the top of South Congress outside the Prima Dora gift shop is the famous Hello From Austin mural which is a large black and white mural with an outline of the state of Texas.
It's really cool and makes for such a great photo opp. The wall should be in shade in the later afternoon, too!
After, on the otherside of South Congress close to the bridge is the famous I Love You So Much mural outside Jo's Coffee. I'm pretty sure it's illegal to visit Austin and not take a photo of this wall (HA!). If you need more coffee, grab some coffee at Jo's, it's iconic. But make sure to at least grab a photo here.
6pm: Happy Hour At Joann's Fine Foods
Time for drinks!! Austin is such a big foodie city and has everything from cocktail bars to cider houses to breweries. For happy hour, head to Joann's Fine Foods on South Congres attached to the colorful Austin Motel (you'll see the sign!) This spot is just so dang cute.
It looks like a trendy retro diner on the inside but they also have two outdoor patios (lower level and a secret upper-level patio!) And, they make dang good cocktails here. We both ordered their Lilac Spritz and it hit the spot on a hot day (It's a Deep Eddy vodka, lavender, lemon, mint, butterfly pea flower cocktail!)
7pm: Dinner Time At Lucky Robot Or Cosmic Coffee
Now, time for dinner! I hope I mentioned packing comfy clothes since you'll be eating a lot here hehe. For dinner, I recommend two different options: Lucky Robot or Cosmic Coffee.
Lucky Robot is a sushi place that's decorated in the coolest hanging cherry blossoms on the inside. It's like walking into a flower field, and the sushi is *chef kiss*. They're the only restaurant in Austin that serves up Prime Dry-Aged fish so make sure to try some of that!
Cosmic Coffee is another cool option in South Austin and a place I loved so much we went twice during our visit. It's a large Biergarten / coffee shop with a few food trucks inside the grounds, including LeRoy & Lewis, an award-winning BBQ food truck! It has a lot of trees and even a chicken coupe in the garden area. The whole vibe is super welcoming and a fun place to sip beer and eat BBQ under the sky.
Pro-tip: come back to Cosmic Coffee one morning and try their Rootbeer Float Iced Latte. OMG I've never had anything like it before, it's amazing!!
Day Two In Austin (Hiking, Barton Springs, Art Museum, Bats, Kayaking, Dancing)
Ready for a jammed-packed day of Austin fun? Don't forget your chaffing cream if it's a hot day, external phone charger and water bottle!
Sunrise: Mount Bonnell
Ready for a fun start to the morning? Head to Mount Bonnell to watch the sunrise over the city! It's not really a mountain – the way it's talked about online I was totally expecting a full-blown hike here. Mount Bonnell in reality is just a long staircase of about 50 steps that takes you to a lookout point overlooking the river and downtown Austin.
It's easy enough to do first thing in the morning to catch the sunrise (or, morning light if you're not up for that early of a wakeup call.) It's totally free and dog friendly, too!
Breakfast: Jo's Coffee Or Better Half Coffee & Cocktails
Noew breakfast after your wee hike! If you didn't stop by Jo's Coffee yesterday, head to their iconic South Congress location now to grab some of their famous breakfast tacos and iced coffee (and to take a photo with the I Love You So Much wall of course!)
Or, head to Better Half, a coffee shop with some bangin' breakfast items like a chicken biscuit breakfast sandwich and granola bowls.
10am: Barton Springs Pool
Every Austin weekend itinerary needs to include a swim at Barton Springs. One really cool thing about Texas is that it's full of natural swimming holes. Why swim in a chlorine pool when you can swim in a pool feed by underground springs, lined with rugged rocks, has a diving board and overlooks the Downtown Austin skyline?
Whenever I visit Austin I go swimming at Barton… and I went 3 times on my last trip because I was that obsessed. It was really humid during my trip and it felt so refreshing to start the day with a morning swim to cool off. After your little hike, you'll probably also want to cool off!
Barton Springs Municipal Pool is part of Zilker Park and is $9 for non-residents. Double-check the hours before you go as they aren't always open (they have strange cleaning times when you don't expect them).
12:30pm Brunch At Foreign & Domestic Or Aba's
I love a good brunch after a long swim. We went to Foreign & Domestic for brunch during my visit and I'm stilling about the crispy pork and grits I ate. *drooling*. F&D is over in the North Loop which has a few cute little vintage shops nearby you can pop into before or after brunch.
Or, head to Aba's for brunch. This spot is on SoCo and has a huge outdoor patio. They have a Mediterranean menu with dishes from Israel, Lebanon, Turkey, and Greece. It's a really popular spot, especially on a nice day.
Pro-tip: Like with any major city, it's best to make brunch reservations online in advance if you can.
2pm: Blanton Museum Of Art
Ekk, the Blanton Art Museum is super cool! And, it's totally FREE on Thursdays! It features a large indoor area with rotating exhibits but the real highlight is outside at the Ellsworth Kelly's Austin building. This is a rounded white building with colored stained glass windows.
It makes for such a great photo opp outside and inside you'll be transported to a serene world of light art. It felt like a church for rainbows. It's a must-do! Just don't bring a backpack, they won't let you wear it inside the museum.
4pm: Kayaking Lady Bird Lake
You're not crazy – there isn't actually a traditional lake next to Downtown Austin, but that's the locals call the wider part of the Colorado River that runs through the city. Lady Bird Lake!! And man oh man it's such a cool place to go for a paddle.
If you follow me on Instagram you know that I love kayaking in Sausalito Bay all the time. Lady Bird Lake doesn't have the boats or the seals, but they have tons of turtles, birds, lush greenery and stunning views of the Downtown Austin skyline. And, a secret island that you can park your kayak at and explore on foot!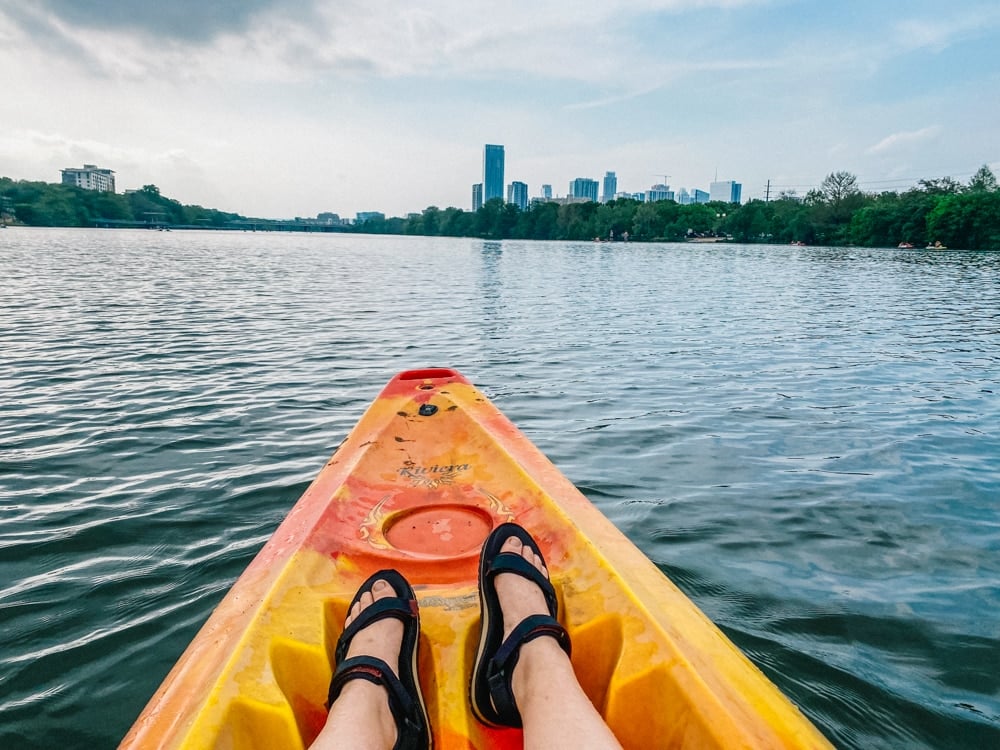 Lady Bird Lake also is kind of a floating party at times. When I went, so many locals were out with friends on their kayaks or paddleboards with tons of beer and speakers to play music. You should be fine to go on your own but there are also a couple tour options you can take. Here's the best spots to rent from:
Sunset: Watch The Bats (Optional)
Watching the bats fly out of the South Congress Bridge are like a whole thing in Austin. Every March to Fall, visitors and locals head to the bridge at sunset to watch a million Mexican free bats fly out, swarm the sky and greet the night. The exact time will vary based on sunset/time of year (and of course, whenever they feel like kicking the show off – they are animals after all!)
Head to the Roy Butler Hike & Bike Trail around Lady Bird Lake to grab a spot on land, or hit the water! Lone Star River Boat and also See Sight Tours each do a nightly sunset cruise to watch the bats. Austin Rowing club leads a sunset bat paddle if you didn't have time to paddle earlier!
Looking for fun things to do in Austin Texas with kids? Take them to the bats since you won't be taking them to the bars on Rainey Street.
7pm: Bangers BBQ On Rainey Street
For dinner, it's time to hit up the famous Rainey Street! Rainey Street is a tree-lined street on the edge of downtown that's full of bars, patios, music spots and food trucks. It's always a party here, but not as sloppy as 6th Street (aka Dirty 6th).
Kick the night off at Banger's Sausage House & Beer Garden for some of the best dang barbecues in Austin. They have a huge outdoor patio and usually will have live music on weekend nights. Come for housemade pickles, poutine, brats – they even have a dog brat option if you're traveling with your pup!
8pm: Drinking & Dancing On Rainey Street
A weekend in Austin isn't complete without a night out on the town! You can opt for 6th street – this is in the downtown area and has more college bars and clubs. But I prefer Rainey Street. It's still a party but you can find a bar that fits the vibe of your group. Some are louder with lots of dancing and well drinks, while others are more focused on a craft cocktail and a local live musician, maybe even line dancing!
My personal favorite bar there is Unbarlievable, which is a circus-themed bar that has a slide!! The beloved Container Bar closed down earlier this year but next door is Clive, which has a similar vibe. Emmer and Rye at the end of the street is more upscale and quieter if you are looking for a really good glass of wine or cocktail without loud music.
Day Three In Austin Texas (Taco Truck, East Austin, Queer Eye Donuts)
It's the day of your long Austin Tx weekend, so I recommend you pack up your room and leave your luggage at your hotel to make exploring the city easier before your flight home.
9:30am: Breakfast at Revival Coffee
Head over to Revival Coffee for an explosion of pink, tasty coffee drinks and an even tastier food truck out back for breakfast tacos. Revival Coffee is like Elle Woods' wet dream on the inside – pink walls, pink neon signs, pink chairs. It's a whole vibe. Outback, there's an equally colorful patio space to lounge on if the weather is nice.
They're always serving up a seasonal drink, so see what that is but when in doubt, try their Iced Abuelita Latte (Mexican hot cocoa and espresso). The food truck outside is called Miguel's and serves up a fat breakfast taco for just a few bucks, making it a super affordable (and Instagram-worthy) breakfast.
10:30: OMG Squee Donuts
You probably recognize this donut shop from Queer Eye! Sarah Lim, one of the owners of OMG Squee Donuts was featured on Queer Eye and fans all over the world (myself included) spent the entire episode drooling over her donuts. I'm happy to report they taste just as good IRL as they looked on screen.
The shop opens at 11am Thursday-Sunday, and usually always has a line out front so it's best to get there between 10:30-10:45 so you can get your donuts quickly. If you need more coffee, also try their Ube Iced Latte (it's purple!). Honestly, all their donuts are amazing but I especially loved the carrot cake. It had a cute little frosting carrot on it too.
Noon: Explore East 6th Street Area
After getting your fill of donuts, head back over to the Historic East Sixth Street area (near East Cesar Chavez area)to explore this cool neighborhood. It's sometimes called "Old Austin" and has a lot of street art, breweries, live music venues, coffee shops, restaurants and boutiques to pop into. Take your time seeing what calls you!
1pm: Late Lunch at Tamale House East
When you get hungry head over to Tamale House East for lunch. This place looks unassuming frmo the front, but has a beautiful back patio garden/dining area and makes a MEAN tamale. It often makes the best tamales in Austin list and I can attest, they're super tasty (and affordable!) I gobbled up my pork tamale, and it comes with a side of beans and rice so don't feel like you need to order extra sides.
2pm: Head Home / Airport Tips
Around this time is probably when you should start heading to the airport (of course, depending on when your flight is. I share more Austin activities to do below if you don't have a flight until much later). The Austin airport is kind of chaotic lately. Remember how the city exploded with a population so there's always traffic now? Same idea with the airport.
Austin Airport is just one long terminal so traffic getting to the drop-off area, and then getting through security can be a nightmare. Budget a little extra time for yourself getting there. Plus, you'll want time to check out the Interimaginary Departures gate at Gate 13!! It's a cool interactive art exhibit where you can get a boarding ticket to a fictional place, like Galifrey or The Shire.
Other Best Things To Do In Austin Texas
I always love to give people options when planning their Texas itinerary. If you're looking for more unique things to do in Austin, here's some more ideas that you can do on longer trips or swap around in your itinerary.
McKinney Falls State Park: A 641-acre park feature in Austin that features a waterfall and 2 swimming spots.
Umlauf Sculpture Garden: A museum and outdoor sculpture garden with a neat After Dark program with tons of lights and music.
LBJ Presidential Library: One of 15 presidential libraries administered by the National Archives and Records Administration.
Zilker Botanical Garden at Zilker Park: I'm a sucker for botanical gardens. This one is super beautiful, especially in the springtime!
Bob Bullock Texas State History Museum: This is the Texas State History museum – full of cool exhibits about the history of the state if you're looking for things to do in Downtown Austin.
Barton Creek Greenbelt Swimming Holes: Barton Springs isn't the only swimming hole along the Greenbelt. There's tons of holes – like Campbells and Twin Falls. Make sure to check the water levels before you head out swimming.
Lady Bird Johnson Wildflower Center: The state botanical garden and arboretum of Texas with over 900 species of plants.
State Capitol Building Tours: The building is open to the public for self-guided tours a few days a week.
Haunted Austin Tour: I LOVE a good ghost tour in place of a walking tour. You get to know the history but like, with murder and ghosts! Always a good time.
Austin Live Music Crawl: I really want to do this next time I'm visiting. They take you to 3 music venues & looks like such a fun time.
Things To Do In Austin This Weekend
There are ALWAYS events happening in town. It's best to consult the Visit Austin Texas Tourism site for an updated list of all the concerts, shows and special events happening that you can hit up. They'll even have a list of who's playing in Austin Texas this weekend and also free things to do in Austin this weekend – sometimes movies in the park or street festivals. You could also pop into the Austin visitor center to chat with someone if needed. But I hope this guide helpd you out!
Best Restaurants, Bars, And Coffee Shops In Austin
Let me tell you – narrowing down restaurants in Austin to recommend for the itinerary was hard. I tried to pick my favorite spots that made sense around other activities in Austin and their location, but MAN, I ate so much while in Texas and loved so many meals.
Here are some more fantastic joints you should visit if you have time (shout out to our editor Taylor who recommended some of these spots. She hails from Texas!)
Best Restaurants In Austin (Food Or Drinks)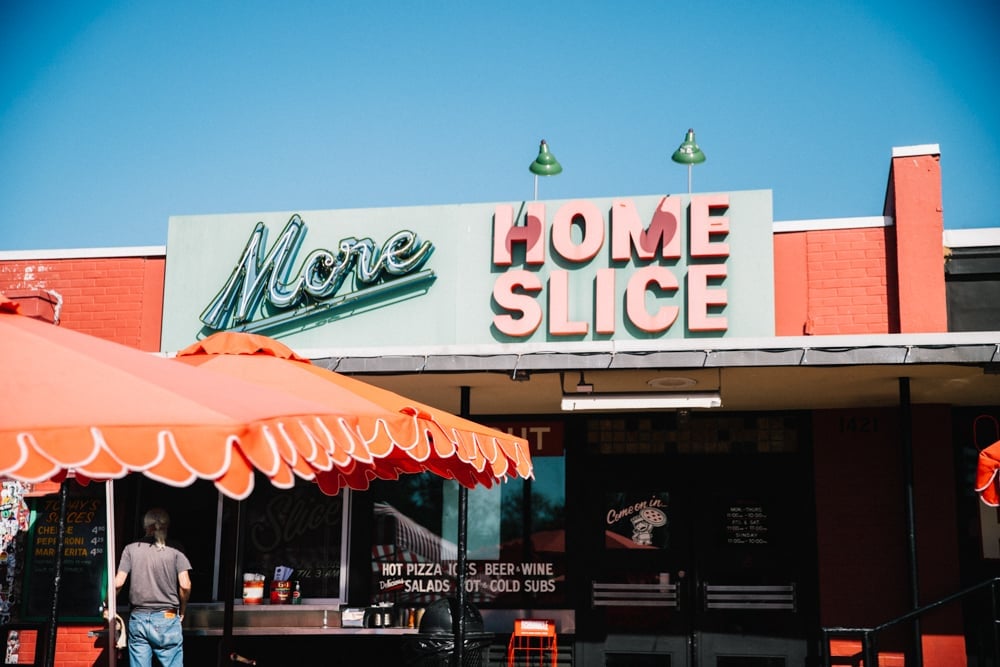 Best Cafes & Coffee Shops In Austin
Best Breweries In Austin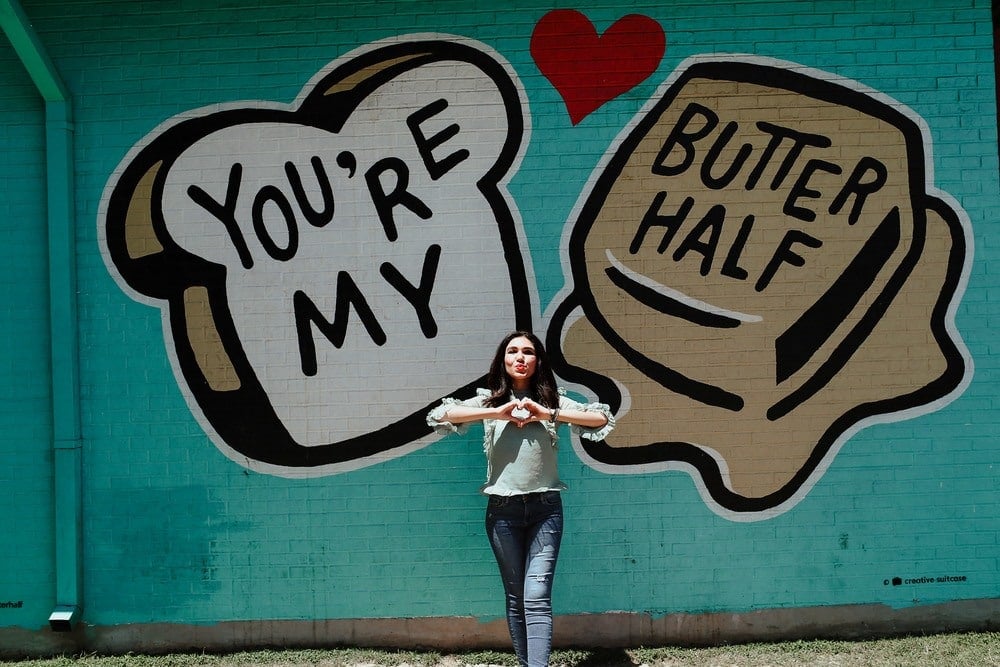 Fun Murals & Austin Photo Spots
Walk away from your Austin weekend trip with tons of cool photos for the gram! The city is just covered in street art which speaks to my soul. Here are my favorite spots for a pic + address:
Tau Ceti mural: corner of Brazos and 2nd street.
ATX Sign: Outside the Wholefoods on Lamar Boulevard
You're My Butter Half: 2000 E Martin Luther King Jr Blvd
Willie For President: 1423 S Congress Ave
Love From Austin: 1912 S Congress Ave
Greetings From: 1720 S First St
What To Pack For A Weekend Austin Getaway
Austin gets all four seasons, but their summer seems to last longer than in other states and of course, is much MUCH hotter. And humid. Obviously your Austin outfits will vary on time of year, but in general, make sure to have the basics:
And YES – if you have cowboy boots or a cowboy hat, this is the place to whip those babies out. I wore my white cowboy hat all over town and got so many compliments.
Weekend Getaways From Austin Texas
If your Texas Itinerary is a bit longer, you should plan on a day trip from Austin to see more of the state.
Fredericksburg Texas Hill Country
Fredericksburg in Texas Hill Country is a unique German meets Texas town that's famous for wine tasting. It's abut 1 hour away from Austin by car and makes SUCH a fun day trip. Shannon and I spent a weekend in Fredericksburg wine tasting and eating all the good things.
You can drive yourself for maximum control over your itinerary. But there are also tour companies that will take you from downtown Austin to a few wineries in the Texas Hill Country so you don't have to worry about driving. This wine tour is a full day in Fredericksburg and gives you time to explore downtown after wine tasting. This shuttle is a half-day tour and does wine and BBQ.
Jacob's Well Swimming Hole
Visiting Texas in the summer? Jacob's Well is that Instagram-famous swimming hole you see everywhere and is high on my bucket list. Taylor, or Texas Native, grew up nearby and spent every summer swimming here. It's only open in the summers and you'll need a reservation to get in. It's worth the strategic planning to swim in this iconic hole.
San Antonio
San Antonio is a beautiful city with a rich history and is just about 1 hour from Austin. San Antonio is best known for the Battle of the Alamo, which took place during the Texas Revolution. It has a vibrant arts scene, with numerous galleries, museums, and theater, but is most famous for the city's River Walk.
This is a must-see for any visitor, offering a unique perspective on San Antonio's history and culture. It's a small city, so a lot of tourists prefer to make it a day trip vs spend multiple nights there.
Lake Travis
Lake Travis is a popular destination for boating, fishing, and swimming, and it is also home to a number of restaurants and bars. The lake is particularly popular with scuba divers, as it offers a unique opportunity to explore underwater caves (if that's your thing – I chickened out on getting my scuba diving certification).
But it's most famous for The Oasis on Lake Travis, a restaurant overlooking the lake with stunning views. Hot tip? Skip the restaurant and head to the Oasis Texas Brewing Company side for better vibes and views that are just as good.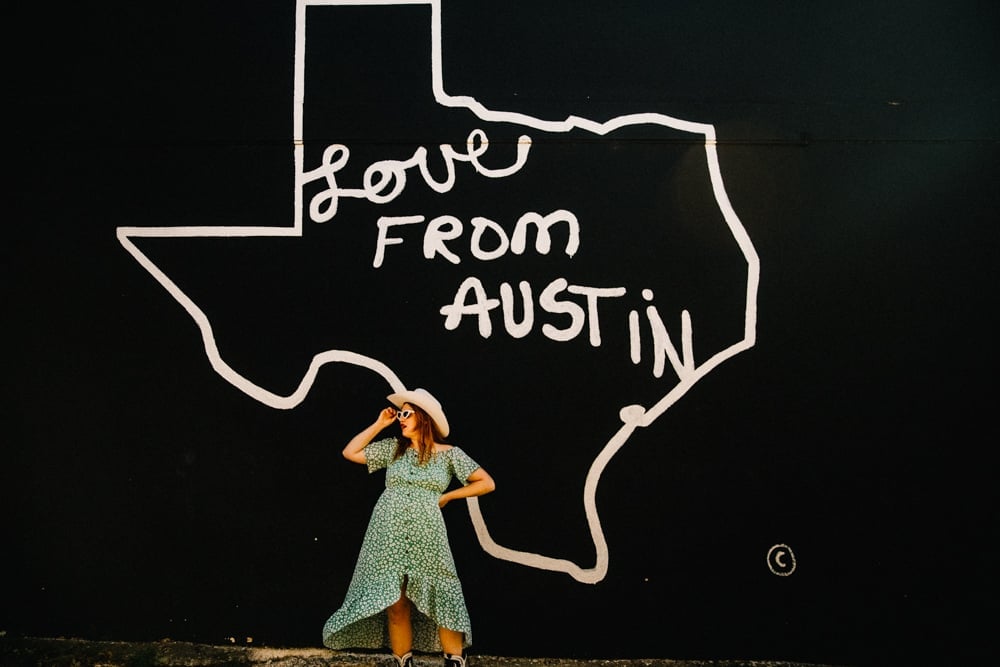 I hope this helps you plan an amazing weekend trip to Austin! I love this city and always find something new when I visit. If your favorite fun thing to do in Austin didn't make the list, please drop it below in the comments so everyone can see.
And don't hesitate to ask questions in the comments or dm me on Instagram @thewhimsysoul and I'll try and help out! Happy adventures.