It's no secret that Germany is known for the Chrismas Markets, but it did surprise many people when I told them I was heading to Berlin over Thanksgiving break and had plans to visit as many of the 70+ markets as I could.
"You aren't going to Bavaria?" they would ask. Nope – Munich is on the other side of the country and while it's absolutely beautiful, you can find just as magical German Christmas Markets in Berlin!
My friend, Justina, and I spent every night during our trip visiting markets and walked away with handy tips for you (like what to wear, how much money you should expect to spend, etc) along with the best Berlin Christmas markets to visit especially if it's your first time to the city. Let's go!
Weihnachtsmarkt aka a Christmas Market, are beloved by Germans and visitors alike. Come November and December, the entire city explodes into a magical holiday wonderland full of lights, decoated trees, the smell of mulled wine in the breeze and surprise Berlin xmas markets around (almost) every corner as you explore the city.
Seriously – as Justina and I went about your typical tourist itinerary during the day (museums, Berlin wall, cafes, etc) we kept stumbling upon Christmas markets taking over streets or alleyways.
We could have easily just spent the whole week exploring Berlin by foot or public transport and have wandered the streets from random market to random market and been happy as a clam. But, when you are low on time, it's better to know which festivals to prioritize based on your vibes and wants.
All The Best Berlin Christmas Markets To Visit For Holiday Vibes & Fun
After running around the city for a week, these are the best Christmas markets in Berlin that we visited or heard through the grapevine via locals (like tour guides, etc) that are worth a visit.
Disclaimer: there are over 70 markets happening during Christmas in Berlin so it's impossible to visit all as a tourist. If your favorite market didn't make the list, please drop a comment below so everyone can see!
1. Kaiser Wilhelm Memorial Church Market
Aka Gedächtniskirche, this was our favorite market we visited (and it just happened to be next door to Hotel Palace Berlin where we were staying!)
We loved this West Berlin market since it was a big circle around the church, one of the few old buildings that survived WWII bombings (well, mostly – the top is missing). There's a big Christmas tree in front of the church and it feels the most European aesthetically.
Beyond the good vibes, we loved all the little table tops for eating and gathering around with friends, along with heated tables and cozy huts with seats. It felt like a great place to meet friends after work and treat like a pub.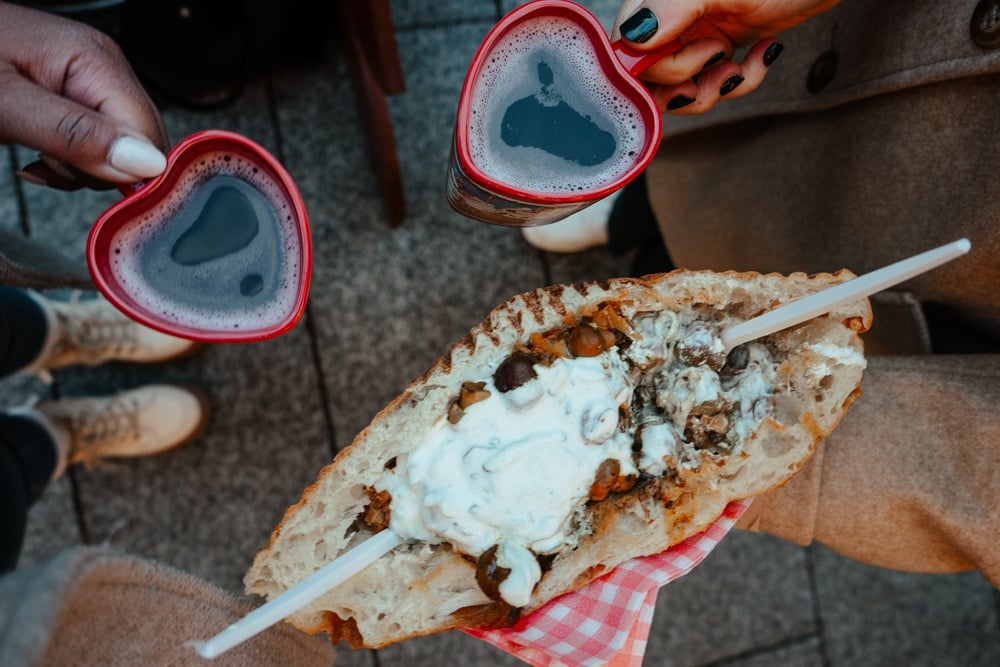 In fact, we even caught the Germany vs Spain World Cup match here and had a blast sipping mulled wine with locals.
This market doesn't have as many food options as others, but we always left full and happy. Highlights include Thuringian Rostbratwurst and this certain dish we didn't get the name of but was one of my favorite things I ate the whole trip.
It's a hirtenbrot bread that's filled with meat, mushrooms, onions and tzatziki and totally hit the spot after a long day exploring the city. You must try it!
2. LGBTQIA Market At Christmas Avenue
The most unique (and most party-fun) market is Winterdays at Christmas Avenue – aka the Queer Market! It's a safe space to come and celebrate the most magical time of year.
The market is under an overpass so it's one of the few markets that's always sheltered from the winter rain, but don't worry, it doesn't feel like you're standing under an overpass.
The whole ceiling is lit up with rainbow colors to mimic the Pride flag, walls are coated with colorful foil and tinsel for cheery holiday vibes and there's always fun music pumping.
When there isn't a drag show, of course. We swung by before dinner one night and it was a slower night without a show but was still so fun. They have vendors that sell untraditional handmade gifts here and I brought home a little fat babe candle from one of the stalls.
It's the most enjoyable to visit during one of the karaoke or drag show events so I recommend looking at the calendar of events and timing your visit for one of those!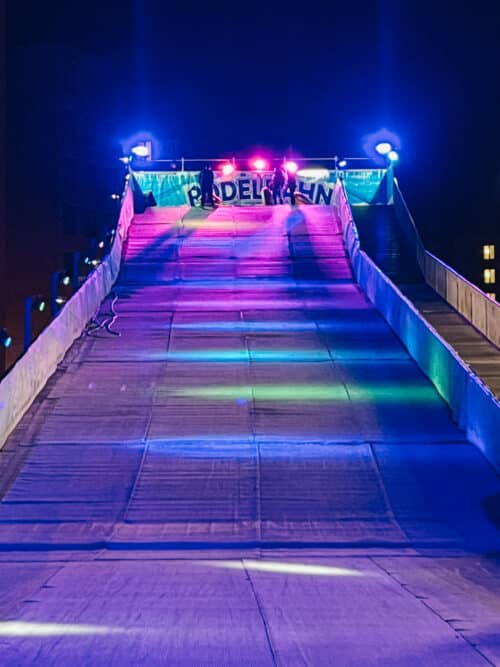 3. Potsdamer Platz
Right across the street from Potsdamer mall (and close to Fredericks, one of our favorite dinners while visiting Berlin) is the Potsdamer Platz market.
This is a small market with limited food and wine stalls but that's not why you come here. You come for the huge winter slide/toboggan!
For just a couple of Euros, you can climb the ladder and hurdle down the ice slide on a tub. After dinner at Fredericks, we were walking to the train station and decided on a whim to run across the street and go down the slide before they close.
We got literally the last rides down (great timing!) Justina and I both asked to be spun down and the guy made just to catapult our tube and it made it 100% more fun.
4. Rotes Rathaus Christmas Market
Rotes Rathaus is one of the most popular and busy markets since is the one with the ice skating rink and huge Ferris wheel overlooking the city centre and Town Hall.
It's very touristy here but despite that, I had a blast. I loved all the variety of food stalls here – from smoked salmon to cheese to brats to sweets and more. And they had a lot of cute artisan shops where I picked up a few ornaments.
But the real star of the show are two things. First was riding the Ferris wheel so you can get a bird's eye view of the whole market and downtown Berlin.
It was foggy when we visited (later we learned it's not usually foggy so this was a rare occurrence!) but we could see still the famous TV tower poking out from the fog.
Second highlight was the flying Santa!! They put a real man up in a sleigh that shots across the market sky and there's a bit of surprise involved but I won't spoil it for you. He flies at 4:30 pm, 6:30 pm and 8:30 pm daily.
5. Alexanderplatz Christmas Market
On the other side of the TV Tower is the Alexanderplatz Christmas Market (which gets often confused with Rotes Rathaus since they are so near each other). We found Alexanderplatz to be very overwhelming with people and didn't have as many stalls, so we didn't stay long.
The reason to walk over is to see the wine pyramid which was the biggest and most beautiful one we found from all the markets. It has a great view of the TV tower in the back for photos! It's really close to an u-Bahn station so it's easy to pop in and back out and travel onto another spot.
6. Lucia Christmas Market
I'm so sad we didn't get a chance to go over to Lucia Christmas Market because it's one of the most beautiful and coveted markets in the whole city.
It's named after the Nordic god of light and thus has a nordic theme to it with Scandi crafts and Swedish Glögg instead of glühwein. It's tucked in a courtyard so it feels cozy and magical.
When you go, on top of trying the glogg, Kanelbullar is a popular treat to eat along with the elk meatballs and Finnish waffles. It's easy to get tired of brats at all the markets but Lucia offers fun food options!
7. Advent market at the Domäne Dahlem
This Advent Market takes place at a 450 year old manor on the edge of town. It's a bit further to get to but the reward is a market that's unlike others in the city center.
Here you'll find bonfires, carriage rides, a Christmas tree farm and yummy things like handmade nougat or marzipan, hot chestnuts or organic cheeses. It's a rural market to escape the bustle of the city!
8. Charlottenburg Palace Christmas Market
Schloss Charlottenburg is the former residence of Queen Sophie Charlotte and was personally one of my favorite things to do while in Berlin. The insides are painted with the coolest murals and colors!
This palace was heavily raided during WWII but the building and gardens are still in tact and open as a museum. And, during the holidays, they have a lovely market out front!
We loved the live music here (the band would wander the market so everyone could hear their holiday songs) and the variety of meats, cookies and treats to choose from. Of course, the backdrop of the palace Christmas market is iconic and beautiful, and if you wanted to get a better view of things, one of the wine huts has a rooftop viewing platform.
Justina and I climbed up with our wine for some nice photos and people-watching. We visited the market after our tour of the palace so it was in the middle of the day but I bet this place is magical at night.
Unfournalty, it's reported that December 2022 will be the last year it will take place at Charlottenburg Palace but keep an eye on the updates just in case anything changes in the future. It's one of the most famous Christmas markets in the city and the end of an era for sure.
9. Märchenhafter Weihnachtsmarkt at the Jagdschloss Grunewald
Märchenhafter takes place in the courtyard of Jagdschloss Grunewald, one of the oldest castles in Berlin! This market is all about fairytales and castle magic.
Highlights include a visit of Mother Holle, Hansel and Gretel, Cinderella and other real-life fairytale figures who mingle with the visitors. Plus, your entrance ticket to the market includes a free tour of the castle, making this a fun market to visit in the afternoon vs evening.
10. Spandau Christmas Market
Spandau is the largest Christmas market in Old Town and even includes a Christmas nativity scene with live animals!! This is one we didn't get a chance to go to but I hear great things.
You'll wander cobblestone streets around Old Town Spandau, see the large magnificent fir tree in city square, eat traditional bites of course but can also try Spandau specialties like mulled beer. I want to stop by this next time I'm in Berlin in December!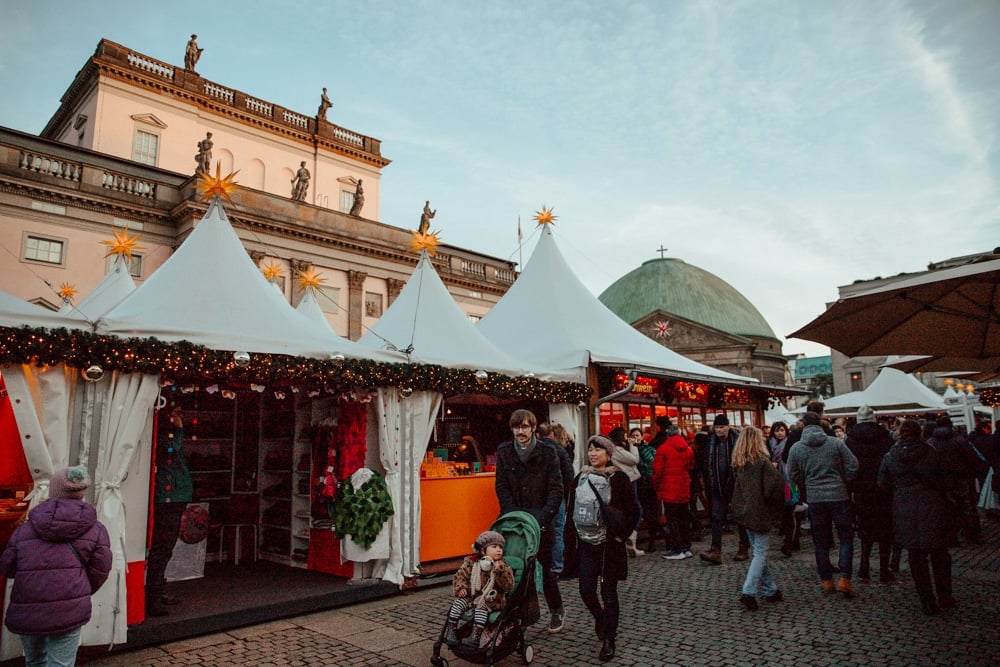 11. WeihnachtsZauber at Gendarmenmarkt
The WeihnachtsZauber Gendarmenmarkt Christmas Market is usually considered the best of the best in the city and the most traditional Christmas market, and is always making the list of best markets in all of Europe.
And I will agree that it's super beautiful and unique looking with white tents that have golden stars on top, and tons of lights. It oozes luxury with heated restaurants and wine bars, posh artisan shops like glassblowers, and actors on stilts wandering the lanes.
It also attracts like, 600k visitors a year and is really busy. To be transparent, we felt overwhelmed during our visit, but we also went on a weekend night so it is probably less crowded during the weekdays. We only stayed for one look around, and it's worth it since it's a bucket list market, but plan on visiting another one for longer more relaxed hangs.
Note: in 2022 when I visited, the market moved from the normal square and took place on Bebelplatz where usually Opernpalais Nostalgic Christmas Market takes place. WeihnachtsZauber's normal plaza is under construction so that's why the photos look different than normal.
What To Know Before Visiting Christmas Markets In Berlin Germany
I've been to Christmas markets in other countries before — my favorite recently is the Vancouver Christmas Market, but those all operate differently than the xmas markets in Berlin.
These are some of the things you'll want to know before you head out into the night.
Cash Is King
My only real complaint is that the markets are cash based (with a few exceptions on the artisan vendors. Sometimes they take credit cards but don't plan on it). Thankfully all the markets do have ATMs so make sure to bring your debit card and make sure you have at least 50 Euros for each night.
I would say we spent about 20-30 Euros each per night when taking into account food, wine, bathroom breaks, entrance fees and other activities like a Ferris Wheel. Add more in for gifts, which I did pick up a few.
It was fine, but still annoying to constantly have to have a lot of Euros on hand or make a lot of runs to an ATM when we underestimated how much we needed (can you tell I'm a millennial who's used to paying for everything with Apple pay? HA). So, prep yourself!
Keep Coins For The Bathroom
As with most of Europe, you'll have to pay to use the bathroom at the markets. Keep coins on hand to pay the bathroom attendant. They vary from 30 cents to 1 Euro, depending on the location.
The good news is, all the bathrooms I used where really clean and heated so that's a perk of the pay-to-pee system! And, most of the markets will have a bathroom on hand so you don't have to worry about that.
You Rent A Wine Glass & Buy The Wine
The whole point of German Christmas Markets is to entice the community to come down, meet their friends, walk around, shop, eat, and drink.
When you want to drink, you'll go to any glühwein stall and put down a deposit for a cup (ranges from 3-5 Euros). Then you pay for each refill of mulled wine (or other drink as listed below). You can take that cup and wander all over the market with it.
At the end of the night, you have two choices. You can return the cup and get your deposit back, or you can keep your mug and take it home. I chose one of the 2022 Christmas Market mugs home but didn't want to cart back like, 6 different mugs in my suitcase.
I could see how it would be fun collecting them each year if you live in Berlin.
There Are Many Mulled Wine, Nog & Drink Options To Choose From
German Glühwein is by far the most popular option, but you'll find glühwein spiked with bourbon or gin in some markets, feuerzangenbowle, others have hot egg nog (this was not to my taste so I don't recommend it) and others still have cold nog (this was tasty!)
Not all the markets have beer, but many will have beer tents for you to try traditional Bavarian beer along with new local craft brews.
Each Of The Berlin Christmas Markets Are Unique
You'll always find the staples at each market (glühwein, food stalls, cute little huts or tents, holiday lights) but each market has its own unique personality.
There's the queer market on Christmas Avenue that's under a train platform and is decorated with colorful lights on the ceiling to look like the Pride flag. They have drag shows and pop music playing. But other markets are more traditional with holiday tunes, classic tents and old German decor up.
Some of the most popular Christmas markets stick to traditional drinks but some will throw in surprises (like mulled beer). Some are more focused on shopping, while others had better food options, while others offer activities like ice skating.
As you could probably tell from reading my list above, there's so many different vibes to choose depending on what you're in the mood for that night!
What To Wear in Berlin At Christmas
Obviously, check the weather since it does vary year by year, but plan for rain and temps in the 40's. Also keep in mind that you'll be walking around a huge festival full of drunk people (including yourself) holding cups of hot wine.
Don't wear white. Trust me. I wore my trusty pair of white sneakers and came back from the trip looking like I had murdered someone and got their blood splatter all over my shoes.
I found it best to wear rainboots and a coat that had pockets to stash my Euros, making it easy to pull them in and out when I had to refill on wine.
We brought our cameras with us and thus had backpacks, but if I wasn't there to take photos I would have preferred my baggu or Arden Cove anti-theft purse instead (something small and sleeker that doesn't get in the way of things).
Don't forget a beanie and gloves if it's going to be really cold!
Kara's Fave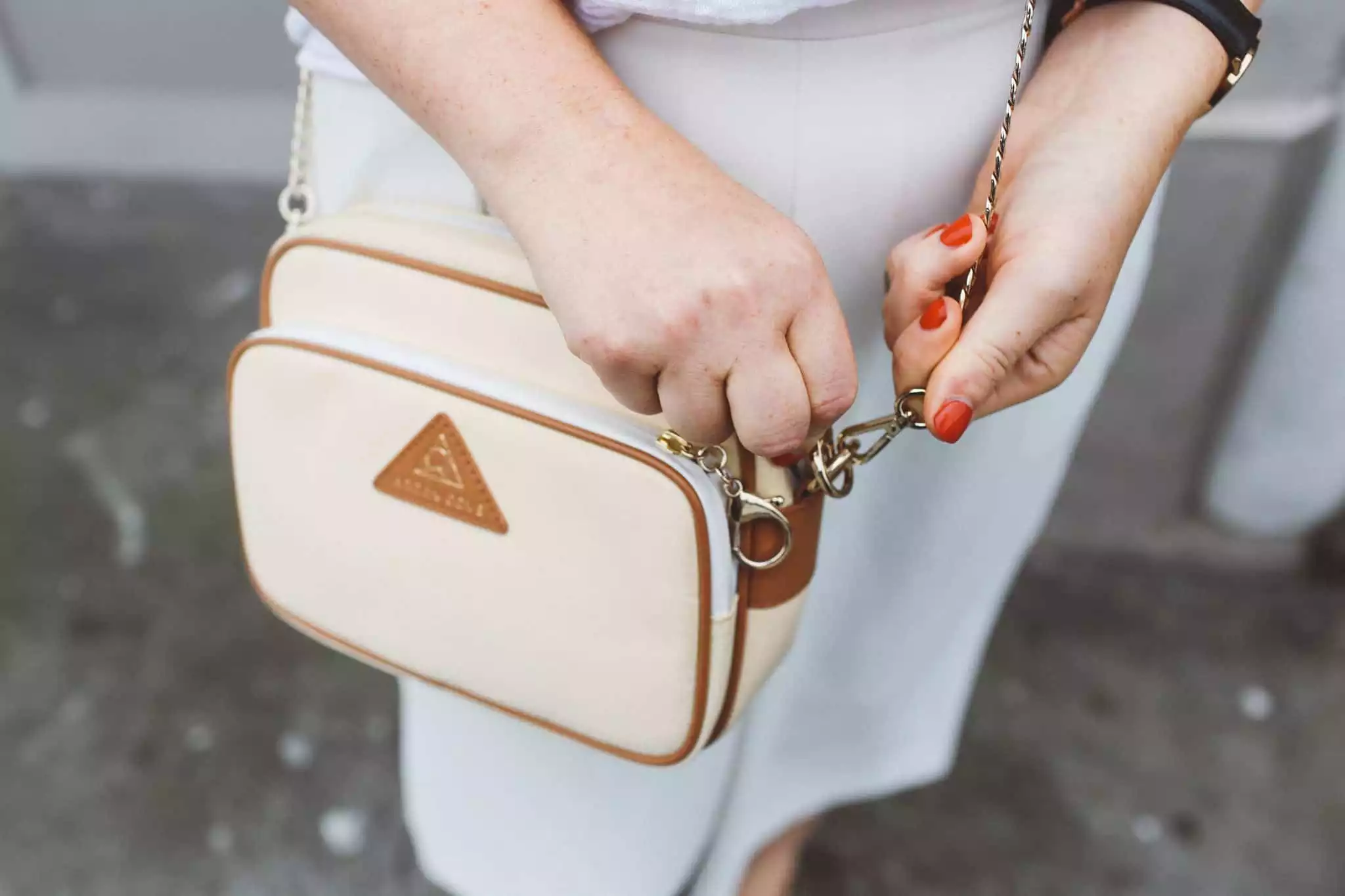 Arden Cove Anti-Theft Cross-Body Bag
Arden Cove offers some of the best anti-theft purses for international travel. They're stylish and functional and you can fit so much stuff in these purses. Plus, they're waterproof and slash-proof. I bring mine on all my trips.
Shop Now
Our Review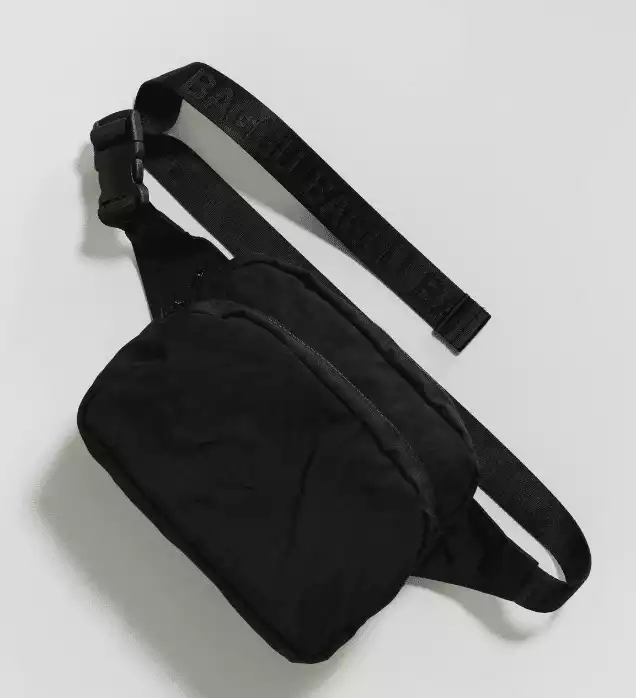 Baggu Fanny Pack
The Baggu Fanny Pack is perfect for everyday and travel! It has so much space for everything you might need. I carry hand sanitizer, sunscreen, my phone and wallet, and still have plenty of room!
Shop Now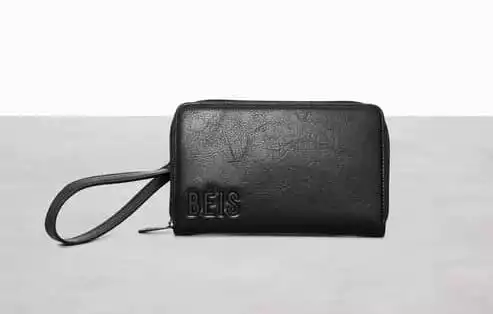 The Travel Wallet
The Travel Wallet from Béis is compact and has just enough space for the essentials with organizational pockets for money, coins, passport, credit cards and you can even squeeze your phone! Perfect for the airport or wandering around a new city!
Shop Now
Our Review
Berlin Christmas Markets Dates
Every one of the markets Berlin has will be on different dates. Some are open daily, while others are only open on weekends. Opening hours also vary from market to market but found they generally opened mid-day and would close around 9pm (sometimes staying open later on weekends.)
We visited the week of Thanksgiving November 2022, and arrived on November 23rd and the markets this year had just gone up that week. They'll stay open until around December 21st (again, each market has different dates but they generally will not go until Christmas or the New Year).
It's best to check the Visit Berlin Christmas Market page each season to see if there are any changes on a market you have your eye on. It may be canceled for the year, or may have moved locations.
As with all festivals, weekends will be more crowded than weekdays so it's best to plan your visit to the mega popular ones on weekdays. And go early – around 3:30pm so you can see the lights change from day to dusk and then twinkle in the dark.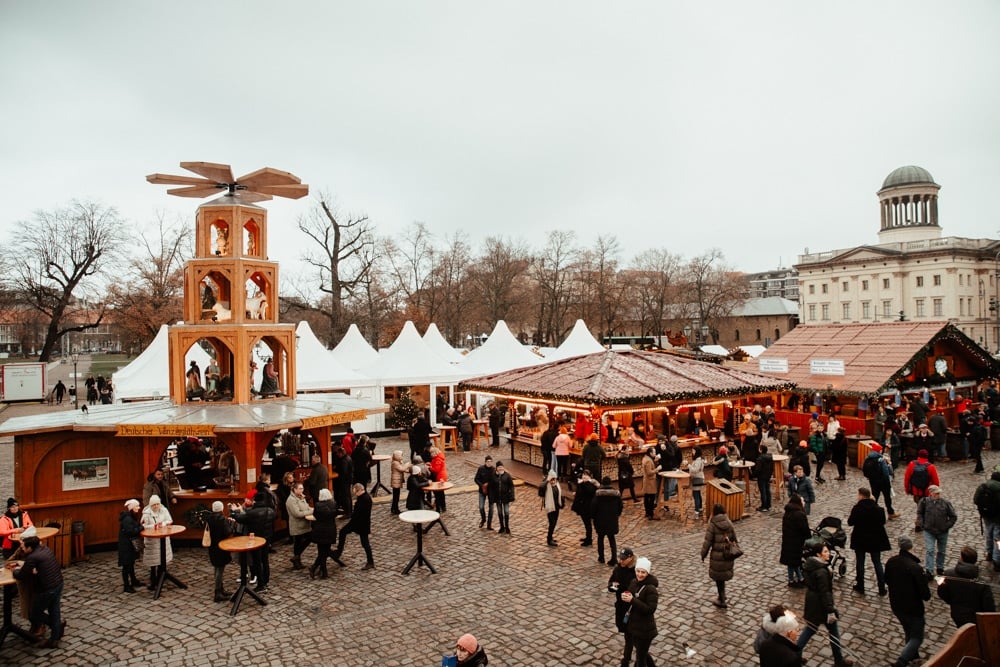 Ok, I hope this massive guide helps steer you to some memorable nights in Berlin! I had a blast being in Germany for Christmas and I can't wait to come back again in the future.
I thought Thanksgiving week was the best time to visit Berlin since it's before December (aka high season for Christmas celebrations) and the weather wasn't as cold. We even saw autumn leaves still clinging to many of the trees which was a fun surprise!
Berlin was amazing and I can't wait to come back for at least 5 more cups of glühwein. Until then, I'll be making up big batches of my homemade Hogwarts inspired glühwein recipe.