The Central Coast of California is overlooked far too often. I'm often given questioning looks when I say I live in San Luis Obispo (aka SLO) because it's oftentimes unheard of, especially out of state.
I find myself saying "halfway between LA and SF," far too often.
Therefore it isn't the first place you think of when visiting California. Many stumble upon it when taking a road trip on the Pacific Coast Highway, but it's just south of Big Sur and north of Santa Barbara.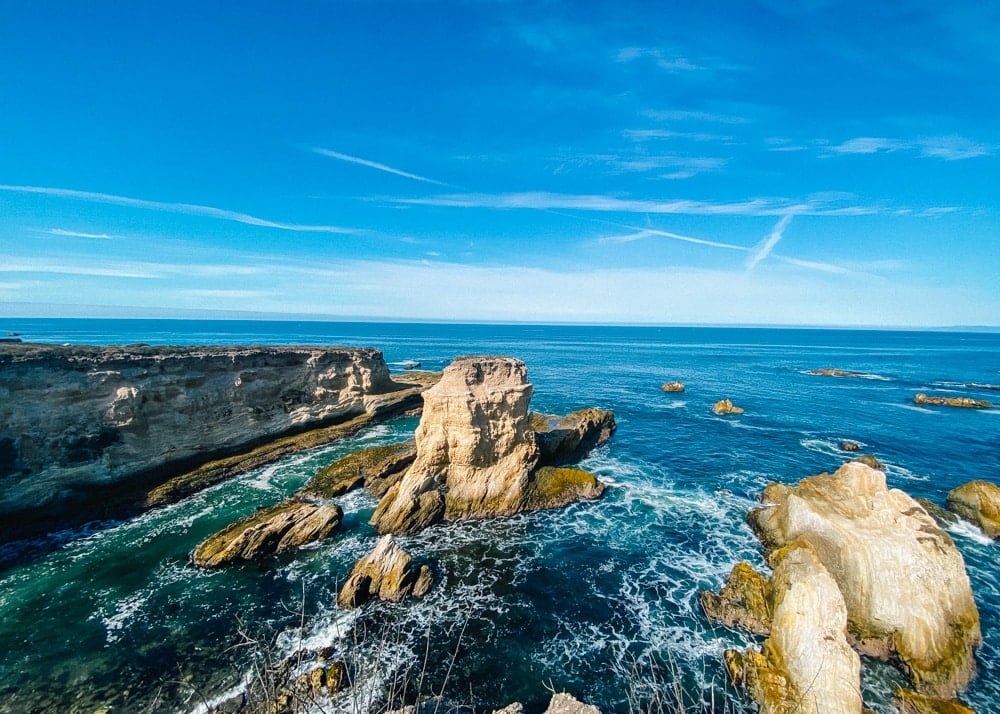 Both of which are considered Central Coast of California, but this is the center of the Central Coast. Home to Pismo Beach, Paso Robles and Hearst Castle in San Simeon, San Luis Obispo County (aka SLO County) is filled with lots to see and do.
That said, this small coastal community still doesn't get talked about much, and there's so many things to do in Los Osos.
12 Fun Things To Do in Los Osos California & Baywood Park
I was recently there for a late lunch with my boyfriend, when I looked around and realized, wow, Los Osos is kind of cool. There we were right along the water, and we could walk to so many things.
Inspired, I knew I needed to expose this California Hidden Gem. Here's what to do in Los Osos!
1. Eat Delicious Pastries from Wayward Baking
Speaking of hidden gems, Wayward Baking is a super low key, but dangerously delicious bakery. We love their croissants! If we're not feeling up to making the trip to Los Osos (a whole 15 minutes), we visit Field Day in SLO who carries their pastries on the weekends!
Pro-Tip: You have to get there early (or order online!) to snag one of their infamous almond croissants.
Whatever pastry you order, you can't go wrong! They use fresh ingredients to prepare seasonal pastries and other goodies. TBH, you have to get there early for any of the "good stuff" aka anything new or seasonal. They sell out fast, and there's often a line out the door.
2. Drink Your Morning Coffee with a View
Nautical Bean has the best location in Los Osos right on the water. It's part of the bay (hence the name Baywood-Los Osos), but still so dreamy! The shop is small and cute too. They also have a really good breakfast/lunch menu if you're not stuffed full of pastries.
I love their breakfast burrito. It's my favorite in SLO! And I usually order just a regular iced oat milk latte, but have also enjoyed the Caramel Sutra.
They have lots of coffee options, so you can't go wrong!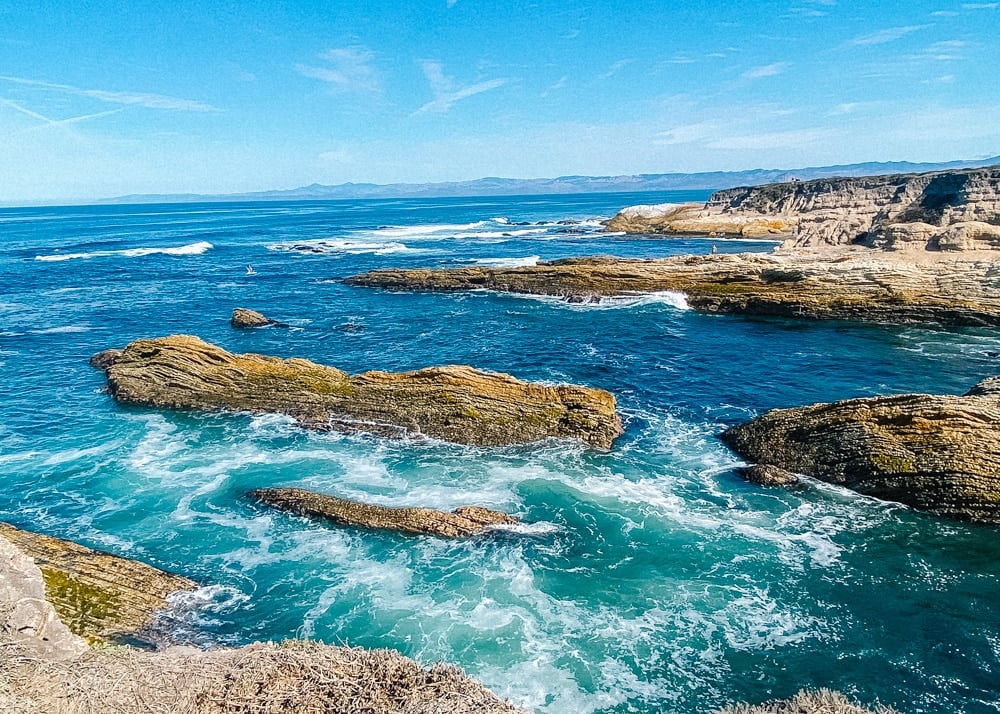 Another great coffee shop in Los Osos is Ascendo Coffee. They recently opened a new spot in SLO in an old gas station.
It's super cute, and within walking distance of my house, so I've been visiting more often and can attest their coffee is VERY good.
3. Hike Valencia Peak
This is something we only just recently crossed off our bucket list. Largely because it's not pet friendly and we like to take our pup, Cody, with us hiking as much as possible.
But Valencia Peak was such a fun hike! It's located in the beautiful Montaña de Oro State Park, and a little more than 4 miles round trip.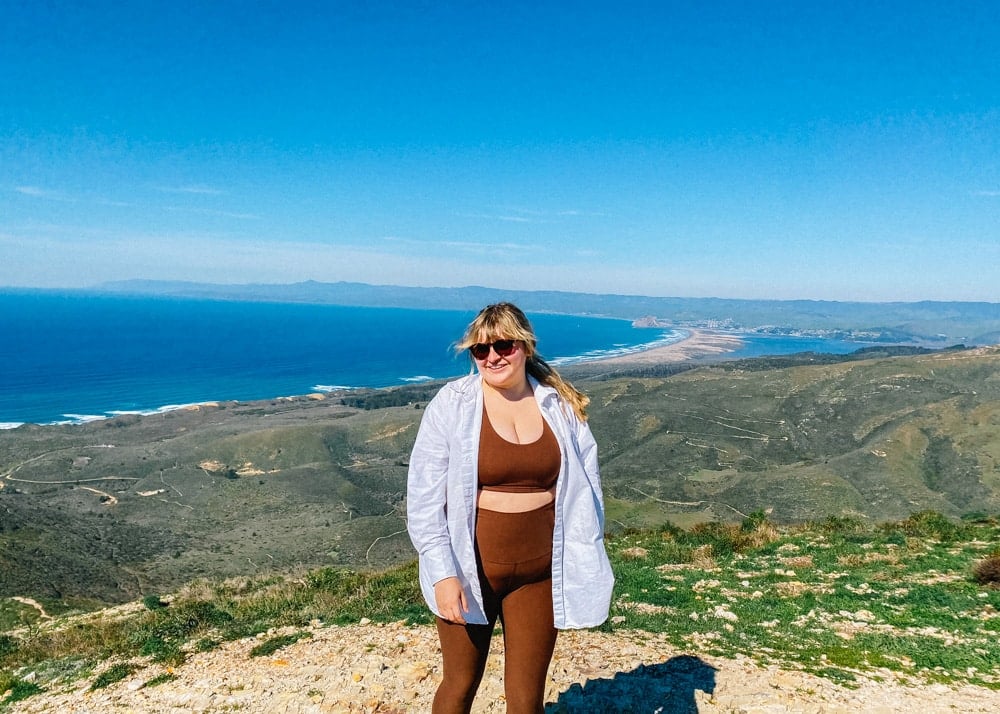 It's a fairly steady incline for the last half, but nothing I couldn't handle with my handy hiking poles. I'm truly exposing myself with this next photo, but sun care is KEY.
On top of the hat (with UV protection!), the long sleeve shirt and sunglasses, I'm wearing lots of sunscreen – reapplied at least 2-3 times on the way up!
Please note: when I searched "hiking sticks" – the first thing that comes up is "hiking sticks for seniors" which really adds to the slight shame I feel about sharing this photo on the internet.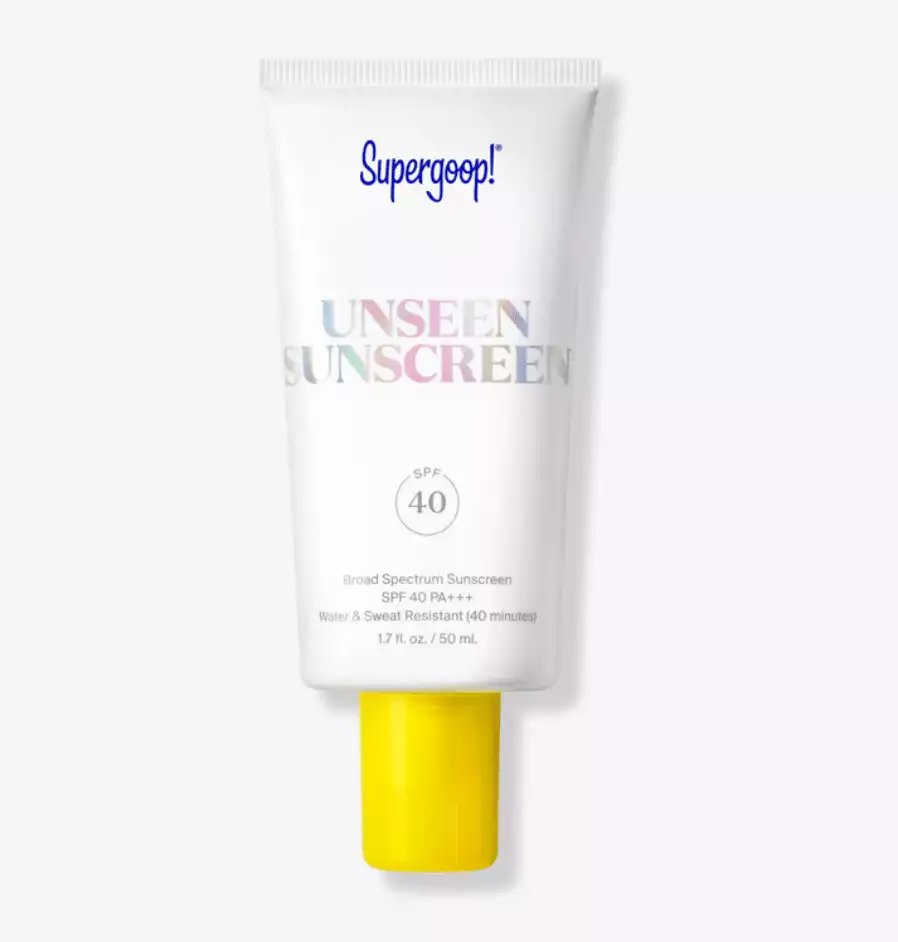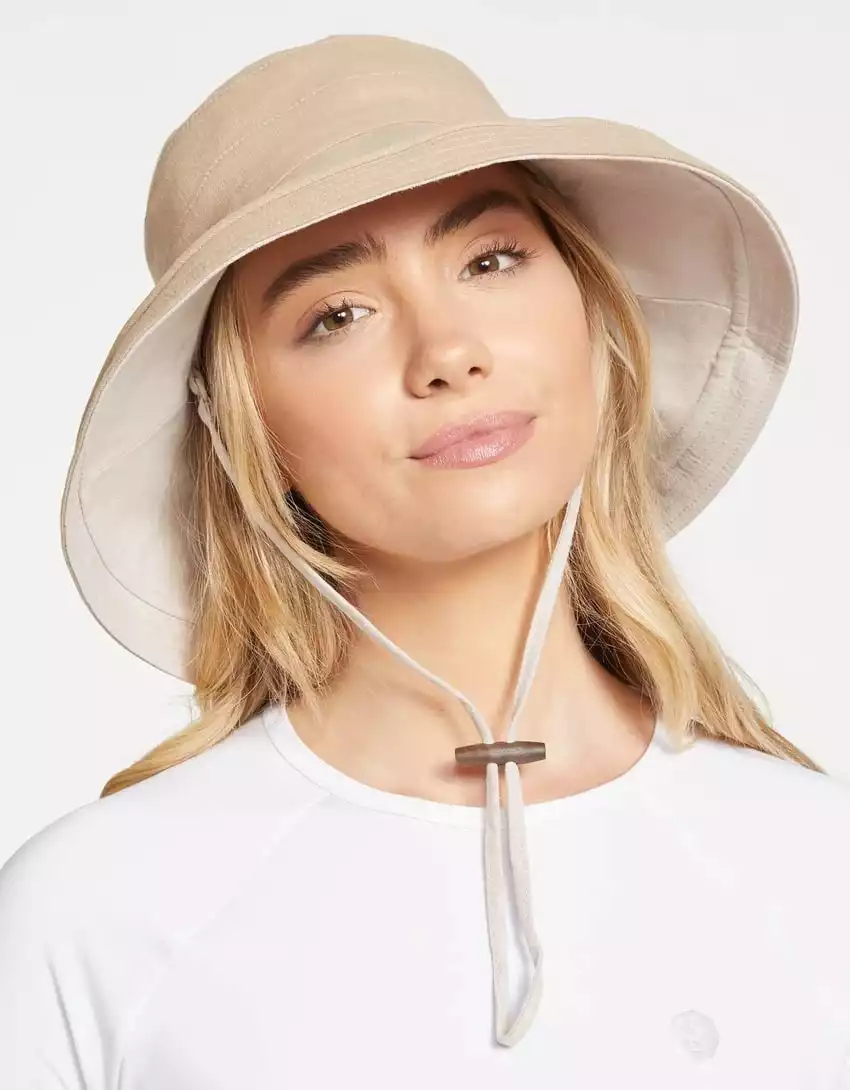 Solbari Holiday Sun Hat (UPF 50+)
The Holiday Sun Hat Editor Taylor's go-to sun hat with maximum coverage and style. The flexible brim helps to customize the shape and the cotton-linen blend fabric is breathable. Plus the drawcord helps to keep it on in the wind!
Shop Now
4. Stroll Along the Bluffs
Anytime someone comes to visit, I take them on this hike! It's pretty flat, so more of a nice walk. It is the most beautiful place in SLO County. I swear by it!
There's a lot of beautiful places, but the ease of access to Bluff Trail in Montaña de Oro, plus how easily you can tailor the distance.
I'm not sure we've ever been to the very end, but don't feel like we've missed out.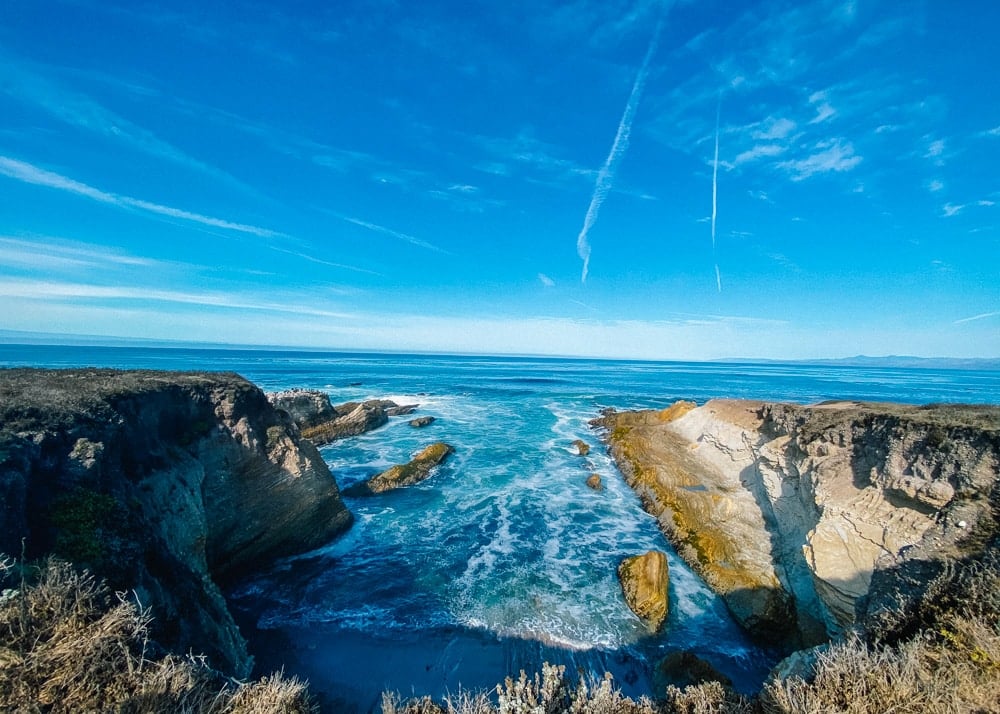 The only downside is visibility can vary. Fog isn't uncommon, and it's usually quite chilly, but I've been when it's super clear and not, always beautiful and fun to stroll along the bluffs.
If you do happen upon a clear or sunny day, you can usually see Morro Rock.
Bonus: Not too far away (also in Montaña de Oro) is the best view of Morro Bay and Morro Rock at Black Hill in Morro Bay.
If you keep driving up the road until you hit a small parking lot, you're basically at the top and it takes about 10 more minutes to hike to the very top.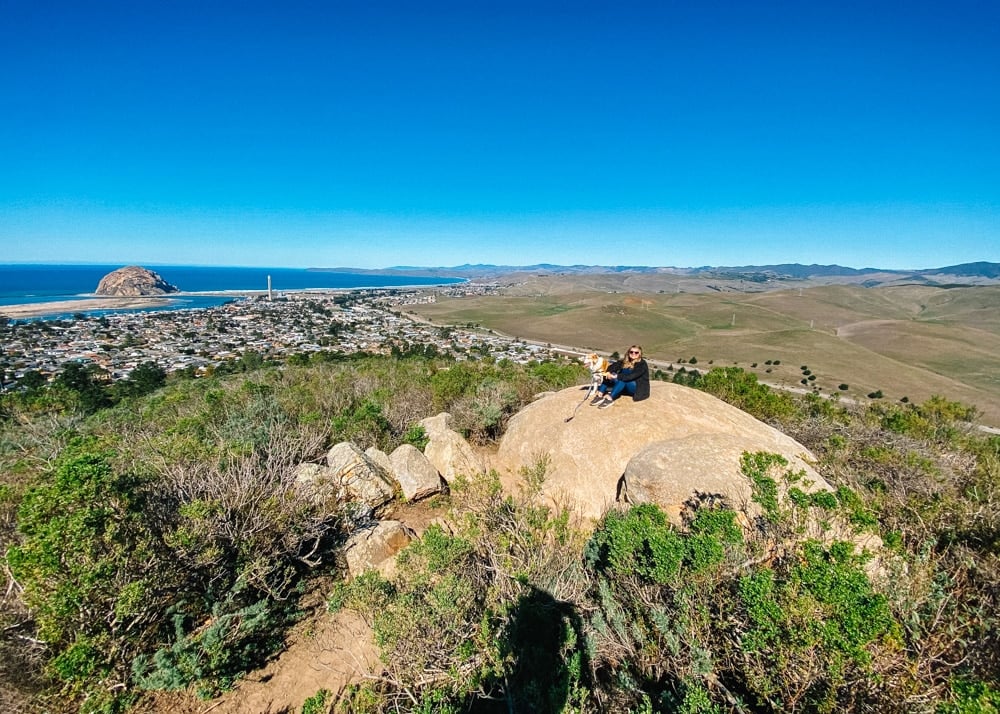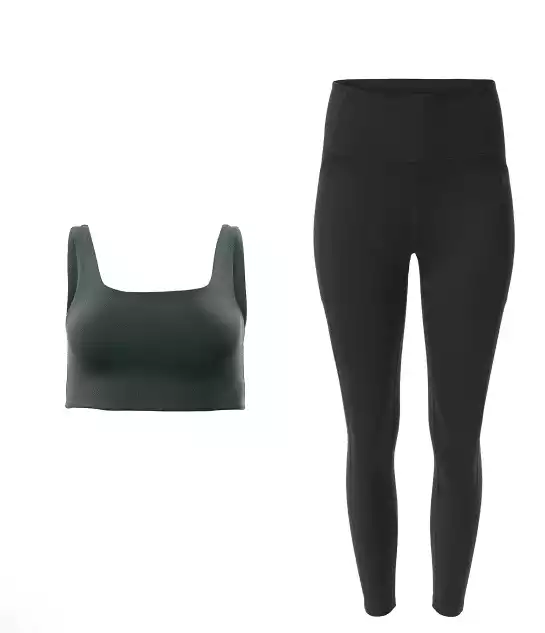 Girlfriend Collective Compressive Set Bundle
If you've been following me for long, you know I absolutely love Girlfriend workout sets. They're comfortable, eco-friendly and size inclusive (up to a 6XL). I love the option to bundle and save a bit, because I want literally everything!
Shop Now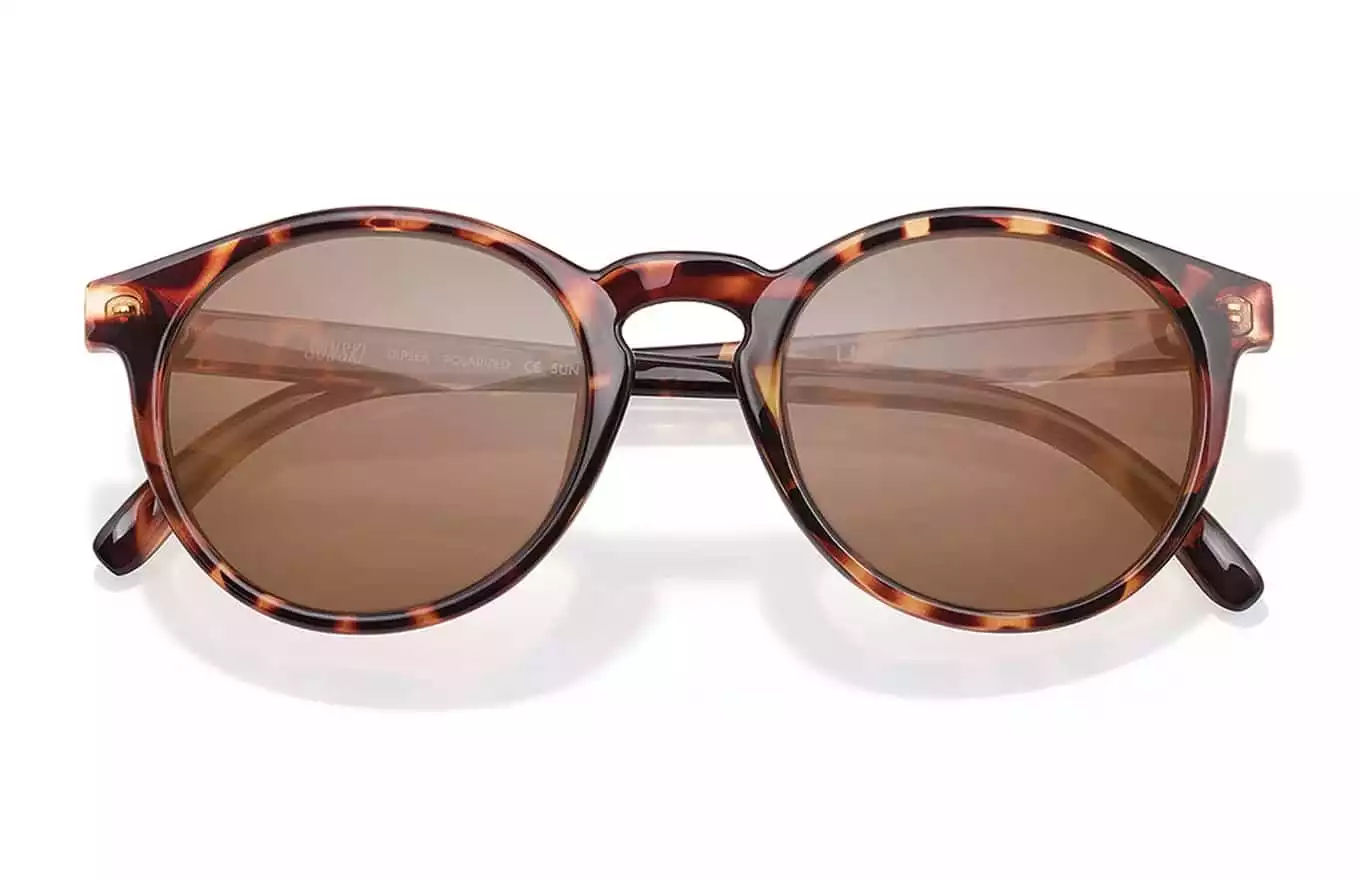 Sunski Dipsea Polarized Sunglasses
Editor Taylor's most favorite sunglasses EVER. You don't often see a photo of her without them. From the super durable, light frames to the ultra polarized lenses, they're stylish and perfect for outdoor adventure!
Shop Now
5. Watch the Sunset at Spooner's Cove
Another Montaña de Oro State Park gem, Spooner's Cove is right next to Bluff Trail. Parking is limited, but we usually find a spot.
It's a popular place for tide pooling when the tide is low, but it's honestly one of my favorite beaches in SLO County!
I'm not a big fan of sand, and the sand at Spooner's Cove is more like gravel which means it's pretty easy to shake off and doesn't stick to everything.
Sunset is a sport – everyone trying to find a good spot! This spot is perfect to watch surrounded by beautiful rugged cliffs and the sound of waves crashing.
Plus it's dog friendly (on leash)! If you're looking for an off leash dog beach, Olde Port Beach just past Avila Beach is also a nearby favorite!
6. Take a Walk in the El Moro Elfin Forest
If you love flora and fauna, Elfin Forest is a must see! Entry is completely free and there are multiple entry points.
The trail is a beautifully maintained boardwalk amongst the insane amounts of plants, trees, flowers, shrubs, herbs, vines – you name it!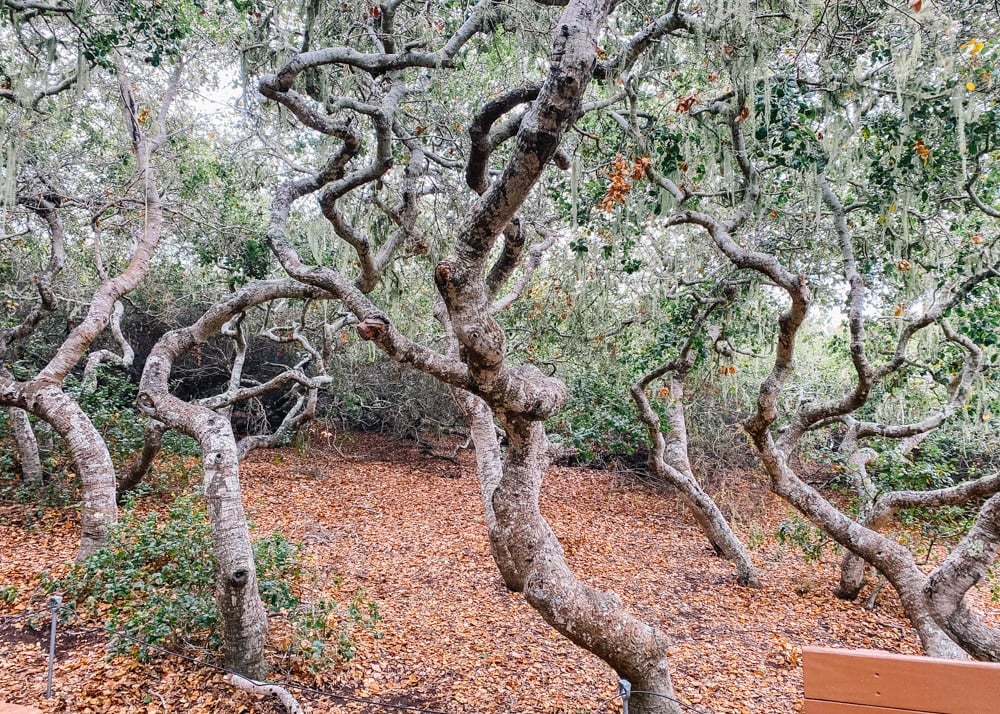 You'll feel like you're in another world (read: what I imagine the worlds of LOTR are like) surrounded by the windy branches of the Coast Live Oak. It's right along the bay so you're also treated with water views throughout the short walk.
7. Explore the Art Galleries of Los Osos
One thing I didn't realize about Los Osos was the amazing art community! There's lots of local art galleries and studios in the area, and even a free, self-guided "Art Walk" every Second Saturday of the month.
Costa Gallery is a popular stop with photography from 20+ California artists, or you can check out Derek Schultz Studio and the Roots Gallery and for nature inspired art.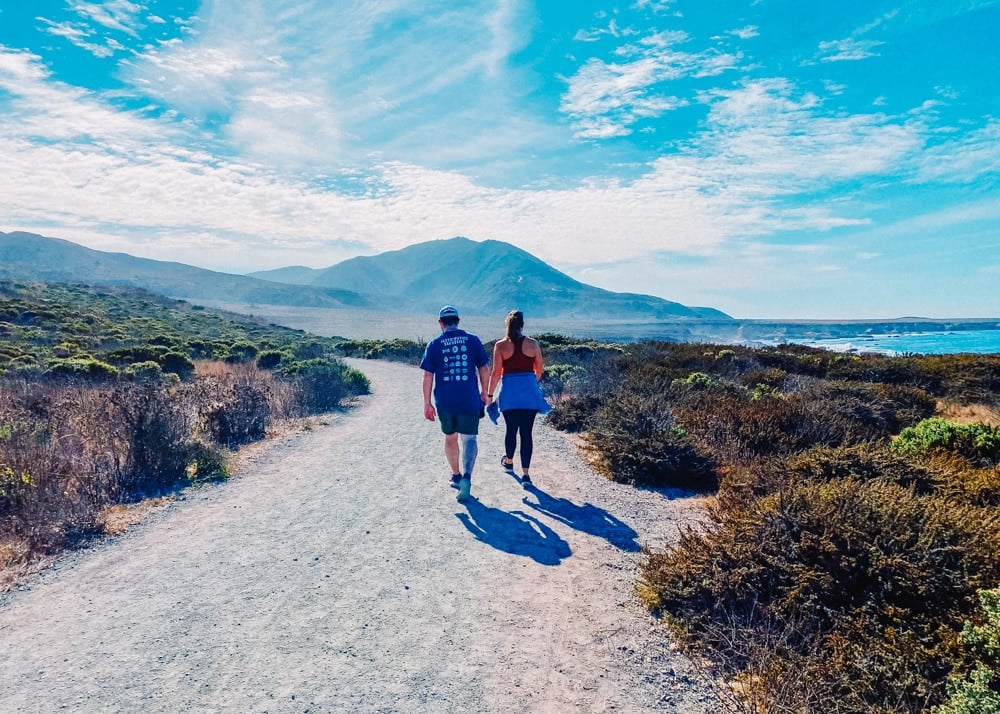 It's probably important to note that Los Osos is classified as a "unincorporated community" so it's truly a community rather than a town, and there's a lot of artists who make it up!
8. Eat a Sando at High Street Deli
One of the most popular sandwich shops in SLO, High Street Deli, has a second location in Los Osos with an amazing outdoor patio.
We recently visited for the first time because the OG location on High Street is usually super busy so we decided a trip to Los Osos would be fun, and it didn't disappoint.
Great location, same amazing menu plus Strauss Organic Soft Serve Ice Cream! My favorite sando is the Dutch Punch – it has turkey, bacon, jalapeño havarti, avocado and chipotle mayo, all on San Francisco's famous Dutch crunch bread.
9. Grab a Brew at Beerwood
Located in Downtown Baywood Los Osos, Beerwood (we love a play on words!) is a "gathering spot" for locals and Baywood's first "official" brewery. They have a full menu as well as daily specials featuring seasonal, local ingredients.
We haven't visited *yet* but when we walked past it was very lively!
Lots of people just hanging out, listening to live music and pets lounging around under tables. Such a good vibe!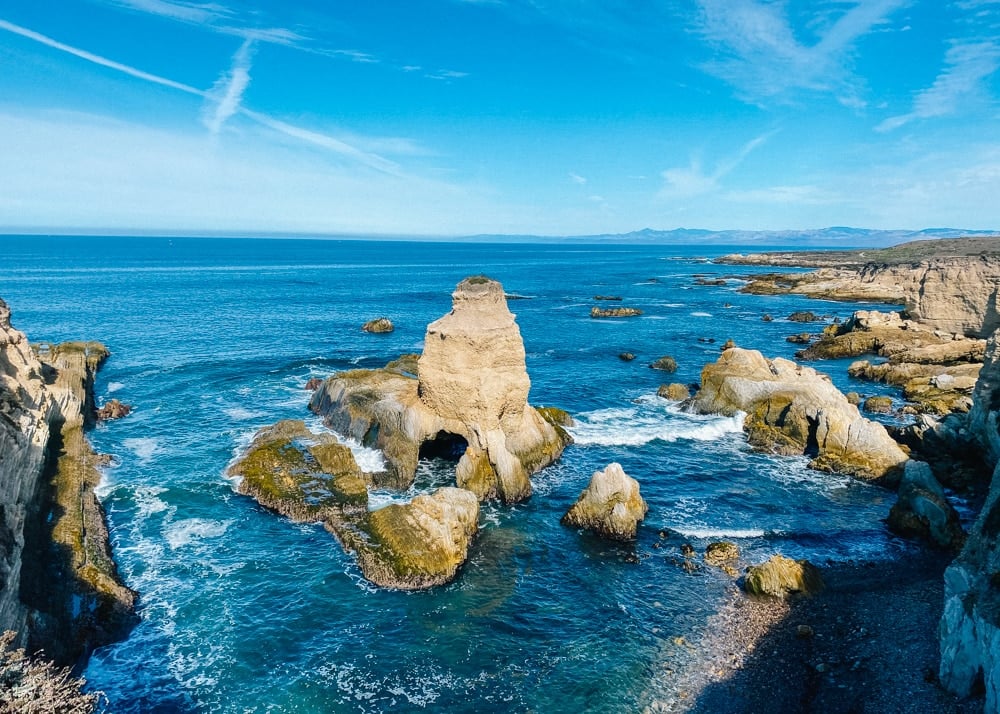 10. Birding at Sweet Springs Nature Preserve
I've recently discovered I love bird watching! I realized not everyone sees a bird, points and says "look how pretty!" I couldn't tell you what species or anything of that sort, but I love spotting a pretty bird.
I often see a pretty blue bird in my yard that I take lots of pictures of, and of course, hummingbirds in the flowers in front of our house. And it brings me such joy!
Sweet Springs Nature Preserve is a great place to go birding for professionals and amateurs alike. There's also some great views of Morro Bay and Morro Rock from the 32+ acres of natural preserved land. But no dogs allowed!
11. Get Your Ramen & Sushi Fix at Kuma
Consider this my love letter to ramen from Kuma. Not only one of my favorite restaurants in Los Osos, but probably all of SLO County.
The beautiful thing about the foggy, chilly weather of Los Osos (especially in the evenings) is it's always ramen weather. We're absolutely obsessed with their ramen, but they have lots of good stuff like teriyaki bowls and sushi rolls!
My favorite thing to order is the Spicy Miso Ramen with pork, sweet corn and mushrooms. I also add the garlic butter when I'm in the mood for it!
The small bowl is the perfect size for me, but I recommend the large if you're hungry after a day of exploring Los Osos!
12. Vist the Local Farmers Market
The Baywood / Los Osos Farmers Market is part of the North County Farmers Markets, and its held on Mondays from 2-4:30 p.m.
You can see exactly where here! Whether you're staying in an Airbnb and want to stock up on fresh fruits and veggies for your visit, or you're taking some fresh produce or artisanal goods home, you can get your fill at the market.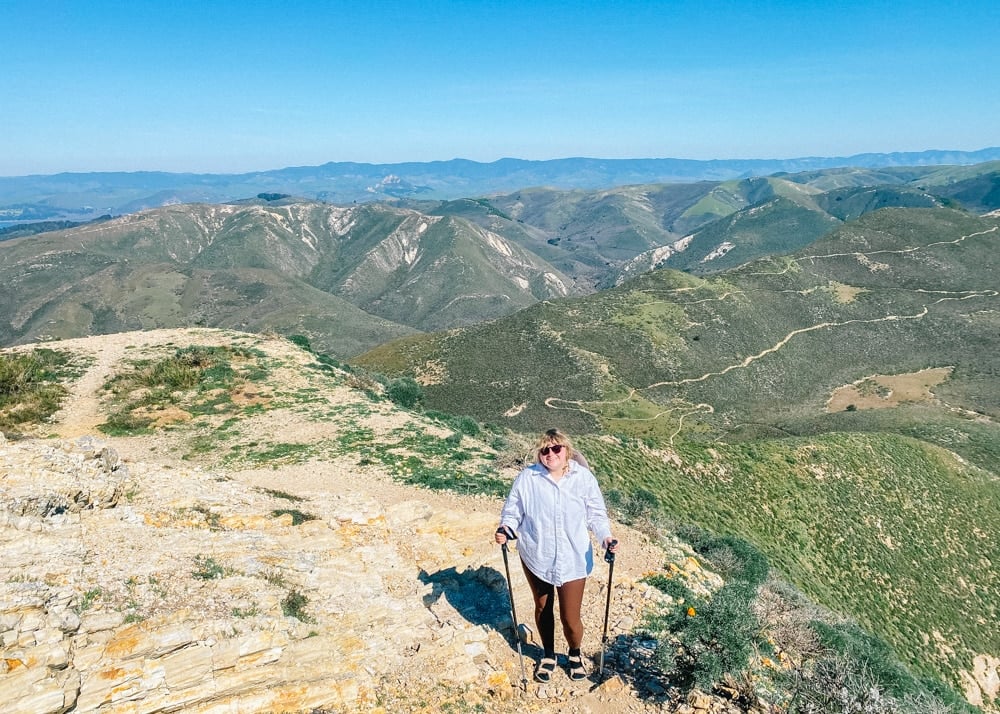 I also really like the Arroyo Grande Farmers Market that's held on Saturdays in the Arroyo Grande Village. Such a cute downtown area with fun shops, and good restaurants. The Downtown SLO Farmers' Market is pretty popular too!
It's every Thursday evening starting at 6 p.m. More than half of downtown is shut down for the HUGE event with fresh produce, local goods, food and live music.
If you're looking for more family fun in SLO County, you also can't miss Avila Valley Barn! I love visiting in the fall when it's filled with pumpkins, and hopefully the return of the Apple Cider Float – yum!
But there's always barn animals to say hi too, and it offers local items like jam and honey.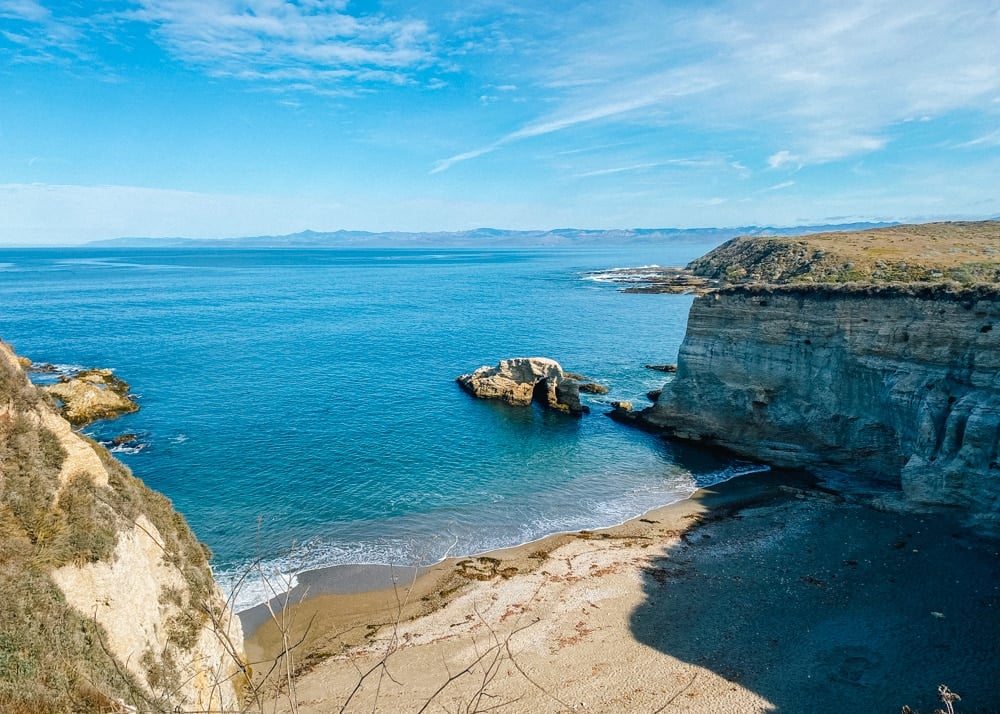 Have I convinced you to travel to Los Osos Baywood California? It's a total hidden gem along the Central Coast of California, and I hope you give it a chance! If you do, let us know in the comments!