Minutes after launching our kayaks into the Sugar River, we pulled out cold Spotted Cows, leaned back and started our lazy 2-hour float down the river.
Next time you find yourself in the Madison area, set aside a nice afternoon for a paddle down the river. You'll end up at a secret beer garden/taco shop/ outdoor live music venue that's so dang quintessential Midwest. So far it's been the highlight of my trip back home. In this post I'll be sharing more photos and must-know tips for your visit!
Float To Beer: A Tranquil Afternoon Sugar River Wisconsin Kayaking
Fee: Free to paddle! (If you bring your own kayaks)
Length: You can choose multiple launch spots ranging from 1-2.5 hours and about 5-7 miles.
Best season: Summer, when the water levels are high
What I love about this part of the Upper Sugar River Watershed Association is that it's totally free and open to the public to paddle down. My dad has a few kayaks, so we loaded them up in the car and drove them over to the Falk Wells Sugar River Boat Launch, the launch we chose to kick off from.
It's right off the 69 State Highway road. There's a sign and a little dirt parking section here, so you can miss it!
Need To Rent A Kayak?
Sugar River Outfitters offers paddling day trips following the same route as us starting at $45. They'll drop you off near Verona and you can paddle down to Paoli, but of course, they take care of loading the kayaks and shuttling you.
Even if you are bringing your own kayak, I suggest checking the Sugar River Outfitters website as they report the water levels! Some parts of the Sugar River are more creek-like vs river depending on the rainfall Southern Wisconsin had that year.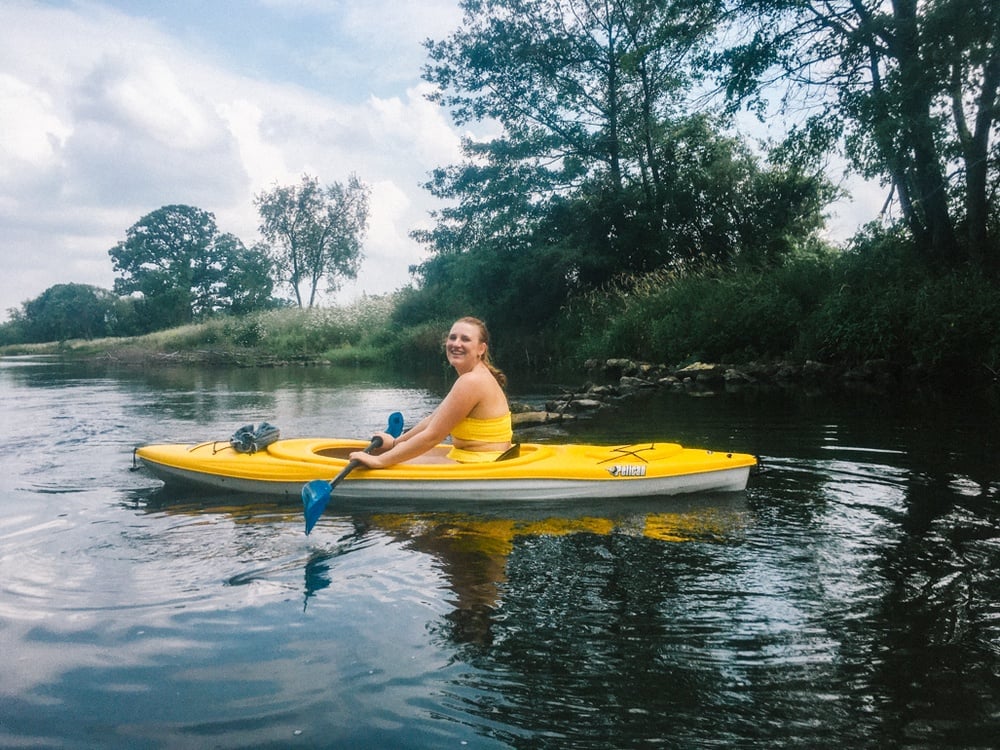 Wear A Swimsuit & Jump In The Water!
If you follow me on Instagram @thewhimsysoul you know that I can't stay out of the water — I love swimming holes, waterfalls and lake swimming. This year the water levels in the river were a tad low, but my Dad knew the perfect spot that was deep (so deep I couldn't touch the bottom!)
If you want to swim, look for the large silver drain on the right hand side of the river. There will be a small gravel area before it that you can pull your kayaks up on. Get out and swim!!!
Then, after you cool off, just get back in and paddle on. From here you'll go under a few bridges and even a mini waterfall (that's more like mini-rapids) and it's really fun. I suggest you bring beer (cans, not glass as it's not allowed), snacks and plenty of water to stay hydrated.
We lucked out and had an overcast day so we didn't get too overheated but it can get HOT. Make sure to pack out everything you pack in! Don't forget sunscreen – these are my favorite reef-safe sunscreens that you should wear while in the watershed to protect the environment.
End At The Hop Garden In Paoli
Our goal was the Hop Garden in downtown Paoli Wisconsin, a charming taphouse built into the historic Paoli Mill. It's right on the river, so it was super easy to pull out kayaks out and walk over for a cold IPA. I recommend doing a float on a live music event day (which is usually every weekend with the occasional Thursday night, too.) We got to see a great cover band that played everything from Lorde to Johnny Cash.
We came on a Thursday and timed our paddle to arrive right around 5pm, when the music started. Working up an appetite we practically beelined to the Molino Taqueria on the side of the Mill. I can't stress enough how freaking tasty this place it ! I recommend a burrito. The Pork Pastor and Paoli Street were the group's favorite.
Dogs are allowed here and you'll absolutely spot Raza, the Mill Dog running around during your visit.
After you get your fill of beer, try one of the cocktails in a bag from Tipsy Gypsy. YES, cocktails in a bag and they are so freaking good!! I suggest asking for a bartender's choice. They'll probably ask you what alcohol you like best (gin, etc) and make you something amazing. Our bartender made us a Bourbon Sour that hit the spot on a hot day.
I go kayaking a few times a week in Sausalito, but that's on Bay water, which is so different than a river. So this was a fun experience for me. This day trip kayaking down the Sugar River was seriously cool and I think you'll love it next time you're in Southern Wisconsin.
Got tips to add? Leave a comment so everyone can see! Got questions? Leave a comment or DM me on Instagram @thewhimsysoul and I'll try to help!
Stay adventurous.