Hot girl summer has sadly come to an end but for those of us in the Northern Hemisphere of the world, witch bitch autumn has begun. The fall equinox began on September 22nd meaning it's time for those pumpkin spice latte and fuzzy, warm sweaters to make an appearance
Autumn (or fall—whichever one is your style) marks the beginning of Halloween preparations. In my opinion, there are two types of people in the world; Christmas people and Halloween people. Both sets of people wait anxiously the whole year just to design their houses and windows with decorations and spend one day in total bliss.
70+ Chilly Yet Cute Halloween Messages, Quotes And Caption Ideas For Spooky Season
Despite which type of person you are, Halloween is always a blast whether you go trick-or-treating in your Halloween costumes or stay at home and binge-watch movies on Halloween night, it's a day that everyone celebrates across the world in their own way.
For those who want to commemorate this October holiday with a social media post, I have gathered 70+ Halloween captions and images for Instagram. Whether you want to send your friends greeting cards, some Halloween messages through text or just need a few Halloween Instagram captions, this post has enough content for all your needs.
You'll notice that some of these Halloween sayings are also Tiktok trends, I've linked the sounds so you can make your own version!
70+ Clever Halloween Messages, Halloween Instagram Captions & Greetings Ideas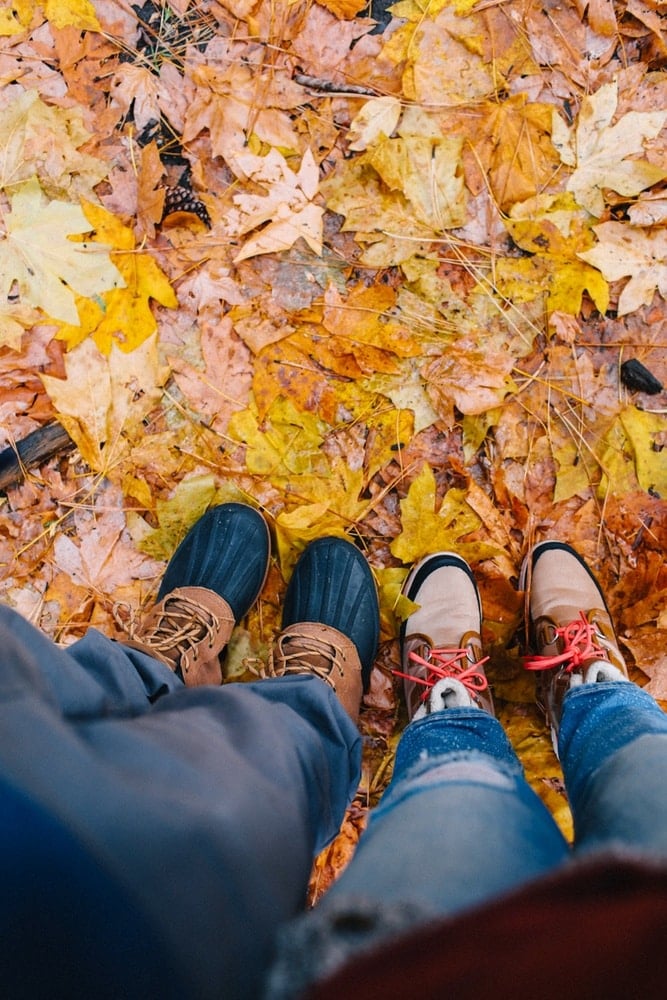 Halloween Captions For Couples
"When we first met years ago, it was an evening much like this. Magic in the air."—Morticia, The Addams Family
Me and my boo
You are the pick of the patch
Hey pumpkin
Love at first bite
Forever your zom-bae
My little boo thing
Witch Instagram Captions
Bad witches only
Resting witch face
Witchful thinking
I drive a stick
Witch better have my candy
I'm 100% that witch
Bow down witches
Witch, please
BYOB (Bring Your Own Broomstick)
I put a spell on you
If the broom fits, ride it
Halloween Captions With Friends
The boo crew
Squad ghouls
Join our coven
Creeping it real with my bestie
We came for the BOOOze
Basic witches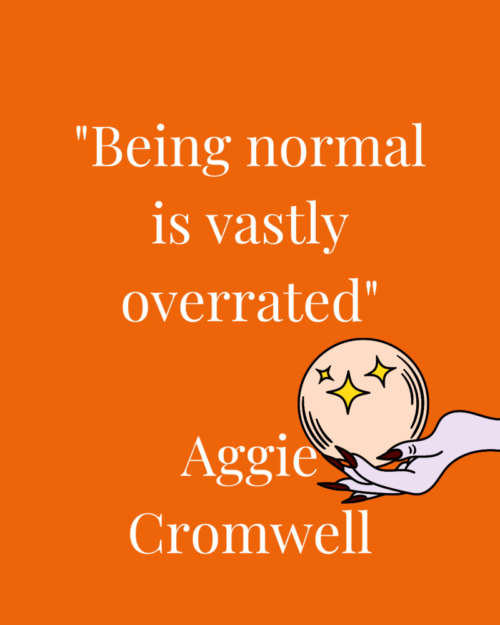 Halloween Movie Quotes
"Being normal is vastly overrated."—Aggie Cromwell, Halloweentown
"Everyone hail to the Pumpkin King."—Corpses, the Nightmare before Christmas
"I just can't wait until next Halloween 'cause I've got some new ideas that will really make them scream."—Jack Skellington, the Nightmare before Christmas
I Would Like, If I May, To Take You On A Strange Journey. – Rocky Horror Picture Show
"Welcome To Prime Time, Bitches!"—Nightmare on Elm Street, Freddy Krueger
"Hi, I'm Chucky. Wanna play?"—Chucky, Child's Play
"I've seen enough horror movies to know that any weirdo wearing a mask is never friendly."—Elizabeth, Friday The 13th Part VI: Jason Lives
"The butler did it? You got to be kidding me."—Jim, The Haunted Mansion
"It's a full moon tonight. That's why all the weirdos are out."—Dani, Hocus Pocus
"Don't be a hater, dear. In this whole wide wicked world the only thing you have to be afraid of is me." – American Horror Story
"Happy Deathday" – Harry Potter
"I see dead people" – Sixth Sense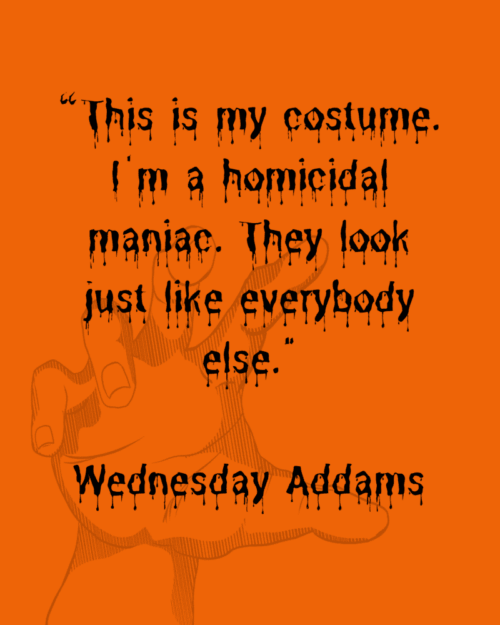 "Don't let the muggles get you down."—Harry Potter and the Prisoner of Azkaban
Linus: "You've heard of the fury of a woman scorned, haven't you?"
Charlie Brown: "Yeah, I guess I have."
Linus: "Well, that's nothing compared to a woman who has been cheated out of tricks-or-treats."
"Have you come to sing pumpkin carols?"—Linus, Charlie Brown
Morticia: Wednesday's at that very special age when a girl has only one thing on her mind.
Ellen: Boys?
Wednesday: Homicide.
(This quote has been used in a multitude of Tiktok videos, if you want to make your own version, here is a link to the sound)
"Please don't kill me, Mr. Ghostface, I wanna be in the sequel!" —Tatum, Scream
This is another Tiktok sound that has gone fairly viral (depending on what side of the app you are on). Check out the videos under the sound and make your own version if you want!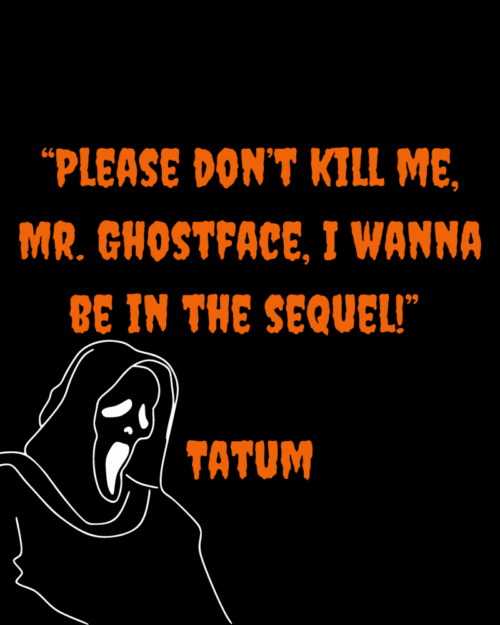 "I'm the ghost with the most, babe."—Beetlejuice
"Don't make me get the flying monkeys."—The Wicked Witch of the West, "the Wizard of Oz"
"I'll stop wearing black when they make a darker color."—Wednesday Addams, The Addams Family
Funny Ghost Captions
Ghosts don't give a sheet
Ghouls just want to have fun
You can see me?!?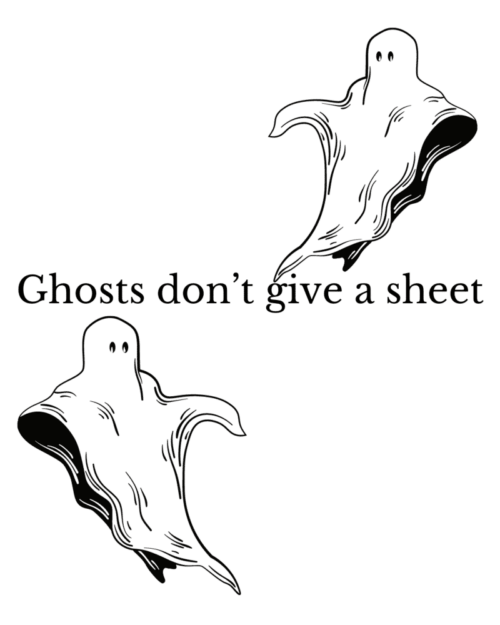 Funny Halloween Captions For Instagram
Avoid the walking dead. Take the bus.
Zombies love a girl with brains
Vampires drive me batty
Happy Howl-een
I never met a pumpkin I didn't like
You're never too old to beg for Halloween candy
"I'm not superstitious, but I am a little stitious."—Michael Scott, The Office
Cute Halloween Quotes
I'm here for the boos
If you've got it, haunt it
Trick or treat yourself
Bootiful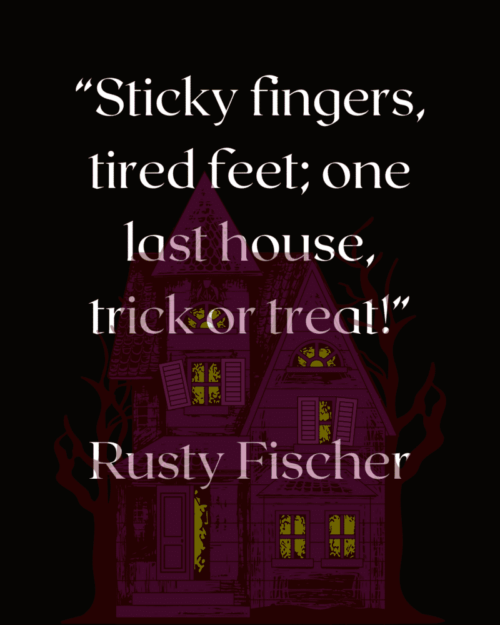 Happy Halloween Wishes
For all the October kids in your life who have spooky season birthdays and have Halloween party plans!
Wishing you a spooktacular Halloween!
I witch you a Happy Halloween
Witching you a very haunted Halloween!
Sending spooky love your way
Funny Halloween Messages For Cards
"Hey, WITCH! Keep calm and carry a WAND!"
"WITCH-ing you a Happy Halloween! Thank you for inviting us to your costume party – it was a FANG-tastic night and we both had a HOWLIN' good time. You are definitely the GHOSTESS with the mostest."
I would make a skeleton joke, but you wouldn't find it very HUMERUS. I also have some vampire jokes, but they SUCK. We can't wait to have a fun fall with you, filled with lots of BOO-ze and maybe even a few sand-WITCHES. We love you like a zombie loves brains."
Hey GHOUL-friend! I took a DNA test and I'm 100% that WITCH! It's officially spooky season and that can only mean one thing – time to get SHEET-faced!"
Short Halloween Messages & Captions
Cauldron bubbles and troubles.
Join the spooktacular soirée!
Wickedly wonderful.
Hauntingly good times.
Fangs for the memories.
Cursed with cuteness.
Creepin' it real.
Enchantingly eerie.
Brew-tiful night for scares.
Don't be a scaredy-cat, it's just Halloween!
Goblins and giggles.
Enter if you dare.
Sweeter than candy corn.
Magic and mischief in the air.
Fangs and kisses.
Ghoul times with great friends.
Brew up some fun!
Spookiness level: expert.
It's boo-tifully spooky out here.
Beware of the shadows.
Haunted by good times.
Cauldron cakes and broomstick treats.
Pumpkin spice and everything eerie.
Haunting the neighborhood with style.
A dash of magic, a sprinkle of scares.
double, double toil and trouble
What's up, pumpkin patch?
A real witch is nothing without her ghoul friends.
My broomstick runs on scares.
Absolutely fa-boo-lous.
Too cute to spook.
This witch can be bribed with chocolate.
Keep calm and carry a wand.
Have a Scary Halloween and Happy Boo Year!
Creature feature.
Witch-ful thinking.
Mummy of the year.
Gone haunting.
Ghouls just wanna have fun.
Boo from the crew.
Happy Howl-oween.
Scream queen.
Brrr … it's cold in here. There must be some spirits in the atmosphere!
HalloQueen
Something wicked this way comes.
Welcome to my lair.
Ready, set, ghoul!
Keep calm and scare on.
Bugs and hisses.
Too ghoul for school.
Eat, drink, and be scary.
You've got me under your spell.
Pick your poison.
Ghouls just wanna have fun!
Mischief managed.
This is where the magic happens.
Bad to the bone.
Have a fang-tastic Halloween.
Cutest pumpkin in the patch.
Absolutely fa-boo-lous.
#HotGhoulFall
Witch-ing you a very Happy Halloween!
Something wicked this way comes.
Have a better costume than me? That's just witch-ful thinking.
Too cute to spook.
Witches like wine
Have a fang-tastic Halloween.
Halloween Captions From Songs
If you're looking for a fun Halloween message for captions to to put on a Halloween card for loved ones, try these!
"I put a spell on you."—Screamin Jay Hawkins
"Monster mash."—The Crypt Kickers and Bobby Pickett
"Creatures crawl in search of blood."—Micheal Jackson
"To me, everyday is Halloween—Ministry
Scary Captions
For those Spooky halloween wishes and halloween greetings with a little more spice…
"A ghost can be a lot of things. A memory, a daydream, a secret. Grief, anger, guilt. But, in my experience, most times they're just what we want to see."—Steven Crain, The Haunting of Hill House
"This is my costume. I'm a homicidal maniac. They look just like everybody else."—Wednesday Addams, The Addams Family
"Halloween is a day in which some people choose to wear a mask, while others finally feel safe to take theirs off."—Steve Maraboli

Quotes About Halloween
"When black cats prowl and pumpkins gleam, May luck be yours on Halloween." —Unknown
"When witches go riding, and black cats are seen, the moon laughs and whispers, 'tis near Halloween."—Unknown
"I'll bet living in a nudist colony takes all the fun out of Halloween."—Charles S. Swartz
"Some people are born for Halloween, and some are just counting the days until Christmas."—Stephen Graham Jones
"Where there is no imagination, there is no horror."—Arthur Conan Doyle
"Shadows of a thousand years rise again unseen, voices whisper in the trees, tonight is Halloween!"―Dexter Kozen
"Sticky fingers, tired feet; one last house, trick or treat!"—Rusty Fischer
"On Halloween, witches come true; wild ghosts escape from dreams. Each monster dances in the park."—Nick Gordon
"Do you believe in destiny? That even the powers of time can be altered for a single purpose?"—Brem Stoker, "Dracula"
"Double, double, toil and trouble; Fire burn, and cauldron bubble!"— William Shakespeare, Macbeth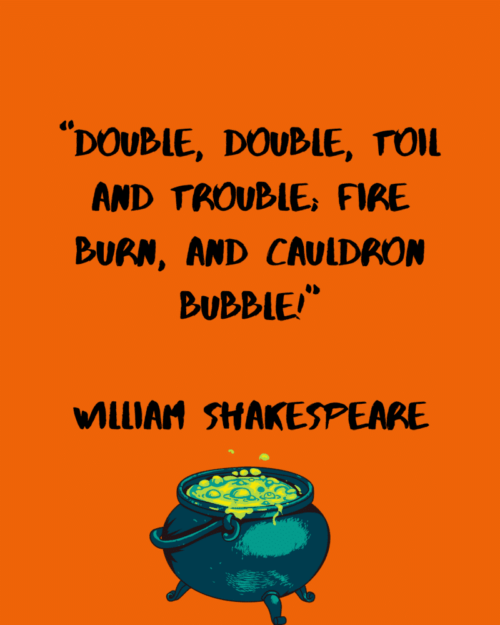 "I love Halloween, and I love that feeling: the cold air, the spooky dangers lurking around the corner."—Evan Peters, American Horror Stories
"Beware the autumn people." ―Ray Bradbury, Something Wicked This Way Comes
"I'm A Wild And An Untamed Thing. I'm A Bee With A Deadly Sting."—Rocky Horror Picture
"There's nothing as cosy as a piece of candy and a book."―Betty MacDonald, 'Mrs. Piggle-Wiggle's Magic'
"Halloween wraps fear in innocence, as though it were a slightly sour sweet. Let terror, then, be turned into a treat."—Nicholas Gordon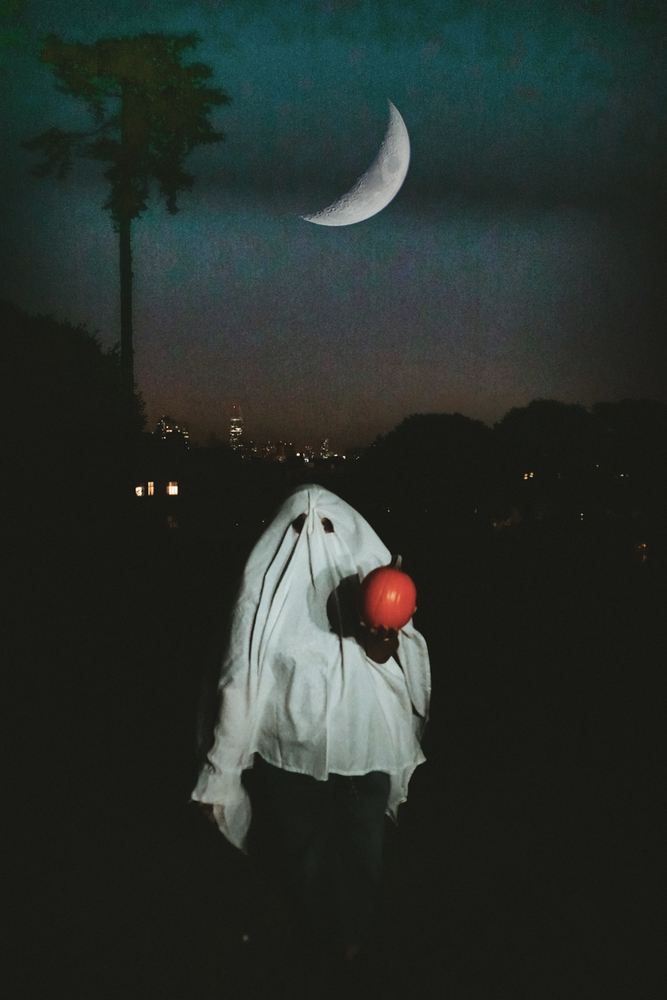 If you haven't thought of a Halloween costume yet, hopefully, some of these Halloween captions will be able to spark your creative side and inspire you with Halloween costume ideas. Halloween is a month away so start feeling that holiday spirit and stock up on those candies if you haven't already! When in doubt, you can also do the lazy route of a ghost photoshoot.