I felt like we were whisked back in time to the 1960's when we pulled up to the Kimpton Goodland hotel. This Santa Barbara boutique hotel oozes old school California charm with it's retro (yet chic) decor, the old vintage car parked out front and even an airstream trailer for guests to enjoy.
Location: 5650 Calle Real, Goleta
Good for: Couples, friends, business
Type: Boutique
Come happy hour (which is free, by the way, just as it is at every Kimpton Hotel), we enjoyed appetizers and wine before staying on-site for dinner and trivia night… which we failed at miserably but had oh so much fun on that outdoor bar patio under twinkle lights. If you're hunting for an Instagramable hotel for your coastal California trip, this is it. Come along with me as I show you around the Kimpton Goodland.
First things first: you'll need a car if you plan on staying at the Kimpton Goodland. You probably used to get to Santa Barbara to begin with, but always good to reiterate that this hotel isn't in walking distance to any of the sites you'll go to (like the Santa Barbara Mission.)
It's tucked off in Goleta, which is a short 10-minute drive from downtown Santa Barbara and that's probably the only downside of staying at this hotel. But Uber rides into the city for dinner and drinks is cheap and otherwise, you'll be driving everywhere around the coast anyway, so it's not a huge deal.
And seriously, I can't stress it enough: this hotel is so freaking cool, it's worth it. We stayed in Santa Barbara for 4 days and I was stupid and only booked one night at the Kimpton. I wish I booked our entire trip here. (I wanted to check it out, but also booked a hotel in downtown Santa Barbara that was a major let down. UG) Everything about the Goodland is just perfect.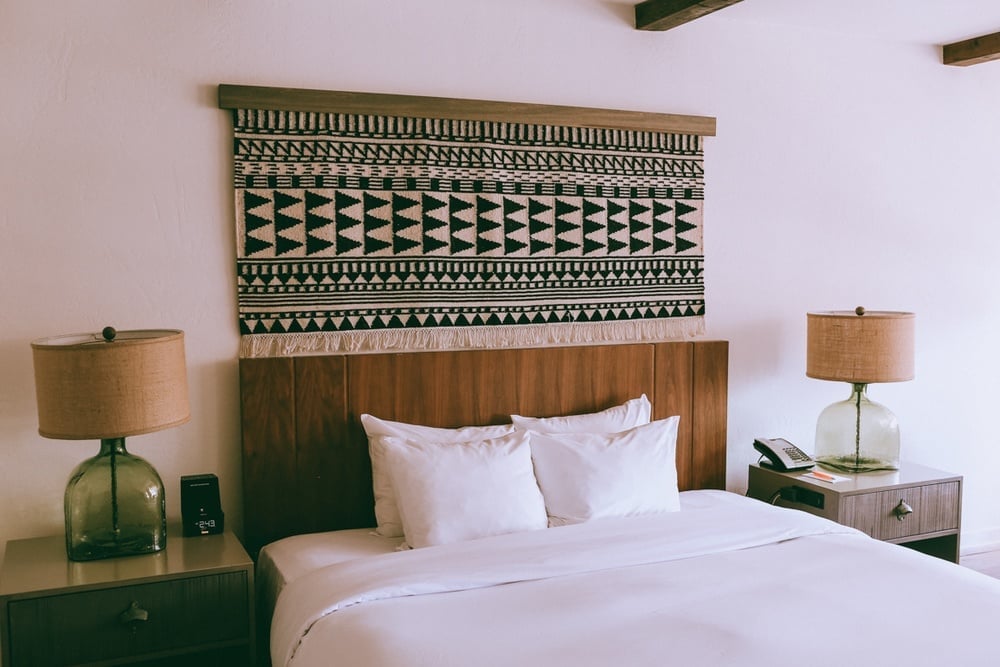 From the color to the chic pool area, to the happy hour and restaurants, they nail everything right here. There's a record player in each of the rooms and they even have a VNYL record shop on site for all the music lovers visiting. Plus, Kimpton is part of the IHG family so if you are a rewards member (totally free to join, we did!) you can get a $10 credit to the Outpost or Good Bar for drinks. SCORE!
Kimpton Goodland Amenities
Free parking
Wifi
Pool
Record shop
Record player in each room
Yoga mat in each room
Free happy hour
Free morning coffee service
"Forgot it? We've got it!" essential travel items
Robes
Top-tier bath products
Dog friendly
Whenever we make it back down to Santa Barbara, which I hope is soon, I will absolutely be booking us a long trip at the Goodland. I have such fond memories of curling up next to my husband on the couch at the Good Bar patio, sipping local craft beer and playing trivia with other guests.
We failed so hard – so many of the questions were about local Santa Barbara things that we didn't know, but it was still so much fun to learn and laugh. Plus, it was awesome just rolling out 100 yard to our hotel room instead of calling an uber! If you're looking for the most Instagram-worthy hotel on the Central California Coast, this is probably it.
We're always a fan of Kimpton Hotels and usually stay at one when traveling. (Fairmont are our other go-hotel family, they just have so many fun castle hotels we can't pass up on!) Check out some other Kimpton properties we love: