Confession: I hate jeans. Well, jeans usually hate me. As a curvy size 12 woman, it's been a lifelong struggle to find jeans that actually fit my shape AND are comfy to wear AND are cute.
I usually shop jeans at Old Navy, Target or American Eagle but I recently discovered Madewell jeans by accident via a Stitch Fix box.
I was sent a pair of High Rise Skinny Jeans & I swear when I put them on, I had one of those "hallelujah" moments you see in movies where angels sing and the jeans glow with heavenly light for a second.
But, are all Madewell jeans just as good as this pair? Did I luck out or is Madewell a place that all curvy and plus-size women should shop jeans from?
Keep on reading this post for my 100% honest Madewell jeans review and if they'll make my (very) shortlist of places I shop jeans from!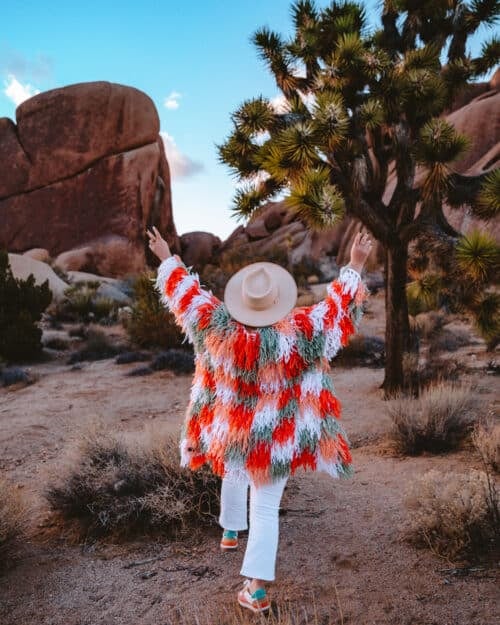 Madewell Jeans Review 2023: All The Best Styles You'll Love (And The Ones You Won't)
So, I ordered 7 new pairs of jeans and combined with my original first pair, I'm reviewing 8 pairs of jeans for this.
I wanted to try a bunch of different styles of styles (and shorts!) so see how wearing Madewell jeans fit my curves, and if their sizing system can be crossed over to multiple styles well (or if it's a fail.)
These are the jeans I got:

Madewell jeans sizing review
(This post was updated from 2019 and I now wear a size 14 jean for full transparency!)
I wear a size 12 normally and my Madewell pants size is W31. I think Madewell denim sizing is pretty good across different styles. I did have an issue with two pairs, as you can learn more about in the video.
It was WAY too tight and small despite being a size 31. I also had issues with a second pair but I did have to try a size 30 because they were out of 31. That being said I think I would have had to size up to a 33 to make that pair fit.
But, 6/8 is a really good track record and thus I think Madewell jean sizing is mostly accurate and consistent. You can confidently shop one size across almost every style and get a great-fitting pair of jeans!
Pro tip: pay attention to the fabric softness rating on jeans. I prefer stretchy jeans vs stiff ones.
Overall, I was really impressed by the jeans. 6/8 fit perfectly and were really comfortable yet chic to wear, which like, NEVER happens to me!
I seriously have to much trouble finding the perfect pair of jeans. Here's my review on each pair along with sizing tips.
The Best Madewell Jeans 2023 – Which Styles To Buy & Which To Skip
Cali Demi-Boot Jeans in Pure White
I've always loved the idea of white jeans. They go with everything and are particularly cute for summer outfits. But I'm also clumsy and tend to spill whatever I'm eating on myself.
But I finally pulled the trigger on the Madewell Cali Demi-Boots Jeans in Pure White and hot dang, I'm in love. They are just a tad tight because the fit is stiffer than some other jeans, so I suggest sizing up.
But they're comfy, pair well with tops and hug my butt in all the right ways. They're similar to the Stovepipe Jeans in Pure White but better in my opinion.
I've taken these babies out on quite a few spins (from desert adventures in Joshua Tree to happy hour at my local Tiki bar) and have managed to keep them just as dazzling white. If you're also hesitant about white jeans, just do it.
Verdict: Buy them (but size up 1 size!)
Madewell Perfect Vintage Jean
I tried a pair of the new perfect vintage style jeans which are vintage-y structured denim with a touch of stretch for a broken-in feel.
They have mom jean styles, too. I opted for a black pair of The Mid-Rise Perfect Vintage Jeans in Clean Black Wash since it is recommended for girls with shorter torsos or petite gals, so I was hoping it would sit higher on my waist.
And it did, a bit. It's not exactly a high waist but I'm a little shorter so it worked. These are straight legs which is different than slim straight jeans. Not exactly a boot jeans but not super skinny. I liked that.
I did end up keeping these and wore them for about a year before I outgrew them. They worked well with fall and winter outfits.
Verdict: buy them
10″ high-rise skinny jeans in Hamden wash+ velvet wash
The Hamden Velvet wash was my original pair of high-rise jeans that turned me onto Madewell in the first place. I loved that the high waist covered my belly button BUT doesn't squeeze too much.
The fabric is really stretchy so they are comfy to wear. I've worn these jeans on the couch while working, or out for hikes in places like Yosemite. They're versatile and sturdy!
The new Hamden wash fit just like the velvet maroon fabric, which is awesome! I adore wearing these jeans with t-shirts and sweaters in the cold months, or crop tops in the summer. If you're curvy, either wash will serve you well.
Verdict: Buy It
High Rise Slim Boyjean Jean
I didn't personally try Plus High Rise Slim Straight Boyjean in Prentice Wash: Ripped Edition but a friend of mine loves her pair so I wanted to include them.
She ordered them in the plus size and raves about how comfy they are. The jeans are made of Heritage Stretch organic cotton denim to ensure extra stretch over curves. She used the Madewell jeans size chart to help pick here since Madewell sizing isn't the same from pant to pant.
The leg isn't a classic straight since it's frayed a bit but it looks great, especially paired with loafers or sandals in the summer.
Verdict: buy it!
Curvy perfect vintage jean in Fitzgerald wash
Madewell has a line of curvy jeans specially designed to fit curves, so I was really shocked to find that the curvy jeans I bought didn't fit well at all.
I did have to size down one since they were out of my normal size, BUT even so, these jeans were WAY too tight and stiff. I could barely sit down in them and I don't think they would be comfy to wear all day.
The fabric is just too stiff for a body like mine that needs gives on pants. I think sticking with their other styles of jeans is the way to go as I can't provide a positive Madewell curvy jeans review on this pair.
Verdict: Skip It
As a curvy gal, jeans shorts are usually just not my friends. At all. It's easier finding a four-leaf clover than it is finding a pair of jean shorts that actually fit well — something that is roomy enough for my thighs, hugs my butt and is tighter at the waist.
I FINALLY found them with these Madewell shorts! The name says it all – Madewell's Perfect Jean Short goes high enough to cover my belly button, something I always look for in shorts.
But the top doesn't squeeze, and the leg holes don't squeeze either. They have a good shape and pair oh-so-well with summer pieces like swimsuits, blouses and sunhats.
Verdict: Buy them!! But get two sizes to make sure you find the perfect fit.
Paper bag jeans in Flannigan wash
I have never tried paper bag jeans before, only pants in different materials. I think Madewell did such a good job on this pair of jeans!
The fabric is very soft and stretchy, I could wear these all day. I love paper bag pants on curves because the loose top makes it easy for all shapes and sizes to easily wear one pair of jeans. Plus, the bow is cute!
Verdict: Buy It
Wide-leg crop jeans: garment-dyed edition
I loved these jeans!! They look a lot like pants due to the color and cut, but they're actually denim. They have a raw hem at the bottom and instead of a zipper, 4 buttons.
I will say, the buttons would be annoying to do and undo all day after bathroom breaks (I pee a lot, ok??!) but other than that issue, these jeans are very comfy and flattering.
I think pairing these with a wrap top and heels would be very cute, especially in hot summer months like August!
Verdict: Buy It
10″ High-Rise Roadtripper Supersoft Jeggings in Mcleod Wash
I don't care what Gen Z says, I'll never stop loving the look of skinny jeans. But I hate how uncomfortable jeans can be — thus my passion for jeggings. Madewell's Roadtripper jeggings are named well.
I could spend all day in a car wearing these babies. I test drove them in the park here in San Francisco last weekend (sitting down, eating wine for 3 hours) and no squeezing! Woohoo!
The only thing I don't like about these jeggings is somethings the front bunches up a bit so I do find myself pulling them up a few times over the course of the day.
But the tradeoff is a pair of jeans that are *almost* as comfy as leggings. And that's super rare.
Verdict: Buy them.
High-rise slim crop boy jean: bleached dot edition
This was the other pair of pants that was a fail for me. I really liked the pattern — have you ever seen polka dot jeans before?! I sure haven't!
But, they were just way too small and stiff. The top waistband was too loose while the area around my thighs too tight. They just didn't fit my curvy shape well at all.
Verdict: Skip It

Conclusion
In conclusion, I think Madewell makes great jeans. If you're curvy and struggling to fine a pair of jeans that flatter your curves and don't squeeze the living daylights out of ya, shop here.
Yes, they are expensive averaging at around $100 a pair but they are made very well and can be worn for literally years and years, so your cost per wear is pretty cheap. Make sure to look out for sales so you can save a bit of money!
My main piece of advice when shopping Madewell jeans is to order at least 2 sizes of every jean you buy to get to know how their sizing fits you to make sure you get our perfect pair!
My shipment was shipped fast and with minimal packaging (yay for the environment) and so far, I haven't had any issues with returns (they do free shipping back!) If I do, I will update here.
Frequently Asked Questions About Madewell Jeans
How does Madewell Sizing Run?
Each pair of jean runs differently! It's a bit annoying to check the Madewell size chart for each purchase, but because some are high waist or low waist, others are strech fabric vs more stiff and so on and so on, they can't all run the same.
How is Madewell Sizing Compared To Gap?
It's been a few years since I shopped at Gap, but I think Madewell does a much better job of offering detailed sizing notes so you can find the perfect pair online.
Are Madewell Jeans True To Size?
As we covered – you have to use their size chart but it does a good job at guiding you to the right size!
Is Madewell Fair Trade?
They're making efforts to be Fair Trade Certified and plan to have 90% of their denim under Fair Trade by 2025. This is always good but I'm super pumped about the reduction of chemicals used in the process. Yay environment!
Have you shopped at Madewell before? I'd love to hear your Madewell reviews and if you love their jeans, too! Or, if you hate them! Leave a comment below or DM me on Instagram @thewhimsysoul to tell me!

Video Transcript
(for my hard of hearing readers/video watchers!)
Kara:
I have such a hard time finding jeans that fit me well.
Kara:
Hi guys, welcome back to the Whimsy Soul channel. I'm so happy you are here because today we're going to be doing a Madewell Jeans review. As you guys know, I'm curvy, I wear a size 12 and I got a big butts and big thighs. And as I talk about on Instagram a lot, you can check out my profile here. Jeans are not always my friend. Actually, in fact, I usually don't like wearing jeans, so when I find a pair of jeans I really like, I feel like I have to tell the whole world about it. For the most part, the only companies that my butt can fit into well are like Old Navy, Target, sometimes American Eagle and more recently, Madewell, which is very nice and surprising. I love having another option.
Kara:
I accidentally discovered Madewell Jeans and a Stitch Fix, like a random Stitch Fix box and they sent it to me and it's something I normally wouldn't have tried because Madewell Jeans are a little more on the pricier side. They're closer to the $100 range. They sent it and I put them on. I was like, "Holy moly, these are probably some of the best skinny jeans I've ever owned in my entire life." So I kept them, but I haven't tried anything else in Madewell Jeans, so I don't know if I just lucked out on a pair of jeans that fit my curvy shape really well. All their jeans are fantastic, so that's what we're here to discover today.
Kara:
I picked out five different jeans and then also the one that I'm wearing right now, to be reviewing with you. So I have six different styles of jeans. I made sure to pick up sizes, all sorts of sizes, all sorts of fabrics. So you can really just see what this is all about. I moved the camera, now me standing up so I can show you the jeans. I want to apologize for the slightly awkward setup. I live in a small apartment and it's kind of hard to back up far enough where you can see the whole outfit. So I hope that you can see the jeans all right like this. Let's get going. So the jeans I'm wearing right now, these are the ones that started at all. So these are the ones that I got in my Stitch Fix order and I put them on and I immediately was like, "Holy moly, these are so great."
Kara:
So what I like about them is they're so stretchy, look at that. I might not physically be able to do this, but the jeans can, they're so stretchy and they're actually really comfy to sit in all day. I think they hug my butt really nice. But yeah, so like they don't squeeze too much. I mean they are high waisted jeans, so I do get a little bit of squeeze there when I'm like super bloated. But for jeans, I think these are great. These are their high rise skinny jeans. I'm going to be linking all the jeans below in the comment and also in the blog posts. So you can go shop those there and look at those later if you want. Do not worry. I don't know if you can see my cat over there taking up.
Kara:
Next up, I'm going to be trying these amazing pink jeans, matching the color of my locker, basically. These are the wide leg cropped jeans. A quick thing to know, I am wearing a 31 and everything. That's what this is, a 31 regular. So I got 31 regulars in all of the jeans, so you can kind of compare the style and the size across the board. So these are the 31 wide leg crop in pink. Let's try them on. Actually before I try this on, I did want to show you that there's this thread loose at the back of the pocket, so that is something I'd cut off. But just something to note that there are some loose threads, but that's really the only stitching issue I can find here.
Kara:
This is my first time putting these on. Okay, okay. I can get them pretty well, which is great. See if I can tuck my shirt in. Oh, okay, so there's some buttons down here instead of a zipper, which is interesting. I feel like that would be annoying, like going into the bathroom a lot in the day. But I dig it, it looks cute. So I think that these are pretty nice. Let me see. Yup, I can kick… I can kick really well in them. Nice and stretchy, let me see. Yup, yup, I can move really well. An issue I have a lot sometimes with jeans is like the bottom half will fit, but the top is too loose. But I'm not having that issue here. I think they're really comfy. Hold on. Let's do the sitting test.
Kara:
If you are curvy, you know exactly what I'm talking about. I always have to sit down and try a pair of jeans to see if you could sit all day in these. Okay, yeah, these are actually pretty great. They don't really squeeze too much, they're pretty comparable. I definitely could spend all day wearing these jeans. My butt looks nice. So I'm going to give the wide leg crops a thumbs up. All right, so next up is this pair and this is actually the curvy perfect vintage jeans. So this is from their curvy specific line. So I'm super pumped to see how this fits compared to some of their like straight size jeans. I will say this is the 30, a size 30, not a 31 because I believe that you are all out of the size 31, so I had to size down. So hopefully that doesn't cause an issue.
Kara:
Oh that's a little tight. All right, so this is a little tight, but that is probably because I had to size down one. Let's move this chair. So I'm not entirely sure if you can see it well. Let me, oh wow. I cannot move my leg up. So this is very stiff. This is kind of like as far as I can move my legs. I'm trying to show you the cuffs here, you can see, I'm awkwardly… They come pre-rolled, which I think is super cute. But yeah, they're just very stiff. I think I already know the answer. Oh, cannot sit down in these. All of a sudden I'm like a pregnant woman and I have to sit like this. So these are too tight. Again, they're a size lower than I normally… Oh that is tight. They are a size normally than I normally get. They're a size smaller than I normally get, but I'm not sure if that, I think I would have to, I think in order to make these fit I'd have to size up quite a bit.
Kara:
But other than that, like the general fit is pretty good. Like up here, it's not too loose. I don't have anything hanging open here. It's just they are way too tight. I find that pretty surprising because these are the curvy jeans, so you'd think that these would be the best ones, but not a fan. All right, next up is a paper bag pair of jeans, which I'm super excited to try. I have some paper bag pants that are not jeans. So this is the first time I am working with this style in this material. Okay, so already I can tell that this material is so soft. It's a lot more forgiving than the last pair we just tried on. Okay, it has a zipper and then a little slidey thing, so no buttons. It's pretty standard for pants like this. And then a little bow you can tie, which I'm always very terrible at, so I have to figure out how to do that.
Kara:
Okay, I am enjoying these quite a bit so far. So you can see they hit above the ankle, which is really nice. Oh my God, they have pockets. Oh, they have pockets and in the back too. These are great pockets. I don't think they stick out too much, which is great. Sometimes on pants you get pockets that stick out really awkwardly. Let's see if you can sit down in them. I think the answer's going be yes. Oh yeah, yeah. I could easily spend all day working in these. These are definitely curvy and plus-size friendly. Not very much squeezing at all. That's why I really like paper bag pants, is that they're super loose and forgiving at the top. Yeah, I think I can even like cross my legs in these. That's great. I think that this looks really cute with this shirt on that I have right now.
Kara:
I picked just like a basic white tee for this review, but yeah, I would style this with some boots. This looks great, yup yup. Had to do the kick test, going to do them for every single one. Okay, next up is this wild pair of pants. I had to try them just because these are so loud and I kind of love them. Also, these are the high rise, some crock… cannot talk. These are the high rise, slim crop boyfriend jeans and I'm pretty sure they are similar to the red ones that I showed you at the beginning. So let's see, see how they go. Okay, okay, pretty loose so far, I like it. All right, I am digging these so far. I will say, they are maybe a little too loose up top, as you can see. It doesn't hug in quite as well. Yeah, there you go.
Kara:
So this one has that like butt area, that butt gap, where it's like a little too loose up here. But… okay, not quite as stretchy as the other ones, but a lot stretchier than that failed jeans. So I can kick a little bit here. Have a little bit of movement. The sitting tests though. Oh, so this is like the problem of jeans that have that butt gap. They always seem to be like too tight on the top. And then of course, when you sit down, that's easier. When you sit down, you kind of like have this angled motion and you're like butt's just hanging out all day. But yeah, they're tighter up here, which is not my favorite. I don't think I could sit in these all day. These would definitely be better for standing. So these are definitely standing pants. So I will say these aren't curvy friendly, but they are super soft, great pockets. The design is super fun.
Kara:
I don't think these are going to be best for you curvy ladies out there. This is the last pair, which are like a classic skinny, as you can tell. Pull them on up. First impressions is it's hard to get over my legs, but they're super stretchy, which is great. Okay, there you go. Got to get that jiggle in, so they fit just right. So they're a little hard to get on. But once they're on, these are really comfy. These actually remind me a lot of these, I'm actually wondering. Okay, so this is that pair of jeans. So this is the high rise skinny and this is a high rise skinny. I wanted to test them out like in a corduroy material versus a denim material. I am remembering now. So I'm happy to report that the high rise skinny is just as comfy in different materials.
Kara:
Yeah, so like again… I can kick, kick yeah. Sitting is going to be great, I already know. So it holds up there. The fit's really nice. It is hard to get over your thighs a little bit, but just curvy problems. So yeah, that's great. I would say overall, these are probably the favorite jeans of mine from this order because they're just, they're just so good. They're a great skinny jean. They make really amazing skinny jeans. So I think that's where their strength is. All right guys, bringing you back down here. So overall I am super impressed by Madewell Jeans. I had no idea if this was going to be like a one time thing, I lucked out on a pair. But I'm happy to confirm that, that same pair in a different type of fabric fits just as well. So of the six, I think four get a thumbs up.
Kara:
There were only two that were kind of fails, which is a really great track record considering I have such a hard time finding jeans that fit me well. So the fact that one company can do four out of six really, really, really well is super exciting. So high five Madewell, you do jeans really well for curvy and plus sized. So again, in terms of sizing, I'm a size 12 and I found out that I wear their size 31 the best. If you have never shopped there before and you can go into store, if you have some time it might be worth your time to go in and try a bunch of sizes on and see what size you are exactly. Or if you're ordering online, order on a credit card, by multiple different sizes and some like fit, so you can kind of get that right size because I think once you find the right size, you're going to really love these jeans and that's it.
Kara:
If you are a curvy or plus sized, go shop from Madewell. I think you're going to really love the jeans, save up a little bit. Splurge on a really nice pair and you're going to be a very happy girl. Before you head out, you know the drill. Make sure to subscribe. I'd love to see you around at the Whimsy Soul community some more, and if you are on Instagram, give me a follow. I post there almost every single day, so I'd love to see you there as well. Don't forget that you can watch a ton of other clothing calls and reviews on this YouTube channel. You can also find a lot more lifestyle and travel advice on my blog, whimsysoul.com. Just if you're bored, just stick around a little bit, you'll have fun. All right, well that is it folks. See you guys next week.