Magic on earth is really all I can describe Mariposa Grove as.
Finally seeing these giant sequoia trees in person was the highlight of my most recent trip to Yosemite National Park. It has just snowed a couple of days earlier, so the trail was covered in white. The air smelled amazing and the afternoon light was filtering in through the trees in such a way that for a second my brain literally thought "wow, this looks just like a movie!"
If visiting this famous sequoia grove is on your bucket list, keep reading for my tips for visiting & tons of photos!
Mariposa Grove: Tips For Visiting Our Bucket List Visit To Giant Sequoias in Yosemite National Park
>> Got a question about Mariposa Grove that you need answered quickly? DM me on Instagram @thewhimsysoul and I'll be happy to help!
A few years ago, Robin and I visited Yosemite in the Fall and loved how empty the park was compared to previous summer visits. So we went again this November and were treated to empty trails, and even some snow! (PS – we stayed in the COOLEST glamping cabins in Oakhurst, right outside the Yosemite South Gate, you'll love it!)
I've been trying to visit the Mariposa Sequoia grove for YEARS but it was under reconstruction every time I was visiting, so I was beyond excited it was finally open during my most recent visit so I could finally soak in the magic of the ancient trees in person.
Where Is Mariposa Grove of Giant Sequoias?
Mariposa Grove is located inside Yosemite National Park. It's not in Yosemite Valley but rather just inside the South Gate entrance outside of Oakhurst and Bass Lake. it's about an hour drive from the valley (and totally worth the trek!)
How To Visit Mariposa Grove
Right now, and for the foreseeable future, visiting Mariposa Grove Yosemite is a bit tricky due to the ongoing pandemic and safety measures the park services has in place. Usually, there is a shuttle that takes you from the parking lot up the hill 2 miles to the grove. BUT, right now, there is no shuttle service. But you can still visit, here's how:
Enter through the South Entrance / South Gate. Or, drive in from the valley. Park in the Mariposa Grove Welcome Plaza parking lot. There is a bathroom here so use it before you head out because you are about to do a LOT of hiking!
If you or someone you are traveling with are not able-bodied, you can press a button at the gate to chat with the National Park Service and they may let you drive up the road and park in the Upper Mariposa Grove parking lot which is right at the trees (where the shuttle normally drops off.)
Otherwise, be prepared for a hike. You can walk up the road, but I recommend instead that on the way there you hike the Washburn Trail. The trailhead is right there at the parking lot, you can't miss it. This trail (and the road) is a 2-mile hike to the Mariposa Grove of Sequoias.
This trail is like, really, really pretty. We did it in the snow which made it that more fun (yes, totally threw a snowball at Robin!) It took us about 50 minutes to reach the grove. There were some crowds around the trailhead, but we mostly had it all to ourselves which was such a beautiful, peaceful way to enter the grove.
YEs – was tired when we arrive at Mariposa Grove from the hike in and I my legs totally hurt at the end of the whole hike since it was around 6 miles in total. That being said, I found the process of peacefully entering the grove (vs a crowded, loud shuttle) to be very rewarding. That's why I suggest you hike in to the sequoias even if the shuttle is working. You can always take it back!
We took the road back down for a change of scenery and it was a small luxury to be walking all downhill on a flat surface after already walking 4 miles.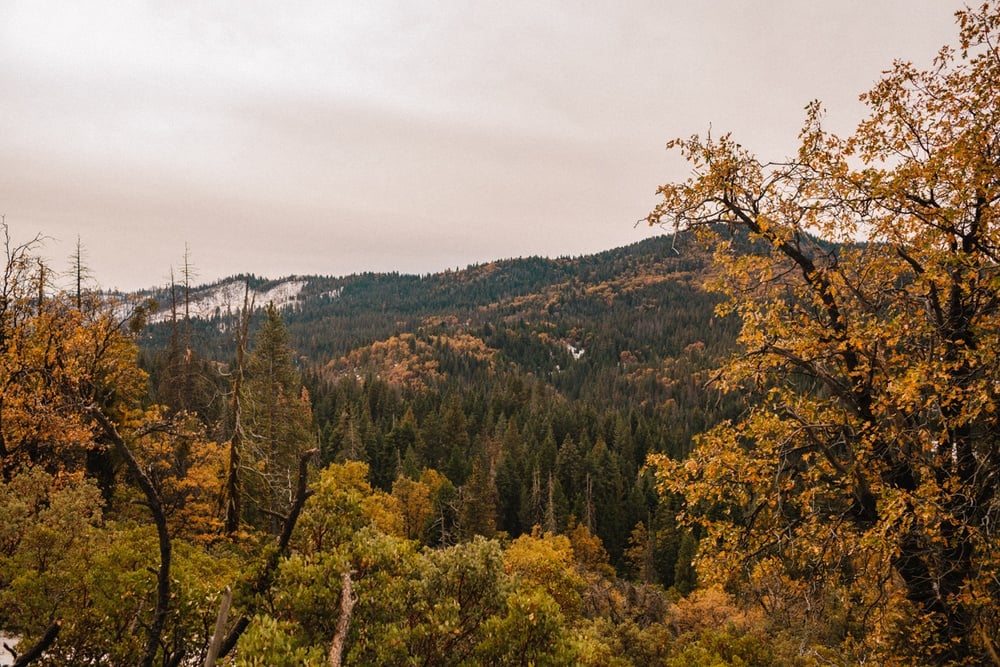 Ok, so now you've made it into the famous Mariposa Grove! Two of the trees here are among the 30 largest giant sequoias in the world, which makes this spot extra special.
We chose to hike the lower grove loop trail that hits all the highlights in the grove. If we took the shuttle in, we probably would have opted to also do the Upper Grove Loop but it's like, 6 miles in total and I knew I couldn't handle a 10-mile hike. Here's the highlights that I loved and you simply must see in person!
Fallen Monarch
As per the name suggest, the Fallen Monarch is a Giant Sequoia that fell. It'll take hundreds of years to decompose, so currently it provides the perfect way to view the root system of Sequoias. This is right at the start of your hike through Mariposa Grove on your left.
I didn't really get to soak this one in until our walk out when I realized you get to walk the length of the tree and it had the same effect on me as visiting a museum and walking by a whale model has: Sequoias are so dang HUGE!!!
Bachelor & The Three Graces
The Lower Loop starts at the Fallen Monarch and from this point start on the right side of the trail. You'll walk through about .6 miles of trails through the Redwoods and eventually come across the Bachelor and the Three Graces, a cluster of Giant Sequoias.
They're named as such because one large tree (The Bachelor) sits a bit in front of 3 trees (the Three Graces.) There also seems to be a 5th tree behind the Three Graces so I don't know if that one is the ugly stepsister or something, or is just left out.
Grizzly Giant
After the Bachelor and the 3 Graces, you head up hill slightly and BOOM, you'll find the Grizzly Giant, probably the most famous Giant Sequoias in the whole park (and probably the state of California, too.) It's called the Grizzly Giant because of all the gnarly branches it has. I've never seen a sequoia with branches like this before!
Did yo know? The Grizzly Giant is as tall as the Statue of Liberty!
The park has a couple of benches out in front of the Giant so you can take a break and soak in all his beautiful magic.
California Tunnel Tree
Right around the corner from the Grizzly Giant is the California Tunnel Tree! Unlike Drive Through Trees (like the Klamath Drive Thru Tree), this is one that you walk through! You don't get to get up close to too many of the trees in the Mariposa Grove, this is done so the root system can be protected.
But, clearly, you can walk right up to the California Tunnel Tree. I love to touch old trees and feel their history, their magic, their story. As you're walking under the tree, touch it (sans gloves) and take a second to be ~one with nature~.
You'll notice that a LOT of assholes have chosen to carve their names into the California Tunnel Tree. Humans can really suck sometimes. Please don't do this. I will personally come and haunt you when I die if you do.
Mariposa Upper Grove
If you have tons of energy, feel free to hike the Upper Grove trail towards Wawona Point! This features Galen Clark's Mariposa Grove Cabin. Clark was crucial in getting lawmakers to preserve Mariposa Grove so they could enjoyed for generations to come.
This loop also features the Wawona Tunnel Tree, which I *think* fell down recently so it may not be there anymore. but I can't confirm as we didn't do this loop.
Is Mariposa Grove Open?
Yes! It is now down with reconstruction and is open during the time of writing this article (November 2020). The shuttle is closed but you can hike in and back from the grove, 2 miles each way.
What Should I Pack To Visit Mariposa Grove?
No matter what season, make sure to bring really good hiking boots that offer support as you'll be walking a LOT! I love this brand of hiking boots. You also should bring a backpack (this is my go-to travel backpack) and water to stay hydrated.
If you are visiting in the winter, bundle up. If you are visiting in the summer, bring extra water and sunscreen. And don't forget snacks or a packed lunch. this can easily turn into a half-day trip!
I always like to hike with compostable trash bags to keep trails clean and easily pack my waste out. Try it out on your next hike!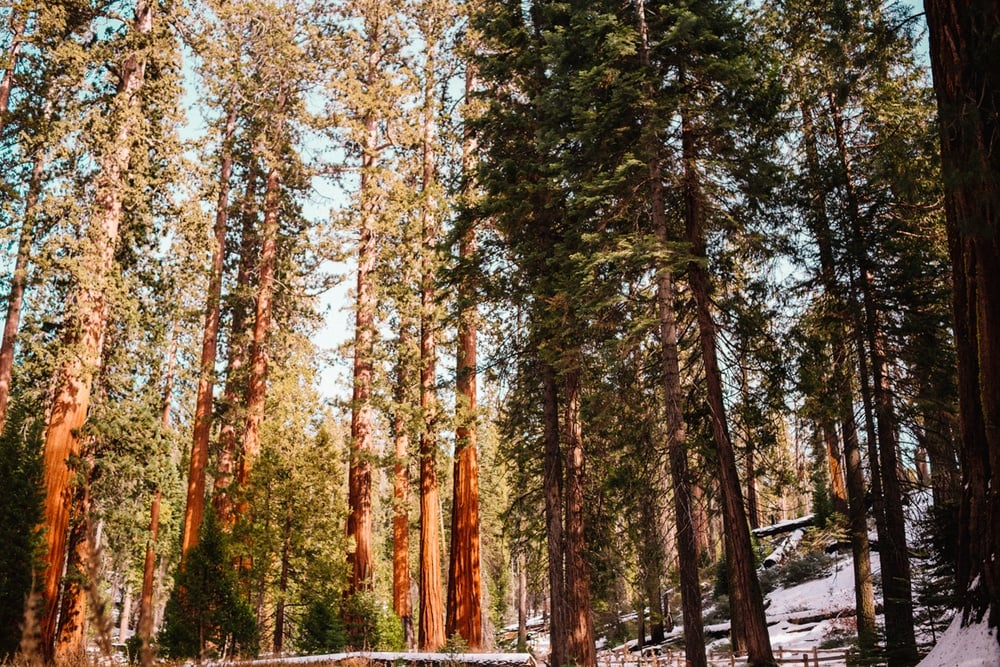 So, is Mariposa Grove worth it? 10000% times over. Even when you have to hike in 4 additional miles, this grove is magic on earth and I hope that everyone can see it at one point in their lifetime.
Got tips to add? Leave a comment below. Got questions? Comment or DM me on Instagram @thewhimsysoul and I'll be happy to help.