"Wait, Wisconsin isn't just cows and corn?" – everyone's reaction when I tell them Wisconsin is super beautiful, especially our capital city.
From lake views, colorful murals, cafes with perfect wallpaper, lavish gardens, iconic buildings and hidden gems, these are all the best Madison Wisconsin photo spots for epic pictures!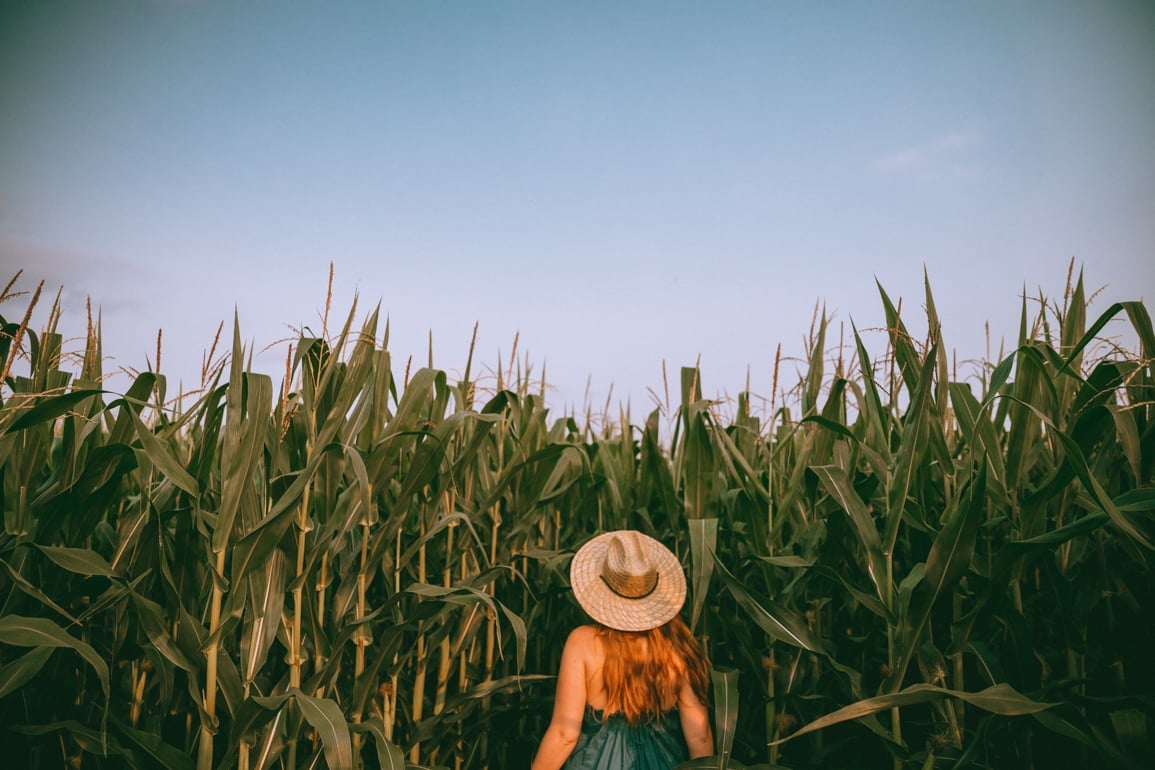 30 Madison WI Photo Spots: Best Murals, Gardens, Cafes, Lake Views & More!
As a teenager, I used to run around Madison hunting down photo moments. sometimes I would end up on a pier in Lake Mendota with friends or a secret alley covered in art, or on top of a parking garage at dusk with a view of the Capitol behind us.
This past summer, Robin and I were home visiting family for about a week and finally had time to run around the city again, this time to make a list for YOU of all the best places to take photos in Madison Wisconsin this weekend! Use this list to help you find epic Instagram spots for your feed, or new places to take your photography clients.
1. Hilldale Mall Murals
There are just so many cool murals in Madison these days. While there are cool murals all over the city, many included in this guide, if you can only stop at one place, head to Hilldale Mall. This outdoor mall is home to simply the coolest Madison Wisconsin mural, and a few other runner-ups. You have to climb on a little staircase and use a wide lens to get the perfect shot.
Around the mall you can find another Madison mural, other little pieces of street art and my second favorite wall: the Live Colorfully rainbow! It's so cheery and fun to take photos in front of. I think the mall murals make the most Instagrammable places in Madison Wi!
2. Capitol Square Gardens
In the spring and summer, the gardens on Capitol Square come to like with flowers, tulip gardens and native plants. I used to do a lot of engagement sessions downtown Madison around here. Flowers juxtapositioned with the Capitol Building always make for a super fun way to take photos.
The Midwest gets a lot of summer thunderstorms. On the morning we took our photos at the gardens, we had to wait inside the Capitol for about 20 minutes waiting out a rain spell, so the skies were all cloudy. We made do, but the best time to take photos here would be the morning with soft, warm light rays around the flowers.
3. Wisconsin State Capitol (Inside & Terrace)
Can you tell I love a love affair with the Madison capitol? This building is super unique because it's totally open to the public. Not only can you walk right in and explore but they open up the upper deck terrace that wraps around the dome to the public to visit for free.
Climb a bunch of stairs to be rewarded with a view over the whole city and grab an epic ariel picture of Madison Wisconsin. Or, stick to the grand marble staircases with light streaming in from the glass ceiling, or use a wide angle to photograph the stunning granite dome murals. Everything time I think I have found all the hidden little photo corners of the Capitol, I find another one.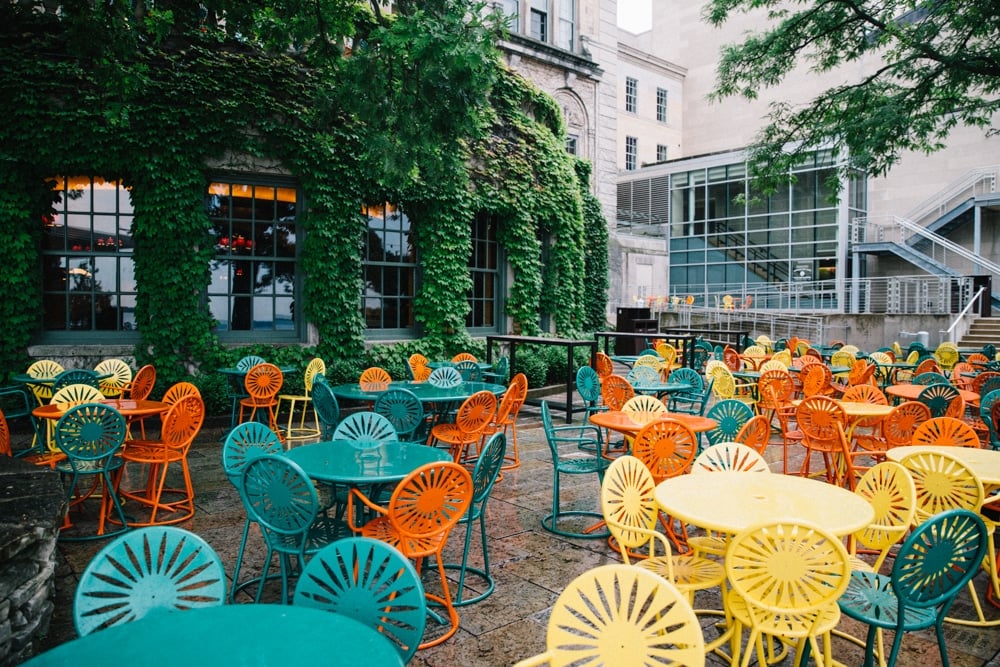 4. Memorial Union Terrace Chairs
You can't come to Madison and not grab an Instagram photo here! The Memorial Union Terrace chairs are iconic and coveted. This chair style was introduced in the 80's and has become so popular, the now sell these chairs for over $300 a pop.
One of my favorite things to do in Madison in the summer is come to the Union Terrace, grab a pitcher of Spotted Cow and people watch while we wait for the sun to set over Lake Mendota. It's a whole vibe. But, when coming for photos, it's best to head here early in the morning before the terrace opens so ensure empty chairs.
5. Willy Street & Atwood Area Murals
Williams Street, aka Willy Street and Atwood are on the East Side of Madison. These streets are long, covered in trees and full of local restaurants, shops and houses. And, lately, a growing number of street art spots.
Willy Street is fun to walk down enough as it is, but if yo're on the hunt for epic Madison Instagram spots, these are my three favorite areas to find colorful walls over in this neighborhood:
Alley next to Mint Mark. There are 2-3 murals in this alley (photo of my jumping above)
Stillgood's Consignment Shop face mural (above)
Roman Candle mural (outside the restaurant on Willy)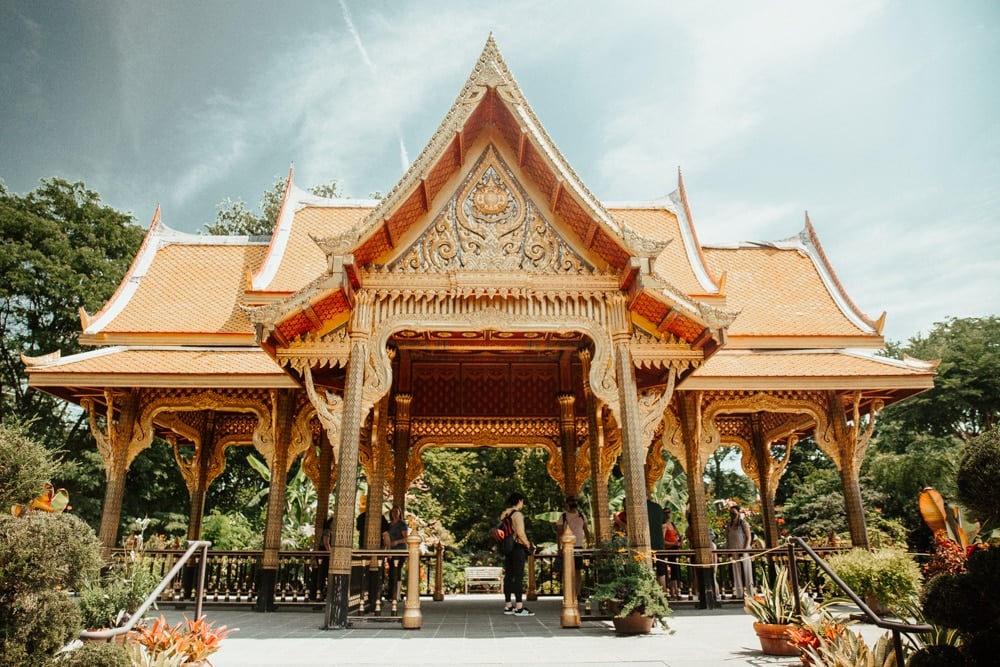 6. Olbrich Botanical Gardens
Olbrich is hands-down one of the best places to take pictures in Madison year-round. If it's winter, come inside the conservatory to find lush palms, green plants and colorful flowers (plus really good diffused light). Summertime, the gardens outside are blooming with life.
AND, tucked in the back is the famous Thai Pavillion which really doesn't look like it should belong in Wisconsin. It's one of 4 authentic pavilions outside Thailand and utterly beautiful. We visited it most recently in the summertime, but if you're in town when it's actively snowing, come here for a truly unique photo of the Thai pavilion in a winter wonderland.
PS: you will need a photography permit for professional shoots like engagements, seniors, etc. If you are just coming for Instagram photos like we did, you're fine.
7. State Street
State Street is a large pedestrian mall that stretches from Bascom Hill to the Capitol. The stores and restaurants are always changing up, but State Street remains a top photo spot in Madison. I love grabbing a photo in the middle of the street and capturing the Orpheum Sign and Capitol in one shot.
You can also duck into alleys, or pose in front of restaurants. The best time of day is the evening golden hour through dusk to do this. I suggest walking up and down to grab a lot of iconic Madison Wisconsin pictures!
Fun fact: State Street was one of my senior picture locations back in high school! We shot around alleys, State Street, the Monona Terrace and, because it was 2009, a railroad track ??? I thought I was very cool about that.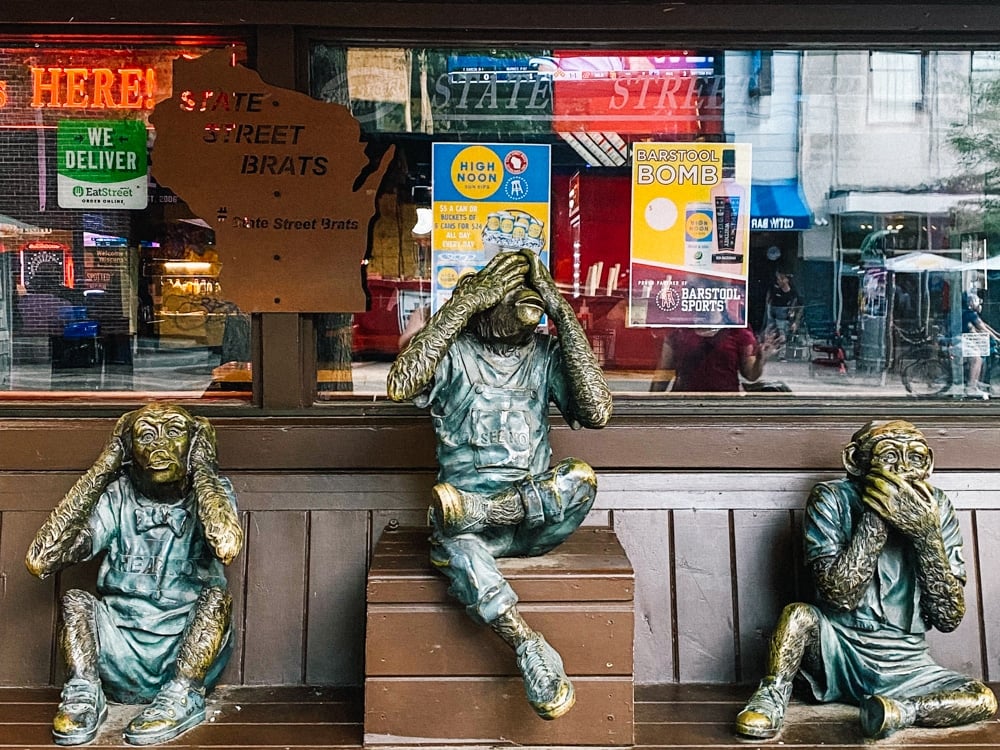 8. State Street Brats Monkeys
State Street Brats is a famous bar on State Street. You can't miss it since there is a big cow on their side patio, but what's even more popular are the "Hear No Evil, Speak No Evil, and See No Evil" monkey sculptures out front. They're on a bench so you can pose with them if you want!
I'm not entirely sure how long they have been here, but at least for 30 years. If you're stopping by around lunch or dinner, stop inside for a Red brat and cheese curds.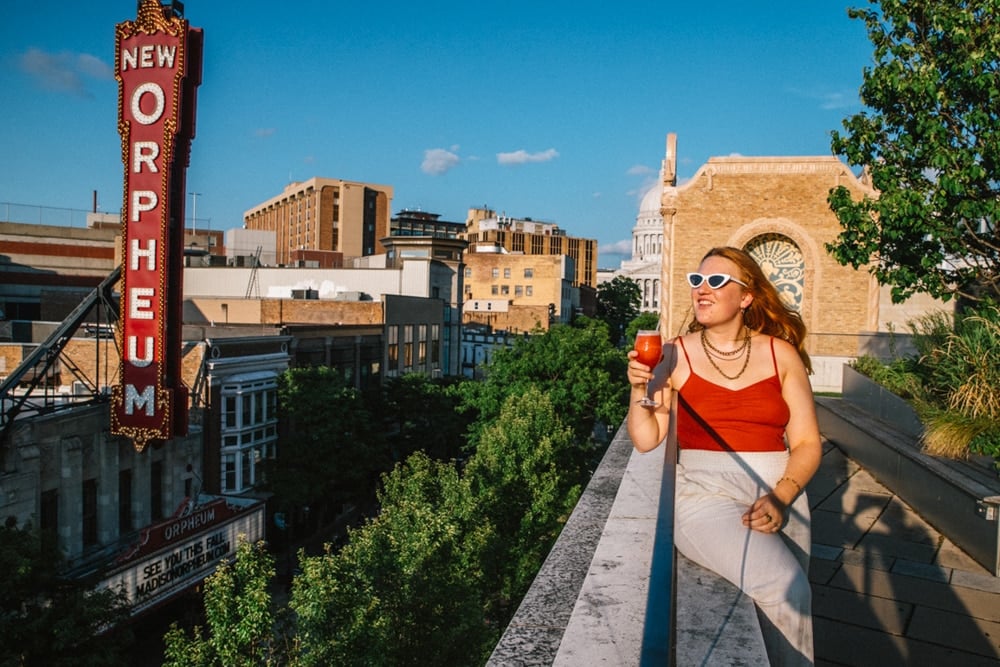 9. Fresco Terrace
Ahhh, look at how cool this patio is! Fresco was a restaurant that occupied the terrace on top of the Madison Museum of Contemporary Art. Was, because it closed at the end of 2021 but a new bar or restaurant will fill the space.
And when it does, you need to come for sunset happy hour for amazing views of State Street, Capitol and the whole city before you. And a really good drink, hopefully.
10. Mint Mark
Ekk, I love a good cocktail bar & restaurant that has equally good aesthetics. Mint Mark has a cool teal paint color on the building and fun palm spring wallpaper inside. They nailed the merge of tropical island cafe with hipster city cocktail bar perfectly.
On the weekends it can get pretty crowded here, so if you want to take photos inside try to arrive slightly before happy hour to ensure an emptier restaurant.
11. Mural Alley
The Madison Mural Alley is pretty new. Up until ~2019, the space behind the East Shopping Center was kinda dingey and unremarkable. Now it's home to plenty of murals by local artists. Pop 2707 E. Washington Ave into your GPS to be taken here. Like with all murals, it's best to avoid high noon for photos here so don't have awkward light and shadows.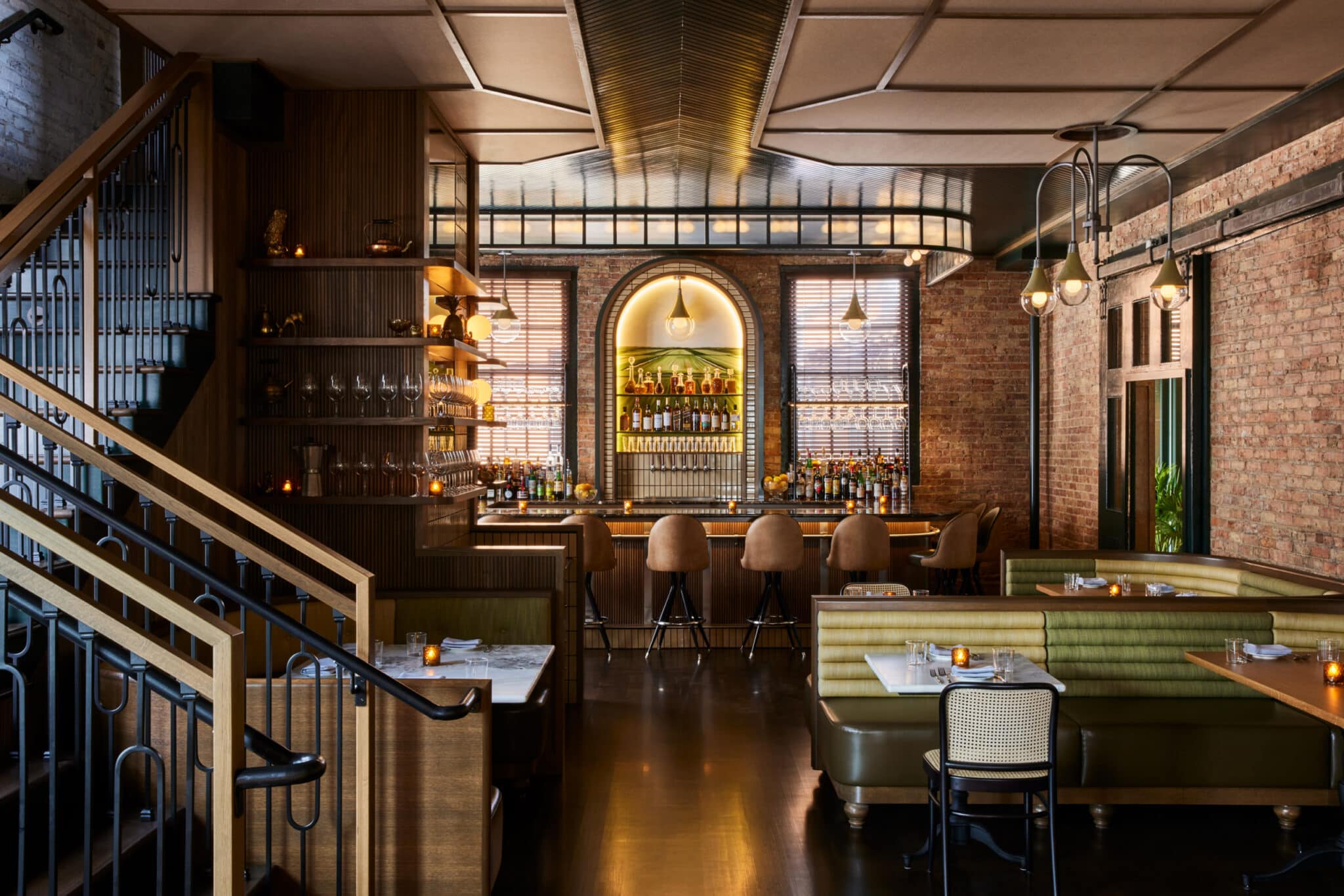 12. The Harvey House
OMG the Harvey House is just so dang cool. This new upscale supper club slash cocktail lounge is inside a historic train station. It was designed to reflect the style of the times when train travel was popular, so it almost feels like you stepped back in time here.
Come right when it opens to take photos without anyone at the tables. And of course stick around for drinks or a classic supper club dinner!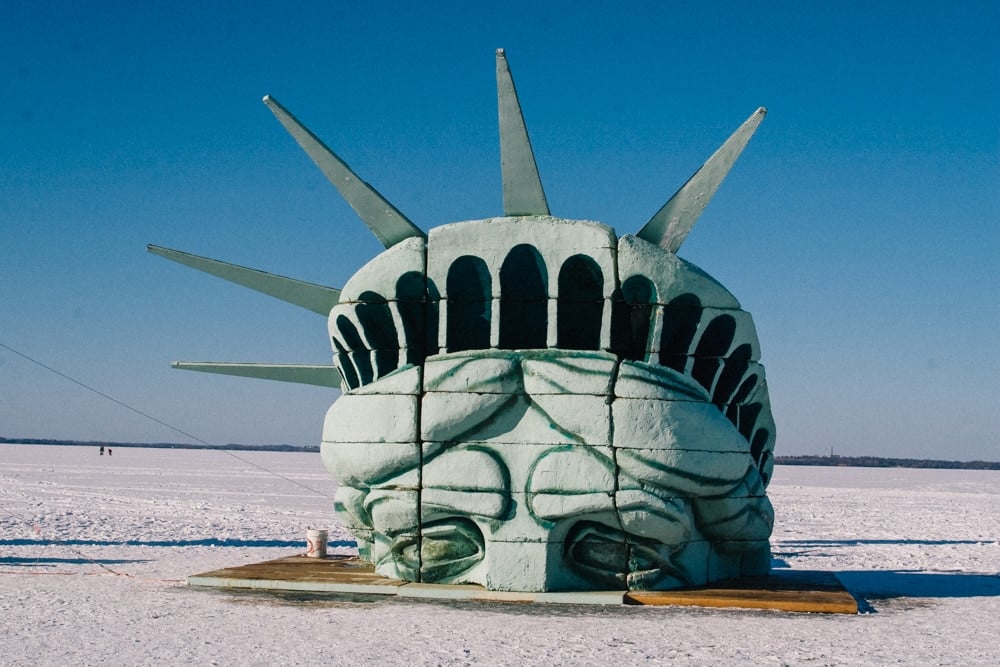 13. Statue of Liberty on Lake Mendota
If you happen to be in town in February during the winter festival, you'll probably see the famous giant Statue of Liberty of Lake Mendota. What started decades ago as a college prank has turned into a loved tradition by locals. Since winters are so cold in Wisconsin, our lakes freeze over and usually are strong enough people can walk out on them. (Once, my dad even drove our car out on the ice to go ice fishing.)
The giant installation stays up for about a week and anyone can walk out on the ice to take photos with her. It's super cool and unique, you can't find something like this anywhere else in the world!
14. Arboretum
The Arboretum is one of those beautiful nature places to take pictures in Madison WI, especially during the fall for autumn colors, or spring when all the trees and flowers are blooming. It's full of prairies, nature trails, a little pond and gardens. I used to take senior photos and wedding photos here all the time, it's a super romantic and beautiful spot!
15. Monty's Blue Plate Diner
I'm a sucker for a retro-style diner. Monty's Blue Plate is on Atwood and totally makes you feel like you stepped back in time. Monty's is blue and white and totally fabulous. Take a photo with the Blue Sonoco gas pump outside, or head indoors for a classic vintage diner counter.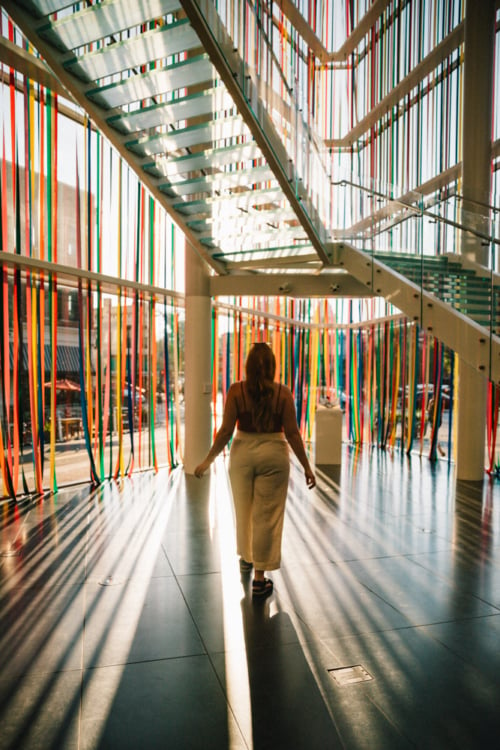 16. MMoCA
MMoCA's lobby is one of those cool indoor photography locations Madison has right downtown! The building is pointed like a triangle with large floor-to-ceiling windows to let in tons of natural light. They currently have colorful streamers hanging down from the windows and if you come at golden hour, you can catch a cool light situation happening for photos.
17. Vilas Park
Right next to the Henry Vilas Zoo, Vilas Park features a small beach on Lake Wingra, trails and a lagoon. In the winter, this turns into an ice skating rink for fun wintery photos, or come in the summer for greenery.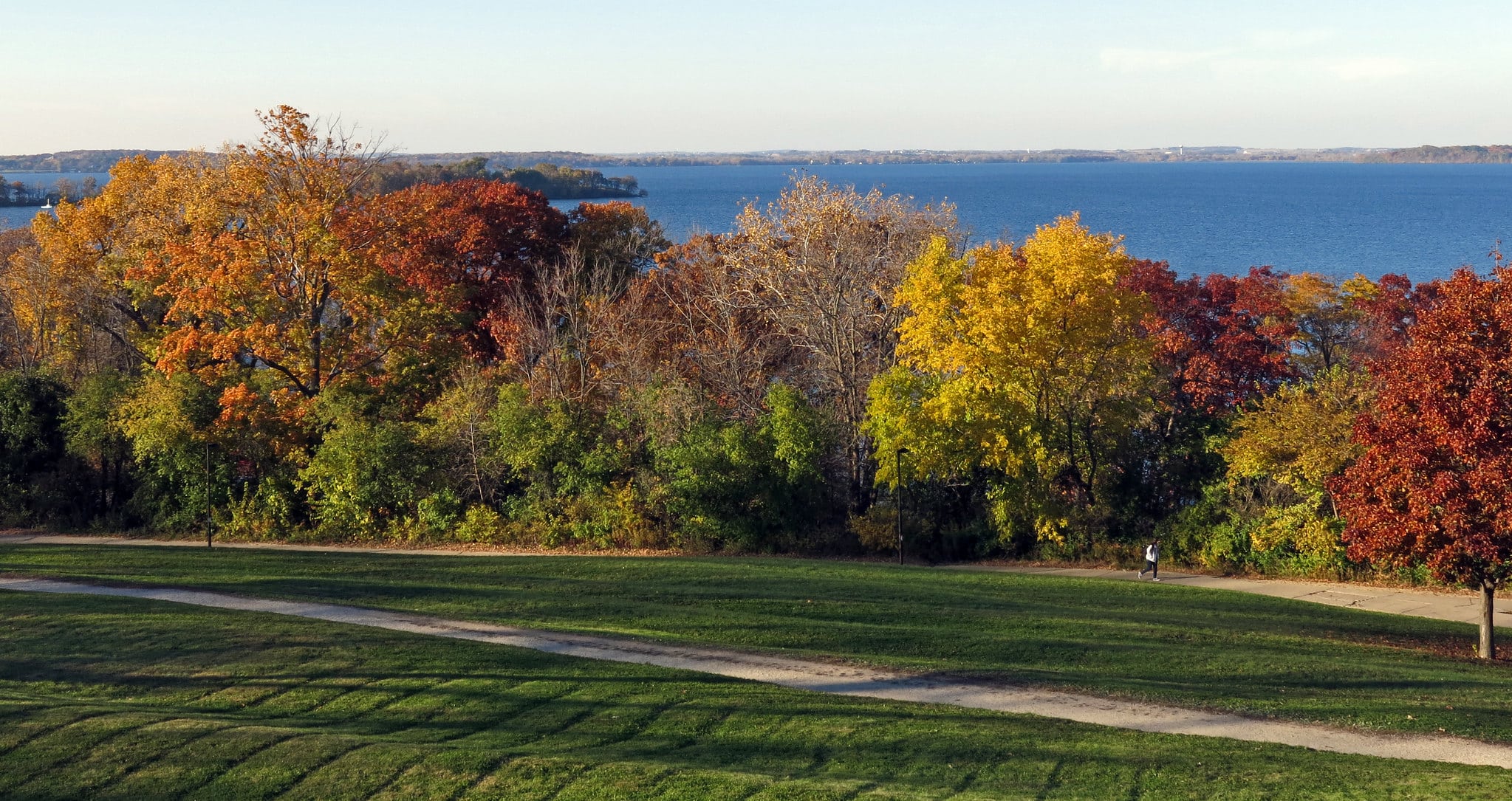 18. Picnic Point
Picnic Point is part of the Lakeshore Reserve and is a nearly mile-long peninsula park with epic views of Lake Mendota and downtown Madison. It's a common proposal spot and makes for great engagement photos, along with just a fresh perspective of the city. Oh, and come October, it'll be filled with red, orange and yellow leaves!
19. Olin Park for Downtown and Lake Monona Views
Another great spot for downtown Madison pictures is Olin Turner Park. This is actually my personal favorite angle of the city skyline. I grew up outside of the city and when Robin and I were first dating, I would drive down John Nolan Drive past Olin Park all the time and knew I was almost to Robin's house when I saw the stunning view of Madison.
It's especially gorgeous at sunset when the Capitol building glows, and at night when everything is twinkly. For the best shoot location, head to the Olin Park Vantage Point and watch the sunset.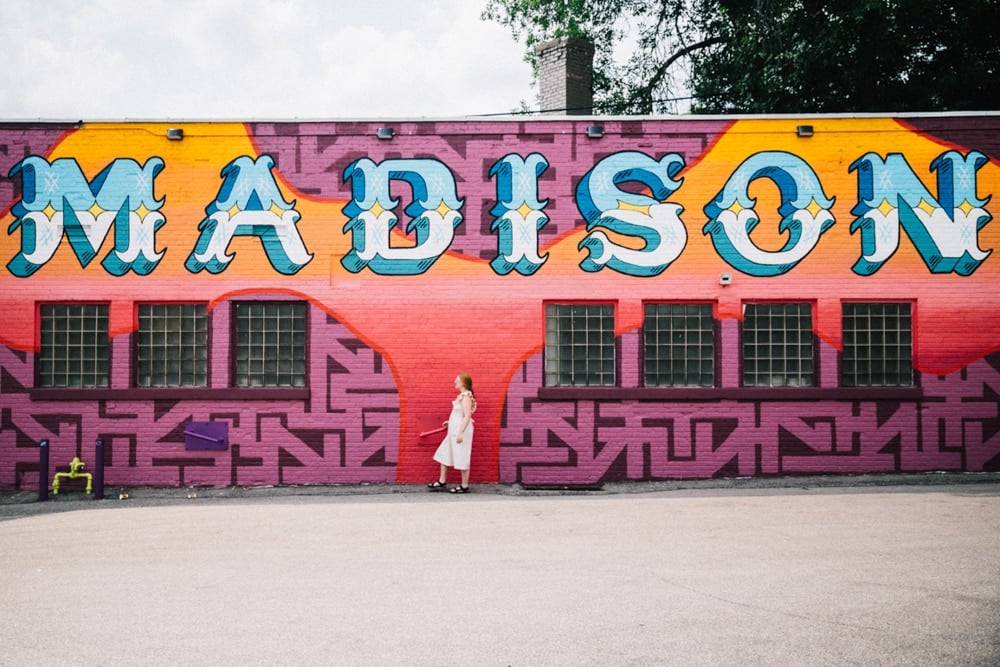 20. Madison Mural Near Wingra
While I personally like the Madison murals at Hilldale Mall best (they're easier to photograph), the Madison Mural near Lake Wingra is also pretty dang cool. It's huge and spans a while building so it's hard to grab a complete photo of it without a wide-angle, so come prepared! Best time of day to visit is in the afternoon when the light isn't directly on the mural. Find it at 2526 Monroe Street.
21. Monona Terrace
The Monona Terrace sides on Lake Monona and was designed by the famous Frank Lloyd Wright! I love the curved architecture here, you can really play with angels. And, from the top deck, you can turn around and face Downtown Madison for a viewpoint with the Capitol framed in the center. It's a good alternative if you can't make it to Olin Park.
22. Graduate Hotel
I'm a huge fan of Graduate Hotels. They specialize in trendy boutique hotels across college towns in America and they are always designed just so perfectly. And of course, the Madison Graduate is equally cool. The lobby feels a bit like a Northern Wisconsin cabin or a bit like a classic supper club. But like, a really modern supper club.
There's a lounge area in the lobby and a table that acts as a workstation. Oh, and those red couches are to die for! The hotel is one of the top Madison Instagram spots these days!!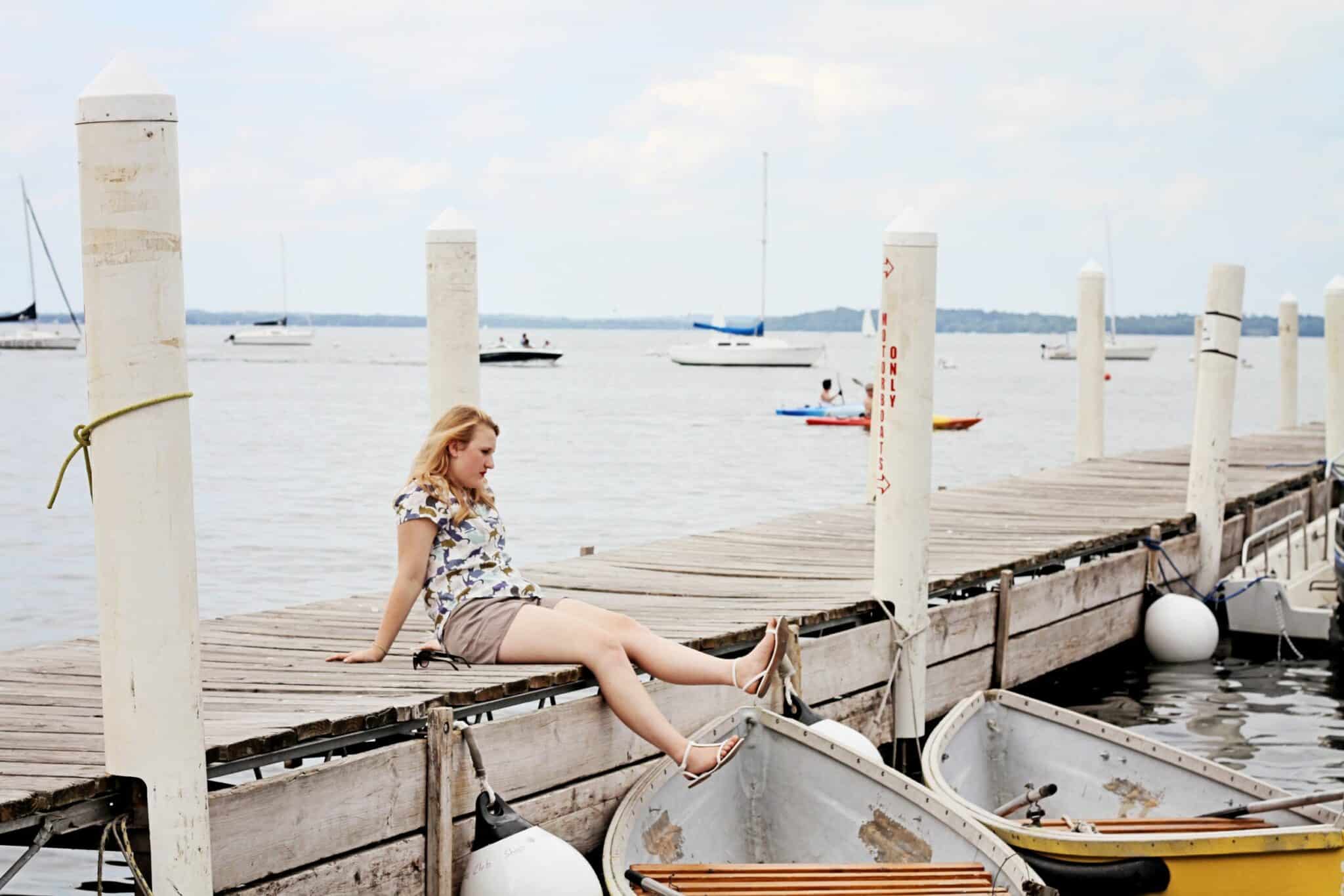 23. Piers on Lake Mendota
The lakes are just so dang pretty, especially Lake Mendota (the largest of the lakes in Madison.) I love heading to the Union Terrace side and walking along the lakeshore. There's plenty of docks and piers you can walk out on for photos with the lake behind you. If you're lucky you'll get a backdrop of sailboats which is really cool!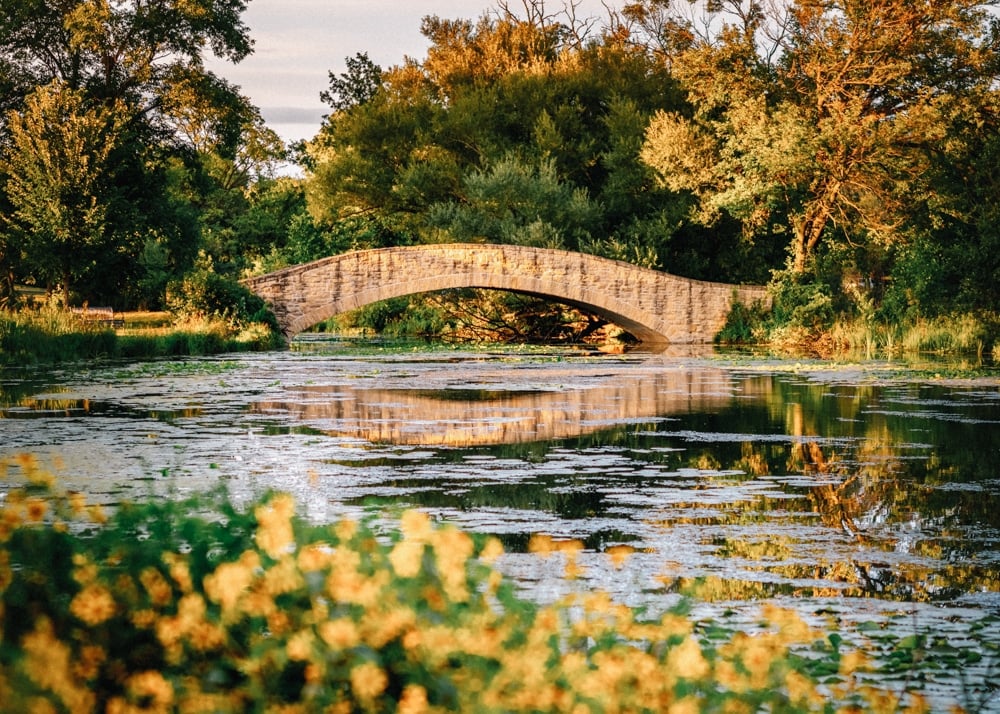 24. Tenney Park
Tenney Park of the best places to take pictures in Madison WI during the wintertime. Well, summertime, too, but winter the little lagoon turns into an ice skating rink! Come take ice skating photos on the frozen lake (great for candids, family photos, seniors and even couples!) Or, early in the morning on a winter day after it snowed to catch the bridge in a winter wonderland.
Frequently asked question by my California friends: Are winters in Madison WI really all that bad? Yes. Temps drop to -20 or more with the windchill but that doesn't mean winters are gross. They're beautiful. The skis are blue, the lakes are frozen, everything is covered in white. If you can handle the cold, you'll get some pretty stunning photos.
25. Eno Vino Downtown
I confirmed this with multiple friends and family who still live in Madison: Eno Vino downtown has the BEST happy hour view. The bar overlooks the Capitol and is so close it feels like you are almost touching the dome. It features large floor-to-ceiling windows, plus a floor-to-ceiling bar shelf, and just oozes glam. Come for sunset and stay until it gets dark for epic photo moments with your drink.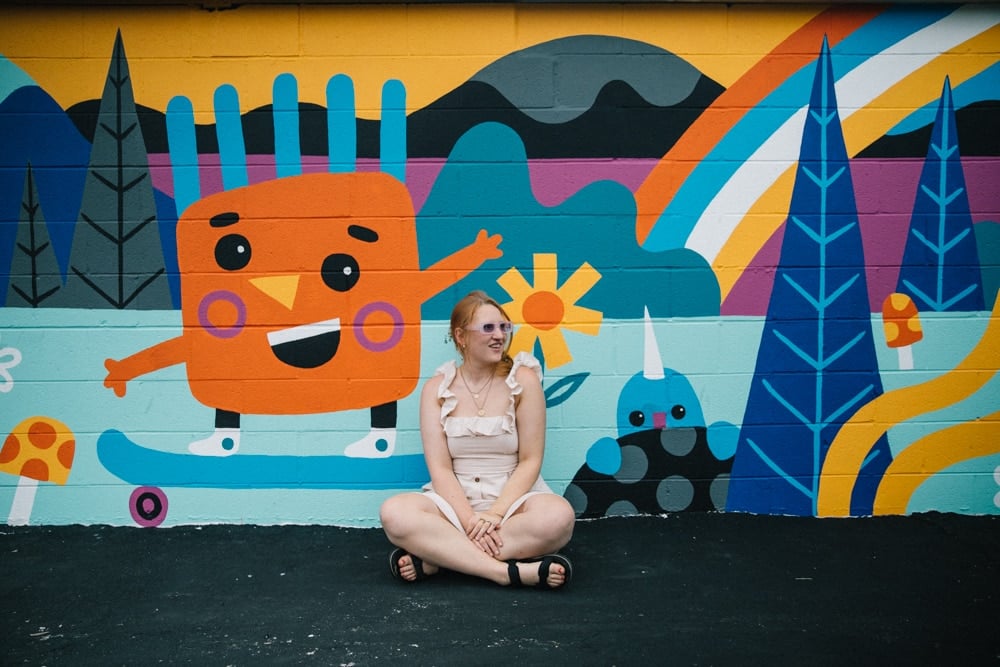 26. Choclate Shoppe Ice Cream Mural
Across the street from the Madison mural on Monore at 2531 Monroe Street is the Chocolate Shoppe and there's a fun mural in their parking lot! Especailly if you are taking photos with kids. I love the little narwhal!
27. Robin Room
Over on East Johnson Street is The Robin Room bar, a cocktail bar that not only makes really good drinks, but has perfect cocktail lounge vibes. Think: old-timey study room lamp with leather couches and a wood bar. I love the front lounge area that's next to the windows for tons of natural light.
Bonus is another face mural around the corner from the bar!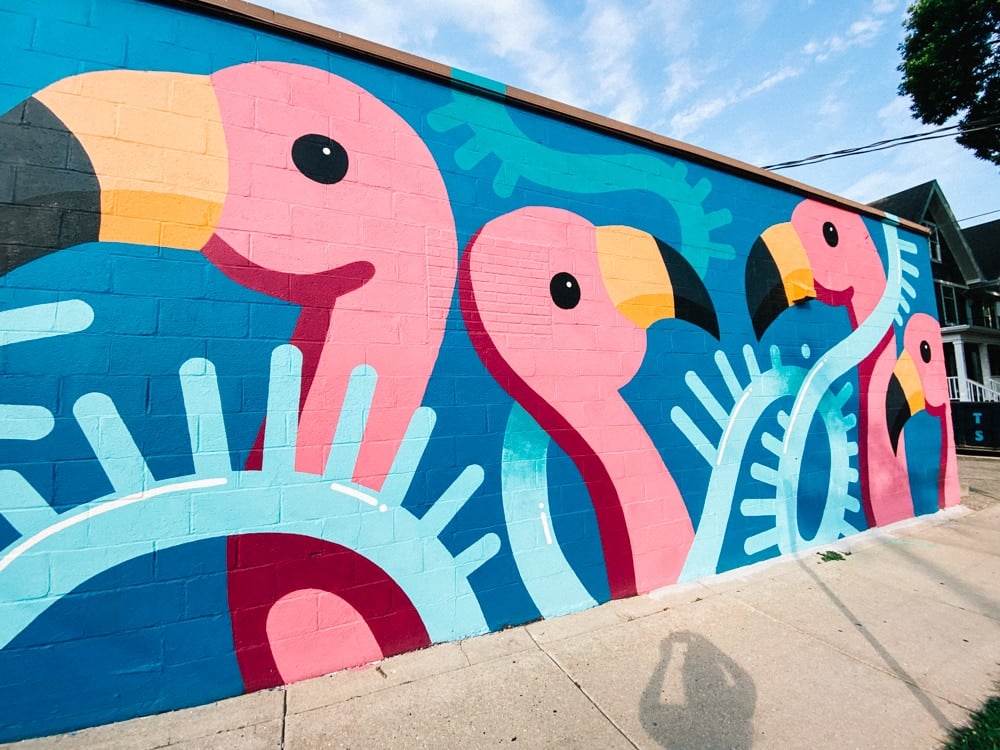 28. Flamingo Mural
Find this cute Flamingo Mural on the corner of Blount and East Johnson Street outside a laundromat. It's huge and stretches a whole building, I love it!
29. State Street Capitol Parking Garage
I know parking garages aren't traditionally thought of as a place to take photos, but I love them, especially in the evening when they have good views like the State Street Capitol Parking Garage. From the top of here you can see the Capitol dome, back of the Orpheum Sign, church towers and other buildings. We got creative one evening at dusk and I loved how the portraits came out here.
30. Marigold's
Last but not least is Marigold's Kitchen right off the Capitol square. You'll absolutely want to grab brunch here regardless, but I love their circle mural on the inside. Pose at the high-top tables for foodie fun portraits, or just grab a chic restaurant photo. And then chow down on their breakfast burritos.
Most Instagrammable Places In Wisconsin
The Dairy State has SO many photo-worthy corners. I could spend a lifetime writing about them and not be done. That being said, these are some of my personal spots around Madison to take photos.
1. Sunflower Farms ( Pope Farm Conservancy )
At the end of the day, Wisconsin is a farm state and there are tons farms right outside of Madison. And, some of them grow sunflowers and open the fields to the public to visit for photos! A popular sunflower field is Pope Farm Conservancy, but there are the other top Wisconsin sunflower fields to visit.
Make sure you come early in the morning or in the evening to avoid high noon heat. Trust me, you'll be dripping in sweat after being out in a sunny field that long otherwise!
PS: If you're ever in California in the summer, these are my favorite spots to find California sunflower fields!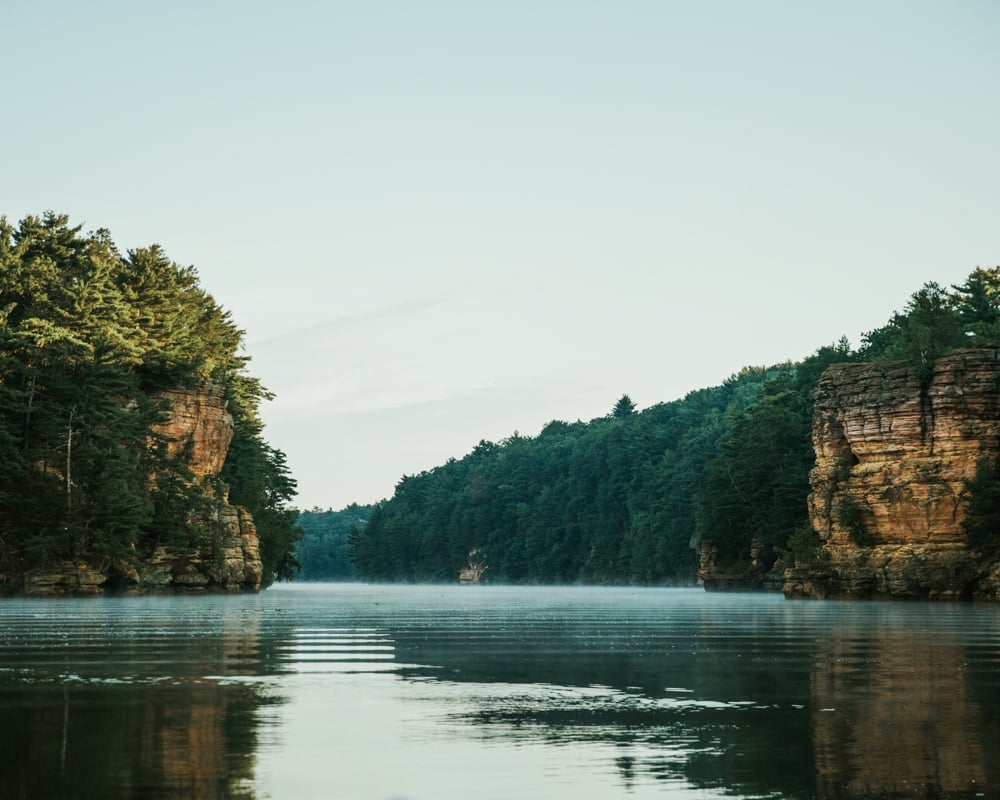 2. Wisconsin Dells
Yes, the Wisconsin Dells are known for all the waterparks but I personally love the Wisconsin River for photos here. This river is flanked by trees and cliffs that have the most interesting formations. They're especially beautiful at golden hours with hazy light trickling through on the water.
Best point of view is by water, either via boat (canoe, kayak, personal boat, etc) or by going on a Ducks tour.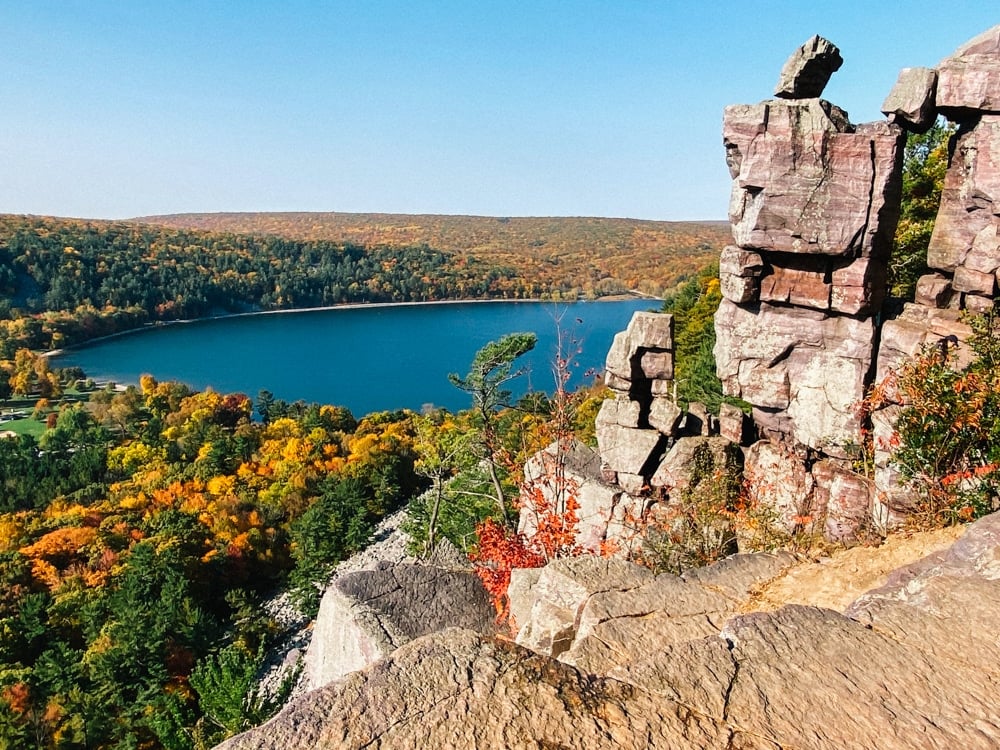 3. Devil's Lake State Park:
Devil's Lake is probably one of the most beautiful state parks in Wisconsin (I also adore the Apostle Islands but they are WAY up at the top of the state. Devil's Lake makes for great photos year-round but especially in the fall when the leaves are starting to turn colors. Take a hike and grab this iconic viewpoint of the rock, lake and autumn foliage below!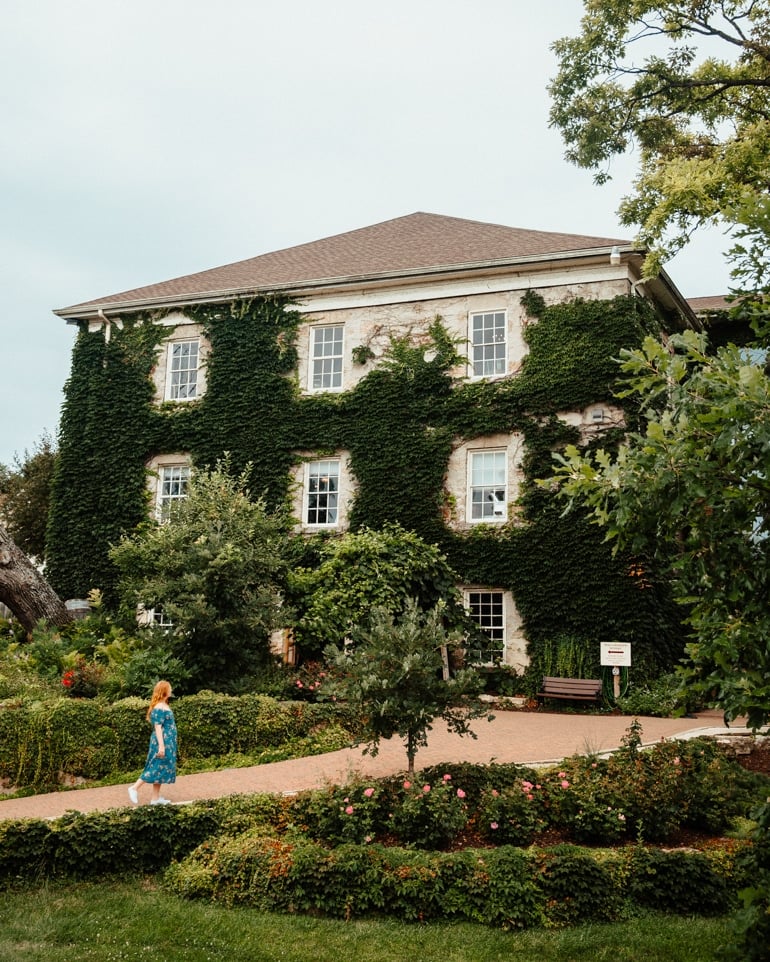 4. Wollersheim Winery & Distillery
Wollersheim Winery has the prettiest tasting room building in the whole state. This building is well over 100 years old and covered in ivy with large trees and gardens out front. It's so romantic and beautiful for solo photos or engagements!
5. Mount Horeb
About 20 minutes from the West Side of Madison is the Norwegian village of Mount Horeb. Am I biased since I grew up here? Totally. But it really is super cute! And home to tons of trolls for quirky photos (trolls are kinda our thing). The historic main street is home to tons of stone buildings for photos.
There's trendy restaurants and cafes now and while Stewart lake isn't the best for swimming anymore, it's a beautiful little lake with a beach for photos. Nearby is Cave of the Mounds and Blue Mounds State Park which has awesome thinking trails and a lookout tower.
I hope this helps you find some cool Madison Wisconsin picture spots! If your favorite location didn't make the list, please drop a comment below so everyone can see. Got questions? DM me on Instagram @thewhimsysoul and I'll try and help.
More Photography Travel Blog Posts You'll Love