Pineapple is my favorite fruit, especially as a snack on hot afternoons when I'm lounging in the sunshine.
With a streak of warm weather here in San Francisco, I've been finding myself on the rooftop most afternoons and always craving a cocktail but like, THE PERFECT cocktail. One that goes down easy, isn't too sugary (which gives me headaches) can be made with things I have already in the fridge and refreshes me.
And, this is that cocktail! My Pineapple Coconut Margarita is the perfect poolside drink for hot sunny days soaking up sun. Keep reading for the recipe!
Refreshing Pineapple Coconut Margarita Recipe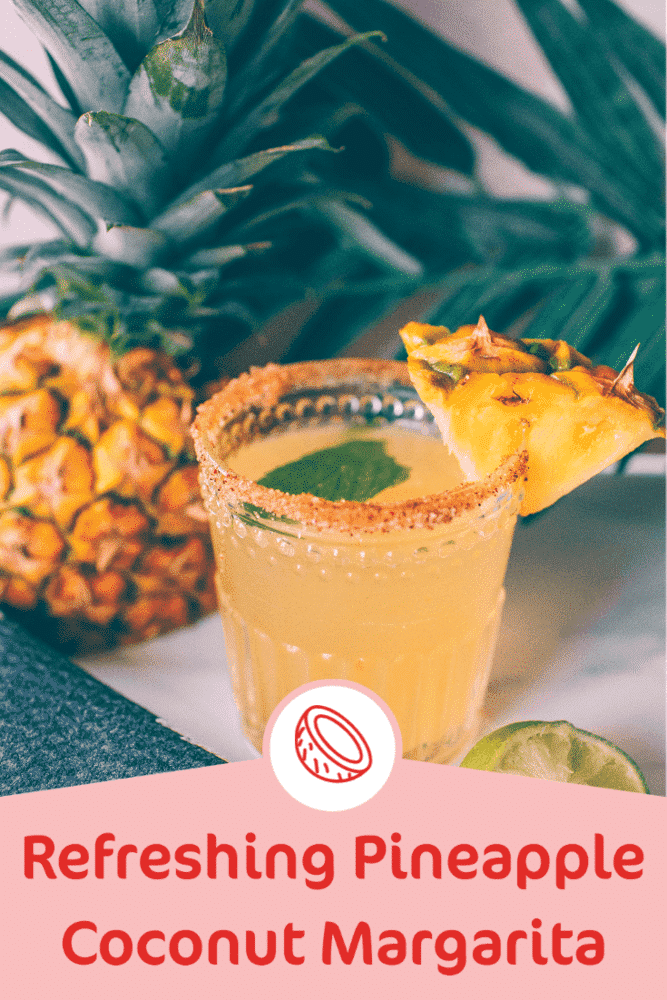 >> Got a question about this cocktail that you need answered quickly? DM me on Instagram @thewhimsysoul and I'll be happy to help!
How To Make A Coconut Pineapple Margarita
I'm a pineapple monster, as in I'll go through 2-3 pineapples a week. Not everyone usually buys pineapples on their grocery runs. If you can shop at Trader Joes, they have the best pineapple prices!
The fresh pineapple is for garnish in the drink. You'll also want pineapple juice, coconut water, fresh mint leaves, simple syrup (you can make this yourself) and tequila. Mix it all up in a cocktail shaker with some ice and you have your pineapple coconut margarita!
I think it tastes a whole lot better with a chili salt rim. I share the recipe to my go-to homemade chili salt in this post. The spice plays well with the pineapple and gives the cocktail a nice kick.
I think this is the perfect poolside drink because of the coconut water which is super hydrating so you can sip this all afternoon!
This pineapple coconut margarita tastes like summer in a glass. It's so simple but really fancy feeling – it's low key holding me over until quarantine is done and I can get myself to a beach in Cabo.
Here's how to make it: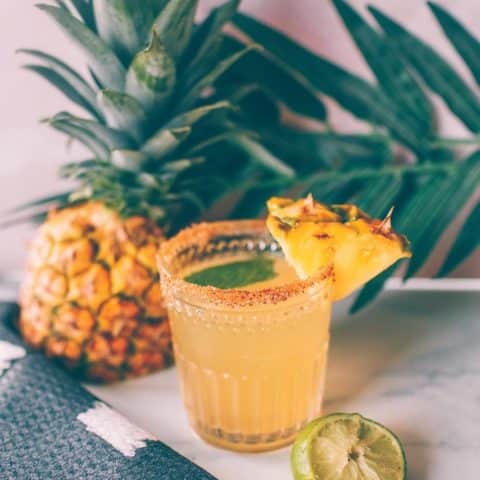 Refreshing Pineapple Coconut Margarita
My Pineapple Coconut Margarita (with tequila) is the perfect poolside drink for hot sunny days soaking up the sun.
Ingredients
2 ounces pineapple juice
1 ounce coconut water
2 ounces tequila
1 whole lime (fresh squeezed lime juice!)
1 ounce f simple syrup (can be swapped for agave nectar)
3 mint leaves
Ice cubes
Pineapple slice for garnish
Tablespoon Kosher salt
Tablespoon Chili powder
Teaspoon Ancho Chili Powder
Half Teaspoon Smoked Paprika
Instructions
CHILI SALT
This step is easy! Mix salt, ancho powder, chili powder and paprika together in a bowl that's big enough to put your glass in later.
MARGARITA
Roll your lime! This helps release more juice. It sounds a bit gross, but using your foot to roll them is by far the easiest way to roll your citrus.
Juice your lime directly into your cocktail shaker. Fresh lime juice is the best for these (vs mixes.)
Add the pineapple juice, coconut water, tequila, simple syrup, mint leaves and ice cubes into the cocktail shaker.
Shake well!
Use a half of the lime you squeezed and run it on the rim of your glasses.
Then, dip the glasses into your chili salt mix to line them!
Pour the cocktail mixture into the glass.
Garnish with a mint leaf and slice of fresh pineapple.

Enjoy!
Notes
I like this double or triple this into a big batch so it's easy to keep the drinks coming!
More Cocktails and Food Recipes You'll Love