While many think Los Angeles reigns Queen on most the instagramable city in Southern California, I've always thought San Diego is incredibly overlooked.
Some of the best sunsets I've ever seen or the Pacific Ocean was here in San Diego. They have some of the coolest decorated coffee shops, tons of colorful murals, uniquely beautiful beaches, and parks with insane hidden gems. Every time I come to San Diego, I come with a fully charged camera battery – I always find it so inspiring!
In this post I'm sharing all of the best San Diego Instagram Spots for epic pictures. Grab your camera, time to go on an urban adventure…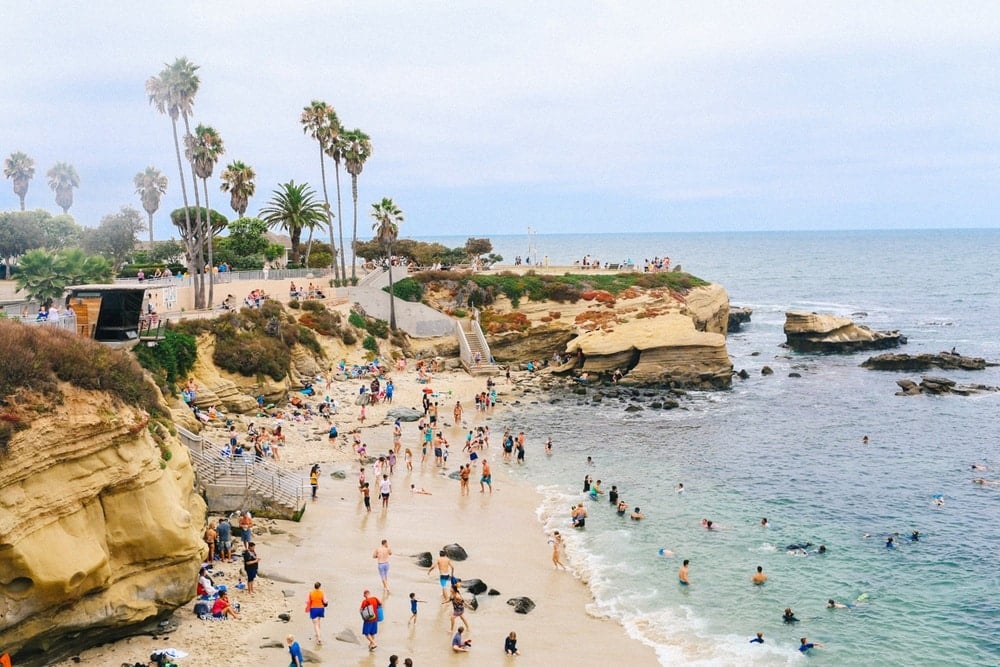 The important thing to know about San Deigo is that the weather is a lot like it is here in San Francisco (my home) in the sense that it has a thick marine layer in the summer. June gloom totally takes over the coastlines, so if you are coming in June or August, the foggiest months on the California Coast, don't expect to be seeing brilliant sunsets with clear San Diego views every night.
Just wanted to get that on your radar in case you didn't now! I didn't know fog was a thing out here in California until I moved here ~6 years ago.
Pro tip: rent a car! San Diego is really sprawling so you'll absolutely want to rent a car during your trip! Depending on traffic, it can take you 45 minutes to drive from Balboa Park to La Jolla Cove and that's a pricey Uber ride. Instead, drive yourself! Street parking isn't terribly hard in this city.
Time to chat about all the pretty places in San Diego for epic San Diego picture spots!
1. Communal Coffee
Aurgable one of the most famous coffee shop murals to come out of the circa 2015 "but first coffee" style craze. This black and white mural isn't just one of the most popular places to take pictures in San Diego, Communal Coffee cafe is worth a stop even if you aren't snapping those grams. Grab an iced coffee and avocado toast, and sit outside to people watch one morning. This mural is at their North Park coffee shop location, also have an adorable coffee truck with outdoor seating in South Park.
2. Sunset Cliffs Ocean Beach
Sunset Cliffs Natural Park is an EPIC place for photos, especially at Golden Hour. This 1.5 mile long coastal park features dramatic cliffs, rocks with tide pools, palm trees and even sea caves you can explore at low tide! It's one of the best places to take pictures in San Diego for that classic Green Flash sunset.
PSS – looking for good locations in San Diego for engagement photos? Come here on a clear evening with your couple and take all those dreamy hazy golden hour shots!

3. Old Town San Diego
Old Town San Diego was the first European settlement in California thus making it the oldest neighborhood in San Diego. It's a bit touristy these days, but still really cool to visit as it low-key makes you feel like you walked back in time… or walked into Mexico.
Since San Diego has such a rich Mexican influence, this is where you can find a lot of artisan shops and a big Dia De Los Muertos celebration each fall. There's also a lot of really cool bars and restaurants here with fun decor and colorful margaritas to take fun "cheers" shots with friends.
4. Pigment Mural in North San Diego
I will never not love this mural. It's a fun gradient of pinks perfect for Instagram photos. Find it at 3801 30th Street on the wall of Pigment, which is a store that's really cool on the inside, too!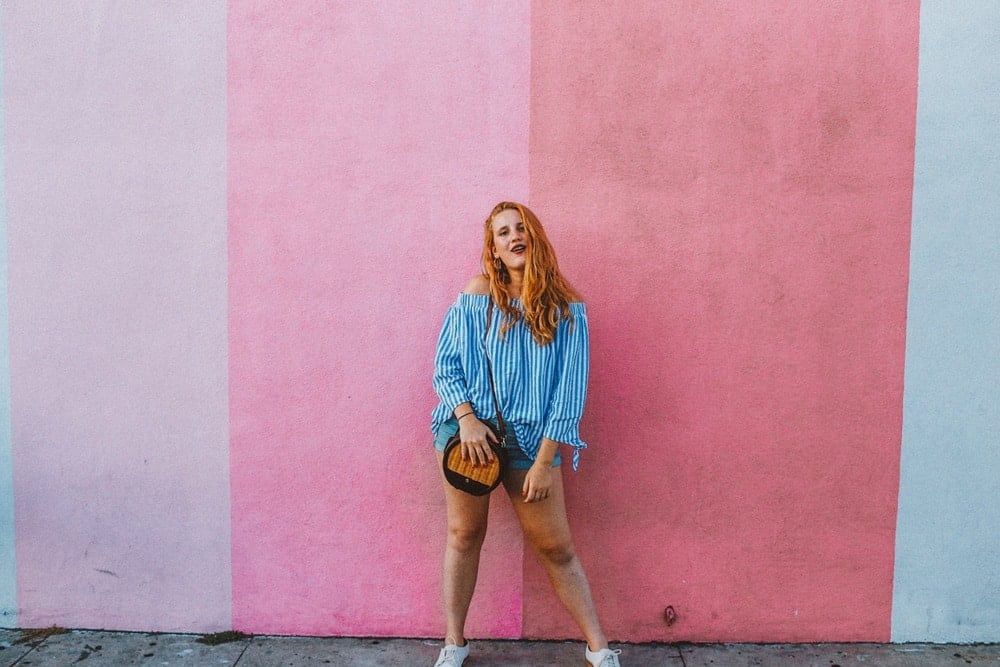 5. Potato Chip Rock
Up for a hike to the most Instagram-famous rock in Southern California? (Well – Giant Rock may have it beat, it's pretty famous, too.) Potato Chip Rock is known for looking, well, like a chip! From the right angle, this baby looks thin and flat. It's one of the most San Diego photography spots for goofy photos (like hanging off the edge) and album covers. I've seen photos of whole bands with instruments set up on the rock.
It's an intense hike up, I won't lie, so don't attempt this in the summer as you'll overheat in a dangerous way. There's also rattlesnakes on this trail, so watch where you step. I recommend coming on a weekday vs a weekend to avoid crowds as the line for the rock can be rather long.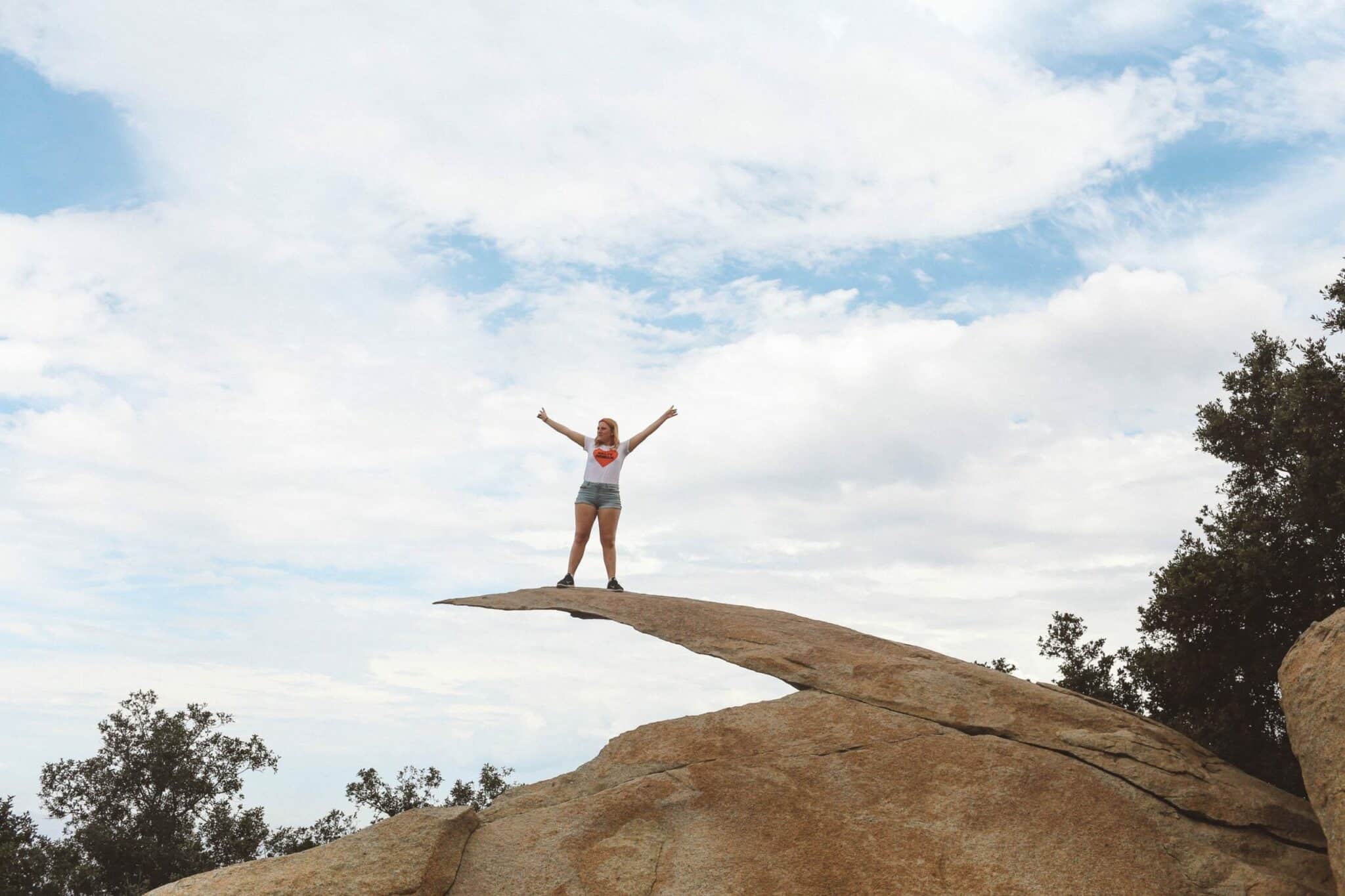 6. Cabrillo National Monument + Old Point Loma Lighthouse
One thing I really love about living in Northern California are all the rugged coastlines and adorable little lighthouses, like the Point Arena lighthouse in Sonoma. Once you get past Santa Barbara that kind of disappears – unit you reach Cabrillo National Monument at Point Loma. Here you can find rocky tide pools, a cute lighthouse surrounded by wildflowers in the spring and an epic view of the Downtown San Diego Skyline. Pretty any time of the day but the best season to visit is definitely when the flowers are blooming.
7. Point Loma Harbor
After exploring Cabrillo National Monument, stop by the Point Loma Marina Harbor to find tons of sailboats and seafood joints. There's Shoreline Park and Hrbo Park here which both offer Bay Views and city views.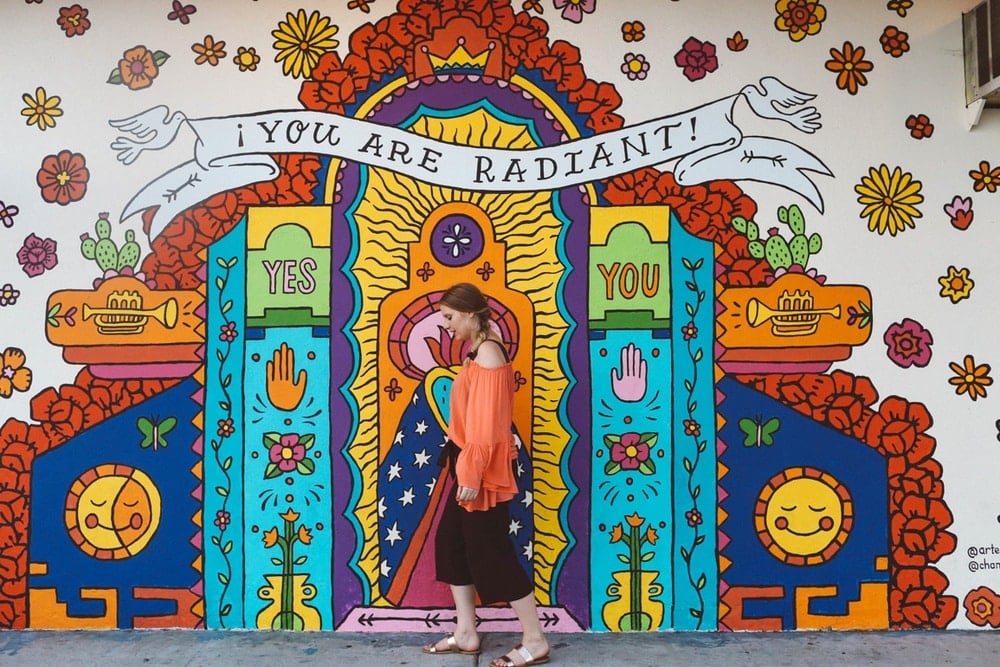 8. Frida & You Are Radiant Mural at Artelexia
Another cool shop in North Park with its own mural! Artelexia is a Mexican boutique has actually not one but two custom murals. The First is the "You Are Radiant" Mural on the outside for San Diego street photography snaps. The second is a Frida Kahlo mural inside the shop, which is totally cool and deserves a small bit of your shopping budget for all the things. Find it at 3803 Ray Street.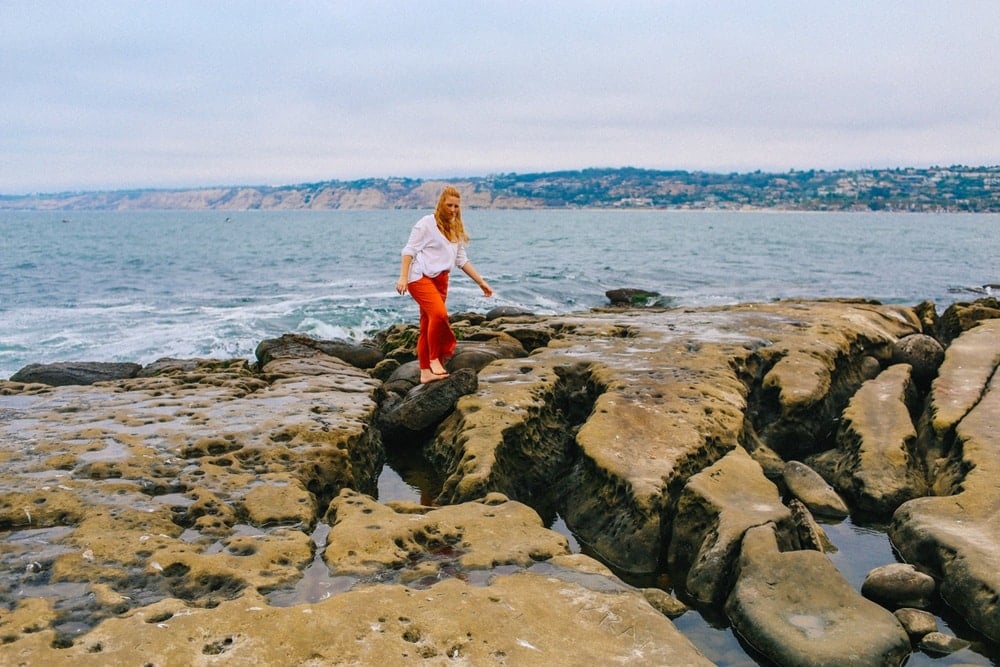 9. La Jolla Cove
My all time favorite places to visit in San Diego is La Jolla Cove and neighboring La Jolla Shores. I always book a hotel within walking distance to the beach so I can spend the mornings sipping coffee on the sand, afternoons snorkeling La Jolla Cove and evenings eating tacos at Shore Ride Bar before heading – you guessed it – to the beach for sunset.
La Jolla Cove has some of the clearest blue waters I've ever seen in California. I always can spot little fishes when I snorkel here. Up on the rocks above are sea lions and you can get pretty close to them (but not too close, they will bite!) Gah, I just think this is one of the most beautiful places in San Diego. You have to go see it!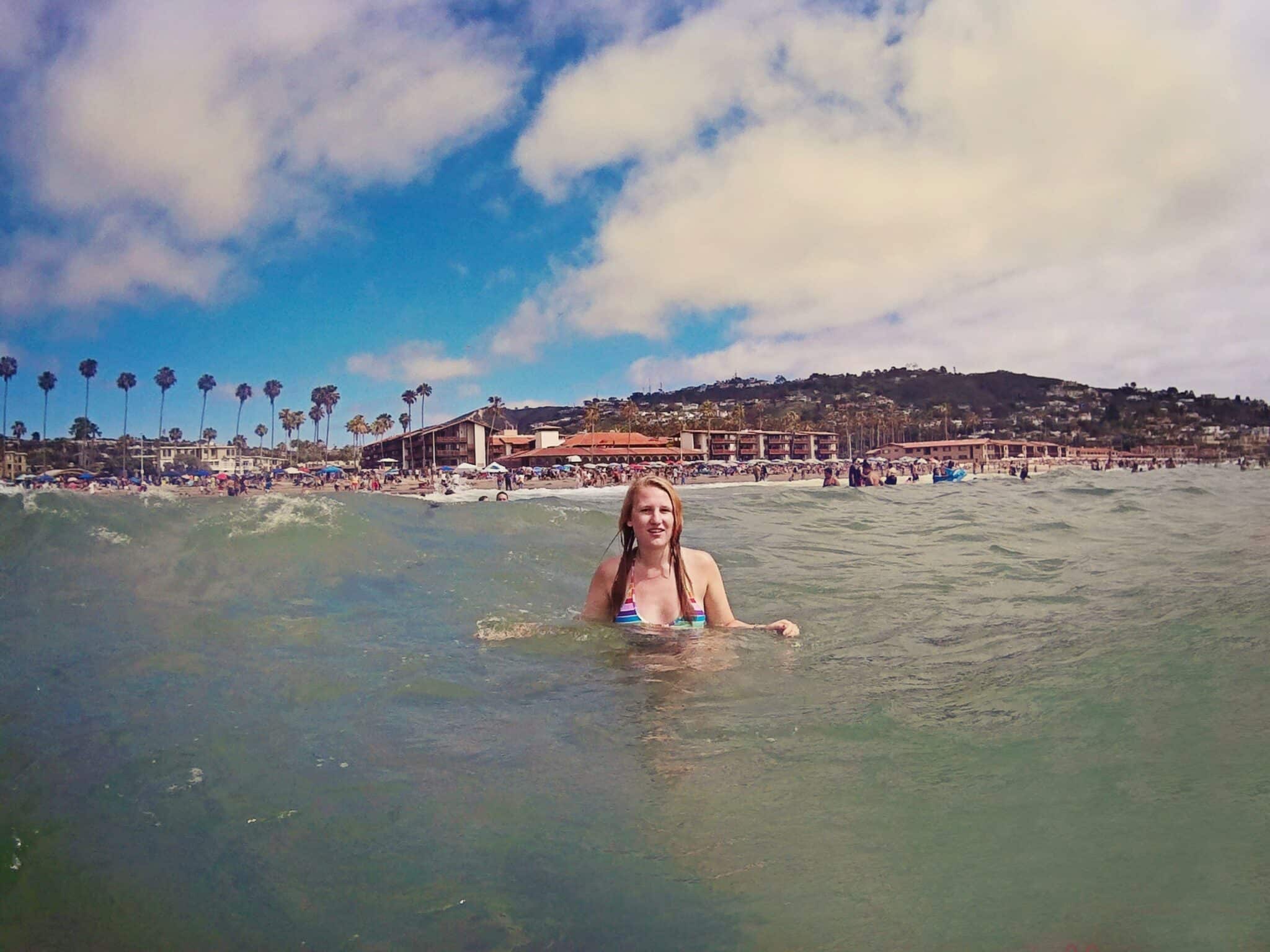 10. La Jolla Shores Goldfish Point & Underwater Park
This is a secret photo spot! While staying in La Jolla Shores a few summers ago, I woke up at 5am to catch a sunrise from Goldfish Point one morning. I had plans to drone an epic shot there.. only to realize my battery wasn't charged when I got there (FAIL) but I still loved sitting on this secret lookout point with pelicans gliding around celebrating the morning sun.
Access it by finding the trail behind the Cave Store and climbing down to the point. After, go into the Cave Store as there's a mother secret San Diego Instagram spot here! There are stairs in this story that lead right down to a secret sea cave!!
11. Roy McMakin's Favorite Color Mural
One of those secret photography spots in San Diego that's one of my favorite murals in the whole city! I'm a huge sucker for color and I love all the little rainbow squares. It's really tall so perfect for jumping shots. Find it at 7596 Eads Ave, La Jolla.
12. Ho Chi Minh Trail
Only .7 miles long, Ho Ci Minh Trail is a difficult hike that takes you in between large rocks through a narrow path that ends up at the beach. It totally looks like something you would find in Joshua Tree, not San Diego, making it a really popular photo spot for desert-feeling vibes.
13. Landing Mural by Heather Gwen Martin
Another secret La Jolla mural! "Landing" is located at 7724 Girard Ave. It's a tall, thin mural featuring abstract orange, green and yellow designs.
14. Balboa Park
There are a LOT of epic Balboa Park photo spots. This park is over 2,200 acres big after all! It features the San Diego Zoo, Spreckels Organ outdoor amphitheater, a botanical garden, cactuc garden, Japanese garden (just – so many gardens!), a lily pond, tons of cool buildings. Oh, and rumors are there is a secret cat corner that feral cats always hang out in.
You really need at least a whole day, if not a whole weekend, to properly explore Balboa Park. That being said, some of my top favorite spots in the park for epic Instagram photos are…
The Lily Pond
Inez Grant Parker Memorial Rose Garden (when they are in bloom)
Moreton Bay Fig Tree
California Tower
Balboa Park Carousel (especially at night for light art shots!)
15. Carlsbad Ranch Flower Fields
OMG The Carlsbad Flower Fields are legendary! Other than poppy fields around Lake Elisnore, this is probably the most famous flower field in all of California.
Carlsbad is just North of San Diego so it's a small drive out of the city. Over March-May, the Carlsbad Ranch opens its gates to the public to come through its acres upon acres of flowers. You can find pink, red, yellow, white, orange flowers here stretching forever. They make amazing Instagram photos!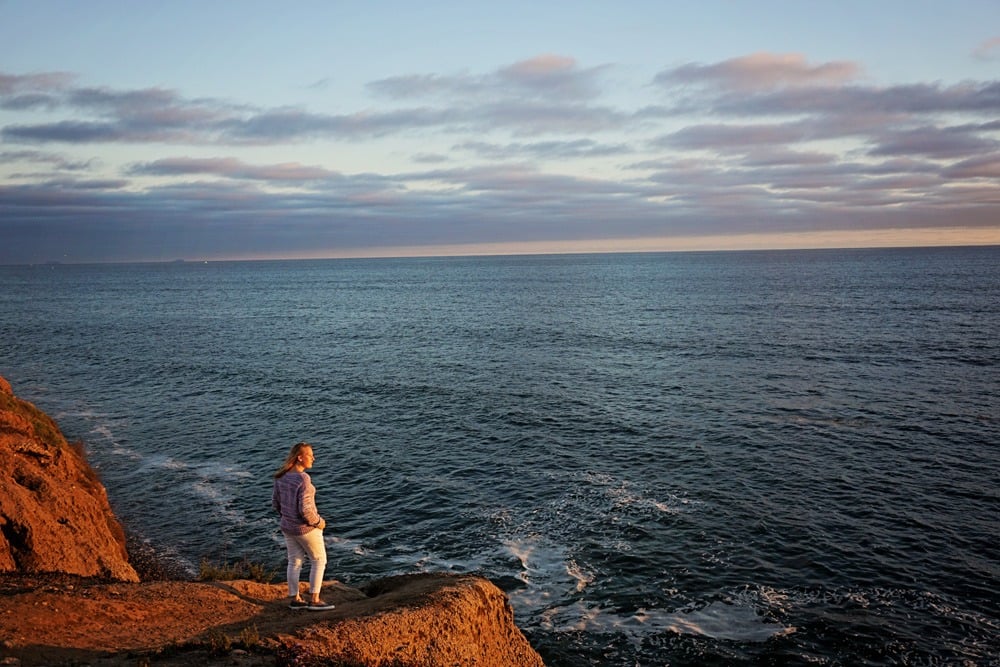 16. Torrey Pines State Reserve
Over 2,000 acres of parkland and coastal bluff trails to explore. Torrey Pines is a spot is especially beautiful during golden hour and the springtime when tons of wildflowers bloom along the trails. I recommend doing the main Torrey Pines loop which is about 2.3 miles round trip and takes you to all the highlights!
17. Marian Bear Park
Another popular hiking park for photos. Even though it's right in San Diego, Marian Bear Park looks like it's deep in the forest. There's tons of trees with low-hanging branches you can sit on, and the park gets a little bit of fall foliage in October, making it a really popular family photo location in San Diego.
18. Holy Matcha
One of the most popular Instagrammable places in San Diego! I'm sure you've seen this cafe on your Instagram feed at some point. Holy Matcha is known for its hot pink tables, pink cushions and green palm leaf wallpaper. They also make colorful matcha drinks and seem made for Instagram. It's hard to take a bad photo at this cafe!
19. Scripps Pier
If you're visiting Southern California, It almost feels mandatory to grab a photo under a giant pier. Scripps Pier is THE spot in San Diego. It's over 100 years old and famous because unlike other piers – like the one in Pismo, the pillars of Scripps is very evenly lined up. That means at sunset at the right time of the year, you can capture a photo of the sun directly in between the pillars. You may have to battle some photographers for that shot, but it's worth it!
20. North Park Nursery
While in North Park for Holy Matcha, swing by North Park Nursery, one of the cutest little plant shops in town! It has tons of Instagramable corners with green plants and colorful flowers.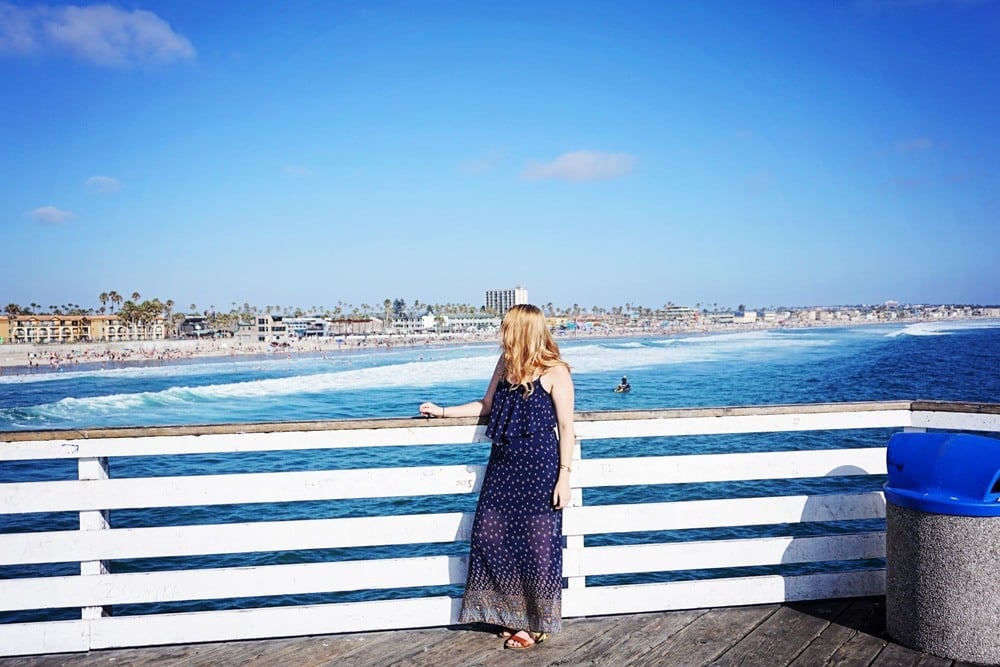 21. Greetings from San Diego Mural
Hey, every city has a Greeting From mural and it always makes for fun Instagram photos, especially to kick off your San Diego vacation! It's located at 4223 30th St.
22. Hotel del Coronado
Want to feel like you were whisked away to the East Coast? Hotel de Coronado totally has luxe North East beach town vibes to me. This 1888 historic hotel is known for its red and white striped cabanas and historic charm. Oh, it's also haunted! The best part is, you don't have to be a guest at the hotel to enjoy the beach right in front of the hotel. You can spend a day at this luxury hotel totally for free. I recommend bringing a straw picnic basket and a cute beach blanket to really lean into the historic aspect.
23. Chicano Park
So many beautiful places in San Diego, such little time… Chicano Park is worth a stop, though! Located in Logan Heights, It's the oldest Mexican-American neighborhood in the city. In the 1960's the city built the freeway directly over it, destroying so much of the history and buildings.
Finally, after a long battle with the city, the area under the bridge was turned into a park. Now, it's PACKED with over 80 murals and sculptures. There's also a lot of craft coffee shops and breweries – you could literally spend all taking photos here.
24. Salk Institute
So many amazing spots for San Diego photos and Salk Institute is a gem since it's totally different from other parts of the city. While San Diego is full of color and nature, Salk Institute is very grey and minimal. If you love clean lines and minimal backdrops for photos, this your spot!
25. Mission Beach
I personally think Mission Beach is the most classic Southern California beach in San Diego. It as a large boardwalk with palm trees, blue lifeguard towers, colorful beachside restaurants and shops, and it's really long. It took me a good 25 minutes to walk the length of this beach.
Bring your swimsuit and sunglasses, and head here for those classic California beach photos!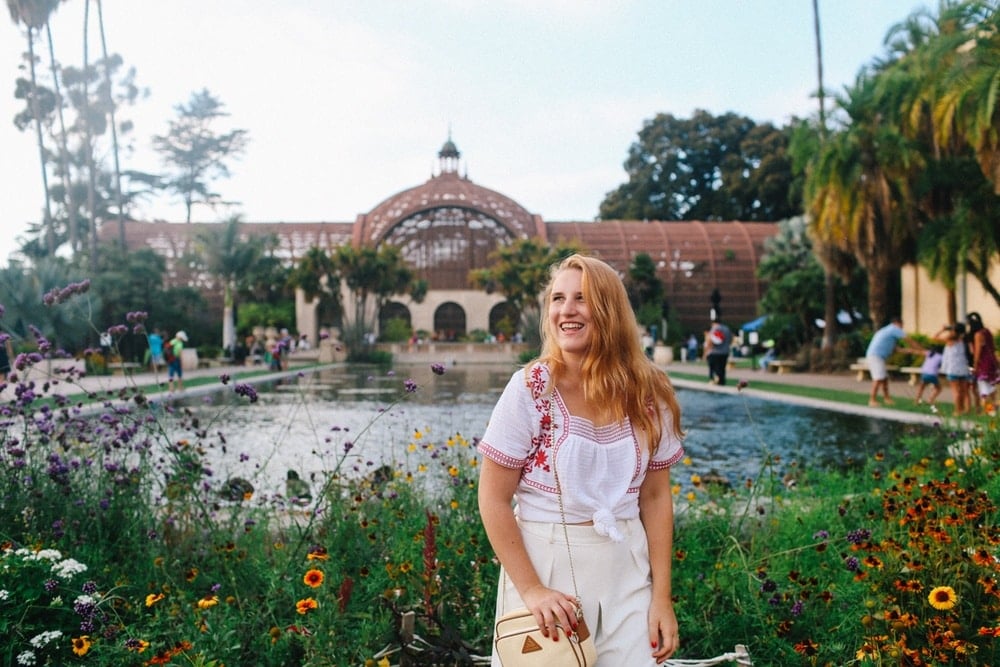 I hope this helps you figure out where to take pictures in San Diego! I'll keep updating this post as I discover new places on future visits, and please do drop the location of your favorite San Diego photo spots if they didn't make the list!
I'll be heading down again this summer to catch a Padres baseball game at Petco Park and go craft brewery hoping with my husband. And, of course, one day will absolutely be spent swimming and snorkeling at La Jolla.