I knew Porto would be beautiful (I swear all tiny cities in Europe are enchanting AF). But I was truly blown away by the sheer about of Instagrammable places Porto has.
I took over 4000 photos on my trip to Porto Portugal but I've narrowed the top photo spots for you to visit!
I love love love hunting down fun places to take photos while traveling and my favorite part is coming home and making a guide for YOU.
So you guys can also take *chef kiss* stunning photos on your trips. You've probably seen photos of the São Bento Railway Station's blue tiles all over your feed but trust me, the city has tons of other little corners that are so dang cute.
Buckle in, Porto has a LOT of good photo spots.
I spent about 4 days in total running around Porto soaking up all the magic this city has to offer. And while I found a lot of amazing spots for this guide, I'm sure I missed a few that I didn't have time to swing by.
If you're reading this and know of other secret gems to add, please leave a comment below so everyone can see and add it to their Google Maps!
I visited in August so that meant the sun didn't set until like, 9pm each day which really helped me squeeze in a full daily itinerary.
Just a reminder to check the sunrise and sunset times during your visit so you can nail down golden hours for the best photos!
Note: The Douro River separates the town of Porto and the town of Gaia. Some of these spots are in Gaia, not Porto. I didn't want you to be confused!
1. Esplanada do Teleférico
Across the river in Vila Nova de Gaia is Esplanada, aka the "Terrace Bar". This restaurant/bar has a stunning patio that overlooks all of the Douro River and Porto. I would gander it's one of the most Instagrammable restaurants in Porto.
It's romantic all day, but especially great for photos at sunset. Order a fancy cocktail for photos and stay until dusk to watch the city slowly light up!
I really think it's one of the best spots in Porto for sunset happy hour and I loved kicking off our trip to the city with a glass of Port and watching the sunset over the city here.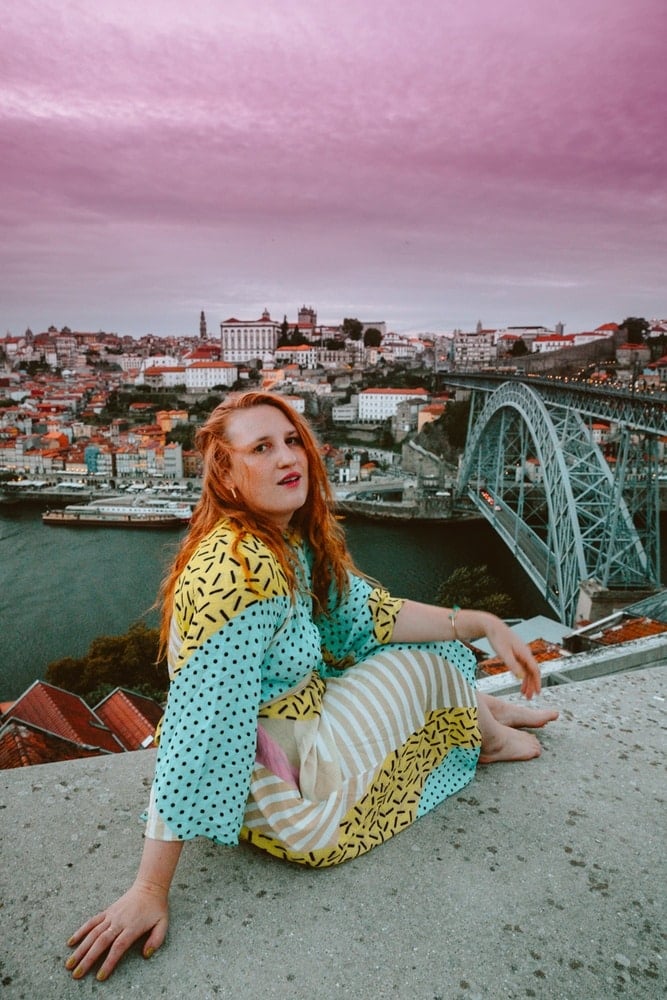 2. Sunset From A Secret Lookout Spot in Gaia
I think this has the best view in the entire city and it's often overlooked as most people standing to the side of it or sit in the park behind it.
But this spot has zero people or buildings blocking your view of the sunset over Porto! It's a little concrete slab next to Espanlada but before you reach the bridge. Hop onto that concrete area and camp out for views over the river.
This is hands down one of the best Instagram spots in Portugal and best part – it's totally free to visit!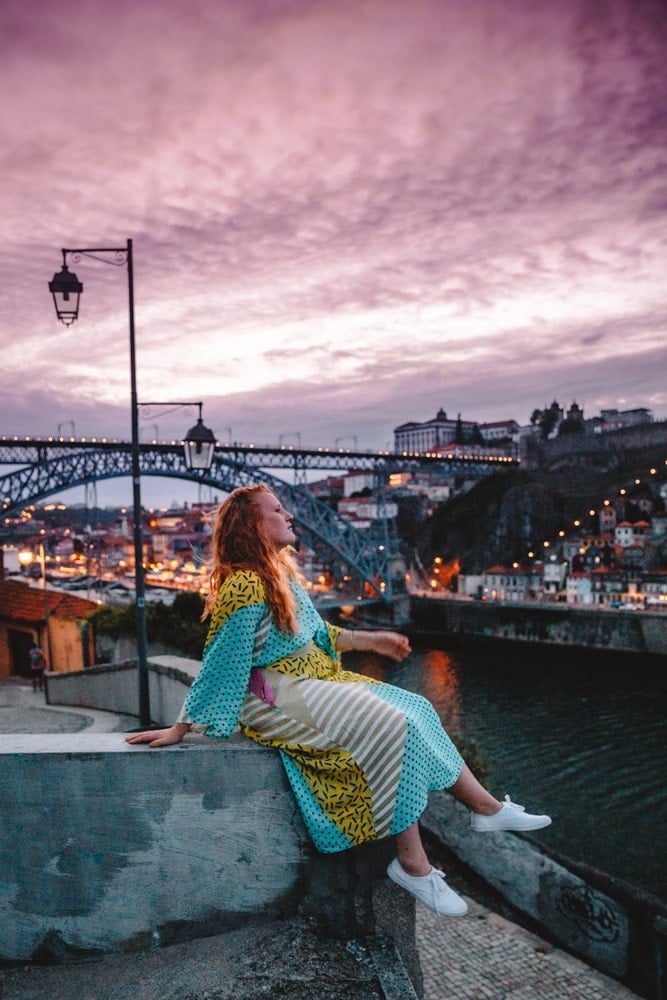 3. Walk Down To A Secret River Spot
There's another secret spot nearby! Head to R. de Cabo Simão, the street right below the Monastery. It's winding but about halfway down you'll find a little viewing platform that gives a unique view of Dom Luis I Bridge and Porto.
You can hop onto the ledge to take amazing photos! Especially beautiful at sunrise or twilight at night. Elise and I headed down here after taking photos up above and I loved this little back street.
Tourists don't really come down here so it felt like a hidden spot in Porto that only we knew about. And then we got to walk across the bottom of the bridge to cross the river after, which was such a fun contrast from walking the top level.
4. River Boat Cruise
Sail down the River Douro at golden hour for a totally unique perspective of Porto! It's probably the best way to take those close, unobstructed photos of the Ribeira District.
But if you can grab a seat on the boat right at the front, you can also take really cool boat photos with the river and houses behind you. I suggest booking this tour which is only $18 per person.
We arrived right at golden hour for a Douro River Cruise and it was honestly one of my favorite memories from our trip to Porto. We somehow lucked out and got seats at the front of the boat so we could take stunning photos without people blocking the way.
5. Climb The Clérigos Tower
Smack in the Porto city center is the Clérigos Tower (aka the Iglesia de los Clérigos Portugal).
This is a special church because it has a huge clock tower that you can visit and climb! Get ready for a LOT of stairs but the sweeping views from the top are worth it.
We bought tickets at the door but had to wait about 30 minutes for our time slot. If I did this again, I would
buy tickets online ahead of time
so there's no wait.
Heads up – there are portions of this tour that made me freak out from the heights but it was worth the scare for the crazy good views!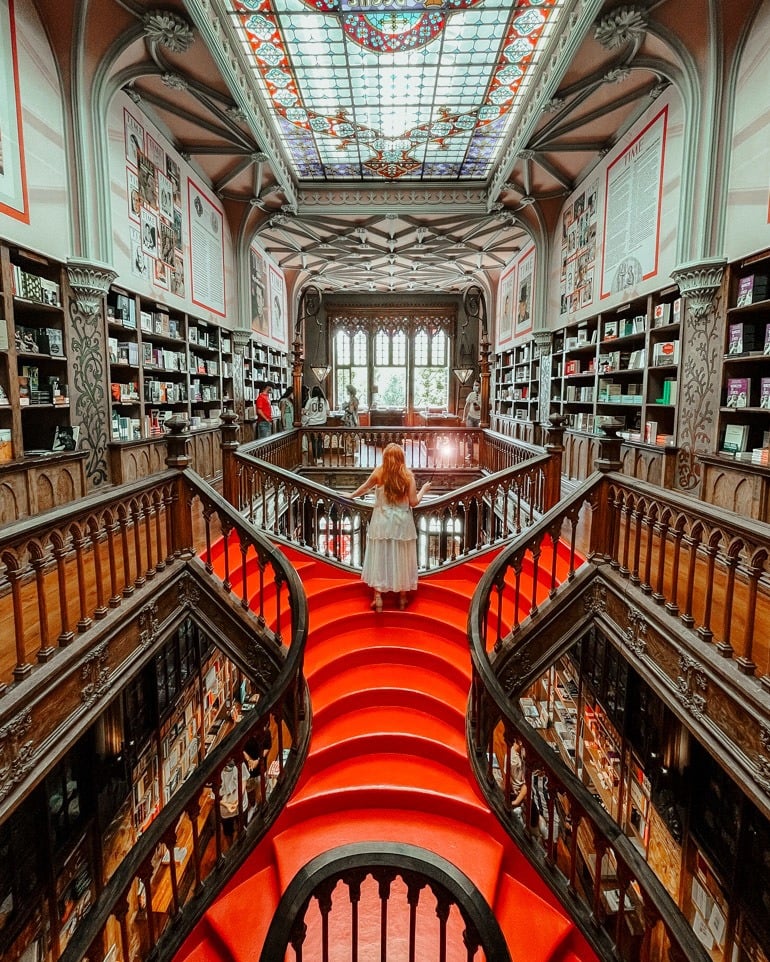 6. Livraria Lello Bookstore
One of those nerdy and weird things to do in Porto that was honestly probably my trip highlight. (I'm a huge Harry Potter fan!) The Livraria Lello bookstore claims fame by inspiring JW Rowling while she was writing the first book.
And you can totally see it on the inside… cart tracks on the floor that reminds me of Gringotts Bank. A large, winding staircase in the middle that totally could be in Hogwarts. Whimsical wood details you would find in Flourish and Blotts…
It's one of the most Instagrammable places in Porto since, well, it's one of the most shared places. People love it.
View this post on Instagram
I have a whole post with tips on how to visit the Livraria Lello bookstore, how to skip the massive line and get the best photos that you should check out if you go!
The bookstore and clock tower are right around the corner from Praça Guilherme Gomes Fernandes square which has cute buildings and sometimes a vendor market, which is worth swinging by!
7. Top Level of Dom Luís I Bridge
We kicked off our Porto trip by walking from the Sao Bento Train Station over the Dom Luís I Bridge at golden hour and holy moly, this is an amazing place for photos.
Come at golden hour for hazy light flooding everything, or for a Porto sunset for colorful skies behind you. You can see down to the river and the tram, it's awesome.
It's only open to people and the train, so you don't have to worry about cars! Just make sure to look out for the train as it runs long the Dom Luis Bridge. It's not very fast but still, be safe!
8. São Bento Train Station
Portugal is known for their azulejos aka blue tiles and the Sao Bento Railway Station is probably the most beloved spot to view them.
This 100+ year old train depot building gets flooded with warm, golden light every afternoon (sometimes with light beams if you're lucky.)
The entryway has so many detailed blue murals made from the azulejos. You could spend ages looking at all of them. Since this is the major train station of the city, it's always going to be bustling with people.
Plan on taking quick photos in-between passengers walking. It can be a bit crazy but just have patience! It may be easier to stop by on a weekend when locals aren't using the train station for commuting to work.
It's one of the most popular Porto photography spots since it's so classic so it's worth the wait!
9. Chapel of the Souls
Aka Capela das Almas,this church is probably one of the most famous church since it's totally covered in azulejos. I've never seen anything like it. It's located on Rua Santa Catarina in the Bolhao area, which is the major shopping street.
Thus, in the afternoons it's very crowded and hard to take photos of. Instead, come early in the morning before the shops open!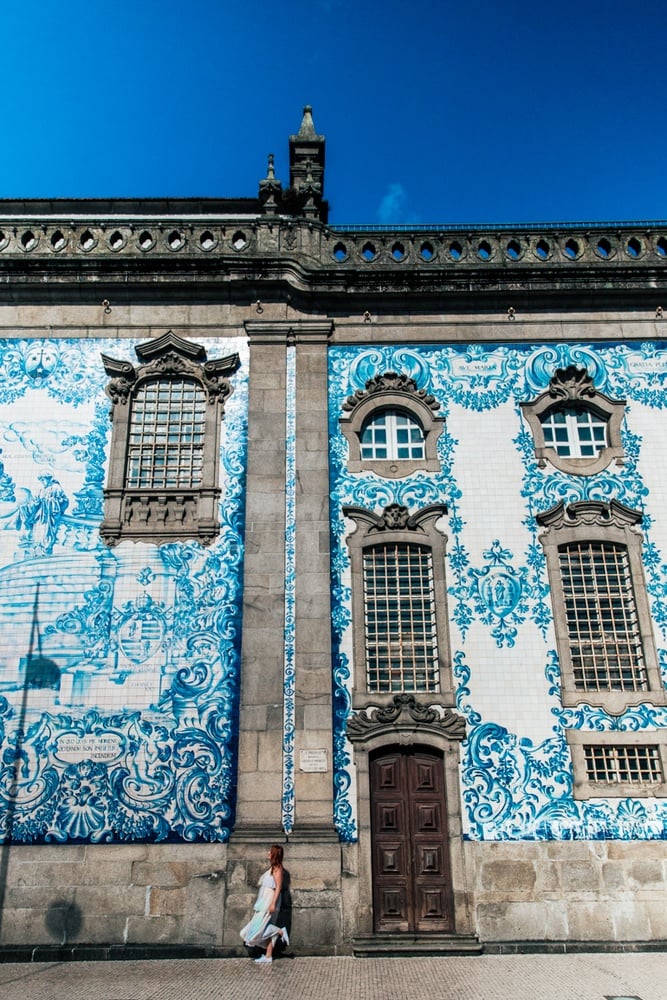 10. Igreja do Carmo
Another church which has a huge wall on one side covered in blue tiles. This one is on a less busy street it's easier to take photos here.
Make sure to pop into the church, too. The alter here is the prettiest one I saw in all of Porto. It's covered in gold!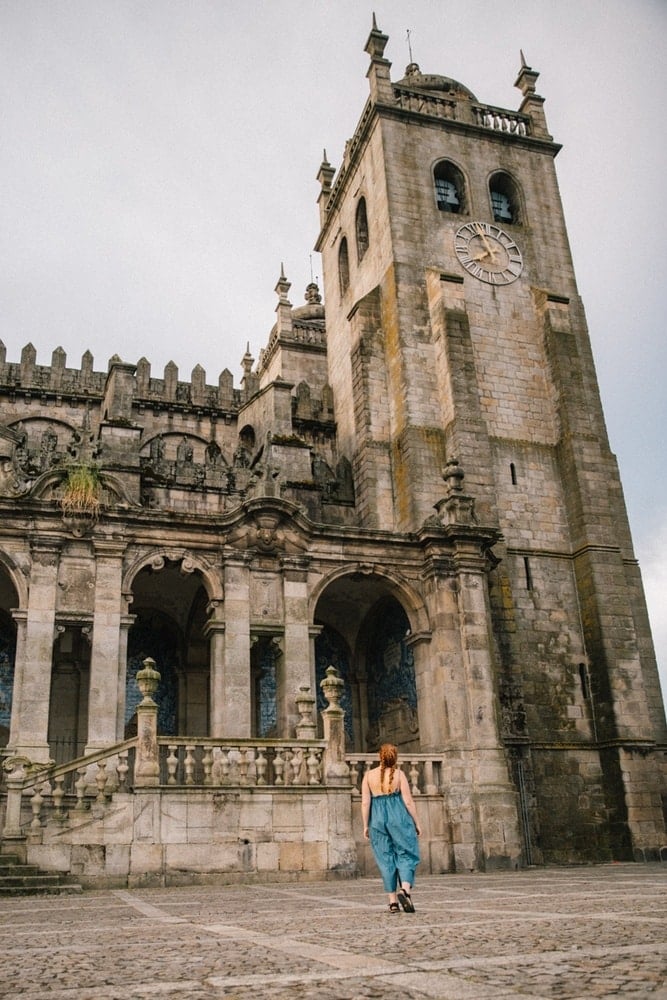 11. Sé do Porto Cathedral
I think this is one of the best photo spots in Porto because this Cathedral has so many cool corners inside and out.
Dating back to 1737, this Gothic church also looks like something you could find in Harry Potter (gosh, I need to stop comparing this to HP I'm sorry!) I suggest wearing something blue, pink, or yellow to pop out against the church. I'm wearing this blue jumpsuit that makes a fantastic travel outfit!
The Cathedral doesn't open until 9am. I suggest coming a little bit before to take photos around the plaza and outside before the crowds show up. Then you can go in!
This is what I did. I got up early and headed over to the plaza. My friend Elise slept in so I used a tripod to get a lot of photos of myself with a timer. Other than one other photographer, I had the whole plaza to myself but once it turn 9am, hoards of tourists showed up.
I was so happy I got my church photos in peace! It's one of the popular Porto photo spots but usually people come too late in the day to shoot here.
12. Miradouro da Rua das Aldas
Miradouro means "lookout" and there are a lot of great, hidden Miradouros in Porto. You can always google Miradouros to find some but I suggest starting at the one right below the Porto Cathedral (Miradouro da Rua das Aldas)
This spot is great in the mornings if you're hoping to see a sunrise in Porto. So many red rooftops from thie viewpoint!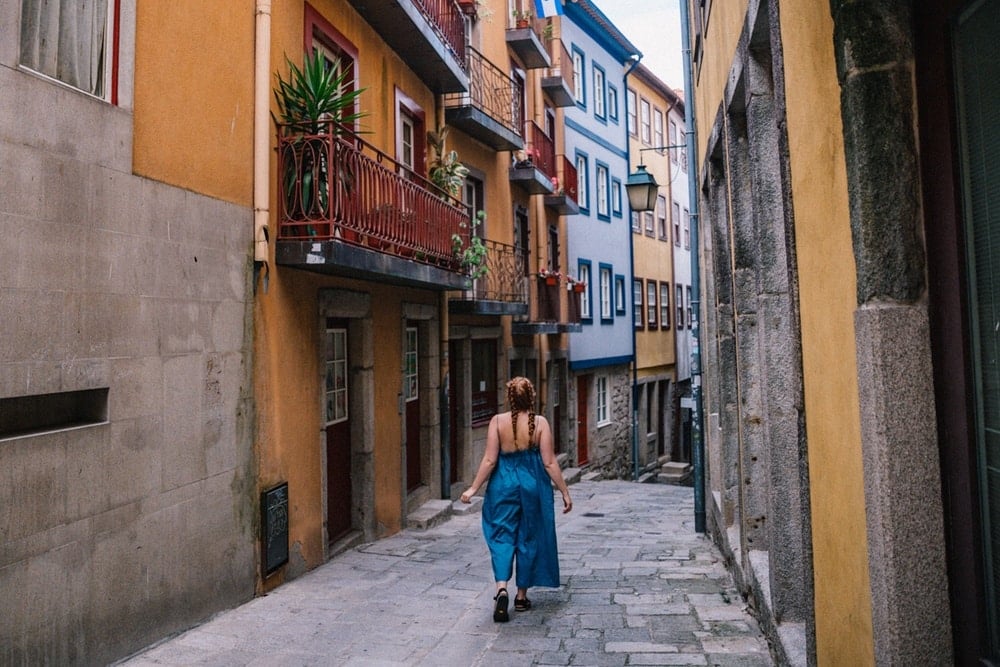 13. Winding Streets Behind Ribeira
I think some of the best photography locations in Porto happen when you just start walking and get lost. There are so many darling streets with colorful houses and views of the city peeking through.
The best neighborhood to wander is behind the Ribeira riverfront and below the Cathedral. Start there and get lost!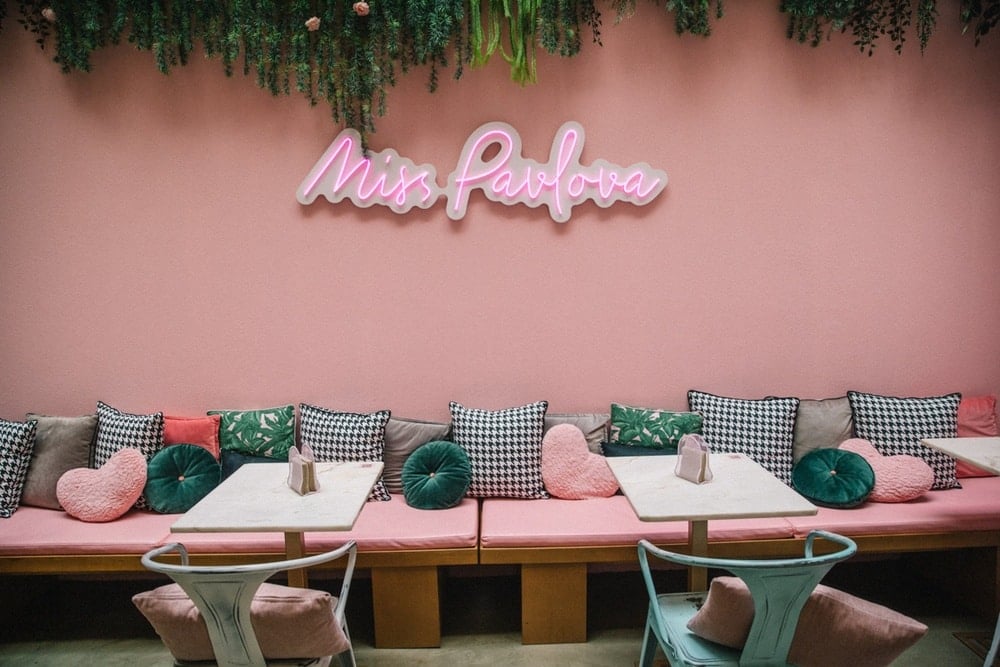 14. Miss Pavlova
This little bakery is one of those Instagrammable places in Porto that looks like it belongs in LA. They have a back patio painted pink complete with a neon sign. So cute!!
15. Cafe Majestic
Cafe Majestic is one of those world-famous historical cafes. The food is just alright, but the interior is stunning. It is located in an Art Nouveau building after all!
There's always a long line to get in, so I suggest showing up right away in the morning to beat the tourist crowds. You can bundle this with your Chapel of Souls visit as they are a few blocks away!
16. Boa-Bao
Boa-Bao is a really cool Asian restaurant in Porto. It's mostly open-air with a patio that's covered in plants. And they have to cutest cocktails and dumpling baskets.
If you're a foodie and looking for a unique photo in Porto showing off meals (that's not a glass of Port) head here!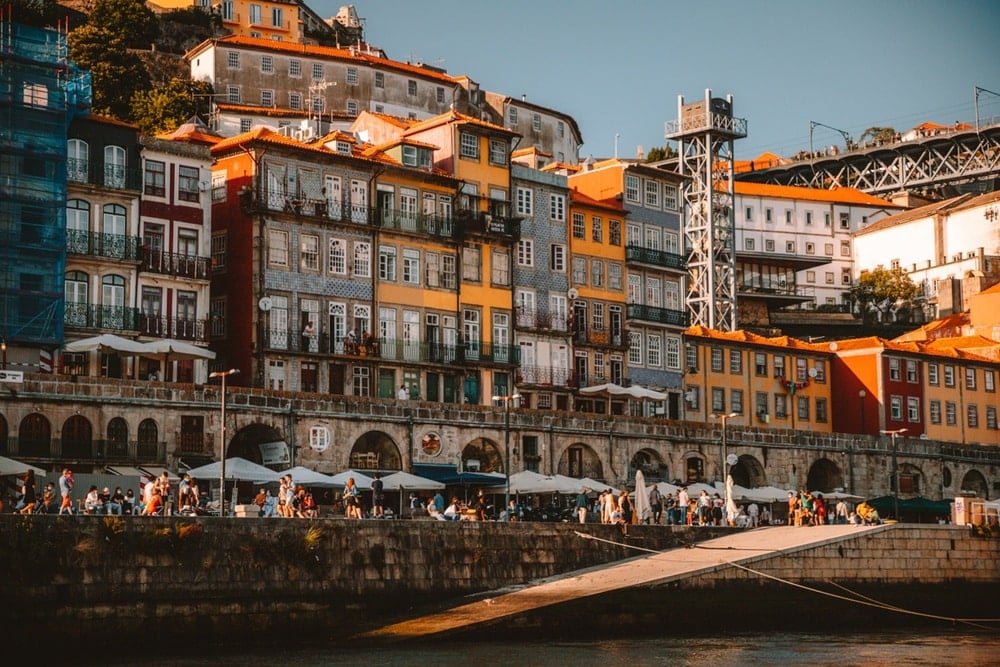 17. Ribeira District
Arguably one of the most beautiful places in Porto is the Ribeira District, which is the riverfront below the Dom Luis I Bridge.
Find tall colorful houses here with patios that locals and tourists alike flock to at night for wine and dinner. It's hard to take a bad photo here and you can find some of the most instagrammable cafes in Porto lined up here (they may not have the best food, but they'll have allllll the vibes you're looking for!)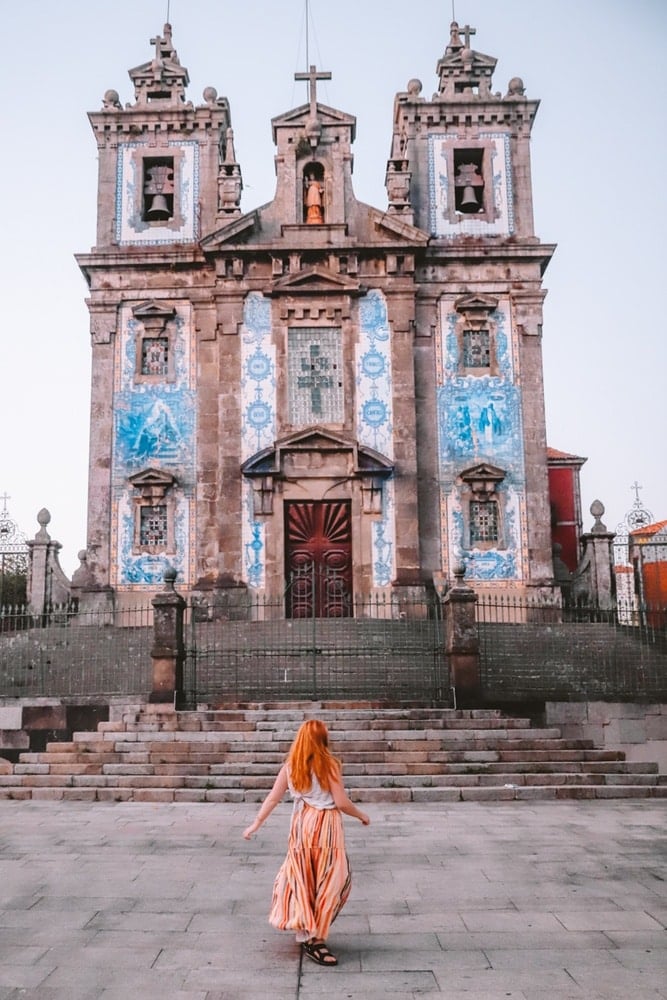 18. Church of Santo Ildefonso
Santo Ildefonso is a historical 1739 church with blue tiles on the front and a large plaza that just begs for photos. It's best to come in the evening when all the vendors and tourists have left so you have an empty plaza to go crazy with pics!
19. Capela do Senhor da Pedra on Praia de Miramar
Capela do Senhor da Pedra is of those attractions in Porto that many overlook because technically it isn't in Porto, it's a little down the coast.
But have you ever seen a church that's literally right on a beach before?! It's a hexagonal pagan church constructed in the 17th century. The entrance faces away from the ocean to add an extra level of cool for photos.
20. Stock Exchange Palace
Aka the Palácio da Bolsa, the Stock Exchange was built in the 19th century and is SUPER beautiful on the inside.
Think gold and marble everywhere, with tons of natural light from windows. It's not longer used for business so visitors can tour and take all the photos they want!
21. Parque de Serralves
The Serralves museum is probably one of the Instagrammable places in Portugal. It's home to a historical pink art deco house that reminds me a lot of Wes Anderson.
There's tons of large gardens with fountains and even a treetop walk that reminds me a lot of the Capilano Suspension Bridge in Vancouver.
Inside the museum buildings, you can find rotating art exhibits. We got to see some Ai Wei Wei on display. There's a lot of bathrooms here so I suggest bringing a few different outfits so you can go crazy with photos!
22. The Secret Tower / Torre
This Torre is one of my favorite Porto hidden gems. It sits on the edge of the Jardins do Palacio de Cristal and overlooks the Douro River and Gaia. It has MAJOR Princess vibes… or maybe Game of Thrones vibes?
You may have to wait out other people who climb the tower but eventually, you can get a people-free photo. Best in the afternoon or sunset.
23. Jardins do Palacio de Cristal
A totally free garden with TONS of cool spots. It has the Torre, but also multiple hedge gardens with river views, a cool walkway covered in trees, and a large dome in the center that looks out of this world.
And if you're lucky you'll spot some peacocks!
24. Farolim de Felgueiras Lighthouse
Porto is a beach town! Head to the beach to see the Farolim de Felgueiras Lighthouse which sits on a long pier with the ocean behind it. Perfect at sunset for hazy beautiful ocean photos.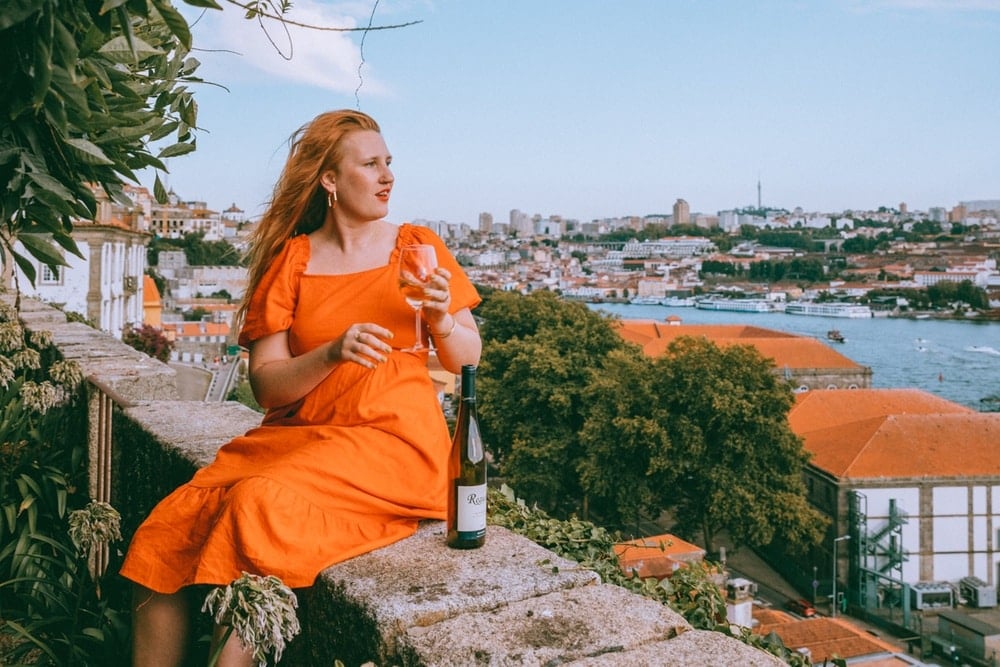 25. Wine Taste At The Vinho Verde Wine House
One of those Porto secret places that most tourists don't know you can visit. Vinho Verde is a wine region in Portugal that produces fresh, fruit-forward wines.
It's the reason I was in Portugal in the first place – they flew me out to do a wine press trip in Vinho Verde wine country!
The headquarters is in this historical house with gardens that overlook the Douro River. Every Wednesday they open up to the public to come and do a wine tasting in the gardens.
Trust me, this spot is SO dang good for photos. Plus, you'll love learning more about Vinho Verde wine.

26. Rua de Santa Catarina
This is that major shopping street I was talking about. Hanging above the street are large colorful pieces of fabric, a really neat art installation that looks like the fabric is floating. So pretty.
On top of finding Cafe Majestic and the Chapel of Souls here, you can also see a famous Portugal cable car at the top of the street! Look for them on the address R. de 31 de Janeiro.
27. The Monastery of Serra do Pilar
You can't miss this Monastery. It sits high on a hill in Gaia and can be spotted from many overlooks around Porto. It was built in 1538 and is famous for its circle cloister.
You can tour the inside for just a few Euros. Or, come at nighttime for what the locals consider the best nighttime view of Porto.
28. Colorful Mural By Joana Vasconcelos
Artist Joana Vasconcelos was commissioned to paint a huge mural on the side of a Steak N Shake. It's 3 stories tall and packs so much color in. Makes for such an iconic, fun photo!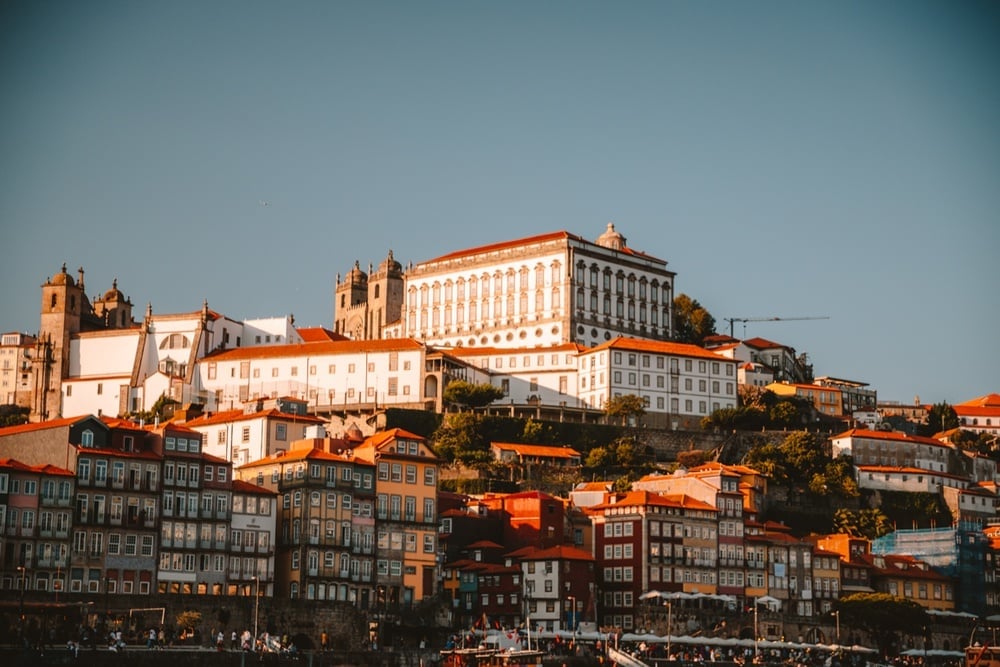 I know some people love to seek out monuments and status. If that's your thing, Praça de Guilherme Gomes Fernandes and Praça Almeida Garrett both have statues.
Alright, I hope this helps you find all the amazing Instagram spots Porto has to offer. If your favorite photo spots Porto has didn't make the list, please drop a comment below so everyone can see!!
I had seriously such a fun time running around Porto with my friend, Elise. It's such a photographic city and I can't wait to come back around one day. I think visiting in the spring when all the flowers around the city are in full bloom would be *chef kiss* perfect.
Until then…
Happy adventures.