Tiny huts, luxury cabins, cute A-Frames, glamping tents under millions of stars…
There are some really cool Airbnbs and cabins here… Yosemite National Park is one of my favorite places on the planet. There is something so magical about this park – you'll see what I mean when you get there.
And while the park will absolutely be your trip's highlight, I think it's really important to have an amazing vacation rental to come back to at the end of a long day. A hotel or cabin can totally be a destination in itself, too. So I hunted down all the coolest, best, most magical Yosemite Airbnb and cabins for you!
10 Hip Yosemite Airbnbs & Cabins For A Magical National Park Trip
I judge cool Airbnb rentals based on the style/decor, price, location, past guest reviews, amenities and overall ~vibes~. If the property is worth the drive along, then I want to book it. (Otherwise, I'll usually opt for hotels.)
These are all the best Airbnb Yosemite National Park rentals. These are all places I have either stayed at personally, had trusted friends stay at or spots I have bookmarked on my bucket list.
Unique Yosemite Airbnbs & Cabins For A Magical National Park Trip
Yosemite National Park is one of my favorite places in the world - & booking a Yosemite Airbnb cabin is the way to go! From cute glamping huts to luxury houses and even A-Frames, these are the top Airbnb vacation rentals near Yosemite park.
Location: Bass Lake
Guests: Up to 8
Price: $450 / per night
Holy moly, how stunning is this A-Frame cabin outside the South Gate entrance to Yosemite?! This house has a fully equipped kitchen, wrap-around porch, huge living room with tall windows and tons of little details to make the experience feel magical. It's a 4 bedroom home and can fit up to 8 people, making it the perfect Yosemite house to rent if you have a large group or family!
PS - I love Bass Lake, especially kayaking on it. Acorn Falls house is right near a beach so you can access the water! If you're looking for the best A-Frame rental cabins in Yosemite, this house is IT!
Location: Mariposa
Guests: Up to 6
Price: $190 / per night
I joke that one of my hobbies is drinking wine in outdoor hut tubs but I'm actually pretty serious about that one. After a long day hiking Mirror Lake Trail or Mariposa Grove, coming back to this luxury house and soaking in this hot tub - with that sunset view - sounds like pure bliss.
This house has tons of fun perks, like a game room and pool table, along with more outdoor seating and a grill. Past guests rave over all the amenities and the views at this Yosemite house.
Location: Ahwahnee / Oakhurst
Guests: Up to 2
Price: $69 / per night

OMG, these are the coolest Yosemite cabins Airbnb has I swear! My husband and I just spent 3 nights in cabin #28 at Sierra Meadows and I can't express how fun these glamping cabins are. I loved being able to just walk out and instantly be in nature. There are about 10 on the property and each one is unique (think different colored chairs on the porch and even different window shapes!)
Each hut has heat and AC, along with lights, outlets, wifi and a pour-over coffee station. Bathrooms are located in the bathroom + shower building, which are super clean. (During 2020, they are limiting rentals so each cabin can claim one wing of the bathrooms for safety purposes!) I would book these Yosemite rentals again in a heartbeat - they're just perfect. If you're looking for places to stay near Yosemite cheaply, these cabins are super affordable, too.
Location: Groveland
Guests: Up to 12
Price: $650 / per night
Imagine having this entire dock and portion of the lake all to yourself!! Just 30 minutes from Yosemite, this lake house cabin makes the perfect summer rental for families or large groups.
Grab your swimsuits, sunscreen and cold beer. It's time to chill by the lake.
Location: Oakhurst
Guests: Up to 4
Price: $150 / per night
If you can't tell already, I swoon over A-Frames. There aren't a lot of cute A-Frame cabins for rent in Yosemite but Winnie Cabin is one of the best. It's modern and airy, with nice earthy pops of color and great decor touches. The windows bring in tons of lights and great views of surrounding trees.
It's on the edge of the Sierra National Forest (think tons of hiking trails steps away from the house!) The host even stocks some awesome products, like Native body wash, giving guests luxury touches.
Location: Mariposa
Guests: Up to 6
Price: $345 / per night
What makes this Yosemite cabin stand out is the indoor/outdoor space situation. It has a large living room with huge glass doors that open up and lead out to the balcony and hot tub that's perfect for stargazing in.
This layout makes you feel connected to nature while still delivering on all the luxury of a cabin. There's a wood stove, full kitchen and bath, and it's dog friendly, too!
Location: Mariposa
Guests: Up to 6
Price: $125 / per night
Robin and I stayed at this cute Mariposa Airbnb a few years ago and loved this little house! It's a lot cuter in real life than in the photos. Think Joanna Gaines-approved ship lack, nice textiles and decor. I especially adored the vintage-feeling cabin and screen porch which made a wonderful place to have a happy hour drink on and listen to the birds.
This house has 2 bedrooms and is within walking distance to downtown Mariposa so you can easily get around town when you aren't exploring the park!
Location: Groveland
Guests: Up to 4
Price: $163 / per night
If you loved playing that Oregon Trial game as kids, you need to book this covered wagon Airbnb in Groveland. It has modern perks you want (like a coffee machine, mini-fridge, outlets, fire pit, etc) while still giving you an utterly unique way to experience Yosemite National Park.
Note: I would only book this in the spring-fall (not the wintertime) as this area in the mountains gets VERY cold.
Location: Mariposa
Guests: Up to 8
Price: $599 / per night
Holy cow, just look at the view from the outdoor firepit at this luxury home!!! It's just a few minutes from downtown Mariposa and the Arch Rock entrance but it's tucked up high enough that you feel like you are in the middle of nowhere.
This house has a hot tub AND a pool, along with tons of deck seating and posh interiors. Past guests say once they get here they never want to leave and honestly, I understand why.
Location: Mariposa
Guests: Up to 8
Price: $349 / per night
Wow - just look at the windows in this Yosemite cabin living room! You can see more miles and miles across the Sierra Nevada landscape. This cabin is modern with tall ceilings and windows that let in loads of light.
It's great for groups, but the host has also set up a stand-up desk for anyone looking to book a work from home retreat in the mountains. Brilliant!
Location: Coulterville (in Inbetween Groveland and Mariposa)
Guests: Up to 2
Price: $194 / per night
Another super unique Yosemite Airbnb for you if you're looking to book something totally Instagram worthy! This train caboose has been converted into a tiny home, complete with a bed, kitchen, tv, full bathroom and sitting area along with an outdoor porch.
It's dog friendly, too! So bring your pup.
My Favorite Hotels Inside Park Gates
If you are visiting Yosemite Valley during the warmer months (late spring-fall) you simply must stay at Curry Village / Half Dome Village. These are glamping tents right in the heart of the valley!! You wake up under Glacier Point with the park right there outside your tent.
The most annoying thing about visiting the most popular national park in California (and maybe the United States) is that the drive-in can be very long if you don't time it right. So if you're up for glamping, book a couple of nights at Curry Village so you can skip all the hassle of the commute and just ~ be one with nature~ You can't find Yosemite lodging more authentic than this spot.
If you're looking for Yosemite hotels, I highly recommend Tenaya Lodge outside South Gate, especially if you are visiting in December as they go all out for Christmas with a tree in the lobby and ice skating rink!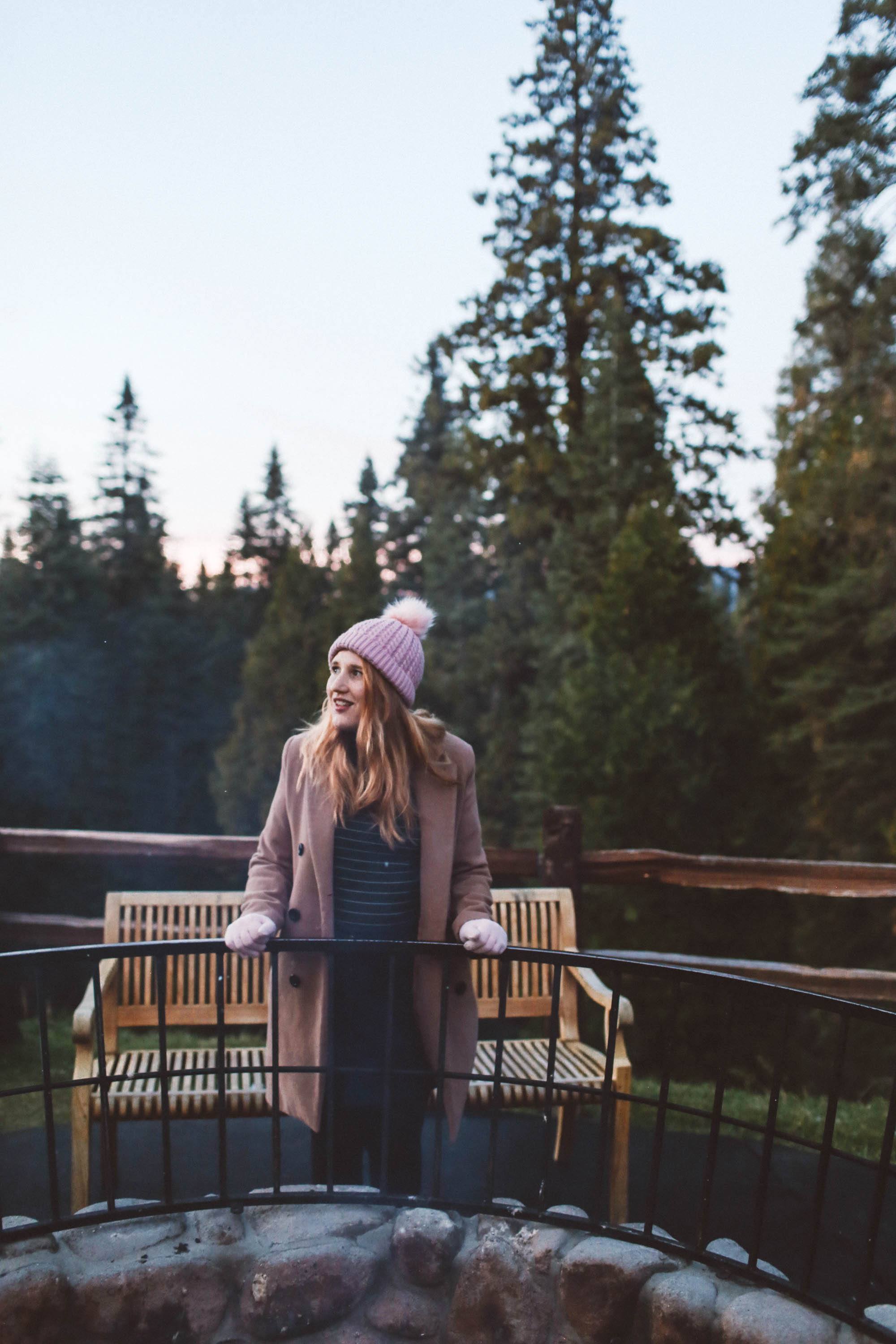 Are There Any Airbnb Yosemite Valley Rentals?
Nope – there aren't any Airbnbs that you can rent directly in the valley. You have to book an Airbnb near Yosemite National Park instead, which is what this list is curated for! The only exception are the handful of Airbnb Yosemite West cabins, which are in a little group of vacation rentals inside the park gate (but still a long drive from the Valley.)
There is the highly-rated Airbnb Yosemite Tree House here in this cluster, but otherwise, this area has no restaurants, gas, etc and is a far drive to get to anything of interest in the park. You'll have to be committed to cooking all your meals or driving at least 1 hour each way to get food if you stay here. But the trade-off is you will be inside the gates, which can cut down on time in the mornings if you are planning on doing a lot of hiking in Yosemite.
What's The Best Yosemite Entrance? North, West or South?
Groveland (North), Mariposa (West) and Oakhurst (South) are the three main gates. Most Airbnb close to Yosemite will be around one of these three towns. I recommend booking Airbnbs close to Yosemite gates so you can cut down on your time driving into the park as
This is probably super subjective and let me be clear when I say that you'll have a blast exploring the park no matter which entrance you choose to make home base. That being said, Mariposa ( Yosemite West Entrance) and Oakhurst (Yosemite South Gate) are my preferred entrances.
This is because from the Bay Area, the road up to Groveland (Yosemite North Gate) has tons of hairpin turns and I get car sick. I'm also more familiar with Oakhurst and Mariposa and think those towns offer more fun things to do (think craft breweries, cute shops, additional recreation, etc.)
I hope this helps you find some great vacation rentals for your group! I love Yosemite park and no matter what you'll have fun when visiting, but your trip will be 100% better if you have a unique cabin to come back to after a long day exploring the trails and sights.
If your favorite Yosemite Airbnb or cabin isn't on this list, please drop the link below so everyone can see!! If you have any questions about things to do in Yosemite or something specific about these Yosemite cabin rentals, drop a comment or DM on Instagram @thewhimsysoul and I'll be happy to help!