A stack of toilet seats that looks like it's about to fall over. Twisting metal sculptures, a pile of old TVs, wooden art masterpieces — the Noah Purifoy Desert Art Museum is an all outdoor Joshua Tree art exhibit that's totally free and incredibly cool.
While on my most recent trip to Joshua Tree with the girls, we spent a couple hours wandering Noah Purifoy's work at the museums and I just had to share all the photos and tips for visiting this hidden Joshua Tree desert art gem with you!
Noah Purifoy: Inside This Quirky Joshua Tree Desert Art Museum
Location: 62975 Blair Lane
Fee: Totally free!
Hours: Sunrise to Sunset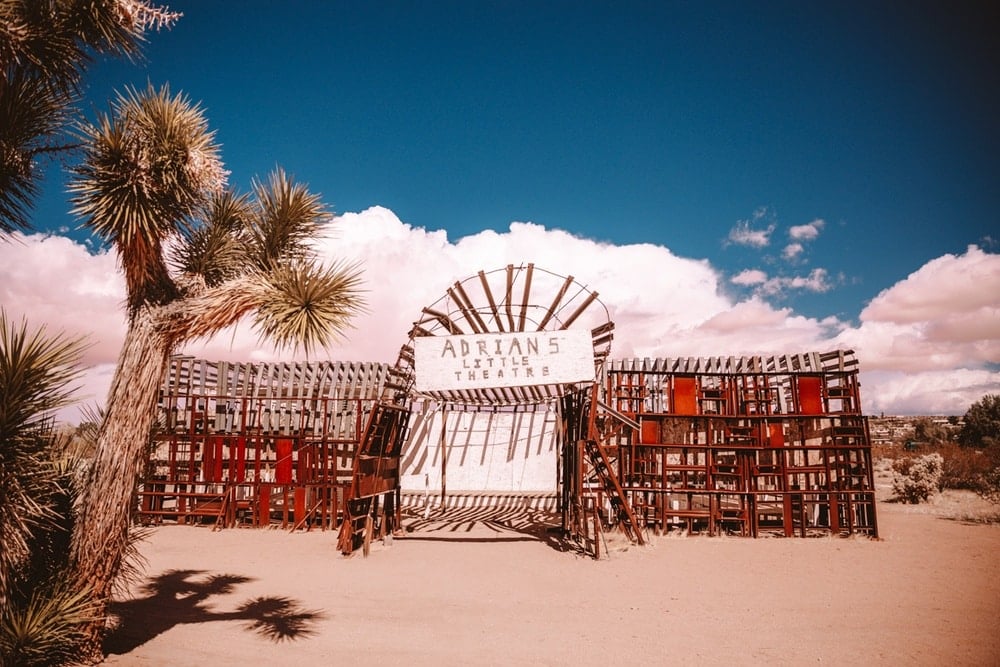 When I say this place can take you hours to properly explore, I mean it. I spent a good chunk of time wandering around this California desert museum and I still didn't get to property soak all the art in. It goes on forever and forever…

But that's why it's so fun! Some people look at Noah Purifoy's work and call it trash or junkyard garbage, but I see so much beauty here. (Though to be fair, everything in this museum is made out of junk.) Noah Purifoy spent 15 years building out this outdoor desert art museum, in which all the art reflects stages of his life.

Some of the pieces are more straight to view. For example, there's a hut that looks like you walked into an 80's Lake Tahoe ski village, but then there's a huge stack of toilets, which is a bit more obscure (but still really, really cool.)
Noah Purifoy Artist Bio
Noah Purifoy lived a very interesting life and is probably the most famous Joshua Tree artist. You can read his whole About Noah bio on his website, but here's the highlights. Noah was born in 1917 in Alabama but eventually moved out to the Mojave desert where he spent most of his life. He was put onto the art map after he made 66 Signs of Neon, a piece of work in response to Watts Riots of 1965 in Los Angeles. The Watt Riots was a week long riot (though I prefer the word protest) in response to a black man and copy encounter, which went just about as well as you think it did.
Later, Noah established the Watts Towers Art Center and most of his art focused on social change. He was big on getting art into prisons and bringing art to the public. He passed away in 2004 but thankfully, his museum still stands in Joshua Tree thanks to the help of the Noah Purifoy Foundation.
Ok, now onto some tips for visiting!
What Is The Best Time To Visit Noah Purifoy Art Museum?
There's no guided tours, all self-guided. It's open from sunrise to sunset. I think the best time to visit, both for photos and for space to view things without crowds, is early in the morning, ideally before 10am. If you can muster to get up for sunrise, you'll be treated with soft light and a totally empty museum space to run wild and take photos.
We arrived to the museum around 10am and it was empty for about 30 minutes. By the time we left around 11:30, there were tons of cars and people around the Joshua Tree museum. If you are coming early in the morning, keep in mind the museum is at the end of a dirt road with houses on it, so drive slowly to not disturb the locals.
What Should I Wear To Noah Purifoy?
Oh dear lord – please skip the heels. We all made that mistake and kept getting our heels stuck in things. Flats are the way to go.
In terms of a cool outfit, go big with a flashy sequin jumpsuit like I'm wearing, or a neon outfit like my friend Justina is wearing. You can wear a classic Joshua Tree outfit with fringe and a hat like my friend Bri is rocking. But I think bold colors and textures work best here!
Photoshoot Outfits Ideas You'll Love

After you visit the museum, make sure to stop by other cool things in the Joshua Tree area!
Other Cool Places To Visit Nearby Joshua Tree California
Noah Purifoy's arts exhibition is one of my favorite unique photography sites in Southern California. I hope you get out to visit the outdoor museum during your next Joshua Tree trip!
If you have any tips to add, drop a comment below so everyone can see! Any questions? Comment or Dm me on Instagram @thewhimsysoul and I'll be happy to help!